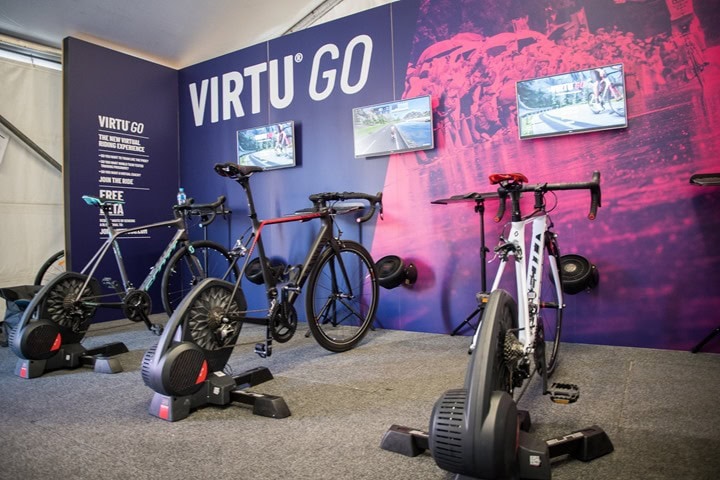 Within the trainer app realm, much is made of the giants – Zwift and TrainerRoad.  And rightfully so, they've grown their respective customer bases over years with boatloads of happy customers.  At the other end of the spectrum is a flotilla of smaller apps, akin to local bike shops, that do well in their own right.  They aren't the same as Zwift or TrainerRoad, and each has their own interesting niche. I've talked about many of these in my occasional round-up posts.
But what about some of the apps trying to be Zwift competitors?  Three come to mind: RoadGrandTours, VirtuGO, and OneLap.  Each is at varying degrees of launching, all with active real-world users on them. And all of them are within the realm of 'virtual worlds' whereby users can race or ride with other realm people, which is the rough bucket I'm putting them and Zwift in.
Over the coming weeks I'll outline each of these three and my thoughts on them and where they stand.   Keep in mind that all of these will continue to evolve rapidly, and as such, taking a look at these apps now will likely (hopefully) be quite different than next fall.
With that, let's dive into things on the first contender – VirtuGO.  While I'm covering much of the detail in this, I do a complete walk-through of the menu systems in my video below.  Plus, you get to see me try and ride in 100°F/41°C heat outside with fans that are basically just hot blowtorches.  It's fun! Kinda.
But, in the same way there's a bunch of detail in the video not in this post, I'll talk more deeply on my thoughts on the platform in this post.  In any case, let's go.  Oh, wait, because I almost forgot – the app is currently free during beta.
VirtuGO Basics & Options: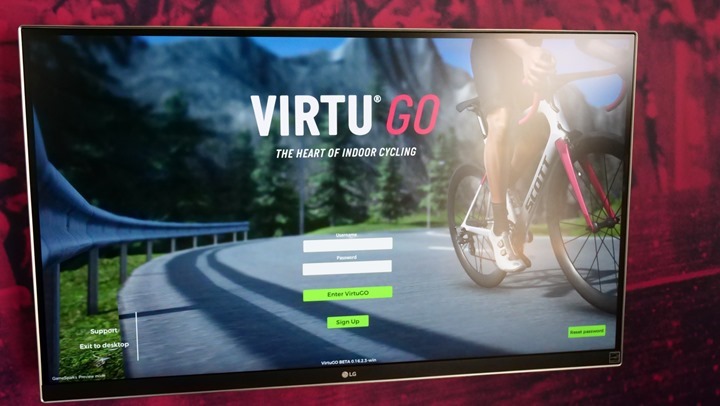 I got a chance to jump on VirtuGO last week at the Tour Down Under.  The company was a major TDU sponsor, and thus had a huge booth in the TDU village.  On one of the hottest days of the week I headed down to the village prior to it opening, and got about an hour by myself messing with VirtuGO.  This included some time as the VirtuGO engineers walked me through features, then letting me ride solo for a bit, and then after that I filmed what you see above with more riding.  All in, I've got a reasonably good feel for things and where they stand.
The first thing to know is that at the moment VirtuGO has three virtual worlds: Pulseville, Coll de Sóller, and Willunga Hill.  Pulseville is an imaginary world in the same way Zwift Island is.  Whereas the Coll de Sóller is a real-life locale in Mallorca, and Willunga Hill is a real-life locale near Adelaide, Australia (and is on the Tour Down Under course).  Unlike Zwift, you can choose any of these worlds at any time without any hacks.
However, there's a bit of a catch there.  In the case of both Willunga Hill and Coll de Sóller, there isn't a way to turn-around and ride back down again.  So given both are climbs, once you've climbed to the top you've gotta manually restart things again.  And that means your ride is only about 20-30 minutes.  Still, the company says they're working through the details there on that and there's, of course, plenty of options for how to address it.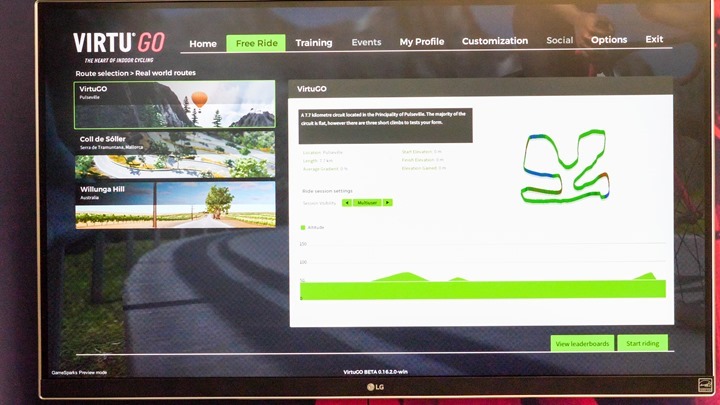 Next, while you can free-ride like in Zwift (and see other real-world people and bots), the company puts a bit more of an emphasis on the training plans portion of their app.  This is where you can load up plans that align to specific categories, which in turn have a boatload of individual workouts in them.  The goal is for these workouts to be adaptive based on your training, and it sounds like the company is talking with Xert on ways to really kick that up a notch.
VirtuGO noted that their goal from a structured training realm is to sit roughly in between Zwift and TrainerRoad.  They see TrainerRoad as fairly advanced there (cause it is), and they see Zwift as fairly basic there (cause it is).  If they can finalize a path forward with Xert and leveraging their real-time adaptive workout tech (that can adapt mid-workout to how the workout is going), that could be a very significant game changer here – potentially threatening TrainerRoad probably more so than Zwift.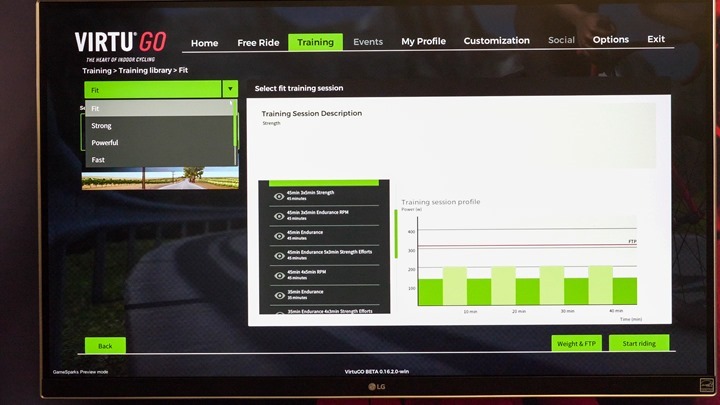 Next, you've got events, but at present there aren't any events scheduled.  Like Zwift when it first started out, it took some time for that to show up.  I expect it won't be long (weeks or months) before we see it in VirtuGO though.
After that, there's a profile tab, where you can see your past rides directly from the app itself.  Same goes for achievements and personal info.  However, most interesting is the upcoming ability to import history from outdoor rides.  The company noted that they don't expect people to ride 100% indoors.  And in order for their planned adaptive training engines to be able to account for your efforts outside of the app, they want to be able to pull in ride data automatically.  So they're working on getting in place automatic sync to Garmin Connect (and likely other platforms), as well as manual sync if you just plug in your bike computer.  This will pull in your outdoor ride history and allow the app to account for it indoors.  Again, this is a pretty big shift that none of the other major trainer apps do (despite everyone talking about the importance of this for years).  Of course, since VirtuGO hasn't fully implemented it yet, I can't give them full credit.  But at least they've got a disabled placeholder button for it.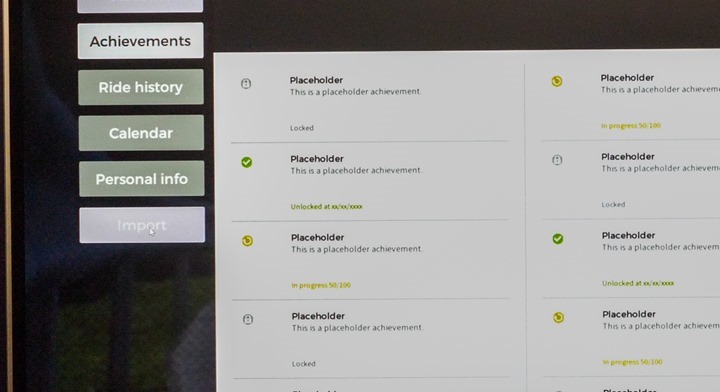 Following that, there's customization of your rider.  In the most basic of ways this mirrors Zwift, but in a number of ways it exceeds it.  For example, you can even change the group sets your using, as well as things like saddles, handlebar tape color, and pedals.  Yes, pedals.  Like Zwift, they'll be looking to get partnerships in place to 'feature' some of these bike tech novelties.  For example, you see a Scott Foil back in there, based on their partnership there with Scott.  And one could just as easily see a PowerTap P1 or Garmin Vector 3 pedal in there, should those companies decide to collaborate a bit.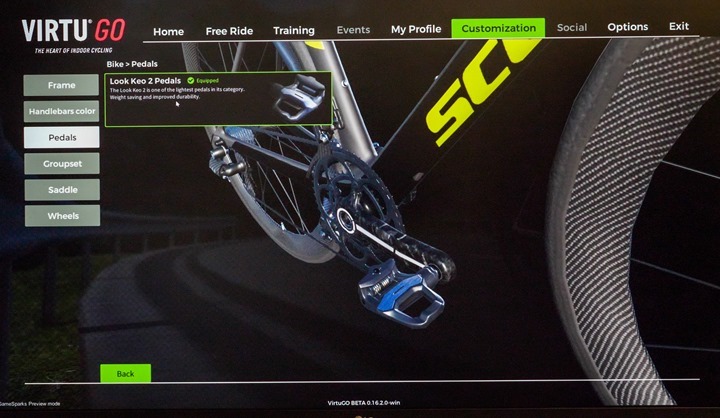 There's a few interesting details there like you can't change to disc brakes with certain frames if they aren't actually compatible in real life.  Logical, ehh?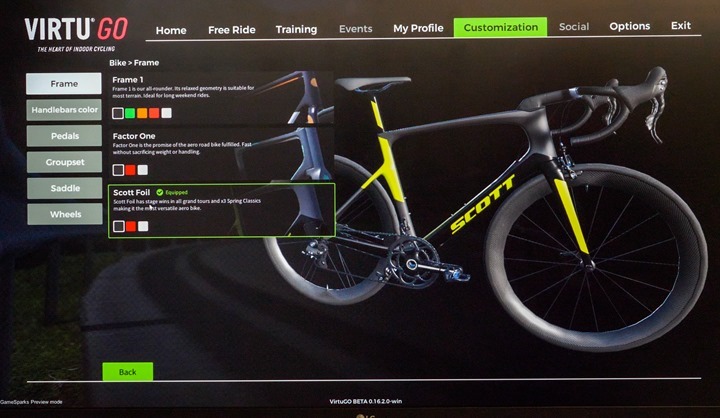 Finally, you can tweak various display settings.  The rendering engine is Unity, which is well used within the gaming industry today.  And as you'll see, things look pretty solid.  For my test, I was using a Windows PC version on a pretty beefy machine they had in the booth, so I'm looking forward to trying it on a lesser machine of my choosing in the near future.  Not really any different though than Zwift demoing all their stuff on beefy hardware either to make it really shine.
Oh – and at present they support PC or Mac, and then in the next month or two they'll be rolling out iOS.  Following that they'll be looking at Android support. With that, let's start riding.
Riding it: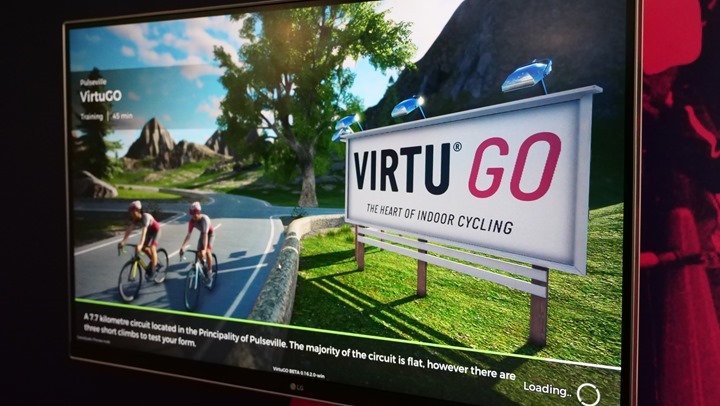 For my first ride of the day I did the Willunga Hill course, which was nice and all, but honestly not super exciting.  Since the lead-up to the course is basically just a road through farmland with sporadic trees alongside, it wasn't really something that made you go wow.  Still, I'm sure over time that specific course will be great for racing, given the excitement it brought at the Tour Down Under (you can see what it looked like in real life, since that's the day I rode in a team car).
So after my first ride, I jumped on the bike again to try out their imaginary world, Pulseville.  The scenery here is definitely a million times cooler, as it appears to be mostly based in a high alpine region.  The route is a shorter looped course.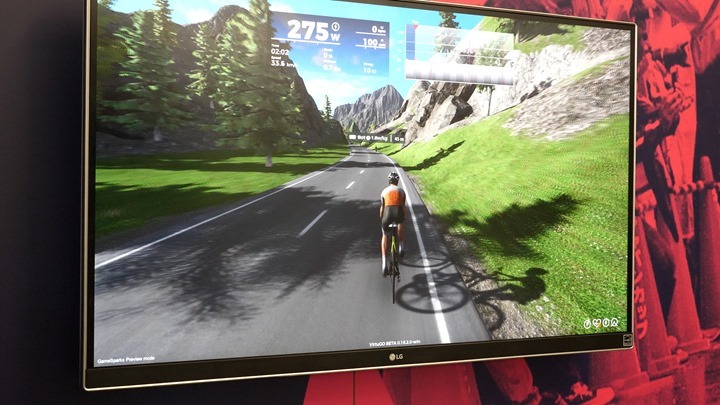 As I got into it I saw a few bots along the way.  It actually shows the watts/kg over the bot itself, so you can know roughly what you're racing up against.  Unfortunately, during this ride I didn't see any other real people, but that was because I was in a development environment.  At present, the company has opened the doors to 500 people in beta, with a few times that waiting in the queue.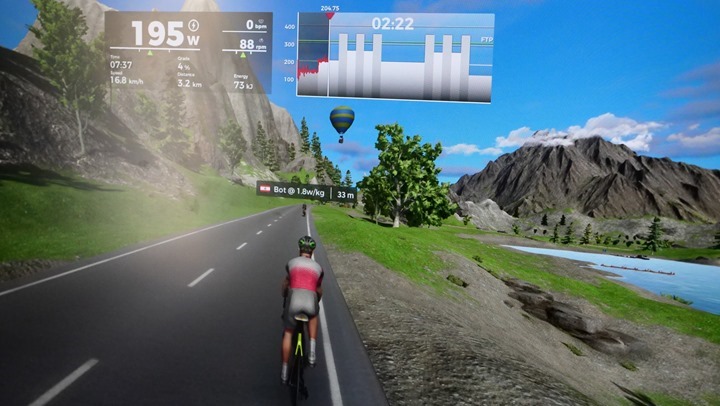 (Note: The above photo was actually taken while looking at the workout mode, so you can also see the structured workout screen at the top.  The bot is in the distance a bit.)
On the top of the screen you'll see all your main metrics.  Though VirtuGO folks say that they're looking to re-design that a bit to make it a bit more clear and less cluttered looking.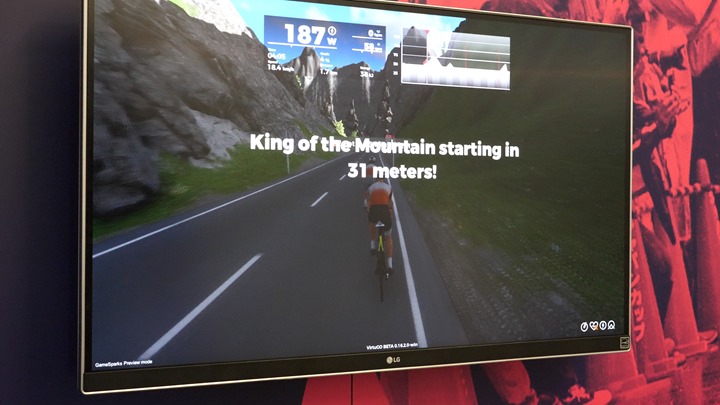 The app is paired via ANT+ sensors to the Elite Direto trainer in the booth (through a partnership there), but it supports any ANT+ FE-C trainer on the market (which is every one of them except the Kinetic ones), and it supports ANT+ HR, Speed, Cadence, and Power Meters.  Bluetooth Smart sensor support is on the way soon too.  In my case, I paired it to a Wahoo TICKR X HR strap I had on.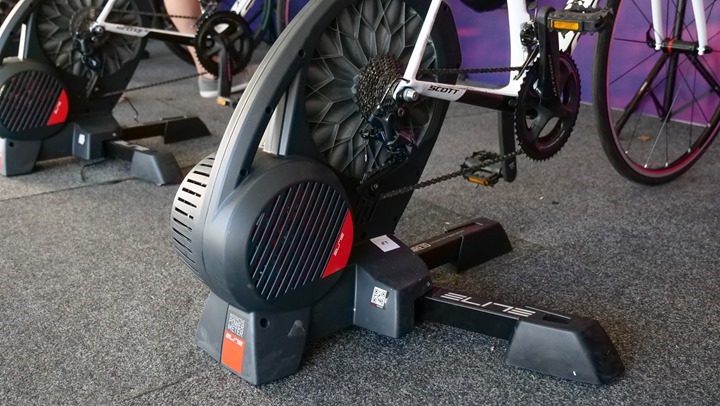 Overall, things felt good, and the graphics looked good.  A few random bulleted thoughts, all of which roughly relate to what you see in the video:
A) Graphics were awesome, especially the look of the water in the mountains – really cool.
B) The lack of real people in the dev environment was a bummer, because it's really people that have made Zwift successful. There's been plenty of virtual worlds in the past, but volume is key here.  If you join beta, you'll see real people since that's the production environment.
C) While they allow switching between the three worlds, I'd strongly encourage them to split the difference compared to what Zwift does.  Meaning, allow the Pulseville imaginary world to be ridden any day.  But then alternate the two climbs as the secondary course every other day.  Else, it'll become too scattered initially.
D) I really like the sprint markers and overlays counting down to the start and end of the sprints.  Seriously Zwift, people have been asking for this for years.  Such a simple thing makes a world of difference.
E) There's definitely still some refinement work to be done on timing and controlling the trainers.  A few times the grade just didn't match up properly, or quick enough.  The company says they're working on that though.
F) The training pieces have potential to be their secret weapon, especially if they can leverage Xert and include outdoor trainer efforts.  This shouldn't be understated.
G) The bots didn't respond in the sprint, which is kinda disappointing.  Hopefully they'll do so down the road.
H) Unrelated to their app, but riding a trainer in a tent outdoors when it's 100°F is less than ideal.
Ok, that summarizes my main thoughts in terms of riding with it.  Again, you can see that riding in real-time a bit more in the video.  With that, let's talk about the future a bit.
Wrap Up: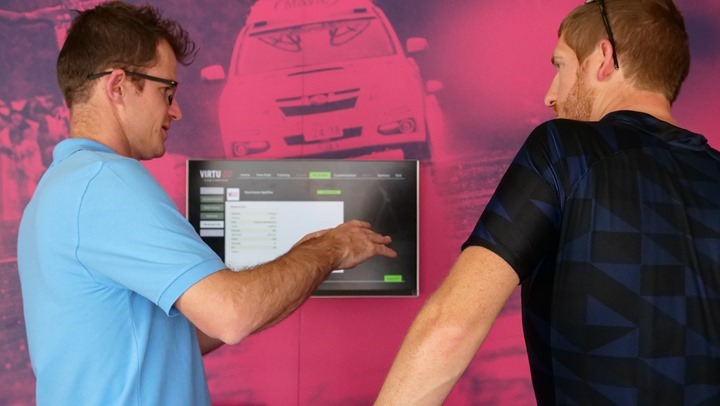 In certain ways, VirtuGO is about where Zwift was about 2-2.5 years ago.  But in others, they're further along.  It depends on exactly what feature you're looking at.  For example, Zwift didn't have structured workouts when it launched, nor quite the level of customization that VirtuGO does.  And like Zwift back in the day, things were a bit sparse when it comes to people in those first few months.
Yet in other ways, Zwift is far ahead.  Aspects like racing, the community around it, and simply the sheer volume of people that use it at any one point in time are all leagues ahead of where VirtuGO is.  Which isn't to say VirtuGO can't catch-up.  Remember, Zwift has had a three-year head start on them, that's a boatload of time.  Not to mention a boatload of financial backing.
At present VirtuGO has allowed 500 people into the beta program, with well over a thousand more waiting in the wings (plus whatever happens after y'all ask to sign-up).  The company wants to start opening those gates again in the next few weeks, but is concerned about being unable to properly support folks if they allow too many in before their support org can handle it.  They don't want to turn-off people to the app too early if it's not ready.  Which is a fair sentiment.  At the same time, as a startup they should be trying to get as many people engaged and talking about it as possible.  Strike while the iron is hot and all that.
Ultimately, it's not likely that folks as of today will cancel their Zwift memberships to ride VirtuGO exclusively.  But instead, it's more likely folks will flirt with VirtuGO ('swipe right' if you will), and then see what it has to offer.  Given it's free in beta, there's nothing to lose.  But in some ways, I think the shorter term threat here may actually be more to TrainerRoad.  If VirtuGO can make its training aspect competitive to what TrainerRoad has, then those that were on the fence of going with ERG style workouts versus virtual world style ones can effectively have their cake and eat it too.  And everyone likes cake.
With that – thanks for reading!