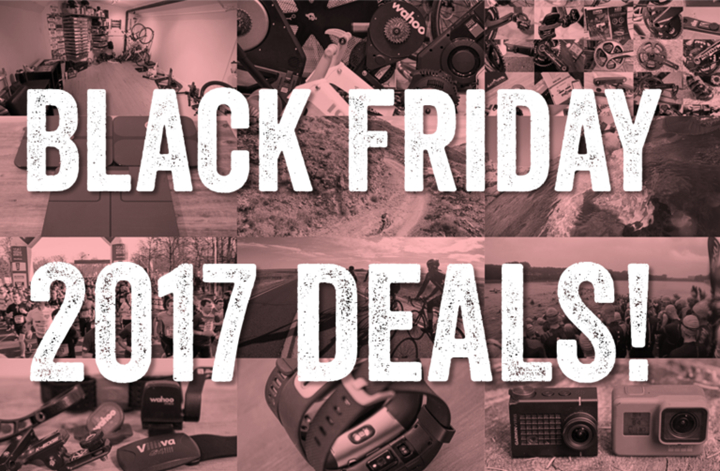 Happy Thanksgiving!  For those of you in the US, I hope you're prepping the Turkey for a good Thanksgiving today, or for that turkey trot!  For everyone else – welcome to…Thursday.
Of course these next few days are unique in that today kicks off Black Friday Sales in not just the US, but in many other countries, especially across Europe (ignore the fact that it's still Thursday and tomorrow is Friday, the world has moved on from that standardization apparently).  Then on Monday you'll see those sales double-down with the famed Cyber Monday sales.  Historically we've seen many sports tech software companies put on some really good Cyber Monday deals, especially for training log sites and such.  Whereas sports tech devices tend to be more clustered on today.
I've been tracking all of these deals on my massive Holiday 2017 Deals Page!  That's located at the obvious link here:
I only wanted to briefly note that page since it doesn't show up in your regular RSS subscriber feeds.  I've been updating it at least every few hours, if not every few minutes, with new deals related to the sports technology realm.  If you're looking for some new toys or training tools – I've got you covered!  You can access it anytime at the top of any DCR Page: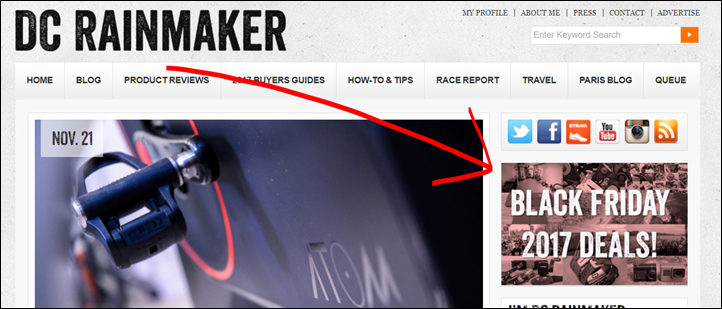 Plus, I've also got a dedicated European deals section within there (and there's some amazing deals going on there).  Most of the Euro deals are Amazon driven, and change hourly/daily – so you need to check back a boatload.  In total across the various deal sections I'm covering there's over 70 deals, and growing by the hour!
I've put little lightning bolt thingies next to the best deals (based on just general gut feel):

Here's a hint at some of the biggies to check out:
DJI Spark Drone for $100 off
Fitbit Ionic with $50 gift card
Garmin FR920XT for $199
Garmin Fenix 5 for $100 off
Garmin Vivoactive 3 for $50 off
GoPro Hero5 Black for $100 off/credit
Polar A370 for $50 off
Polar V800 for $100 off
PowerTap P1 for 25% off
RunScribe Plus for 15% off
Stryd for 25% off
But wait….there's more!
It's back: 20% off one single item from Clever Training for VIP members!
Yup, for a mere 8 hours that deal is back! It's almost identical to the VIP deal that was run a few weeks ago, except this time it won't include Wahoo.  But it will include everything else like Stages (even their new dual Stages LR setup), PowerTap, Tacx (Neo/Flux/etc…), Elite (Direto/Drivo/Rampa), Quarq, SRAM, Favero Assioma, and more.  The band's getting' back together again!
Deal specifics: 8AM US Eastern time till 4PM US Eastern Time on Black Friday (Nov 24th) ONLY
One item per VIP member, you can sign-up here (and all the previous terms/details/best bets are here).
All of the above are time limited – so act quick!
Finally….there are more deals that will show up automatically at 12:01AM US Eastern Time on Friday, November 24th as well as again on Monday, Nov 27th.  These deals can't be listed till then.  So definitely check back!
Also, there will be a single well-worthwhile deal at 8AM US Eastern Time Friday posted too (all will be listed on deals page).
In any case – hit up the full listing for the continual updates to the list.  Feel free to drop deal questions/comments/etc on that page there, as I'll keep this as just a reminder page (so no comments available here).  Keeps it nice and clean that way.  Sound good?
Have a great weekend all!
P.S. – Don't forget to follow along on The Twitter!  I'll be posting anything new and exciting that pops up there.  Typically we see Amazon in their Black Friday section do pretty unique deals today and Monday that others won't follow.  The DCR Black Friday deals page will be 'stickied' to the top of my Twitter page.
P.P.S – I've set the comments to closed on this post, but definitely post any comments/questions, or non-spammy deals you find over on the main deals page.  That way you don't have to check two places!
P.P.P.S – It's time to eat turkey. Yes, even in Paris.