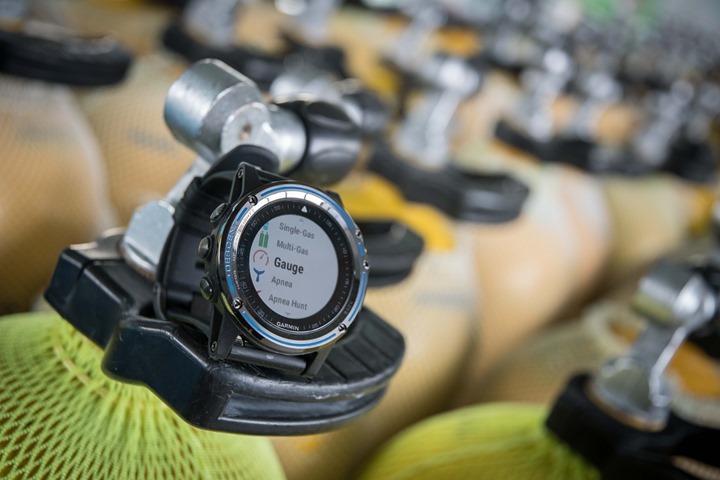 Sometimes, I do sports that are actually not swim-bike-run.  Be it skiing, or…ok, I guess that's it.  Actually, I scuba dive, which I suppose is still technically swimming.  Or swimming done rather poorly. So poorly that you're never-endingly sinking to the bottom of the oceans.
In any case, like any other person, I do a wide assortment of things that I find interesting.  One of those things that's long been on my list is going diving at Nemo 33.  It's an indoor dive facility that's 33 meters (108ft) deep in Brussels (Belgium).  It's basically like someone filled up a cold-war era missile silo with water.  I had actually long planned to do waterproofing tests there for various watches, but ultimately I just bought a waterproofing test chamber instead.  It could go deeper than Nemo 33 could, and without the 3-hour drive each way.
And yesterday, I finally had an excuse to go there!  See, Garmin decided to take their Fenix 5X GPS watch and turn it into a dive watch, albeit, with some hardware and software tweaks that I'll get into.
But, in case you don't have the time for all this text, I give you this relatively short video – which is mostly just an excuse for me to buy the GoPro dive case for my Hero6 Black, and then a further excuse to shoot video in a cool place.  Also, I talk about a pretty interesting piece of sports gadgetry:
And obviously – if dive watches (or underwater videos) aren't your thing, fear not, we've got more running watches coming in tomorrow (which I haven't even discussed anywhere).  And then more yet the next day; partly why I was so quiet last week. So hang tight!
The Tech Details: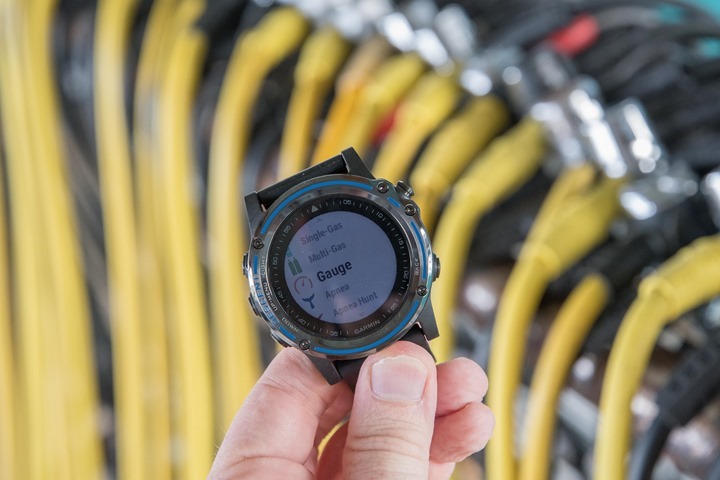 The first thing to know about the Descent MK1 is that's it's a Fenix 5X.  Except, it's not.  See, it's complicated.
Yes, the underlying software starts off as a Fenix 5X, as does the hardware, but there's some core differences.  However, since I realize that many visiting this page don't know anything about the Fenix series at all, let's take a brief step back and talk about the core 'things' the outdoor-focused Fenix 5 does (since virtually all of these are unheard of in a dive watch):
– GPS with GLONASS enabled for other sports (cycling, running, gym, etc…)
– Smartwatch with smartphone notifications (I.e. Twitter, Facebook, etc…), calendar notices, phone and text notifications
– Connects to ANT+ & Bluetooth Smart accessories, can control Garmin action cams
– Downloads data automatically to your phone via Bluetooth Smart, as well as via WiFi & USB
– Optical heart rate (HR) sensor on back of unit
– Full color maps for navigation, with points of interest (depends on region though)
– App store: Connect IQ apps for watch faces, data fields and widgets
– Battery life of: 40 hours diving, 20 hours GPS, and 10 days in smartwatch
Ultimately though, if you want to understand the full breadth of the Fenix 5 series, check out my in-depth review here.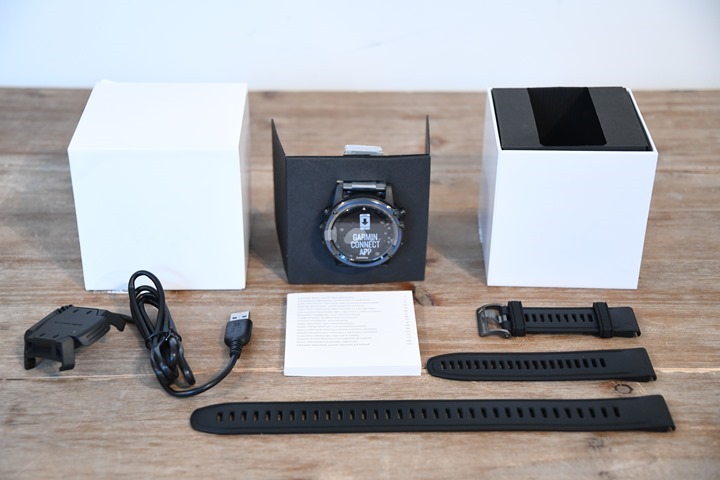 Now that the basics are out of the way, how's it different than the Fenix 5X?  Let's start with the hardware side:
– Depth Gauge added: To measure depth, obviously.
– Waterproofing standard differs: It's waterproof to 100m, but in this case they're specifically following EN 13319
– Added DLC bezel coating: The Fenix 5X doesn't have this, and it hardens against scratches. On higher end model Titanium model.
– Charging port changed: In order to get the dive-focused 100m rating, they switched back to the Fenix 3 charging port
– Additional super-long strap included: It'll fit around dry suits, or perhaps a very bulky wetsuit
The biggest change up above aside from the depth gauge is the adherence to EN13319.  That's more than just bringing it to 100m, but actually doing overpressure testing at the 100m depth, as well as things like protection against banging the screen and body against rocks and hard surfaces while at that depth.  The obvious goal being that if you are cave diving it should be able to withstand a few whacks to the head.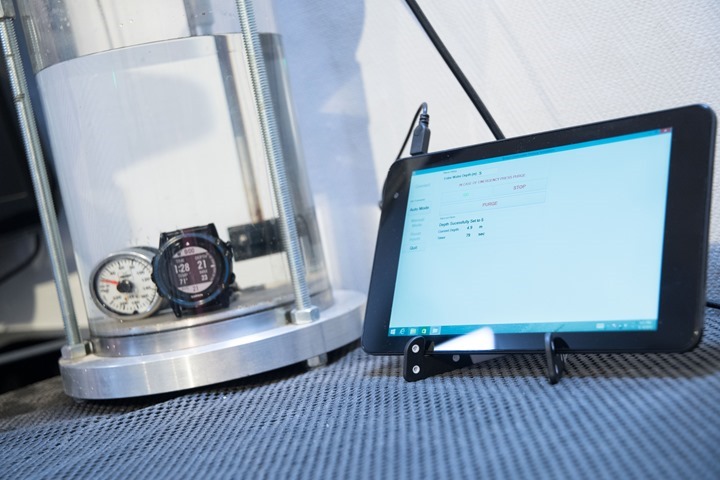 Then there's some software focused changes:
– Dive modes added: To record dives, obviously. More on this in a second.
– No Fly Watch Face: To tell you when it's safe to fly
– HR Recording Works Underwater: Yup, they found that given diving is less about strokes, it records quite well
– No Connect IQ Apps allowed in Dive Mode: Simply for safety reasons.  Apps allowed in all other modes.
– Different software development QC process for the dive aspects of the unit
Of course, that first line item is a pretty big one (dive modes), so let's break down what that actually means.  Within the Descent MK1 you've got six core diving modes/features, they are:
– Single Gas
– Multi-Gas
– Gauge
– Apnea
– Apnea Hunt
– Plan Dive
Most of these are fairly self-explanatory.  With 'Gauge' mode, that's your standard no-gas dive.  And Apnea being the more official term for freediving, with Apnea hunt aimed at spear fishing.  Each of these modes has different settings, but I'll walk through a typical 'gauge' dive in my test dive down below.  From a gas perspective, the unit supports five different gases plus air, including nitrox and trimix.
Before that though, you've got the ability to 'Plan Dive' dive, which is effectively a quick dive calculator.  It doesn't appear to tie into any of the underlying dive modes themselves, but rather is used as a quick planner instead.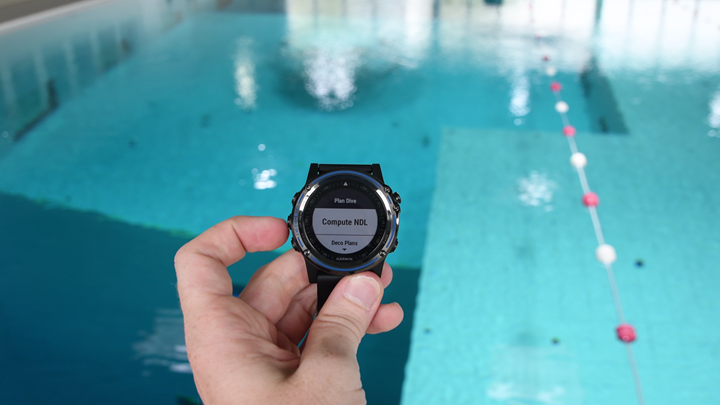 In 'Plan Dive', you've got the ability to Compute NDL or create a Decompression Plan.  For example, in Compute NDL you'd start by setting your oxygen percentage (21% default), and then you'd enter in your dive max depth or dive duration:
If I enter in my dive depth, it'll give me my NDL back in time (which is the duration I can spend at that depth), as well as the MOD.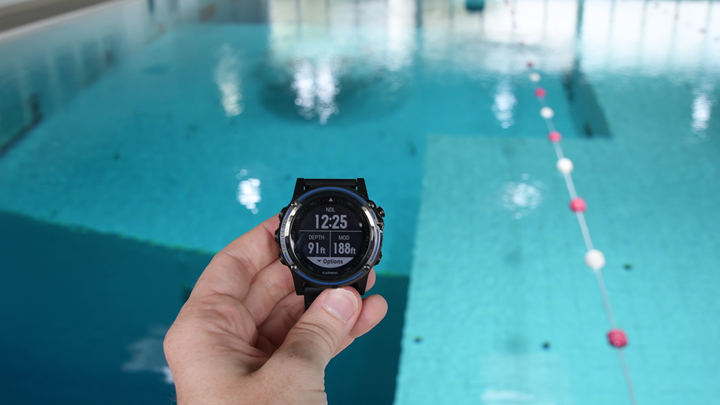 Note that you can add repeat dives here as well.  Meanwhile, with the 'Deco Plans' option, you can get far more complex and create plans based on different gases and customizing the percentage of those gases.  Also, for non-gauge dives you can specify conservatism settings as well as specify gradient factors.  And for the algorithm on decompression plans, they're using Bühlmann ZHL-16c.
Now – one thing to note is that while there are systems for wireless air gauge integration, there's nothing of the sort today in the MK1.  In talking with Garmin about this, they say it's definitely something they're looking at down the road, but won't likely be a MK1 product feature.  Part of that is essentially deciding which horse (standard/company) to bet on.  Some of the offerings are still pretty new, and figuring out what makes the most sense isn't something in the cards for this product cycle.
Got all that?  Good, time for a simple test dive.
Real-World Test Dive: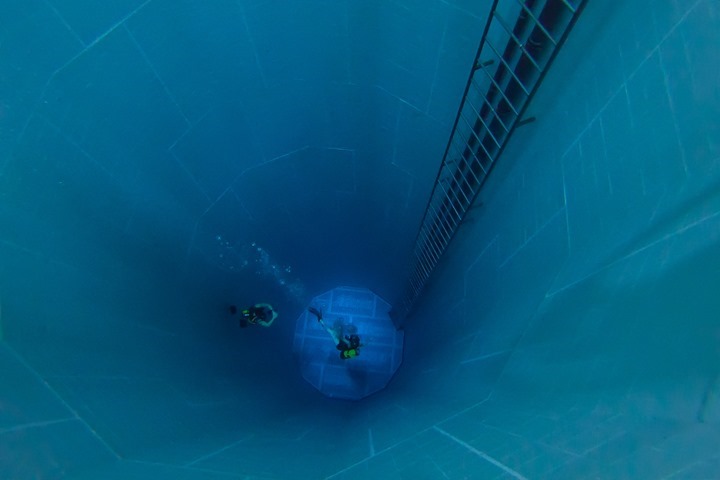 Since I don't exactly live in a diving mecca (central Paris), my best bet for a fun test dive that was easily doable in a day trip was driving three hours to Brussels, Belgium.  It's here that the NEMO33 facility is located.  At 25EUR for the dive, it's not too bad (apparently it's a boatload cheaper if you get a pass).  Plus, it includes 100% of the equipment you'd need, save a swimsuit (nude diving didn't appear to be welcomed).  So after handing over my credit card we headed to the pool deck: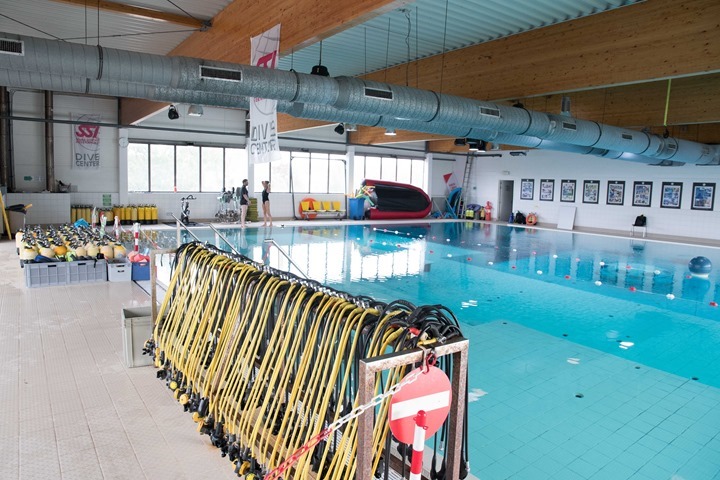 It's here that we got a super quick safety chat.  More of a logistics chat than safety really.  You're expected to be certified, which I am, so it's just a case of knowing where to get all your parts and you're on you're way.  First up though on their well-structured plan is 10 minutes to do any free-diving you'd like.  So I started there playing around with the watch (beyond what I had done in my underwater test chamber):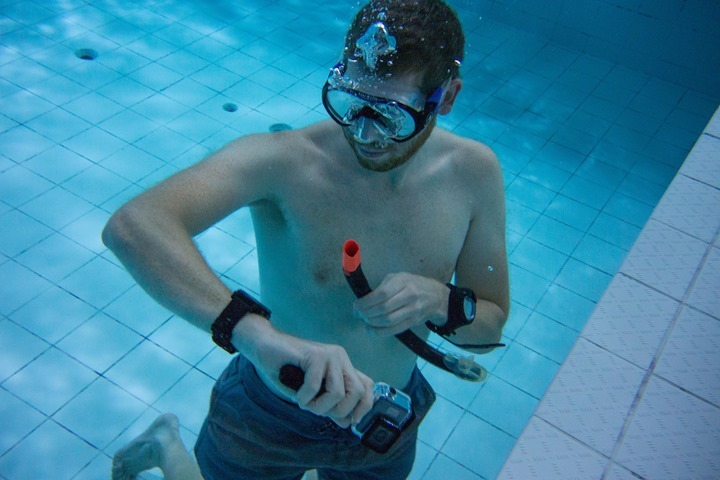 Essentially in this mode it'll track your depth and time, as well as still provide any alerts you'd have configured.  These could be for areas such as time or depth.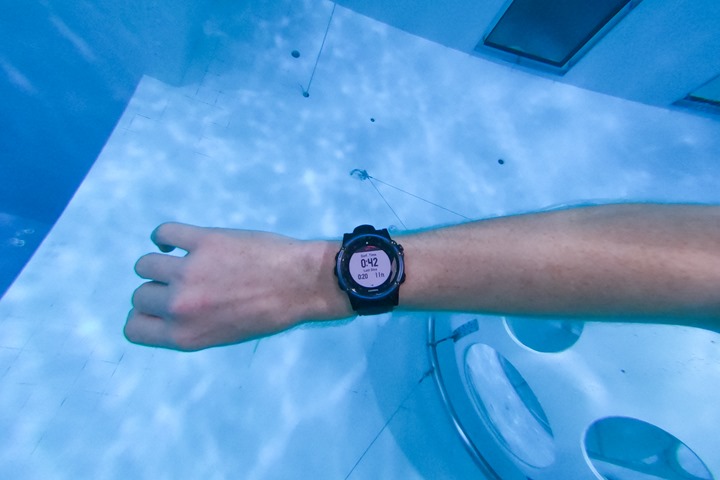 Soon though, we were gearing up and getting back in the water for the main dive.  It's at this point that I selected 'Gauge' from the dive menu.  The first thing it'll do now is to actually look for GPS satellites.  See, it'll mark your starting point on the map with that.  Of course, GPS doesn't work underwater, so it's merely going to be start and stop points.
In the case of indoors, I brought it as close to the window as I could, though I wasn't as lucky as I was for the free-dive I did, so I had no luck getting GPS signal.  Obviously, on a boat on openwater that's not an issue.  Oh, in case you're wondering about those bikes…they do water spin classes.  Also, you could do swim laps here, but it'd be miserably hot for any sort of legit workout, since the water temp is 32°C (90°F).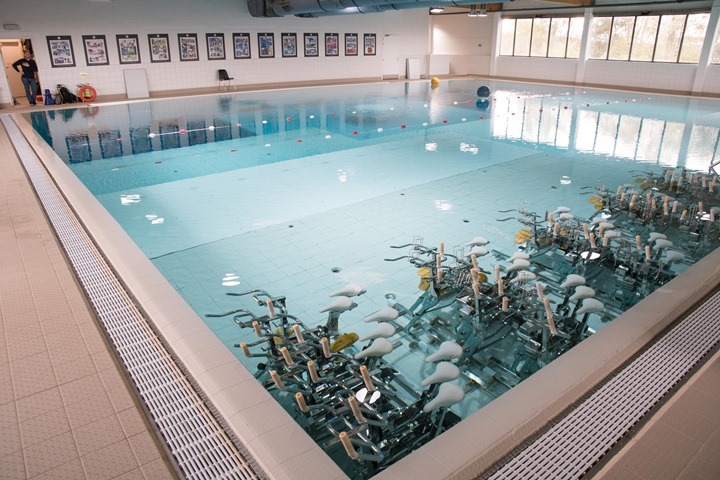 It's at this juncture you can change your water-type as well as configure alerts.  In standard gauge mode those would just be depth and time alerts.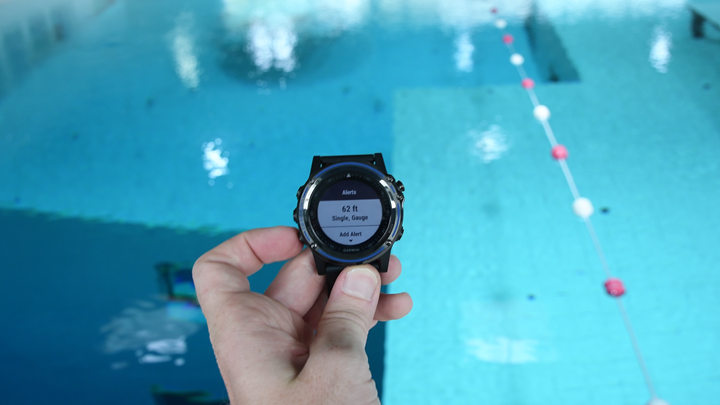 And, you can select to use wrist HR (optical HR) or a chest strap.  With a chest strap you won't get real-time readings until you download afterwards (since neither ANT+ or Bluetooth Smart can pass through water).  Whereas with the wrist sensor you will get optical HR readings live the entire dive.  Of course, the optical HR sensor won't work through a wetsuit or dry suit.
Note for those that are curious, the reason this (underwater HR) works here and not on the Fenix 5/FR935 is that Garmin found the HR is working fairly reliably in scuba/apnea because you're not stroking against the surface of the water as with swimming.  It's the whacking of the water (and the water/air bubbles going in and out every .75 seconds) that causes optical HR issues.  Those issues don't generally exist in diving.
With all that setup and GPS found, you'll press the upper right button to start.  And then…nothing will happen.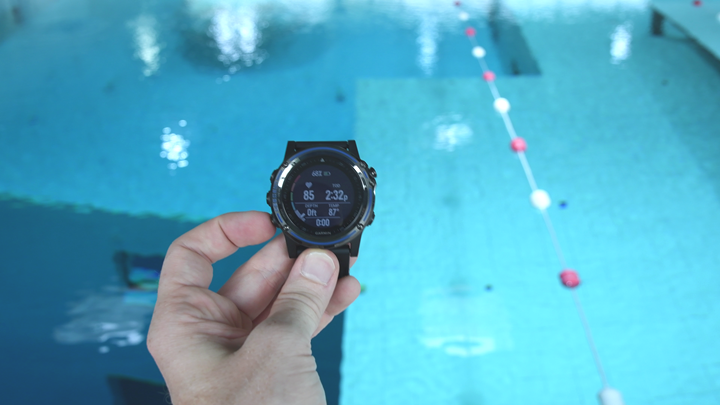 See, nothing will happen until the depth gauge activates, which won't occur until you're about 1ft underwater. At that point the activity automatically starts recording and the GPS is disabled.  In fact, much of the watch now goes into a very locked down software mode that doesn't allow anything extra to run.  No widgets, nor settings access, nor apps or data fields, or anything.  The idea being to lock it down so it's both more secure, but also so you don't get yourself into a pickle pressing buttons.
As you start to descend, you'll get live data from one of the three data pages.  Those data pages on a standard gauge dive include:
Page 1: Dive Time, Depth, Water Temp, Ascent/Descent Rate, Max Depth, Average Depth
Page 2: Compass Heading, Compass direction (I.e. south), Depth, Water Temp, Dive Time
Page 3: Heart Rate, Heart Rate Zone (Color), Time of Day, Water Temp, Depth, Battery Level, Dive Time
Now, if you're diving with gas you'll get other information as well including the gas mix, PO2, and N2 loading.  In my case this was a non-gas dive, so I didn't get to toy with those.
Alerts will trigger mid-dive for things you've configured.  For example, a max depth, or a time duration.  Additionally, if you ascend or descend too fast, it'll trigger alerts there too (vibration + tone).  Note that alerts automatically clear from the screen, it was either 3 seconds or 5 seconds – I didn't mentally time it.  But it was quick enough that the first time it occurred it disappeared faster than I could move my camera to take a photo.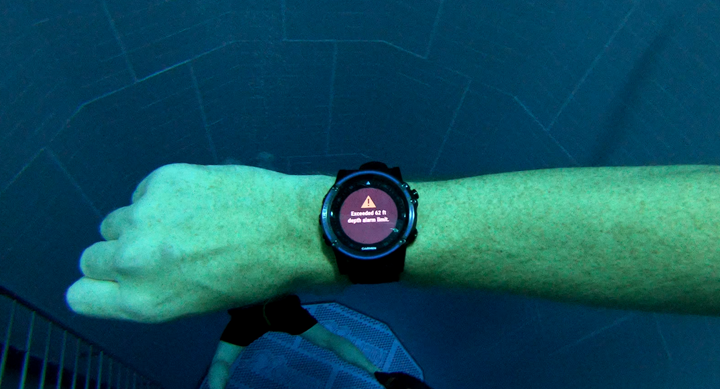 Of note is that unlike other Garmin watches, once you're in a dive – the watch is totally locked down.  As I mentioned above things like Connect IQ apps aren't available. But neither is settings or anything else.  The idea being that you don't accidentally get yourself on some weird screen you can't figure out how to undo while underwater.  Also, at present the dive screens don't appear to be customizable either.  They are what they are.
In unrelated news, you can eat Thai food while watching divers  That's what those windows are there, and behind it is an Asian restaurant.  Inversely, you'll know what it's like to be a fish inside an aquarium.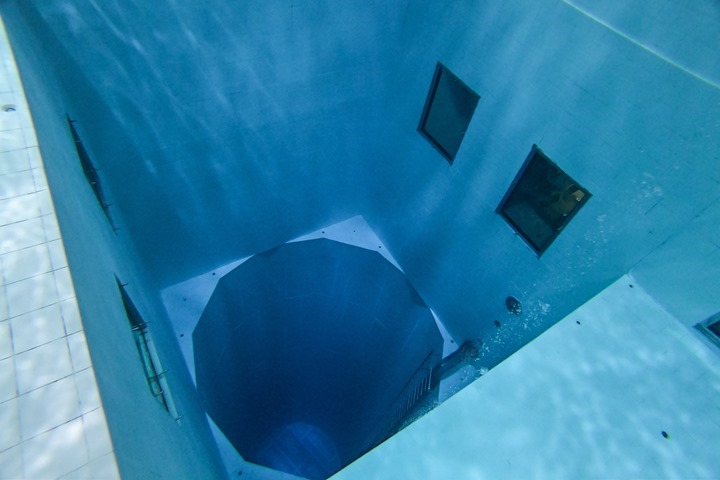 Finally, after you surface the unit will reacquire GPS and then mark the exit location.  These will show on the maps on Garmin Connect/Garmin Connect Mobile.  All that syncs automatically as soon as within range of your phone.  Here's some of what you get online (some data fields aren't quite showing up fully on the beta app):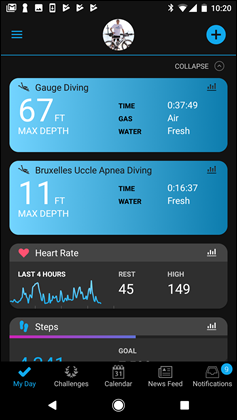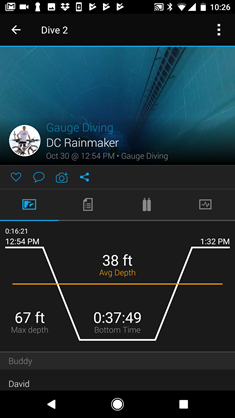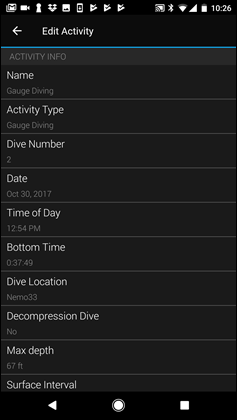 You'll also get HR charts as well as depth and temperature charts.
From a dive log perspective, everything is basically in three places: Watch, your phone, and Garmin Connect (web) automatically.  The only downside is that there doesn't appear to be an easy way to import all your existing dive history (or to recreate dives quickly).  Of course, most other dive watches don't support that either, but still, it's always a sad-panda moment when any dive/training log shows zero.
Oh – and lastly, on the watch face it'll show your time remaining till it's safe to fly (essentially 24 hours since last dive).
Wrap-up: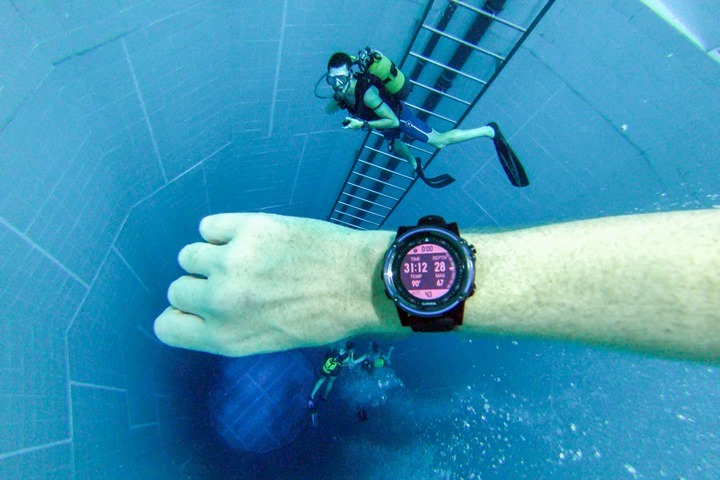 Now, for those wondering if I'm getting into the dive watch computer realm with in-depth reviews, the answer is simple: Nope, unlikely.  First off, I just don't live in a place that's terribly conducive to doing that topic justice.  It'd be like writing reviews of running GPS watches and only using a treadmill.  So until I move to/buy/whatever a tropical island to dive from every day, you're stuck with me out of breath running the streets of Paris.
But ultimately, I like discussing things that are interesting, even if not the core of what I do day to day.  It keeps it interesting to me.  And in the of the Garmin Descent MK1, it's notable because there's so little competition to this type of device in the marketplace.  Obviously, there are tons of dive computers.  Both high end and low-end.
The funny thing is though, there are really none that have the feature-set that Garmin arrives with beyond the diving pieces.  In the diving world, most dive watches are large and clunky (albeit sometimes for valid reasons), and those that are slimmer tend to be pricey, and even then super minimalist when it comes to being able to be worn on land.  All of which Garmin knows.  They can arrive with a unit that's far more connected than any other offering in the market, and at a price that's actually quite comparable ($999USD for base model) to other high-end dive computers.
Said differently: Garmin isn't doing anything significantly unique compared to other dive computers in terms of the diving-specific feature set.  What they are doing though is doing that though coupled with a complete GPS smartwatch.  That's unique.
Of course, the question is whether the diving market trusts Garmin.  Certainly in the sports realm, the overwhelming bulk of runners and cyclists do (as the numbers clearly show), but we also have become accustomed to Garmin's occasional software snafu's.  If your GPS watch stumbles on a run, it's one thing.  But if it has an error in a highly technical dive – that's an entirely different situation.
Obviously, as I noted above, Garmin says they've done a lot in this area to address the safety concerns.  Which are ultimately no different than the ways Garmin addresses them in other safety-critical businesses like aviation and marine.  And in the case of those markets, it's really a case of consumers over time trusting the products they're using.  They noted that while the Descent will largely get the same software/firmware updates the Fenix 5X gets, that due to the extra safety checks, there will probably be a slight lag there to the Descent.
Which ultimately brings us back to the Descent MK1.  Garmin will have to prove over time that the unit they've made is dependable, no matter how much bottom time beta testing divers have had.  And if they do that?  They'll likely take the dive computer market by storm.  Especially since it's almost inevitable they'll apply the same logic they did in the running and cycling realm: Start with prices comparatively high, and iterate down to offering compelling budget options that blanket the market.
In the meantime, I need to find a tropical island.
With that – thanks for reading!
Found This Post Useful? Support The Site!
Hopefully you found this review useful. At the end of the day, I'm an athlete just like you looking for the most detail possible on a new purchase – so my review is written from the standpoint of how I used the device. The reviews generally take a lot of hours to put together, so it's a fair bit of work (and labor of love). As you probably noticed by looking below, I also take time to answer all the questions posted in the comments – and there's quite a bit of detail in there as well.
If you're shopping for the Garmin Descent MK1 or any other accessory items, please consider using the affiliate links below! As an Amazon Associate I earn from qualifying purchases. It doesn't cost you anything extra, but your purchases help support this website a lot. Even more, if you shop with TPC (The Pro's Closet), you'll save $40 on purchases over $200 with coupon code DCRAIN40! The Pro's Closet has been a long-time partner of the site here - including sponsoring videos like my cargo bike race, as well as just being an awesome Colorado-based company full of good humans. Check them out with the links below and the DCRAIN40 coupon!
And of course – you can always sign-up to be a DCR Supporter! That gets you an ad-free DCR, access to the DCR Quarantine Corner video series packed with behind the scenes tidbits...and it also makes you awesome. And being awesome is what it's all about!
Thanks for reading! And as always, feel free to post comments or questions in the comments section below, I'll be happy to try and answer them as quickly as possible. And lastly, if you felt this review was useful – I always appreciate feedback in the comments below. Thanks!