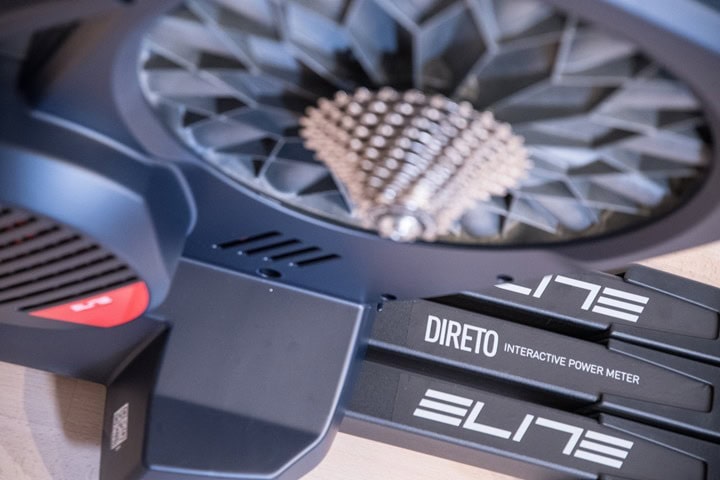 Today Elite announced their newest trainer for the 2017-2018 winter trainer season – the Direto.  This direct drive controllable trainer is notable partly for its price ($899), but also partly because it's sporting easily the highest accuracy rating of any sub-$1,000 controllable trainer: +/- 2.5%.  In doing so, Elite is basically throwing down the hammer on their competitors.  Not just from a price standpoint, but also a specifications standpoint as you'll see.
I've got an initial manufacturing run test unit that I was able to get some riding in on.  Note that it's not a final unit, as that'll come later this month as they spin up the production lines after validating things over the next week or two.  Still, it's definitely an interesting look at what may be one of the most competitive trainers this year.
First up though – if you want everything from trainer sound levels to first ride testing all in one video, here ya go:
With that out of the way – onwards into the tech weeds we go.
The Tech Specs: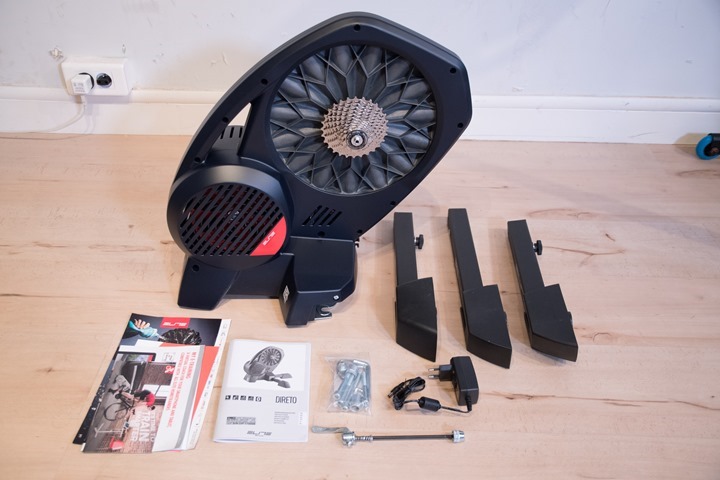 So I started hinting at the tech specs above, but I think it's best just to bulletize them into one big pile of spec awesomeness.  Then I'll walk through what some of the key ones mean.  Here we go:
Trainer Type: Direct Drive
Price: $899USD/€849/£749/$1,299AUD
Protocols: Dual ANT+ (incl FE-C) & Bluetooth Smart
New Protocols: First to support Bluetooth Smart trainer control standard
Trainer Apps Supported: Basically everything
Max Wattage: 1,400w
Max Incline: 14%
Stated Accuracy: +/- 2.5%
Power meter inside: Yes
Can provide pedaling analytics: Yes
Flywheel weight: 4.2KG/9.2LBS
Foldable legs: Yes – total weight is 15KG/33.1LBS
Cassette & Axle support: 9/10/11 speed, thru-axle for 130-135x5mm & 142×12.
Phew, so there ya have it – everything in one go.  Let me dive into the pieces I think are most important though:
Accuracy: Without question, this is what's selling this trainer. A stated accuracy claim of +/- 2.5% is pretty significant.  It basically makes it on par with most power meters that sit at +/- 2% these days.  Elite is able to pull this off by integrating a power meter into the Direto unit itself.  Elite calls that the OTS – Optical Torque Sensor.  This is similar to the OTS system that's in their higher end Kura and Drivo sensors last year, except those sensors are now known called OTS Plus.  As you may remember from my in-depth review, the Drivo accuracy is stunning, and even more than that is the stability of the wattage control.  Don't worry, we'll talk initial accuracy results in a bit.  For background, the vast majority of trainers below $1,000 are wheel-on (not direct drive), and within that almost all of them have +/- 5%, and sometimes that +/- 5% claim is a bit iffy.
Max Incline & Wattage: Most sub-$1,000 trainers have a max incline of about 8-10%.  We saw a few last year like the CycleOps Magnus go higher than that, but it was still wheel-on.  With the Direto – it comes in at a solid 14%.  Of course, this stat mainly matters in these Zwift days, but also as people leverage apps like Kinomap to re-ride steep climbs like Alpe d'Huez.  I don't think the 1,400w piece matters as much here to be honest, since the majority of riders can't get near that number (for example, I top out at ~1,000w).  However, where it is useful is for riders who might want a trainer that can handle over 1,000w and know that for structured interval work (e.g. 30×30's) it'll still be solid and not struggle to maintain power.
Dual & New Protocols: Sure, the unit transmits and works across both ANT+ & Bluetooth Smart – as any saleable trainer does these days.  That includes ANT+ FE-C for trainer control to many apps, as well as custom Bluetooth Smart control used by many apps as well.  Plus just standard transmission of power/speed/cadence over ANT+ & Bluetooth Smart.  But there's a new and hidden little feature here: Support for the new Bluetooth Smart trainer control standard (officially called the Fitness Machine Profile/Service).  Elite's the first company to adopt it on the trainer front.  From an apps standpoint, TrainerRoad has confirmed they'll soon support the new standard, as has Zwift, Kinomap and The Sufferfest.
Price: Of course, I'd be remiss if I didn't point out the price is a big deal.  It matches that of the Tacx Flux, which has a stated accuracy range of +/- 5% instead.  The Flux is also limited to a 10% grade (vs 14% for Direto).  But let me dive into that all a bit later in this post.
Ok, with those big ticket items out of the way, let me backup a bit for those that may not be as familiar with these trainers to offer some quick background on how it works from start to finish.
First up is that folding aspect.  The unit can be folded up for easy storage. Given it weighs a fair bit less than some of the higher end trainers, this makes movement all that much easier.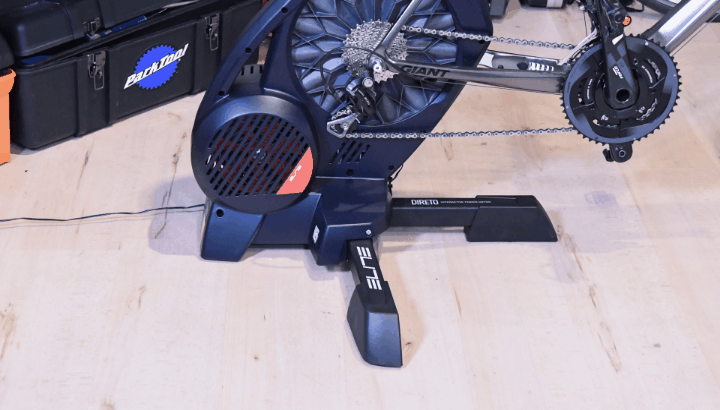 The two legs lock in place using these little thumb screw type things, so it won't go anywhere.  You can also adjust the height of the legs, should you have wonky flooring.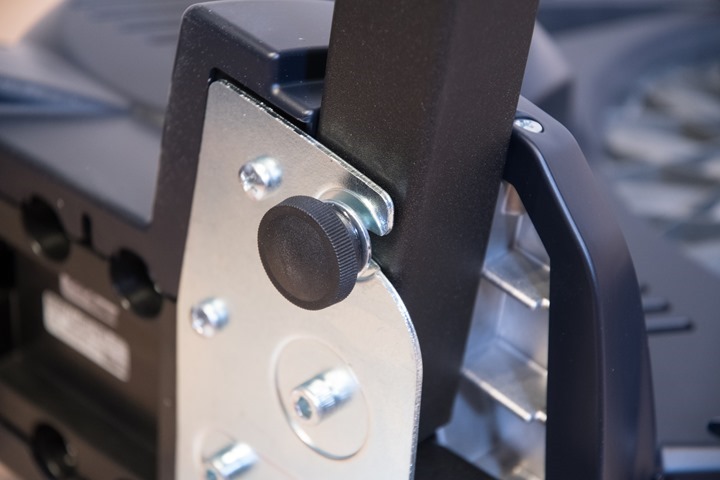 Next, you'll need to plug it in to get the controllable aspects to work.  It will provide a low amount of resistance without power, but it won't be controllable without it.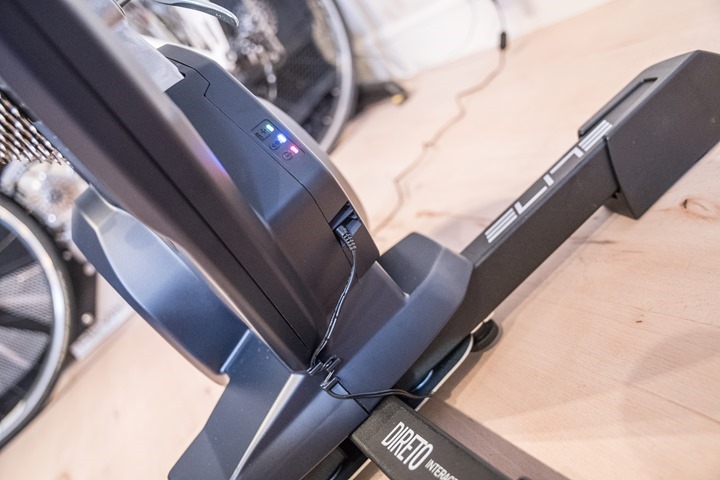 Once plugged in you'll get the status indicators to light-up.  This includes power, ANT+, and Bluetooth Smart.  When a connection is maintained over those channels, that indicator will illuminate: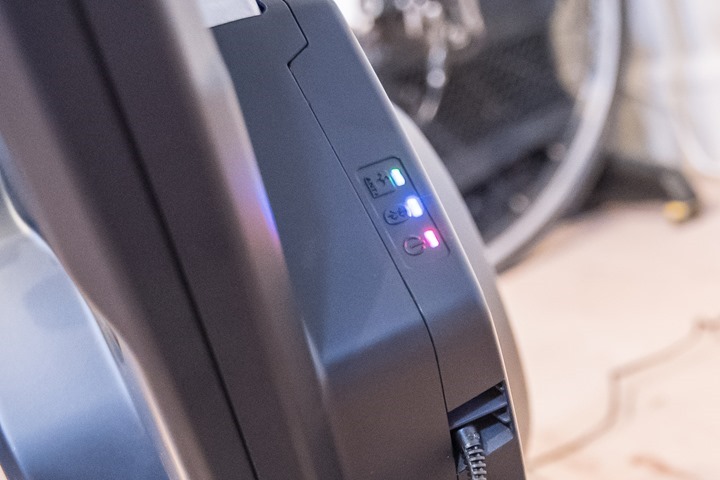 The direct drive nature means that your rear wheel is removed when you place it on the trainer.  This is generally considered a good thing as it eliminates any slippage and in most cases is quieter – since you've removed the sound of the tire on the trainer.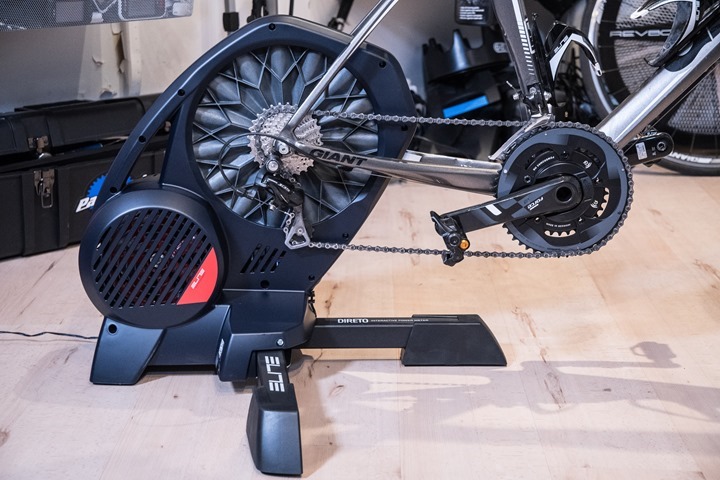 Now because it's a direct drive trainer, you will need to install your own cassette on it.  The unit accepts 9/10/11 speed cassettes.  A cassette will typically set you back about $50 for a Shimano Ultegra one (just an example), and then another $15-$25 for the tools if you don't have those.  Not a huge deal, and it only takes 3-4 minutes to install.  But just something to be aware of: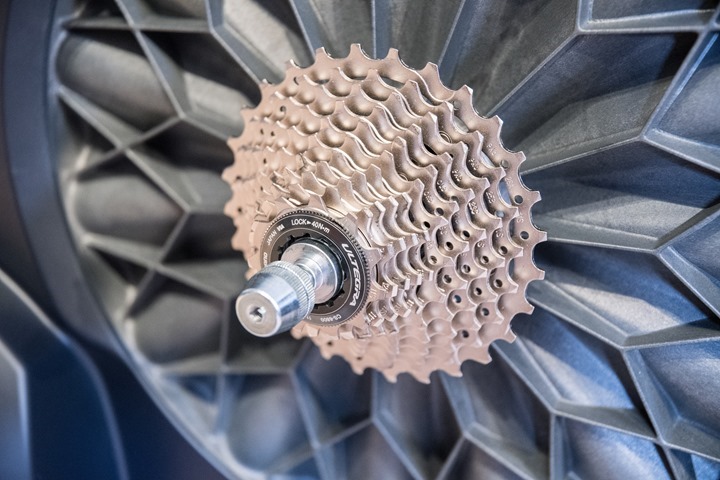 With everything all set you'll start by pairing it to an app to control the trainer.  Elite includes a 12-month subscription to their platform, or you can use any of more than two dozen apps (see my huge app guide for that).  These include apps like Zwift, TrainerRoad, The SufferFest, Kinomap, and many more.  It can do this over ANT+ or Bluetooth Smart.  Here it is pairing on an iPad via Bluetooth Smart: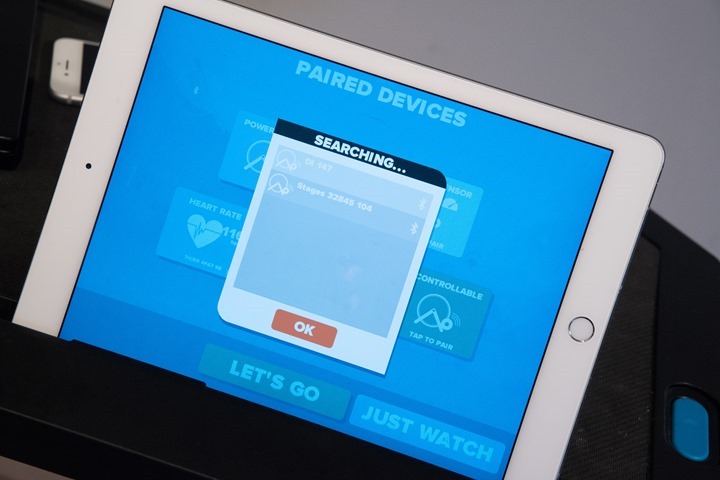 And then here I am pairing it with a Garmin Edge device via ANT+ FE-C (so I could re-ride given routes straight from the Garmin):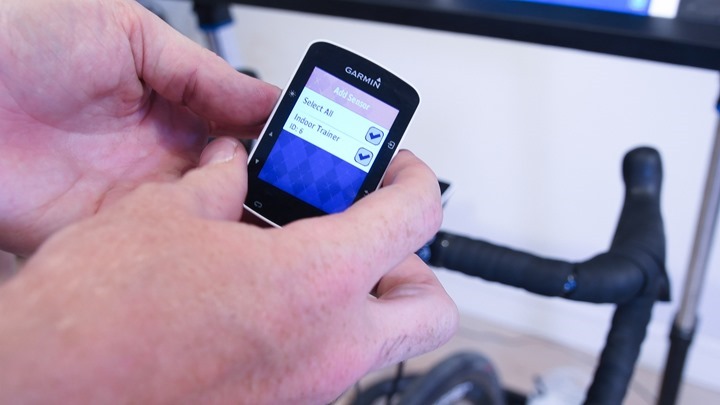 From a standards standpoint it supports the following:
ANT+: Power with speed/cadence channel, ANT+ FE-C Trainer Control standard
Bluetooth Smart: Power with speed/cadence, private Elite BT control, Bluetooth Trainer Control Standard
So basically, it has everything you'd need from a control or transmission standpoint, and does so concurrently.  So you could mount your Garmin to your handlebars and get your power data transmitted to it at the same time you ride using Zwift and Bluetooth Smart.
With all that goodness out of the way, you're ready to jump on and ride.  Given it's a controllable trainer, it'll automatically adjust the resistance to match what your app is dictating.  This means for apps like Zwift or Kinomap it'll adjust the incline appropriately to the scenery – such as 7% incline.  And for ERG apps like TrainerRoad (or Zwift Workout mode), it'll adjust the wattage to the defined levels – such as 315w. That's really the beauty of such a device – you just need to pedal.  Of course 'just need to pedal', can certainly be a challenge in a tough workout session.
So what about road feel?  I talk about this in the video – as it's something that you can get two people side by side on two different trainers and then swap and they'll both give differing opinions.  Still, I'd say this is good – but not in the same category of the $1,200 trainers (i.e. KICKR, etc…).  But it felt a bit better than the Flux while in Zwift in terms of responsiveness and feel.  Again, it's a hard thing to really judge, even when swapping trainers back and forth.
As for noise?  Well you can check that out in the video too.  It rates about average to slightly quieter for a trainer (when I tested at 20MPH, which is what I usually test at).  Still, since it's ERG driven in ERG mode you can reduce speed (without impacting power) and get very quiet (also shown in video).  And I'd say there's less of a grinding sound than there is on the Tacx Flux, so it 'sounds' better in that respect.
Now that I've covered the basics, let's dive into an initial ride data.
Initial Ride Data: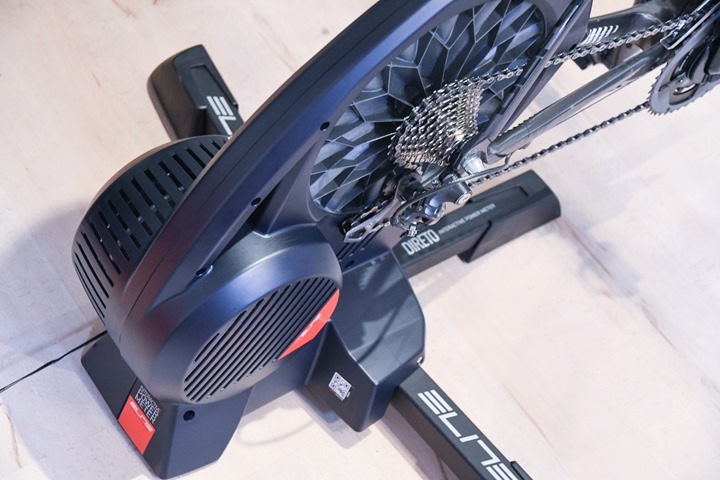 The trainer arrived at just the last minute on Friday, before I had to take off (literally) for the Tour de France.  So my time is limited with it.  And that's OK.  Elite doesn't want this unit to be considered for a full in-depth review, since it's not 100% a final production unit.  While very close, it's technically considered a test production run.  If everything looks good from this manufacturing run set, then they'll commence full-scale production in a few weeks.  At that time they'll shoot me another unit to evaluate more fully and deeply for a complete review.
Still…I can't help myself.  I've gotta at least see what things look like accuracy-wise, right?
For that I loaded up my bike, which is equipped with its usual power meter pile of goodness.  Since it's a direct drive trainer I had to remove the wheel (which contains a PowerTap hub).  That left on the bike a PowerTap P1, Power2Max NG, and then a Stages left-only unit.  For the purposes of this test I focused on comparing it to the Power2Max NG and PowerTap P1 (for a total of three units).
My test would be simple – just wander around Zwift for a while, but with some solid sprints in there.  Also, I'd test out both high and low-cadence and a variety of different gears.  Basically, a complete blend of stuff.  I paired to the Zwift app via Bluetooth Smart, which I ran on an iPad.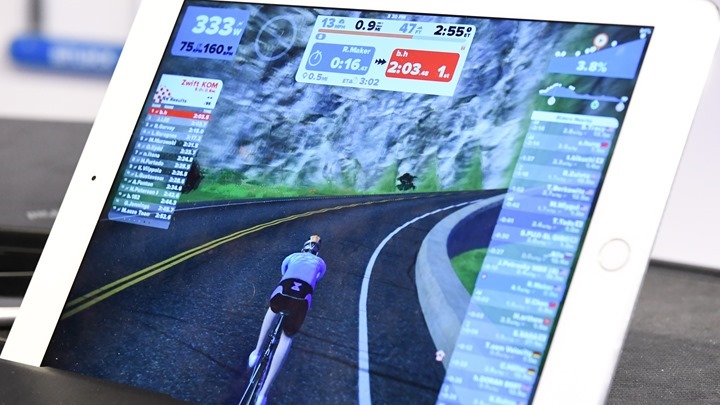 Here's the results of that.  You can dig into the files yourself on the DCR Analyzer, with the data set located here:

(Wondering why I stopped at the 14-minute marker? Well, funny story. In order to shoot the video in the tight spaces of the cave I run out of lens width, as well as outlets. I had stretched the Direto power cord to its absolute length limit.  See that sprint? Well I rocked the cord just enough to pull it out of the wall.  Took me a few moments to figure out what the heck happened.  Next time I'll scoot back a few millimeters.)
As you can see, the unit handled really well from an accuracy standpoint in terms of matching the others (shown here smoothed at 3-seconds).  For example, look at this sprint below:

You can see it quickly tracks the power shift with virtually no delay at all.  Very solid.  Some slight differences at the top between the units in terms of both ordering and exact maxes, but that's normal for sprints between multiple power meters.  Timing and such plays a part into that.
If we look at more random points along the way, you'll see it's very close – only thee watts on 208w.  Of course, you can get a bit into the drivetrain loss argument here too.  But I think these graphs show it tracks incredibly close – which is great.  I'll certainly be diving into more data on final units.

So for a first ride – so far so good!
The only minor beta bug is that I was unable to connect over Bluetooth Smart from the TrainerRoad iPad app to the unit.  Well, I was able to connect, just not control it.  I had no issues with TrainerRoad and ANT+ FE-C.  My guess is just a minor compatibility thing.  In talking with TrainerRoad, they say they'll dive into it and resolve it quickly.  Historically speaking, that means like a few hours. 😉
Of course – again, it's not final and thus things could change.  Perfect accuracy like above could go to crap.  Though, usually that doesn't happen.  But still – I just want to point out that this isn't a full review, but just a first look.
Product Comparison:
I've added the Direto to the product comparison tool, which allows you to compare it against virtually any other trainer on the market (or at least, all the ones I've tried out).  For below I've compared it against the Elite Drivo (that's their higher end model), as well as the Tacx Flux (same price), and for random comparison the Tacx Neo.  Of course, you can make your own comparison charts here to mix and match your own trainers.
Function/Feature

Elite Direto (2018)
Elite Drivo
Tacx Flux 1
Tacx NEO Smart
Copyright DC Rainmaker - Updated December 3rd, 2020 @ 5:35 am New Window
Price for trainer
$849 ($799 for 2017 models)
$1,199
$799USD/€799
$1,369
Trainer Type
Direct Drive (No Wheel)
Direct Drive (no wheel)
Direct Drive (no wheel)
Direct Drive (no wheel)
Available today (for sale)
Yes
Yes
YEs
Yes
Availability regions
Global
Global
Global
Global
Wired or Wireless data transmission/control
Wireless
Wireless
Wireless
Wireless
Power cord required
Yes (no control w/o)
Yes
Yes
No
Flywheel weight
4.2KG/9.2LBS
13.2lbs/6kg
6.7kg (simulated 25kg)
SIMULATED/VIRTUAL 125KG
Includes cassette
No
No

Resistance

Elite Direto (2018)
Elite Drivo
Tacx Flux 1
Tacx NEO Smart
Can electronically control resistance (i.e. 200w)
Yes
Yes
Yes
Yes
Includes motor to drive speed (simulate downhill)
No
No
No
Yes
Maximum wattage capability
1,400w @ 40KPH / 2,200w @ 60KPH
2,296w @ 40KPH / 3,600w @ 60KPH
1,500w @ 40KPH
2,200w @ 40KPH
Maximum simulated hill incline
14%
24%
10%
25%

Features

Elite Direto (2018)
Elite Drivo
Tacx Flux 1
Tacx NEO Smart
Ability to update unit firmware
Yes
Yes
Yes
Yes
Measures/Estimates Left/Right Power
9EUR one-time fee
Paid option (9EUR)
No
No
Can rise/lower bike or portion thereof
No
No
No
No
Can directionally steer trainer (left/right)
No
No
No
With accessory
Can rock side to side (significantly)
No
No
No
No
Can simulate road patterns/shaking (i.e. cobblestones)
No
No
No
Yes

Accuracy

Elite Direto (2018)
Elite Drivo
Tacx Flux 1
Tacx NEO Smart
Includes temperature compensation
N/A
N/A
Yes
N/A
Support rolldown procedure (for wheel based)
Yes
N/A
Yes
N/A
Supported accuracy level
+/- 2% (Sept 2018 models, +/- 2.5% for earlier models)
+/- 1%
+/-3%
+/- 1%

Trainer Control

Elite Direto (2018)
Elite Drivo
Tacx Flux 1
Tacx NEO Smart
Allows 3rd party trainer control
Yes
Yes
Yes
Yes
Supports ANT+ FE-C (Trainer Control Standard)
Yes
Yes
Yes
Yes
Supports Bluetooth Smart FTMS (Trainer Control Standard)
Yes
Yes
Yes
Yes

Data Broadcast

Elite Direto (2018)
Elite Drivo
Tacx Flux 1
Tacx NEO Smart
Transmits power via ANT+
Yes
Yes
Yes
Yes
Transmits power via Bluetooth Smart
Yes
Yes
Yes
Yes
Supports Multiple Concurrent Bluetooth connections
No, just one
No, just one
No, just one
Transmits cadence data
Yes
Yes
Yes

Purchase

Elite Direto (2018)
Elite Drivo
Tacx Flux 1
Tacx NEO Smart
Amazon
Link
Link
Link
Link
Clever Training
Link
Link
Link
Wiggle
Link
Link

DCRainmaker

Elite Direto (2018)
Elite Drivo
Tacx Flux 1
Tacx NEO Smart
Review Link
Link
Link
Link
Link
Again, remember you can mix and match the your own comparisons here.
Impact to the market: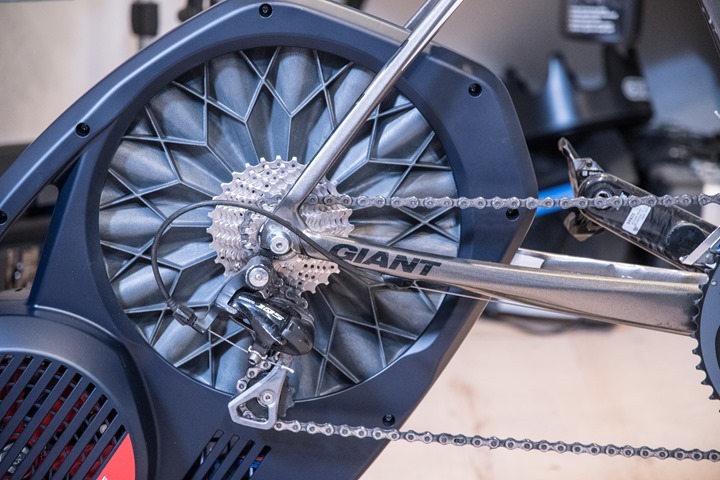 So what's this all mean going forward?  Well the most obvious thing to me is that this is the trainer to beat for 2017.  While traditionally new trainer announcements extend into the Eurobike/Interbike time period (last week of August/middle of September), I don't think we'll see much in the way to compete with this.
Last year we saw Tacx throw out the daggers with the Flux.  That got off to a rough start though with both delays and then manufacturing QC issues.  These days all is well of course, and it's a solid performer.  The question is whether Elite can avoid that same fate.  My hunch says yes.  Partly because Elite historically has a better track record of doing so, and also because Elite is over 2 months earlier already than Tacx was.  Elite's planning on starting shipping in merely a few weeks, compared to Tacx had planned to initially ship in October last year.
Of course, we could still see something new from Wahoo, or perhaps Kinetic if they're willing to join the rest of the world on dual ANT+/BLE.  I don't expect anything new from CycleOps, since they had a pretty strong new-products year last season and really only caught-up this winter with demand.  Which roughly looks like Tacx too.
As noted earlier though – expect a full in-depth review of the Elite Direto in early-mid August, assuming I get a final production Direto in late July.  And then as usual expect my Annual Trainer Recommendations Guide in the fall, after Interbike and Eurobike.  I suspect it could be out far sooner this season than years past, given the timelines of companies involved.  But even those best laid plans often get slighted by someone.
With that – thanks for reading!
P.S: Also check out initial thoughts from Titanium Geek and GPLama, both of which do good work in this space.
P.P.S: You can pre-order the Direto now from Clever Training.  In doing so you help support the site, plus you'll save 10% using DCR coupon code DCR10BTF and free US shipping.  For European folks, Clever Training is looking to have the CT Europe listings up shortly, which also qualifies for the coupon code and free shipping.