In what may seem like a sea of Fitbit models, the Fitbit Alta HR attempts to strike the balance between what folks want as a straightforward activity tracker, while making some nods towards basic workout support.  I've been wearing a unit now for about two months – tracking my moves 24×7.  So I figured now's a good time to dive into how well the unit works and where it stands against the competition.  Especially since the competitive landscape continues to get more and more crowded.
Before we go too far though, here's the basic view of the current Fitbit ball field:
Fitbit Zip: Yes, they still make it (it's not super current).  But it's tiny and kinda awesome.
Fitbit Flex 2: A band that tracks your steps, but no display, just a mini light show.
Fitbit Charge 2: A small display, a button, and a heart rate sensor.
Fitbit Alta: A small display without the heart rate sensor (came out a year ago). No button, touch tap only.
Fitbit Alta HR: An Alta with the HR sensor (this post).
Fitbit Blaze: Their main full-featured smartwatch (no GPS).
Fitbit Surge: Their GPS watch that's really old.
Got all that? Good.  I've skipped over the older Fitbit Flex, and Fitbit One…because they're older and not superseded by something else.
One final note is that Fitbit sent me out a loaner unit to try out.  After I'm done with this review I'll ship it back to them like normal.  Just the way I roll.  You can hit up the links at the end of this review if you find the review useful and want to support the site.
With that – let's get cookin'!
Size Comparisons: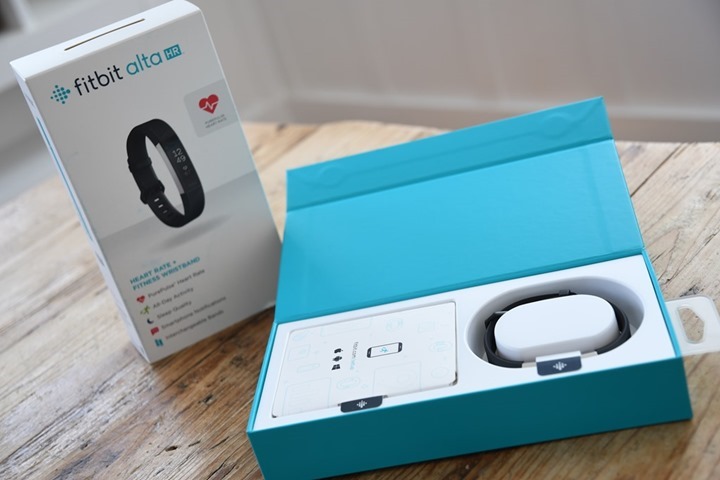 When it comes to looking at how the Fitbit Alta HR sizes up, it's definitely one of the smallest out there in its class.  Of course, this class of devices tends to be pretty small.  Comparing it for example to the Garmin Vivosmart 3, you'll notice both have slight differences but are very similar.
The Garmin Vivosmart 3 is a shade bit larger in width than the Fitbit Alta HR.  On the flipside, it has more functions for sport and tracking than the Fitbit does. Though, the Alta HR has band swappability, whereas the Vivosmart 3 doesn't.
If you then compare that to something like the Polar A370, you'll see that the A370 is a fair bit bigger.  But then again, the A370 has a much brighter and bigger display and far more sport functions.
So, in general, the bigger you get, the more stuff they cram in there.  Same would be true if you compared it to the Garmin Vivosmart HR+, which is in the ballpark of the Polar A360/A370 for size – but also contains GPS.  Here's a quick look at the weights of each of them:
Ok, with sizing out of the way, let's dive into the details.
The Basics: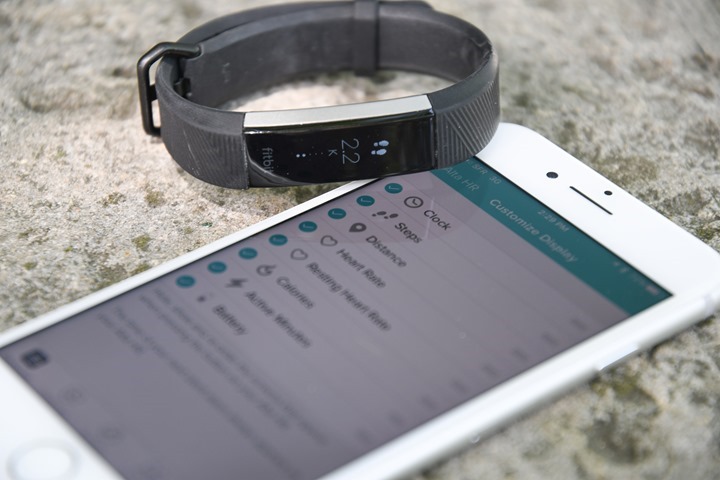 When it comes to using the Fitbit Alta HR, things are pretty straight-forward.  For the most part you've only got a few screens to tap your way through.  In a lot of ways, the majority of the data gathered by the unit is viewable from the app – not the device itself.
Sure, you've got core things like calories, steps, and distance shown on the device – as well as your current HR.  But to see data from workouts or HR trends, you'll need the app.  But let's not get too distracted yet. First the unit itself.
The display will always be off unless you either raise your wrist to look at it, or double-tap it.  I'd say about 80% of the time it correctly gets the wrist-raise, but the remaining 20% I'll have to double-tap it.  In most cases where I have to double-tap it's because the wrist motion wasn't significant (like reading a book or sitting on the couch and only slightly moving to see the screen).  The battery life is as stated, about a week.  I haven't had any issues there.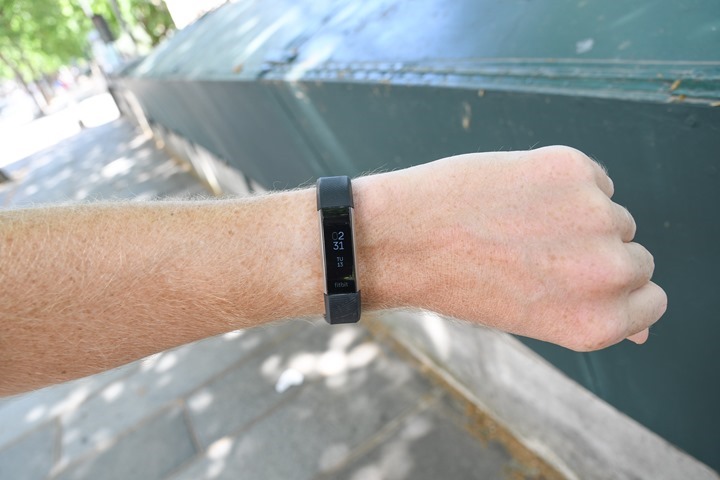 Once illuminated, the unit will by default show the time of day, day of week, and date – as seen above.  You can customize this display though via the mobile app.  This includes customizing not just the clock face screen, but also whether it's in a vertical or horizontal orientation.  As seen below, some of these clock faces also show your current HR or progress towards your goal.
Next, we can tap our way through up to 8 different display pages.  These are listed below and can be turned on or off as you see fit.  You can also customize the specific order of them:
Here's how a few of them look:
Throughout the day the unit is tracking your steps and distance, but its real motivation is to get you to move more.  So by default you've got a step goal (of 10,000 steps).  But you can customize that to instead be a distance goal, calories burned goal, or active minutes goal.
Each hour, at 10 minutes to the hour (i.e. 4:50PM), it'll buzz you if you've missed your step goal for the hour.  In doing so it'll give you some little bit of encouragement to stop being lazy.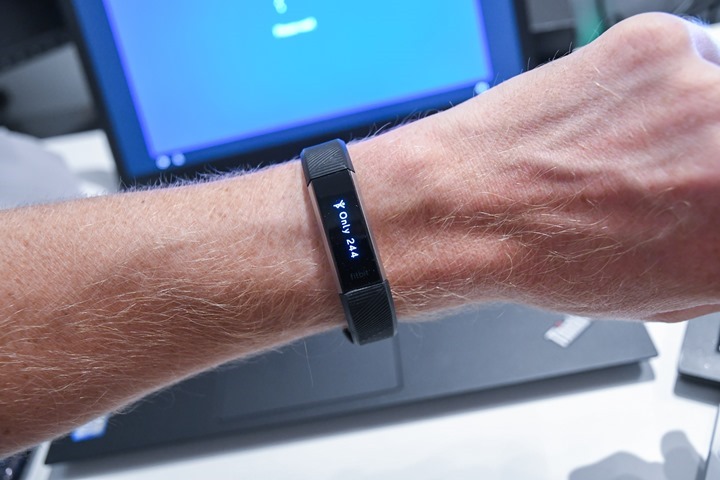 These move reminders can be turned off, or otherwise customized for your start and end times of the day.  Or, if you decide that on Sunday you can be extra lazy.
Of course – a big part of using an activity tracker is to track your steps and distance (as well as other activity).  With the Fitbit Alta HR, you'll get the daily status as shown in the gallery a few paragraphs up.  But what if you want to see trending over time?  For that, you'll crack open the app.  It's here that you can see overview stats for each day, and then tap left/right to change days.  You can also tap any given metric (such as steps) to see what things look like for each day of the week, allowing you to scroll back as far as you'd like.
The same is true of other metrics like calories or active minutes.  Note that the Fitbit Alta HR does not track floors however, which is why you see it as zero above.
Next, we've got more general notifications – specifically smartphone notifications.  With the Fitbit Alta HR, you'll get both text and call notifications, as well as calendar reminders.  But that's it.  You won't get Twitter notifications or any other app you've got.  So if you happen to use WhatsApp for example, you're hosed.
This is a weird sticking point that Fitbit continues to stick to – despite most of their competitors allowing you to customize what alerts you get (you know, the whole user in control thing).  While Fitbit has opened this up on some of their higher end units, they continue to restrict it here.
On one hand you could argue the display is tiny and almost useless for anything of length.  And that's probably true.  But there's no real difference in length between a text message sent via the native text and that of WhatsApp.  It's still my friend asking if I want to meet up for a ride using the same wording.  Thus…I'm not sure why Fitbit continues to box users in.
In any case, last but not least we've got sleep capabilities.  The unit itself doesn't display sleep metrics, but rather instead records sleep data as you wear it each night.  That data is then accessible from the app.  Fitbit has semi-recently updated their sleep metrics to be quite a bit more useful than it was in the past.  To begin, of course, you've got an overview of sleep hours by days in the week for the past week (you can go further too).  You can then tap on any given day to get more details about that night of sleep:
(In case you're wondering how I ended up with a crapton of sleep one night – I was transiting timezones, so things ended up funky for whatever reason that night.)
You'll notice up top on the right that I've got the time asleep (6hr 16mins), but also a funky waveform like looking graph that shows you what type of sleep I was in throughout the night.  I can scroll down in the app to get more details about that, and then comparisons to my averages as well as everyone else:
I can further click on the sleep details to get more sleep stage information by day.  Additionally, you can customize sleep goals, such as a target time to be asleep and wake-up each day, as well as then a reminder for you to hit the sack.
And with that, we've pretty much covered all the functionality there is on the Fitbit Alta HR itself aside from workouts.  You see, there's no specific workout mode on the device, but rather, that's triggered from the app on your smartphone.  So let's head on into the workout section to dive into that a bit more.
Workout Modes: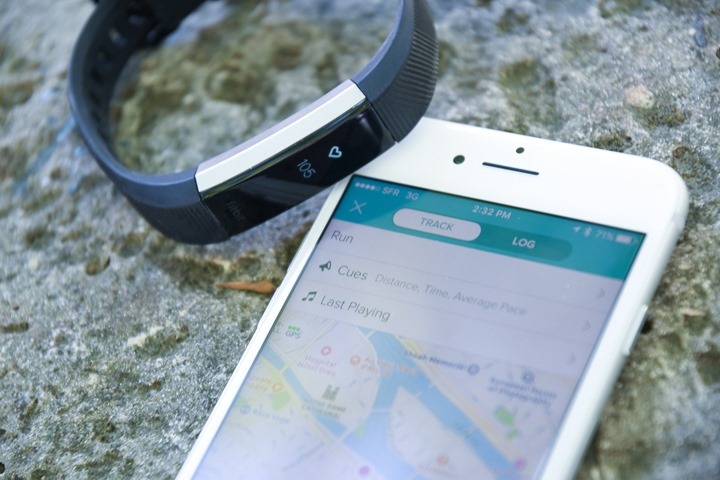 Unlike the Fitbit Charge 2, the Alta HR doesn't have a dedicated button for starting a workout from the band itself.  Instead, you've got two options – one is to let it automatically detect your exercise.  And the second is to manually start an exercise from the smartphone app.
See, by default the unit will also automatically track certain activities (like a run or ride) using the accelerometer within it.  So you don't need to open the app if you don't care about a GPS map or more details.  These automatically detected activities will automatically show up within the app without any pre-workout phone touching required.  You can also tweak these if need be to make them shorter/longer.
They'll show up in your workouts page on the app – allowing you to see each type of activity there:
But what if you want a workout track with a GPS track?  Or if you want more accuracy for distance than the accelerometer will usually provide?  For that, you'll use the smartphone app to trigger the workout starting.  To do so you'll tap the + icon on the app, then select 'Track Exercise' which will ask what type of workout you're doing:
You can only change to Run, Hike, or Walk…which…is frankly kinda stupid and lame.  Why not cycling for example?  I mean, after all it's only tracking your heart rate from the device – so anything should really be possible here.  Or perhaps you want weight training while indoors?  Or Yoga?  Or fill in the blank here.
In addition, you can configure audio voice cues, which come from your phone (either the speaker, or headphones plugged in).  These can be customized to speak different metrics at different points.
What happens after you press start is that you'll get heart rate data from the unit saved directly to the app via Bluetooth Smart.  So you must take your phone with you for this to work.  You'll also be able to see the exact distance on the app itself.  Note – there's no additional data displayed on the Fitbit Alta HR, that'll just do its normal screens.
So basically, the app is acting like any other GPS fitness app – except it's simply pairing to your Fitbit Alta HR to get your heart rate (sorta like pairing to a heart rate strap).  Speaking of which, the Fitbit Alta HR does NOT broadcast your heart rate to other apps in real-time (many other trackers do).  So no, it does NOT broadcast over either Bluetooth Smart or ANT+ standard HR profiles.  Nor will it communicate with gym machines like treadmills.
Once your workout is done you can end the session on the phone and you'll get stats about it (seen earlier in this section).  You'll also likely get some congratulatory goodness as you finish your run.
As you can see, it's a pretty straightforward experience that's honestly less advanced than any 3rd party app like RunKeeper, MapMyRun or others.
After the workout you'll see the completed workout data – including the map – within the app or online: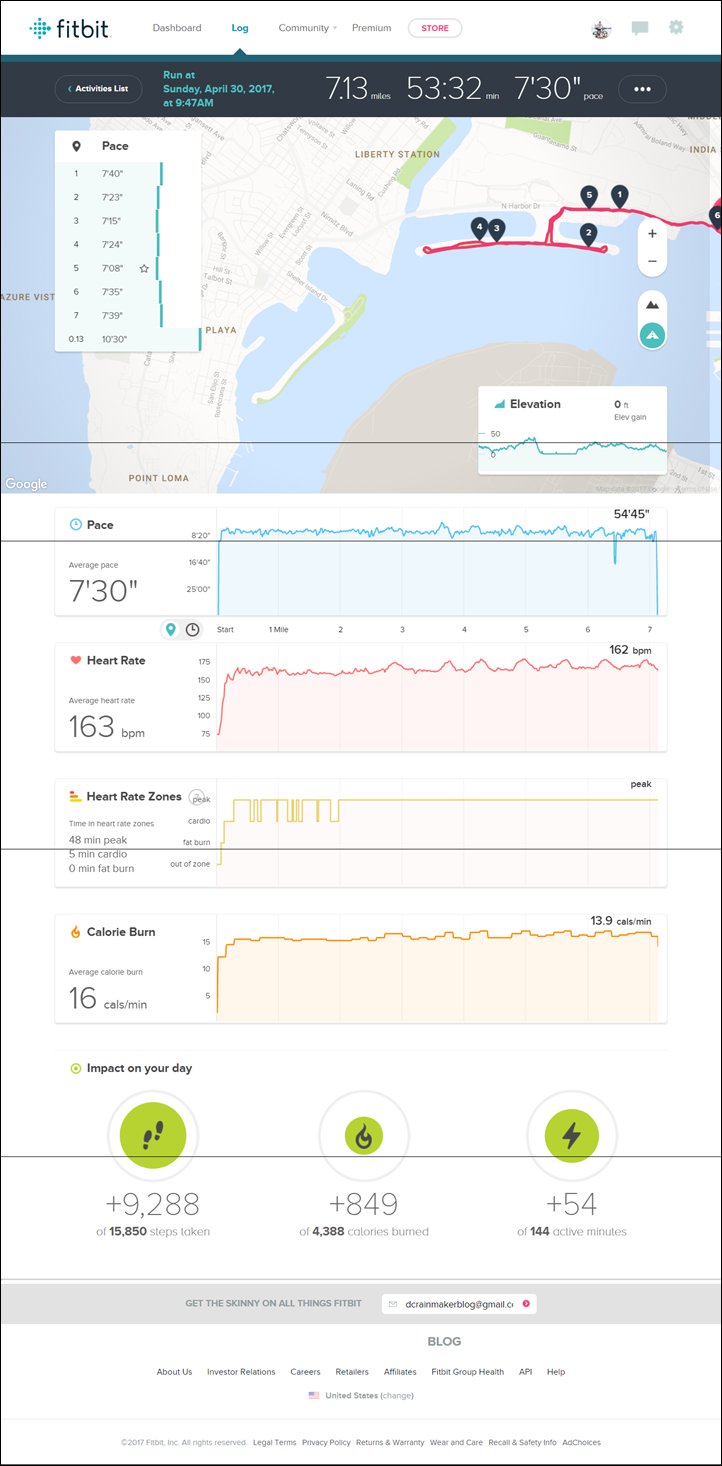 With the sport functionality covered, let's talk about whether the HR functionality is worth a hill of beans or not.
Heart Rate Accuracy: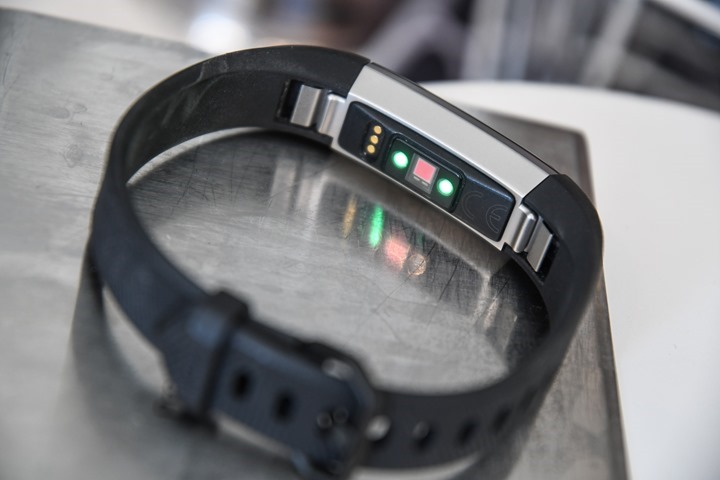 So what about optical HR accuracy?  Well, there's two pieces to that.  First is the 24×7 HR component.  How well does it record heart rate when not in sport?  For that, I found things pretty good.  In many ways Fitbit's optical HR sensor is better tuned for 24×7 mode than sport mode, and it shows here.  It's sampling at a 1-second rate, and is recording quite near that as well.  And all the data I've seen while comparing multiple devices at once for 24×7 mode looks pretty good on the Alta HR.
Note that the 24×7 mode data is shown on the unit itself using the HR data page, or by customizing the clock face to show it by default.  Also, the data can be seen within the app too – both in real-time as well as historical trends.
But what about sport mode?  Well, that's gonna vary person to person, and situation to situation.  One of the things that makes smaller band accuracy more challenging is how much light gets in from the side (daylight is the arch-enemy of optical HR sensor accuracy, and a loose fitting and very thin band is super tough).  Still, with that in mind, I went out and tested it in a few different scenarios.
Keep in mind that in order to test this accuracy you need to start a workout from the phone.  That way you can get a workout file to compare against other files with.  For these tests I was using both a chest HR strap as well as another optical HR sensor watch, and in some cases a fourth HR sensor (such as the Scosche Rhythm+ on the upper arm).  No wrist had more than one device worn.
First up is a run in San Diego on a relatively warm and sunny day.  In this run I started off at a reasonable pace and then slowly escalated.  Eventually I dipped into doing intervals – 6 repeats in total.  Here's the overview (and the data set in the DCR Analyzer):

As you can see, overall the Fitbit Alta HR did actually pretty well, especially in the interval portion.  Early on however in the first 7-10 minutes it struggled a little bit, and overshot on HR compared to the other devices.  For this run I had a chest strap (Wahoo TICKR-X), a Scosche optical sensor (upper arm), and the Suunto Wrist HR (other wrist).  So three optical HR sensors and one traditional chest strap.  Given the terrain during this run was pancake flat (seriously, a table-top has more deviation than this route did), I'm not clear why in the first 10 minutes we see the Fitbit Alta HR have trouble.
Still, the fact that it didn't have trouble after that point is more meaningful to me.  As you can see when I zoom into the intervals, it tracks those quite nicely actually:

Let's shift to another run, this one also in warmer temperatures, but a bit more consistent in intensity for the most part.

You can see a similar pattern to the previous run – where the unit wobbles a bit early on in terms of accuracy, but by about the 10-minute marker is pretty happy for the remainder of the run.  There's slight differences (+/- a few BPM) over the course of the remainder, but that's pretty normal when you start looking at slight differences in measurement and recording rates, and trying to compare those.
Now my next test was to check accuracy while cycling.  Or actually, really any other sport.  Except you can't.
See, remember back when you choose to start a workout with the Fitbit Alta HR you get exactly three exercise types: Run, Walk, and Hike. That's it:
This means that for anything else you get an auto recognized activity. Which in turn means no GPS coverage.  And that matters because for years (still), Fitbit doesn't allow data exports with HR data to non-GPS activities. Sure, you can go onto the site and click 'Export to TCX' for anything.  Except the file it'll give you for a non-GPS activity is simply empty.  It's a useless and null file.  Fitbit doesn't call that a bug – but rather some sort of 'feature'.  Hmm….ok.

So…yeah.
While I could try and compare the data between the picture above and the actual HR sensors I had, that'd be pointless. Why?  Well, two reasons.  First is that the accuracy of doing so is sketchy at best.  But more important is that any person can easily see these two graphs look nothing like each other (the Fitbit seems to think I topped out at about 118bpm, despite major long climbs).  The Fitbit Alta HR is dismal when it comes to tracking optical HR on the bike – a problem I've had with all Fitbit units on the bike.

On the bright side, it was still a nice bike ride.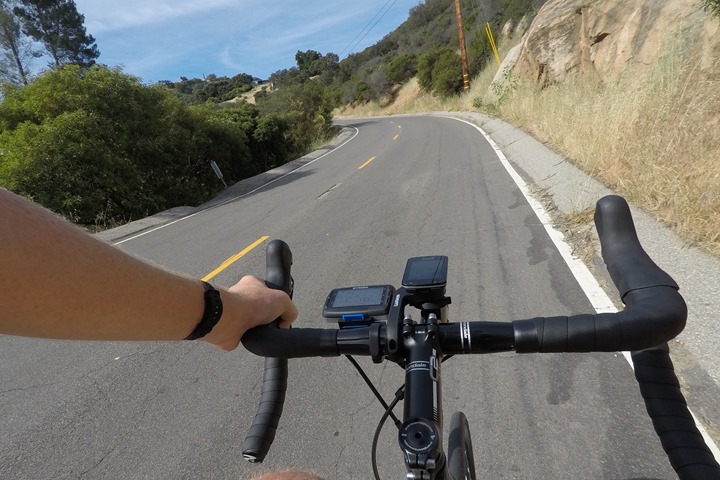 So overall I'd say that on the running side of things I've seen generally good progress from Fitbit (it's much better than it used to be).  However, cycling is dismal as always.  As for other sports – well, again, it's hard to know/tell because strangely Fitbit doesn't actually let you track those sports with the Alta HR.  No indoor gym mode to track lifting, or Yoga, or anything else.
Finally, for lack of sticking it anywhere else – I'm not going to compare GPS accuracy in this review.  Like the Polar A370 review last week, the reason is the same: It'd just be comparing different phones' GPS accuracy – not the Fitbit itself.  That's because with the Fitbit Alta HR using your phone for GPS accuracy, the test results wouldn't mean a whole lot. They'd vary by phone model and invariably you'd have a different model than I.  Then you get into things like firmware versions on the phone which can also impact results.  Still, for those curious – you can look at the GPS tracks with each and every data set I've shared above (it's shown in the DCR Analyzer).  Alternatively, here's a shot of one route, with four different units including the Alta HR.  Things are basically identical (albeit on a reasonably easy route):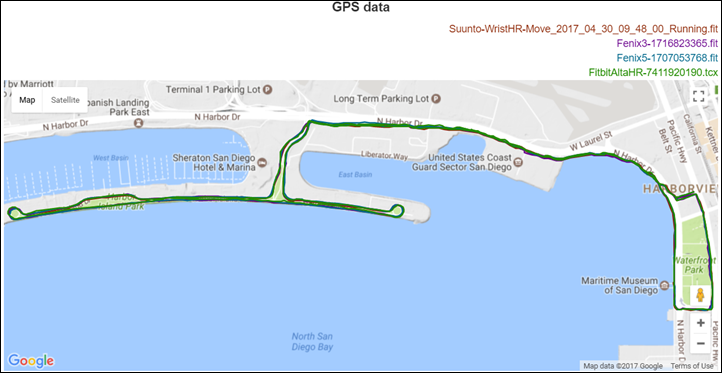 Note that Fitbit allows exports of the GPS track/files using .TCX format – making it pretty easy to do these comparisons.
(Note: All of the charts in these accuracy sections were created using the DCR Analyzer tool.  It allows you to compare power meters/trainers, heart rate, cadence, speed/pace, GPS tracks and plenty more. You can use it as well, more details here.)
Product Comparisons: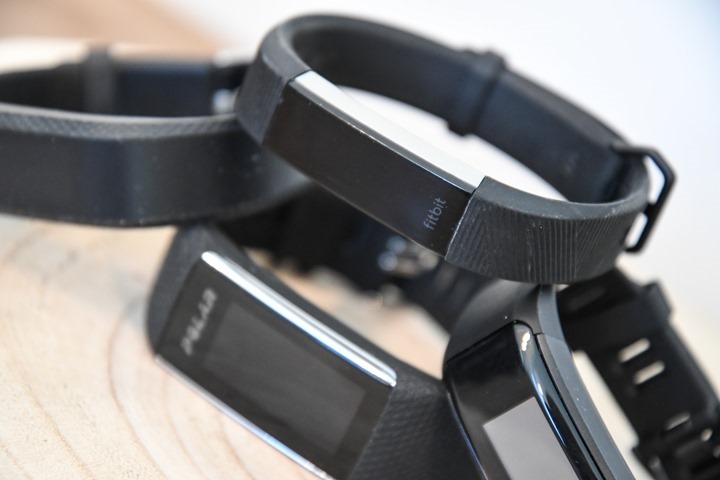 I've added the Fitbit Alta HR into the product comparison tool.  This allows you to compare features against other products in the category, such as those from Garmin, Polar, and more.  While I've shown just a handful of competitors below, you can mix and match and create your own product comparison chart here in the product comparison tool.
For the purposes of below I've compared against the Garmin Vivosmart 3, the Polar A370, and the Fitbit Charge 2:
Again, remember you can mix and match your own comparison charts here in the product comparison tool.
Summary: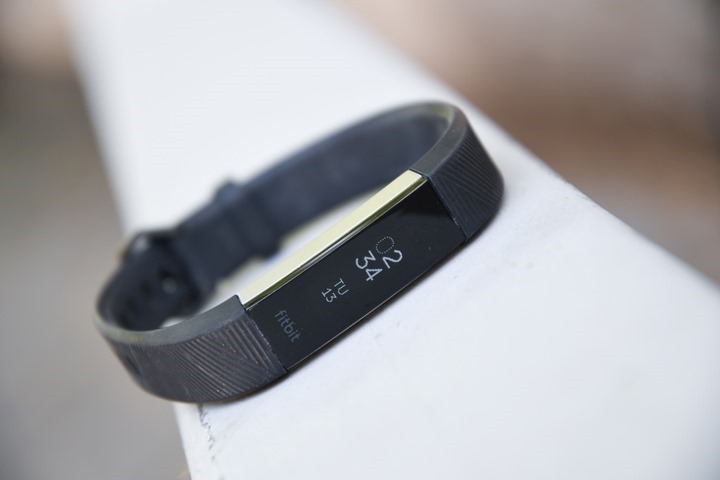 For most people, the Fitbit Alta HR pick up doing what Fitbits of the past have done: Being a perfectly capable activity tracker.  With the porting of Fitbit's optical HR technology into the Alta series, they've expanded the number of wearables they have with wrist-based heart rate technology, and in this case – the ability to swap bands.
But I feel like in many ways when I look at the Alta HR, I kinda just shrug. Fitbit didn't really deliver on anything that would drive most other existing Fitbit users to upgrade to it, unless you really like band swappability.  Which of course – some people really do.  The ability to have more fashion-focused activity tracker bands is definitely a hot trend right now.  But in looking at the Fitbit lineup it's almost become too confusing with too many options, especially in the $80-$150 price range.
As I often note – for most people choosing the best day to day activity tracker (non-sport focused) is really better served by polling your friends.  Given that users on the various ecosystems (Garmin/Polar/Fitbit/Apple/etc…) can't face off against each other to step/activity challenges, it's best to pick a device that resides in the same ecosystem as your friends.  Or, if you have existing sport devices – the same as those.
For the most part, these devices from the major players in this space all work well and all have minor nuances.  Of course, one person's most important feature is another's "don't care" feature – so you'll want to validate whatever you choose doesn't skip that 1% feature that matters to you.
With that – thanks for reading!
Wanna Save 10%? Or found this review useful? Read on!
Hopefully you found this review useful.  At the end of the day, I'm an athlete just like you looking for the most detail possible on a new purchase – so my review is written from the standpoint of how I used the device.  The reviews generally take a lot of hours to put together, so it's a fair bit of work (and labor of love).  As you probably noticed by looking below, I also take time to answer all the questions posted in the comments – and there's quite a bit of detail in there as well.
I've partnered with Clever Training to offer all DC Rainmaker readers an exclusive 10% discount across the board on all products (except clearance items).  You can pick up the Fitbit Alta HR (or any other Alta HR bands) from Clever Training. Then receive 10% off of everything in your cart by adding code DCR10BTF at checkout.  By doing so, you not only support the site (and all the work I do here) – but you also get a sweet discount. And, since this item is more than $75, you get free US shipping as well.
Fitbit Alta HR (select dropdown for size/style)
Additionally, you can also use Amazon to purchase the unit (all colors shown after clicking through to the left) or accessories (though, no discount on Amazon).  Or, anything else you pick up on Amazon helps support the site as well (socks, laundry detergent, cowbells).  If you're outside the US, I've got links to all of the major individual country Amazon stores on the sidebar towards the top.  Though, Clever Training also ships there too and you get the 10% discount.
Thanks for reading!