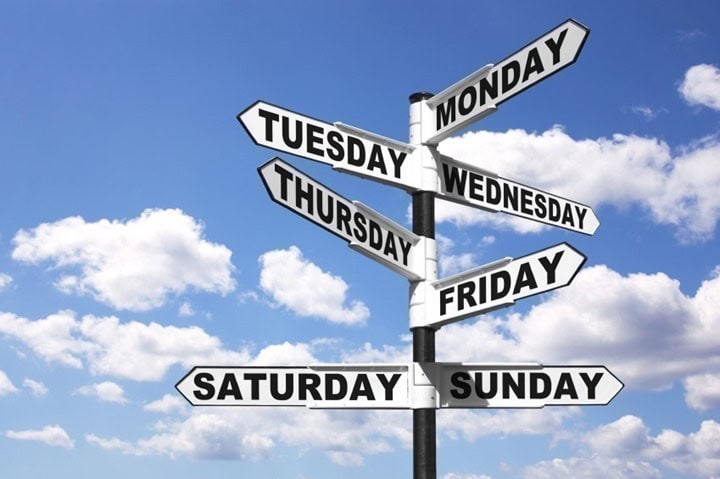 The Week in Review is a collection of both all the goodness I've written during the past week around the internet, as well as a small pile of links I found interesting – generally endurance sports related. I've often wondered what to do with all of the coolness that people write, and while I share a lot of it on Twitter and Facebook, this is a better forum for sending it on to y'all. Most times these different streams don't overlap, so be on the lookout at all these places for good stuff!
So with that, let's get into the action!
DCRainmaker.com posts in the past week:
Here's all the goodness that ended up on the main page of DCRainmaker.com this past week:
Sunday: Week in Review–May 14th, 2017
Monday: 5 Random Things I Did This Weekend
Tuesday: The DCR Analyzer Is Now Available For You To Use!
Wednesday: Giro d'Italia 2017–The Trainers, Power Meters and Gadgets of the Pro Peloton
Thursday: Giro d'Italia 2017: Spectating and behind the scenes!
Saturday: The Day in May DCR $500 Gadget Giveaway!
Sports Tech Deals This Week:
We're into the final push of solid May sales – with many new ones this week returning.  As I've noted in more detail on my sales landing page, May sales are very common.  One of the best deals here is the Garmin FR735 for $315 (normally $450).  It's still receiving Connect IQ and feature updates and is just barely one year old.  Great little lightweight tri/running watch.
Oh – and for some weird reason an entry in the table for 'All Suunto gear is 25% off' isn't showing up.  I've got some techies trying to figure it out, but FYI.  Note that the only watch excluded is the Wrist HR model on that one.
Product

Sale Price

Amazon

Sale Notes

Apple Airpods (2nd Gen) - $25 off
$159
$125
Amazon
⚡ I use AirPods primarily when I'm travelling just to listen in airports, planes, etc... I don't tend to use these for workouts due to them falling out. Also, with the wireless charging case for $50 off. Personally, I just use the basic model.
Apple Airpods Pro - $30 off
$249
Amazon
Yup, these are the new noise-cancelling ones that don't fall out of your ears. I haven't tried them yet, but lots of people seem happy with them.
Apple Airpods Pro - $50 off
$249
$199
Amazon
⚡ This is a very strong deal - by far the lowest price the Airpods Pro have ever been. Note: Also flirting occasionally at $189 ($60 off).
Apple Watch Series 3 (38mm)
$169-$179
$169
Amazon
This is the lowest price we've ever seen for the Apple Watch Series 3. While the Series 5 is the new one, the Series 3 has almost all the same features (and still gets all the updates). It's dipped a few times to $179, but only once ever for Black Friday to $169.
Apple iPad - Latest Model 8th Gen (32GB)
$30 off (10% off)
Amazon
I use my iPad primarily for TrainerRoad as well as Zwift when not with a larger display. I also occasionally use it for other apps, namely The SufferFest - but I pretty much test every smart trainer app on it. This is the latest iPad that was just announced barely two weeks ago, so not too bad to see it on sale already (US AMAZON DEAL ONLY).
DJI OSMO Action (Action Cam) - Normally $329
$349
$249
Amazon
This is a solid price for the DJI OSMO Action, and it's a very strong first contender from DJI to compete with the Hero 7 Black (realistically, except for the dual-screen, it simply doesn't compete with the Hero 8 or Hero 9). I really like a lot of elements on the OSMO Action, but especially the dual-screen. Check out my full review for comparative thoughts. While I would have said that maybe we'd see a new OSMO Action sometime this past spring (an annual refresh cycling), I'm pretty sure COVID19 has killed any chance of that happening for a while.
Garmin Fenix 6 Pro - 10% off
$599-$1,149
$630
Amazon
The Fenix 6 Pro (not the S or X variants) is on sale by Amazon for 10% off, or basically saving $70. This is a good deal, though obviously not an incredible deal. The last time we saw Fenix 6 deals was back in May 2020, for $150 off.
Garmin HRM-DUAL (ANT+/Bluetooth Smart Strap) - $15 off
$69
$56
Amazon
⚡ This is one of my go-to straps these days (ANT+ & two concurrent BLE connections). It's floated on and off being on sale, but this is about the lowest we've seen it.
Garmin Instinct - $30 off
$299
$220
Amazon
Sure, the new Solar variants came out this summer with a few new features, but at their core the Instincts are mostly the same. This was quite a bit lower on Amazon Prime Days ($149), so $30 off isn't really a huge deal (it's normally $250ish).
Garmin Tactix Charlie - $150 off
$599
Amazon
The Tactix Charlie is essentially a Fenix geared towards military folks (Amazon Prime Days)
Jackery Portable Power Station - $50 off
$249
Amazon
This is something I use frequently when shooting out and about and I need to re-charge a crapton of drone batteries, action cameras, or just cameras and such. I also use it on trips to Eurobike and elsewhere to keep equipment charged. Technically you can even hook a solar panel up to it. Heck, I've even powered a KICKR trainer ride from it!
Lasko High Velocity Pro-Performance Fan (U15617) - 16% off
$59
Amazon
This is one of the most popular indoor trainer fans out there, which rivals the Wahoo Headwind fan but cost a fraction of the price. Of course, it lacks ANT+/Bluetooth integration, but realistically if you really want that you can add a smart outlet for $10 to toggle it on/off from your phone if need be. I've actually got this fan in the DCR Cave recently on advice of many people.
Samsung Galaxy Buds True Wireless Earbuds - $20 off
$109
Amazon
This are obviously super popular, and having them be 31% off ought to make them even more popular. Wireless Charging Case included.
SanDisk 1TB Extreme PRO Portable External SSD - 32% off
$189
Amazon
This is the high speed drive I use to store the footage I'm actively video editing, so that I can edit it on both my iMac at the office, and then my MacBook when travelling or at home.
SanDisk 256GB Extreme PRO SD Cards - 34% off
$66
Amazon
I use the SanDisk Extreme Pro SD Cards exclusively for all my video/photo shooting on my Panasonic GH5 and Nikon cameras (video and stills), including up to 6K recording with the GH5. I've mostly used 128's, but more and more lately I'm filling up cards faster with higher bitrates, so this sale is gonna have me pickup a bunch of the 256GB ones instead. The 128GB/512GB/1TB ones are also on sale too viathe same link.
Suunto 7 Wear OS Watch - $50 off
$499
$449
Amazon
The Suunto 7 floats on and off sale occasionally, but usually not more than 20% off.
Suunto 9 Baro Series - $100 off
$599 (non-baro is $499)
$449
Amazon
This isn't quite as good a deal as for Amazon Prime Day when it was 46% off (basically $200 off), but it's still a deal nonetheless.
Withings Body+ WiFi Scale - 11% off
$89
Amazon
I've long been a fan of the Withings WiFi scales, especially since they can connect/push data to so many platforms, including Zwift! Note that the Body+ simply includes more data.
All of the above links help support the blog!
YouTube Videos I Published!
Here's some YouTube goodness that I published this past week, don't forget to subscribe!
Stuff that I found interesting around the interwebs:
Here's a not-so-small smattering of all the random things that I stumbled on while doing my civic duty to find the end of the Internet.
1) Kickstarter adds hardware studio offering to help creators: This is a good step towards trying to minimize the countless delayed hardware projects on Kickstarter.  But a better step would be Kickstarter adding repercussions for hardware startups that don't have realistic plans to begin with.  You know, accountability and all that.  Still far too many projects pass through Kickstarter's supposed filters that just aren't viable with the timelines they set out.
2) Secrets of a Pro Photographer: Maven has done some awesome Giro vlogs, especially in the last few days.  Between this one and the one yesterday – he's really finding his groove.  I would say on the photographer one that yes, it's a bit long.  And it might seem a bit 'cold' earlier on in the first few minutes, but then it feels like Jered warms up a bit and the content is really interesting.
3) Tour of California Data Numbers: While many teams publish pro data as part of larger compilations, this blog series is actually fairly detailed with a Q&A with the rider themselves on different data aspects.  Cool stuff.
4) Inside the Race Caravan at the ToC: Speaking of the Tour of California, this is an awesome piece by Neal Rogers written in real-time from inside one of the Team Sky vehicles.  I think this could turn into a great series.
5) Sniper vs GoPro: And I now know how I'm going to justify any future GoPro purchases to The Girl: "But it could save my life!!!". Seriously though, glad this guy is (mostly) OK. (sent in via Ken)
6) Tidbit on a Runners World vs Nike feud: Interesting post outlining what happened when Runners World published a piece that said Nike wasn't the best shoe model one year. Looks a bit like Lance Armstrong tactics.  On the flipside, when you (a publisher) bite the hand that feeds you (advertising)…and that's what's wrong with that model when it comes to reviews. (via Steve Magness)
7) Endless pool swimming file creator: This is pretty nifty.  If you've got an endless pool you can insert your time and pace, and then the app will automatically determine distance.  From there it creates a .TCX file you can upload to various swim platforms.  Brilliant.  Would love to see this in some sort of watch-app form as well.
8) Heli mountain biking? Why yes, I'd be happy to complete a detailed review of your rack (done in flight of course). I'm glad you asked!
Sports Technology Software/Firmware Updates This Week:
Each week I quickly highlight some of the new firmware, app, software and website service updates that I see go out. If you're a sports technology company and release an update – shoot me a quick note (just one-liners are perfect, or Tweet it at me is even better) and I'll make mention of it here. If I don't know about it, I won't be able to post about it. Sound good?  Oh – and if you want to get a head start on things, this page is a great resource for watching Garmin firmware updates.
Garmin Fenix 5/5S/5X/Chronos BETA firmware update: New features, plus some fixes.
Wahoo KICKR: Bug fix related to units locking up on performing a spindown.
—
Thanks for reading, have a great week ahead!