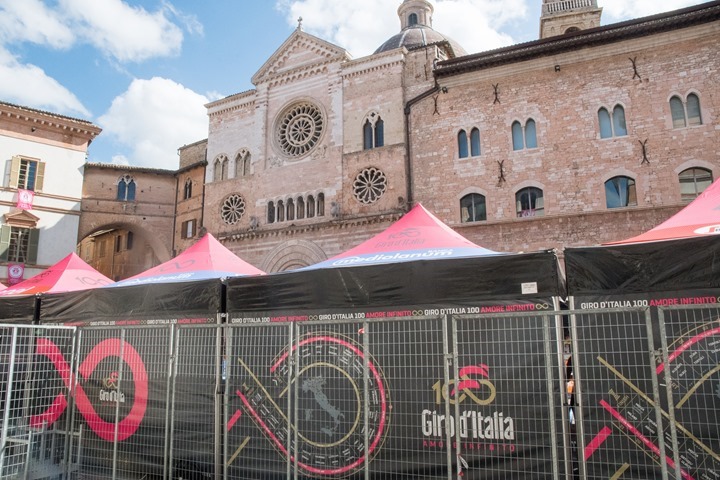 My day at Stage 10 of the Giro was jam-packed. It basically couldn't get any more packed.  I arrived into the small town where the stage was starting from around 10:30PM the night prior, and by 4:17PM the next day I was already 'briskly' rushing back to the airport to catch my flight.
Thus, over the course of about the 8 or so hours there I walked some 17,000 steps checking out bikes and goodness at the Giro, both in the starting area but also at various other points along the course.  Now if you didn't check out yesterday's post – that's all about the bike tech.  Power meters, bike trainers, gizmos and gadgets.  But this post is about just being a cycling fan and spectating.  Or, at least as much of that as I could do.
Here's how that all went down.
Checking out team buses:
First order of the day was spending a bit of time (or 3 hours) checking out all the gear at the team buses.  Depending on the stage, the team vans/buses/vehicles cruise on in anywhere from 2-4 hours before the start.  With a time trial (TT) stage they tend to get there earlier since often times they've gotta re-order things a bit to get the TT bikes out, trainers out, etc… Plus, these days the crew is there for the long-haul, so it tends to be a bit bigger setup.  Versus a normal stage where the buses usually leave not long after the riders.
The mechanics are out early doing everything from cleaning bikes, to setting up crowd barrier lines and trainers.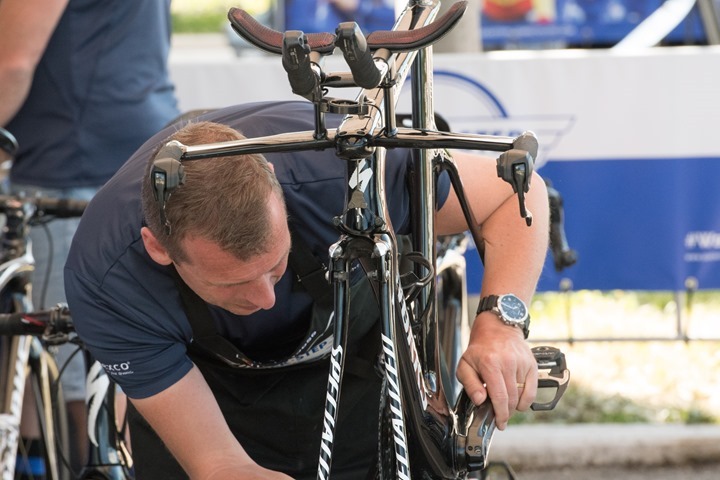 Heck, they're even cleaning car windshields.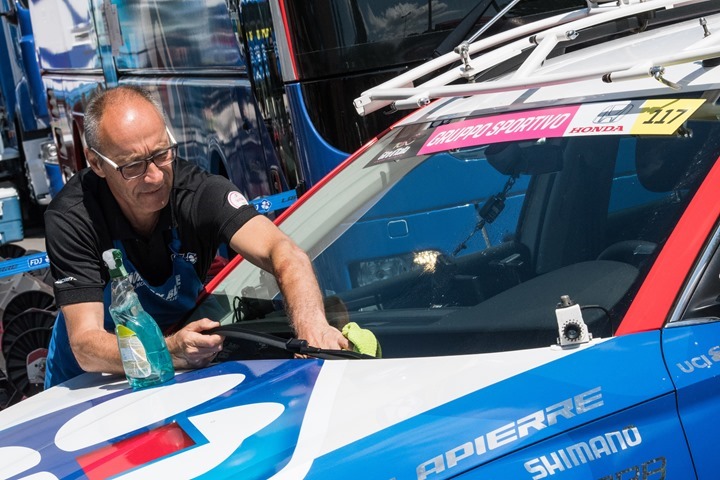 A typical grand tour setup involves one large bus, one large truck/vehicle with bikes, a bunch of follow-cars (for in race usage), and then usually a few vans and such used by the team to ferry staff around.  Most of this arrives at the start in a bit of a convoy.  Once on the grounds, the race organizers have a set location for the buses to line-up.  Sometimes teams are assigned specific spots, and sometimes it's first come first serve.  You can clearly see certain teams where drivers have picked more creatively what to park against.  For example, Team Orica parked aside this hedge, giving them a secondary 'fence' for free.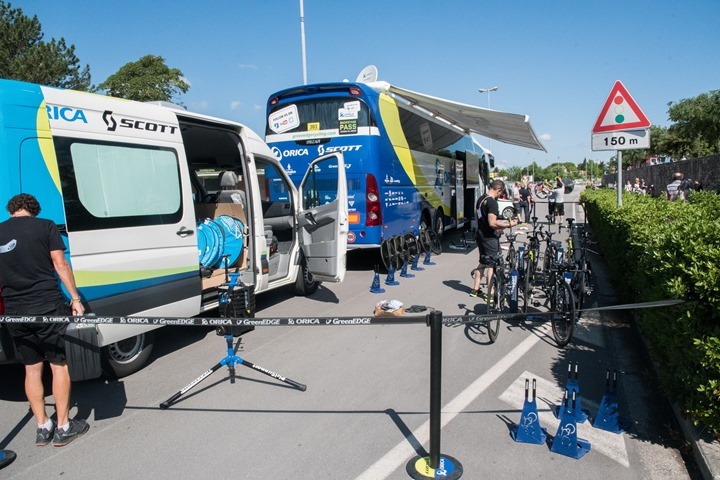 Meanwhile, Team Sky notoriously parks in the most non-public facing way possible. At every stage and every race I go to they find a way to block as much of the team from public view as possible, and this was the case here as well.  They parked the two buses/trucks up against a wall that dropped down 3-5 meters, so nobody could see them from that side.  And then they used another vehicle to block off the open end, creating a bit of a blockade.  No other team goes anywhere near these lengths, or does it as consistently.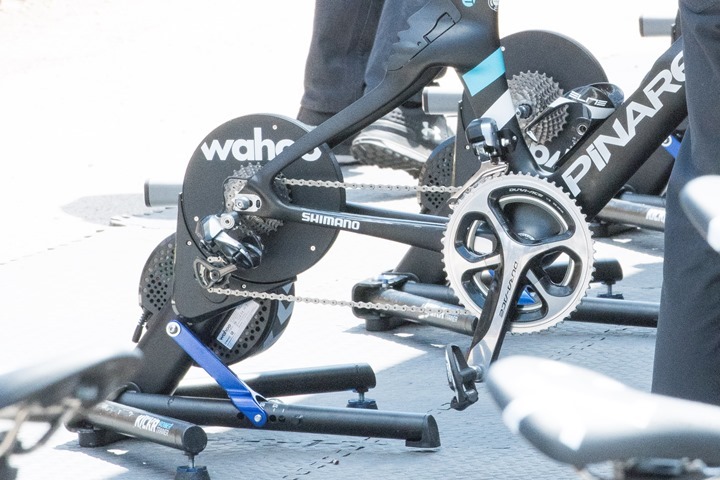 With this stage, the team vehicles were pretty much out in the open for fans to wander around.  Some of that varies by stage and really town design.  I've seen some Tour stages where all they had to work with was a large private parking lot – so it ends up being one giant invite-only area with no fans allowed.  Whereas other times all they've got is tiny village streets, so it ends up being very open (even for Team Sky), since the buses are just parked in a line end to end down a street.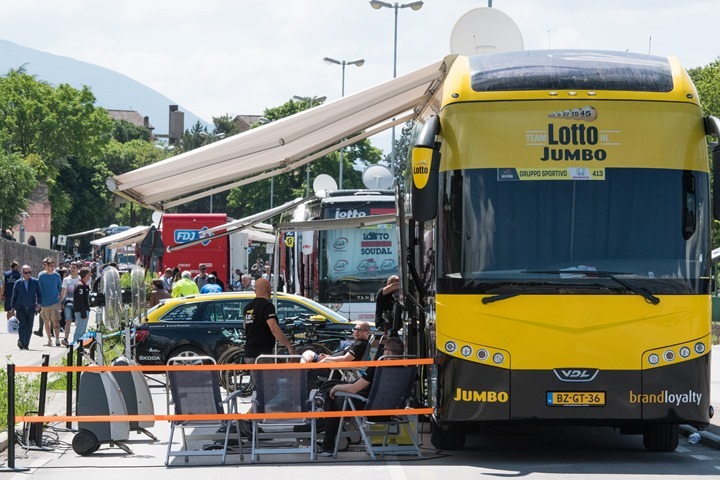 In any case – almost all teams have a posted schedule for TT days, listing exactly when each rider heads out, but also the day's layout for that rider.  Here's Team Sky's (click to expand):
And then we've got FDJ's (left) and Lotto Soudal's (right).
Once close to their start time, the riders usually do some sort of warm-up on the myriad of trainers I showed yesterday.  Some teams also have giant vans and water sprayers too.  While others simply sweat it out: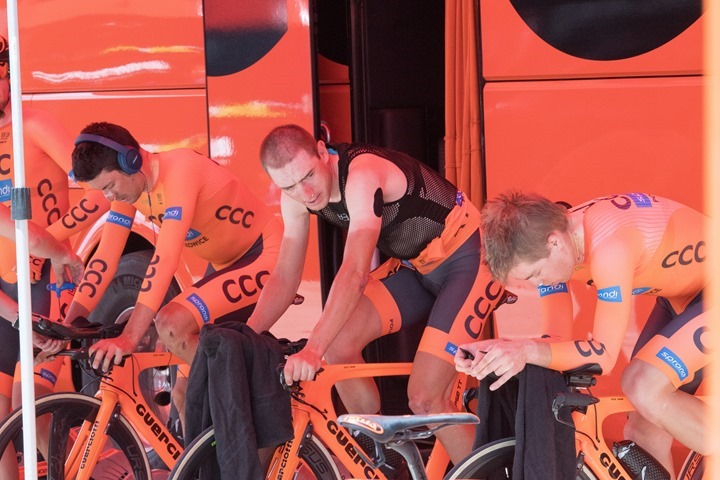 It's during the warm-up that most riders place their own bike computer onto their bike.  Rarely do I see mechanics do this.  Sorta like your wallet, you own/handle that.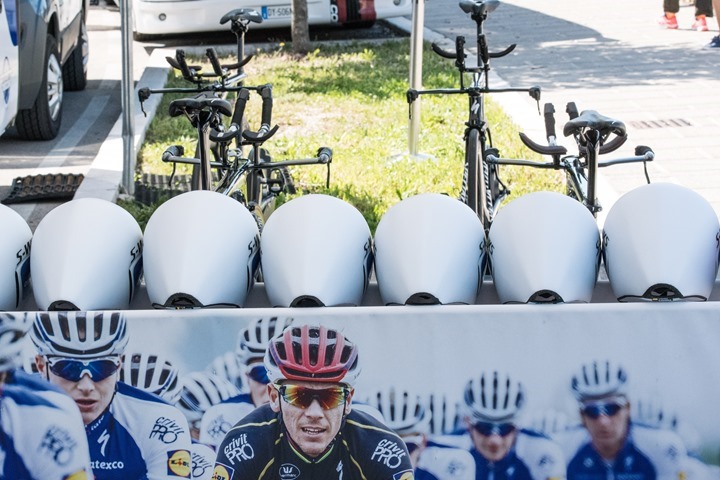 After the riders complete their warm-up they head straight over to the starting line.  In this case it was about a kilometer ride, which was partially barricaded in some areas, and then open on small pedestrian streets in other parts.  Throughout it there was crowd control to keep people from getting run over.  Don't worry about the people in the way, the riders are barely going walking speeds here.
Sometimes along the way riders will give autographs, but usually that's closer to the start line itself.
Along the way they'll have passed through a bit of a sponsor village that's setup.  This is something that The Tour lacks, as there's nothing open to the general public like here at the Giro.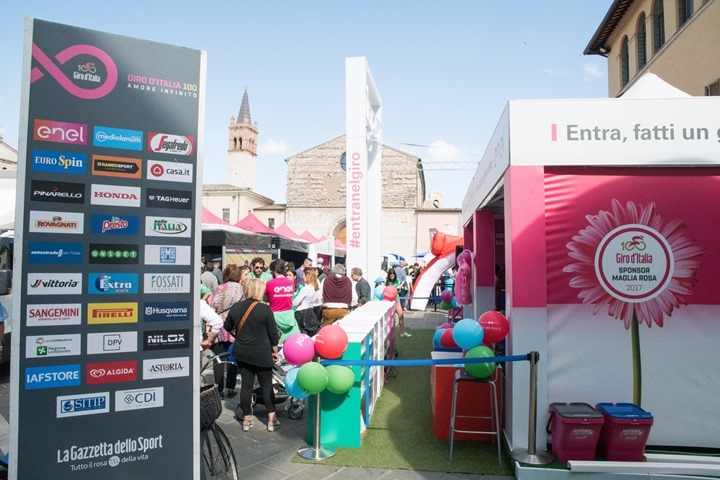 On the flip side, The Tour does have the grand caravan, which is a 30-minute long parade that throws free stuff at you (see my detailed post on that here).  In the case of the Giro, the caravan/parade is honestly a bit lame and lasts about 18 seconds long with no free stuff.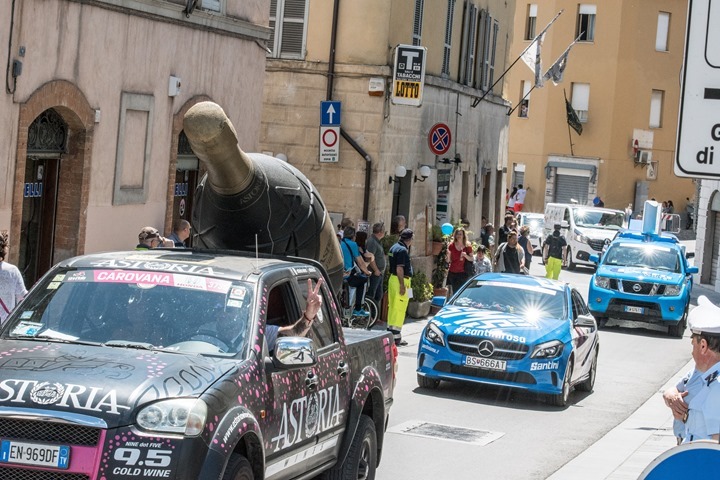 Both have about equal amounts of vendors to buy goods though.  Both The Giro and The Tour have these official merchandise roaming vans, which sell lower-quality stuff.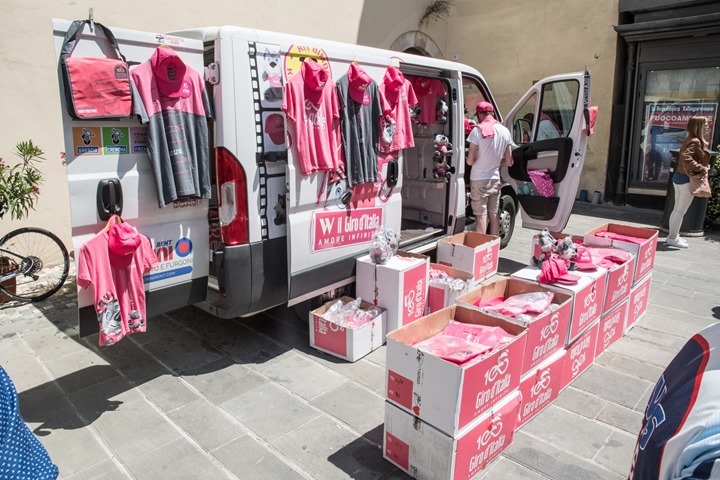 And then at the start and finish there are also higher quality merchandise pop-up shops (also official) to get branded goods as well.
A Detour – Media credentials: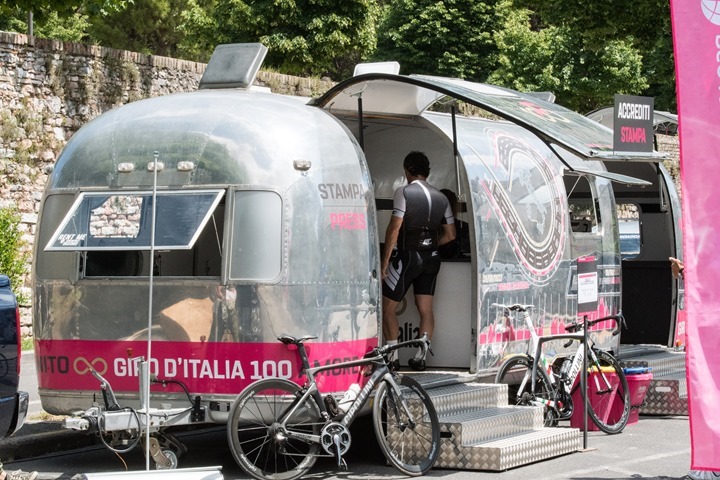 As I was bumbling around checking off teams in my list, I stumbled into an Airstream looking RV that said media on the outside and something about accreditation.
I hadn't bothered to apply for media accreditation for the Giro, because it wasn't really something that I had set in stone.  But last week once I narrowed down some scheduling, I shot over an e-mail and filled out a form…but never heard back.  No worries, it was late and I wasn't really expecting a response (and quite frankly – everything I shot in these two posts except the picture of the placards below didn't need a media pass).
Still, I saw a person or two standing in line that looked slightly less professional than I did. Which isn't saying I looked professional – because as any cycling journalist will tell you – it's just about being comfortable while sweating your balls off for 5-7 hours in the sun.  But, on the mental scale of whether or not I could pull this off better than them – I gave myself a slightly higher chance of success.
And sure enough, I pretty much walked up and explained that I had shot over stuff late and was curious if I could still get credentials.  Within about 90 seconds I filled out a paper form like at a doctor's office, and about 3 minutes later a lady took my photo on a webcam that appeared to be pointed at the ceiling (hence why I'm not looking at the camera).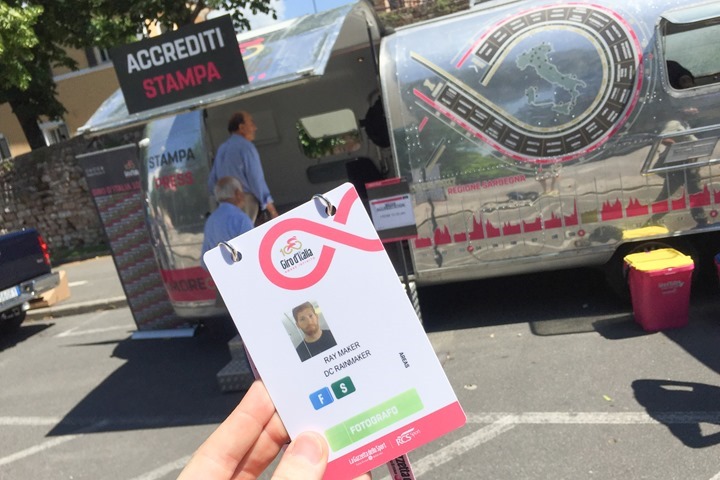 No discussion of site numbers or anything.  Oh, and I got media car decals too. Stampa means press in Italian.
It probably helped that I had a backpack from the Tour Down Under (this one!), as well as had a big-ass camera lens on a big-ass DSLR around my neck.  And that I was just simply friendly.
Now with these newfound car decals – I knew what I had to do: Decorate my convertible.
Wait, you didn't know I got a convertible?  Shame on you – you need to follow me on Twitter.
Apparently, due to a mixup with Expedia's site, it offset my time-zones on my rental by 9 hours from what I set versus what they got.  So they already gave away my car (the cheapest one they had when I went online).  There wasn't much left, but since it was just 24 hours they offered this for no additional charge.  Obviously, I said yes.
Here's a little story about my first time putting stickers on my car.  I'd rate myself a B+ for the front sticker, and a C- on the rear sticker.  Note that the C- is accompanied by a helping of "let's be honest, I'm applying it to a sports car…does it matter?"
And because I found this entire situation hilarious, here's a few more photos:
At this juncture I pretty much had the coolest car with Giro decals on it in the race.  Or at least any media sticker on it.  I definitely turned a few heads.  Ok…turned all heads.
Back to the race, the starting line:
As we left off – racers were heading over to the starting area.  Along the way they pass the team cars in the queue to the starting area.  This is sorta like the on-deck circle before they join the actual moving queue to the starting line.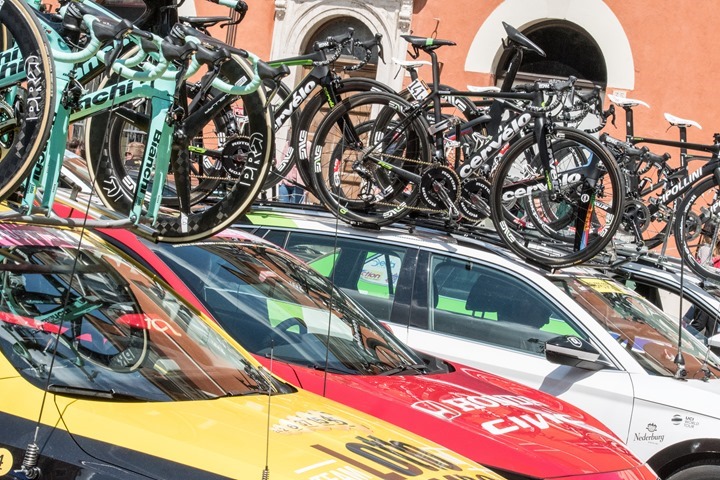 Meanwhile, the rider gets his bike inspected by UCI officials.  This only takes a few moments.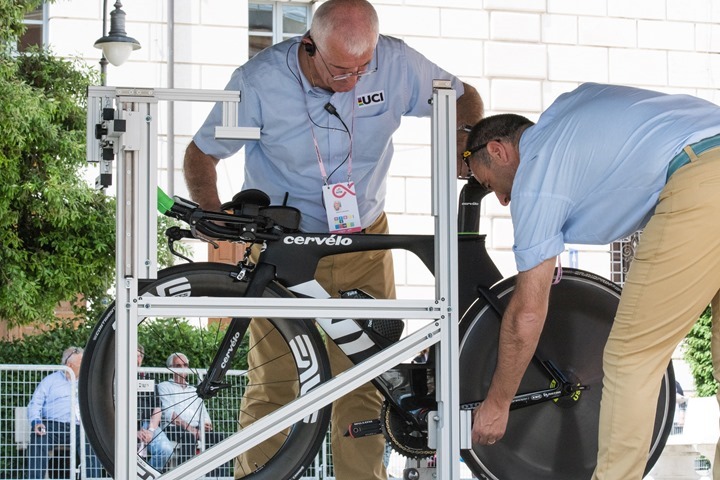 By the way – at some point along the way they'll have likely added race radios to themselves.  You can see the wire going from the ear down to a small wireless pack under the clothes:
From there the rider will head over to the starting tent, where they'll join others in the queue.  Typically at The Tour I see a far smaller queue (1-2 riders).  But here the guys were jammed in there like a college team bus.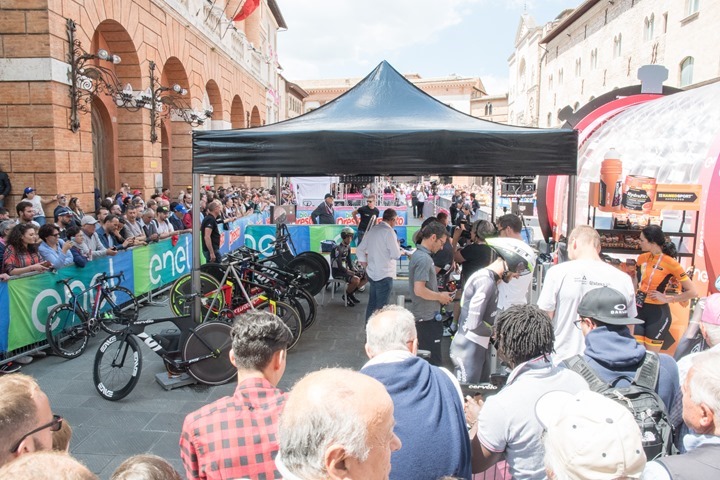 Back on the car side of things, the team cars get plates affixed to them with the name of the rider and number.  These are all lined up by starting order under a tent:
And then this man places it on the front of the car: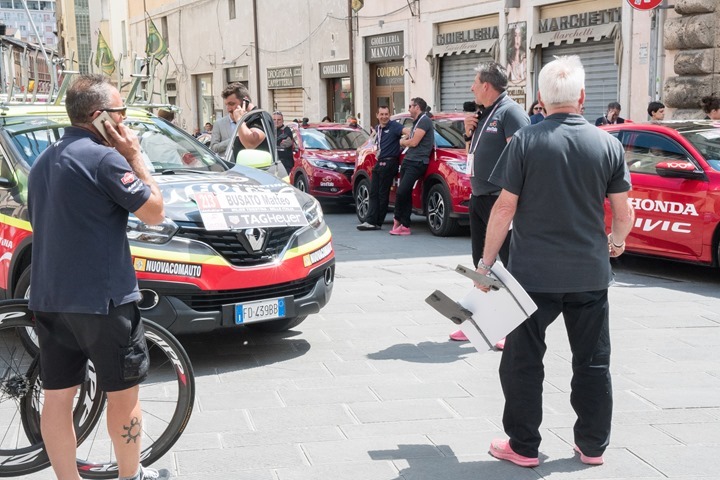 Finally, the rider heads up into the starting platform and roughly every 60 seconds one starts his 39.8 kilometer time trial to Montefalco.
Immediately after him his team car will follow, staying with him for the duration.  In some cases riders won't get follow cars from their own teams, but rather neutral cars.  It mostly depends on timing for the team and whether their cars can complete the loop back to the start for the next rider.  In addition there are also photo motos and official race motos as well floating around.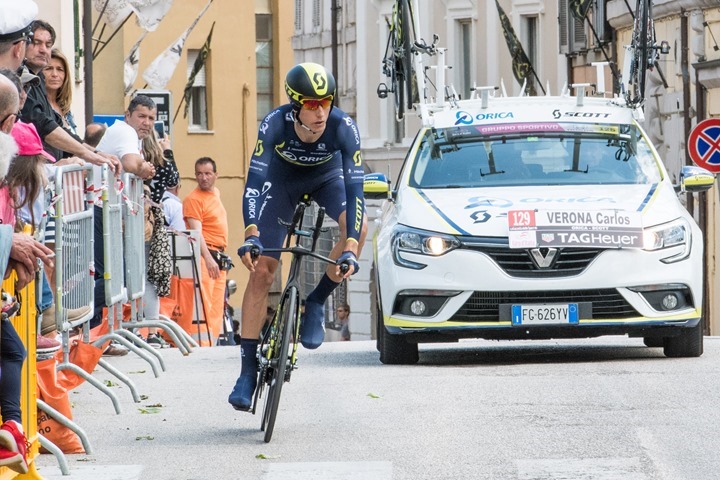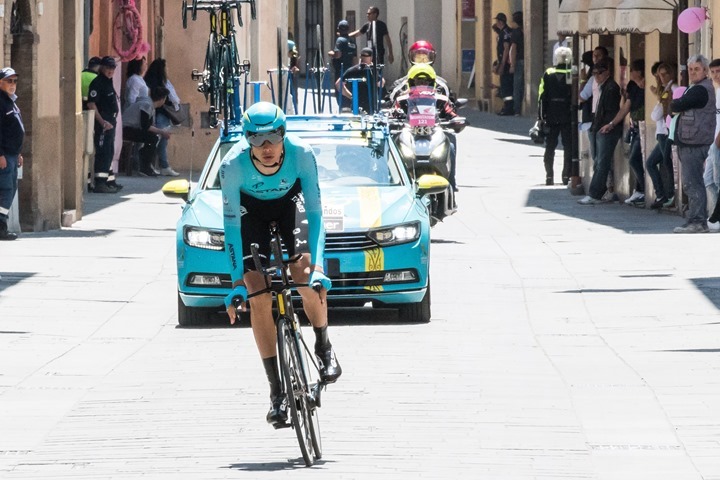 The riders then made their way about 700-1000m out of the village, weaving their way down small streets.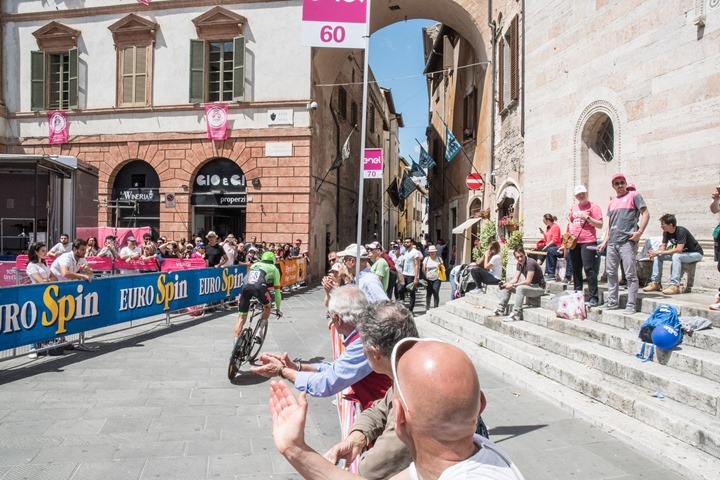 Before finally crossing a bridge over a moat-like river that surrounds the city.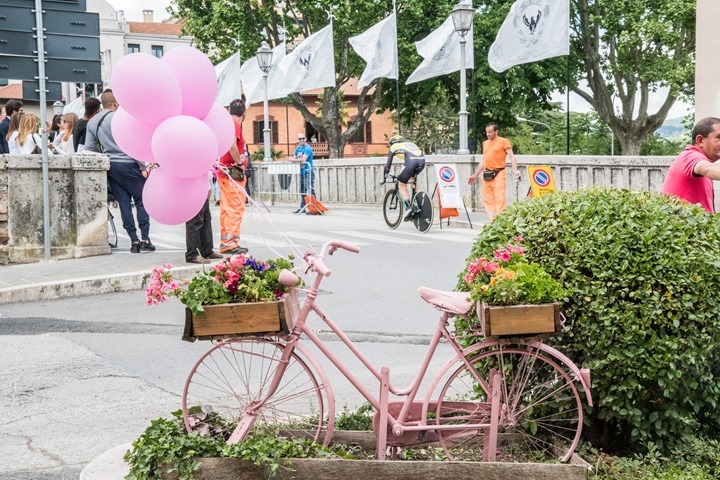 It's here they head out into the wild blue yonder for their roughly 1-hour journey.
Meanwhile, 30KM up the course:
After seeing all there was to see in the starting village, I decided to make my way to the finish line.  While the riders have to go some 39KM, there's actually a shortcut between the two towns which only takes 10KM.  So that seemed pretty nearby with a car.
Unfortunately, while attempting to execute on that shortcut (which all teams/media/etc… use to shuttle back and forth), they had blocked the road about 4KM away from the finish town, and required you to use a bus.  This seemed a bit peculiar to me given I was credentialed at this point, but my Italian is limited to 'pizza' – so arguing was somewhat moot.  I could see other media trying to argue as well without success.
In my case, I lacked the time to deal with a bus (in case it took forever, which I'll explain in a bit).  So instead I just picked a random road that I figured would intersect the course elsewhere.  And sure enough it did a few kilometers later (and it was actually a stunningly beautiful connector road among vineyards).
I then walked about another kilometer from where they blocked the road up to the race course itself: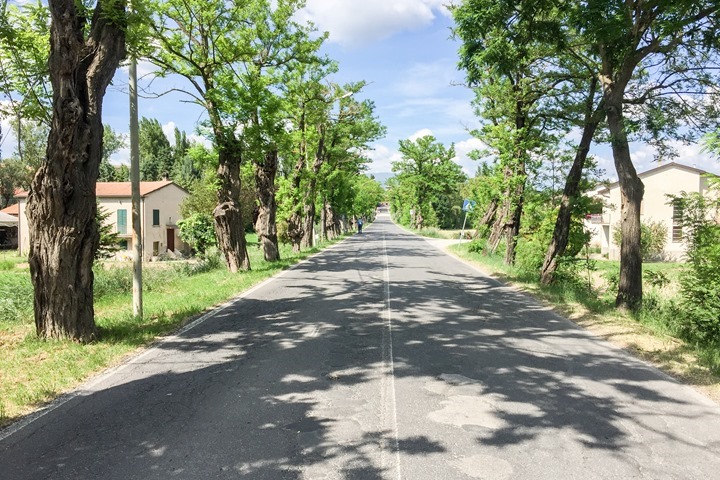 And it was here that I found the banner for the 30KM marker.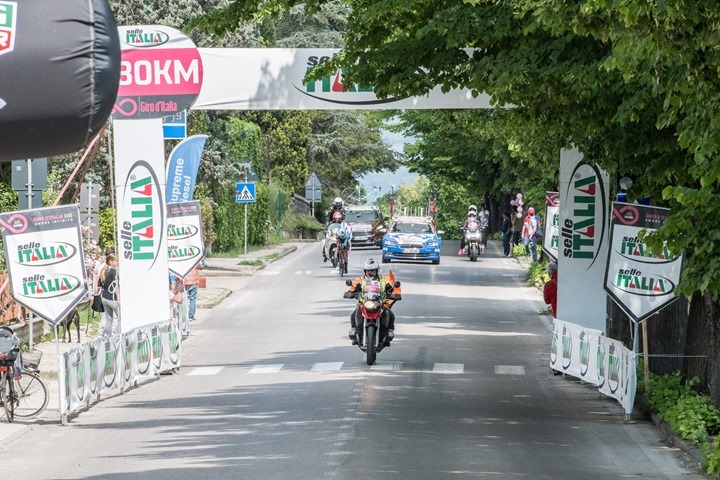 It's also the same spot that at least one rider went down on the sharp 90° turn and the yellow barrier you see below.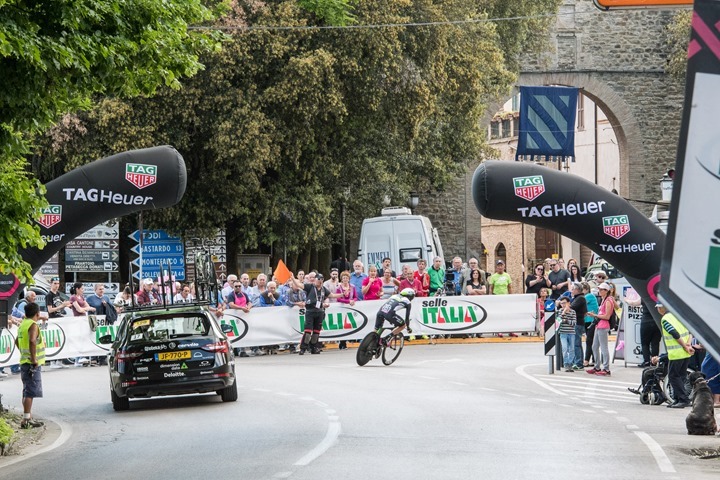 I stayed here for while watching folks go by.  There was a small crowd of perhaps 25-30 people here, but otherwise it was pretty empty.  I suspect deeper into the town there'd be more folks.
One of the cool things about the TT stage is watching one rider pass another, as happened right when I first arrived.  Even though the riders were separated by about a minute at the starting line, once you get 40 minutes into a race, that skill variability can cause that gap to evaporate.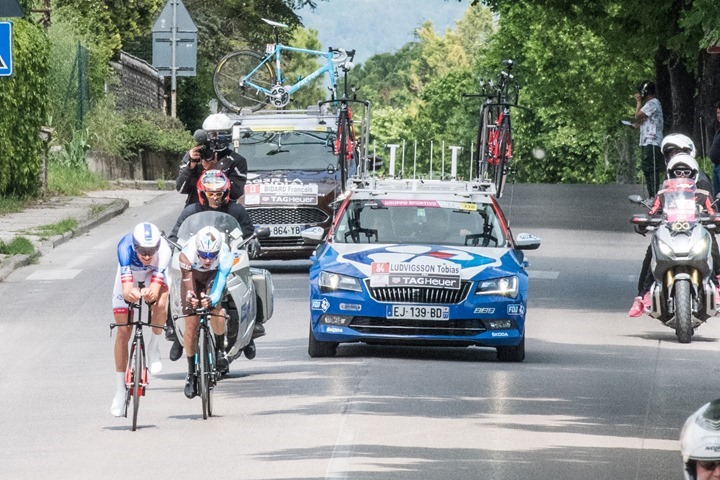 As regular readers know – I like to hop around as much as possible during a stage.  In today's case I spent more time documenting team gear (about 3-3.5 hours worth), so that cost me some of my wandering time.  Still – it was cool to get elsewhere on the course and check things out!
And then I expired:
After I finished up at the 30KM marker I had about 30 minutes to get some shots I needed down for a product review coming out next week.  Though, you'll likely see some teasers from said company later today.  Given I had the vehicle and gorgeousness of the Italian countryside – it seemed like a great place for it.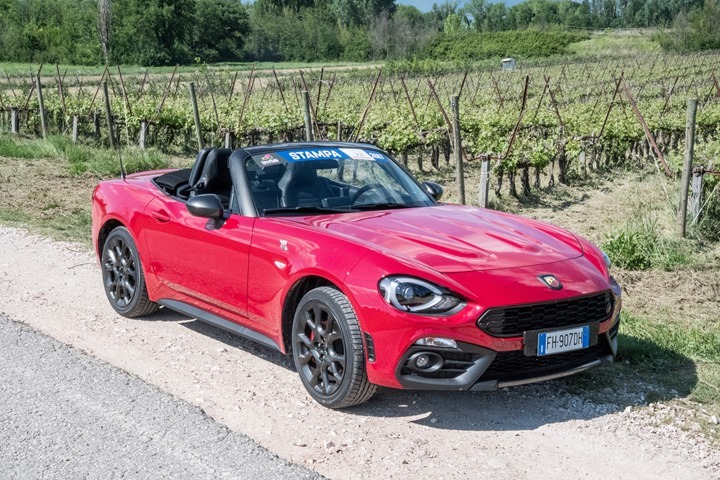 So I spent some time doing that.  About 47 minutes of time.  Which was about 17 more minutes of time than I should have.  Or actually about 37 minutes more time than I should have once you accounted for the fact that I miscalculated how long it'd take to get back to the airport.
And of course, there's no better vehicle to avoid raising an eyebrow than a bright red convertible screaming across the countryside driven by a sunburned tall non-Italian looking dude.  Or not.
No worries though – I successfully made it to the airport security line about 28 minutes before my flight departed.  And I wasn't the last one onboard either.  Nope, that honor would go to the two standby passengers behind me.  See…all's good!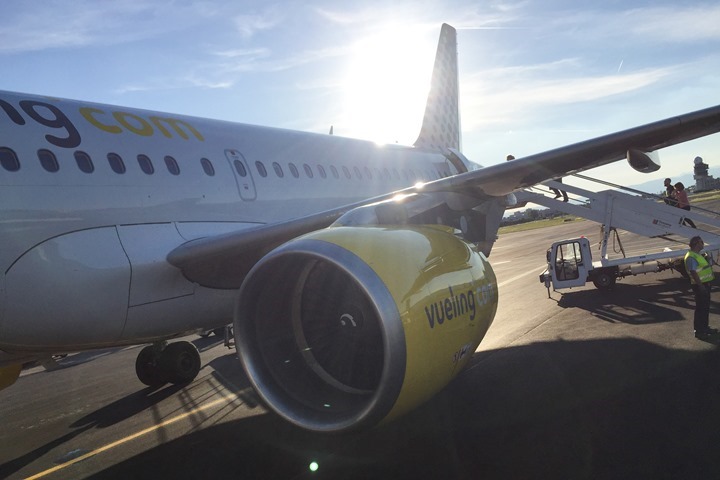 With that – thanks for reading!  Next up…Le Tour!