If there was a theme for power meters at Sea Otter this week it would be re-branding.  Or rather, OEM'ing. Half of the power meter announcements were essentially just well-known bike companies offering power meters that are basically 'powered by' other preexisting power meter companies.  Similar to what we saw Cateye do last year with 4iiii Precision power meters.
Though not all announcements were of the rebranded variety.  For example, 4iiii did announce one new crank type, and…well…actually, ok, that's it.  The remainder of all power meter updates were related to when companies would ship their previously announced wares.
As I expected, this Sea Otter was much lower on the power meter announcements front.  After a jam-packed 2016 year, companies seem to still be recovering from the hangover going into early 2017.  This is true both in terms of new products but also pricing shifts.  After all, many companies made product announcements in late 2016 that they're still working to get out the door.  I do not expect any further major power meter announcements (i.e. entirely new products) until the Eurobike/Interbike timeframe at the end of summer.  So – go forth and make those power meter purchasing decisions without fear.
With that, let's roll through these updates.  Gonna keep it quick!
Oh – and there will be one more Sea Otter tech round-up post. The other will include some new bike computer mounts, some head unit notables, and a few random sports tech things I saw.
4iiii New Precision Models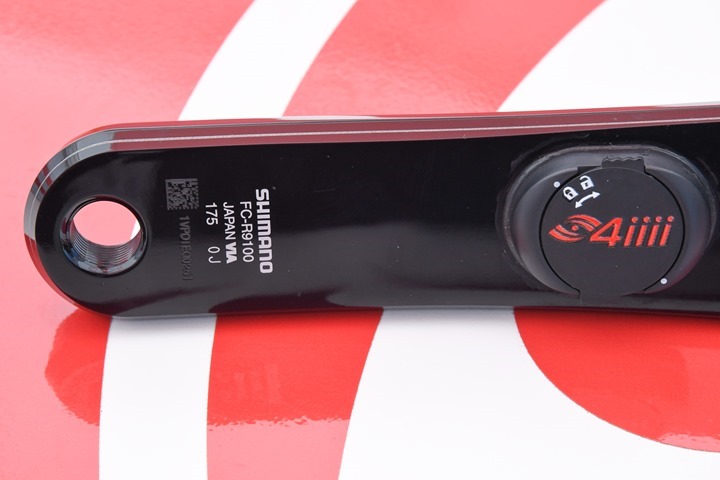 Starting off the show, 4iiii announced that their Precision power meter is now available on Shimano's new Dura-Ace FC-R9100 crankset.  Specifically, the left-side variant of that.  This will save you about 7g in weight over the previous FC-9000 version. The company is offering this as part of their 'Factory Install' option, which means that you ship your crank arms to them (versus the other where you buy a kit all-inclusive with it built on already).
The unit will set you back $399, and that'll start shipping next month in May.
Of note is that the dual left/right side R9100 variant isn't available yet, though not so much for tech reasons.  Rather, they (like everyone else) are simply having challenges getting sufficient quantities of the full crank-sets to be able to start shipping.  For example, 4iiii sponsored pro team Quick-Step has been running the dual R9100 setup on some bikes this spring already in major races like Flanders.
Easton/Race Face CINCH announced: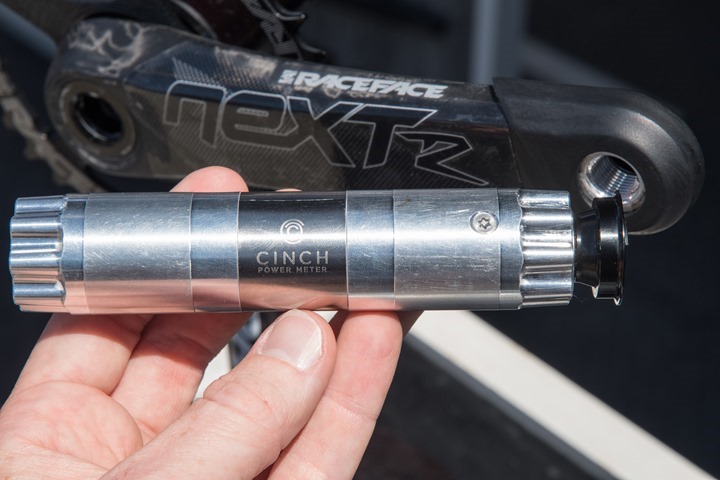 Next up we've got a small gaggle of new units from Easton and Race Face, cohesively branded as their CINCH power meter.  The two brands are both owned by Fox Factory, and were side by side at Sea Otter showing off their new units.
The CINCH unit is designed to be compatible with road, mountain, and cyclocross bikes, making them a bit wider spread on the compatibility front than some other power meter companies that may target just road riders.  The main draw here is enabling both companies to offer consumers units that are compatible with their group lineups with minimal hassle to get a power meter.  And all that's great for consumers.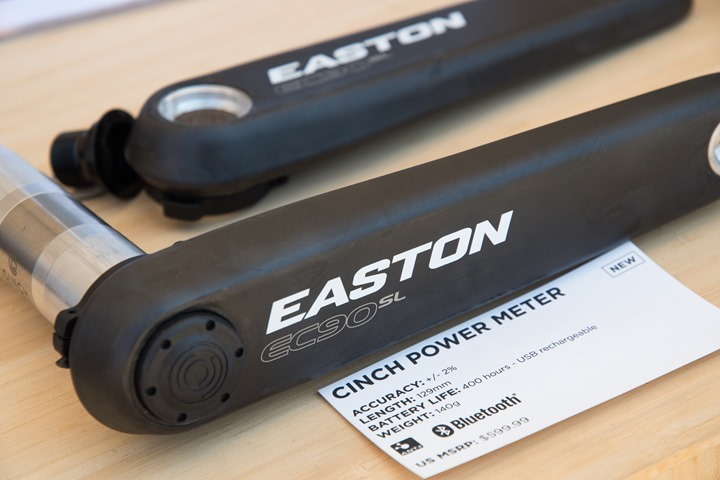 But I'm more interested in the tech side than crankset compatibility.  In this case, for reasons that are a bit weird – neither Race Face nor Easton wanted to disclose that the units were actually powered by Sensitivus (more commonly known as the company behind Team Zwatt).  In fact, you may remember this very crank from my Team Zwatt preview test last August.  As other media outlets have noted, the weird caginess about revealing the underlying power meter tech is odd, because all it does is lower expectations about the product.  In the power meter world you either have a trusted brand (or mostly trusted) with a known product, and then you have everyone else.  You don't want to be put in the 'everyone else' pile.  It's not a good part of town.
As for the tech itself, the unit is left-only as it's placed within the bottom bracket and won't capture the power from the right leg.  This makes the left-only nature similar to that of Stages, 4iiii Precision (non-dual), and many others offering single-sided solutions.  Though, priced from $599USD for the unit itself, it's a bit more than those companies.
The power meter accuracy is stated at +/-2% and is dual ANT+/Bluetooth Smart capable.  I tested all this within my earlier tests last fall, and it seems to check-out (prelim tests of course).  Further, the battery slots in at 400 hours, but is rechargeable via micro-USB port protected under a cover that seals it all in.  Interestingly, the company is the only one I know of that allows you to use a smartphone app to put the power meter to sleep during travel, to minimize battery burn (since the accelerometer would otherwise wake it up).
Finally, availability will be mid-May 2017 for the Easton branded models, and June for Race Face branded variants.
FSA PowerBox Shipping Update: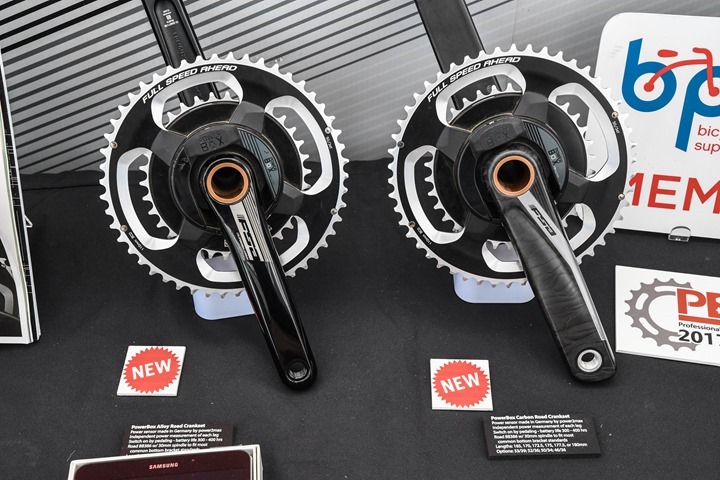 Last fall bike component maker FSA announced they were getting into the power meter game with a new unit branded as 'PowerBox'.  Unlike Easton/Race Face though, they were pretty open about the fact that this was powered by Power2Max's technology.  In that case, it was Power2Max's Type-S technology under the covers (not their newer NG platform announced in 2017 as well).
Of course, there's absolutely nothing wrong with that – the Type-S is an incredibly stable and great power meter.  However, to say it's 100% Type-S wouldn't be entirely true.  For example, the Type-S didn't have Bluetooth Smart.  Whereas the FSA PowerBox does.  Well…sorta.
See, the PowerBox by default will only transmit on ANT+.  However, the chipset within it is capable of dual ANT+ & Bluetooth Smart.  So they are allowing Power2Max to 'unlock' the Bluetooth Smart transmission for a small fee.  This fee hasn't been announced yet, but the software update will also include additional pedal efficiency metrics.  The unlocking will be solely handled by Power2Max, using an app from them.  So you'll basically pay Power2Max via the app and then boom – Bluetooth Smart power transmission!
So why purchase a PowerBox over others?  Well aside from stuff like crankset inclusion/compatibility, the main reason is frankly price.  Starting at $648 including the chainrings and crank arms – it's very competitive.
As for shipping, the company says they're getting close and hope to be shipping in the next few weeks, aiming for mid-May at the latest.
Team Zwatt Shipping Update: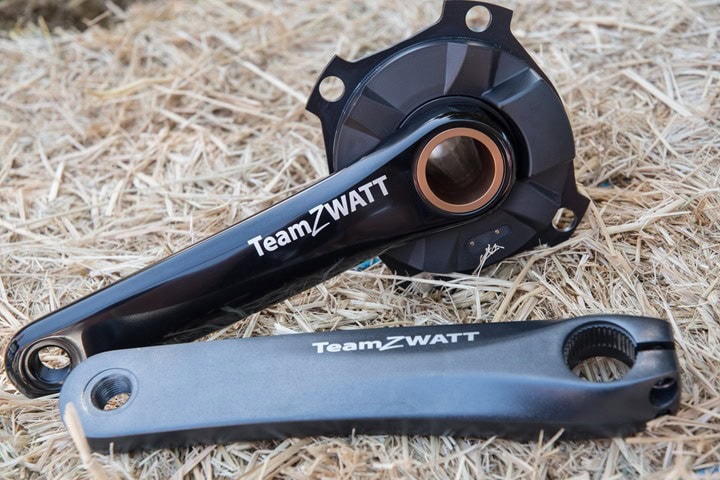 Next we've got a quick update from Team Zwatt, which did a crowd-funding campaign last summer.  Of course, Sensitivus is really the name behind Team Zwatt – also behind Easton/Race Face.  However, Sensitivus and Team Zwatt are one and the same entity, it's not a separate company. Sorta like how Saris Cycling Group is the umbrella name for PowerTap/CycleOps/etc…
In any case, that de-confusion aside – the company is in the midst of shipping.  You'll remember they launched two core variants, plus a mountain bike stretch goal (that ended up being the Race Face/Easton unit):
Zimanox: Left-only crank arm solution, doubles left-leg power
Zpider: Crank spider based, captures all power (left/right)
Zpindle MTB: Spindle solution (inside bottom bracket), doubles left-leg power (is basically Race Face/Easton).
They had some sample units with them at Sea Otter to take a look at, though, the real news is that they're actually shipping to legit Kickstarter backers.
On the Zpider (spider-based) units, those are already shipping and they should have all backers cleared out by the end of April.  For the Zimanox (crank arm) units, those are in pilot production right now, and expected to ship shortly (sounded like weeks or so).
(Above: I'm holding the small wireless charger, it has a micro-USB port on it, and connects via the contacts you see there.)
Finally, you may also remember that Team Zwatt was a bit different than other companies in that they were also doing a subscription model for power meter ownership as well, so that's something I'll be looking to dive back into down the road in a review.  Speaking of which, I'm probably most interested in testing the crank spider variant, since that captures all left/right power (not separated, but total power).  Versus there's less interest from me in doing a purely left-only unit, since those are becoming more and more commonplace.  In any case – more to come here!
Xpedo Thrust-E: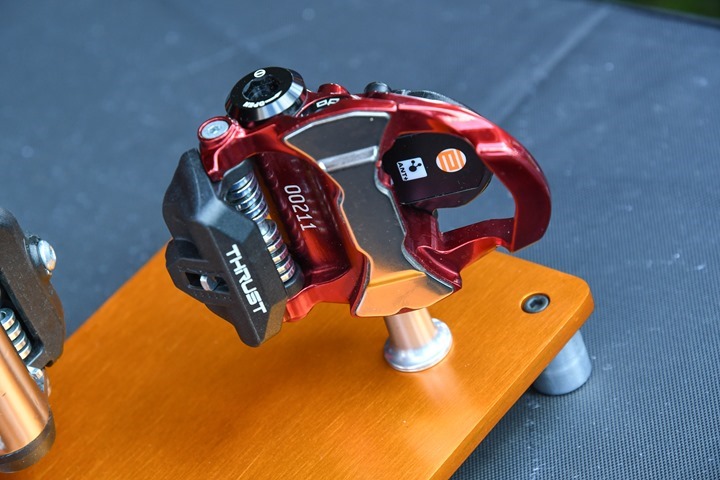 It's almost hard to put this section in with a straight face.  But it's OK, because that lack of straight face would actually match that of the Xpedo reps when I asked timelines for the unit. No really, I'm actually not kidding – one rep started to giggle a bit upon the timeline question.  For realz.
Still, the official answer for availability of this pedal-based power meter is "around Eurobike".  This continues the multi-year tradition of the answer to availability of their unit always being some variant of 'just a few months away'.
They noted they were working through some "small items", primarily "accuracy".  Things in quotes were actually said.  Again, keep'in it real.
Quarq DZero Shipping Update: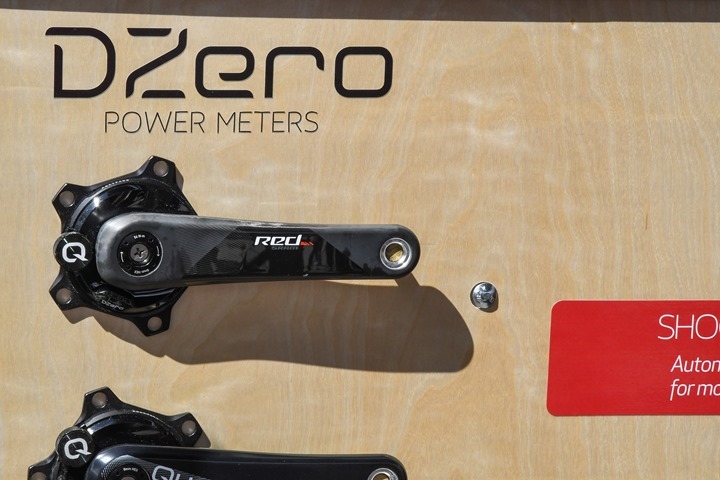 Finally, a super-brief update on Quarq DZero.  You'll remember the company announced the DZero lineup last year at Eurobike, and started shipping around January.  Since then they've continued shipping, but demand has significantly outstripped supply – resulting in some pretty big delays, especially for distributors/retailers and their international crowd.
The company notes that they've just brought online a second full product line for DZero (pretty much unprecedented for them) and that supply will likely catch up in the May to early June timeframe.
Speaking of which, I had hoped to publish my in-depth review of DZero last week, but getting my keynote presentation put together delayed my final editing of photos. Text/analysis/photos are all done, so you'll see that up in the next 48 hours or so.  Good stuff!  And in that related vein, similar story for ROTOR 2INPower, which also has all data/photos/etc complete, and is just awaiting some cohesive text to stick it together.
—
So there ya have it – power meter goodness from Sea Otter 2017! Stay tuned for another Sea Otter tech-focused round-up, plus what promises to be a busy week of other product announcements and reviews!
Thanks for reading!