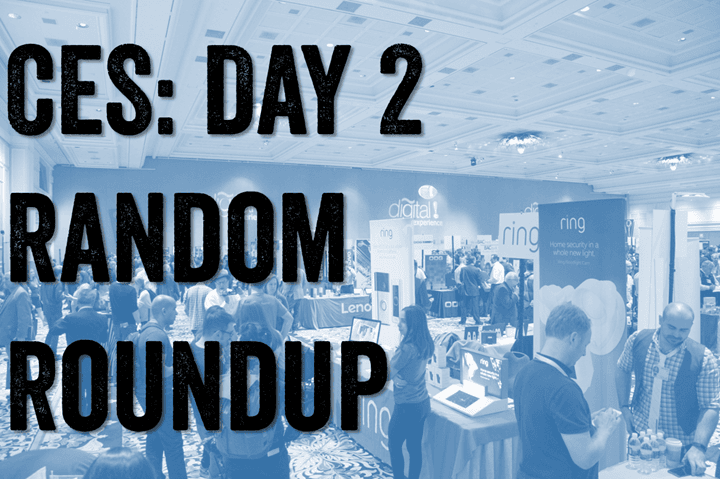 We wrapped up Day 2 at CES 2017 last night.
Ray spent the morning meeting with several sports technology companies while I worked on a few other posts in anticipation of the show officially opening tomorrow.  While during the evening we hit up Pepcom's Digital Experience (an event similar to the one on Tuesday) which gives companies a chance to show off their latest and greatest while simultaneously giving the media a chance for hands on outside of the crowded (or fancy) booth.  While half of the room was filled with smart toothbrushes, showerheads, and strollers, there were some exciting new products in the sports technology/gadget world.  Let's take a closer look at a few of them.
(Note: This post is a bit of a blended Ray/Tyler festivus.)
Solos Cycling Heads Up Display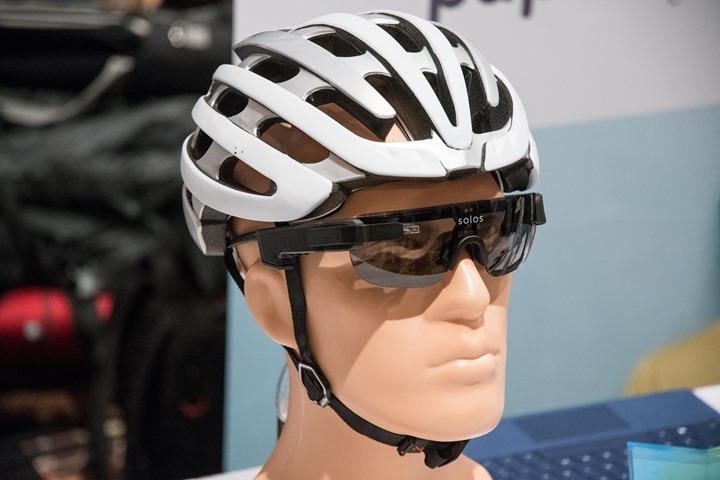 Upon each visit to Vegas over the past 18 months I (Ray) have met with the folks from Kopin, who are working on the Solos heads-up display that's targeted at cycling.  Two Interbike's worth, and now two CES's worth of desert meet-ups.  I even wrote about them once here.  While the unit is joining the ever crowded landscape of heads-up displays, its main area of focus is indeed cycling.  As such it supports both ANT+ & Bluetooth Smart sensors like speed/power/cadence/heart rate.  Plus, it has metrics such as normalized power and common data fields that cyclists use.
The company appears to be on final approach with the product, which they plan to start shipping to consumers over the coming weeks, hitting full steam by the end of the month.  In fact, below is the final production shipping box: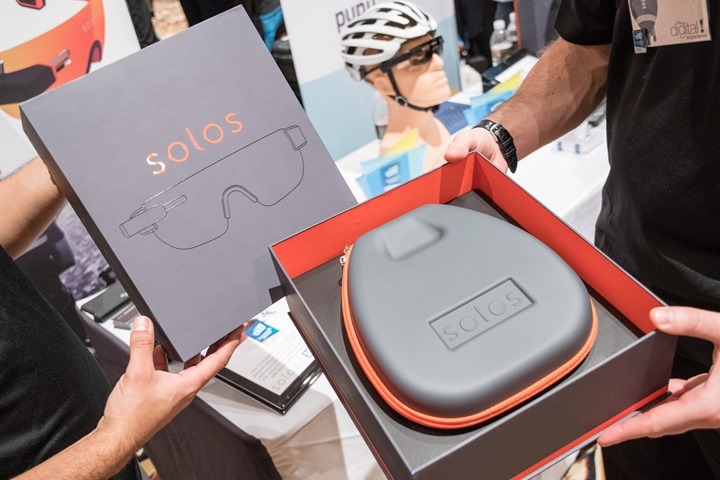 Followed by a quintuple cheeseburger stack of also final production units.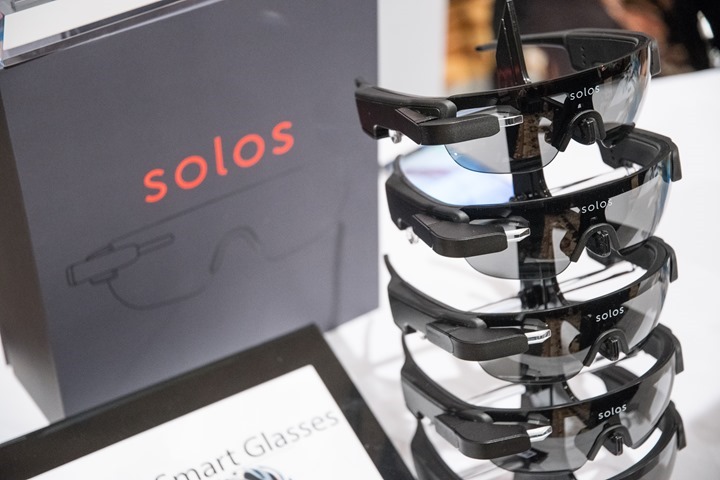 They ran me through the menu user interface while I stared into the distance, reliving the best simulated sensor data showing up on the glasses display.  What I see in the glasses is shown in that black square on the app picture below – thus, I see that exact graph.  And it's pretty clear.
One of the big differences here compared to the Recon Jet HUD (aside from being far smaller), is the high levels of adjustability of the display.  A million times easier to find that perfect spot.  Note below the arm positions.
Last but not least, it's important to point out that the unit does depend at this time on the phone for most actions.  Even if that's chilling in your back pocket.  Down the road they're looking at how to move some of that processing offload to other wearables (else it couldn't be used in some races, like many triathlons which prohibit phones).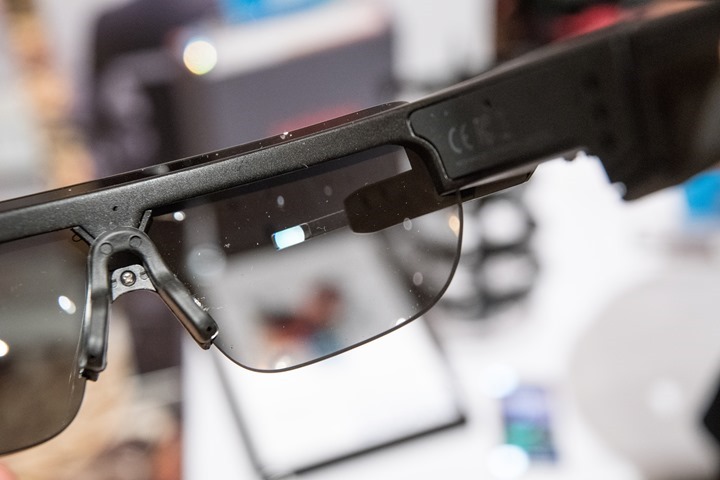 The app though enables you to configure settings, upload workouts, and also assists with the voice commands.  The Solos glasses have two microphones inside them (protected from the wind), to be able to respond to your every Siri-like command.
In any case, I'll dive into more detail probably in February or so, once they reach full speed ahead on getting orders out to their Kickstarter backers.
The Ellipse Smart Bike Lock
Whether you are training for a triathlon, a commuter, or a weekend warrior, you will eventually need to lock your bike up for some amount of time.  I (Tyler) know this feeling well as I live in a high-rise apartment building with little room and thus lock my bike in the shared 'bike garage'.  While the bike garage is gated and locked, I wouldn't consider leaving it down there without it being locked to a bike stall or something else solid.
The only frustration here is when I ride I've got to remember to bring the keys for my U-bolt lock and then have to store (or hide) them while I'm gone. Of course, as with most companies at CES, Lattis has a solution for you with the Ellipse Smart Bike Lock.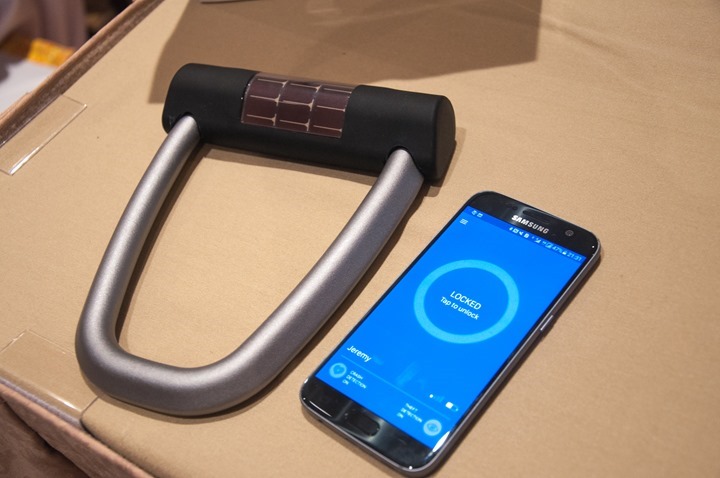 The Ellipse is made from forged steel and is designed to provide you a convenient way to securely lock your bike.  The lock has Bluetooth Smart built-in for connecting with your smartphone.  It is this connection that allows the Ellipse to be locked and unlocked without a key.  Using the Ellipse app, you have the ability to lock and unlock with the touch of a button.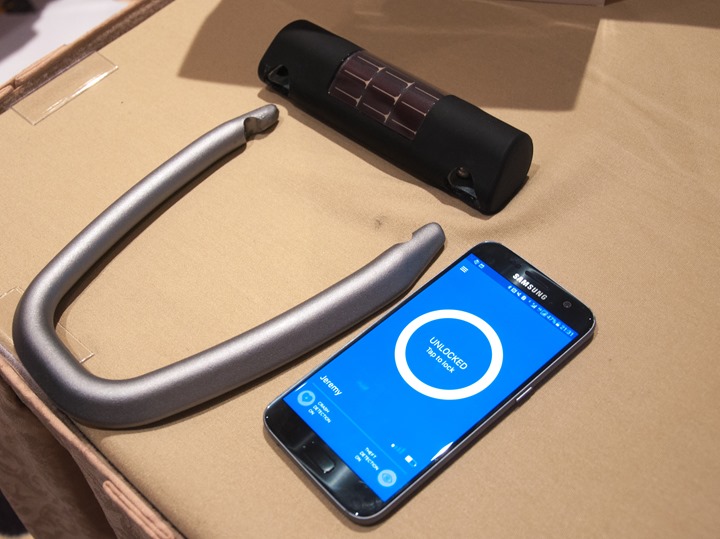 In the event that your phone is unable to unlock your bike, there is a backup capacitive touch interface that can be configured with a unique pattern to unlock your device.  The LED indicators and touch points aren't visible unless you initiate the pattern unlock process.  While this sounds simple, I imagine that even the slightest layer of secrecy will prevent potential bike thieves from realizing there is essentially a combination option for the lock.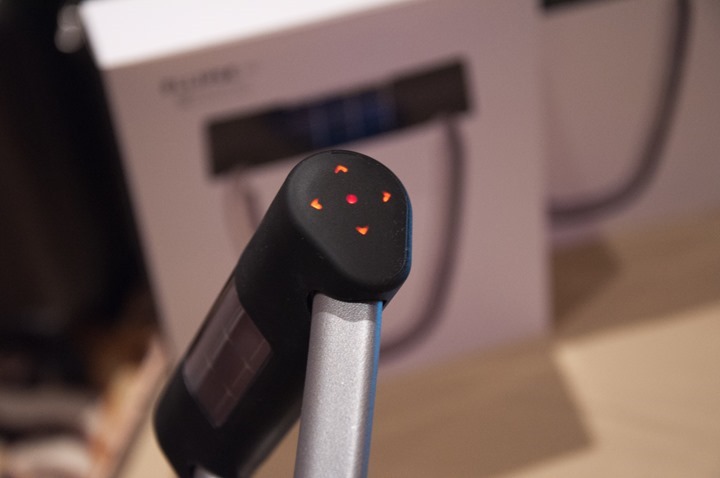 So, now that you have your bike unlocked and ride it to a coffee shop, you now need to lock it up outside.  The good news is that the device is sporting a flexible solar panel for charging.  The company says the battery will last 6 months on a single charge and approximately two days of solar exposure can charge the battery completely (they also mentioned that 1 hour of sunlight should provide about a week's worth of battery life).  In the event you primarily lock your bike up indoors (like me) the device also has a micro-USB cable for traditional charging.
In addition to providing a locking solution, Ellipse also contains an accelerometer inside.  This accelerometer allows the lock to be aware of motion and provide feedback based on it.  There are two specific features that Ellipse is launching with: Theft Detection and Crash Detection.
Theft detection works exactly as you would expect.  If locked and the Ellipse detects a particular amount of motion it can trigger a notification to your smartphone that your bike might be getting stolen. Lattis claims an effective range of 800 feet (243 meters) which is likely sufficient if true.  However, I am a bit skeptical of the ability of both the Bluetooth radio in the lock and the one in my phone to communicate at that distance.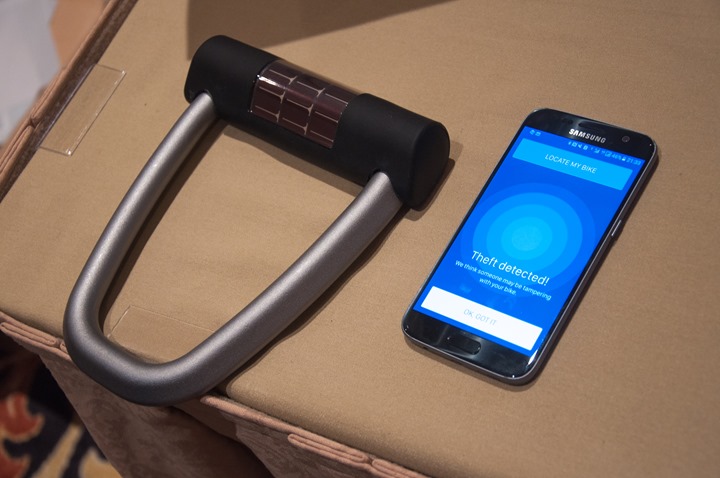 Crash Detection uses a similar mechanism to detect a significant amount of motion that is outside of what is expected.  The company stated that they have gathered a great deal of data (and are continuing to add more) which allows them to predict with a high confidence that a crash has actually occurred.  When the lock believes a crash occurred it will send a push notification with a 30-second timer on it.  If by the end of the 30 seconds you do not dismiss the alert, the app will text whomever you have configured it to text.  Along with the text message stating that a crash likely occurred, Ellipse also sends your current GPS coordinates.  I can see this as a feature you would likely forget about until you needed it most.
The Ellipse Smart Bike Lock is shipping now to backers who supported the project on Indiegogo and the company anticipates broad retail availability soon.
Yi 4K+ Action Camera
One thing we have been on the lookout for this year has been action cameras that have the ability to shoot at 4k resolutions while also recording 60 frames per second (FPS).  There is a significant advantage to 60FPS as you can slow it down a great deal without having the frame rate drop so low as to be noticeable.
This is especially important in action sports where things happen quickly.  For example, most folks doing action sports will shoot 1080p/60FPS, because of both the ability to capture more in fast moving movements, as well as slowing down the footage for pseudo-slow-mo of the jump.  Sure, you could record at 120FPS at 1080p all day long, but that's like burning a blowtorch in terms of capturing a bunch of additional frames that you'll only use sparingly.
While walking through the aisles this evening I stumbled across Yi, an action camera company showing off their new 4K+ camera (note: the camera is named 4K+, they are not implying it shoots above 4k resolution).  No doubt Yi is a relatively unknown brand to the majority of consumers, but this is their third action camera – and they've got reasonably good numbers on Amazon.  Being a 4K action camera at $199 probably helps that.  Note that's the existing 4K version, and not the 4K+, which is the 4K/60FPS version, which they expect to ship in Q1.
In any case, the point here was to check out some of the 4K/60FPS options.  We're going to do a deeper post later in the week around a bit of this, digging into the hardware behind this technology as well as what everyone else in this market is doing.
Now keep in mind one of the 'challenges' with some of the non-major action cam brands is that while they tend to shoot decent video (heck, they're often using the exact same image sensors at GoPro & Garmin), it's the larger ecosystem around the hardware that often falls apart or feels hodgepodge.  For example, the app you connect to it, or the platforms for editing videos.  Still, it's always great to have more consumer choice.
Phazon – Wireless ear buds "guaranteed not to fall out"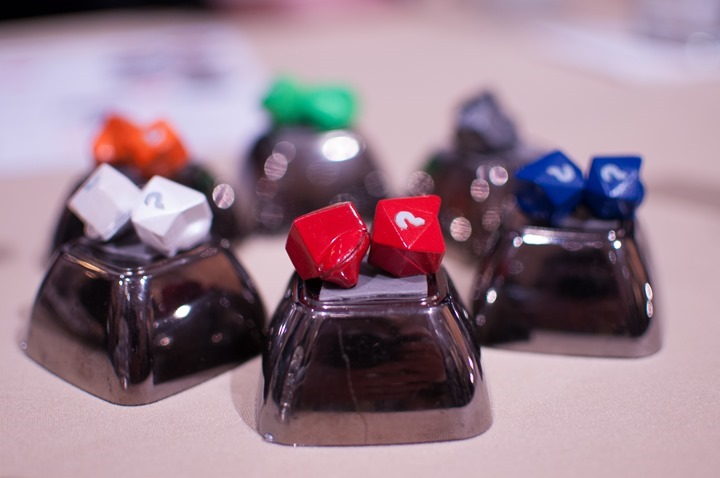 Finally, we have something indirectly sport related, wireless ear buds.  For the last few years, products like Jaybird and others have brought 'wireless' ear buds to market with the catch that they aren't truly wireless.  They communicate over a Bluetooth connection and thus there is no wire plugged into your phone or media player, but the two buds were always connected with a wire or string.
This past year, we saw a number of companies announce and launch truly wireless ear buds.  Be it Bragi's Dash, or Apple's own creation.  What people immediately found out was that there is a reason for the two buds to be tied together: It's much harder to lose that way.  Combine that with issues of fit and ear shape and you have a problem.
This is the problem Phazon is trying to solve.  As it was described to me, rather than building an ear bud and trying to get it to stay in the ear, they started with a goal to build a bud that would not fall out and then developed the necessary technology to get the audio portions figured out.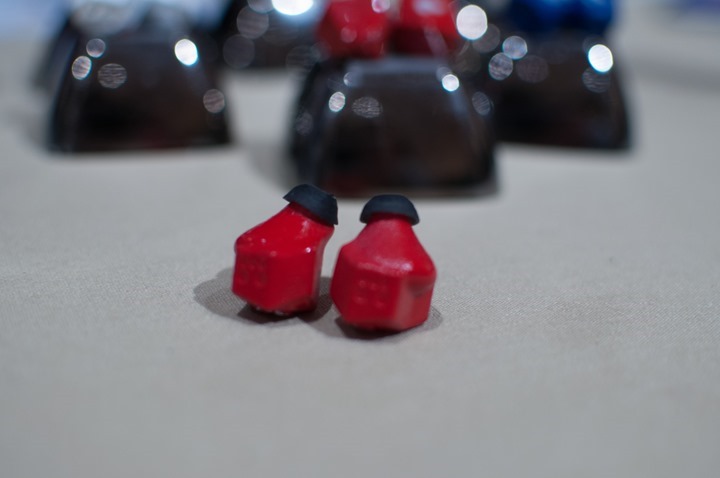 These are quite possibly the only ear buds that are guaranteed not to fall out.
Oh wait…disclaimer: They actually claim 99.8% success here.  Apparently .2% of people's ears are too 'unique' for the Phazons to fit reliably.
This anecdote makes a lot more sense when you see them – I don't think any of the surfaces are the same size.  But alas, Phazon claims that these were built specifically for those who are activity minded.  The worst thing that could happen to a wireless ear bud would be to fall out and get lost.  While some third parties are solving this for other wireless ear buds, Phazon looks to prevent it from ever happening.
In the event you do misplace one or drop it between the couch cushions, they do have a 'Find Me' option where they will play a sound until you find them.  Of course, that only helps if you didn't lose it a mile back while skiing/cycling/etc.  Phazon says they will begin shipping to backers from their Indiegogo project in February and expect to hit retail stores in Q2.
—
With that – thanks for reading!
Don't forget to check out all the CES 2017 coverage, as well as continual updates throughout the day on Twitter.  It's gonna be a crazy busy week.