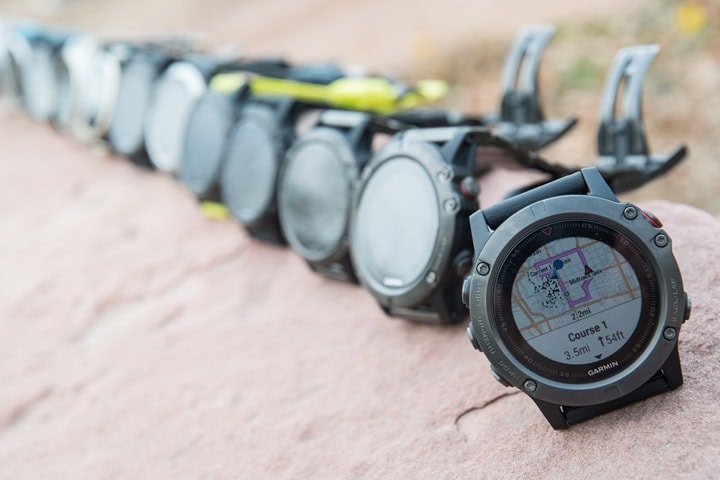 !!!Heads up – Check out the newest Fenix 6! My full Fenix 6 In-Depth Review is now available!  Click on to read it all!!!
Right on cue, Garmin has released their next edition of the Fenix series – the Fenix 5.  This follows a relatively steady annual release cadence of the Fenix series each year in January.  Last year for example we saw the Fenix 3 HR, while the previous year was the Fenix 3.  Prior to that was the Fenix 2 in the same rough timeframe.
This year the release is all about making the lineup more appealing to a broader user base.  The Fenix 3 series was already Garmin's most successful watch series ever. While the company has never released specific Fenix 3 numbers, they have beat around the bush publically in other ways, likely putting the Fenix 3 series at over a million units sold.
One of the challenges though with the Fenix 3 series has been its appeal (or lack thereof) to those with smaller wrists – most namely: females.  While Garmin did try and appeal to that market segment with the rose-gold editions of the Fenix 3, it remained the same large size.  The Fenix 5 aims to address that with a new smaller size.
At the same time, they wanted to appeal to folks that were increasingly looking to cell phones for maps on the trails – so they tossed in mapping in the Fenix5 as well.  But let's not get ahead of ourselves here – instead, let's dive into all the feature differences down below.
Oh, one last thing.  Wondering why there's not a Fenix4?  That's because the phonetic pronunciation of that in Chinese roughly translates to 'fast rise to quick death'.  Not exactly the starting point Garmin wanted to begin with.
What's new and different: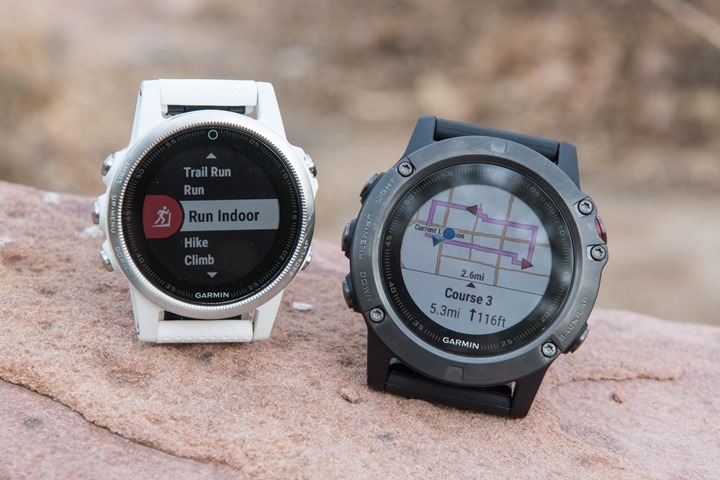 So what's new in the Fenix 5?  Well, the two biggest pieces would be it now has maps on the Fenix 5X edition (legit maps!), and that there are two sizes now.  Previously there was just one size with a crapton of different bands.  Now there are three sizes with an equally large crapton of bands.  But I'll cover bands/sizes/editions in a later section below.
For now, let's talk about all the differences – both nuanced and big.  But first I need to explain that there are three editions of the Fenix 5:
Fenix 5S: 42mm wide, women's/smaller wrist focused – offered in regular glass and Sapphire glass
Fenix 5: 47mm wide, baseline – offered in regular glass and Sapphire glass
Fenix 5X: 51mm wide, includes mapping – only in Sapphire glass
Each of these three editions is then split into basically two categories: Sapphire and non-sapphire.  Except the 5X, which only has Sapphire.  What's most notable though is that the non-Sapphire editions do NOT have WiFi (kinda like Garmin Fenix Chronos).  Whereas the Sapphire editions all have WiFi.
With that in mind, I'll note each of the new features below, and whether they are specific to a given version.  If no specific version is noted, then it's applicable to all versions.  In the below, I'm largely using the Fenix 3/Fenix 3HR as my baseline for changes.
Display: Went from 218×218 pixels to 240×240 pixels (except 5S, which stays at 218×218).
Display: Went from 16 colors on Fenix 3 to 64 colors on Fenix 5
Display: Now supports Emoji, right to left languages (Arabic and Hebrew)
Connect IQ: Fully supports CIQ 2.2.3+, as well as 64KB for Widgets, 32KB for Data Fields, and 128KB for apps
Battery: Increased battery life up to 24 hours (Fenix 5) in GPS at 1s, or 14hrs for the 5S, and 20hrs for 5X
Battery: Increased UltraTrac battery life to 75 hours (Fenix 5), with hopes of 100 hours
Gyroscope: Added Gyroscope to all models, used to increase track points in UltraTrac mode
User Interface: Slight tweaks to UI to match Fenix Chronos series
User Interface: Added new quick access controls menu, to access apps/widgets
Strava: Added Strava Live Segment support for Bike & Run
Sensors: Added Varia Vision Heads Up Display Support (all ANT+ remote displays technically)
Sensors: Added Varia Bike Lights (all ANT+ lights technically)
Sensors: Added Varia Bike Radar
Sensors: Added Shimano Di2 Shifting, ANT+ Gear Shifting Support (SRAM RED eTAP & Campagnolo EPS)
Sensors: Added ANT+ Muscle Oxygen Sensors (MOXY/BSX)
Optical HR Sensor: Revamped tech, now records 24×7 data every 1-2 seconds
Optical HR Sensor: Flattened out even more, virtually flush with back of unit
Training Data: Added FTP Estimation for cycling
Training Data: Added new Training Load functionality
Training Data: Added split of aerobic and anaerobic training effect
Training Data: Now supports Swimming PR's (along with previously added Swim Structured Workout support)
Live Group Tracking: Added to all Fenix 5 models, à la the Edge 820 group tracking
Golf: Added TruSwing, Greenview, and Autoshot features
Other Sports Added: Mountain Biking, Treadmill and Indoor Track separated, Ski and Snowboard separated, Navigate app, and Track Me app
Navigation Functions: Added Proximity and Navigation Alerts (for distance to waypoint, and time/distance remaining to destination)
5X Only – Mapping: Includes Topo maps in package, can add your own maps if you want
5X Only – Mapping: Ability to display mapping for current position
5X Only – Mapping: Ability to create automated running/riding routes (round trip mapping
5X Only – Mapping: Can find POI's around you (i.e. food, including Chipotle)
5X Only – Mapping: Routing engine can ingest GPX & FIT files for saved routes
Got all that?
Ok, but what's been removed or no longer present compared to the Fenix3 series? Well, according to Garmin it's purely one thing: WiFi on the base models (Sapphire glass models have it).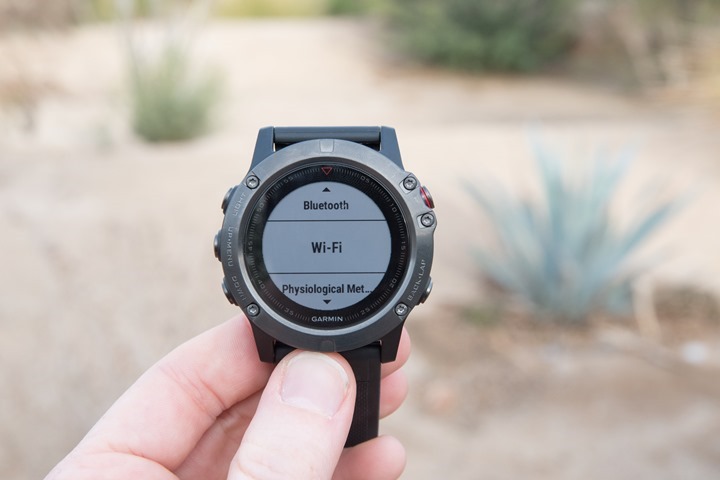 But of course, sometimes you don't quite find out all these nuances until the product has started shipping.  I've seen cases in years past where even things present at CES are pulled in the final version.  Said differently: Don't count your chickens till they hatch.
Oh – and finally, before you ask – the Garmin Fenix Chronos folks will receive all of the above updates, except mapping of course, since it simply doesn't have the storage or processing power to handle that.
Video Explainer!
Want the low-down in one easy to watch (and easy to share) video?  No problem, I've distilled it all down below, complete with my best video editing skillz. Special effects included free of charge.
Was that video above not detailed enough for you?  No problem!
I've got even more details, in geekfest fashion.  The below video is simply a detailed walk-through of the menus on the watch.  Basically, I press and push almost everything there is to push on the watch, in one handy-dandy video.  It's got no special effects, nor nifty transitions.  But it has plenty of details:
Update – and here's another video I put together at ISPO, this one focused on the charging cable, since there's been tons of questions about that.
Don't forget that I'll be publishing other Fenix 5 videos to YouTube as we go forward, so definitely subscribe to the channel so you don't get left behind!
Mapping on the Fenix 5X: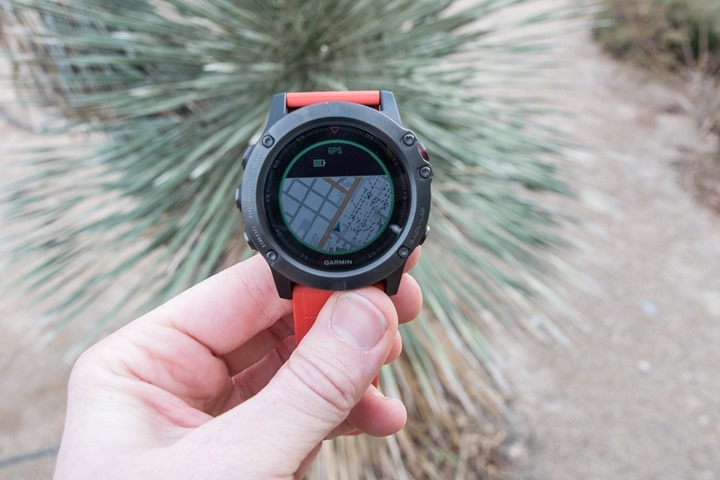 Ahh yes, mapping.  Seen as the Holy Grail feature of wearables, and something that various companies have flirted with over time – but never quite got to stick.  For example, way back when we had the Motorola Motoactive contain maps.  Then there was the Leikr watch.  And then even Garmin's own Epix watch, exactly two years ago tomorrow.  All of these have flopped for various reasons, of which all were totally unrelated to mapping.  The maps were merely a casualty along the way.
But I think the Fenix 5 will change that, largely due to the popularity of the Fenix series.  Of course, maps are only available on the Fenix 5X, which contains 16GB of storage on it.  Whereas the other Fenix 5 units lack that storage, and thus lack maps.  These maps come in the form of topographic and cycling maps (+ 40,000 golf courses), which show details not just of roads and routes, but also points of interest.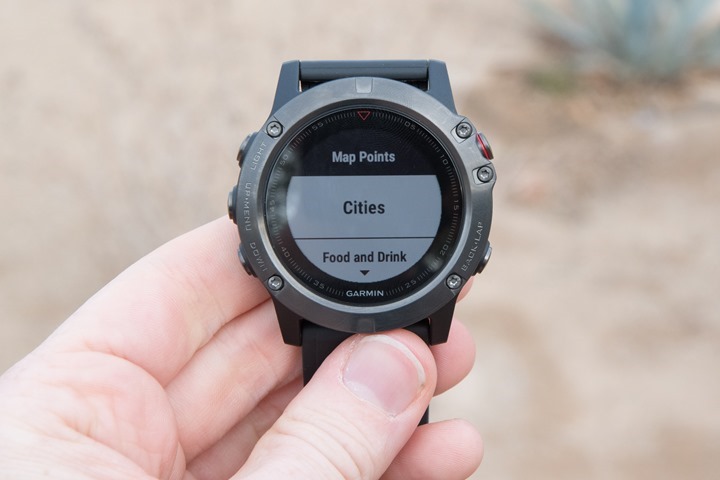 Points of interest include places like food, hotels, gas stations, tourist attractions, and more.  Food being the most relevant of course to any endurance athlete.  You can search around you, and route to them immediately.
When you route to them, you'll get turn-by-turn instructions.  And these are legit turn by turn instructions that include the street names: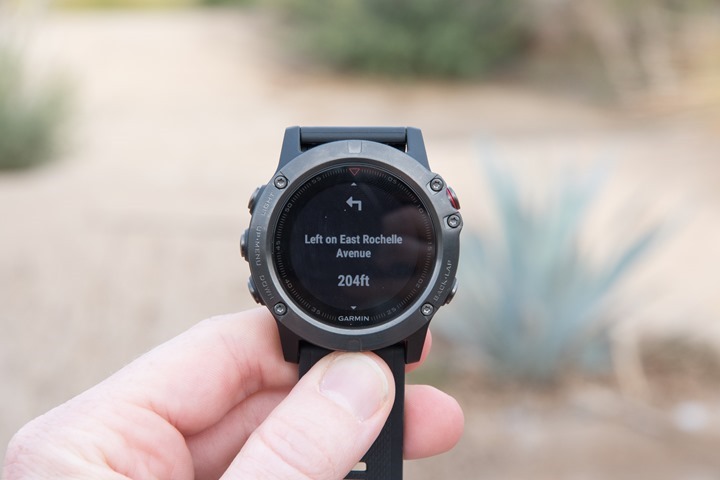 In addition to routing to saved waypoints, or on courses, you can also generate Round Trip Routes.  This is a feature we saw added to the Garmin Edge series a few years ago, allowing you to generate rides on the fly for a distance of your choosing.  That's now added here, allowing you to generate both runs and rides.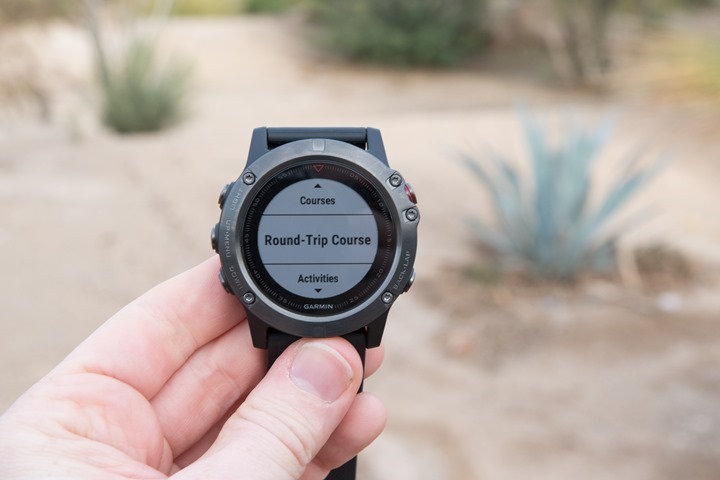 First, you'll enter in a given distance you want to ride/run: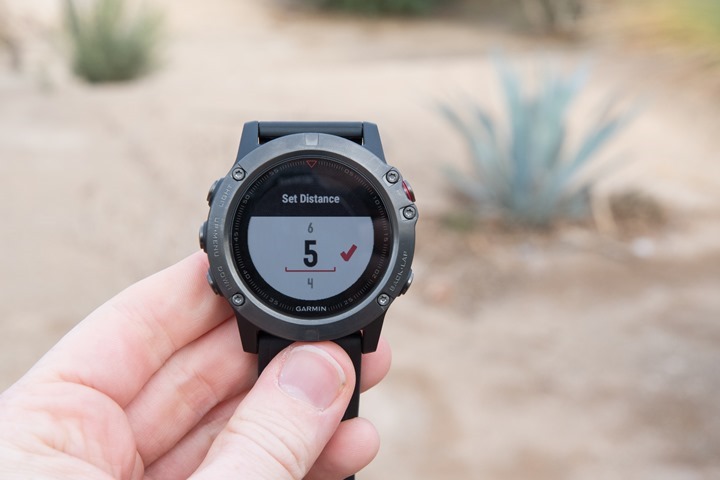 Then, you'll specify whether or not you have a direction preference (any, or North/South/East/West):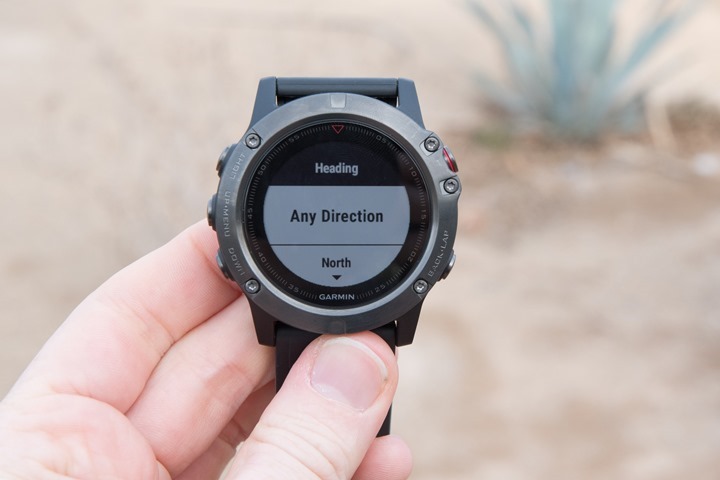 And then finally, it'll come back with three route options for you.
It's pretty cool stuff.
The unit will not only show you the map and roads around you, but also elevation information about the route.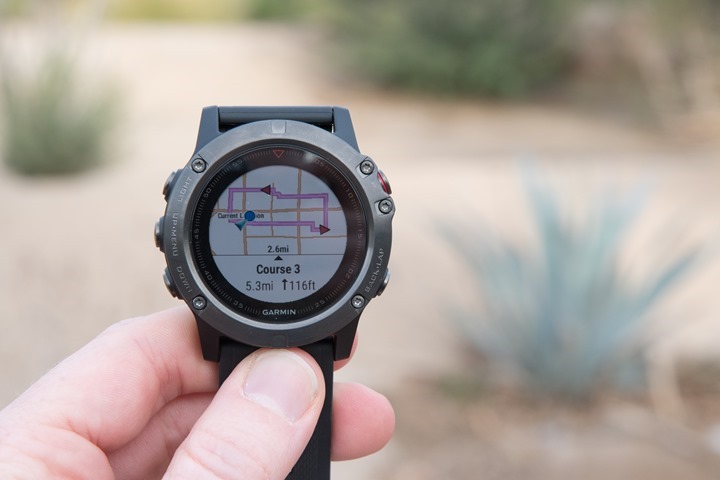 Outside of round trip routing, you can show the map whenever you'd like.  The render time can take a few seconds though, depending on where you are.  And creating of routes themselves seems to take about 20-40 seconds per route to create, which is a touch bit slower than that seen on the Edge series.  But I suppose that's faster than Googlin' and figuring out a route yourself.
Within the settings there's a bunch of different mapping display options you can configure as well – such as whether to lock to roads or not, or what maps you choose.
Note that one issue here is still the lack of ability to create routes on a mobile device and send them to your watch.  Sure, you can create routes on a desktop and then transfer them via mobile phone, but you can't create them on your phone using Garmin's native tools.  Garmin says that things are in the works there…though, they also said that 3 years ago.
Last but not least, you can indeed transfer your own maps to the device, using the same steps as seen with the Garmin Edge series.  And you can also drag/drop any GPX/FIT file routes onto the device as well.
Bluetooth Smart Sensor Support: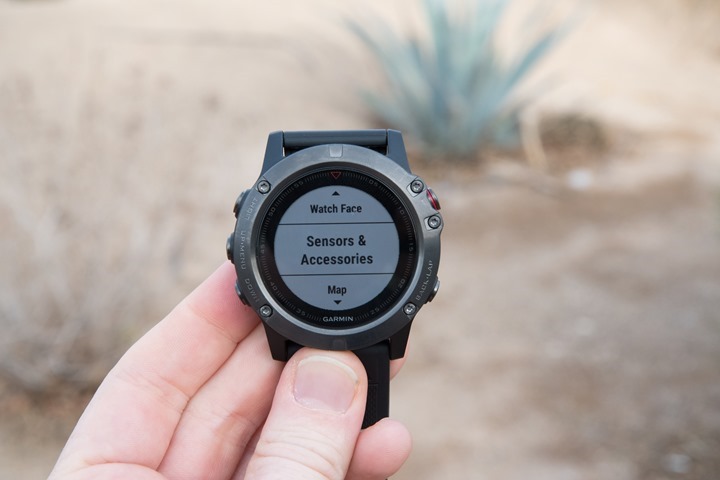 Mark this date in your books: January 4th, 2017.
It's the date hell froze over.  Or at least, some small slice of it.
As of today, the Fenix 5 series now supports Bluetooth Smart sensors, making it the first Garmin device to support any Bluetooth Smart sensors (the VIRB action cam supports legacy Bluetooth automotive sensors).
You can now add Bluetooth Smart heart rate sensors to the Fenix 5, just by scanning for external HR sensors.  For example, here's the Polar H7 Bluetooth Smart only strap.  You can see the Bluetooth Smart ID displayed in the user interface: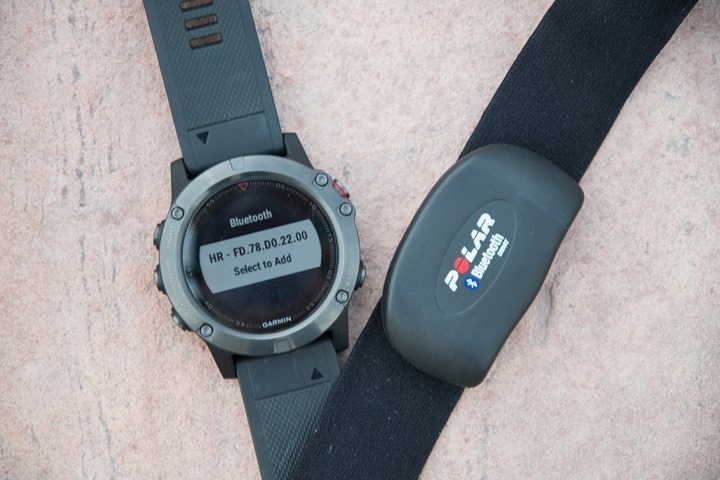 Garmin says that they're starting off with the Bluetooth Smart Heart Rate sensors first, merely because that standard is the most stable (which is true).  But that they plan to add other sensor types quickly.  For example, I'd expect to see them add the cycling cadence/speed sensor and running footpod types, since those are generally considered as pretty stable specs.  Whereas the BLE power meter continues to this day to be a @#$#@ for companies to get right on both sides of the aisle.  Even in the last two weeks I've seen cases where major companies (Quarq & Polar) can't agree on how the spec should be implemented, causing consumers to be left in the middle.
The good news on the power meter front is that quite frankly there are almost no power meters that aren't ANT+ anyway, so that's less of an issue.  Virtually all BLE power meters are also ANT+ concurrently, thus making the issue largely moot.
Nonetheless, it's fantastic to see Garmin go this direction, and hopefully a sign of things to come for other devices down the road.
The Fenix 5 Editions: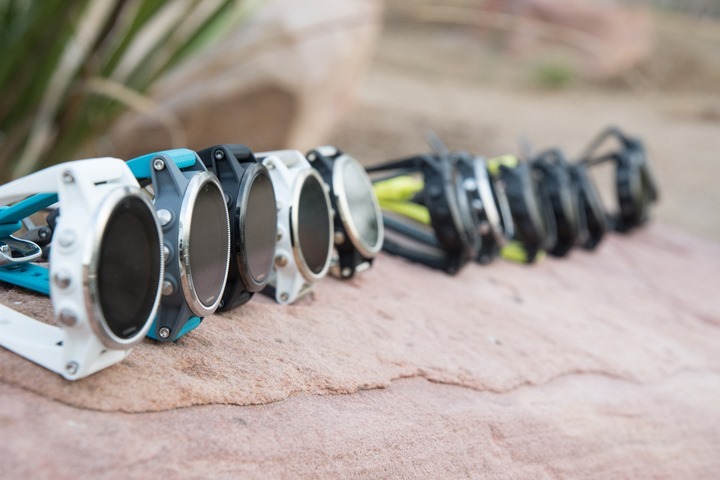 Trying to keep track of all the Fenix 5 versions?  Join the club.  Feel lucky you don't have to type it all out and ensure it's correct.  Here's the best way to think about it.
First, choose your watch size:
Fenix 5S – 42mm: This is the smaller one, unofficially targeting women
Fenix 5 – 47mm: This is your standard issue one, officially targeting everyone
Fenix 5X – 51mm: This is the mapping one, it's bigger to fit in more battery/storage/processing
Here's how these three look side by side, assuming you were just using the simple silicon band (no fancy bling) – Fenix 5S, Fenix 5, and then Fenix 5X: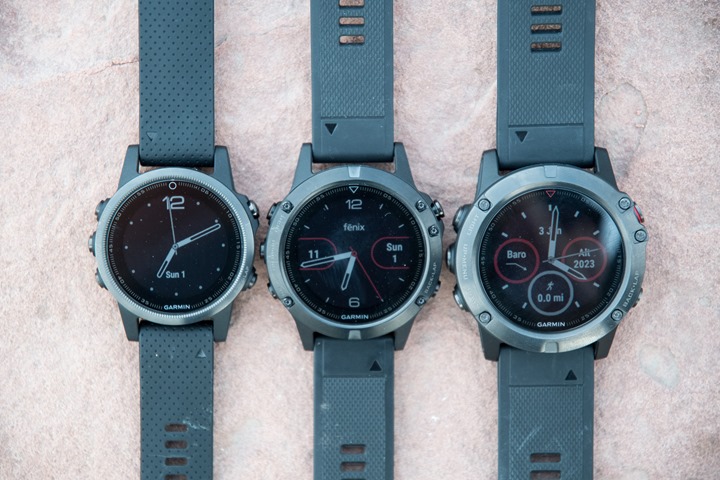 Next though, you need to choose whether or not you want Sapphire glass.  That drives whether or not you get WiFi.  In theory, it also might prevent your unit from getting scratches on the lens.  In reality, that's usually not the case.
Fenix 5S: Non-Sapphire is $599, Sapphire is $699
Fenix 5: Non-Sapphire is $599, Sapphire is $699
Fenix 5X: This ONLY has Sapphire, starting at $699
Decided what size and version you want?  Ok, good.  Now you get to decide what bands you want.  Here's how that rolls out:
Fenix 5S – $599: White bezel with white silicone band (band officially called 'Carrara')
Fenix 5S – $599: Silver bezel with turquoise silicone band
Fenix 5S – $599: Silver bezel with black silicone band
Fenix 5S Sapphire – $699: Black bezel with black band (+ includes a yellow silicone band)
Fenix 5S Sapphire – $699: 'Champagne' bezel with gray suede band (+ includes a white silicone band)
Fenix 5S Sapphire – $849: 'Champagne' bezel with golden color metal band (+ includes a black silicone band)
Fenix 5 – $599: Slate gray bezel with black silicone band
Fenix 5 – $599: Slate gray bezel with yellow silicone band
Fenix 5 – $599: Silver gray bezel with granite blue silicone band
Fenix 5 Sapphire – $699: Black bezel with black silicone band (+ includes a yellow silicone band)
Fenix 5 Sapphire – $849: Slate gray bezel with metal band (+ includes a black silicone band)
Fenix 5X Sapphire – $699: Slate gray bezel with black band
Fenix 5X Sapphire – $849: Slate gray bezel with metal band (+ includes a black silicone band)
Oh no no, we're not done yet.  Finally, you need to decide if you want a bundle or not.  The bundle is only offered in the following editions, so if you want an HR strap bundle (that comes with the HRM-TRI strap), for capturing swim workout data), then you have to pick one of the two specific bundles offered (neither 5S or 5X).  Burger King this is not.
Fenix 5 – $699: Slate gray bezel with black silicone, with HRM-TRI strap
Fenix 5 Sapphire – $769: Black bezel with black band + yellow silicone band, with HRM-TRI strap
Got all that?  Good.  That makes one of us.
Now, you may be wondering about all these bands.  Officially they're called QuickFit bands, as they are designed to pop on and off super-quick.  And indeed, they do with a single button press.  There's virtually no risk of these popping off in an openwater swim or like, because the lever is below the band against your wrist.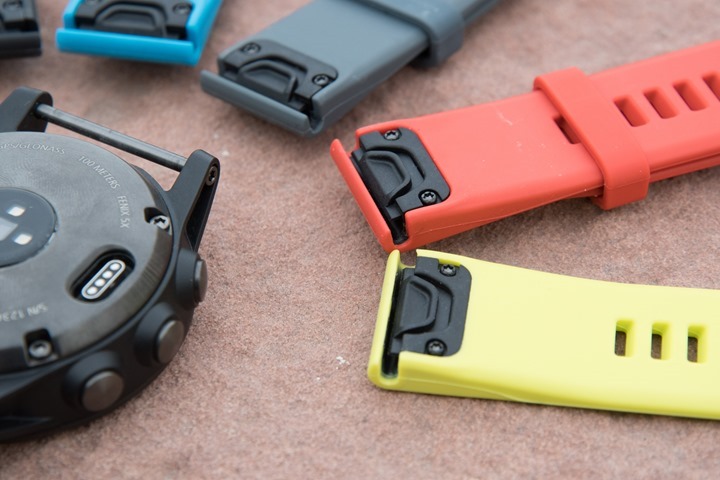 The idea being you can buy extra bands of differing colors as you see fit.  And oh – these QuickFit bands are also compatible with the Garmin Fenix3 series as well.  Because I've gotten tired of typing out spec sheets, I'm going to go into abbreviated mode now.  The bands are as follows:
QuickFit 20 (20mm for Fenix 5S): White/Turquoise/Black/Yellow/Purple/Red Silicone – $49, Grey suede leather – $79, Champagne stainless steel – $149

QuickFit 22 (22mm for Fenix 5): Black/Granite/Yellow/Red/Blue Silicone – $49, Brown leather – $79, Stainless steel – $149

QuickFit 26 (26mm for Fenix 5X): Black/Yellow/Red/Green Silicon – $49, Brown leather – $79, Stainless steel – $149
Wondering when all this craziness will be available?  Officially it's by the end of Q1, which is the end of March 2017.  Unofficially you never quite know. Stability felt pretty good on these units, though there were a few quirks here and there.  But I'd peg it as better than I've seen in the past for a release date in March.  So I think that's reasonably realistic.
Size Comparisons!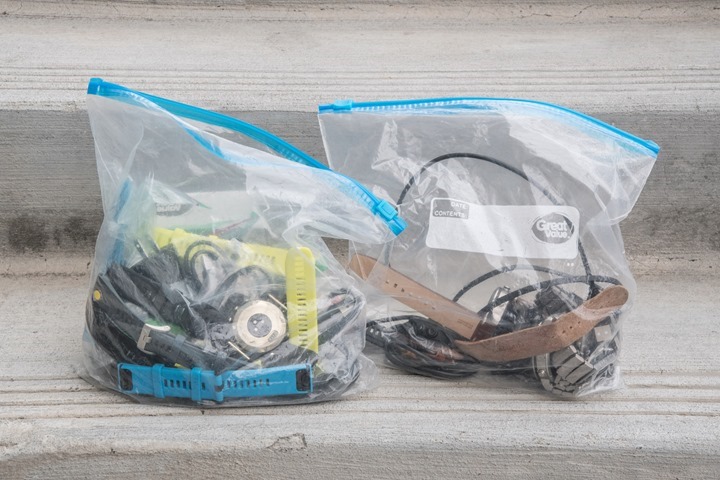 You asked for it, it's time to talk size between the units.  Of course, size isn't everything – but in this case, it might well be.  The Fenix 5 is offered in three sizes, corresponding to the three models (5/5S/5X).
Now officially, here are the exact specs of the three sizes (plus the Fenix3 HR at the bottom for comparison):
Fenix 5S: 1.7" x 1.7" x 0.6" (42.0 x 42.0 x 14.5 mm) – 67g
Fenix 5: 1.9" x 1.9" x 0.6" (47.0 x 47.0 x 15.5 mm) – 87g
Fenix 5X: 2.0" x 2.0" x 0.7" (51.0 x 51.0 x 17.5 mm) – 98g
Fenix 3 HR: 2.0" x 2.0" x 0.6" (51.5 x 51.5 x 16.0 mm) – 86g
But that can be hard to conceptualize, so instead, let's make it easier in simple text.  Note, in the below I'm specifically talking about the width of the watch (round part), not so much the depth.
Fenix 5S: Same size as Forerunner 735XT/230/235
Fenix 5: Slightly larger than the 5S, but smaller than Fenix3HR
Fenix 5X: Virtually identical to Fenix 3 HR in size (except not as deep)
Note that technically the screen on the 5S has less pixels (218×218) vs the 5/5X (240×240), but it retains the same color (64 colors).  There's no changes in terms of contrast or display brightness between any of the watches, or compared to the Fenix 3 series.  If you liked the Fenix 3 brightness, you'll be fine with the Fenix 5.  And if you didn't like the Fenix 3 brightness, you probably won't like the Fenix 5 brightness.
First up, let's look at just the three core watches side by side: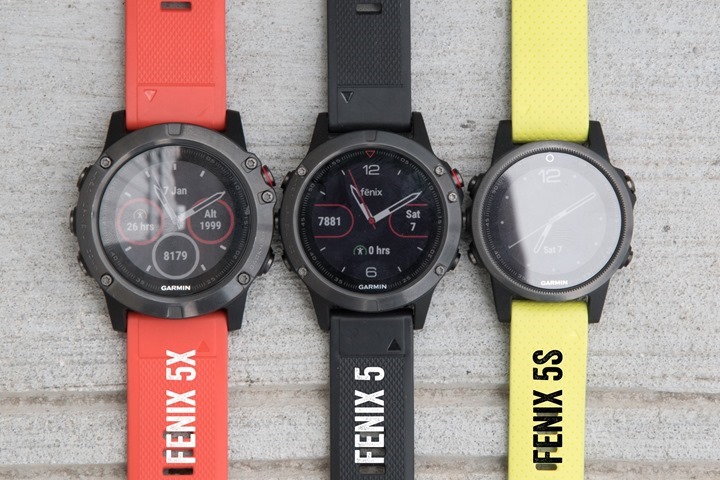 Next, for fun, let's add in the Fenix 3 HR as a bit of a benchmark on size.  You can see that the Fenix 5X and Fenix 3HR are identical in terms of face size.  This is why you can switch the new bands on the Fenix 5X to the Fenix 3/3HR lineup.  Whereas the Fenix 5 and Fenix 5S won't be compatible with the older Fenix 3/3HR bands.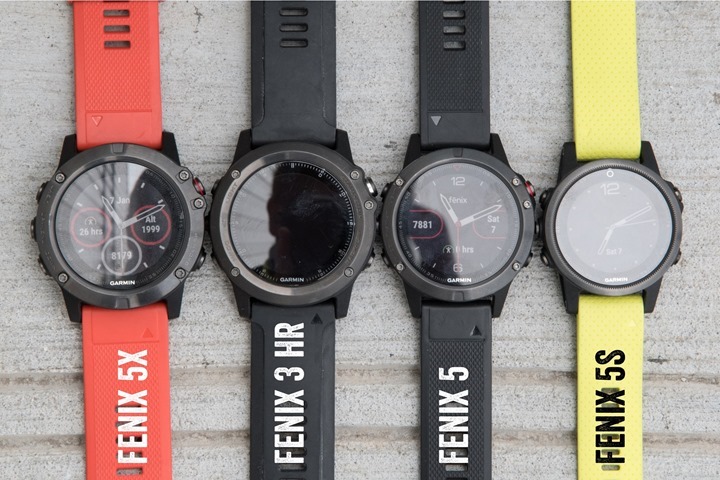 Now let's get all horizontal and see how they stack up.  Here it's super clear just how big the optical HR sensor bump is on the back of the unit.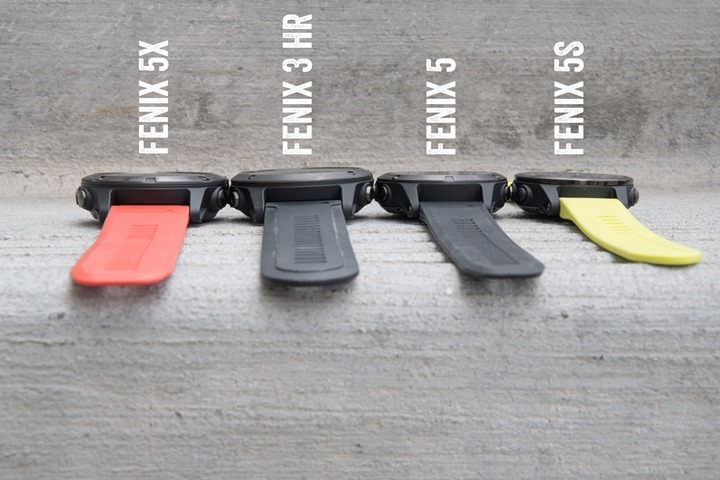 What? You're into optical sensor bumps.  If that's your thing – then here's two more pictures comparing the Fenix 5 to the Fenix 3HR optical HR sensor bump:
Now let's throw them all down on the pavement and see how they shake up.  I tossed in the Fenix Chronos, FR920XT, and FR735XT in there.  Note that the FR735XT shares the same exterior shell dimensions as the FR230 and FR235.  So if you're familiar with those watches, that should help you understand a bit.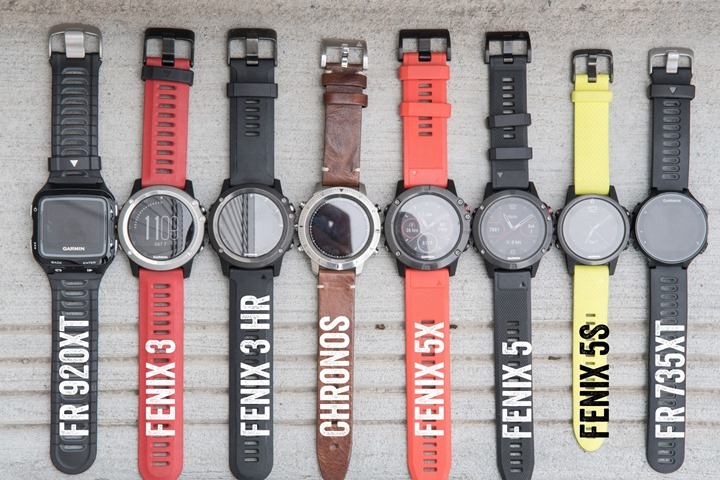 And here's the depth on them.  You'll notice just how much that bump from the Fenix 3HR has been reduced with the new optical sensor design on the Fenix 5 series (or even compared to Chronos).  Keep in mind on Chornos it's thinner in part because of the fact it has less battery.  The sensor bump is still bigger on Chronos than the Fenix 5.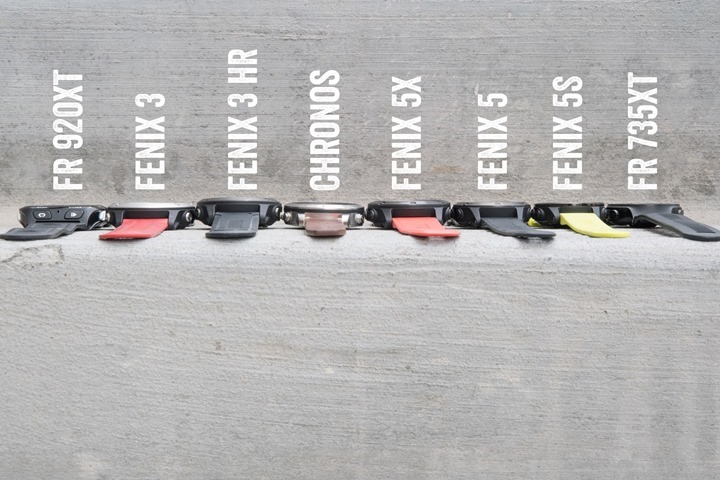 Next, just two lonely watches to more clearly show just how close the Fenix 5S and FR735XT are in size.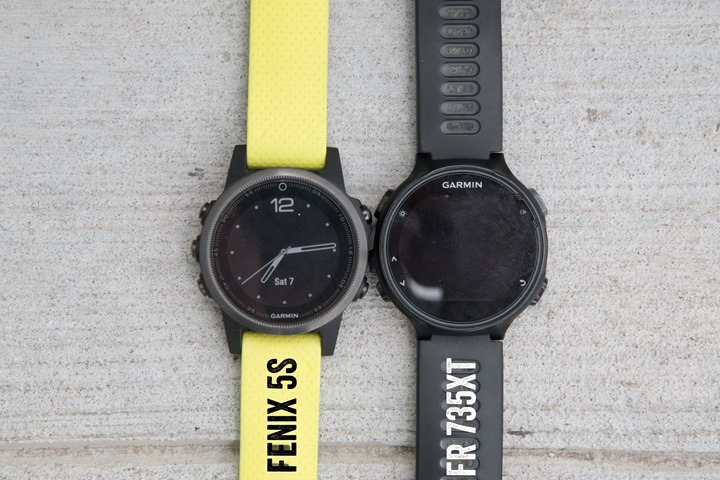 But I hear ya – sensor bumps aren't your thing.  Instead, it's wrist fetishes.  No worries, I've got you covered.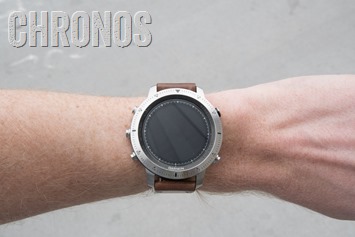 Phew – more than you ever wanted to know probably!  One last tidbit.  Remember that the Fenix 5X is thicker than the Fenix 5/5S because of the larger battery. That larger battery is required to handle the bigger processor on the 5X, which is in turn required to handle the maps and routing functions.
Product Comparison:
I've added in the Garmin Fenix 5 into the product comparison database.  At present, I've consolidated it into a single product – inclusive of the Fenix 5, 5S & Fenix 5X, noting differences where applicable.  At some point between now and eternity I'll split them out in the database.  In the meantime though, this allows you to compare it against the Fenix 3 series more easily.  Though even then, the product comparison tool simply doesn't capture some of the nuances of software differences between the two models.  The reason being I try to avoid getting too crazy in minor software features in the database, else it just becomes massive to try and find the key differences in a product.
Function/Feature

Garmin Fenix3 HR
Garmin Fenix 5 (5/5S/5X)
Copyright DC Rainmaker - Updated November 27th, 2020 @ 5:15 am New Window
Price
$549
$599
Product Announcement Date
Jan 5th, 2016
Jan 4th, 2017
Actual Availability/Shipping Date
February 2016
March 2017
GPS Recording Functionality
Yes
Yes
Data Transfer
USB/Bluetooth Smart/WiFi
USB/Bluetooth Smart/WiFi (Sapphire only)
Waterproofing
Yes - 100m
Yes - 100m
Battery Life (GPS)
Up to 50hrs in GPS with optical off, about 20-25% less with optical HR on
Up to 24hrs in GPS-on, up to 75hrs in UltraTrac GPS
Recording Interval
1S OR SMART
1S or Smart
Quick Satellite Reception
Great
Great
Alerts
Vibrate/Sound/Visual
Vibrate/Sound/Visual
Backlight Greatness
Great
Great
Ability to download custom apps to unit/device
Yes
YEs
Acts as daily activity monitor (steps, etc...)
Yes
Yes

Music

Garmin Fenix3 HR
Garmin Fenix 5 (5/5S/5X)
Can control phone music
YEs
Yes
Has music storage and playback
No
No
Streaming Services
No

Payments

Garmin Fenix3 HR
Garmin Fenix 5 (5/5S/5X)
Contactless-NFC Payments
No

Connectivity

Garmin Fenix3 HR
Garmin Fenix 5 (5/5S/5X)
Bluetooth Smart to Phone Uploading
Yes
Yes
Phone Notifications to unit (i.e. texts/calls/etc...)
Yes
Yes
Live Tracking (streaming location to website)
Yes
Yes
Group tracking
No
Yes
Emergency/SOS Message Notification (from watch to contacts)
No
No
Built-in cellular chip (no phone required)
No
No

Cycling

Garmin Fenix3 HR
Garmin Fenix 5 (5/5S/5X)
Designed for cycling
Yes
Yes
Power Meter Capable
Yes
Yes
Power Meter Configuration/Calibration Options
Yes
Yes
Power Meter TSS/NP/IF
Yes
Yes
Speed/Cadence Sensor Capable
Yes
Yes
Strava segments live on device
No
Yes
Crash detection
No
No

Running

Garmin Fenix3 HR
Garmin Fenix 5 (5/5S/5X)
Designed for running
Yes
Yes
Footpod Capable (For treadmills)
YEs
Yes
Running Dynamics (vertical oscillation, ground contact time, etc...)
With HRM-TRI or HRM-RUN (Not via Optical HR)
WITH RD POD, HRM-TRI OR HRM-RUN (NOT VIA OPTICAL HR)
Running Power
With extra sensor
VO2Max Estimation
YEs
YEs
Race Predictor
Yes
Yes
Recovery Advisor
Yes
Yes
Run/Walk Mode
YEs
Yes

Swimming

Garmin Fenix3 HR
Garmin Fenix 5 (5/5S/5X)
Designed for swimming
Yes
Yes
Openwater swimming mode
Yes
YEs
Lap/Indoor Distance Tracking
Yes
Yes
Record HR underwater
WITH HRM-TRI/HRM-SWIM (Not with optical HR)
WITH HRM-TRI/HRM-SWIM (Not with optical HR)
Openwater Metrics (Stroke/etc.)
Yes
Yes
Indoor Metrics (Stroke/etc.)
YEs
YEs
Indoor Drill Mode
YEs
Yes
Indoor auto-pause feature
YEs
No (it'll show rest time afterwards though)
Change pool size
Yes
YEs
Indoor Min/Max Pool Lengths
17M/18Y TO 150Y/M
14M/15Y TO 150Y/M
Ability to customize data fields
YEs
Yes
Can change yards to meters
YEs
Yes
Captures per length data - indoors
YEs
Yes
Indoor Alerts
Yes
Yes

Triathlon

Garmin Fenix3 HR
Garmin Fenix 5 (5/5S/5X)
Designed for triathlon
Yes
Yes
Multisport mode
Yes
Yes

Workouts

Garmin Fenix3 HR
Garmin Fenix 5 (5/5S/5X)
Create/Follow custom workouts
Yes
Yes
On-unit interval Feature
Yes
YEs
Training Calendar Functionality
Yes
Yes

Functions

Garmin Fenix3 HR
Garmin Fenix 5 (5/5S/5X)
Auto Start/Stop
Yes
Yes
Virtual Partner Feature
Yes
YEs
Virtual Racer Feature
YEs
Yes
Records PR's - Personal Records (diff than history)
Yes
Yes
Day to day watch ability
Yes
Yes
Hunting/Fishing/Ocean Data
Yes
Yes
Tidal Tables (Tide Information)
No
No
Jumpmaster mode (Parachuting)
Yes
Yes
Geocaching
Via GPS coordinates
Via GPS coordinates
Weather Display (live data)
yES
Yes

Navigate

Garmin Fenix3 HR
Garmin Fenix 5 (5/5S/5X)
Follow GPS Track (Courses/Waypoints)
Yes
YEs
Markers/Waypoint Direction
Yes
Yes
Routable/Visual Maps (like car GPS)
No
Yes (5X Only)
Back to start
Yes
Yes
Impromptu Round Trip Route Creation
No
Yes (5X Only)
Download courses/routes from phone to unit
Yes
Yes

Sensors

Garmin Fenix3 HR
Garmin Fenix 5 (5/5S/5X)
Altimeter Type
Barometric
Barometric
Compass Type
Magnetic
Magnetic
Optical Heart Rate Sensor internally
Yes
Yes
SpO2 (aka Pulse Oximetry)
No
Heart Rate Strap Compatible
Yes
Yes
ANT+ Heart Rate Strap Capable
Yes
Yes
ANT+ Speed/Cadence Capable
YEs
Yes
ANT+ Footpod Capable
YEs
Yes
ANT+ Power Meter Capable
Yes
Yes
ANT+ Weight Scale Capable
No
No
ANT+ Fitness Equipment (Gym)
No
No
ANT+ Lighting Control
No
Yes
ANT+ Bike Radar Integration
No
Yes
ANT+ Trainer Control (FE-C)
No
No
ANT+ Remote Control
No (can control VIRB though)
No (can control VIRB though)
ANT+ eBike Compatibility
No
No
ANT+ Muscle Oxygen (i.e. Moxy/BSX)
With Connect IQ Apps
Yes
ANT+ Gear Shifting (i.e. SRAM ETAP)
No
Yes
Shimano Di2 Shifting
No
Yes
Bluetooth Smart HR Strap Capable
No
Yes
Bluetooth Smart Speed/Cadence Capable
No
Yes
Bluetooth Smart Footpod Capable
nO
Yes
Bluetooth Smart Power Meter Capable
No
YEs
Temp Recording (internal sensor)
Yes
Yes
Temp Recording (external sensor)
Yes
Yes

Software

Garmin Fenix3 HR
Garmin Fenix 5 (5/5S/5X)
PC Application
Garmin Express
Garmin Express
Web Application
Garmin Connect
Garmin Connect
Phone App
iOS/Android/Windows Phone
iOS/Android/Windows Phone
Ability to Export Settings
No
No

Purchase

Garmin Fenix3 HR
Garmin Fenix 5 (5/5S/5X)
Amazon
Link
Link
Backcountry.com
Link
Clever Training - Save with the VIP program
Link
Competitive Cyclist
Link

DCRainmaker

Garmin Fenix3 HR
Garmin Fenix 5 (5/5S/5X)
Review Link
Link
Link
Note that you can create your own product comparison charts between watches I've had time with, here in the product comparison database.
Summary: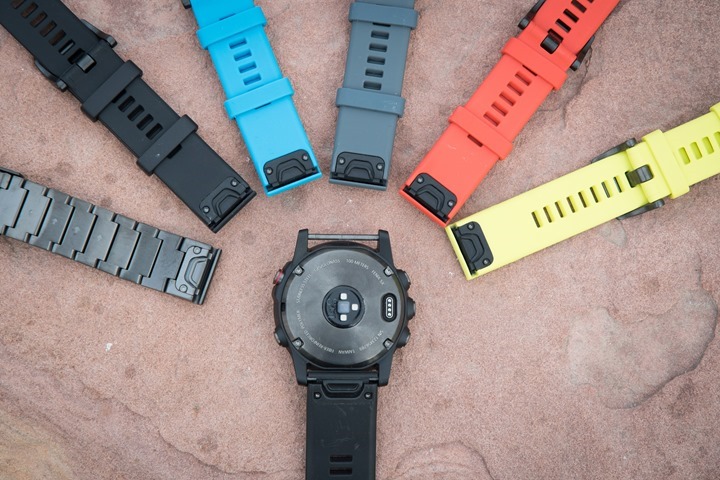 In some ways, the Fenix 5 series release is more evolutionary than revolutionary.  There's no doubt a boatload of additions for the Fenix 5 & 5S watches, mainly software tweaks and enhancements.  Yet where it becomes more revolutionary is within the Fenix 5X lineup, which now includes maps on a wearable.  Yes, Garmin has tried this before – but never in something as small and sleek at this form factor.
Perhaps the bigger news in this though is that Garmin is now opening up to Bluetooth Smart sensors. That's a major turning point for the company that will undoubtedly have ramifications for not just themselves, but also for various products in the cycling/running segment.  For example – will sensors like RunScribe and others soon be able to leverage Connect IQ functionality over Bluetooth Smart?  This could, if played right, open up Connect IQ to far more devices than just those on ANT+.  The possibilities are greatly expanded here.
There are some downsides though to the Fenix 5 series, most notably price.  The watch continues to climb higher and higher.  It used to be that the Fenix series was $399, then came $499 with the Fenix 3, and now it's at $599 as the entry point for the Fenix 5 (matching the previous Fenix 3 HR initial price), with prices going up to $849 for the highest-end Fenix units.  Not only that, but WiFi connectivity used to be baseline in all Fenix 3 units, and now it's only available at $699 and above in the Sapphire models.  Of course, all models now include optical HR sensors, whereas in the past that wasn't the case with the less expensive options.
Last but not least, we don't yet know how well it handles for things like GPS and barometric altimeter accuracy on final production models, as both the hardware and software won't be finalized for at least another month or two.  As such, this isn't a full in-depth review, since I don't have final hardware or software to base an opinion on.  That'll come later though – fear not.
With that – thanks for reading!  Feel free to drop any questions down in the comments below, and I'll be happy to try and get answers.  Same goes for requests for photos and/or videos of various features.  The two videos I uploaded above should cover the vast majority of questions (and in fact, even cover more detail than this post in some areas).  But I'm always open for other video ideas.
—
Pre-orders: You can now pre-order the Fenix 5 series, scheduled for delivery by the end of Q1 (aka March).  Here for the Fenix 5, the Fenix 5S, and the Fenix 5X. Doing so through the links here helps support the site and makes you awesome.  Also – Clever Training Europe/UK is available for pre-orders here.