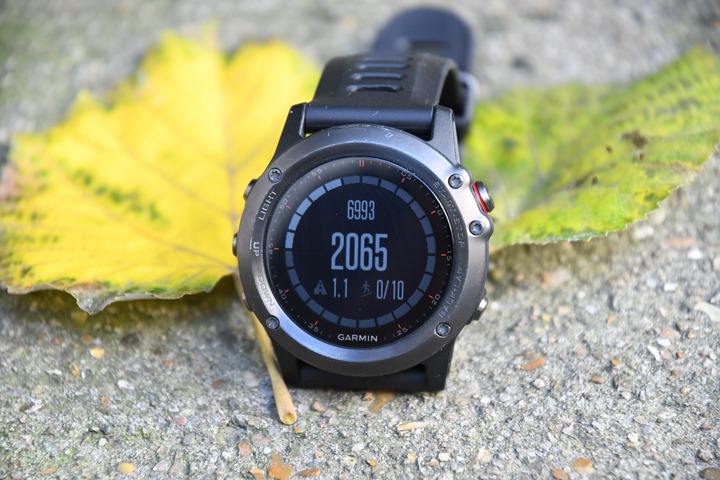 One of the major selling points of Fitbit's ever-expanding wearables, particularly fashion-focused wearables is the ability to change between multiple devices during the day.  You could start the morning off with a workout on the bulkier Fitbit Surge GPS, and then transition to a slimmer activity tracker for the remainder of the day.
It's a gap that's been a pain in Garmin's side for quite a while, especially as they too have created differentiated product lines aimed at the more fashionable side of fitness.  Earlier this year at CES they committed to having a multi-device strategy completed by the end of the year, and true enough – they managed to hit that timeline with almost two months to spare.
This week Garmin rolled out 'TrueUp', which enables you to transition from one device to the next and have updated activity tracking stats not just on the backend, but also displayed on the devices themselves.
(Note: I've got a separate post covering the other announcements they made in the last two days, around Fitbit data migration and Strava Beacon, but I'm waiting for some technical issues to be resolved there…)
How it works:
The way it works is that each time you sync your activity tracker device it'll update the Garmin Connect platform with your activity stats, just like it always has.  However now, that information will be sync'd back to any other devices that you have on your account and sync with.
To demonstrate this, I've been primarily wearing the Garmin Forerunner 35 the last month or so, as I prepare for a review. But I decided to charge up a Garmin Fenix3 to demonstrate how this works with two devices.  Obviously most people would have a blend of a more robust GPS device with a thinner device – something like a Vivofit series band for the daytime, and with something like a Garmin FR235 for GPS running.  But the exact devices don't matter too much, as long as it's on the list of compatible devices.
Speaking of that list, here it is: Fenix 3, Fenix 3 HR, Fenix Chronos, Forerunner 35, 230, 235, 630 and 735XT, Approach S20/X40, D2 Bravo, Tactix Bravo, Quatix 3, Vivofit 3, Vivosmart HR, Vivosmart HR+, Vivoactive HR
The general trend you see there is basically devices released in the last 12 months (+ the Fenix3).  Devices such as the FR15, FR25, FR920XT, Epix, and Vivomove/Vivofit1/Vivofit2 are all missing.  My understanding is that on that these non-supported devices it'll properly upload steps to supported devices, but just not display the 'True Up' numbers on the non-supported device.  But I haven't tried it in that configuration.  Said differently, if you use a Vivosmart HR during the day, but run with the FR920XT, that should actually work in terms of seeing your run-step data on the Vivosmart, but you won't see it on the FR920XT.  In theory anyway.
With all that said, you'll want to set your 'Preferred Activity Tracker', within Garmin Connect Mobile.  This takes all of 1.5 seconds, and simply lets Garmin know which data you prefer.
In any case, first, I walked a bunch of steps to the bakery and back with my FR35.  You'll see at this point that it shows those steps on my watch.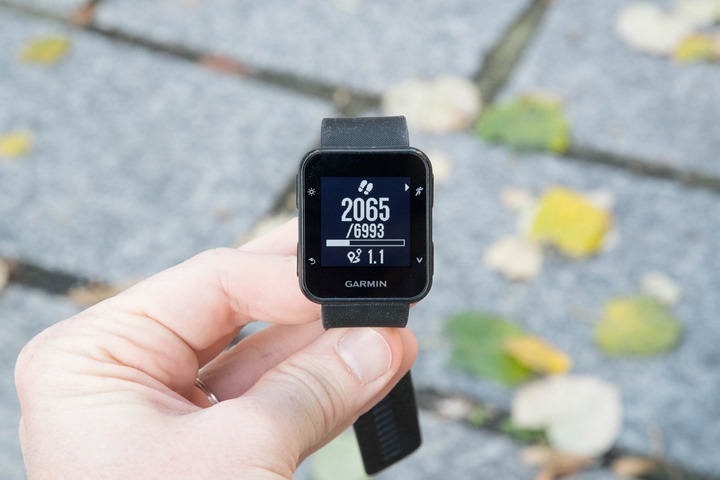 Meanwhile, I purposefully turned off the Fenix3, so that it wasn't accumulating any steps.
Once turning it on (before sync), you can see it shows 0 steps).  Next, I went ahead and sync'd the FR35 to Garmin Connect Mobile.  Obviously it'd do this automatically throughout the day, but I'm impatient, so I just forced it.  Now you see my steps match on Garmin Connect Mobile: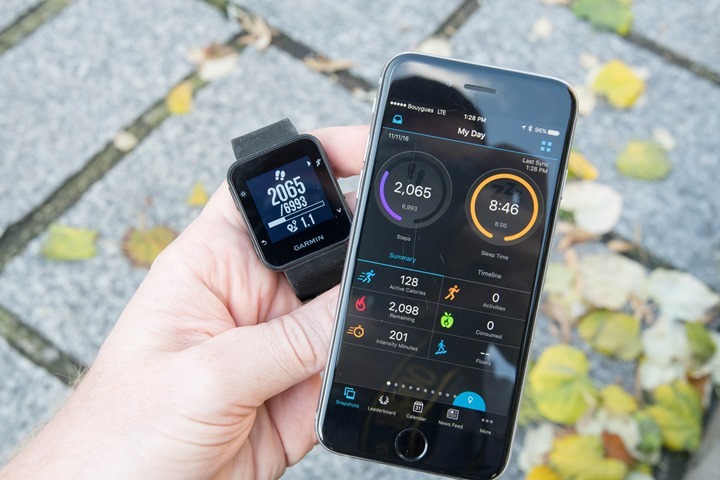 But here's the real party trick.  Now I let the Fenix3 sync to my same mobile phone: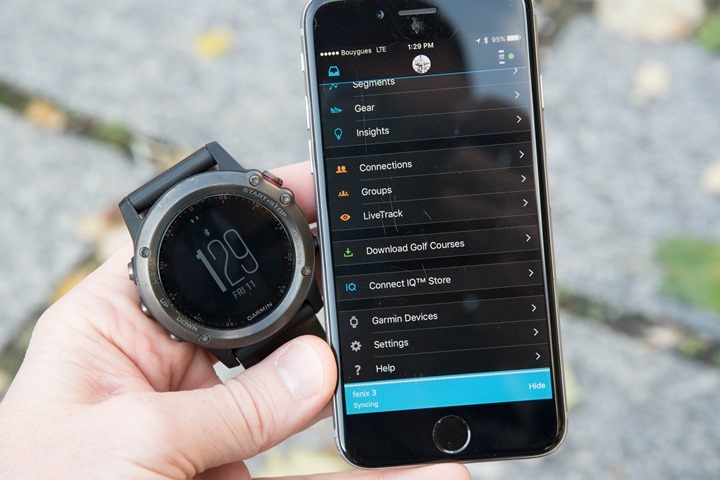 Once it completes that, if you go to the activity stats page on your Fenix3, you'll actually see it briefly display 'Updating', and a swirly thing around the outer edge: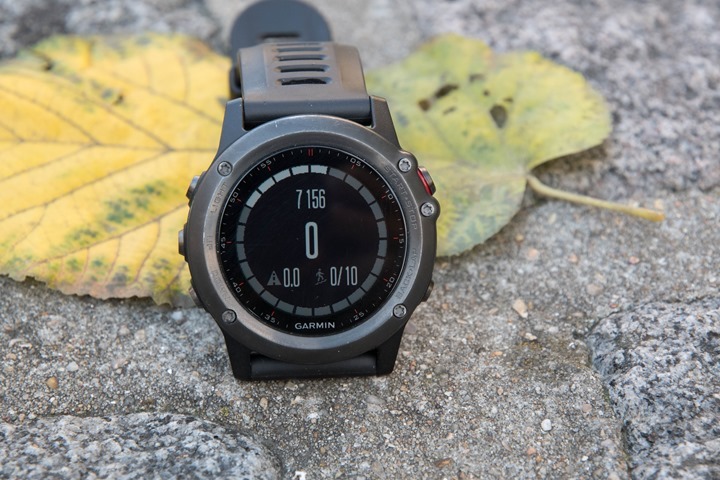 A few seconds later after pondering life, it'll actually show you the exact same steps: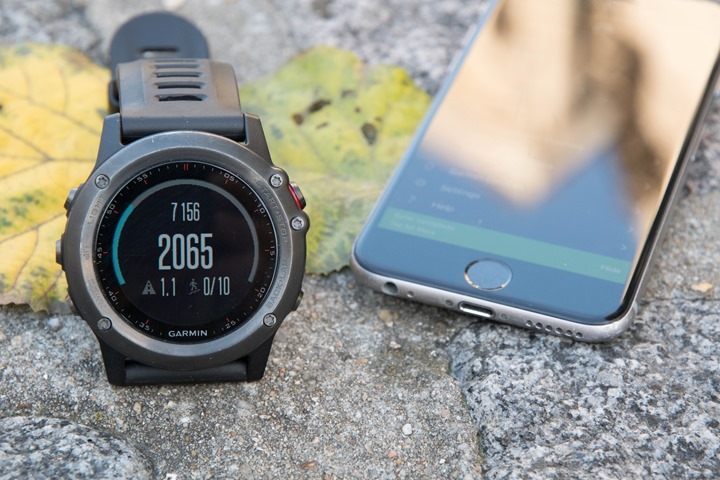 And with that, my work here is complete.  I could inversely now use just the Fenix3 for some steps and then see the FR35 display updated (which I've tried, and it works too).  Additionally, steps on devices walked at the same time don't end up being duplicate, but rather the overlap is cleaned up.  TrueUp includes coverage of steps, distance, calories, stairs, and intensity minutes.
Further, when it comes to overlapping device data – Garmin will prioritize the higher quality device.  This means that if you wear a Vivofit3 (non-GPS) at the same time as running with a FR235 (GPS), it'll use the distance data from the FR235.
With that – thanks for reading!