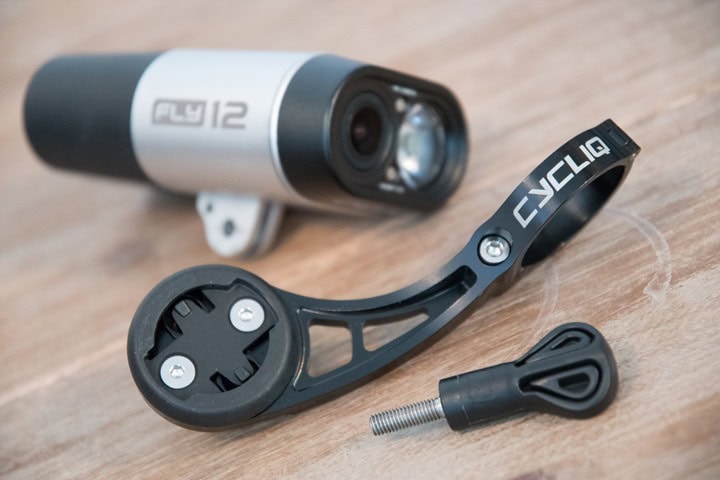 A few weeks back Cycliq announced a new product on Kickstarter.  You'll remember Cycliq is the company behind the Fly6 and Fly12 combination bike safety camera/lights products.  They combine front (Fly12) or back (Fly6) lights with a camera that's always recording, so that in the event something happens you've got some proof you weren't the stupid one.  Of course the benefit is that you've still got a bike light, so unlike merely having insurance video – you get something functional.  Or you can just capture deer attacks.  Your choice.
In any event…
Their latest product is much simpler – and cheaper.  It's simply a mount.
You might remember during my Fly12 testing I actually snapped a 3rd party mount with the Fly12.  That's because the Fly12 with its 6hr battery/light life is far heavier than a typical GoPro action cam that normally attaches to a combo mount.  Granted, this 3rd party mount I was testing was a prototype – but still, it demonstrated the need for more heavy duty mounts.
Thus, the Duo to solve that, being the name of the new Cycliq mount.
What you get: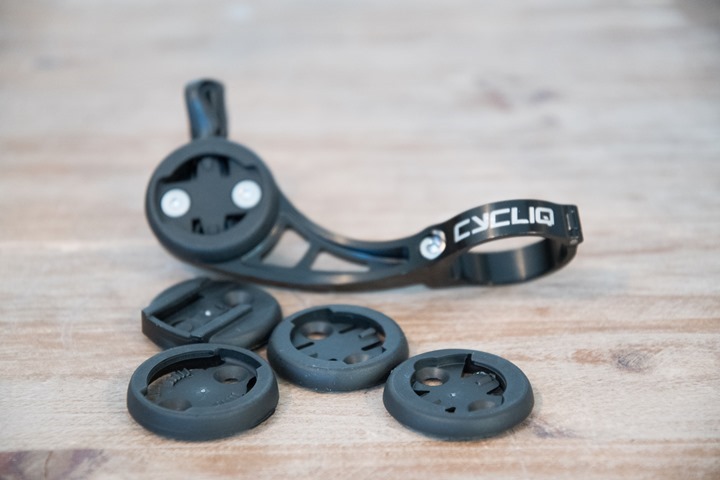 With this new mount, Cycliq has partnered with Barfly, maker of plenty of cool combo cycling mounts.  Well, technically they're called Tate Labs, but everyone knows them by the Barfly name.  In this case, Cycliq is doing the aluminum portion, but Tate Labs is taking care of of the mount insert pieces.
You may (not) remember a post that I still haven't posted yet about the newish Barfly system.  Essentially, instead of having to buy unique mounts for each bike computer manufacturer – you've now got these simple disc inserts that are compatible with their mounts.  And even better for consumers and retailers alike, you get all of these discs in the box at once.  Sorta like if you combined the Barfly box with the Cycliq box: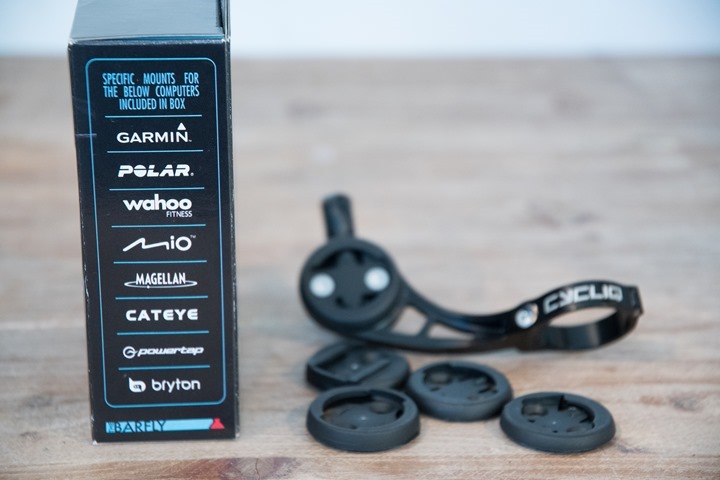 Cycliq has followed in those footsteps with their mount.  When you purchase the Duo, you get five bike computer inserts with it:
– Garmin (default)
– Wahoo ELEMNT
– Cateye
– Polar
– Mio/Magellan
Note, I validated that the Sigma GPS units also work with the default Garmin mounts just fine.  Lezyne doesn't seem to work with any of those unfortunately.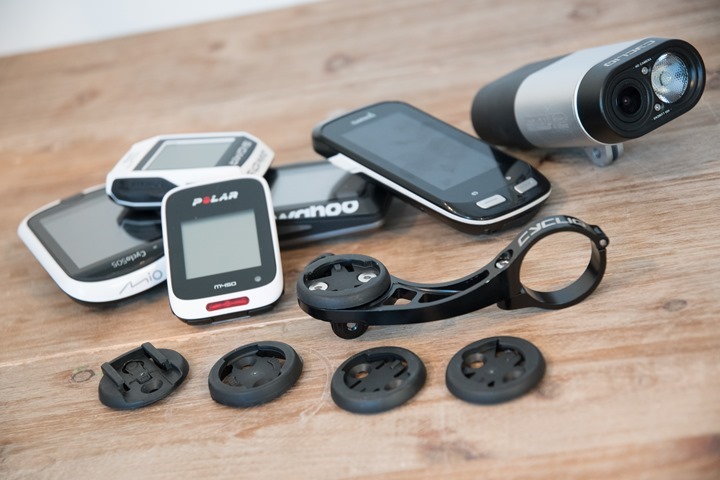 You can also buy other discs from Tate labs should things change down the road and you need a new bike computer mount type.  All these discs are simply swapped out using a hex wrench for the two screws.
Now the bottom is where things differ from the Barfly mounts.  In the case of Barfly, they've got a similar modular system on the bottom.  That allows swapping out action cam mounts, other bike lights, Di2 junction boxes, etc…  But with Cycliq, they've machined the GoPro mount straight into the mount arm itself.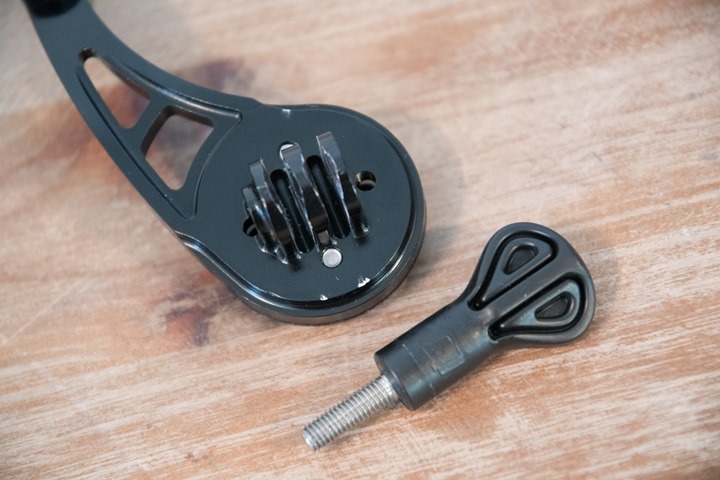 This is done for two reasons.  First is that it gives it more strength, which is of course the purpose of this mount.  And second, is that they've actually cut the grooves a bit deeper as you can see.  This pulls the Fly12 up closer to the bike computer, making it slightly slimmer.
Finally, the last notable thing about mount is that they've put the mounting screw on top.  Just one screw required, and the unit has a small hinge, versus two screws.  This is notable because some mounts have two screws going in from the bottom, which is moderately annoying to install.
Oh, and they've also created a slightly different thumbscrew to make it easier to get a bit more grip on it when tightening.  But it's still totally compatible with the GoPro thumbscrews, so if you lose/whatever your screw, you're still good with any standard GoPro thumbscrew.
A Quick Test Ride: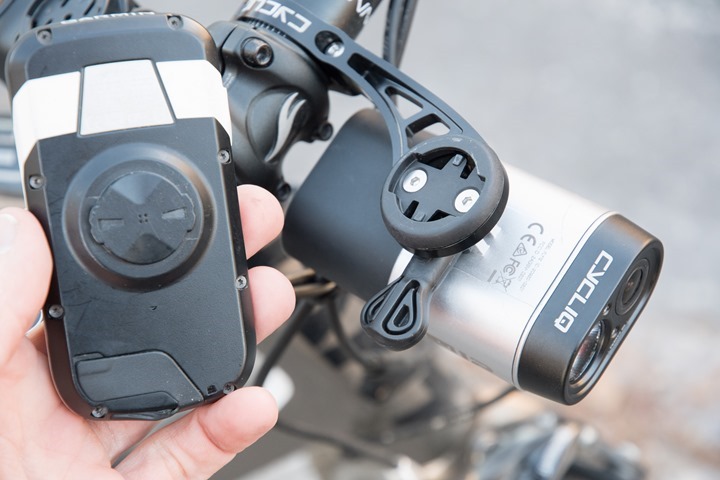 It's cold out today.  Beautiful.  But @#$#@ cold.  I mean, not like Finland cold of course.  Or Polar Bear Plunge cold.  But colder than I wanted.
Side note: Did you know I have an entire link tag for the term 'Freezing my ass off'?  It's reserved for the coldest of stupid situations.  Today did not qualify.  But numerous past posts have.
And more importantly of course, y'all wants me indoors on the Tacx Flux trainer putting it through tests for next week's review.  Same goes for the CycleOps Magnus and Hammer.  So for the Duo mount, I decided to just do some loops around the cobbled block to see how well the mount handled.  My specific concern was of course the mount snapping.  When you get a heavier unit like the Fly12 on it, that's a legit concern.  And no better place to try and snap mounts than cobbles.
But that's also of course why Cycliq designed the Duo – to handle heavier goods.  In any case, I got it all mounted up: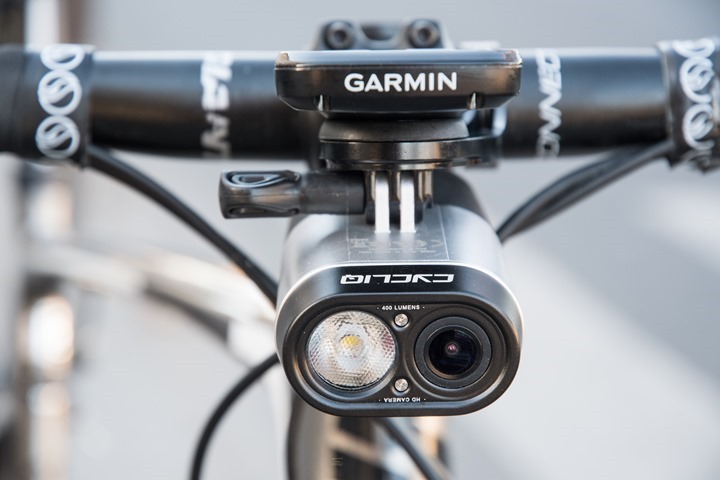 And then it was off to do a few loops.  Here's some of that video straight off the card:
Nothing earth shattering exactly, but that's sorta the point: It didn't shatter.
The Kickstarter Campaign: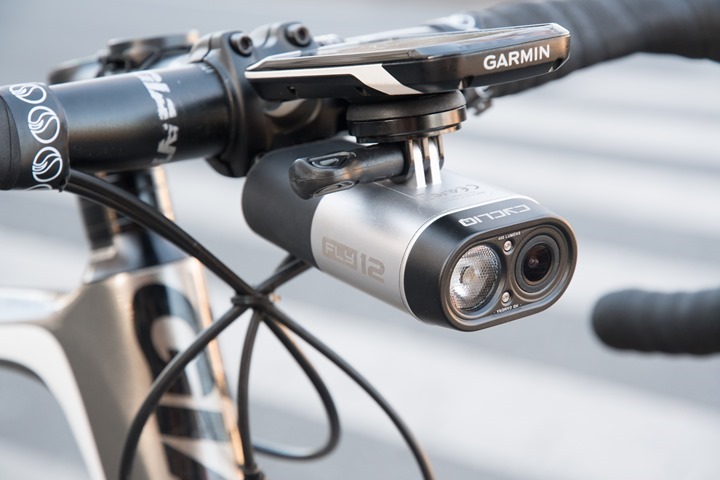 This would be the third time that the company has gone to the Kickstarter well, and in all three cases they've surpassed their goals.  I had hoped to have this post up three weeks ago, but the French postal system did not cooperate, and the mount they initially sent me was returned to them in Australia.  Our post office is closed for a remodel, and apparently their desire to deliver/hold mail is also on holiday.  Thankfully though the Cycliq folks are in Europe this week and swung by yesterday to drop off a unit for this quick test.
The point of which is that their Kickstarter campaign closes in about 34 hours.  Less hours if you failed to read this until Thursday.  I understand, eating turkey leftovers and opening newly arrived Cyber Monday boxes is a full-time job, and a full-time distraction.  It happens.
The mount is still available on Kickstarter for 44AUD (Australian Dollars) – the earliest/cheaper ones are sold out, so that's all that's left.  Still, that translates to $32USD, or 30EUR.  All of which is cheaper than anything else out there that's a combo mount made from machined aluminum.  Shipping is slated for December and January, and it doesn't seem like there's anything in the way of that.
Thus if you're in the market for a combo mount that's machined aluminum and durable, and that comes with basically all the inserts you'd need for any bike computer – then you're in luck.
With that – thanks for reading!