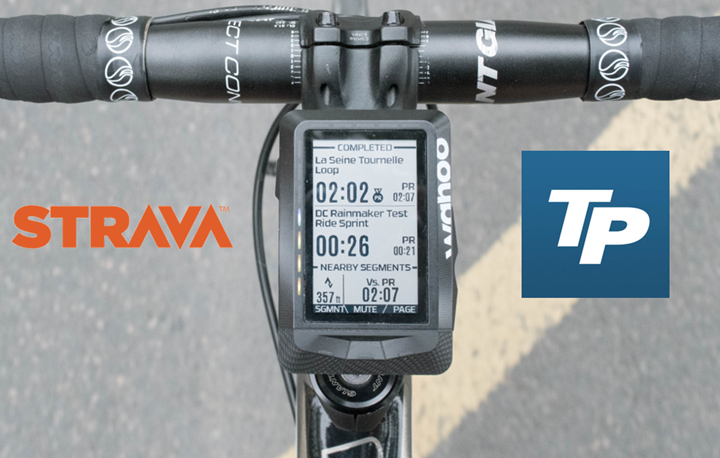 Yes, you read that title right: TrainingPeaks, arguably a competitor platform to Strava, is now supporting Strava's most import feature: Segments.
Though, not entirely in the way you might expect.
Yesterday evening TrainingPeaks rolled out the ability for you to see and analyze segments that you've completed using certain Strava-capable devices.  These segments would then appear within your completed workouts on TrainingPeaks, allowing you to dig into them in the same way you might currently deep-dive into your manual or automated laps/splits.  For example, see below: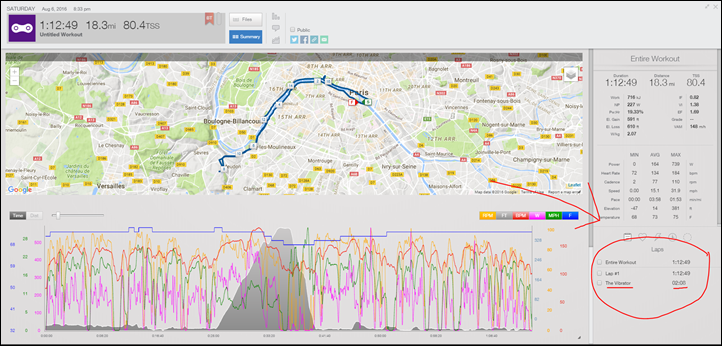 These show up in the laps pane, alongside your existing laps.  They can then be selected in the list to highlight that section of the graph, like below:

When you select a segment, it'll also update the metrics up above in the details pane, giving you averages and stats for just that Strava Segment: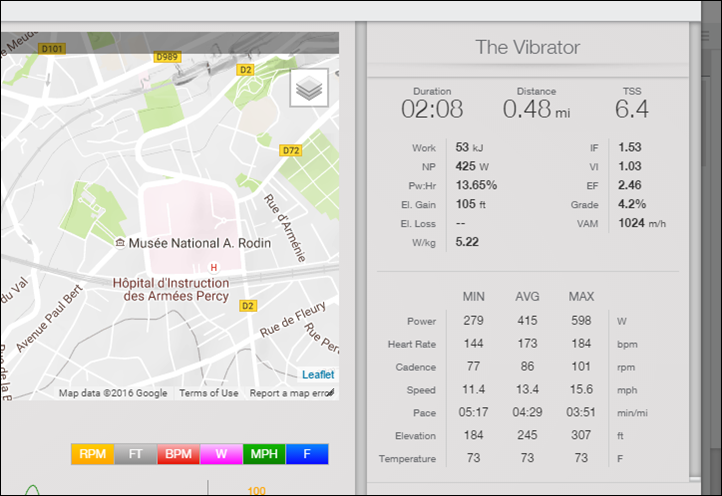 Finally, you'll also see it highlighted on the map as well.  Oh – and as you probably noticed, the name of the Strava Segment is also shown, in this case I rode The Vibrator.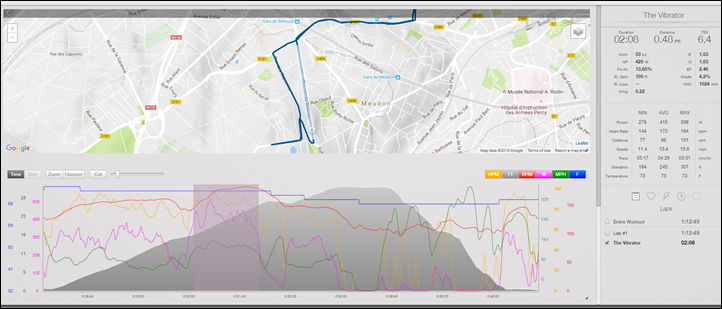 Any other dashboard views that show laps/splits will also now show the Strava Segments as well.  So if you have more Segments that you've triggered, you'll see those too:

So you may be asking yourself: Why on earth did TrainingPeaks hook-up with Strava?  Just a lonely call in the night to a friend with benefits?
Well, actually…no.
There was no Strava booty call.
Instead, they turned to the devices themselves.  See when devices capable of Strava Live Segments are out doing their thing, they actually record the names of the segments that you complete within the .FIT file.  The .FIT file is your activity file from that ride.  One ride = One .FIT file.  It's the near-universal standard for how most sports technology companies are trading detailed endurance sports data these days (some other platforms/devices will tend to use .GPX/.TCX for simpler data types).
So which devices support this?  TrainingPeaks has tested Garmin live-segment capable devices (Edge 510/520/810/820/1000) and the Wahoo ELEMNT (which just got Strava Segment support last week).  They have not tested the Cyclo 505, which does have support for Strava Live Segments.  But in theory it'll work on that.
All three of those device platforms do automatic sync direct to TrainingPeaks upon completing your ride.  So if you've got one of those devices, it'll now automatically appear on your activities (even all your old activities).
Now, a couple of things to note:
A Strava Segment is only going to show up on TrainingPeaks if your device showed you the Segment mid-ride.  If it didn't, it won't show up on TrainingPeaks.
You *must* complete the segment for it to show-up. No failed segments will appear.
It won't display any other KOM/friends/etc information about the Segment.  It's just showing what you've completed, that's it!
It won't taunt your friends via their TrainingPeaks accounts…
…but now your coach will be aware as to why you randomly sprinted for 45 seconds in the middle of an otherwise Z2 ride. Busted!
It only works on devices that support Strava Live Segments.  So at present something like the Garmin Fenix3 won't enumerate segments here.  Nor would any Polar or Suunto gear.
TrainingPeaks and Strava did not have a one-night stand via Tinder.  Or so they say.
All your past TrainingPeaks activities will now show segments, if they were recorded on a Strava Live capable device per above.
Runs don't show up, because Garmin (nor Wahoo or Mio) haven't released any running-capable Live Segments devices yet.
So there ya have it.
Personally I think this is a cool thing, as it may provide some additional context in a ride file longer term.  It also gives you a bit more detailed dive into data than you'd have on Strava's platform, which has always lacked deep analytics.
It would be interesting to see if WKO4 gets this support, given the close ties/ownership to the TrainingPeaks platform.  That's an area where I think the company really needs to tighten up how and what they offer between the two platforms, as it seems different products get different features without a lot of clarity as to which one would ultimately be considered the 'top dog' (they say buy both).  I'd still love to see some sort of slightly more expensive third tier that gives me the additional WKO4 features…but online in TrainingPeaks without having to have a desktop app.  But that's a topic for another day.
Oh, and finally, note that this is actually part of a much wider update for TrainingPeaks.  You can find all the rest of the non-Strava new features rolled out listed here.
With that – thanks for reading!