Phew – a crazy weekend – one unlike any other that we've ever had here.  Let's get right into it.
1) Returned from Amsterdam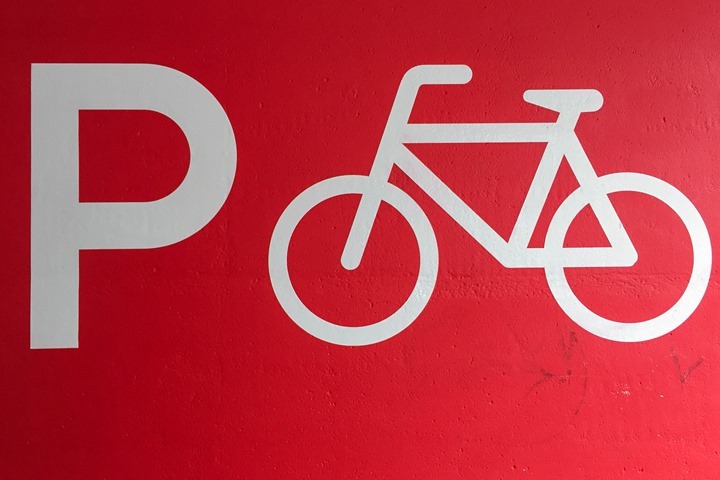 The Girl and I were up in Amsterdam from Wednesday till Friday evening.  I had meetings on Thursday just outside of town, and so we spent Wednesday and Friday tooling around town a bit.  For the most part, there wasn't anything structured during our visit.  Nor any visits to museums.  We just enjoy walking the city (which is beautiful this time of year).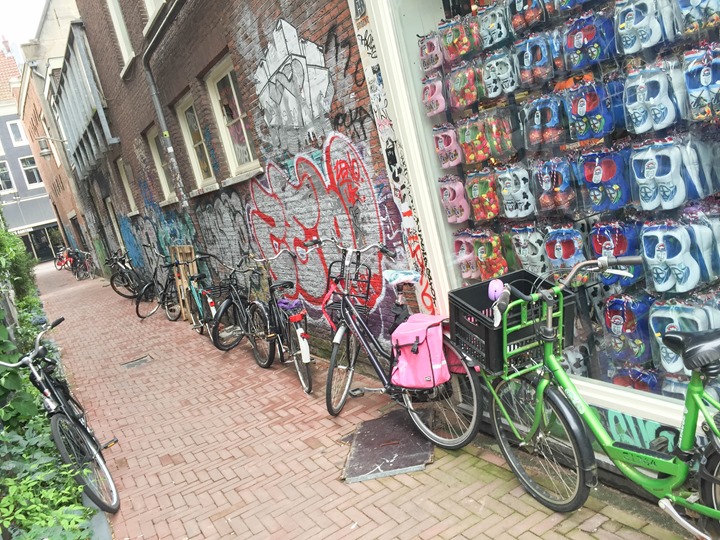 Quite a good trip!  Both the pre/post sections, as well as the meetings themselves.
2) The Parisian Floods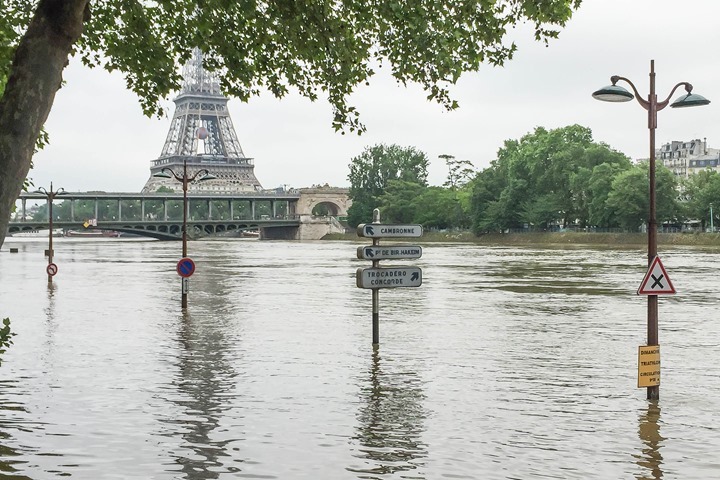 When we left for Amsterdam early Wednesday morning, the waters will still rising in Paris (and the rain still falling).  At that point, the water was well over the quai in front of our apartment, as well as most of the lower portions of the walkways along the river.  But by time we returned on Friday afternoon, it was quite a bit different – and quite higher.  It had just reached the peak flood levels (which you can watch in real-time on the flood gauge near our home), roughly some 6m (18ft) above normal levels.  After validating the DCR Cave wasn't underwater (yet, but on that in a moment), I went out to take a few photos.  Here's a large gallery of them, taken around town.  I've added captions for a bit of context:
So a few things to understand about the flooding in France.  First is that the flooding in France at large is quite a bit different than that in Paris proper (within the city limits).  Within the city limits (the Périphérique), virtually the entire city is protected by large walls keeping the river in place.  The only thing within the bounds of those walls would be roadways, boats (permanently docked or otherwise), some port structures, and 10-20 mostly pop-up style restaurants along the banks.  The majority of those restaurants are under temporary open-air tents, rather than full-on permanent structures (though there are some exceptions).  They are built in April/May and last until September/October.
Thus while there are many scenes of horrible flooding above in Paris, the vast majority of the impact is to roadways and some commercial interests.  Whereas outside of Paris proper the flooding is very real to homes and towns that don't have such massive flood-walls.  Those flood-walls can essentially handle the flooding to the level of the infamous 1910 flood, another 8-10ft higher (seen in this photo I took below):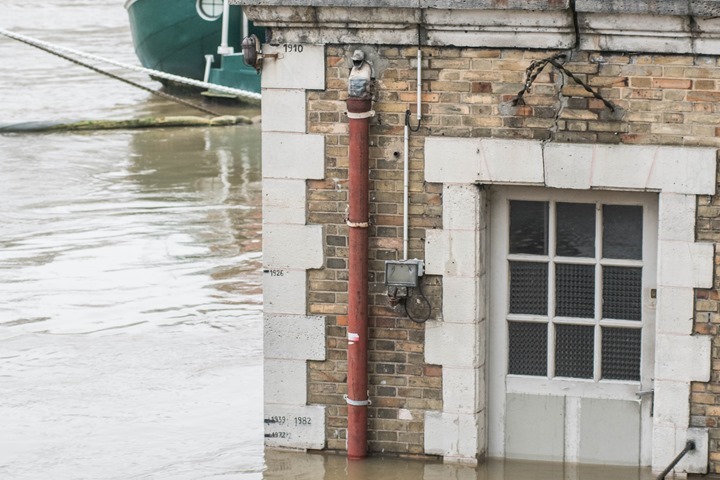 As another blog put it, if you ignored the hordes of Parisians coming down to the river to see for their own eyes the water, then the flooding really doesn't have a material impact on the homes or businesses of 99.9999% of Parisians.  It does impact people's commutes, as some (major) RER train lines are flooded, as are some major highways and roadways into/out of and through the city.
So what about us?
Well, we fall into mostly the same category as others.  While our apartment, the Cake Studio and DCR Cave all sit directly on the river banks, they were all dry. Mostly.  With the Cave underground, it's hard to know exactly how close the water level is.  Doing some rough math though, I'd guess it was within 1-2ft of coming into the cave.  Or basically a few more hours of rain.  We did notice a huge surge in the humidity in the cave, so we've been running dehumidifiers non-stop since to try and normalize things.  The water table is undoubtedly rising just below us, and the cave is connected to a series of underground tunnels (seen in this video and post).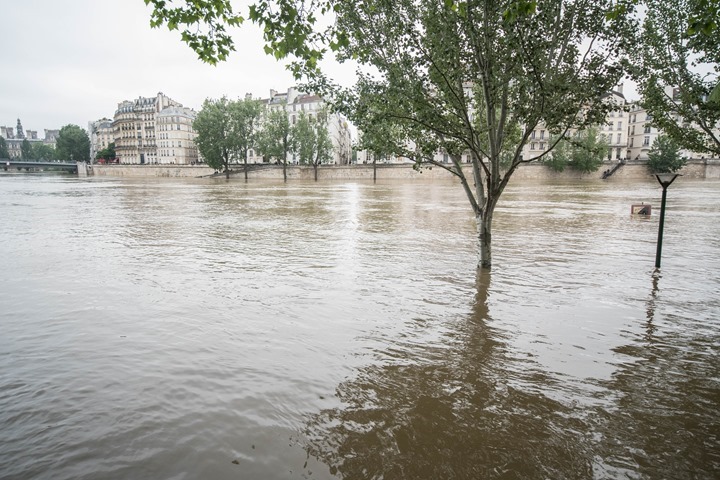 However, not everything was safe.
We also had a secondary underground storage cave located on one of the two islands in the Seine (a few hundred meters away).  It's there where we store items longer term, usually excess boxes and some seasonal stuff.  That cave was flooded, though we haven't yet been allowed in to find out how much damage.  We believe we have 1-2 pallets of brand new sealed up cake boxes in there, plus a portable air conditioner.  There's likely other things too, but that's what we can remember.  Either way, while the cake boxes are sealed against dust/etc, they certainly aren't sealed against immersion.  So likely everything in there is a loss.  It'll probably be a few more days till we find out.
If that's the worst of it though – and it could have been much worse for the DCR Cave & Cake Studio – then we'll be thankful that was it.
3) A Disco Party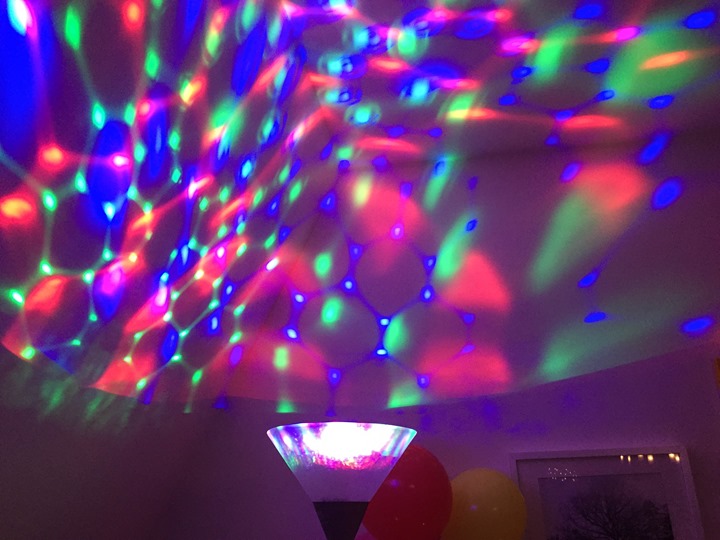 Our friend Hitchen turned 30 this past weekend, and so we went over to celebrate his birthday party.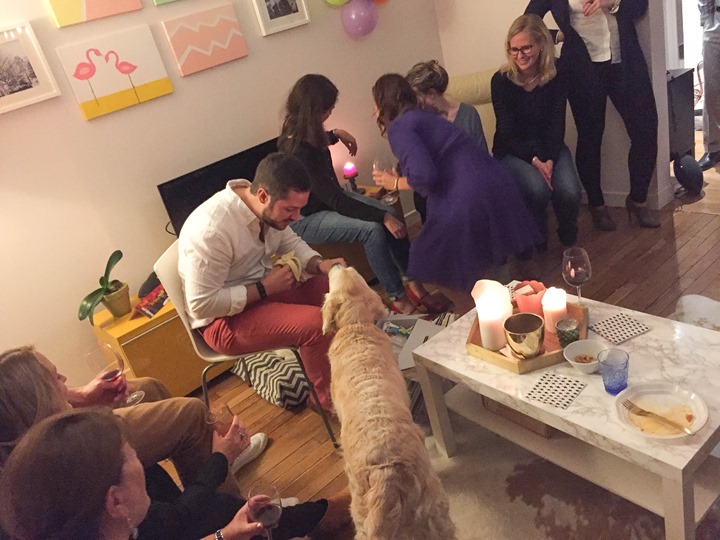 The Girl made a pretty cool cake for him that looks like a camera (he's a big photographer):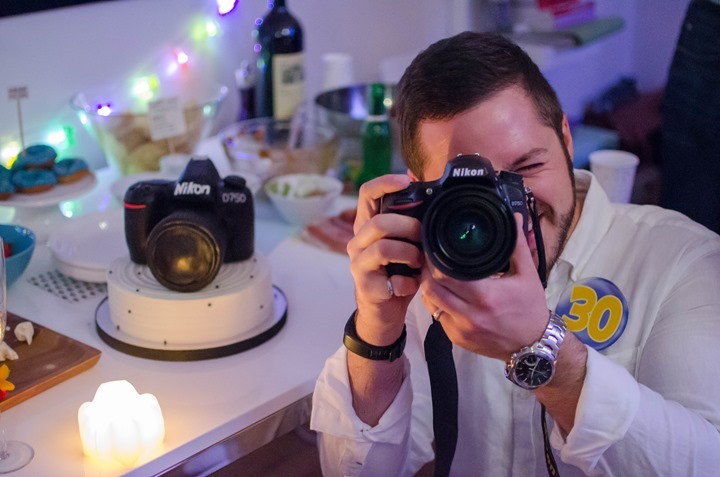 In fact, the cake even had a removable front lens. Seriously.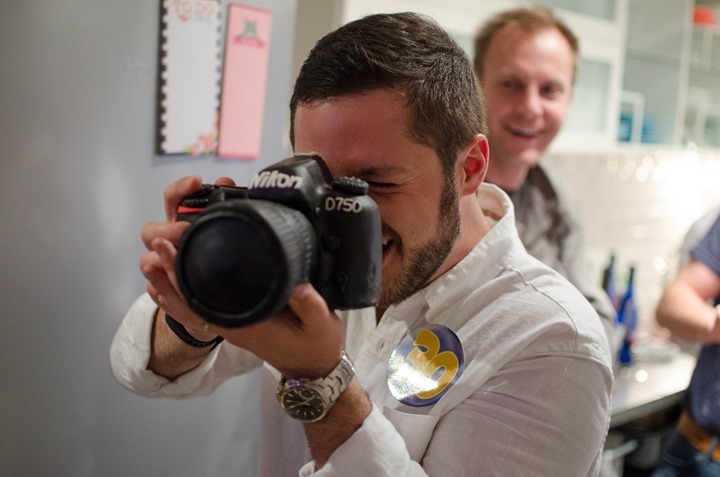 He was also made to sit through opening a box of 30 gag gifts.  Though one gift was quite impressive – it was a disco light for a standard light bulb receptacle.  You simply popped it in a lamp or ceiling outlet, and it rotated continuously with all these crazy stars/colors. Seriously, it's unreal.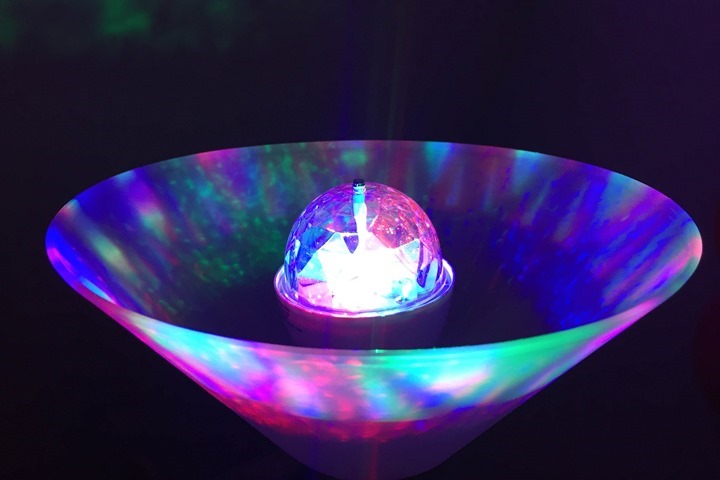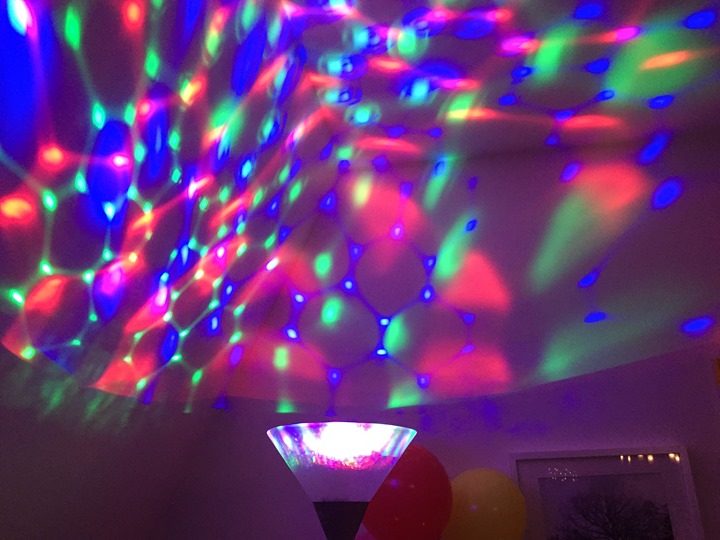 I found it on the US Amazon site for about $4-8USD, or about 3EUR on Amazon France.  Definitely ordering it ASAP.  I don't have a purpose yet for it, but I'll definitely find one. Disco in the DCR Cave perhaps?
4) A River Run
I went for a ride on Saturday, though it was a bit sluggish.  The crowds made it slow at first, and then my cleat was being finicky mid-way through and I kept popping out.  Time for a new cleat (about a year on this set).  No big deal, I've got plenty of sets around and they're cheap.  In any case, I was ready for a run on Sunday that was a bit more mindless than a ride.
So I set out along the river going upstream.  I couldn't run my usual path down below of course, since that was all underwater.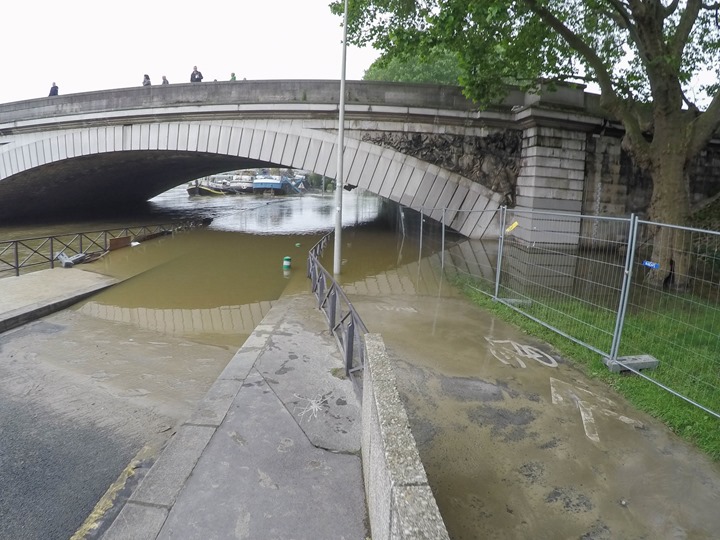 Instead I just stayed up along the roadway.  Off the side is one of the pools I occasionally use.  It's on a boat/barge.  Sort of a bit ironic that now in order to get to the boat to swim, you'd actually have to swim.  Or, take another boat.  Very circular.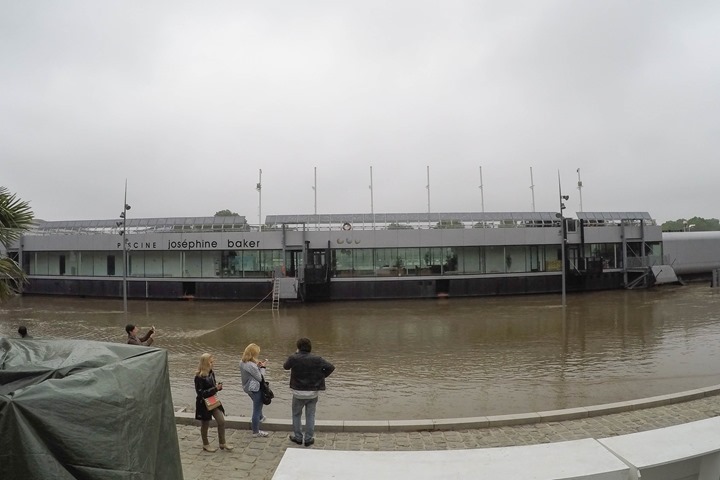 I eventually hit the city limits at the Périphérique and crossed the river to the other side for the journey back.  At that point I noticed the fireman using their trucks/hoses to try and empty out one of the freeway underpasses that had been flooded.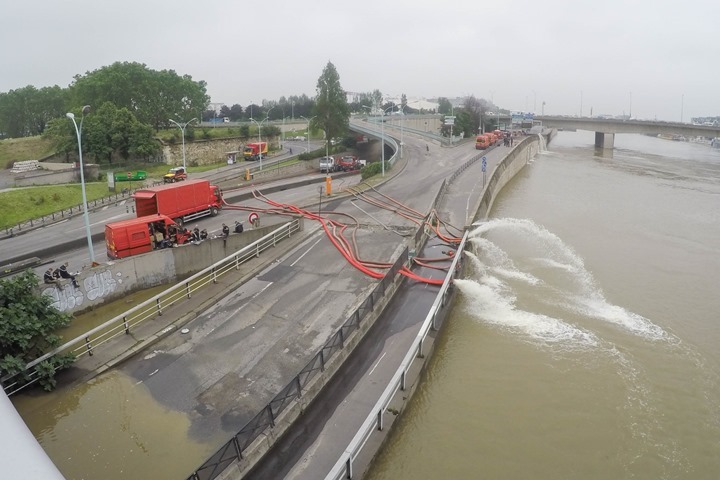 This particular interchange is probably within the two most important roadway interchanges getting in/out of Paris.  And it's totally underwater right now.  This whole stretch is closed to traffic going in/out of the city.
I thought the lunch the fireman were eating was kinda interesting.  It appeared to be a nice multi-course meal served on trays.  Somewhat fancy looking.
Anyway, my run was just 10KM.  A shake-out run of sorts, nothing special.  Soon I was back and getting ready to find some lunch.
5) Riding Velib's on the Champs-Élysées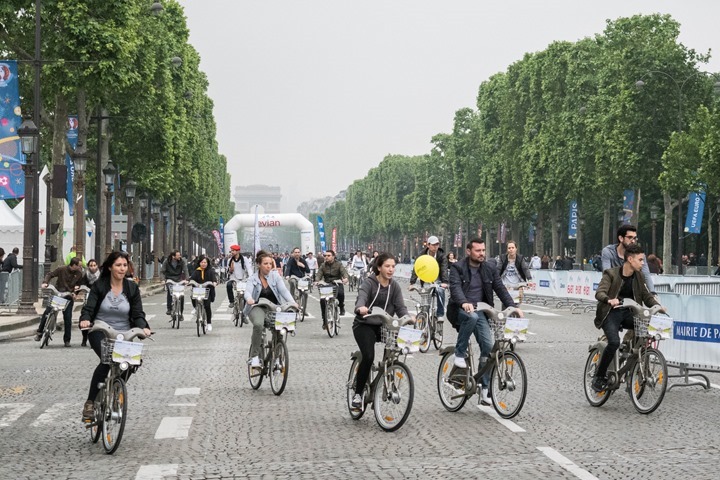 Sunday was the annual 24h of Velib.  It's a festival where they close down a chunk of the Champs-Élysées and then let you ride Velibs in a loop for free.  No registration or anything, just show up and ride the pavé in loops till your heart's content.  You might remember last year when my parents were in town it was also happening (way more photos in that post).  This year it was bigger though…albeit cloudier.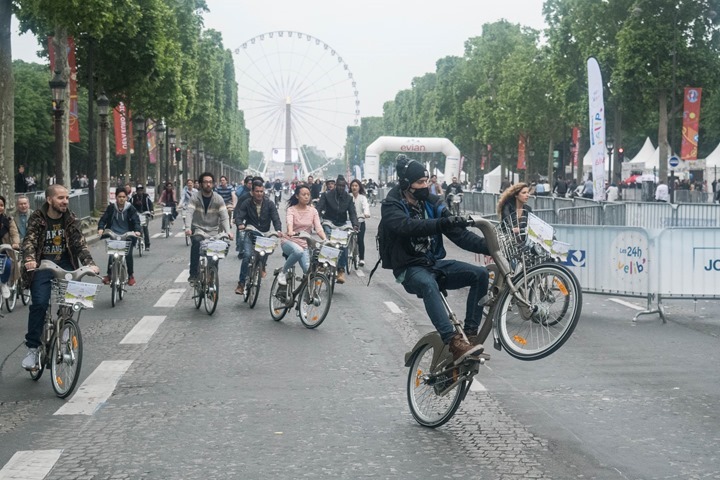 The Girl and I walked the few miles along the river and via the Louvre and Tuileries, eventually arriving at the event.  After a few minutes in line we were given our Velibs and off we went!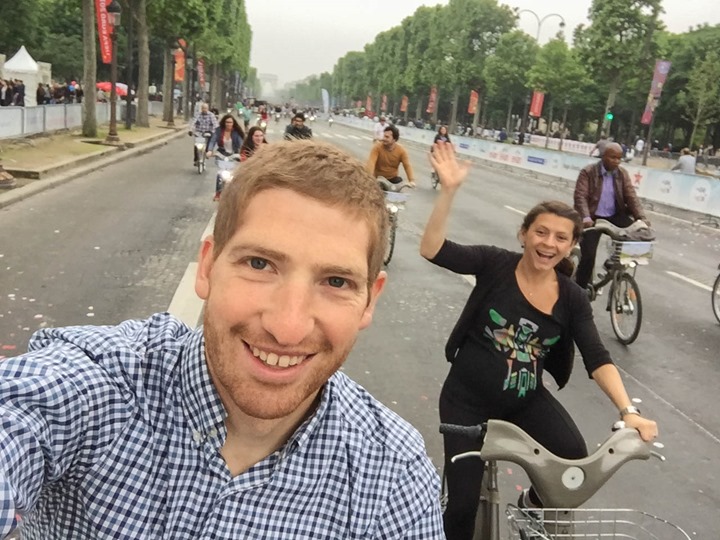 We did a handful of loops around the course.  I remembered after a few of them to turn on my GPS watch, so I recorded them here: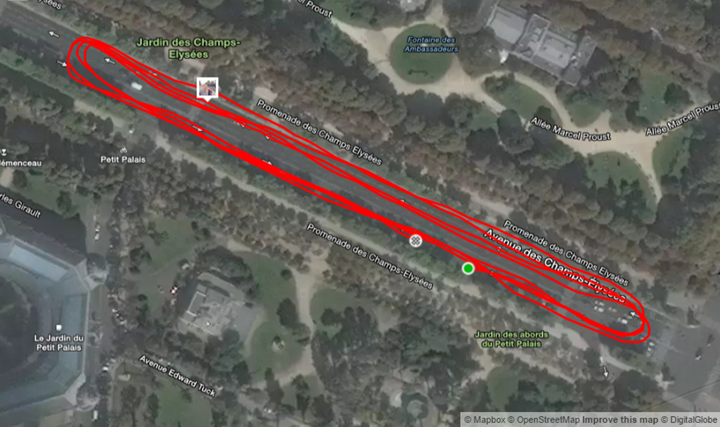 Afterwards we hit up some of the numerous food trucks that were arranged nearby: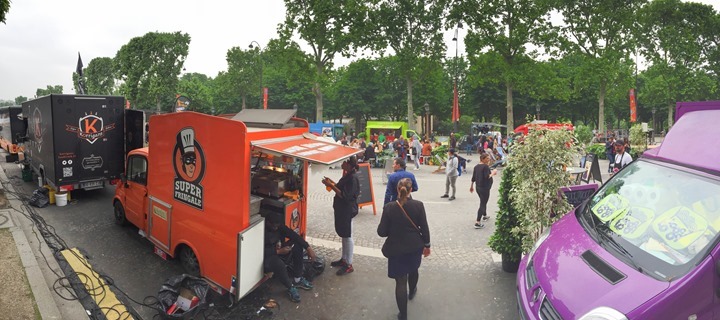 It's possible a cone of mini-donuts may or may not have been purchased. I mean, it was only 2EUR, how could you not?!?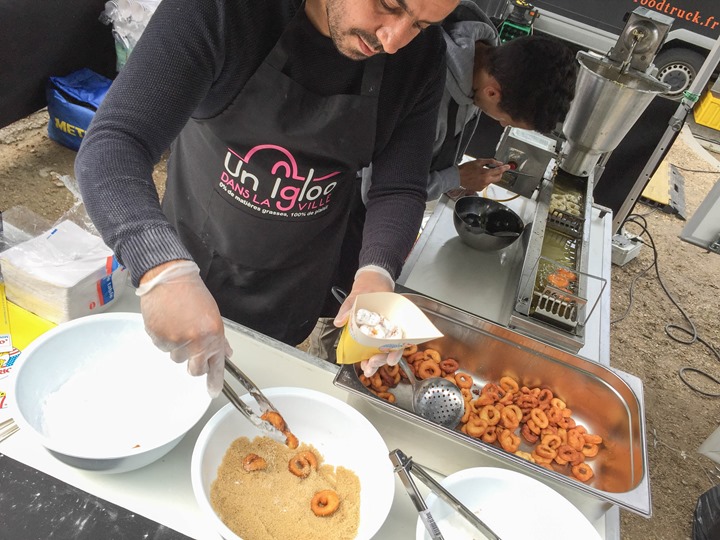 In addition to the section for the Velibs, the vast remainder of the Champs-Élysées was also closed as part of the recently started monthly closing of the avenue for pedestrians only.  The first Sunday of each month the street is closed and you can walk around as you see fit.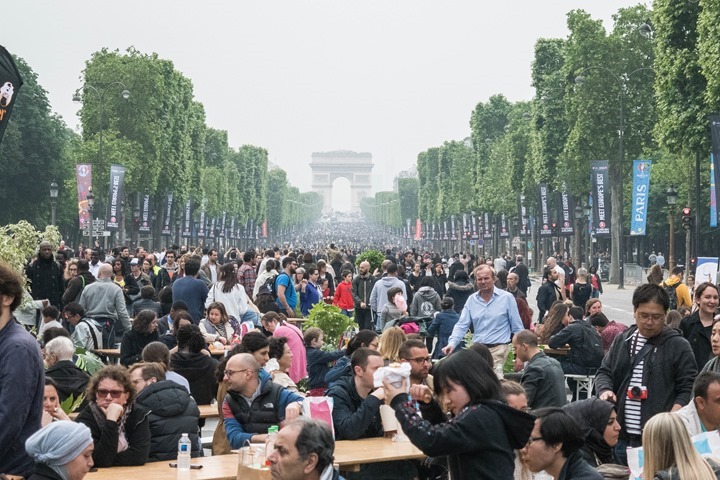 Pretty cool!  Like last month and last fall when they did it, it was packed with people.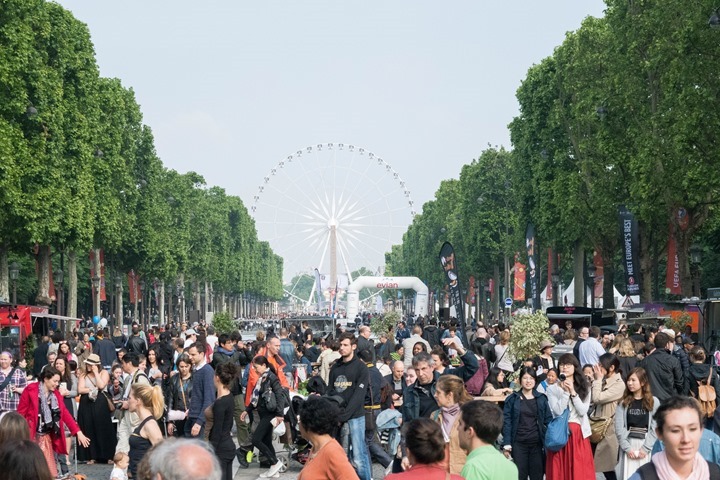 Afterwards we started walking our way home, but made a detour along the way for dinner at Kadoya, which is one of the spots on my Paris restaurant list.  Funny enough, just as we were getting ready to leave a DCR reader couple were randomly seated next to us.  And sure enough – they actually had a printed copy of the restaurant guide with them.  Awesome!
Thanks for saying hi!
And for everyone else, have a great week ahead!