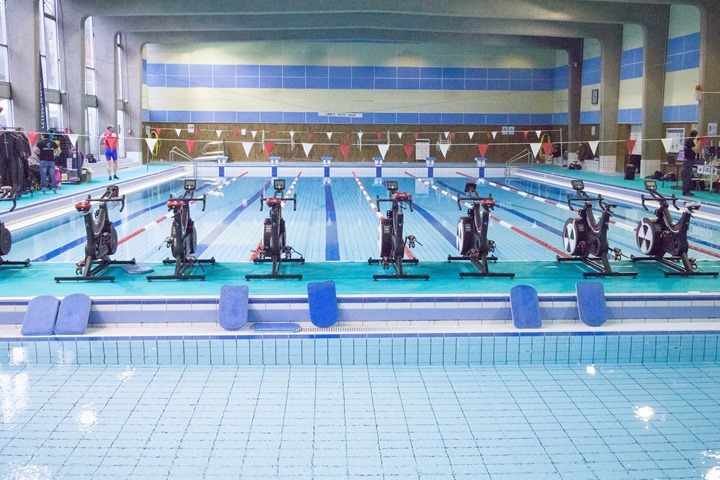 This past Sunday was the Paris Super Sprint Triathlon, which is an indoor tri held annually here and put on by Expatriés – one of the local triathlon clubs.  Like all early season indoor triathlons, it's a great way to work out any race day kinks prior to the bulk of the triathlon season – which typically starts in April/May.
I raced it two years ago, but had to skip last year due to travel.  Here's how it went down this time!
Pre-race:
My race wave starting time was at 3:30PM, an appropriately Parisian starting time, if I may say so myself.  While it's common for many Parisian running races to start mid/late morning – it was mostly just luck of the draw that I had a later wave.  Generally speaking the faster you were, the later the wave.
The event was held at Piscine Henry-de-Montherlant, which sits just on the edge of Paris by a few hundred meters, right alongside the highway that rings the city.  In fact, you'd run over the highway during the run course.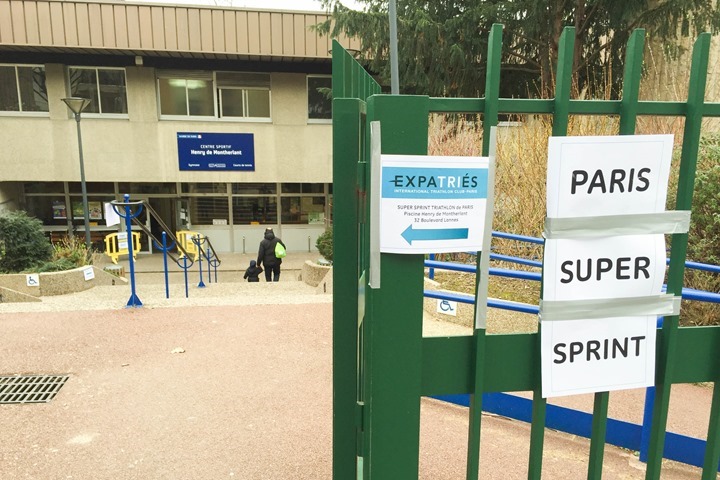 The check-in process only took a minute.  They validated they had a valid medical certificate for you on file (like all races in France), and then checked your ID.  At that point they gave you a small race bag with a few brochures for nearby events and your race bib.
From there it was onto the swim deck to kill some time.  The Girl was volunteering to help on the bike segment, so she got to work.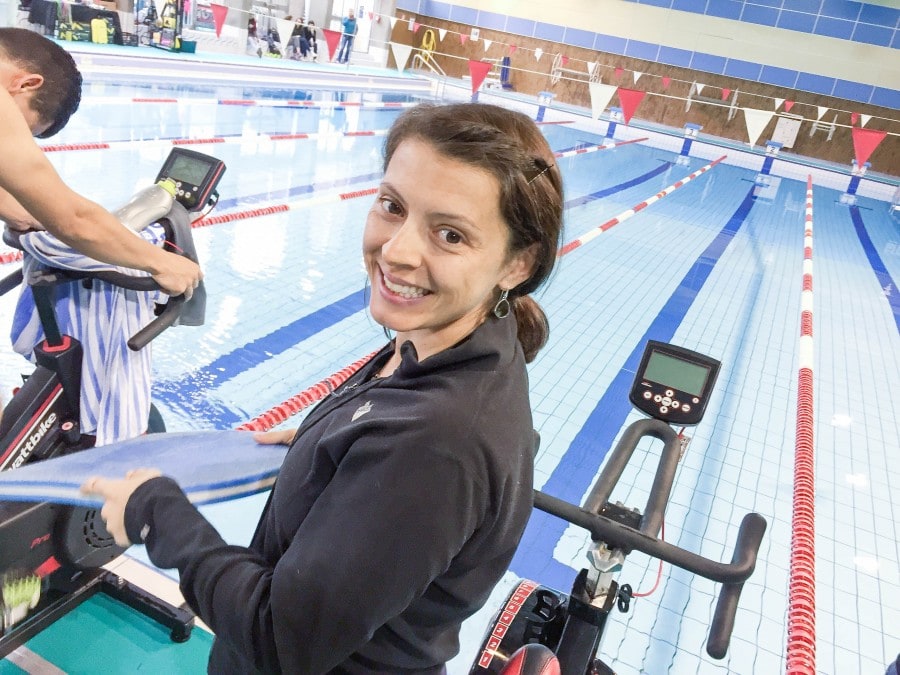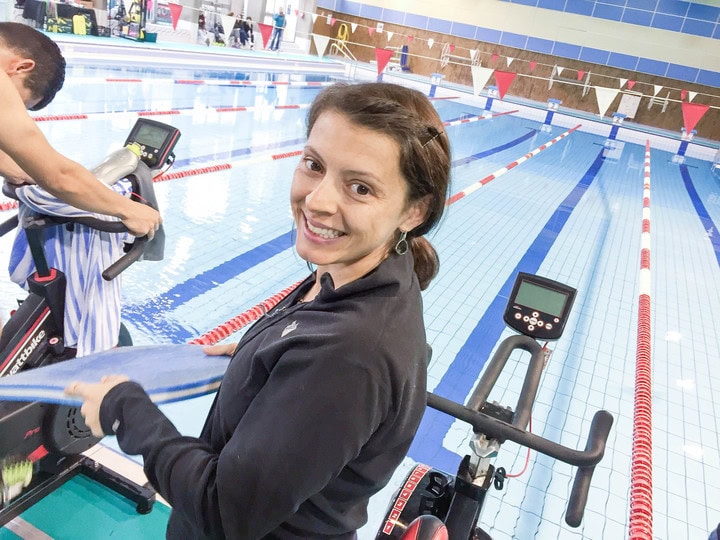 Meanwhile, I generally did nothing but sit back and relax and watch some start waves.  I found it kinda neat that the Wattbikes actually created ripples on the water from the fans pointing down towards it.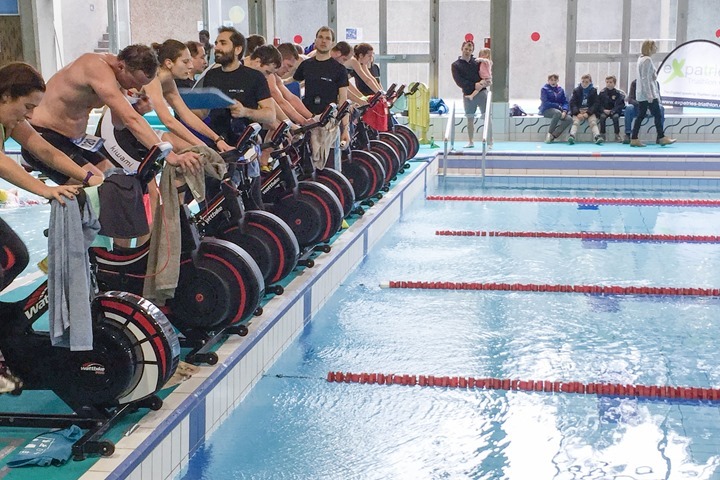 About 45 minutes before my wave I went out for a brief 1.5 mile run.  Just a gradual build in intensity to shake things out.  For these sorts of super-brief events you generally want to get a warm-up run/bike/something in.  Getting it much closer to the start time would have been tricky.
After my run we had a short 5-minute presentation of the rules by the race director as well as the local officials.  I should note that despite only being about 140 people (with a max of 10 people racing at any one point in time), there FOUR officials from the triathlon federation present.  Here were two of them: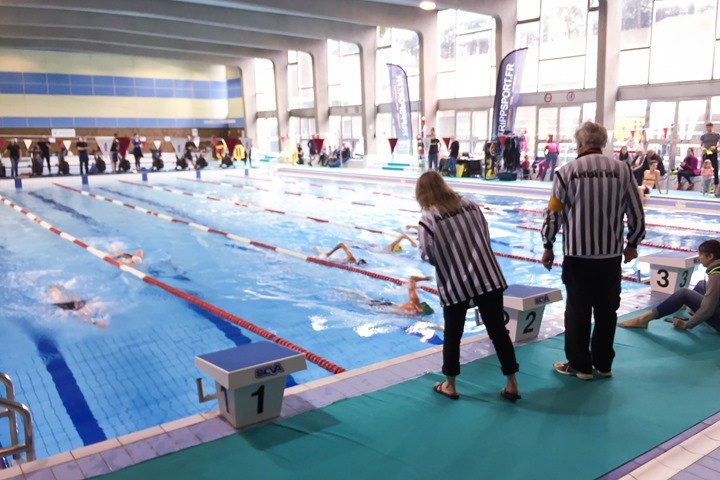 And they were doing a legit good job of being involved in all aspects from swim to bike to run.  Compare this to many races in the US with thousands of participants having perhaps 2 officials at best.
Swim:
At precisely 3:30PM, the starting horn went off, and the 8 or so of us began our swim.  It was a mere 300m swim in a 25m pool.  Pretty easy and straight forward.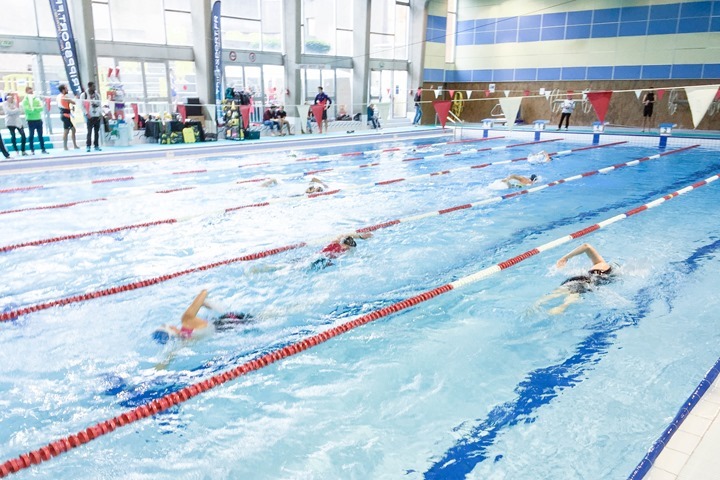 As it seems is my annual right of passage at triathlons, I managed to forget my swim goggles.  Thankfully Julio had a pair to loan me.  And while slightly big for my head, they seemed just fine and dandy…at first.  I'm the one in the nearest lane, photo courtesy of Julio.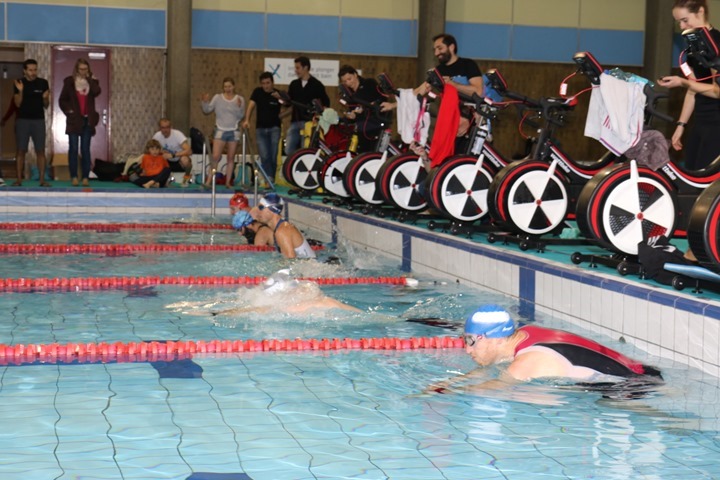 Until the last 2 laps anyway. At which point they flooded faster than the Titanic.  No biggie, I had a funny feeling that might happen.  I was able to keep my eyes open underwater, but totally hosed up a flip turn when I was closer than I realized and then ended up swallowing a bunch of water somehow in the process.  Don't ask.
No worries, hydration is good – right?
Anyway, I finished in 4:50 (swim of 1:40/100m), which I'll count as functional for only swimming…well…less times this year than I have fingers on one hand.  The last time of which was 30 days ago.
Bike:
I pulled myself out of the pool and onto the deck.  The bike was less than a foot from the edge of the pool, making for the fastest T1 time you'll ever have (actually, transition times weren't tracked).
The triathlon was using Wattbikes, which tell you your power, speed, and cadence (and transmit it via ANT+).  They were all configured to a goal of 7,000m.  Thus each competitor could adjust the resistance as they saw fit.  By increasing your resistance you went faster (but with higher wattage required).  This ensured an even playing field.
You could adjust the resistance by using the lever on the left side of the bike: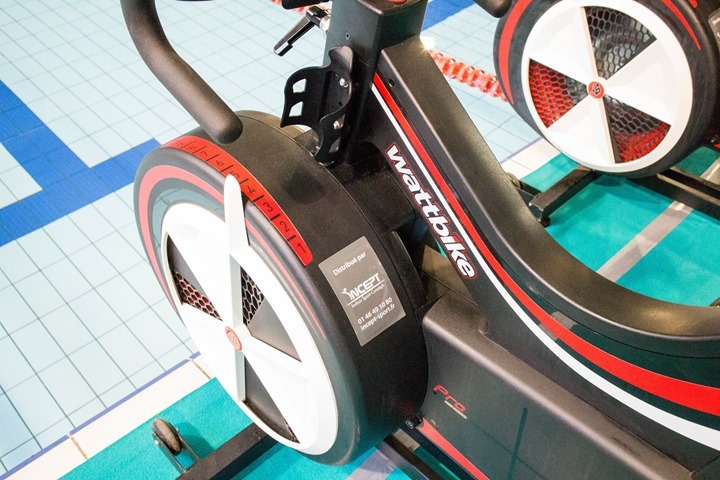 Meanwhile, the screen gave you all sorts of stat goodness. And at the bottom of the screen was your ANT+ ID for Speed/Cadence/Power.  So I paired that to the Garmin Fenix3 HR that I was wearing.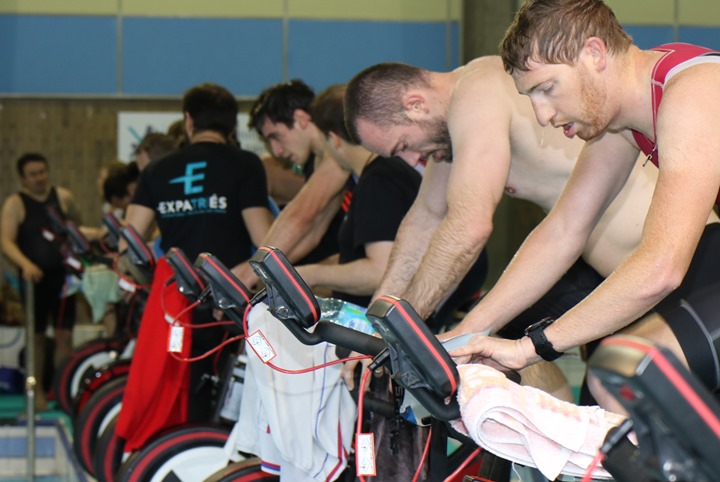 (Thanks to Julio for the above/below bike pics)
This allowed me to get speed/cadence/power graphs.  Though, for some reason it seemed to take about a minute for it to recognize the Wattbike.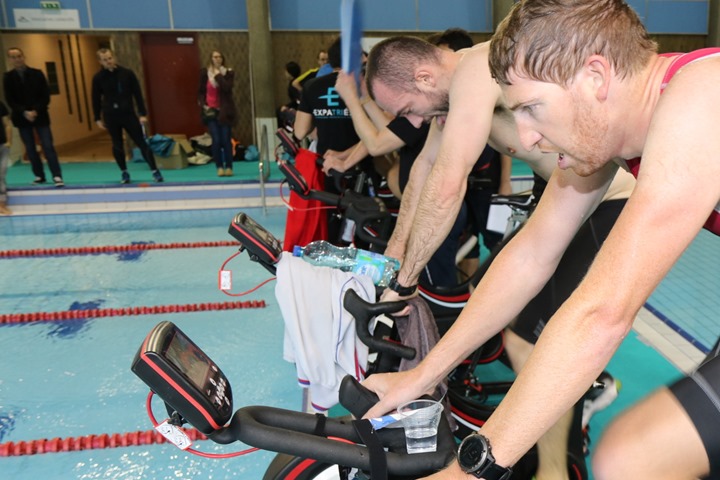 I had pre-configured the bike saddle height, as well as had my running shoes adjusted so that they fit well.  There were no bike shoes used here, just cages of sorts for running shoes.
Off I pedaled.  Definitely too hard.  I started off for the first minute or so around 400w+, then backed down to about 300-325w.  I don't know why I thought that'd be valid.  I'll blame that on the pool water.  I ended up settling on a touch below 300w as quite doable.  My guess is that if I didn't start at 400w+ for the first minute, I would have burned less candle and been able to sustain the 300w without issue.
Around the last few minutes of the bike I started feeling a bit queasy.  At that point I felt like I was going to throw up.  I backed off the power a bit more, bringing it down into the 250w or so range.  Basically trying to lower my HR a bit.

The entire bike segment though was only 9 minutes long, so you've only got so much 'runway' to work with.  As soon as the meters remaining counter showed zero, you were good to leave the bike and begin running
I finished up the 7KM bike in 9m59s, and then headed out onto the run.  Julio (and The Girl) both got snaps of my screen afterwards – showing the final stats: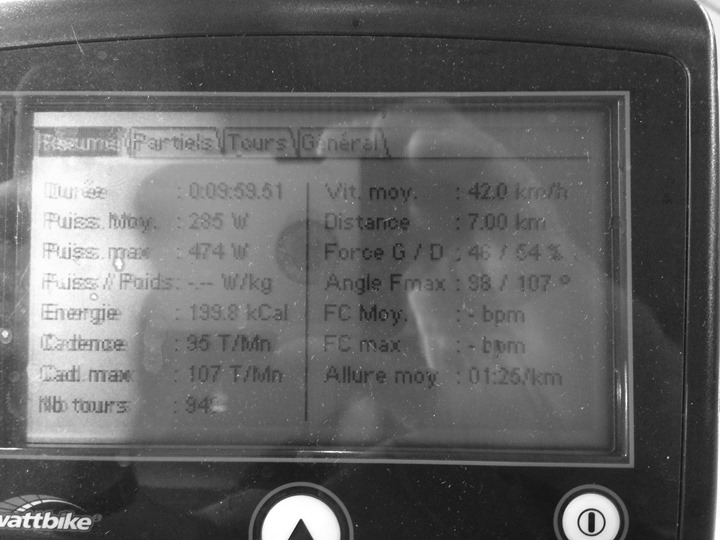 The stats are pretty straightforward with 285w average, and 474w max, and a 42KM/HR average speed.
Run: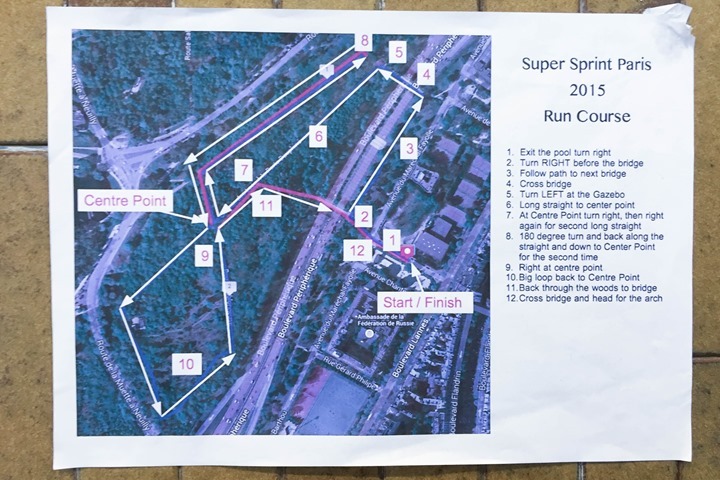 To get out of the pool area you go up a few flights of stairs that take you almost directly into the massive Bois de Boulogne park that the run is held in.  Like anytime you encounter stairs in a race, there's nothing fun about them.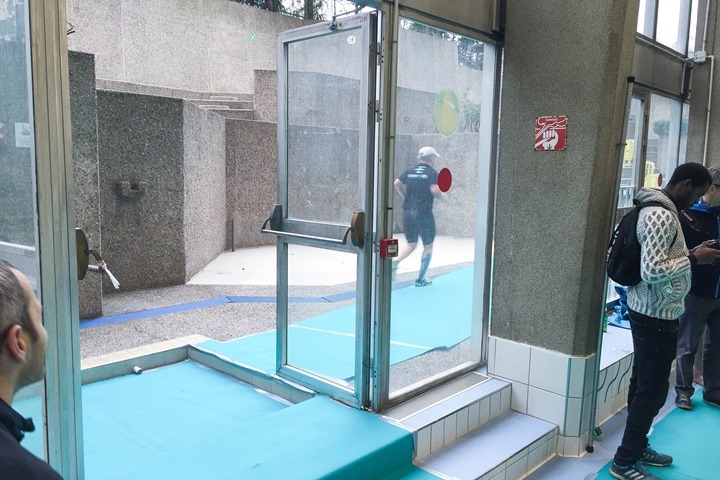 By time I got to the top of them, I knew something wasn't right.  I made it about 10m away from the 'finish' line (which was at the top of the stairs) and stopped to throw up.  It wasn't a huge throw-up, but a weight loss nonetheless.
One of the guys at the finish line came over to check on me.  I believe he even said something encouraging.  It's a bit fuzzy.
I then ran about 10m more.  And stopped to throw up again.  Not a ton this time either.
Finally, I started running again…and stopped one last time to throw up about another 10m later.
This time I had a much more substantial puke. JENGA!
The entire three-act process took about 2 minutes, as seen on my Garmin file: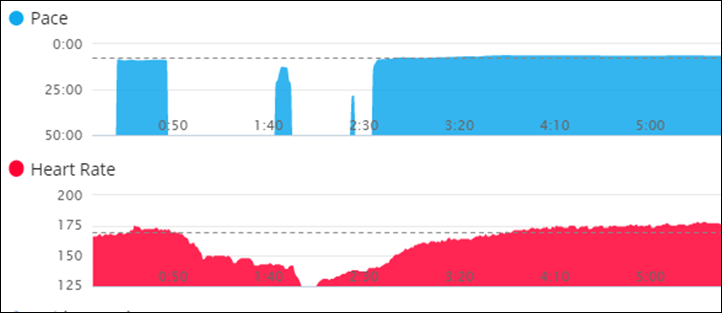 After the 3rd puke – I was good to go.  As my Dad always said – 'Give it a good puke and you'll feel great'.  Truer words never spoken.
I got back up to pace somewhat quickly.  I wasn't feeling tip-top yet, so my pace was about 6:23/mile (4:00/KM), or a bit slower than I figured I'd run.  But I reeled in a few people that passed me while I was throwing up, so that was positive.

But with a 2.5K run, you've only got so much runway to make up time, no matter how fast you run.  I ended up finishing in 11:46, or about 2-3 minutes slower than I had planned if you remove the puke diversion.
Wrap-up: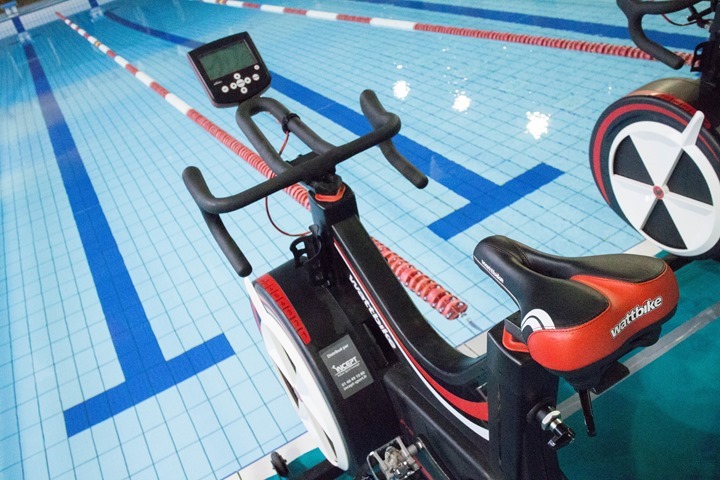 Overall I finished in 27:17, putting me in 20th place out of 136 finishers.  The 2-3 minutes of puking cost me a Top 10 finish.  But, such is life.  Here's the full GC file.  Note that the swim paces are off because I forgot to change it from my 33m pool to a 25m pool.
I don't know what triggered the puke, especially since I didn't eat anything more than a bowl of cereal 4 hours prior.  So nothing odd, but, if I had to get the every-few-years puke out of the way, I'll definitely take a short super-sprint over a longer race.
This distance race is so much different than that of typical Sprint race, let alone that of a Oly tri or Half Ironman/Ironman race.  It think my brain is hard-wired for those intensities, rather than the uber-short 25-27min super-sprint.  Though, I think internally I think these are more fun.
Next up on my triathlon calendar is the Versailles Triathlon followed by the Paris Triathlon, both in May.  Haven't quite decided what's on the docket for April, have a few bits of travel in there – complicating things somewhat.
Of course – I highly recommend the Super Sprint Tri if you're in town or a local, next year this time.  It's a blast and an awesome way to spend 30 minutes.  I wish there were these events every month during the winter, I'd be there.
With that – thanks for reading all!