So I'm running a wee bit behind on getting posts up, as I'm currently underwater with Consumer Electronics Show (CES) related prep posts for next week.  But I figured I'd fill in some of the non-tech things that we've been up to as we plod around North America for the holidays.
Last week we were in Seattle, staying with my family for Christmas.  Most of it was pretty relaxed and just enjoying time at home.  But here's a few things that stuck out.
The Chocolate Factory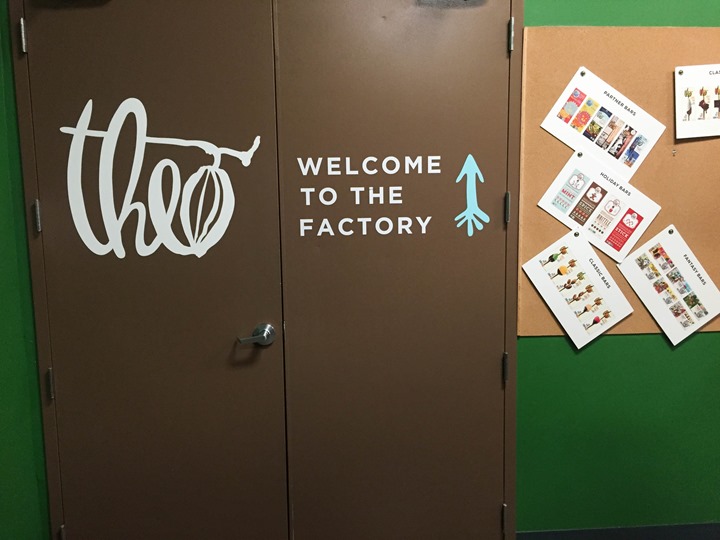 By pure happenstance we ended up in a chocolate factory surrounded by flowing chocolate. No golden ticket required!
We were down having breakfast with friends in the Freemont neighborhood, and they mentioned that just a block or two away was Theo Chocolate, a local chocolatier.  They said we should check out their little shop and entertain some of the (free) chocolate samples.  Just as we entered though they announced there was a chocolate tour beginning in 1 minute…sounds like a deal to us!
The tour would take about an hour, and cover all aspects of chocolate production from the plants to the beans to making the bars.  It also included a LOT of chocolate eating.  Here's a few pictures from it.
Ultimately, I think I actually ate more chocolate than I should have.  It's hard to eat significant quantities of dark chocolate, especially the really dark chocolate.  But it was just soooooo good!  They also have a chocolate bar that specifically supports World Bicycle Relief – so we bought a bunch of those.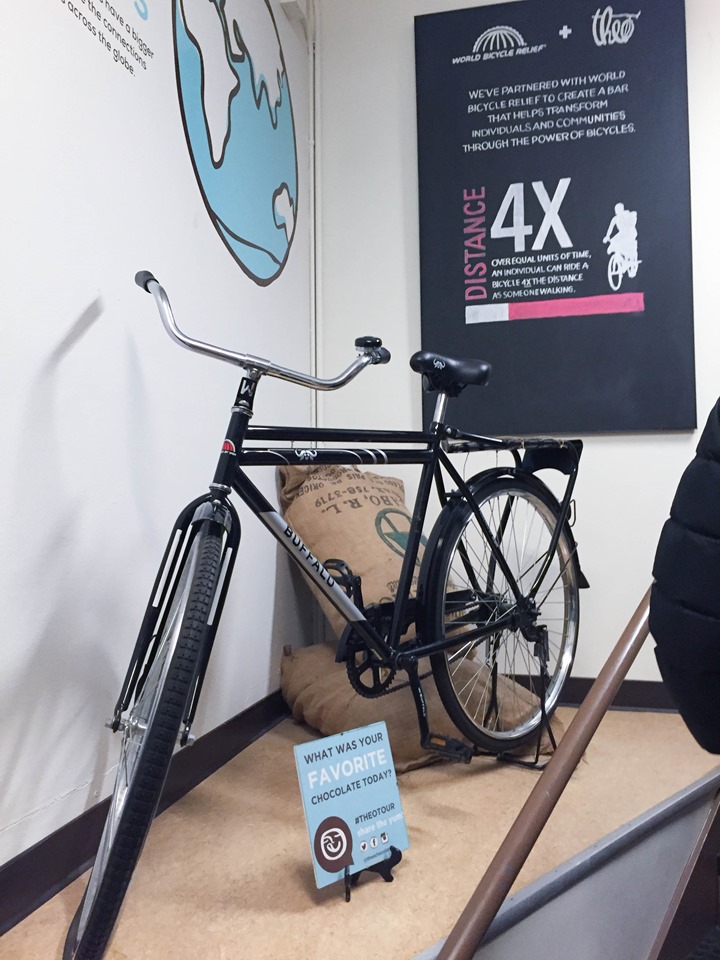 Can't complain about combining a good cause: WBR and chocolate in my belly!
Running Around the Woods
The Girl and I went on two different runs together, one just a wander around the neighborhood for about 10K.  And the second, down to the water via a forested trail that when I was a kid my family would often use to get to the beach.
The trail (Meadowdale Park/Beach) is about a mile or so long but descends quite a bit in elevation.  We ran about 2 miles to get there before starting down the trail.  It zig-zags following a bit of a ravine/valley, down to the water.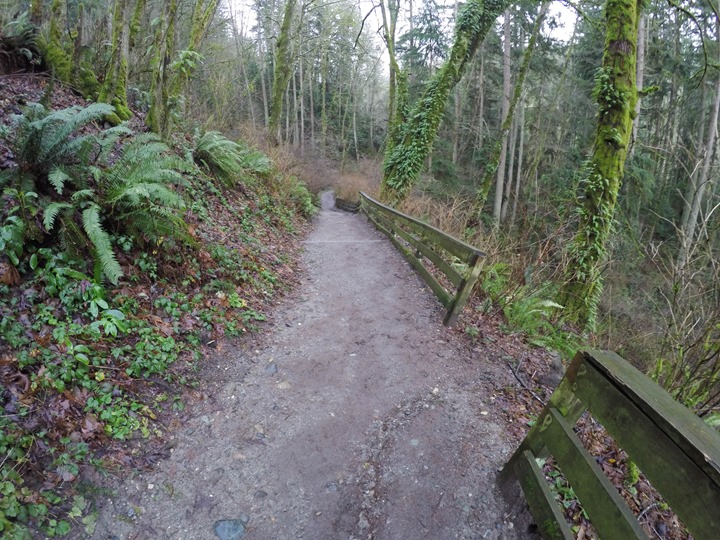 Of course, it was a bit wet.  Because…Seattle.  I don't think we saw more than a few seconds of blue sky during the entire period we were there.  On the flip side, there was plenty of water and mud.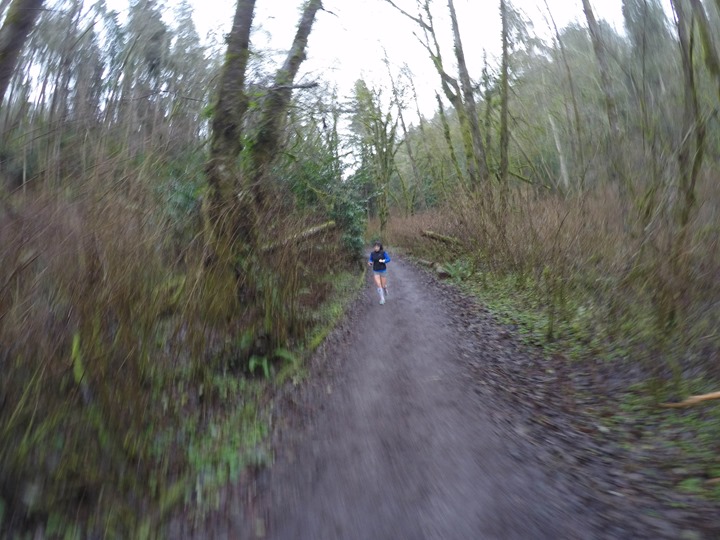 Unfortunately, with the higher water, we weren't able to get to the beach.  The little stream was bursting with water, blocking the pedestrian tunnel that goes under the railroad tracks.  Just a few feet through that tunnel is the beach (of Puget Sound).  Sad Panda.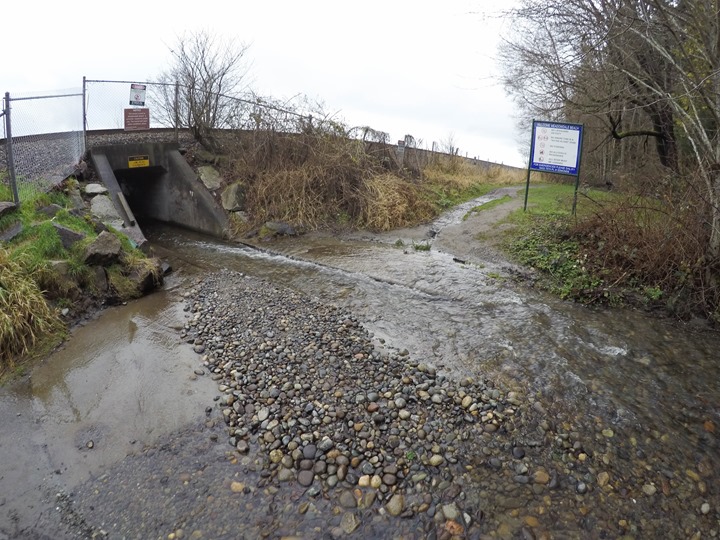 Once we were down at (or not at) the beach, we thought we'd take a different road back up – rather than the muddy trail.  Suffice to say, that route ended up being rather non-optimal, adding a wee bit of extra (hilly) distance to our jaunt.  Oh well, I can't complain about getting in a run with The Girl!
Let there be food and family!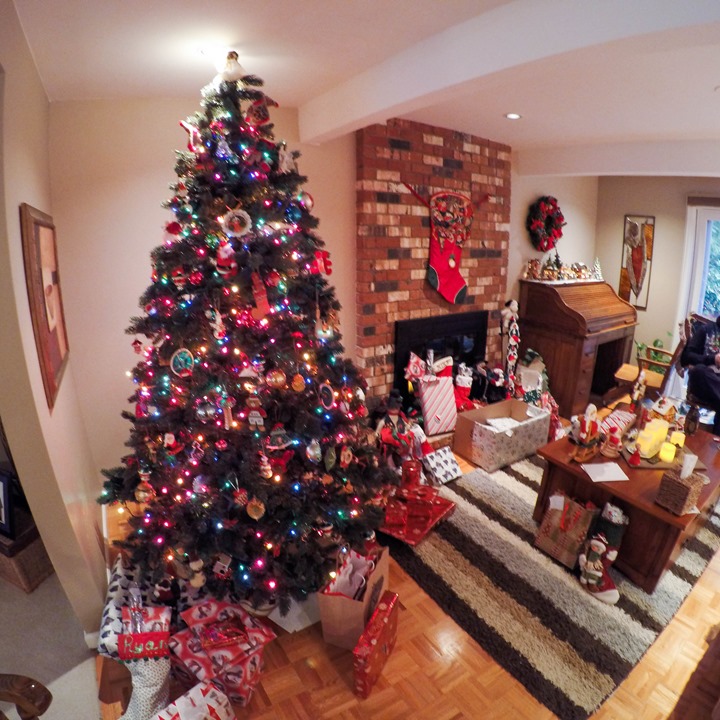 The majority of our time though, we just enjoyed hanging around the house and eating.  My parents cooked up all sorts of goodness.  From oysters that were BBQ'd up…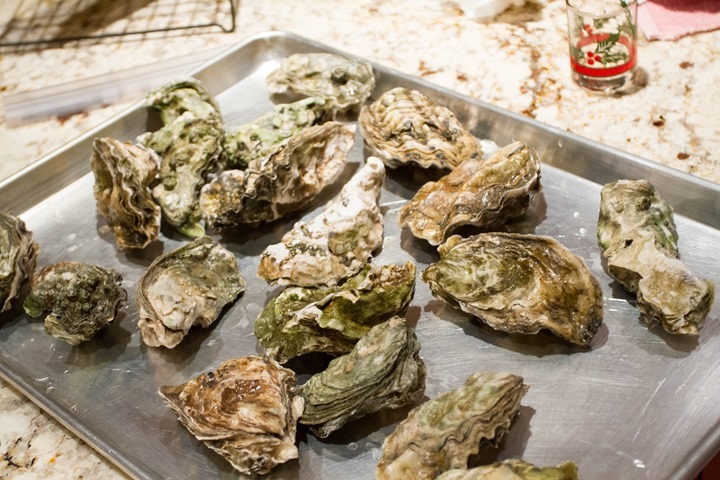 …to prime rib: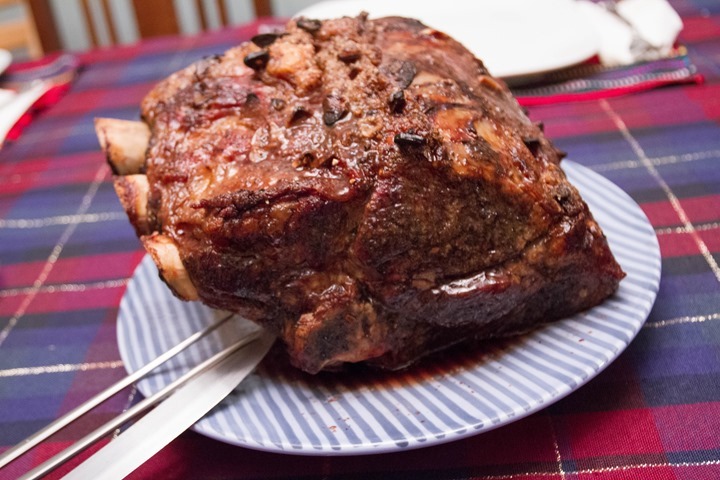 …to home brewed beer: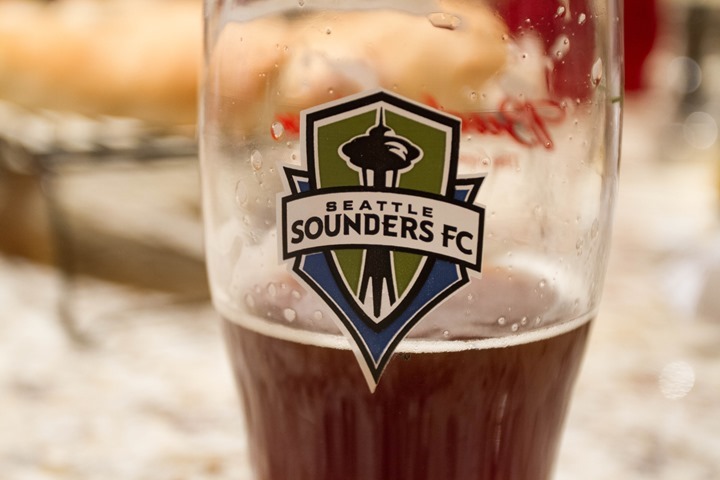 Of course, with Seattle (well, Kirkland) being the home of Costco, we did take one detour there.  That's where I saw Santa: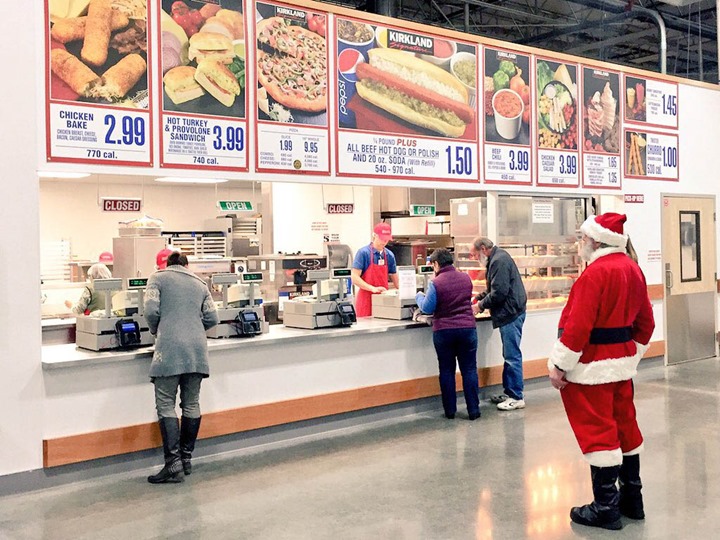 Everyone spent time giving Lucy a workout.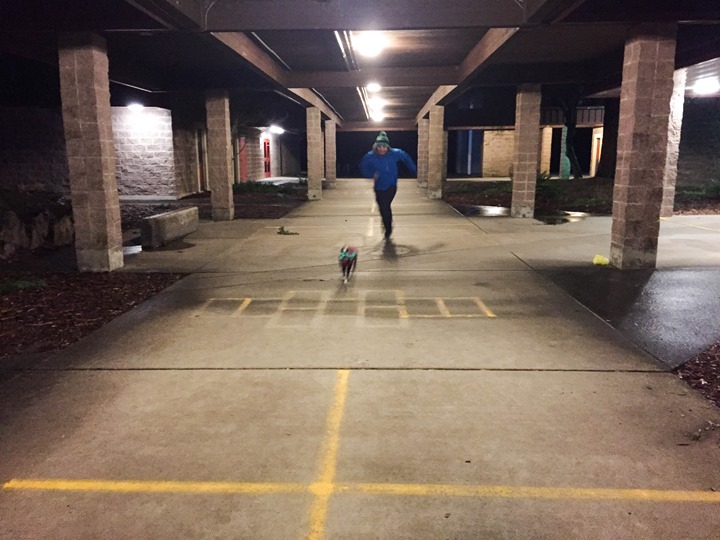 Speaking of Lucy.  I think she was the biggest winner when it came to Christmas.  She somehow ended up with two stockings!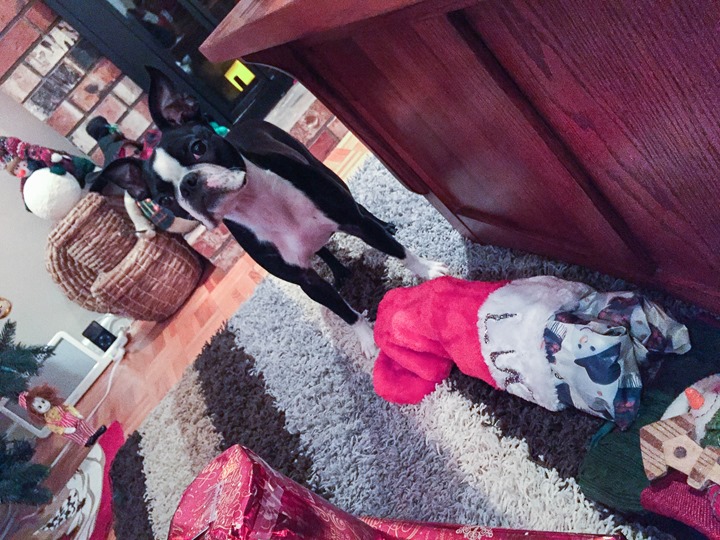 And a wide assortment of treats within those stockings: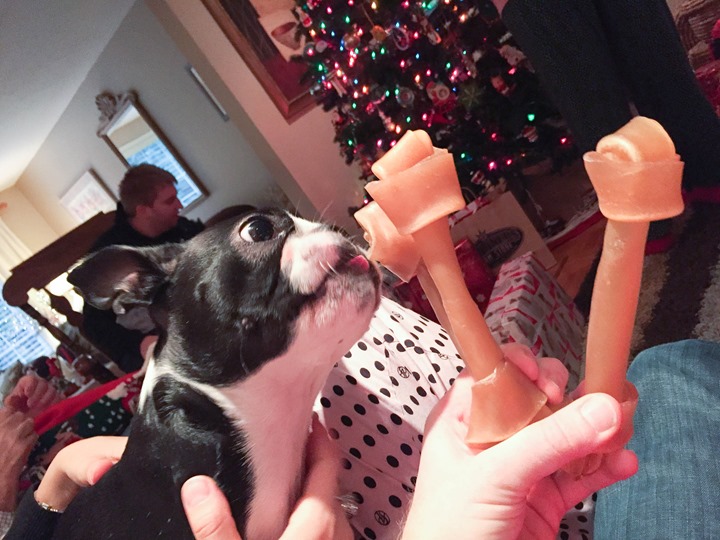 Finally, for Christmas day dinner we had a whole bunch of friends over.  Which obviously requires a whole bunch of food.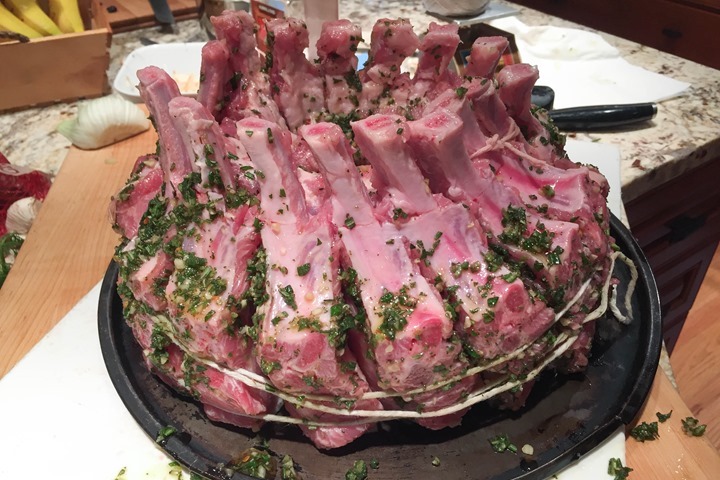 I don't have a ton of other great photos unfortunately, but I figure the above should suffice as a general token-photo of what the dinner was like.
Finally, each year my mom sets up a large number of these miniature Christmas houses.  When I was younger, I often helped with the setup and design.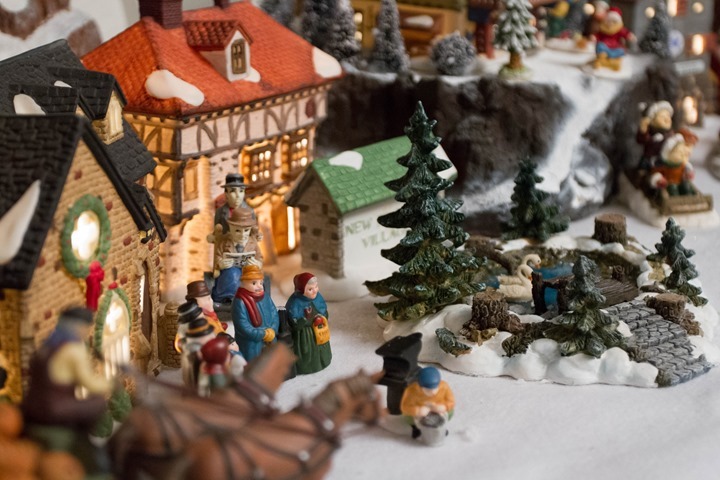 And…apparently, also helped writing poems for it.  Thus, some of my first 'published' work: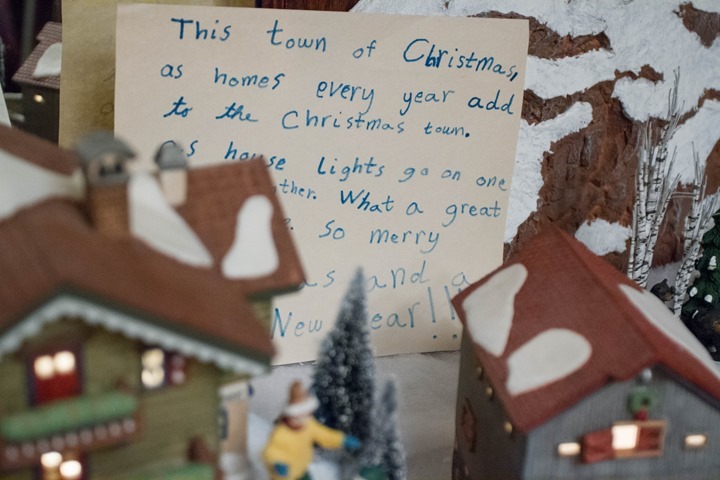 Perhaps I should have stopped back at the food section.
For those that celebrated Christmas – hope you had an enjoyable Christmas! To everyone reading, the Girl and I would like to wish you only the best for the new year, and thanks again for another incredible year of blog support!