Here's what we were up to this past weekend here in the warm and sunny City of Lights:
1) Off to the Market
We headed out Saturday morning to get a bunch of items from the market for both later that day as well as a brunch we were hosting with friends on Sunday.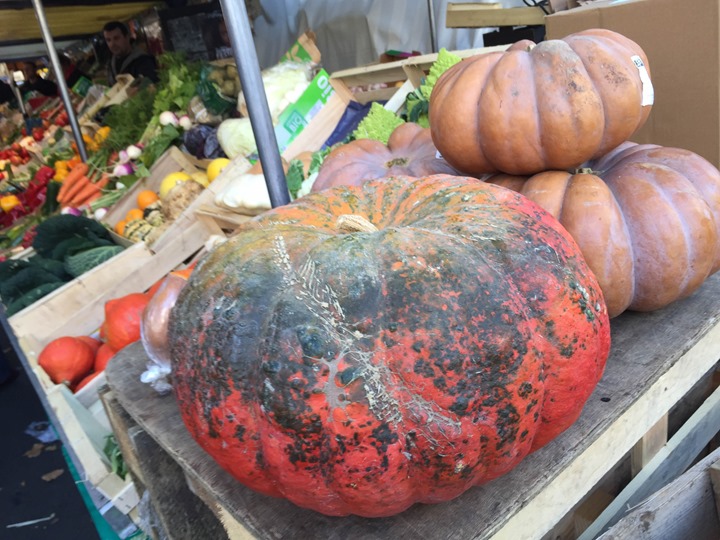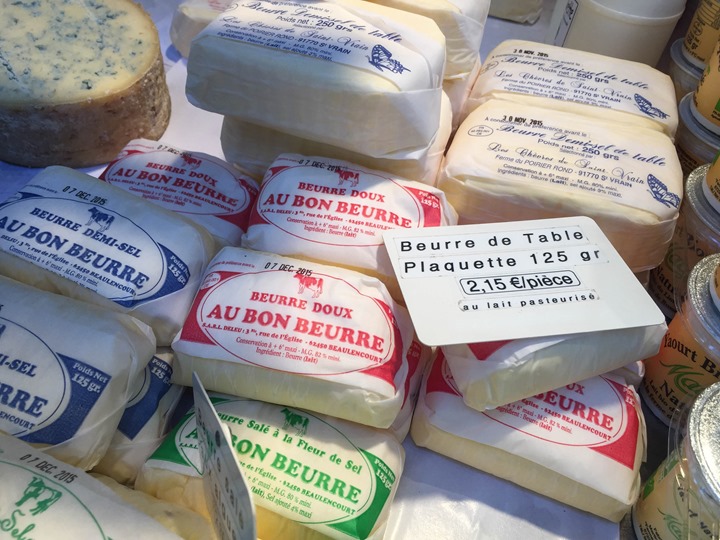 The market is only 100-150m walk, so it's pretty quick and easy to get to.  It operates out of the local square on Tues/Thurs/Sat for about 4-5 hours, depending on the weather.
We also swung by our neighborhood cheese shop that sits on the side of the market (permanently), to pick up all sorts of goodness.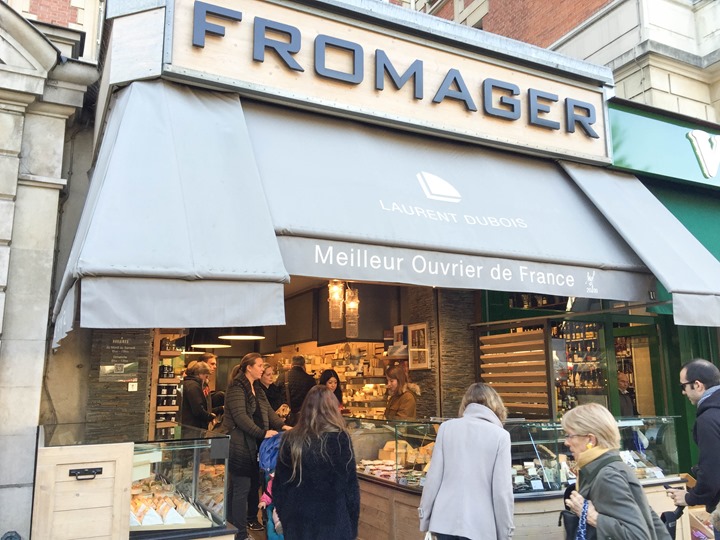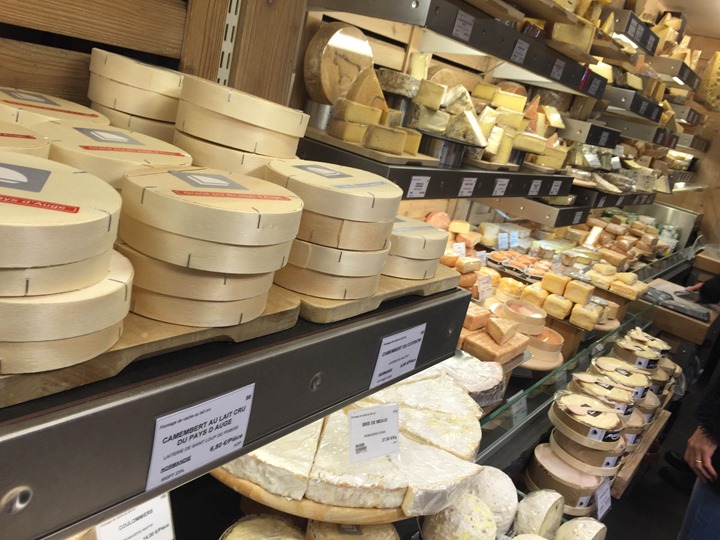 And of course, some flowers were also in the bag, partly because a custom cake going out the next day needed it.  And partly because we wanted some for our table.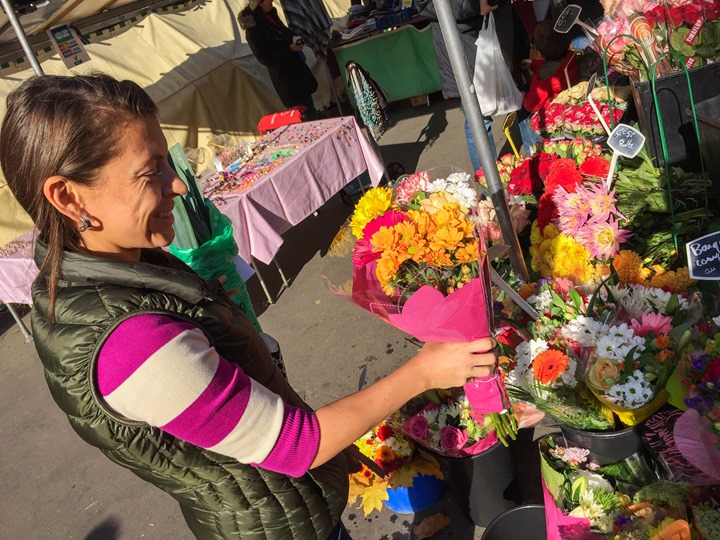 Love how easy it is to get to fresh markets here.  Virtually every neighborhood in Paris has them on varying days – so it's rare that you'd have to go very far.
2) Just wandering around:
After dropping off the groceries at home we headed out for a bit of a walk around the Marais, a neighborhood just across the Seine from us, so only a couple minute walk.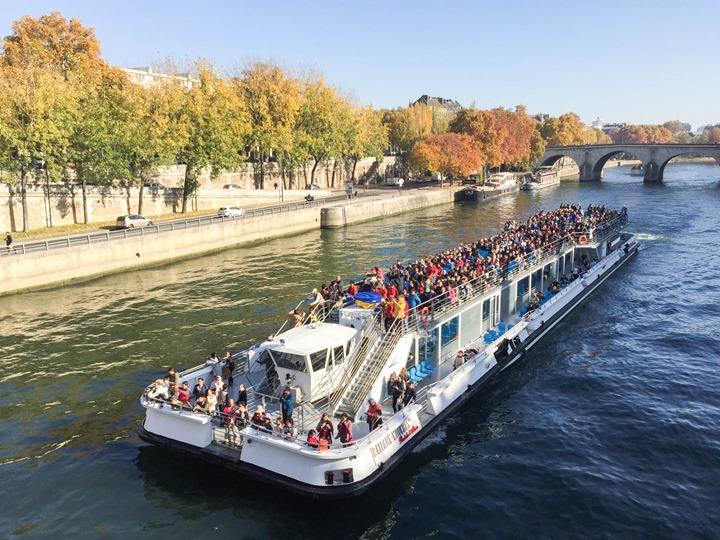 While there we wandered down many of the little streets and shops.  Along the way I saw this bike stuck in a building.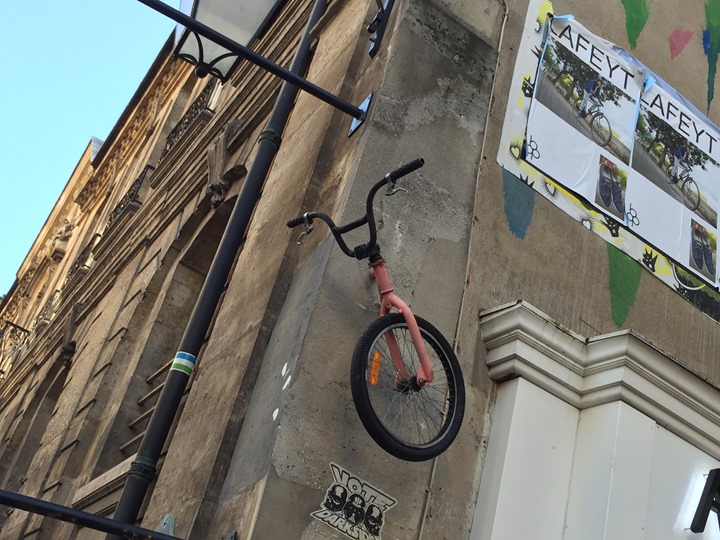 I would have had more food-related photos from our lunch.  But a bowl of increda-hot-soup got kerplunked on my hand during lunch, which sorta damped my mood for photo taking for a bit.
Later on though, I took a photo as we walked back across the bridge to home: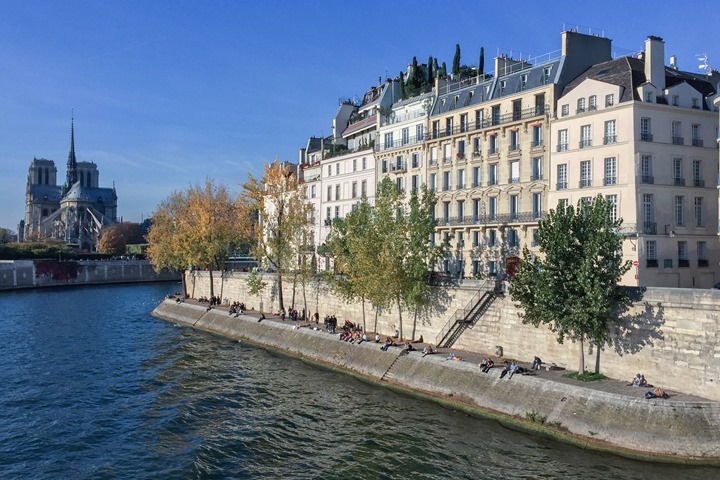 Gotta love fall weather here.  If you don't need beach weather as part of your trip, October and May are really about the best times of the year to visit Paris.  The crowds are gone, and it's just super-pleasant.
3) A Gadget-Full Saturday Ride
The weather was absolutely stunning this weekend in Paris – and Saturday late afternoon provided a great time to get out and go for a short ride.
I had a boatload of devices both on my person, and the bike.  On the bike we had: 4iiii Power Meter (left-only), PowerTap C1 (final production), PowerTap P1 pedals, and the PowerTap G3 hub.  Not to mention three Garmin 520's and one Edge 810 to record all that power data. Phew!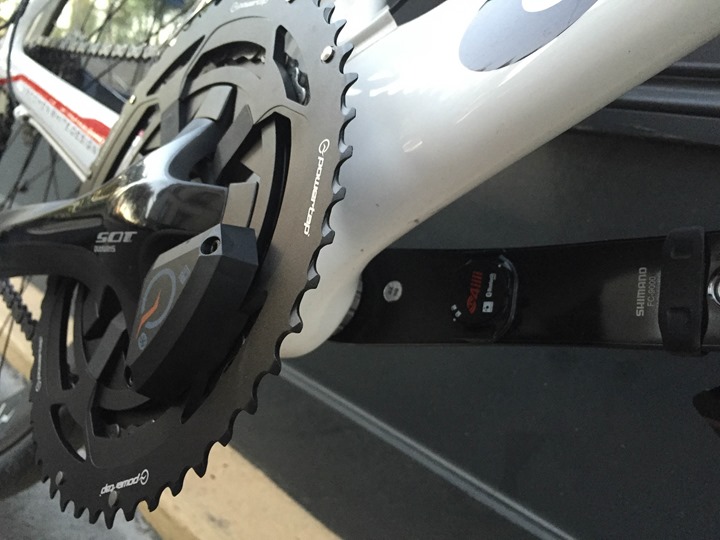 Meanwhile, on me we had a Polar A360 and Withings Activite watch, the BSX Gen2 unit, plus a few heart rate straps.
This A360 is a non-production unit, with the final one arriving Monday or Tuesday to the DCR Cave.  So I've been mostly using this one the last few days to get the hang of day to day use of the device, ahead of receiving the production device and focusing my testing there on the accuracy side.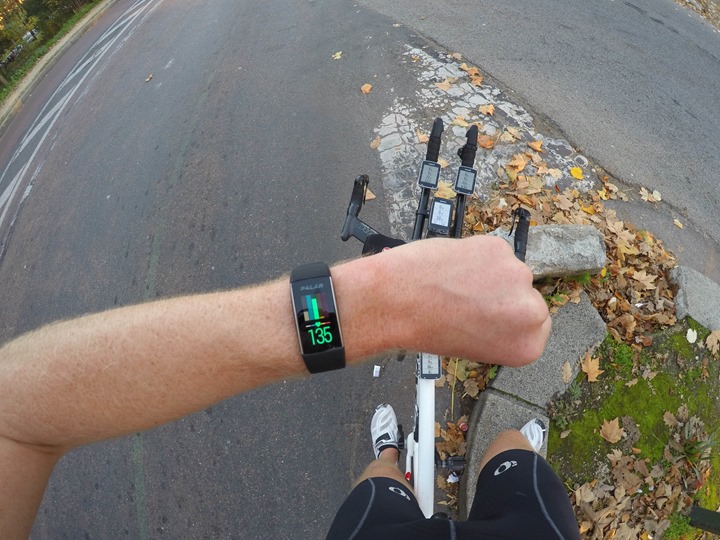 Still, the display is brilliantly colorful.  Really pretty.
In any case, back to the ride – it was also rather colorful out: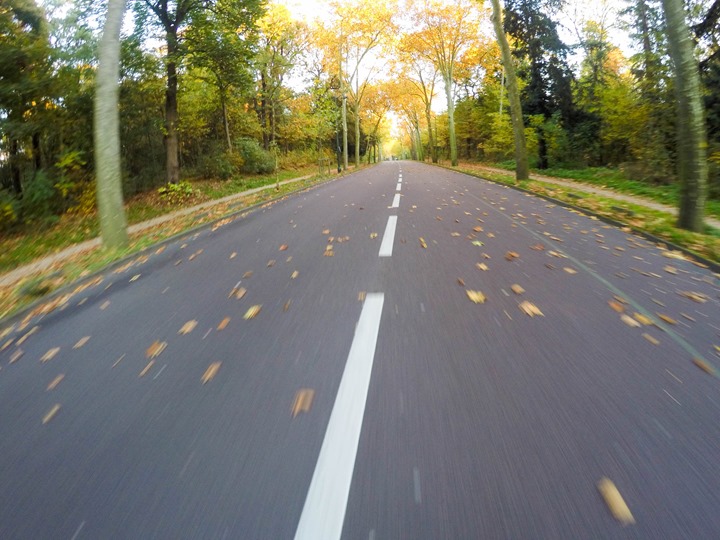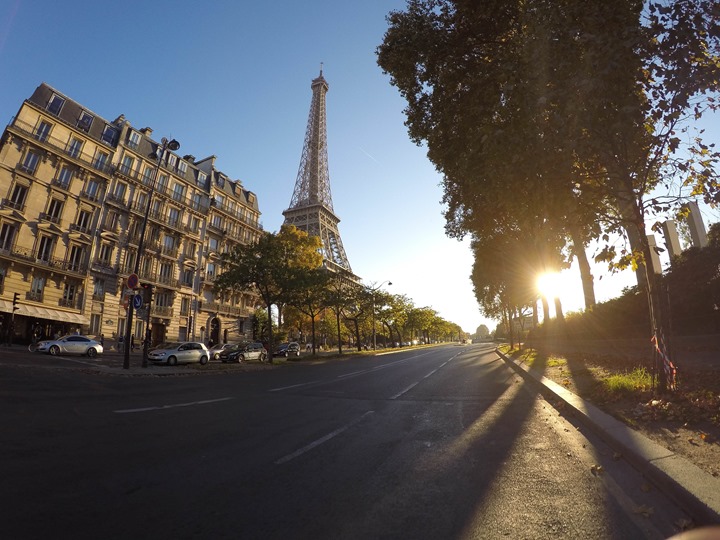 My route was simply a few loops around the park (Longchamp) and then back zipping across town.  For some reason an exceptional number of pedestrians kept on trying to walk out in front of me.  Would have been a prime ride for the Fly12, but I hadn't put on a mount for it on my tri bike yet.
I also had fun with what happens when Di2 runs out of battery juice.  As I left at the start of my ride the Edge 810 warned me of low battery, but some back of the napkin math seemed to imply I'd make it (the 5% number below):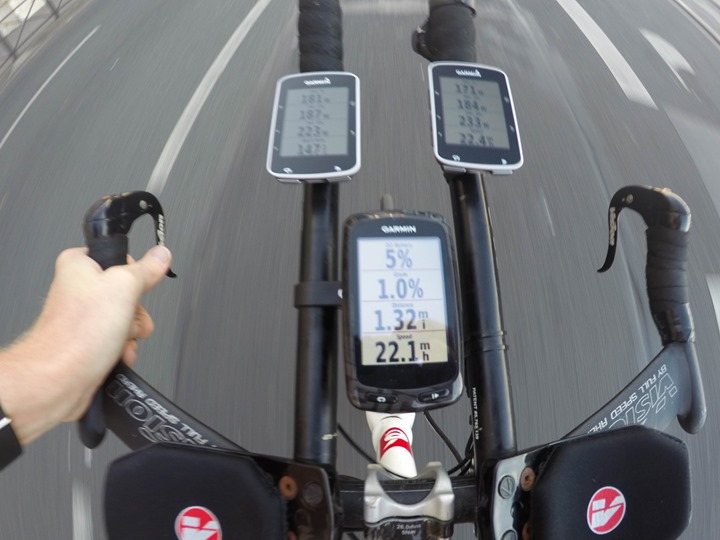 Said math was wrong: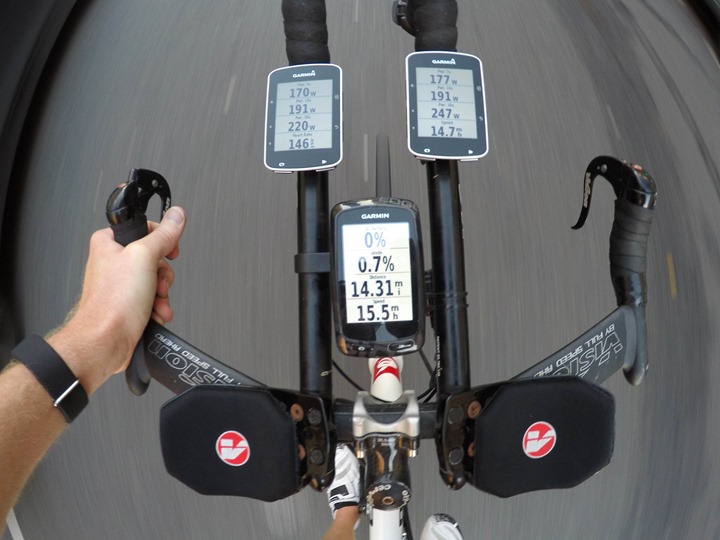 And then it became right again 2 miles later: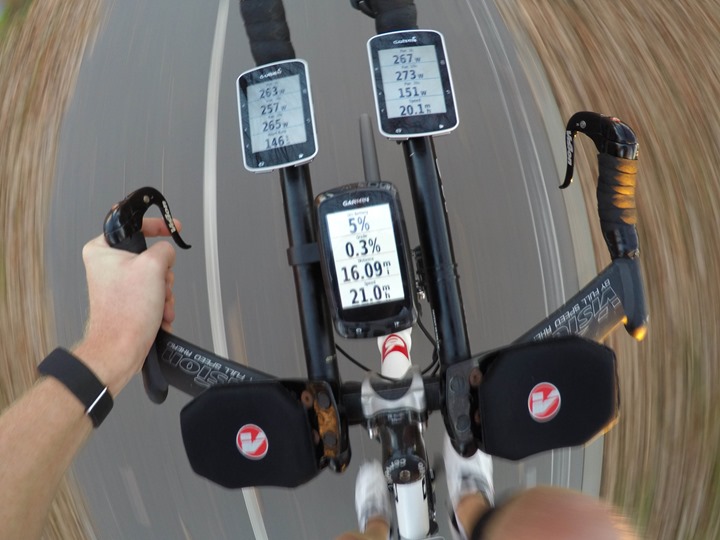 Seriously, I went from 5%…to 0% (and no more shifting)…back to 5% again.
Paris is fairly flat, and while I had a few hills, the Di2 system will automatically put it in the easiest gear in the front upon low-battery.  So when I did lose shifting, it was mostly just a loss of being able to pedal harder.
Of course, it probably would have been better if I just charged the battery next time rather than ignoring the umpteen warnings about it.
4) Fun with power leg data analysis
I like it when charts agree.  Or if they disagree – that I know why.  The ride above is a perfect example of that.  Let's start with the full ride chart, smoothed at 30-seconds to make things easy to comprehend:

As you can see, the four power meters in general agree exceedingly well (quite frankly, way better than I would have guessed for only a 2nd ride in this configuration).  Though, I did a slew of sprints over the previous days, and a Lactate Threshold test, so I figure much of the settling has occurred.
Now, if we switch over to the Mean/Max graph of that ride, we see one oddity – which is the 4iiii left-only power meter (aka just like Stages) tracks beautifully up until some rather high wattage segments, where it then shows a higher value than the others.

As a reminder, the way all left-only units operate is that they simply double the left side. Garmin, Polar, Stages, 4iiii, Pioneer, Rotor – all of them the same thing.

This means that if you put out more (or less) power in certain power ranges in your left leg, then it's going to impact overall accuracy.  As you can see, below 500 watts, we don't see any major differences.  But once I creep above that in a sprint, things go askew.
But how can I confirm this?  Well, that's where I've got another graph.  In the below case I've got the tool plotting left/right channels separately.  This graph is super-cool because it not only shows the PowerTap P1 Pedals (full left/right system), but also the PowerTap C1, which is an estimated left/right system (like Power2Max & Quarq). Update: I've now added in the Precision to the graph as well, you can see they line up spot-on:

What do you notice there?  Well, you can see clearly that as I go into that sprint I put out quite a bit more power with my left leg than my right (according to the P1's) – thus confirming what the 4iiii unit showed in the same spot.  Further, while the C1 doesn't quite as easily pickup the left/right balance, it still shows me left-heavy there.  Do remember it's a complete estimation for left/right balance on the C1, versus measured on the P1.
Anyway, I thought it was interesting – and kinda fun to share since it's now easy for me to plot this kinda stuff.
5) Brunch at our place:
Finally, up on Sunday was brunch with friends at our place.  It's been a while since we hosted something more than a pizza party (albeit, really good pizza).  The Girl went into overdrive creating all sorts of awesomeness.
For example, she made this blueberry molasses bunt cake: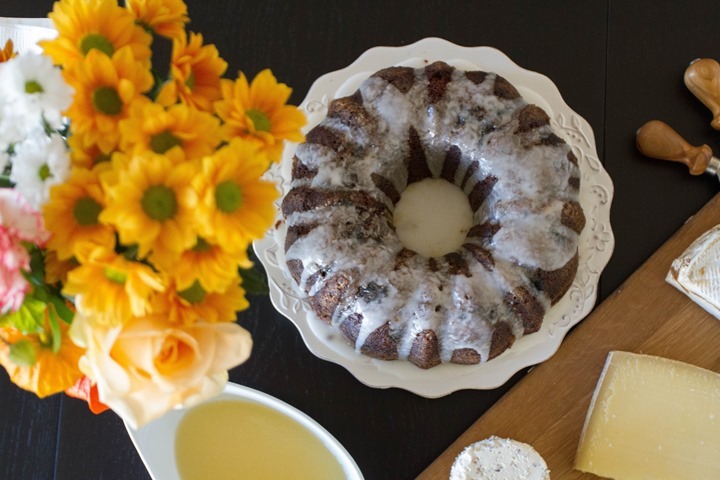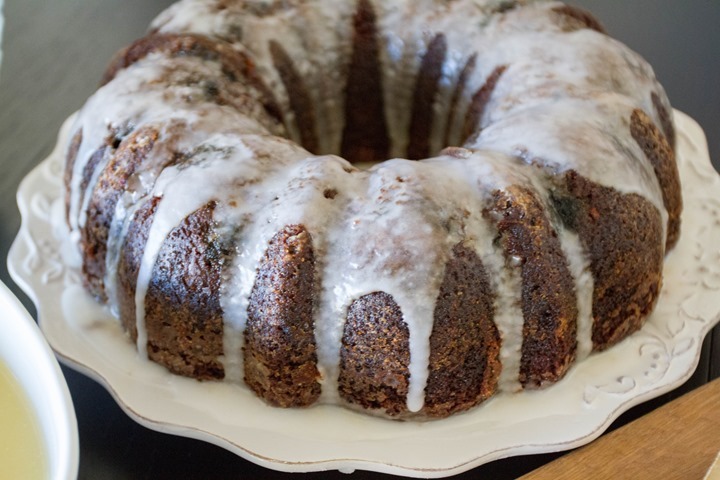 And then a goat cheese and leek quiche: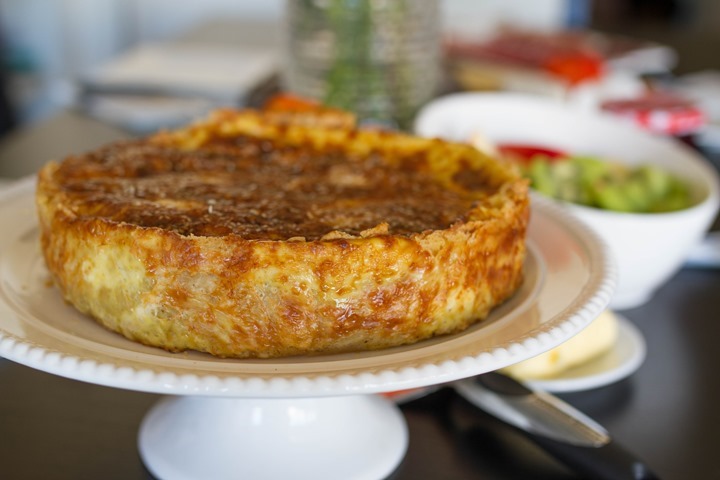 We supplemented that with all the goodness we got from the market.  For example, my favorite green-label butter.  This is a super-special salted butter that's well beyond your typical saltiness level.  Combine that with some baguettes I picked up that were still warm…so good!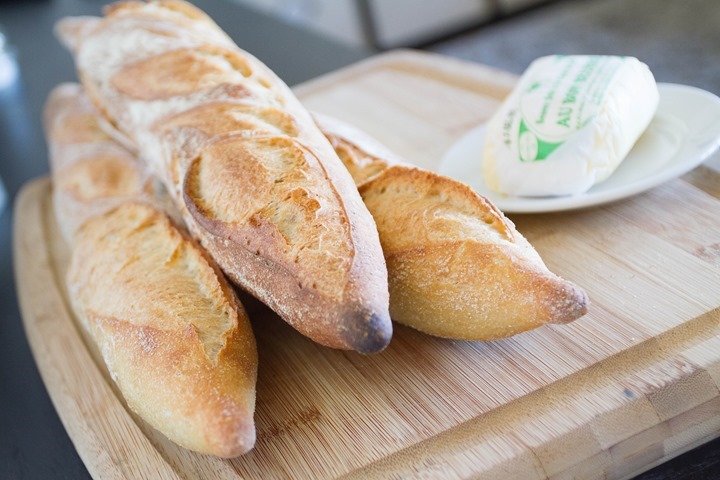 On the cheese front, we had lots of options.  Goat cheese, gruyere, Shropshire Blue, and then a brie with figs and nuts in the middle.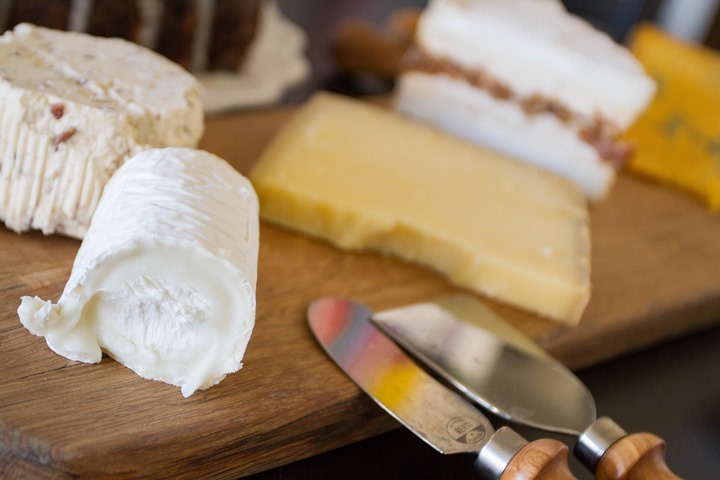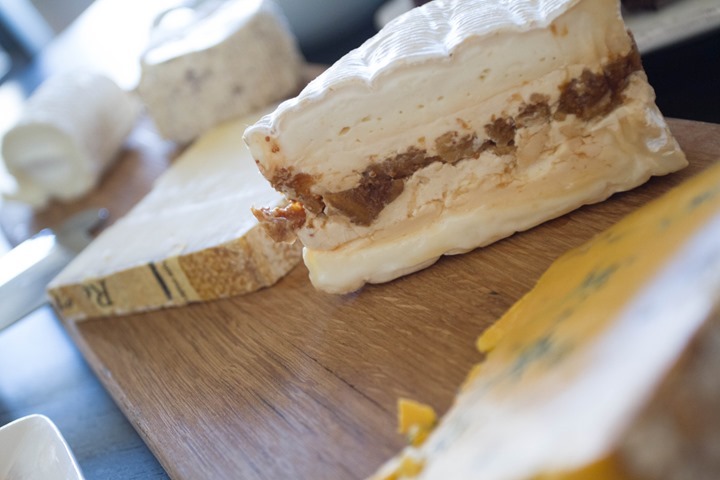 Not to mention a small farm's worth of various meats: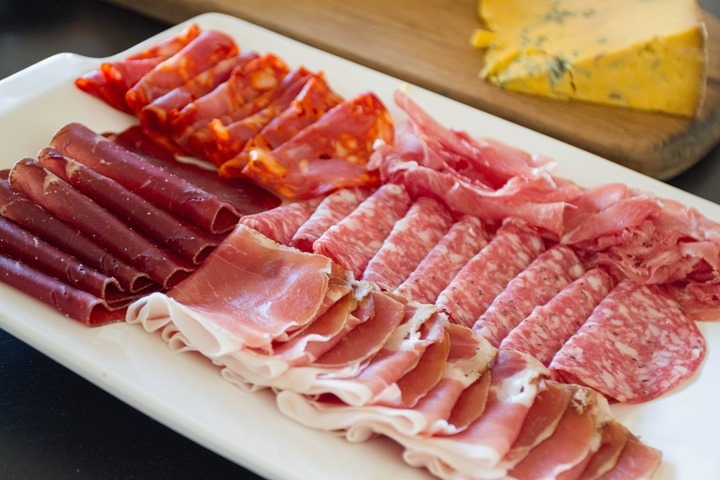 But don't worry, we had some fruits.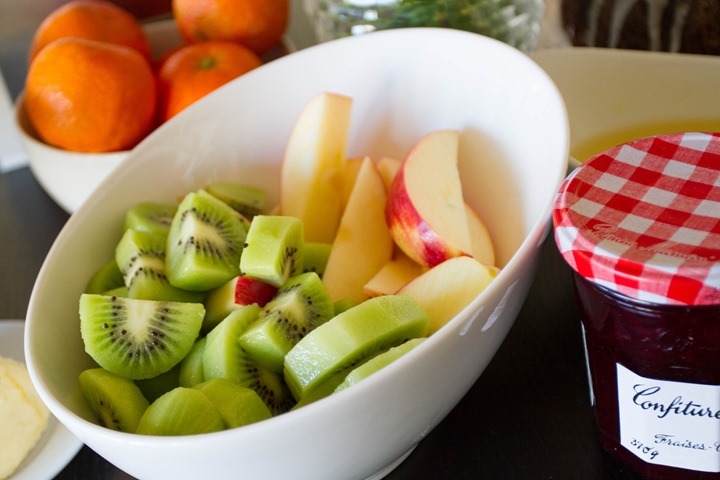 Plus, there was orange juice in the mimosas.  That counts, right?
All of it was awesome, and I'm already begging The Girl to make another quiche and blueberry creation.  As neither survived the day to become leftovers.
So there ya have it – a few more food photos from our creations, something a bunch of you asked for last week.

Enjoy, and thanks for reading!