I've just arrived back from spending a week in Mexico, within the resort area of Cancun on the Yucatan Peninsula.  I was there, along with The Girl, for her sister's destination wedding.  Here's what we were up to during our stay there.
1) Some rather warm & humid runs:
As one might guess – it's not exactly 'cool fall running weather' in this part of Mexico.  Rather, tropical and humid is more appropriate.  You either get your runs in early morning, or needlessly suffer through the heat later on.  I ran the majority of mornings – either with The Girl, or friends and family.  I also got two solo runs in.
Most of the runs were between 5-6 miles.  Nothing terribly long, just nice pre-breakfast buffet type things.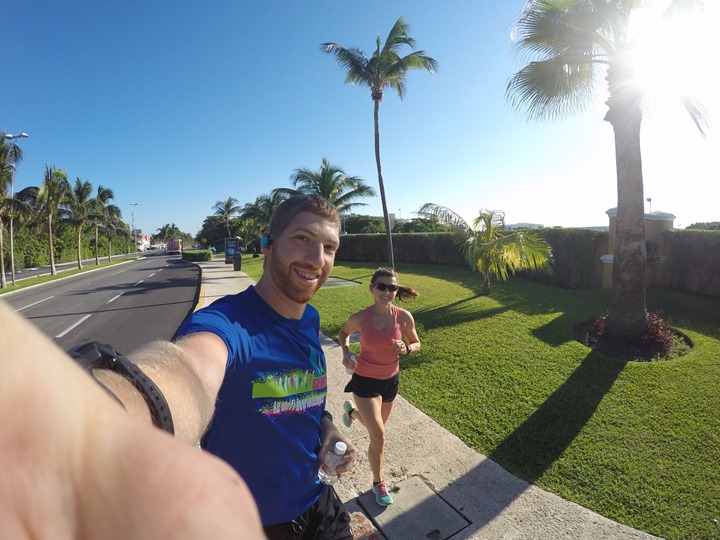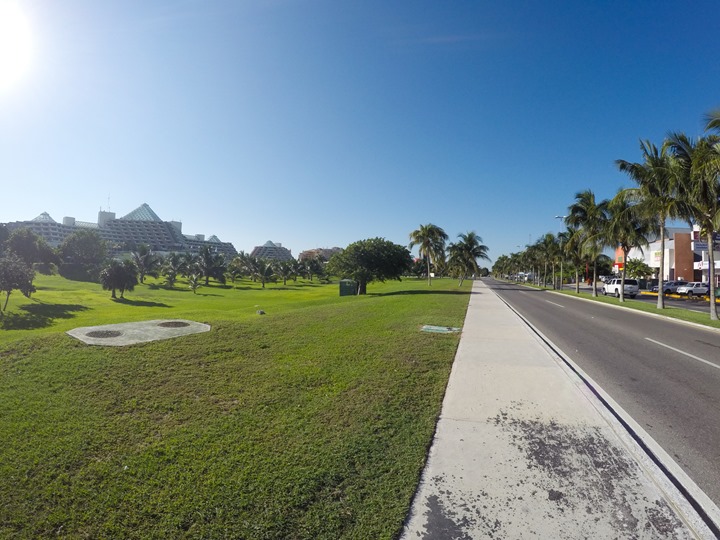 The resort part of town is awesome for running – very clean and easy to run on sidewalks, and if I had gone just a tiny bit further there's actually a really impressive running path using the same surface as most running tracks are built on.  Pretty cool.
For most of the route you can't quite see the beach as it's blocked by the hotels (though you can see many iguanas instead), but in one section it breaks out over the water with a large Cancun sign and the beach behind you.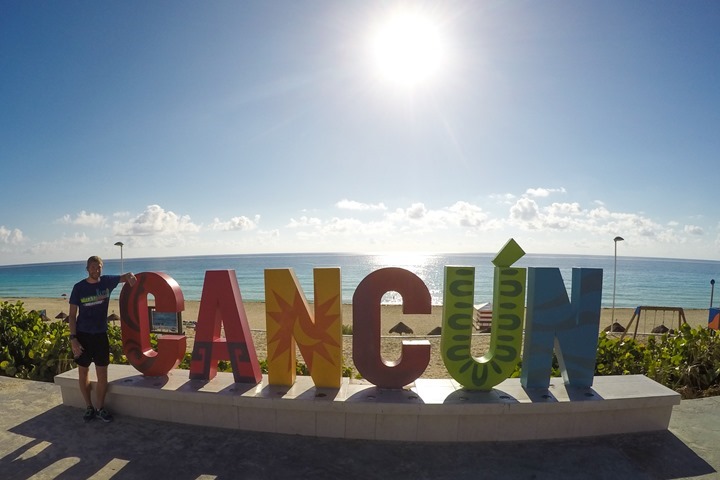 After all the runs we tended to cool down in the pool.  It acted as an efficient way to clean out running clothes while also getting our body temperature back to semi-normal values.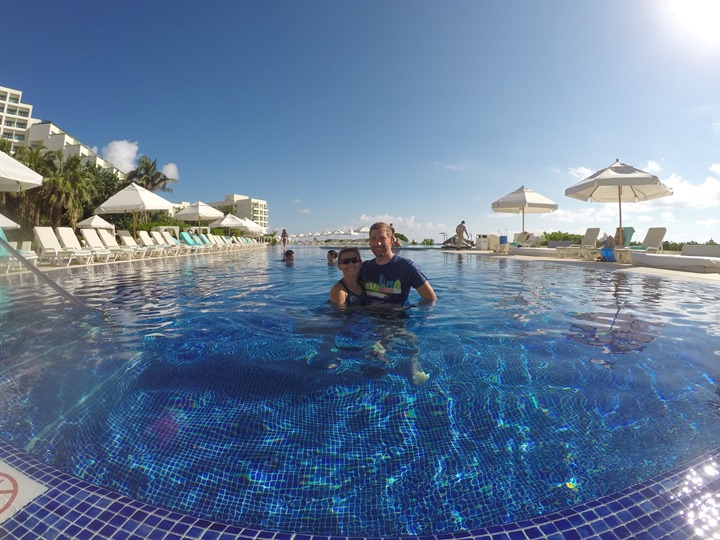 Then of course…it was straight to the massive breakfast buffet.  Loved that they had tons and tons of fruits, fruit juices, and even on-demand fruit smoothies!
2) Played with the RunScribe:
In addition to testing GPS watches, I was also back toying with the RunScribe pods.  I previously played with these earlier in the summer in beta – but then the 'Great Airline Baggage Loss' of July meant that the ones attached to my shoes went missing.
But with the company now shipping units, I'm back at it with new ones all good to go.  The units measure all sorts of running metrics, sorta like Garmin's Running Dynamics – but on steroids.  But unlike Garmin's HRM-RUN (and HRM-TRI), these metrics come from the small footpod looking devices, as they can measure data points such as pronation (a chest strap would be unable).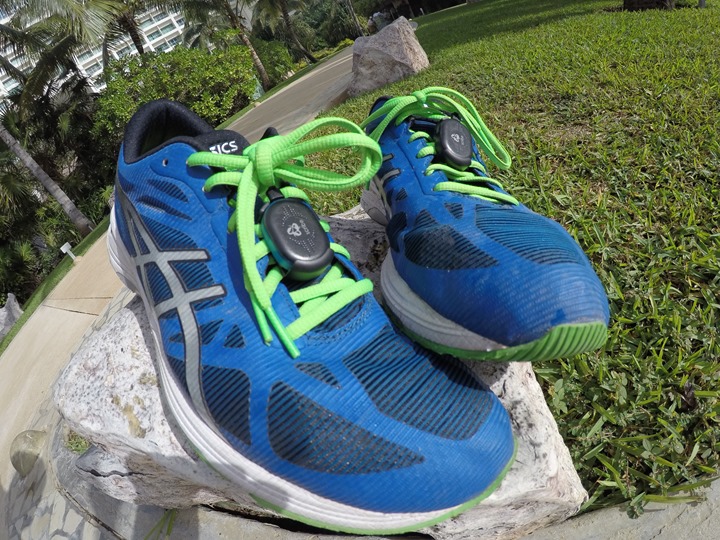 The devices have three different options for attaching to your shoes.  You can affix like a footpod to your laces, or you can use included putty to attach to the back of your shoes (heel area), or you can use a little clip thingy to attach to the back of your shoe in a more removable manner.  For my first week or so I'm going to use the shoelace clip, but will also change it up a bit to see how things go.
You can use either one or two pods (for a dual leg configuration), which is what I was doing here.  After the run you'll download the data using Bluetooth Smart to your phone.  Here's a few snippets of my 7-mile run:
Ultimately I'm still working through what precisely to do with this data.  Some things could likely be used for injury prevention (i.e. shoe wear), and others for injury recovery (getting back to normal).  But it's use cases outside of that, that tend to be more tricky to quantify.  Still, interesting stuff that I'll be poking at more this fall.
3) Plenty of openwater swimming
The week prior I was getting in an openwater swim in the chilly waters of Alberta's mountains, this week though – things were a wee bit warmer!  The water in front of the hotel along the beach was mostly quite calm, and great for openwater swimming.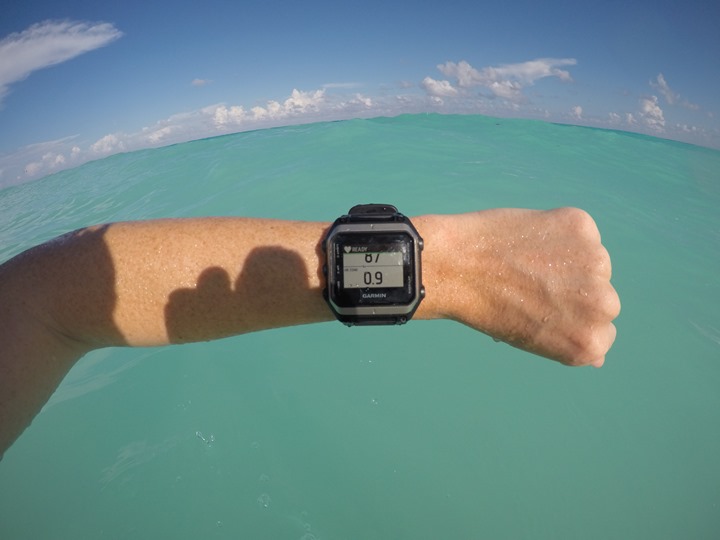 I swam almost every day, and some days The Girl swam along as well: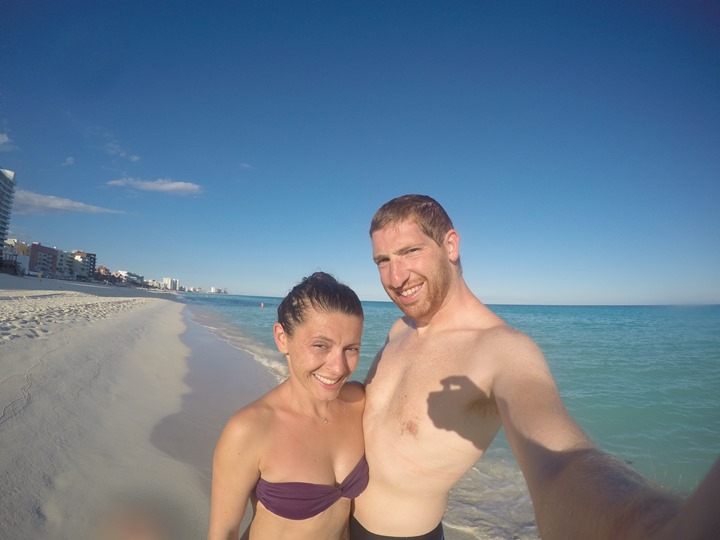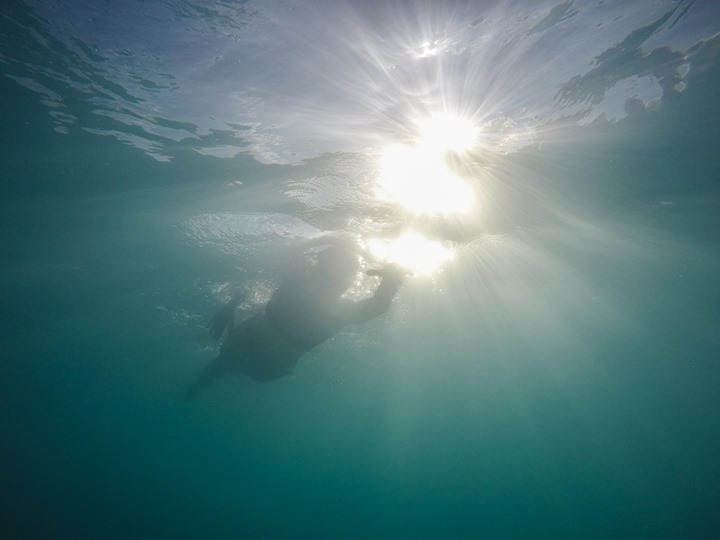 Figuring out which way the current was going seemed like a never-ending battle.  A battle that I think I almost always managed to get wrong, much to my swim paces detriment.  I'd usually swim one direction and then walk back.  It's more interesting that way to me as I can see more stuff than if I just did an out and back.  Plus, I didn't want to stray too far from shore since there were lots of jetski folks out on the water.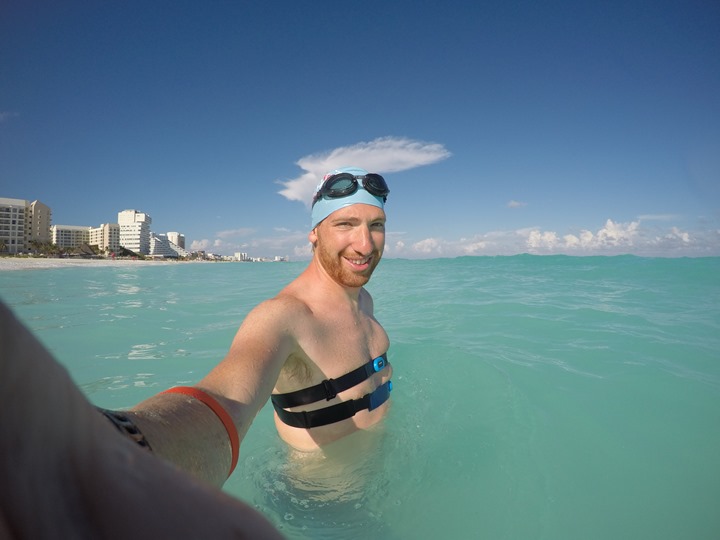 I was using the HRM-TRI & HRM-SWIM heart rate straps, each paired to either the Garmin Epix or Garmin FR920XT.  A Fenix3 acted as a GPS reference unit on the swim buoy.  All the data will be used as part of my upcoming post on both the Epix, but more really for my HRM-TRI/SWIM post.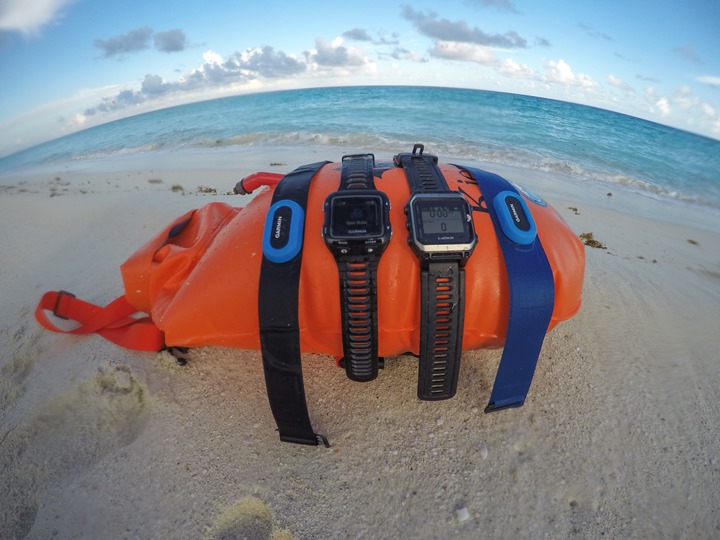 These straps are designed to record your heart rate underwater and sync it up later on after the activity.  They mostly worked well, though I did continue to see some quirks with the FR920XT and one of the straps failing to download data afterwards.  I've been in touch with Garmin about that one.
4) Enjoyed a wedding
Of course, the main reason we were in town was for my sister-in-law's wedding.  It was held right on the beach, with plenty of friends and family making the trip.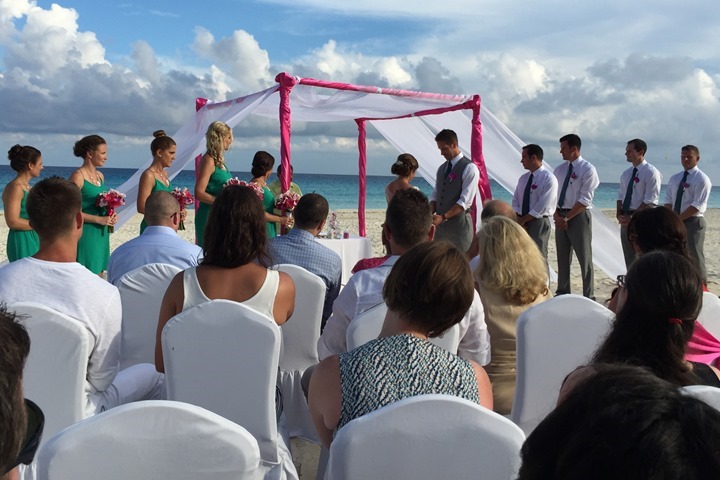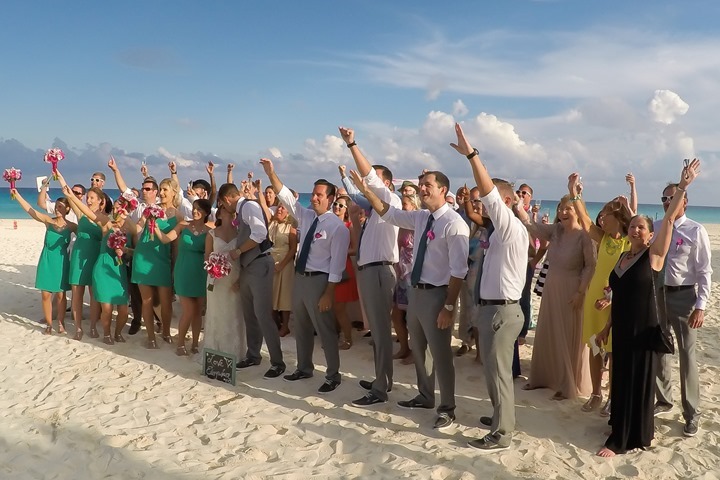 Afterwards, the reception was up in the gardens till well into the night and proved to be quite a good time.
They had a photo booth via a local company that had an impressive amount of props.  It was like walking into a Party City store, but spread out on a large table.  We got both a little insta-printed roll of three photos for ourselves, plus one for the bride and groom on a guest book of theirs.  Lots of fun.
Most importantly though – a huge congrats to both the bride and groom!
5) Sat around and did a lot of nothing
While it sounds like I might have done a lot – the reality is that I mostly did nothing.  I sat on the beach and enjoyed just relaxing.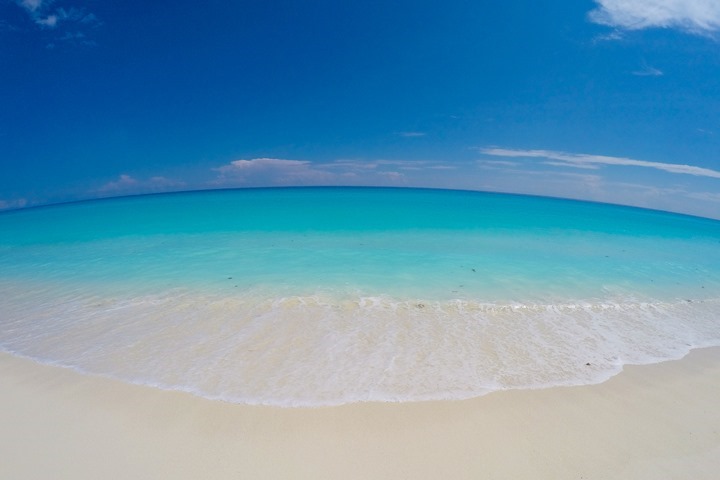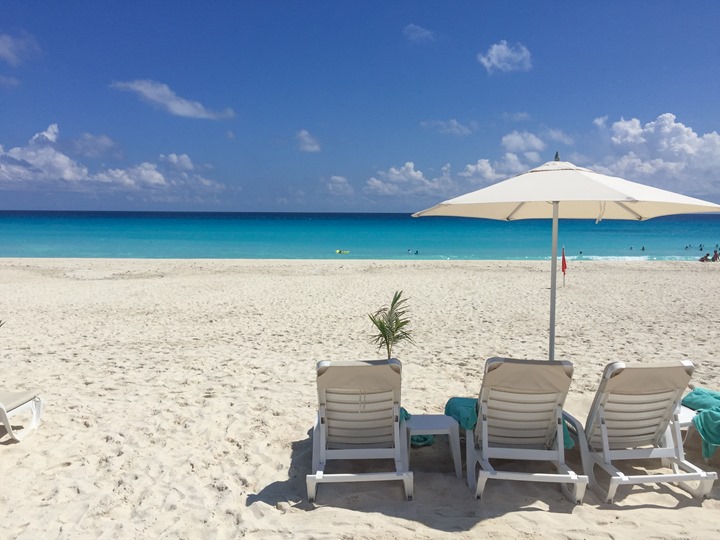 Or, hung out at the swim-up pool bar.  Of course – it's all trouble when you're at an all-inclusive resort.
Even more so dangerous, as I learned at my own wedding, when half the wedding party is from Newfoundland.  Those folks can drink most Americans under the table before lunch.  Impressive skills.
At night, we enjoyed the various food options around the resort.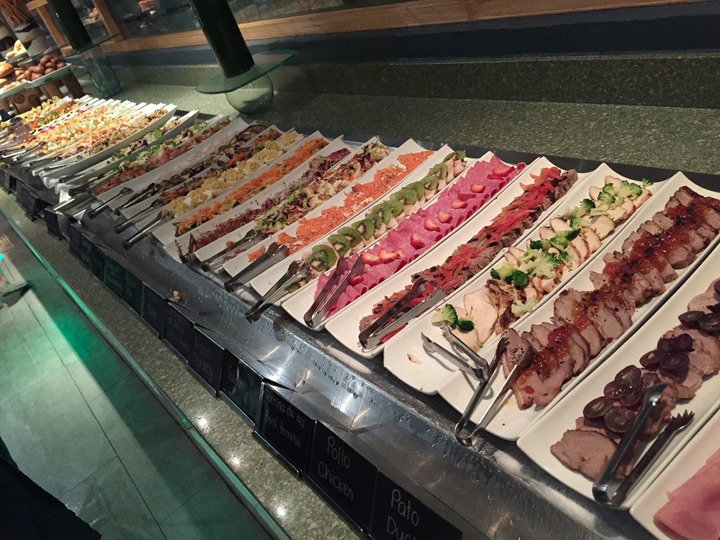 Or that we could request to fill our fridge daily with (all-included) M&M's and Diet Coke: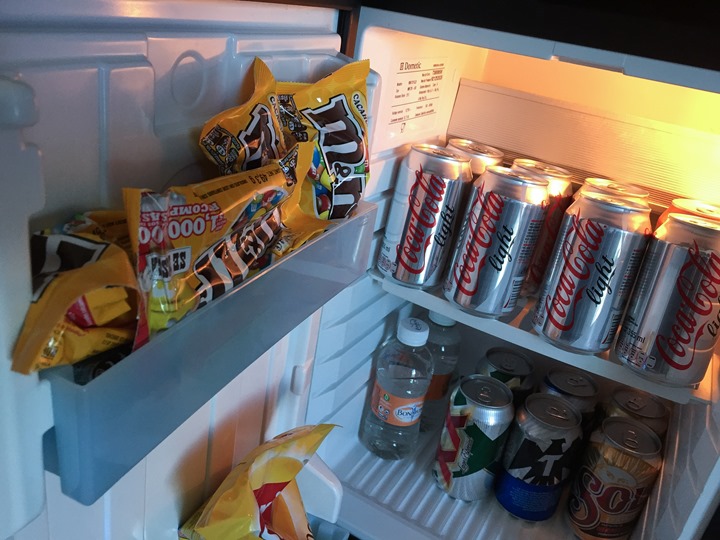 Of course – I wasn't the only one testing things out this week.  The Girl was trying out the Vivofit2, but most notably with one of the swanky silver bands: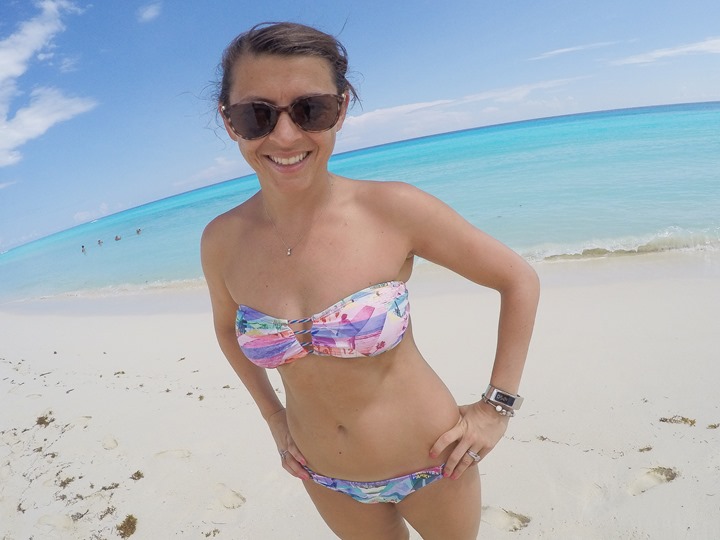 It was interesting – she probably got asked about it 15-20 times over the course of the week (mostly by women, but not always).  So far she's happy with the tech side, but fairly impressed with the band itself.  This was one of the many designer bands that Garmin initially showed off in January at CES, but they never quite made it to market.  Now, they're much closer (I don't have a date off-hand though on when they'll release).  She's been using it in the salt-water, fresh water, and even on runs without issue thus far.
With that – my week is done!  Back to reality in Europe I am, not-so-warm weather and all.
Thanks for reading, and have a great week ahead!