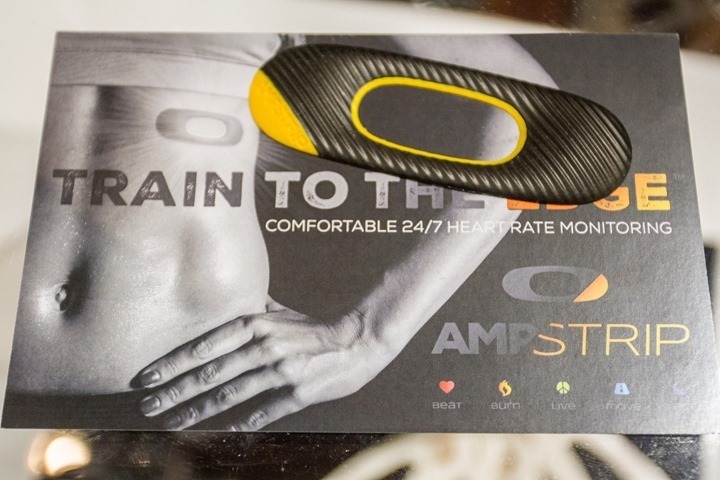 In probably the weirdest move of the year, Indiegogo project AmpStrip has decided that it doesn't like being popular – and has exited the fitness business.  Instead, it'll pursue bringing the device to market within the medical industry.
You'll remember AmpStrip from back in January at CES.  It was a small multi-day adhesive patch that could track your heart rate and broadcast it to devices, just like a regular HR strap.  The difference being, it was just a small sticker.  Further, it could actually save all that data for later uploading (24×7 HR too!) – including metrics beyond just simple heart rate – such as steps and body temperature.
I was able to actually give the unit a test run (and shower) and found it did fairly well, despite being a prototype.  Their subsequent Indiegogo project managed to raise some $537,000USD – an impressive mount.  Further, I'd have rated it one of the most interesting things in the health/fitness realm to come out of CES this year – and many other media outlets and CES themselves agreed.  Here's a snippet of one of my runs (seems I never actually ended up posting all the full data, ran out of time).
Little did I know my HR/step/temp morning run data was being wirelessly streamed to the AmpStrip engineering servers. pic.twitter.com/6K44cwodY1

— Ray Maker (@dcrainmakerblog) January 7, 2015
Unfortunately, the company won't be bringing the product to market, and will be refunding all backers of the project.  They made the announcement today to backers via an e-mailed update, a small snippet of which I've included here:
"After much discussion and debate, we have decided to suspend development of AmpStrip as
a fitness product. Going forward, we are going to first focus on the device's potential uses as a
medical device rather than a fitness device.

Many of you have commented on AmpStrip's potential medical benefits ­ the potential ability for
patients and doctors to monitor irregular heart rate, respiratory function and activity levels to
name just a few. We believe that in that capacity, this device can truly make a difference in
people's lives.

Unfortunately, we do not currently have the resources to simultaneously support our previous
athletic performance objectives and our current medical focus. For that reason, we will be
unable to ship the AmpStrip at this time. We will be refunding everyone's money." (October 14th, 2015)
I've gotta say – this is definitely super odd on so many fronts (and of course, disappointing).
First off, remember that AmpStrip was made by FitLinxx – that's a company that's been split between fitness products and a couple of minor health focused products (scales and a blood pressure sensor).  They've also got a corporate wellness program.
It's peculiar to me that they'd ditch the fitness realm to go towards the medical realm.  I say this because the medical device realm is fraught with multi-year roadblocks and regulatory approval processes.  It's not something that happens overnight.  To say that they couldn't do both is weird – because the costs associated with the fitness side are frankly trivial compared to the validation for medical devices.  Like dropping a penny down the storm drain type trivial.
Further, if I was in their shoes and wanted to go down the medical route I would have leveraged the fitness side of the house to drive product innovation in the medical side.  Meaning, they effectively could have taken lessons learned from the fitness side (broad consumer base) and used that to speed their development on the medical side.  This would have likely shortened some of the non-formal testing aspects – such as typical new product teething pains that are more easily found in vast numbers.
Next, the company is refunding all backers.  That's not a cheap move.  Undoubtedly they've long since burned through that money, so the refund has to come from somewhere.  So while this is much appreciated, it's not the typical crowd-funded exit strategy of a failed product.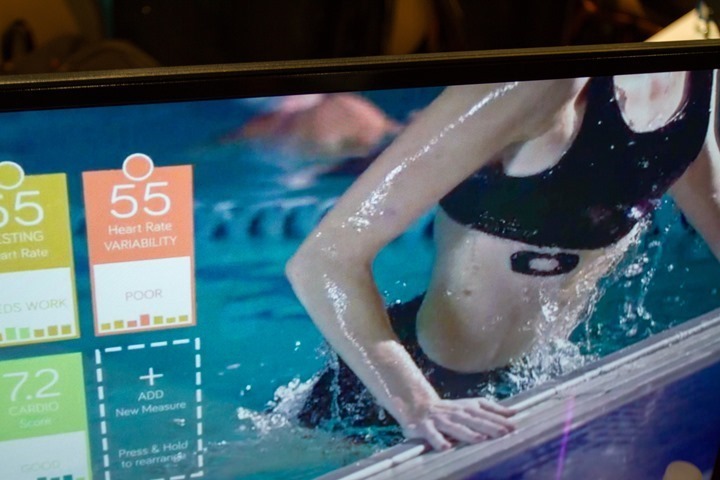 So…what's at play?
Well, I'm going to guess one of two things:
A) Some large company has acquired the technology and simply doesn't want to deal with the consumer application – and this (the payout) is the most tidy way of disposing of the end consumers.
B) Some large company wants to bring the product (licensing or similar) to market purely in the medical space and is otherwise funding the effort, and again, doesn't want to deal with the end consumers.
The differences are subtle (acquisition of the technology vs licensing), but ultimately I've gotta believe something far bigger is at play here.  After all, if you look at the major business models of FitLinxx, much of it is targeted at non-medical devices.  Pieces that would have actually really benefited from this being more consumer than medical.  Add that to the fact that their booth at CES quickly became a hub for people looking to invest in the company.  Thus the only logical explanation is a really big check (deservedly so).
Which – don't get me wrong – I think the medical applications here are indeed massive.  Being able to do 24×7 body monitoring of patients in at least those known categories (HR, Steps, Body Temperature) is immensely useful – especially when paired to a simple smartphone.  As you can see in my embedded tweet, they demonstrated the ability to actually livestream that data via my phone while I was running out in the middle of the desert – straight to their backend servers.  The potential for this is huge.  But, to me the weird quirk is to say that they don't have the money to do both consumer and medical.  I just don't buy that portion of the argument.
Still…interesting times.  I suspect 6-12 months from now we'll find out who really bought it, or what really happened when we see the product pop up somewhere else.  Unfortunately, it's a bit of a loss for the sports technology side (at least in the meantime).
With that – thanks for reading!