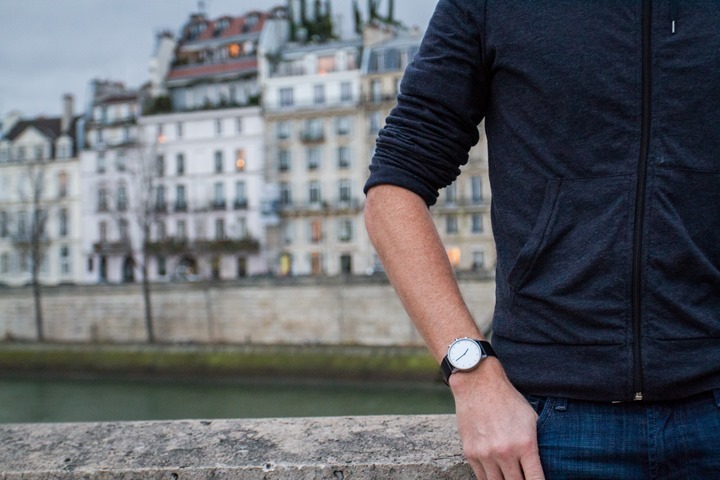 Last week the folks behind the Névo Watch that recently launched on Indiegogo swung by the DCR Studio to give me a hands on demo of their minimalist smart watch that also functions as an activity and sport tracker.
As many know, my general policy is that I don't write full posts about crowd funded projects unless I've had physical hands-on time with the product.  This ensures that I can relay to you the actual state of the project based on my knowledge of the industry.  This is due to many projects misrepresenting where they are in the development state.  So, the fact that they were willing to come to Paris to show the device and current state is promising.
From a functionality standpoint, the Névo is designed to be a minimalist smart watch with activity tracking.  What does that mean though?  Well, it's designed to look like a normal watch from a glance, but then behind the scenes it'll act like an activity tracker.  To begin, the unit measures common activity tracker metrics like steps, distance, calories, and progress against a total step goal.  When it displays that goal to you, it does so via a tiny ring of lights around the outer edge of the watch.  Each of the dots represents total progress towards your goal steps for the day, which can be customized.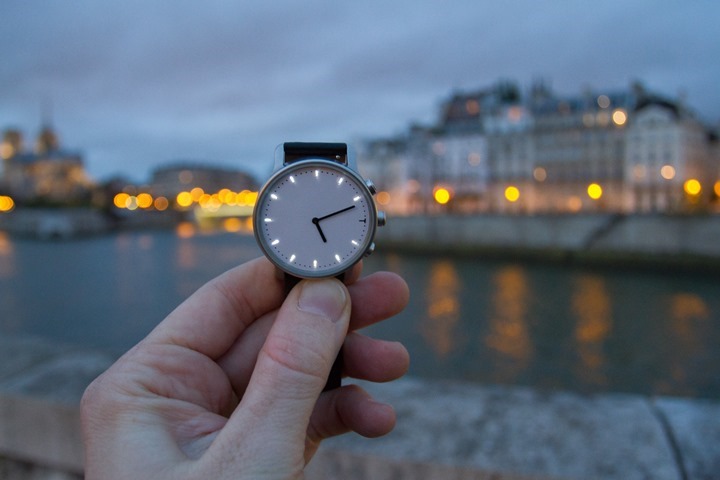 The activity tracker information is then synchronized to your phone via Bluetooth Smart, like most others on the market (so it'll require a phone with Bluetooth 4.0, which is pretty common these days).  From there they have an app (which they weren't quite ready to show) that then displays the information.  Additionally, they'll be supporting by launch integration with both Apple Health and Google Fit.  This means those metrics that the Névo records will be sent to both platforms.
They've also placed a new funding 'stretch goal' on their website to offer an API to developers for the watch.  Given their current rate of signups, I expect they'll probably hit this goal (though just barely).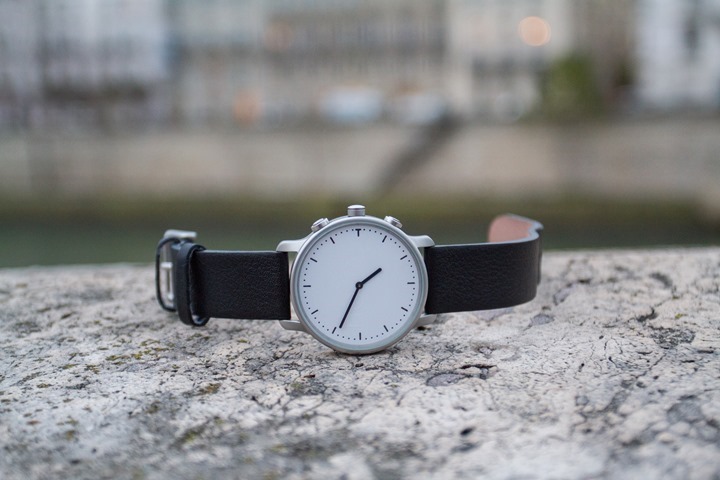 Continuing down the health trail, the unit will include sleep tracking.  It's not 100% clear yet as to the depth of such tracking – for example, will it attempt to measure different sleep phases?  But at a minimum the total amount of sleep will be ported to the app and then onto various health platforms.  Additionally, the watch can be set up with time alarms that use the vibration functionality.
Where it goes a bit beyond the standard activity tracker world though is its recognition of certain sport activities – including swimming and running.  The company behind it along with their engineering employees actually have more experience than they've let on about their history with sport watches.  They've developed many GPS and non-GPS multisport watches with both ANT+ and Bluetooth Smart integration over the past few yeras, primarily which have ended up in European retail chains including mega-chain Decathlon.  It's from this experience that they're looking to bridge into being able to recognize and track activities including swimming and running (and potentially beyond).  While this certainly won't likely be a replacement for your full on GPS triathlon watch, it might appeal to those less serious about exhausting themselves in an Ironman.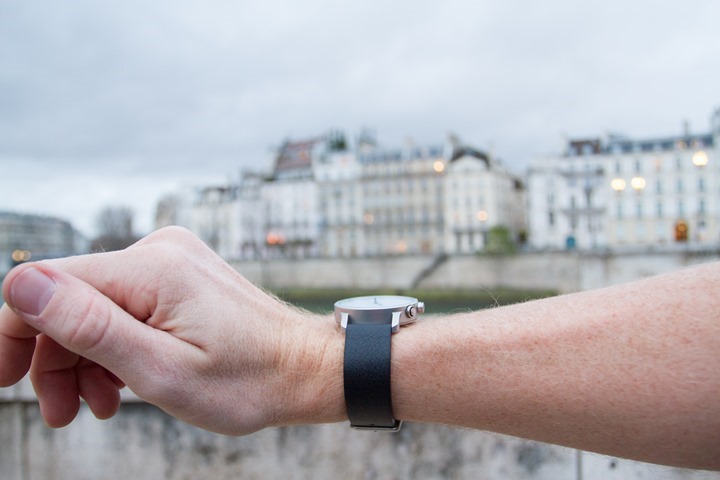 The watch also contains limited smart watch functionality.  This starts with the ability to get notifications for calls and text messages, which is done through the vibration function within the watch.  Additionally, the LED lights that line the rim of the watch can be programmed to more than just white, but rather any number of colors.  Of course, call and text notifications could be somewhat of a duplication if you carry your phone in your pocket like most guys do.  But, for women that may have the phone in a purse – it could be handy.
Now this certainly isn't the first connected designer looking watch.  There's been a few others out there, including the recently shipping Withings Activité (my review of that is slated for early next week).  It was interesting comparing the two watches from a size standpoint.  The Withings is most certainly a smaller watch than the Névo – one that some might say is a bit small for a man, and perhaps slightly more fitting for a woman.  Though, I've been wearing it the last few weeks and it is a nice light watch.  Like most watches that are worn as a timepiece though, personal preferences will largely drive that area.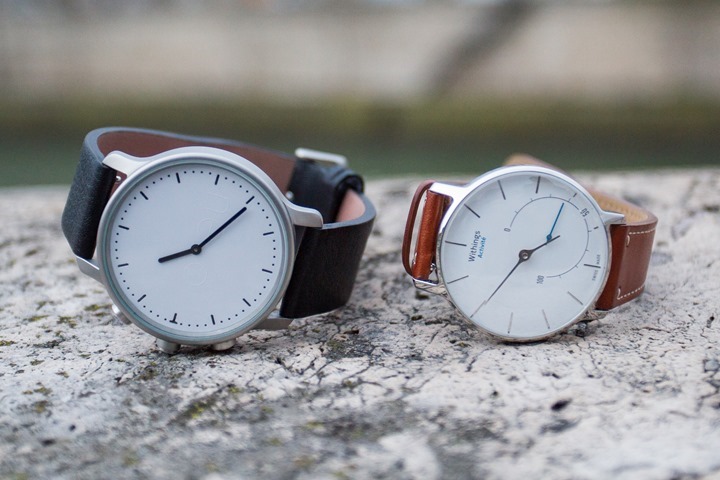 The Névo is also considerably heavier than the Withings Activité.  I measured the Névo in at 53g, whereas the Activité was 31g.  Of course, in the realm of most men's watches, 53g is still pretty lightweight.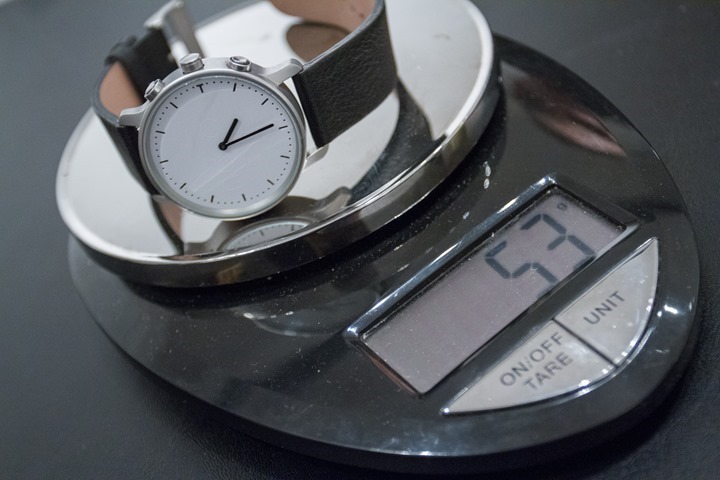 Speaking of specs, the unit actually contains two batteries.  The first is a 364 that focuses on the timekeeping capabilities, while the second a CR2025 takes care of the smart watch functions.  The first battery lasts 5 years before replacing the battery is required, while the second battery gets about 6 months.  They'll be including a special tool to remove the battery cover off the back.  It's worthwhile noting that unlike the Withings watch, the unit does not allow automatic time setting of the watch hands.  That's done manually via the small dial on the left side of the watch, like most classical watches.
The unit also has two additional buttons which can control functions such as displaying of the goals and triggering various modes.  It's the buttons that are distinctly different from the Withings, which lacks any buttons.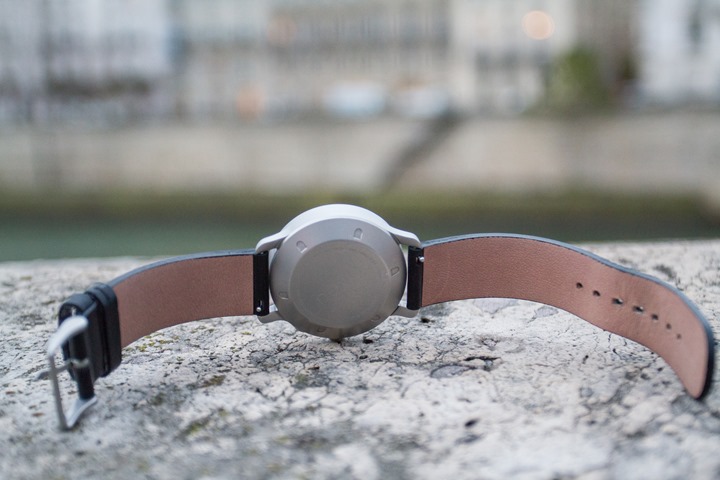 From a waterproofing standpoint, the unit has a 3-ATM specification, which is more than sufficient for swimming (despite some on the interwebs who might tell you otherwise).  The key component is how a company waterproofs the buttons for pressing underwater, which is where ingest could occur.
Also of note is that while it has Swiss ETA movement, it's not technically a Swiss watch – since it's not actually made in Switzerland.  Though, I suspect that won't really matter to most that read here.
From a models standpoint, there are three editions at this time, which vary the band and external casing.  Below is, appropriately enough, the 'Paris' edition.  But the other variants include brown and blue straps, as well as different shell colors.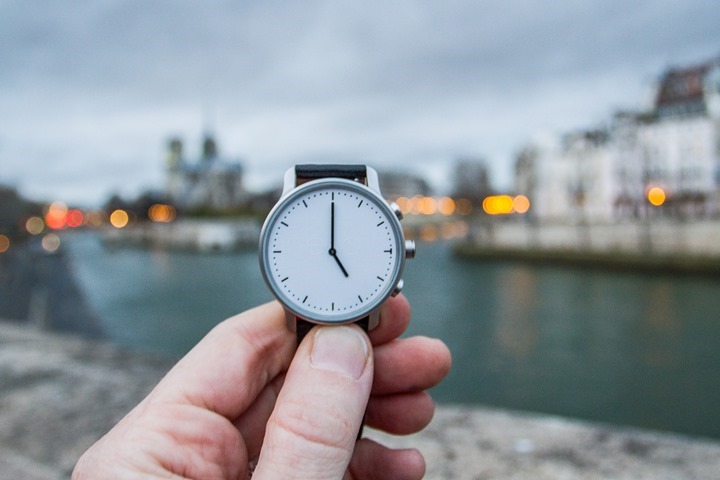 I'm definitely interested in where the Névo will go from here, especially from a sport tracking standpoint for more casual runners and swimmers that don't much want a full-on dedicated sports watch.  I think the folks behind the unit are capable of delivering the product based on where they are today.  They currently state a March delivery, though, I think that might be just on the edge of realistic – not so much because of any lag in terms of product readiness, but more just my knowing how quickly manufacturing can be spun up once they've finalized ordering/etc, especially going into the Chinese New Year timeframe, where most manufacturing facilities shut down causing delays.  Also note that I didn't get to see the app and where that stands, so that is outstanding.
Still, I wouldn't expect any significant delays based on where things are, as overall they have a seemingly quite functional device and they are nicely on track.  Along with the fact that they've got a wealth of experience in the segment already.
Last but not least, here's a quick video I put together showing the basics of how it works:
Thanks for reading (and watching)!