Here's what I've been up to the last few days – my first weekend back at home in almost a month!
1) Went for a run with Epson and their new products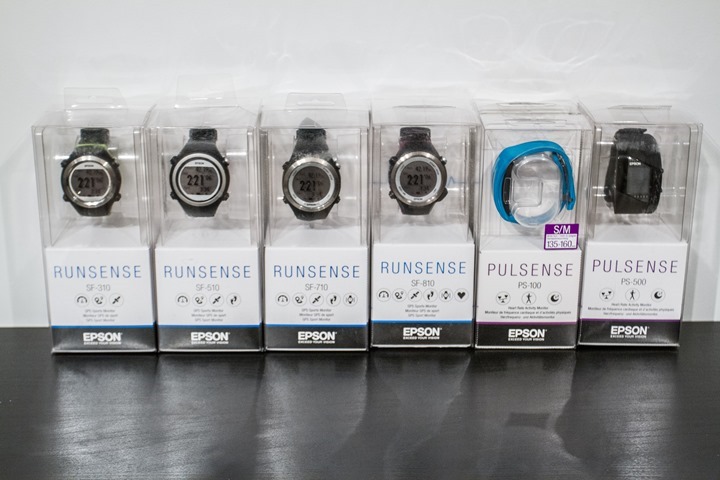 Friday afternoon one of the Epson folks came over from the UK to walk me through all their new products.  Err, I suppose it was more of a run-through…since we went out for a run afterwards.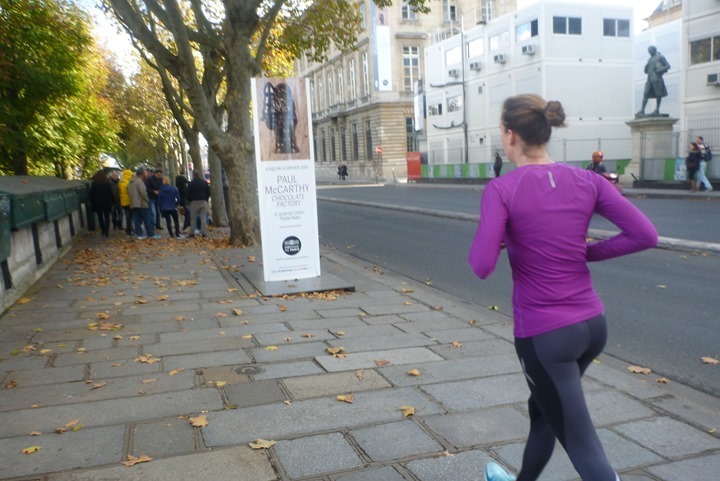 Epson has introduced a ton of units into the market.  These are divided up into both running and activity tracker products.  Here's the run-down:
Epson Runsense SF-310: GPS watch with Bluetooth sync for activities
Epson Runsense SF-510: Above + Accelerometer for indoor treadmill/tunnels
Epson Runsense SF-710: Above + Vibration Alerts
Epson Runsense SF-810: Above + Optical HR within the wrist band

Epson Pulsense PS-100: Daily activity tracker with 24×7 optical HR monitoring
Epson Pulsense PS-500: Above + A small LCD screen and slightly bigger
Now, it gets a bit complex at the low-end as at first you'd want to compare it to most sub-$100 GPS watches.  But it includes Bluetooth Smart sync, which isn't found on any sub-$100 GPS watch.  So it's a bit tricky comparing them to current in-market offerings.
At the top-end running offering, the 810, they do include optical HR recognition.  This unit uses their own sensor that Epson has developed in-house, just as they've developed their own GPS chip (they've apparently been making GPS chipsets for some time).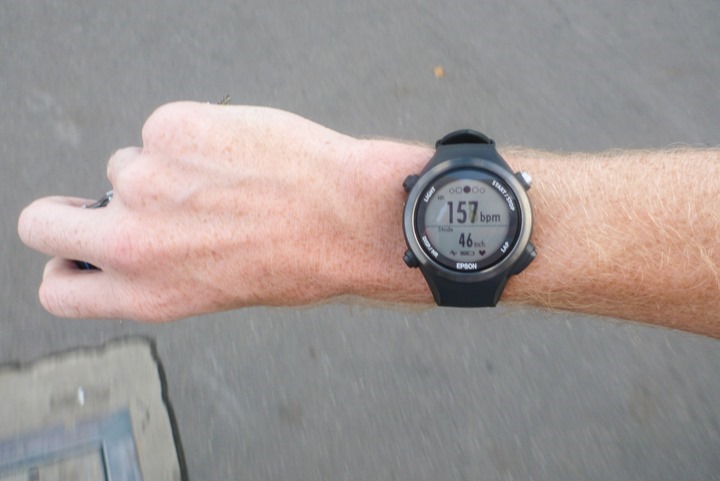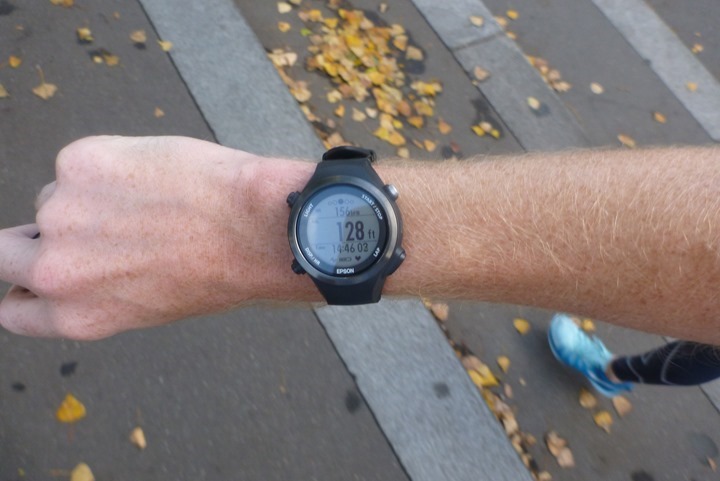 While I haven't quite been able to get the data exported yet, the optical HR data did seem to align with the HR strap data I had on at every glance I took, so that's good.  For GPS accuracy, it matched nicely with what I did on my Saturday 10-miler to other units.  So again, good signs.
Look for an in-depth review of the offerings in early December.
2) A bit of a wandering food crawl of the city
We spent most of Saturday afternoon just walking around the city.  It started off as a beautiful sunny day, though ended up a bit more cloudy.
In any case, we stopped in at some of our favorites food-wise.  For example, the chocolate bread place, and got chocolate bread just pulled out of the oven: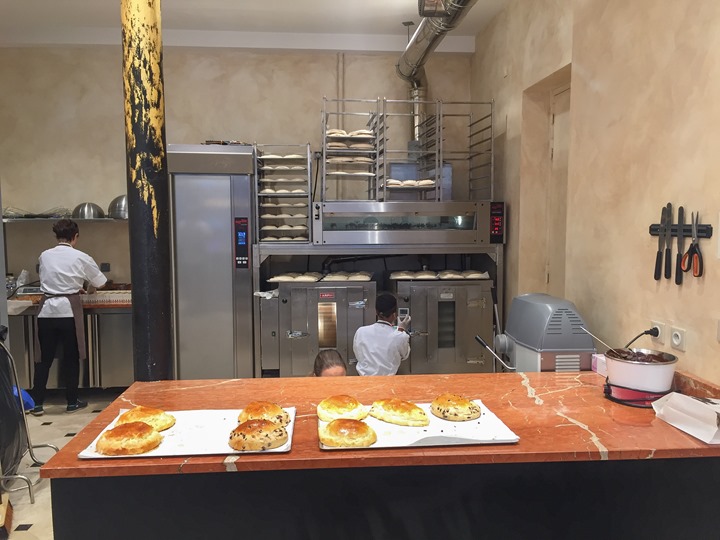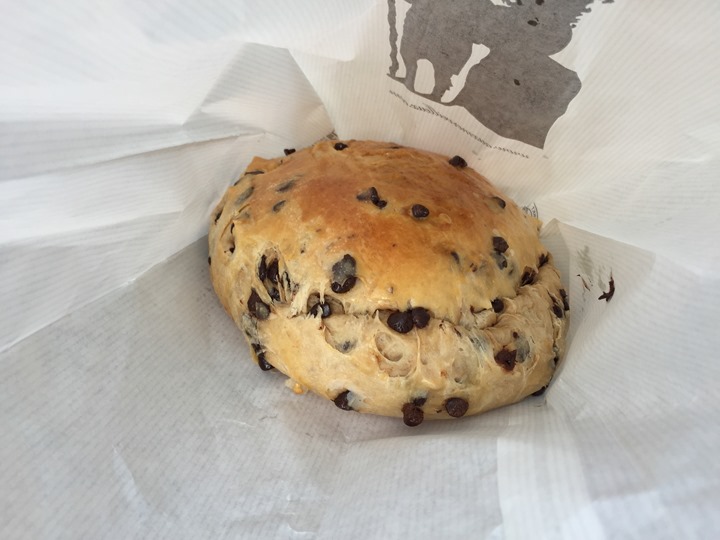 And then there was one of our favorite pizza by weight places.  Perfect when you don't want a ton of pizza, but just want to try a few varieties.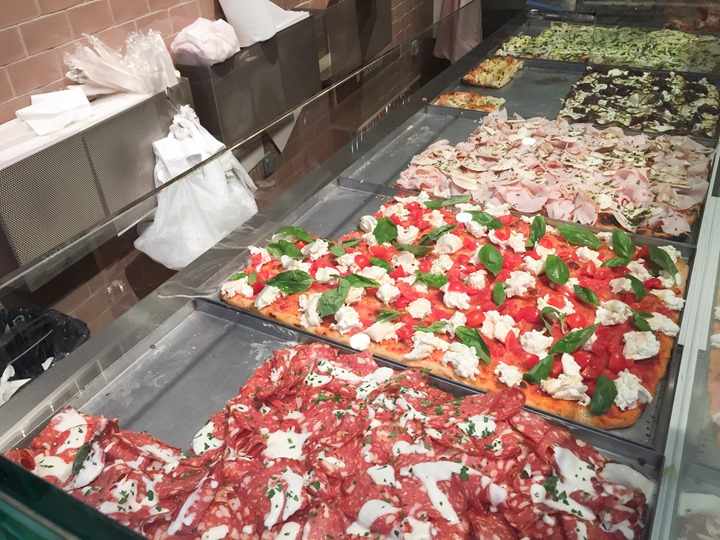 Later on we swung through a grocery store to pickup items for dinner.  They had a massive display of bottles of wine out, I'm still amazed at how cheap wine is here.  The bottle to the right is ~2EUR, and the one to the left ~4EUR.  And while no doubt there are cheap wines in the US, one has to remember that at the grocery store or wine shop here I can get a slew of good quality table wines for under 5EUR.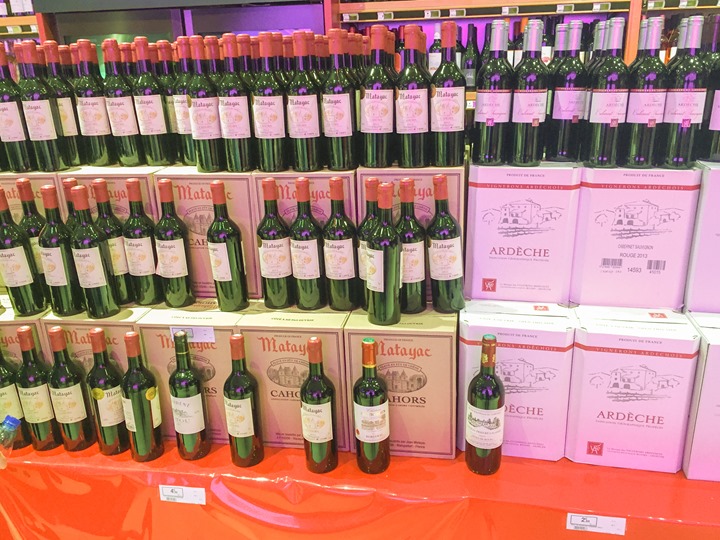 For those non-alcohol enjoying folks, there was Paris Cola, which is not at all a Coke brand despite looking deceivingly like it.  There was a NY Times article a while back on it, but I can't quite seem to find it at the moment.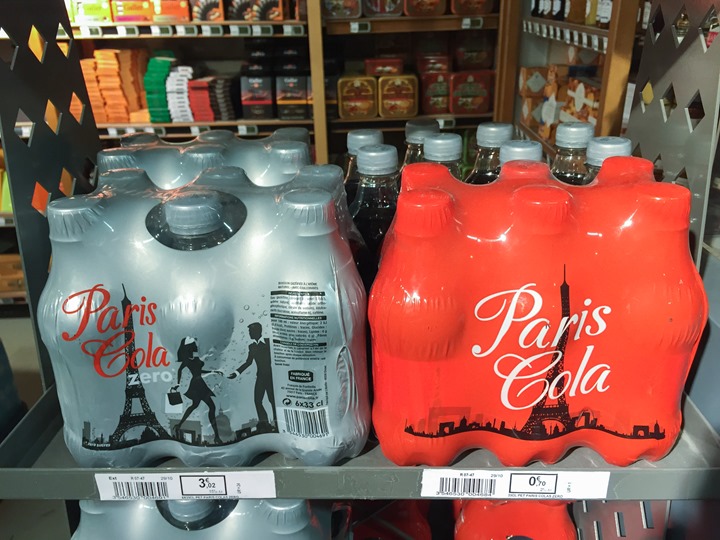 Finally, there's the French version of Where's Waldo: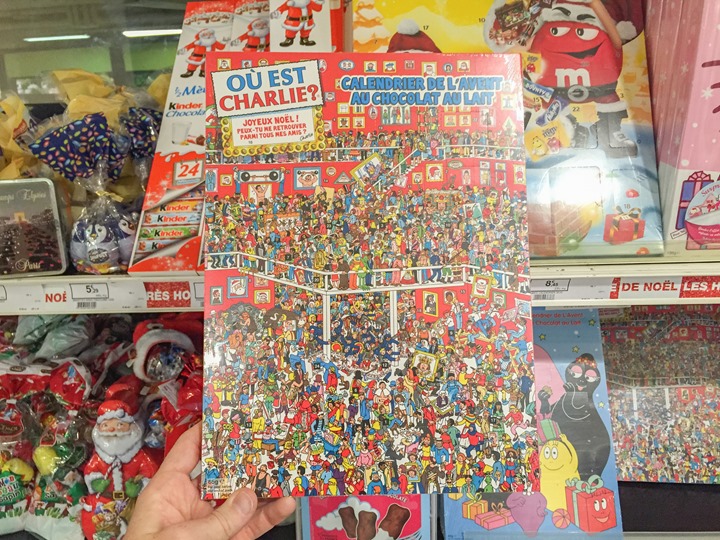 As a Christmas chocolate calendar of course.  Because there's no better way to find Waldo…err…Charlie, than a chocolate filled puzzle.
3) A night time run…with four GPS devices.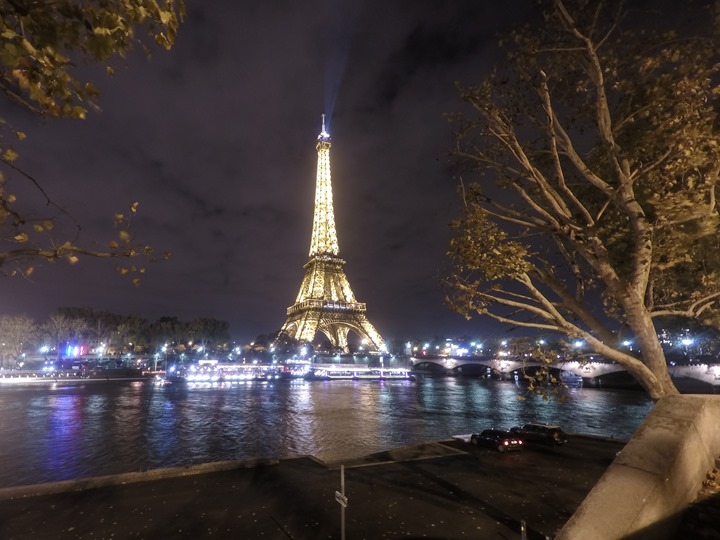 I went for a 10-mile run on Saturday night after the day of walking around.  With me I had four GPS devices: The FR920XT, the Bia Watch, the Epson 810 GPS watch, and the Microsoft Band.  My route was a straight forward loop up and down the river, minus one brief excursion up Trocadero to take a photo that didn't turn out that well.
I was actually reasonably impressed with the accuracy of the units from an overall distance standpoint.  Three of four within .01-miles of each other (10.06 to 10.07), and the forth only .04 away at 10.020.  Though, it was interesting to see the track routes that the different units displayed.  It was also interesting to see auto-lap alerts (which were enabled on all of them).  The FR920XT and Microsoft Band were sitting next to each other on my left wrist, and beeped within 1-second of each other each mile, as did the Epson on the other wrist in most cases.  The Bia meanwhile had the same total mileage, though took a decidedly different route through some buildings at one point during the run.  Thus one of the reasons you should always also validate the track displayed as a sanity check.
4) Late night stories on a Velib
Two small stories, one relatively short ride.
I had gotten a text earlier in the evening from one of our CupCakery employees that one of the mixers had broke.  In this case, it was just a standard KicthenAid mixer.  We use two basic types of mixers at the shop.  First is the huge ones like seen in this post.  You can basically pulverize a turkey in one of those if needed.  For the first type, it's used for mixing the main batter and base buttercream sets.
The second mixer type is your standard American KitchenAid.  We use these for small batch variants.  It's simply a lot easier to work with than the ginormous bowls and paddles.  Despite their hardiness as a consumer mixer, we find they only last about a year with the day to day pounding for us.  And in this case, one up and died.
Which, is why I was up at 2AM on Saturday swapping out a unit we had at home for one at the shop: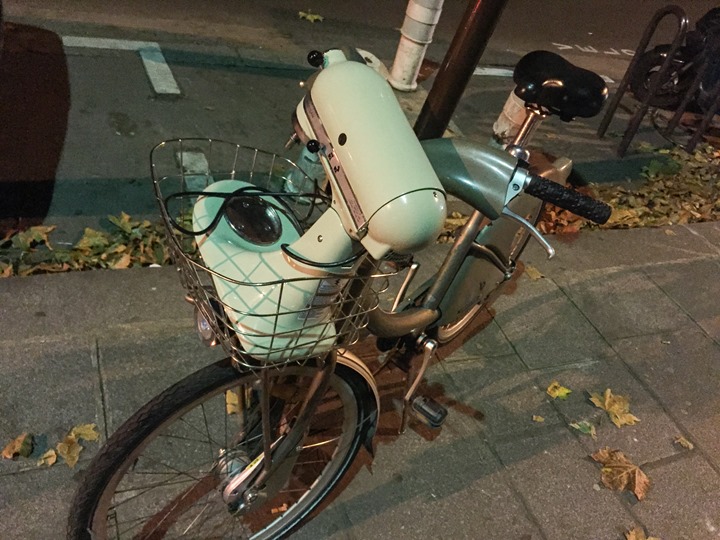 I'll take apart the broken one and figure out what's wrong with it and then put it back in service.
Meanwhile, while I was biking over, I saw a women riding down the street on her bicycle…a bit wobbly.  She was perhaps 50 meters in front of me.  While I was in the bike lane, she was most definitely utilizing the full roadway available to her (a 3-lane one-way road).  Clearly, she had a bit to drink.
Which, ended up being her downfall.
She'd eventually lose her balance and tumble into the concrete steps near the roadway.  Though, that was a much better deal than falling the other direction into cars flying by at 30-40MPH.
Regrettably, in her fall the bottle of red wine she had in the basket also fell and broke onto the pavement.  Perfectly good wine…gone to waste.
5) Wrapped up the day with The Real Starky
For those unfamiliar with the The Real Starky, it started as a bit of a parody account of Andrew Starykowicz, a pro triathlete.  Since then it's had a much broader focus on everything triathlon, focused heavily on the pro scene – but also the way some of the larger corporate entities operate within the space.  Usually this is carried out with a bit of…edge, and wit.

So late Sunday night (actually, Monday morning by time we finished), I sat down and had a good podcast chat across a broad range of topics.  While there is some tech talk, the majority actually isn't.  Everything from my thoughts on skipping the college experience (as I did), to fun with lawyers and the cupcake shop.  We had a good time.
The podcast is up and available here.  Enjoy!
–
Thanks for reading (and listening!).