With friends in town for the past week, we've been a wee bit busy!  So I'll call this the 'things I did this past weekend…plus a little bit extra' edition.  Let's get to it!
1) A few fun rides around the city
With our friends here, Phil and I did a few rides around the city.  Mostly 60-75m jaunts, somewhat scenic.  We did one night-ride, which was fun (and a rarity for me), as well as one early weekday morning ride.  While I almost daily ride the Velib (bike share) bike at night, it's somewhat rare for me to get a workout in at night.
Here's one shot from the Fly6 camera/light unit on the back of the bike he was riding: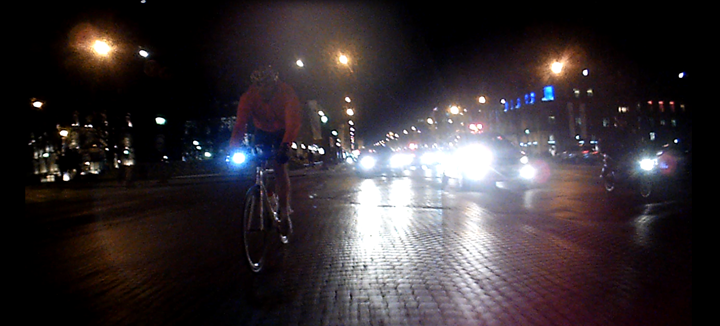 It was actually the only camera we took on that ride, so, no other photos beyond those from the unit: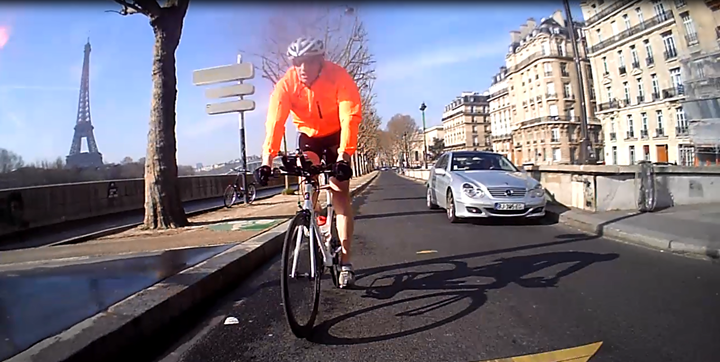 No issues at all though there.
On both rides were were using Orp's that I bought off of Kickstarter last summer, that came in a few weeks ago.  They're combo front lights and bike bells.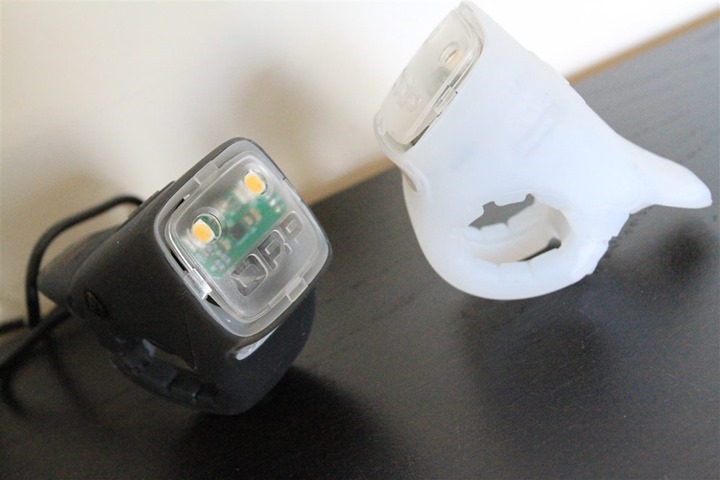 They work well within the city where ambient light isn't a problem, and the light on the front is purely so other drivers can spot you.  But on our night ride we did a loop around Longchamp, which was unlit and in a giant park area, thus very little ambient light.
In that case, the light was not really enough for any at-speed cycling.  So we slowed down enough to not out-run our lights.
Still, for my primary use of using it in the city, it works just fine.  I love the bell!  Primarily because it sounds very similar to a Paris city bus, and thus virtually everyone responds to it (most people tend to respond to buses).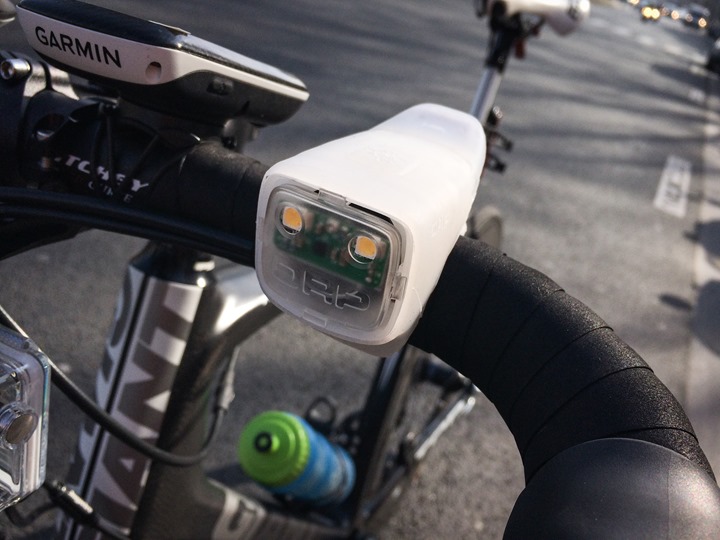 The unit charges via USB, and easily just quickly snaps onto any handlebar – even my tri bike bars (not the aero portion, but the base handlebar flat portion).
2) We went to Fontainebleau
One of the Paris-area items we hadn't yet done was visiting the famous chateau at Fontainebleau.  It's about a 35 minute train ride from Gare du Lyon station, which is only a 5 minute cab ride or 5-7 minute bike ride from us.
Many people have recommended it being more impressive than Versailles, or other places in the Loire valley that we've visited, so we decided to give it a shot with our friends.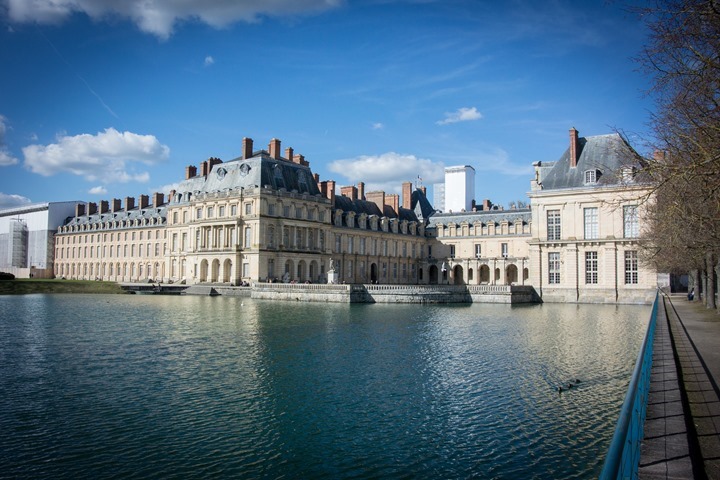 Being winter, we lucked out in that there was nobody there.  So we basically had the place to ourselves.  No line, no crowds…perfect!

The inside of the chateau is well done, better than other places we've visited (though, not better than all).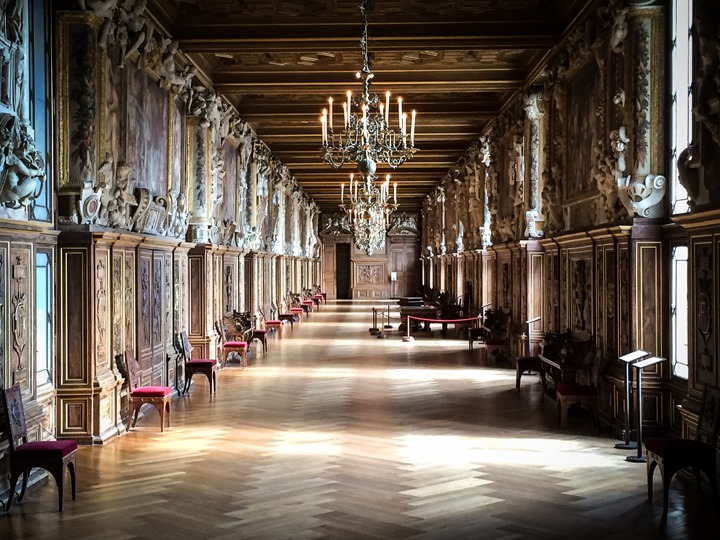 And the outside gardens are quite nice and sprawling.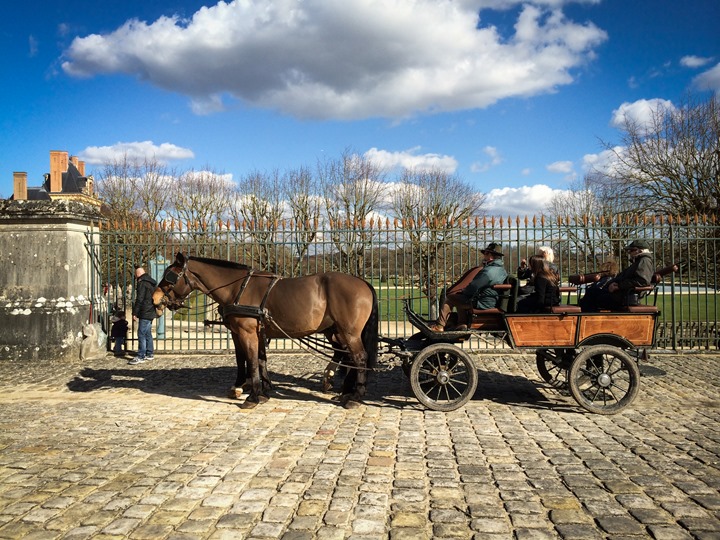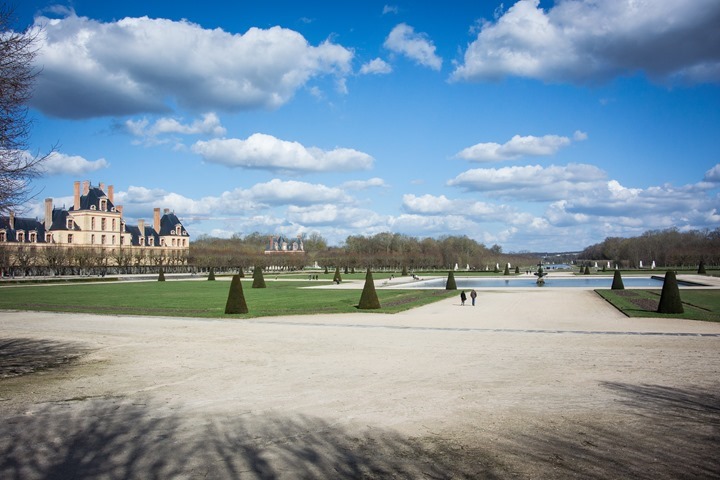 However, I would call it a pretty far stretch to say it's more impressive than Versailles (or some of the other places we've been to).  And, if I were a tourist in Paris for only a short amount of time, I'd probably skip it.  Given the Loire valley is only a 2hr rental car drive away (or train-ride, but it's harder to get around the chateaux that way), I'd recommend folks go there instead.  Perhaps in summer it's a much different place – but that's just my two cents (actually, our 8 cents if you count the 4 of us).
3) Enjoying time as a tourist:
In addition to going to Fontainebleau, we also did a bunch of other touristy things, some of which we've done before, and others we'd never done before.  While playing tourist might get repetitive to some, we really enjoy certain spots around the city – and are happy to go back to them a multitude of times.
For example, Sacré Cœur (with no lines to get in, or to the dome):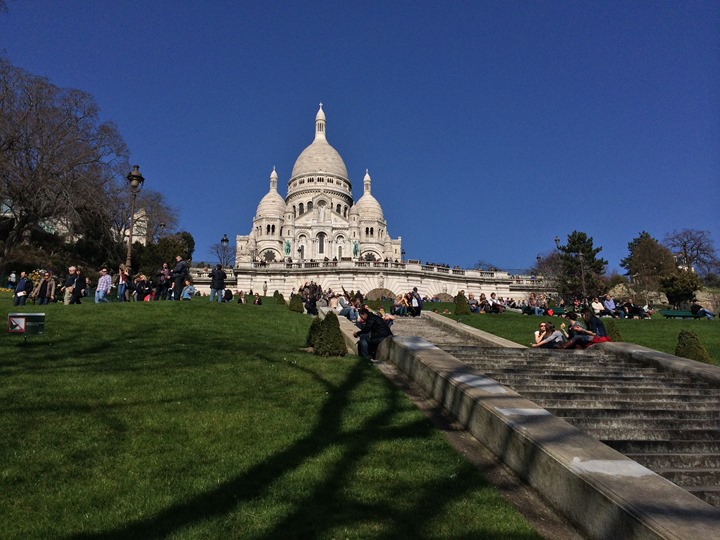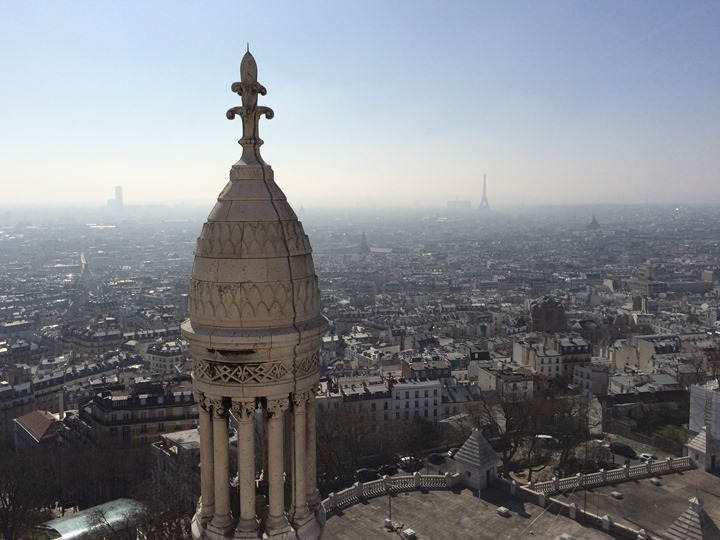 And then cycling home past Moulin Rouge: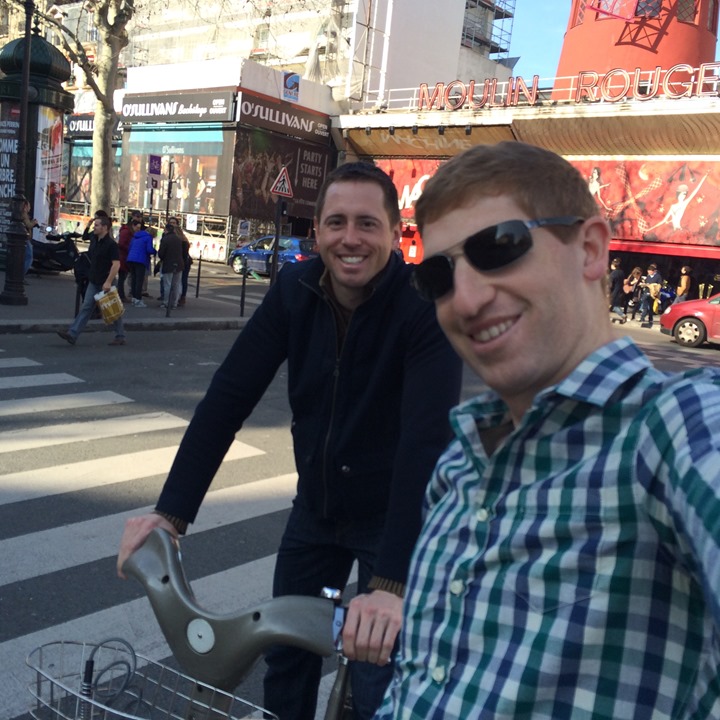 Where along the way I'd see a pedicab getting a ticket…from police cyclists: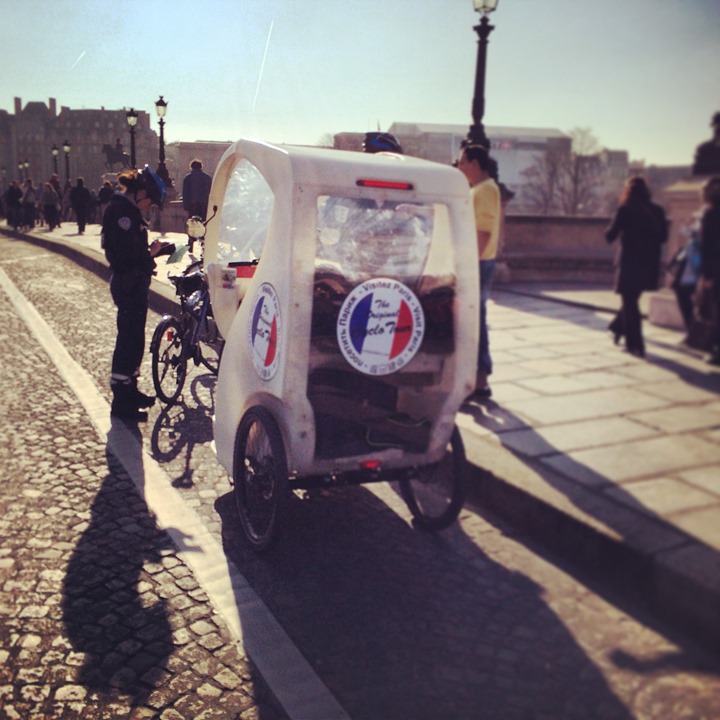 And of course, there's time at the Eiffel Tower:
Or, simply just riding Velib's around the city late at night, approaching midnight I believe.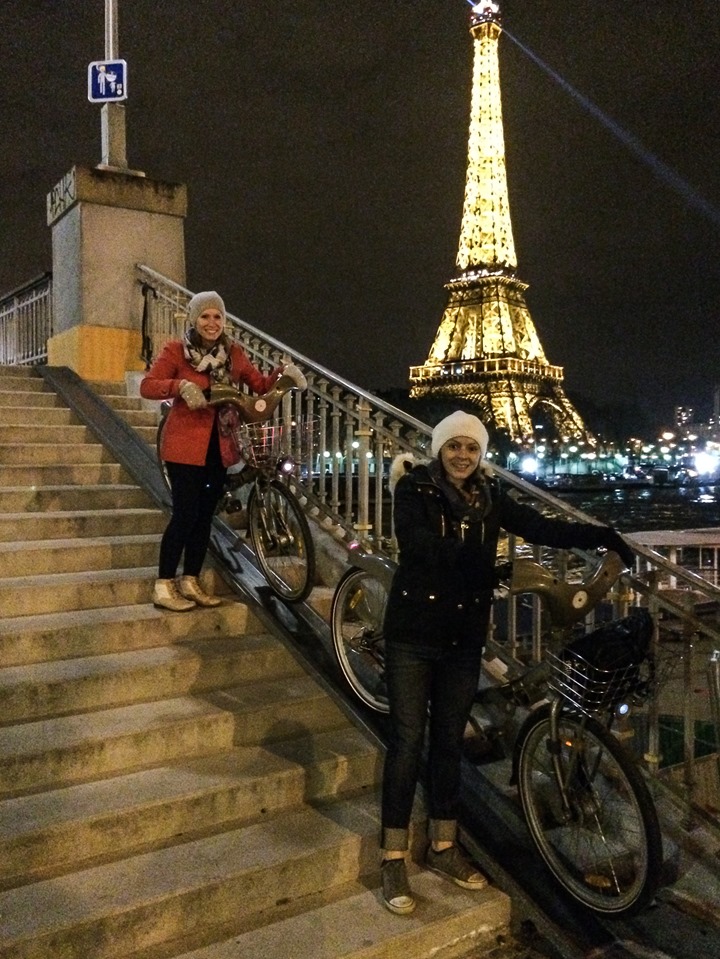 In this case, we were just about the only ones at the Louvre this night: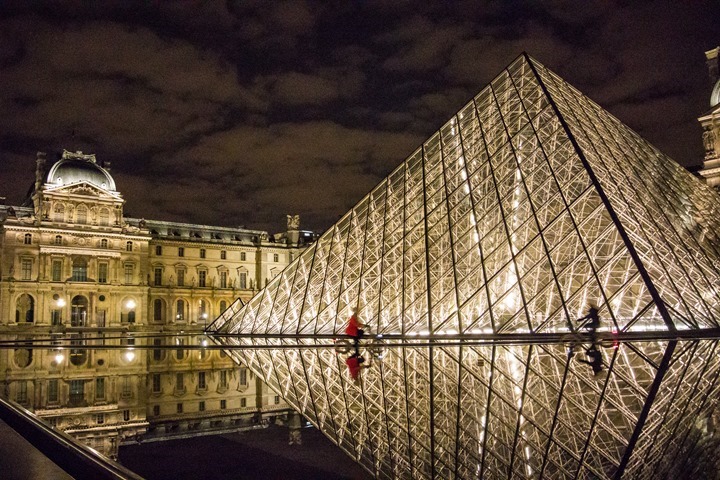 And then there's the boat – Bateaux Mouche.  On a nice warm night (as it's been lately), there's few better places to watch the city fly by for exactly 60 minutes (usually down to the second).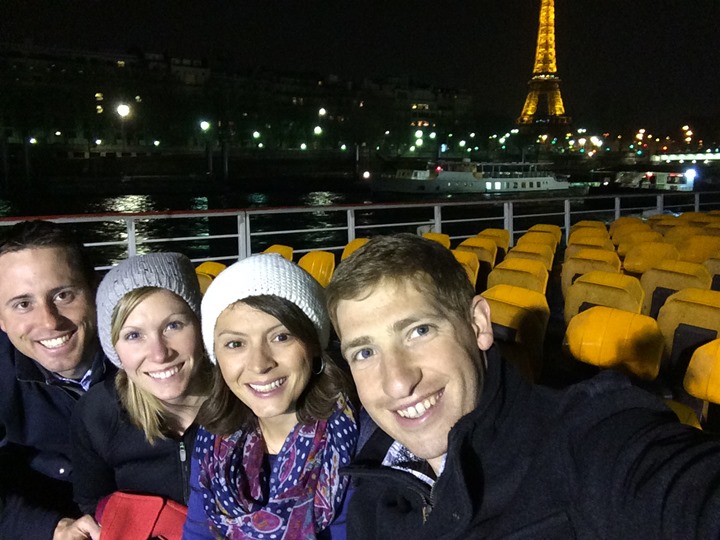 Of course, in the warmer months, the banks along the river are lined with even more people.  But for early March, it was a solid showing this past weekend!
Perhaps we'll be able to convince our friends to come back in summer when things really get popping around Paris.  We certainly had a fun time with them on their trip this time (and it helps that they're Ironman triathletes as well!).
4) My Long, Hilly Run:
On Sunday Morning I headed out for my long run.  I didn't actually have an exact route in mind.  I had wanted to run a majority of the way to the start/finish line of Sunday's Paris-Nice stage, which was about 30 miles away.  The problem was finding the right route to get me there that would put me about 16-20 miles and near a train station.
Ultimately, I spent a lot of time on the interwebs but couldn't quite get the route I wanted to make it work.  So instead, I just went out wandering.  As usual, started along the river.  It was packed out.  With the temperatures at about 70°F, it was by far the nicest day since last summer.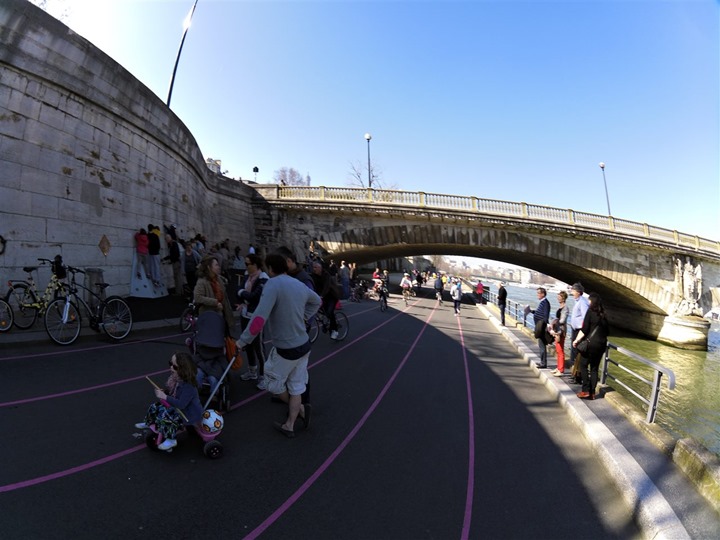 Instead of deviating from the river some 10KM later, I decided to stick along it for a bit further.  Ultimately, I'd take a turn off into a massive park area near/at St. Cloud.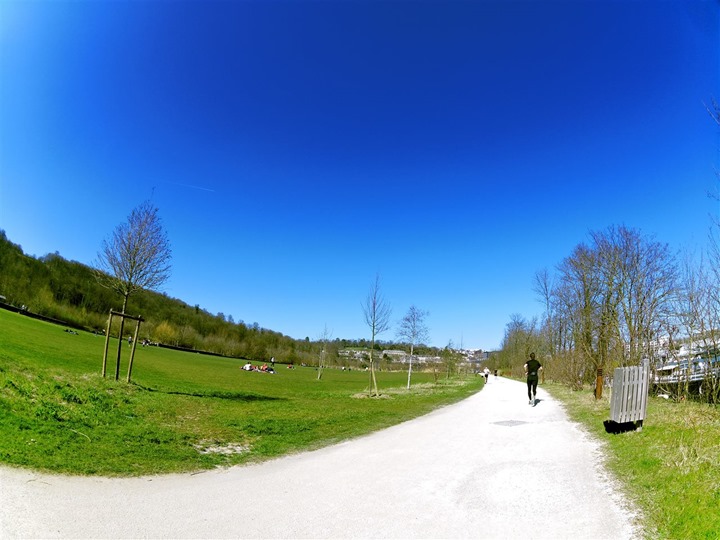 (For the record, that's just the color above/below that the camera recorded.  I don't quite remember it was that bright green, but it was very well watered…)
From there, I'd spend more time than I'd care to climbing through the park: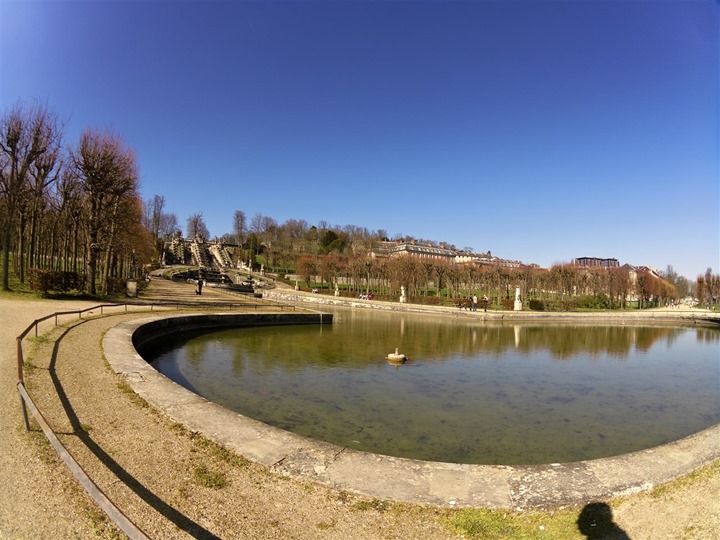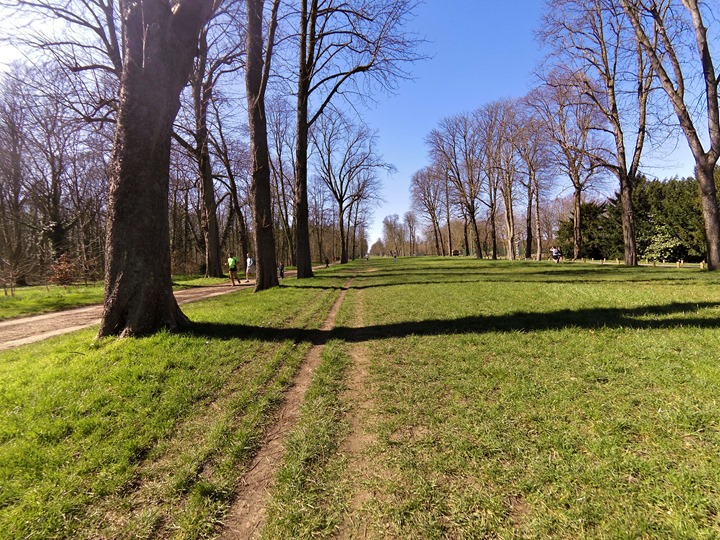 Eventually putting me in the woods for many more miles.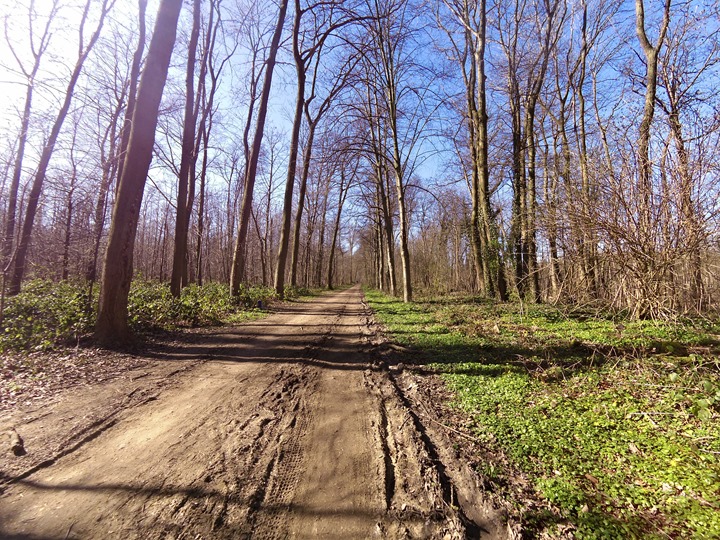 While I certainly wasn't 'lost', as I knew roughly where I was, I wouldn't say I knew precisely how to get to where I wanted to go.  I just sorted hoped it would work out.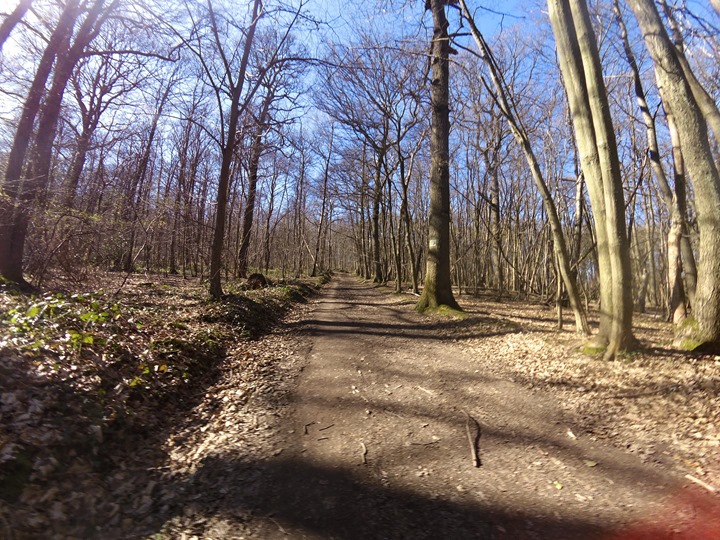 It mostly did.  I'd end up arriving at Versailles some two hours later – about 16.4 miles.  The climbing really put a damper on things pace-wise.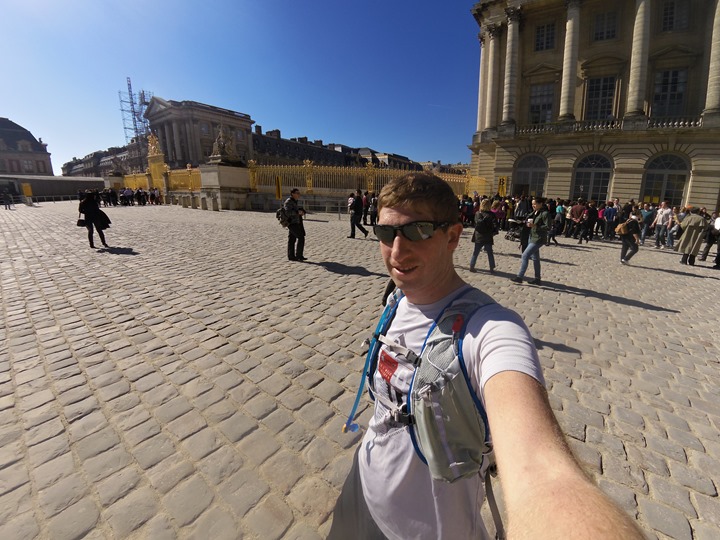 From there, I'd just take the train back home again, about 30-35 minutes.
5) Lots of food was consumed:
Over the course of the last 8 days that our friends were here, there was a lot of eating.  Daily baguettes and cheese was purchased and consumed.  And a lot of other breads from the various boulangerie's that surround our home.  Like most who live in Paris, we obviously have preferences, in our case it depends a little bit on what we're doing with the bread (i.e. sandwich vs cheese vs straight eating).
We were mostly putting to use newfound skills we learned in a wine and cheese tasting class we had: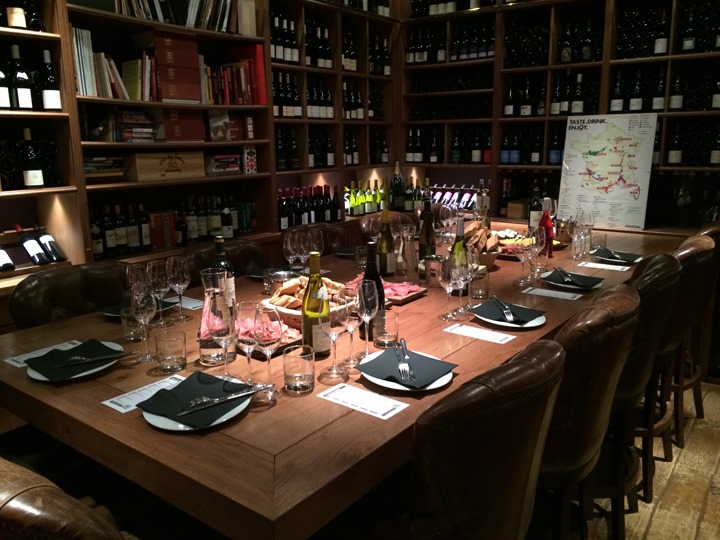 They taught us all sorts of things, but honestly, all I really remember at this point is eating lots of great meat and cheese.  After 5 glasses of wine, everything else gets a bit blurry.
There were also other meals that we went out and had at various restaurants that are either long-time favorites, or new ones we hadn't been to – such as the one below.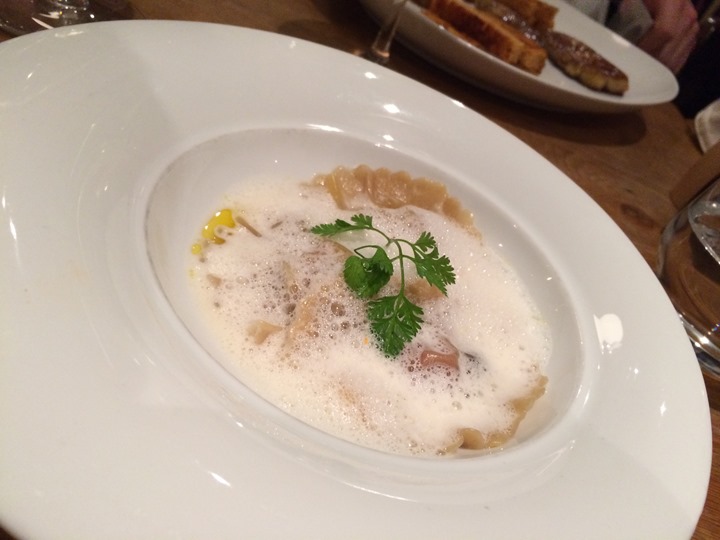 While I'm not typically a fan of 'foam', in this rare case, it actually worked and provided some element of flavor.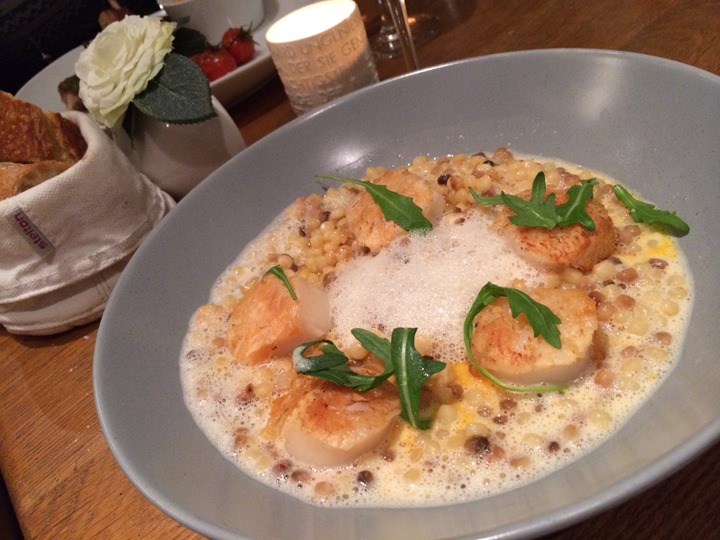 This particular place is definitely one of our new favorites – not a single bad course.  Such as the chocolate ganache with salted caramel ice cream.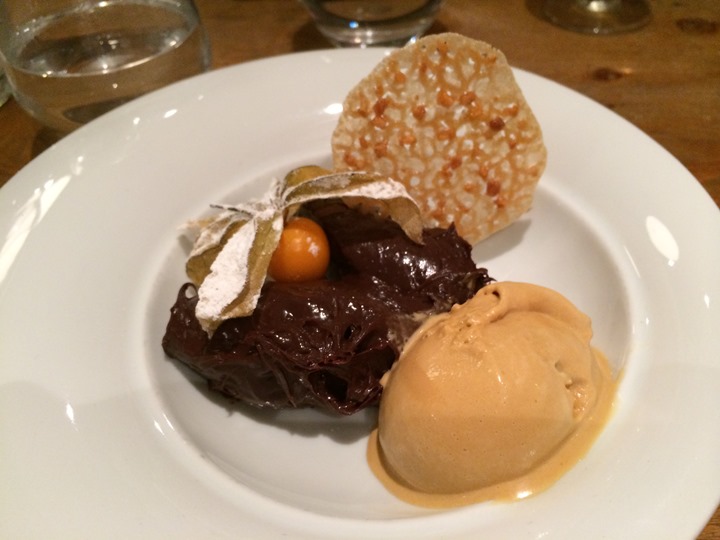 With that, I'll save you other random food photos, in an attempt to not draw too much morning breakfast ire!
Instead, I give you a giant mixer!  We had to get another one at the CupCakery because our existing one simply wasn't keeping up with demand any longer.  This new one has twice the capacity…yet somehow weighed WAAAAY more.  It's unbelievable how heavy this thing is.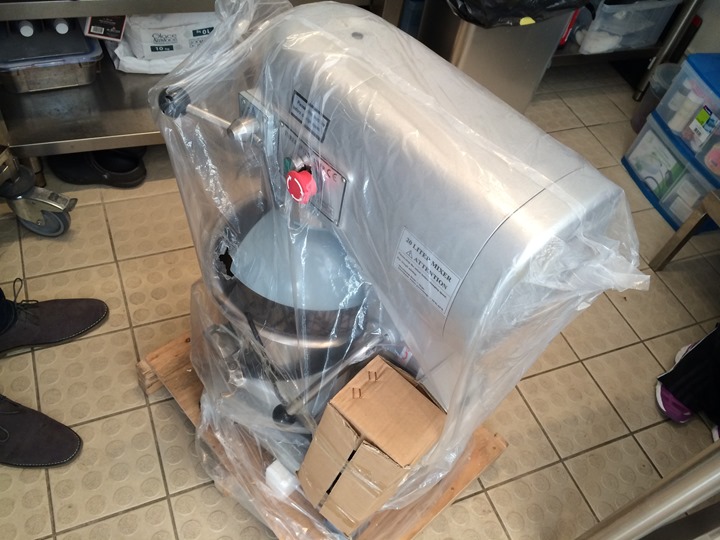 As you can see, it even came in its own crate: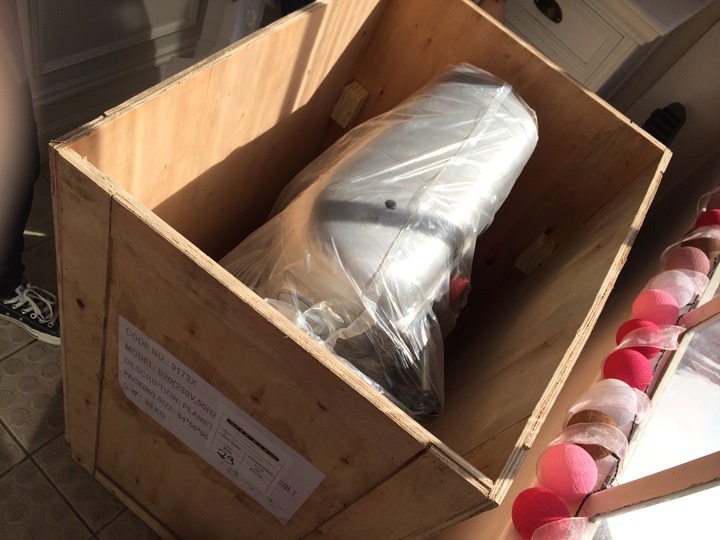 And it came just in time too on Friday!  This past weekend was the busiest it has ever been in the shop, with the spring only looking to get even busier as weekends are already filling up for numerous wedding cake and cupcake orders.  Good times!  Well, 'good times' as long as I don't have to move another mixer.  Cause doubling it yet again would be a beast!
—
Lots of stuff on the docket this week, including the Garmin Vivofit In-Depth Review and some other fun posts.  So thanks for reading!