I had hoped to go out and catch the first stage of the famous Paris to Nice cycling race, which occurred on Sunday and generally marks the beginning of the European cycling season for professional riders in major races.  But logistically with my 2+ hour long run to fit in as well, it was turning out to be more complex than I wanted.  See, Paris-Nice doesn't actually begin in Paris.  In fact, the last time it started in Paris proper was decades ago.  And the last time it started anywhere within walking distance of Paris proper was almost a decade ago.
Instead, it tends to start in communities that are sorta-near Paris, about 30-50KM away.  It so happened that Sunday's first stage was a loop back to where they started.  As is often the case with stage races, the next stage doesn't always start in exactly the same spot the previous day ended – but rather nearby.  In the case of Monday (Stage 2), it started just a short 25-minute train ride from one of the major Paris train stations.
So I got up early and blurry-eyed headed on down there.  I allowed plenty of time for navigational failures and general delays – all of which I found.  Eventually, I ended up in the small town of Rambouillet, the start of the stage.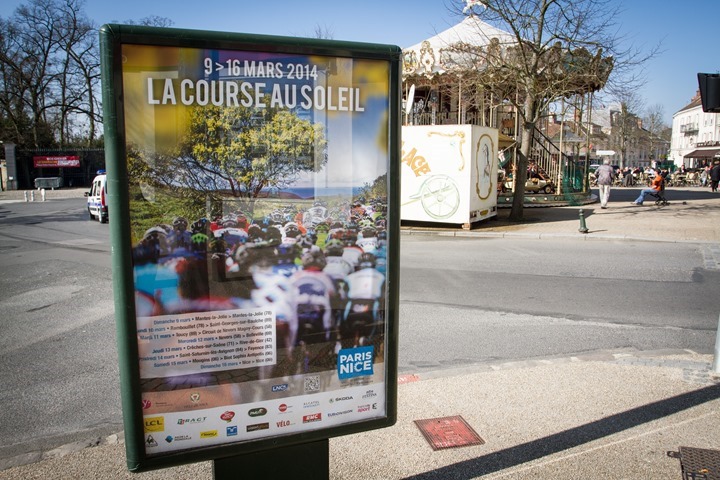 Finding the actual race start was slightly more confusing than I expected.  Unlike most Tour de France starts, this one wasn't well marked from the train station.  In fact, it wasn't marked at all.  Not a single sign or directional arrow.  The above poster I found some blocks later, and it lacked any location information.
The street signs while very thorough, lacked a sign for 'big cycling race'.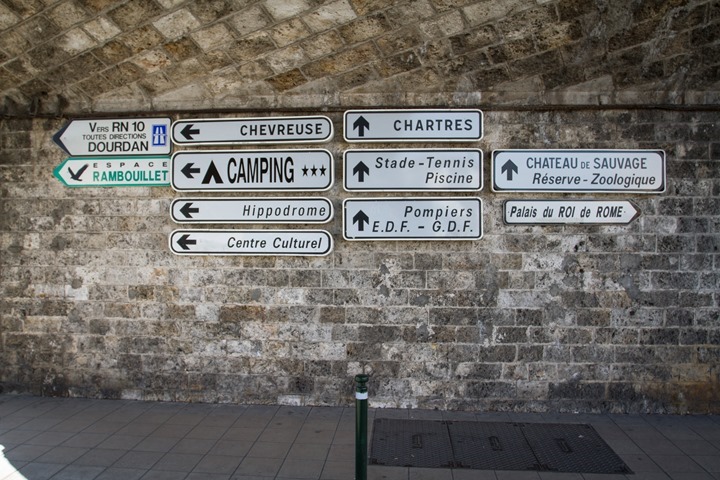 After asking a street sweeper I got pointed in the right direction – ultimately stumbling on some of the official race vehicles a kilometer or so later: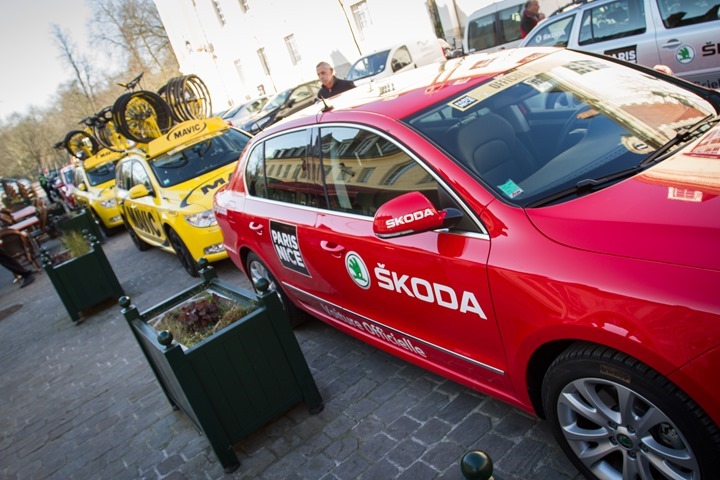 Which led me to an interesting discovery.  The spare neutral bicycles that are on the MAVIC cars?  Check out the pedals: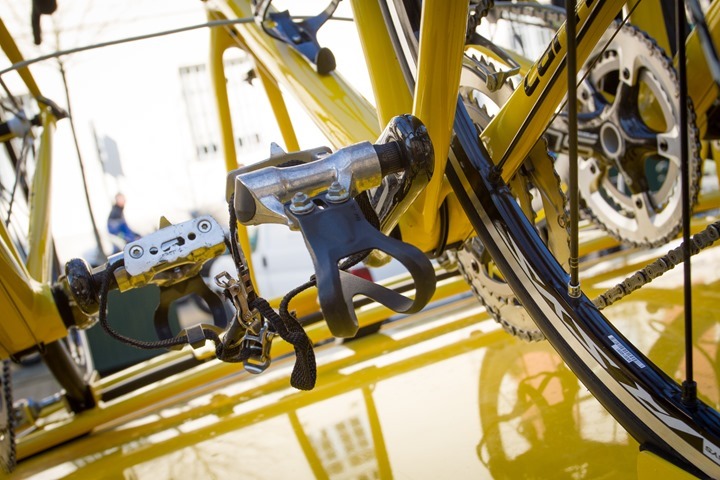 Crazy, huh?
I first passed through the start line area, which is right in front of Château de Rambouillet.  This is where they had stacked some trailers to make an announcers stand, as well as setup a stage.  I'll get back to the stage shortly.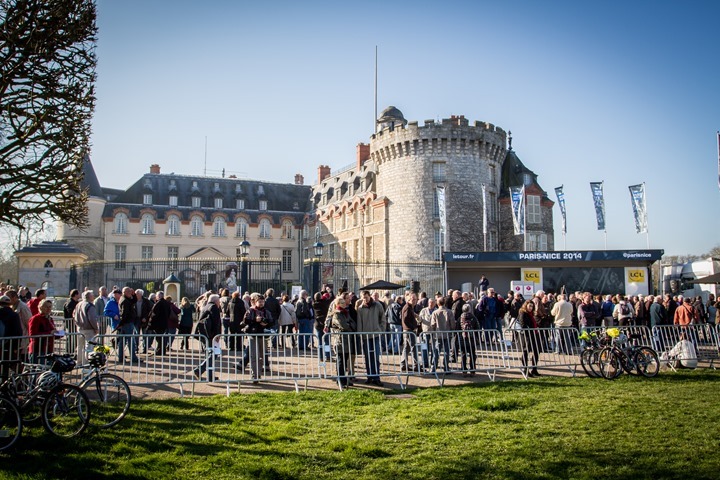 Meanwhile, on the expansive lawn in front of it there were various cycling related activities for kids.  Like some sort of obstacle course. Pretty cool.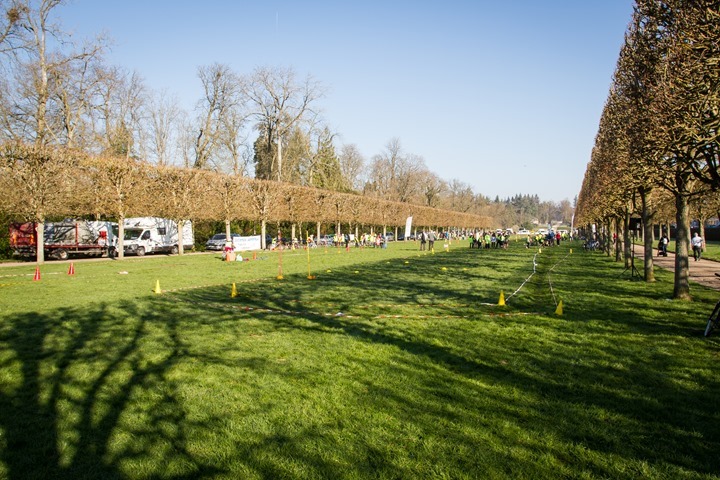 I walked all the way to the end of this area, and then continued down to the left to another field, where the team cars and RV's were all setup.
They formed a giant 'L' spanning hundreds of yards.  Unlike Le Tour, you were able to get super-close here.  With the Tour, it depended a bit on the exact town in terms of how the layout was.  For some stages you could get within a few meters.  Whereas for others, you might not be able to get within 100m of some teams.
Here however, I could have simply sat on the bike if I wanted to (likely would have been short lived).  No barricades, no nothing – just bikes hanging out:
I took time to take photos of all of them, at least the power meter pieces anyways.  A bit of an inventory of sorts.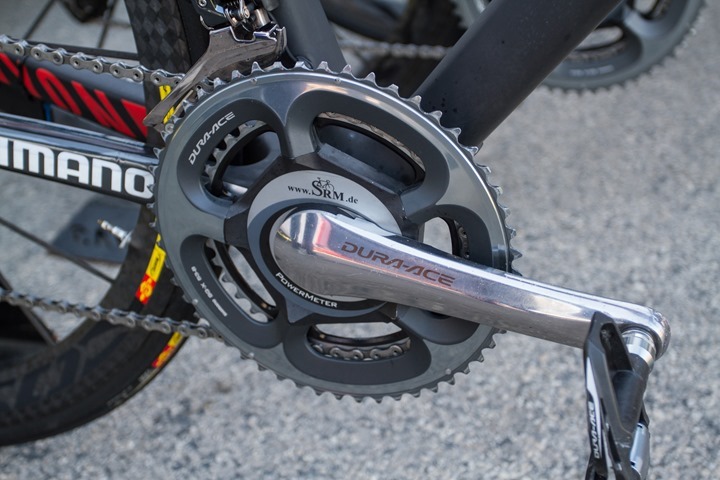 It was interesting watching the various team mechanics wrap up items related to the technology side.  For example, this gentleman from Movistar took out a cheap white plastic grocery bag full of O-Synce Navi2Coach head units, and was rummaging through them trying to match them to bikes:
These were in turn paired to Power2Max power meters: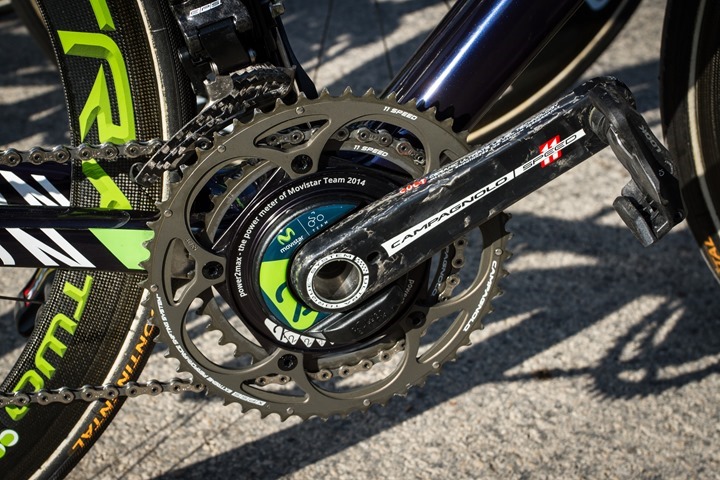 As I worked my way through the teams, I found all the major players, from Garmin Vector (on Team Garmin) to ROTOR PM's (on Team Lampre), to Stages Power (on Team Sky):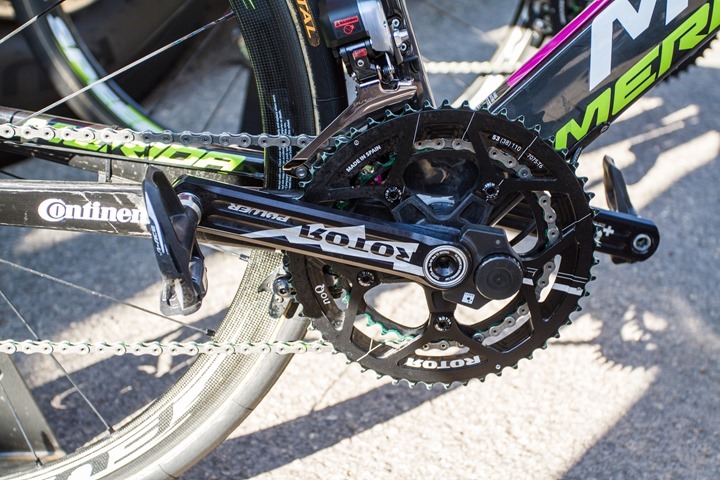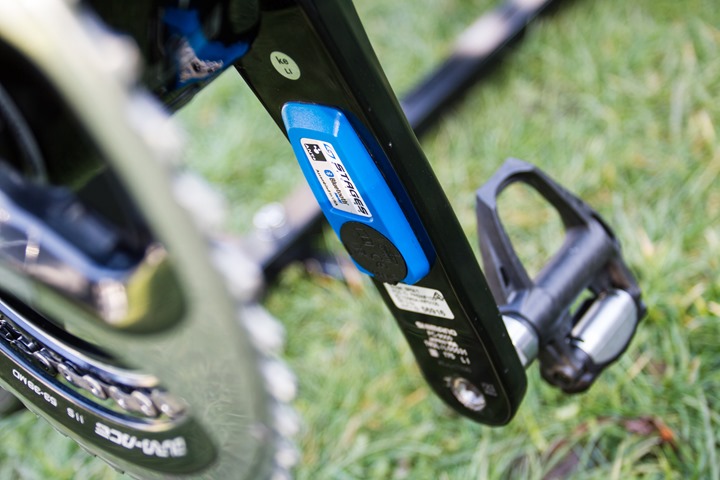 Of course, there's really no surprises here on these.  I outlined them all about a month or so ago in this post.
For those curious, here's how Geraint Thomas of Team Sky sets up his main Garmin Edge 810 page data-field wise: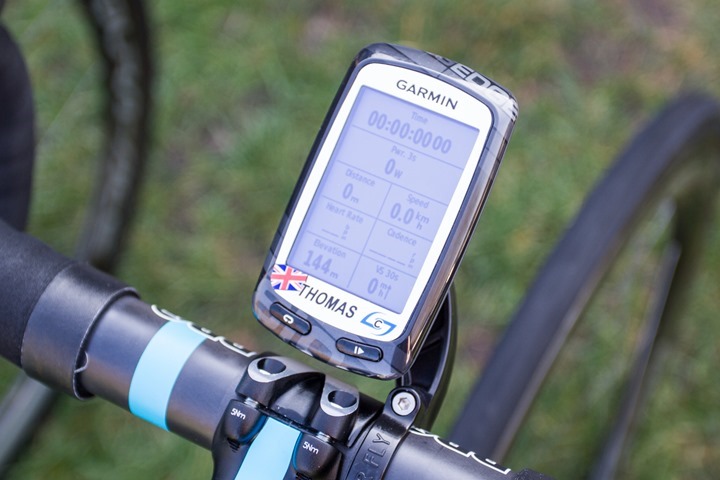 Along the way I found this massive osymetric chain ring on French rider Sylvain Chavanel's bike, of Team IAM Cycling: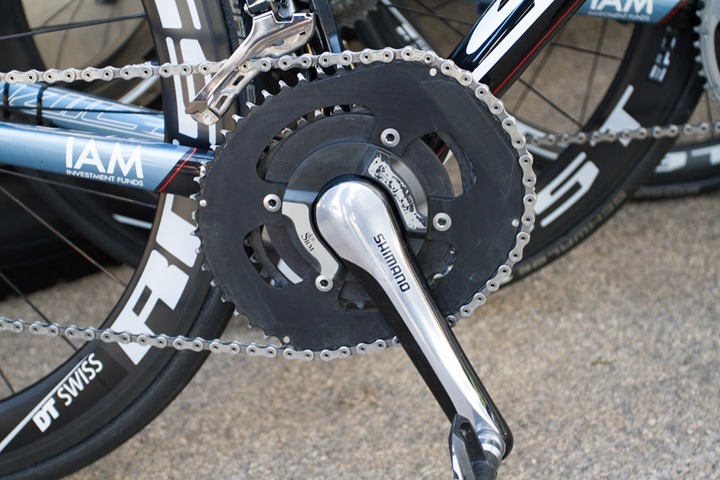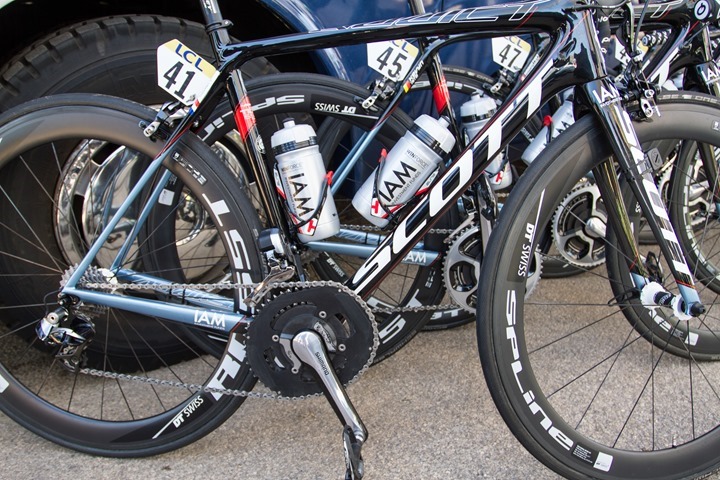 It's beastly!  Compare that to the ROTOR osymetric rings that are on one of the Team Garmin bikes to see what a normal q-ring looks like compared to this one.  Crazy!
After I finished up in the team area, I headed back over towards the start.  Along the way I stopped in at the only souvenir place there was: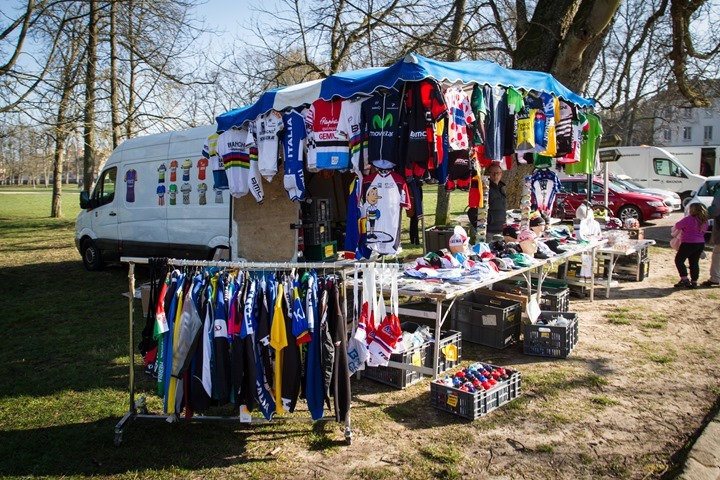 I was kinda bummed though – there was no Paris-Nice stuff at all.  I was hoping for a poster or something, but nuttin.  There were these cool little figurine cyclists though: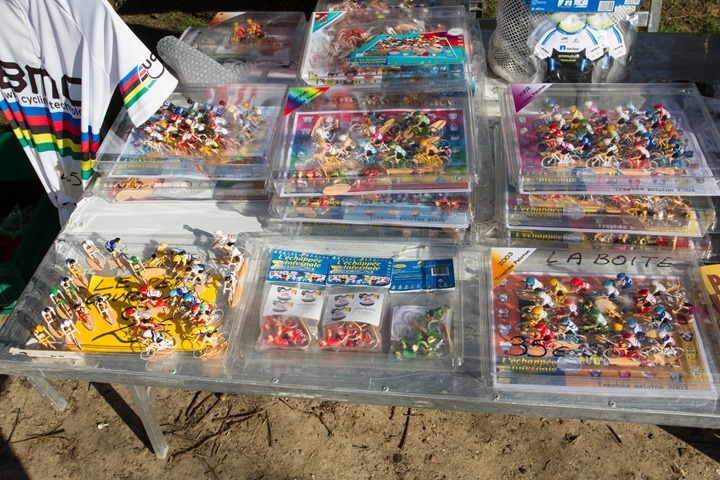 As I was making my way back over the riders were starting to head over to the podium area to check-in.  Some were making it a one-way trip, and others a round-trip. And still others stopped along the way to chat with friends, family, fans, or…females.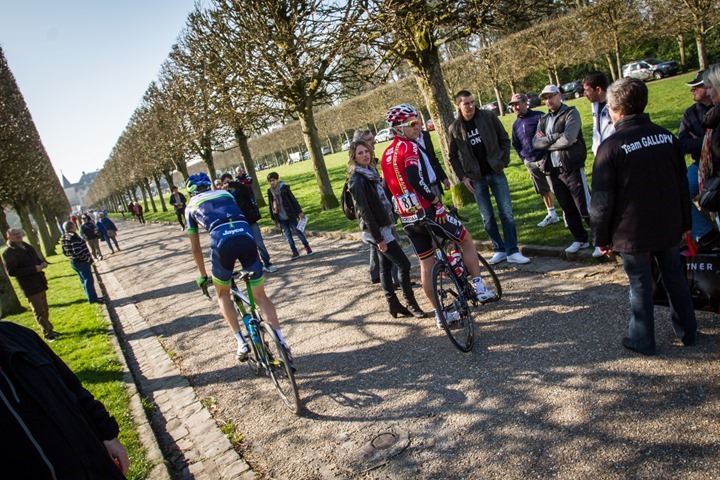 With about 10-15 minutes to go, the area near the podium was pretty much an all-out traffic jam of riders trying to get in to sign.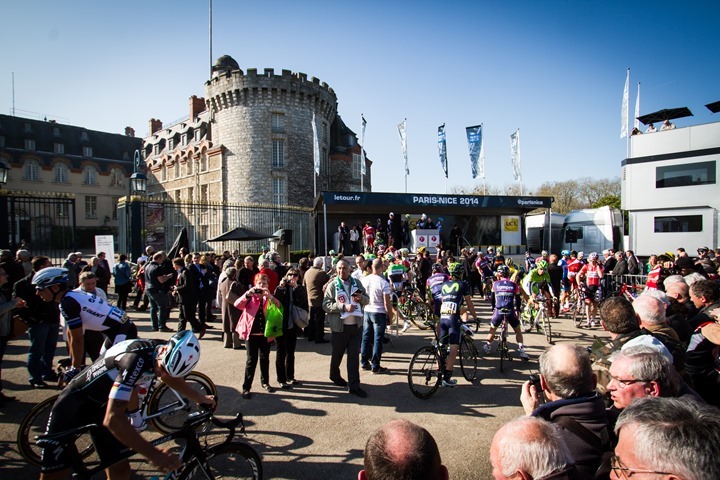 Each rider has to physically sign-in.  In the case of some races this is done on a massive board.  But here was done in a book.  Perhaps just a sticky note.  We don't really know – it was out of view.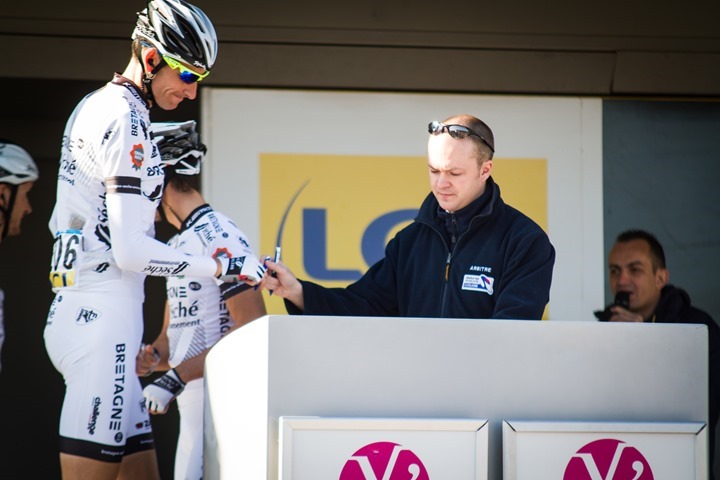 At this point the riders started lining up in front of the chateau.
This was actually a few hundred meters away from the start line, so everyone made a bit of a migration over there to the left.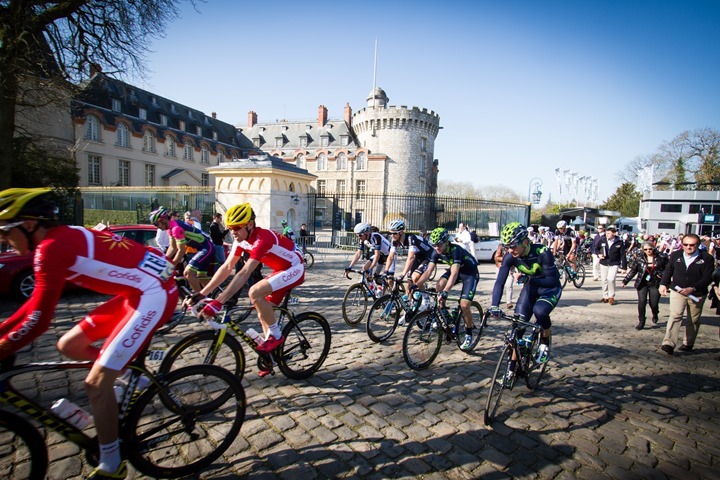 For both riders and spectators, it ended up being a bit of a bottleneck getting out of the grounds of the chateaux through the tiny opening in the fence.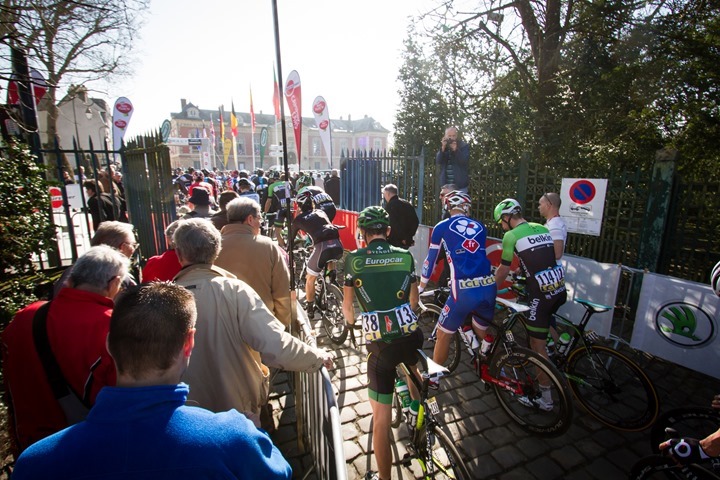 With everyone squished through – here's the starting area:
I promise you – it looks far more official and bigger than it really was.  Basically, it was an empty parking lot on one side, a European looking building in the background, and then a line of fans to the line.  It looks squished, but that's only because just out of view of the camera is a bunch of tables for a café pushing everyone up against the barrier.  Realistically we're only talking a few hundred fans at most here – and that's being generous.  Most of the people are from the race/teams.
Up at the front, the jersey-wearers pose for a photo: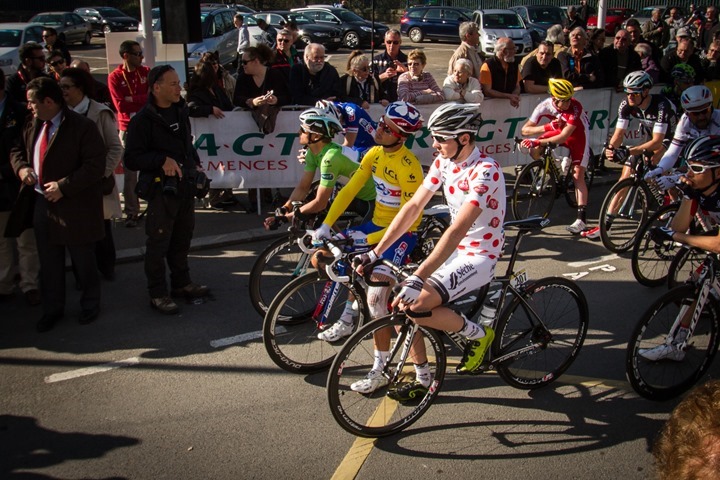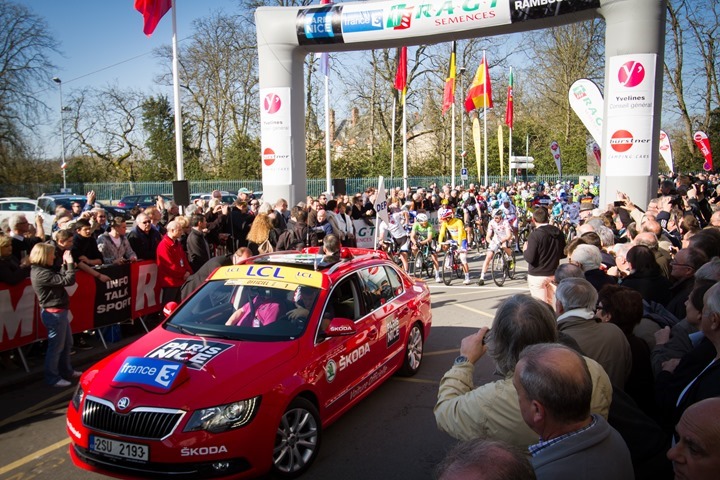 And then, with almost no fanfare, the race beings.  Like most stage races – the first little bit is nothing more than an easy pedal through town.  Grandma on her beach cruiser would probably beat them for this short bit.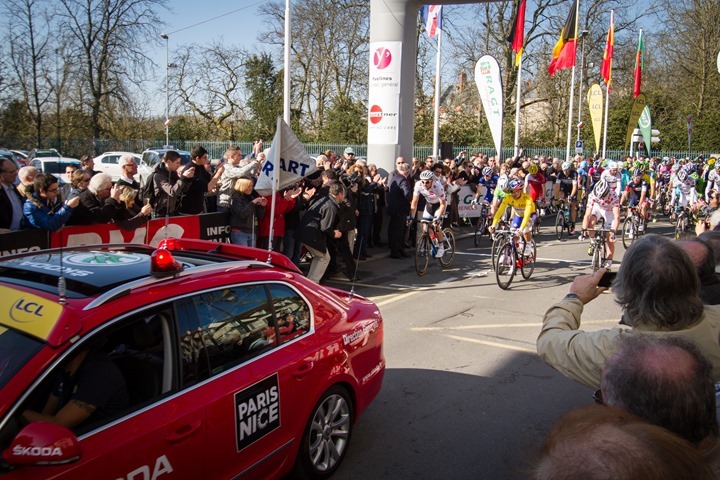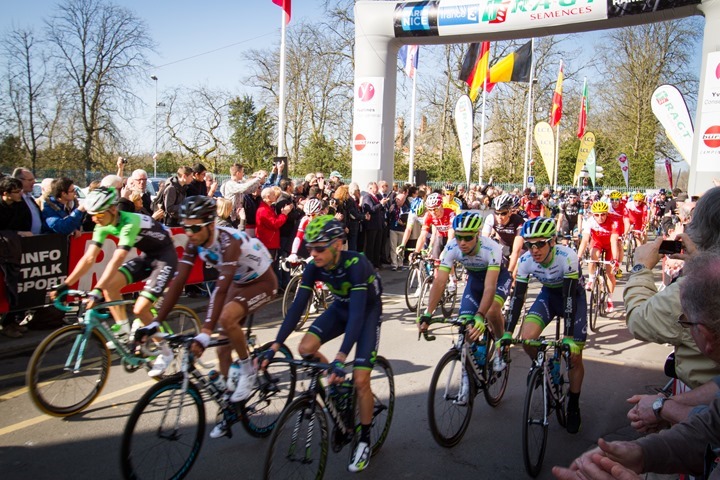 And just like that – out they went: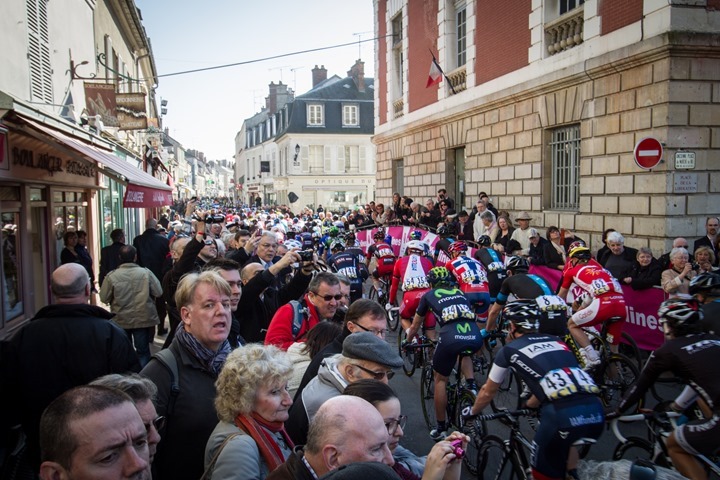 Followed then by a whole crapton of team cars.  Nothing near the quantity of Le Tour, but certainly an impressive number: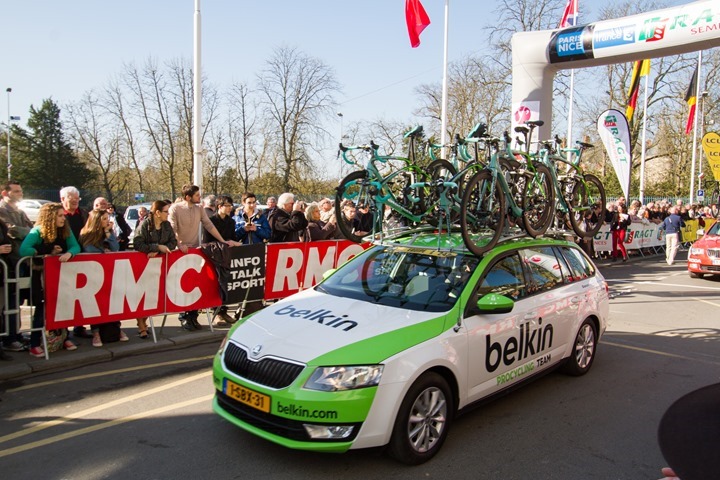 Here's a little video I shot of all the team cars going past, to get a sense for how long it goes on:
After the cars went past, the crowds dissipated and they immediately started dismantling things.  Given I rolled out of bed early to come down here, I figured I'd might as well at least see my way around the grounds of the chateau, so I spent a few minutes doing that: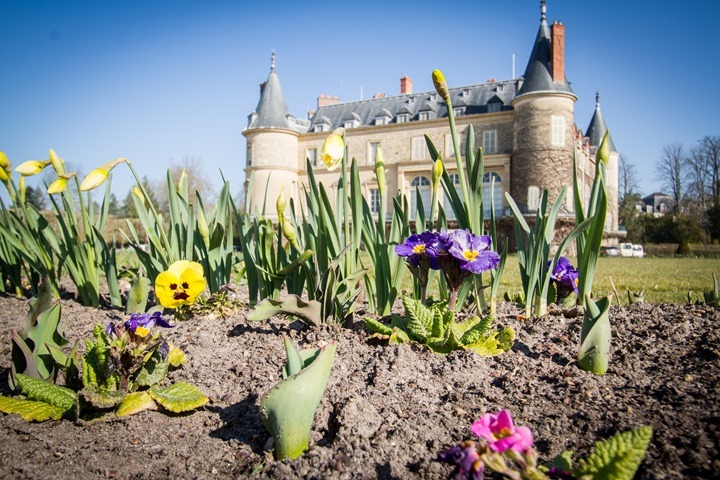 Then from there I headed back up to the train station a 10-15 minute walk away and waited at the lonely station for my ride back to Paris.  All wrapped up before lunch!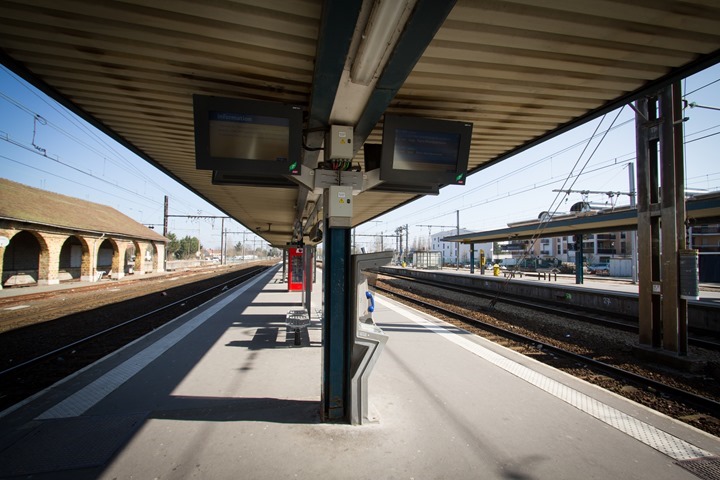 It was cool checking out the race – especially being able to compare it to the Tour de France.  So much more low-key, and so much easier to check things out.  Of course, it's also far smaller (both in terms of stages – just a week's worth compared to three), as well as size of the operation.  Going on a Monday morning also meant that most people were at work, so that reduced the crowds quite considerably.
Hope you enjoyed the photos – and thanks for reading!