Here's the roundup from this past weekend, from domed cameras to tall buildings and night trail runs.
1) Unboxed a 360° Action Camera
All sorts of new items floated into the mailbox on Friday.  To begin, I had ordered the new Kodak SP360 action camera, which records a 360° view at all times.  It also allows you to take 360° photos.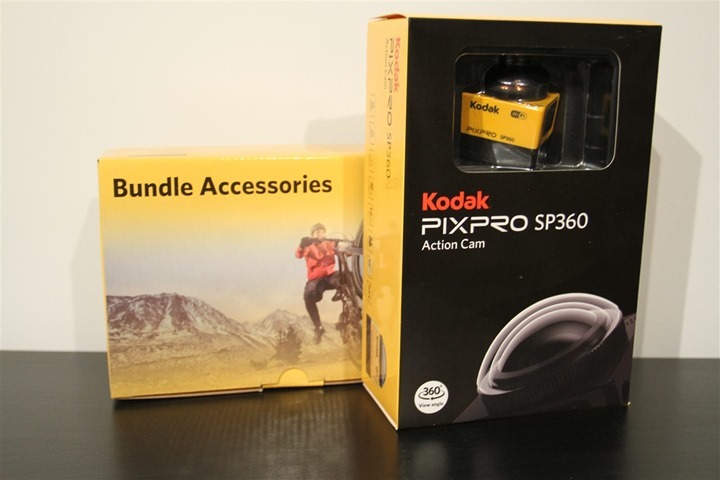 I'll give them serious props for a solid accessories bundle.  All of the below were included.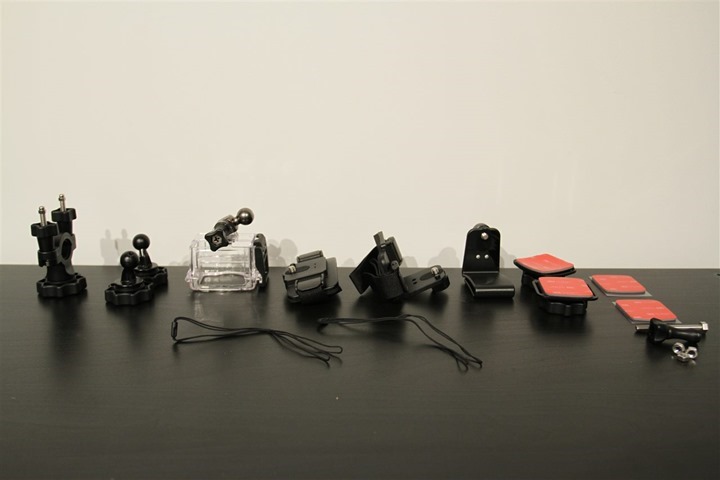 Now, one such mount above was a pseudo-GoPro adapter. This is common on most non-GoPro action cams these days as it allows compatibility with the massive GoPro mount ecosystem (both 1st and 3rd party).  Except, you'll notice it actually has one additional 'blade' on the mount portion, so while it works with GoPro accessories, there are some limitations.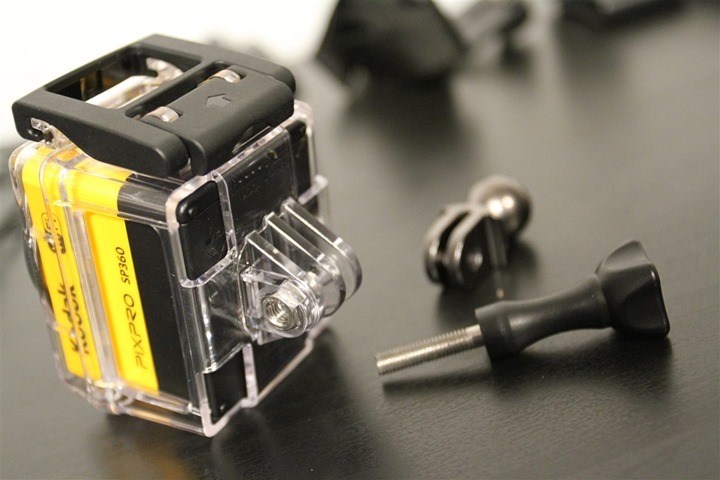 Said limitation would immediately become apparent during the unboxing of the next item.  Below is the Polar Pro GoPro power pole.  This pole actually has a built-in battery and two USB ports at the top.  It means you can attach your GoPro to it and power it all day long (about 6 hours of continuous battery power).  I found it on Kickstarter a while back.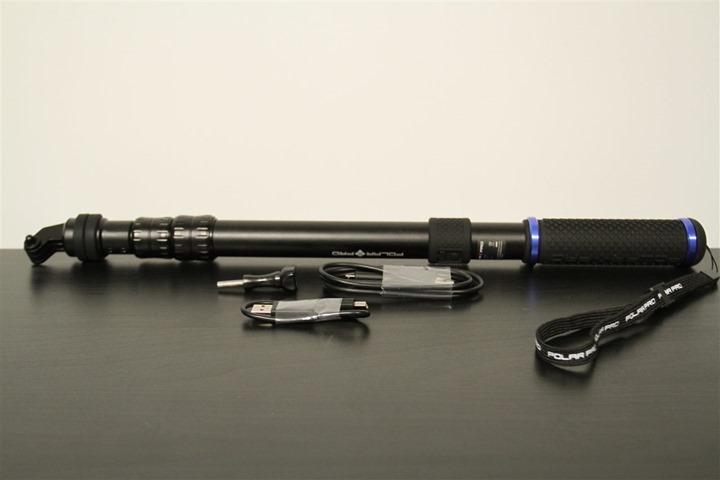 What's nice is that with two generic USB ports, you can pretty much power anything; of course, it's designed for GoPro's (and, works well for that).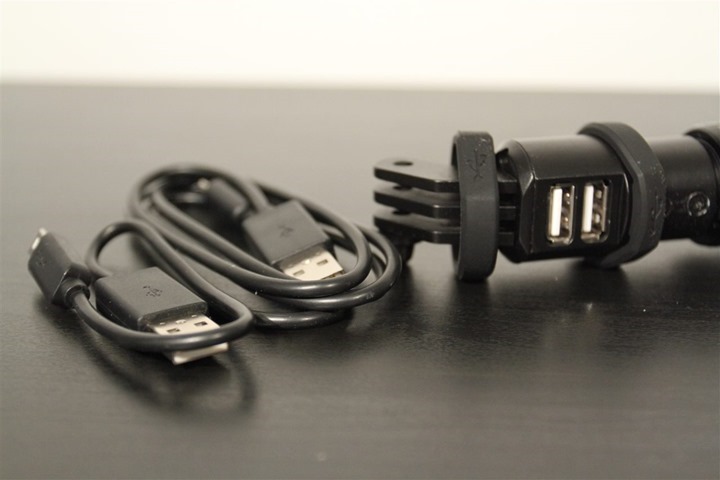 So I figured I'd combine the Kodak 360° camera with the Power Pole. Unfortunately, the two don't play well together.  They sorta fit, but when it comes to making them tight enough so it doesn't flop around – not so much.  It seems to be a joint problem with how both companies implemented the screw portions of their mounts.
Of course, as I'd come to realize, it doesn't much matter – as from what I can determine this far, the Kodak camera isn't exactly awesome.  I took a slew of night shots and videos over the weekend – and the quality was early-2000's picture quality in most cases.  Here's the unit up on top of a very tall building: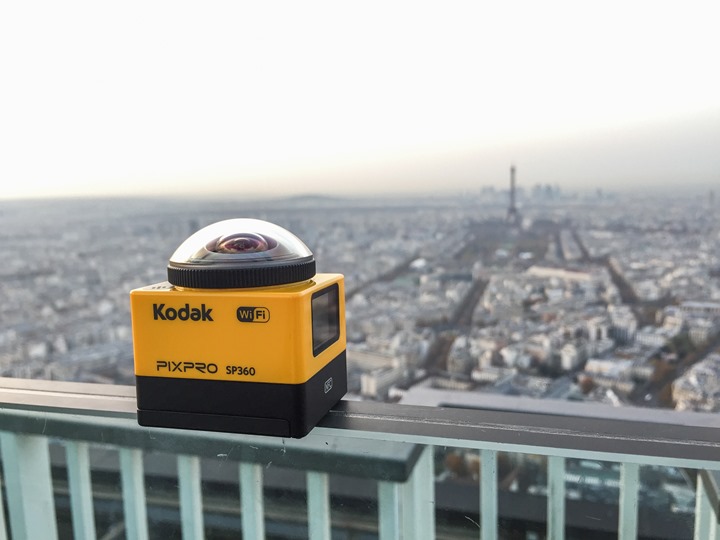 But, the picture quality is almost acceptable if it weren't for the apps.  There doesn't appear to be any method to actually embed a 360° video/photo onto a page, nor any way to share it on social media pages.  You can either send a stupid snow-globe (static image), or, you can send a massively wide 360° image (also dumb).  I've asked the Kodak folks for a better option, but given their marketing site doesn't have any such functionality shown either – I've gotta believe it doesn't exist.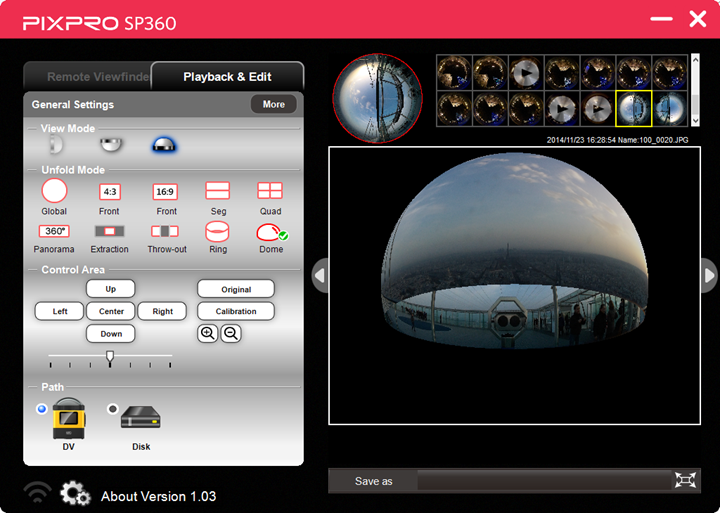 Of course, lack of such functionality kinda-sorta-completely defeats the purpose of a 360° action camera.  Simply providing a crop of an image is lame.  Of course, you wouldn't want a crop anyway, as again, the photo/video quality is dismal.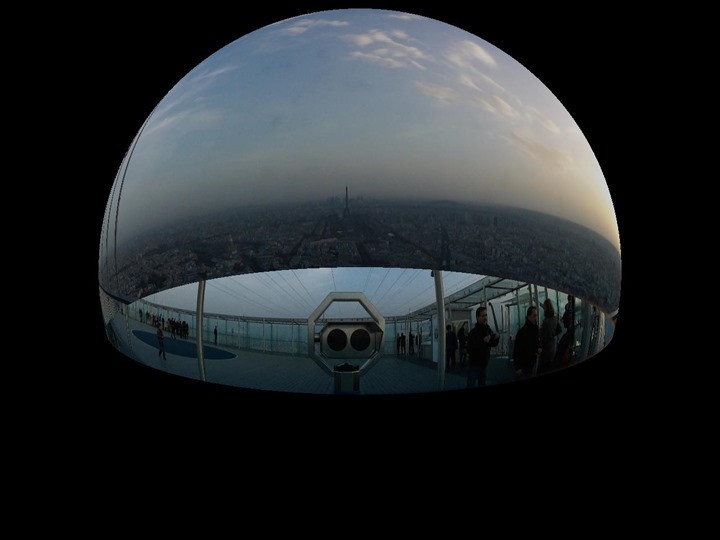 Yes, seriously. For real. Biggest waste of $400 I've spent in a while.
2) Went up in a very tall tower in Paris
As you might be able to tell from the previous section, we went up in one of the tallest buildings in Paris – Tour Montparnasse.  It stands at 210m high, though, the Eiffel Tower is still higher at 324m high (and one other building in the business district is about 20 meters higher than Tour Montparnasse).
Despite having been here a while (both us and the tower), we hadn't been up it yet.  It's said to have some of the best views in Paris.  In part because you can see the Eiffel Tower quite well, and the other part in that it's the only place in Paris you can't see Tour Montparnasse itself (which is often considered an eyesore).
Ignoring the fact that the viewing lobby looks like it's from the 1980's (even though it was renovated in 1996), it's not too bad.  Plus, there was zero line at all on a Sunday afternoon.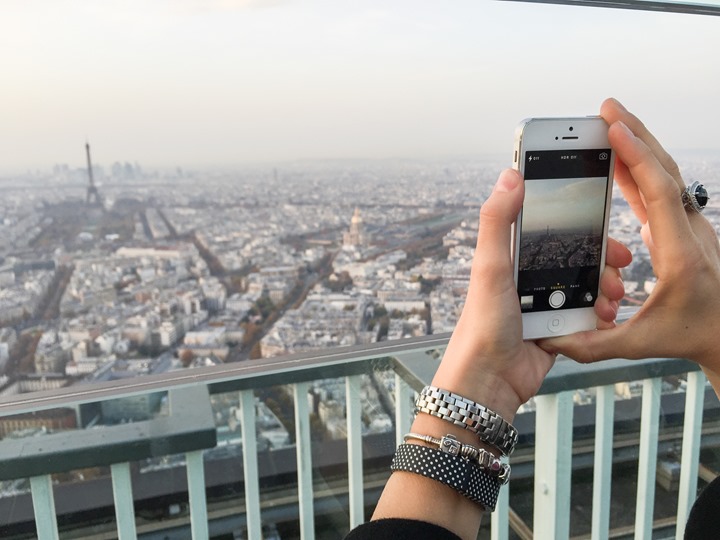 The Tour has two viewing areas, one inside that you can walk around with floor to ceiling glass, and then a second up top on the roof.  It's nice that it's the legitimate roof roof, versus some not-quite-at-the-top section like many tall buildings.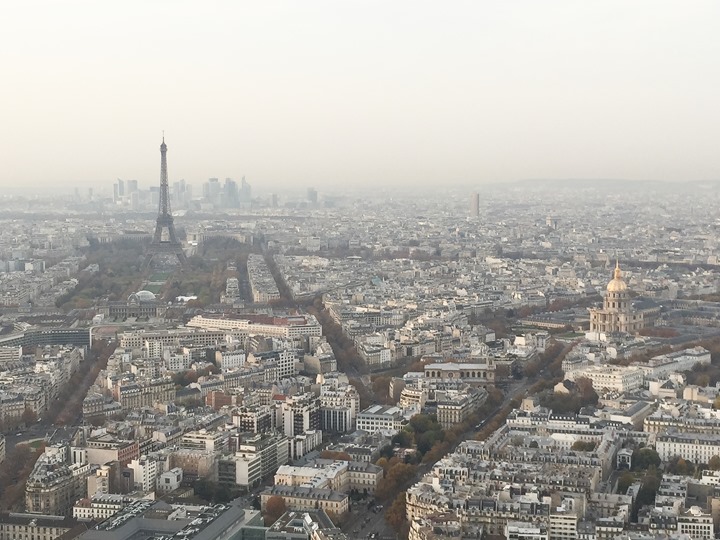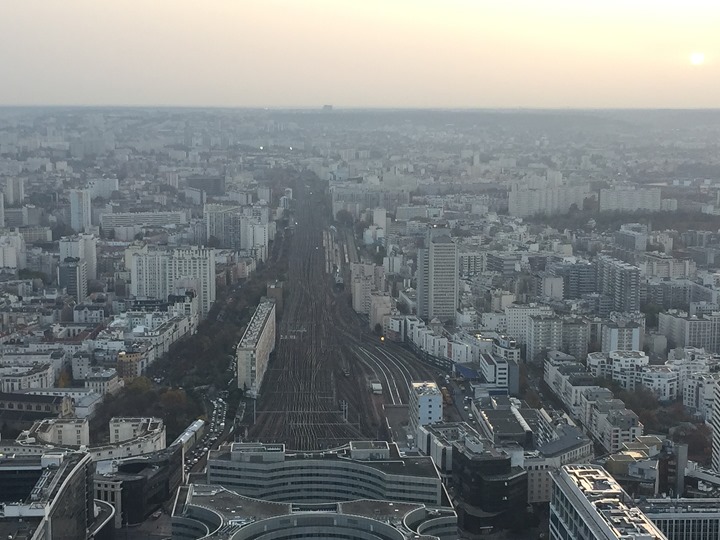 Unfortunately, the reasonably priced wine/champagne bar that's normally on the roof was closed (perhaps for the winter), so we couldn't quite enjoy that despite the warm weather.
We did however get to watch the usual Sunday roller blading group gathering to go past down far below.  You can see the yellow shirts at the front (left) and guarding the intersection as the group rolls through.  These are the staff that assist with the event.  At the end are more yellow shirts followed by a few police cars.  Pretty cool.  There's also a far larger one on Friday nights too.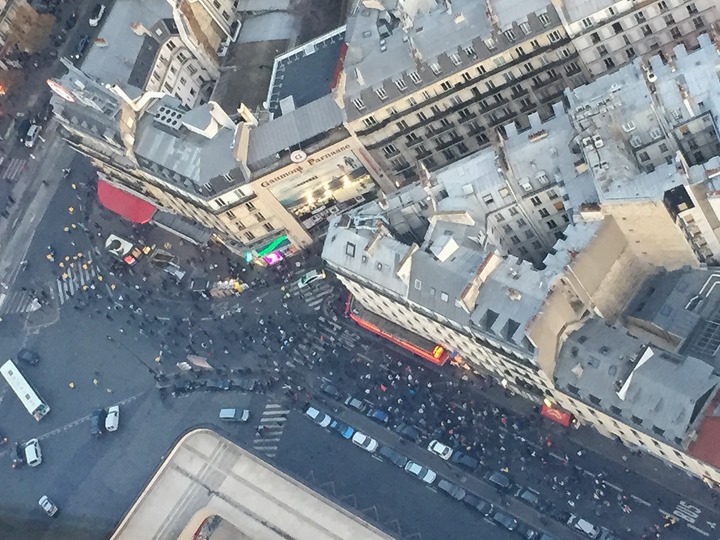 3) They installed the Christmas Tree…hopefully it won't fall over.
Earlier in the week they started installing the gigantic Christmas tree at Notre Dame.  Last year, there was a minor issue in that during a not-so-strong wind storm the tree fell over.  It was likely due to the tree base they used being about the same size as the one I use on our home Christmas tree.
Of course, last year the tree also had approximately one string of lights on it, and made Charlie Brown's tree look decadent.  We thought last year when it tipped over a certain someone was trying to send a message: This tree is fugly.  Regrettably it looked even worse after they stood it back up again with two concrete blocks.
This year though, they came with a beast of a base for the tree.  You can see it in the below photo to the right of the tree.  Someone apparently got the order for "build Christmas tree stand that won't tip over", and decided to build it for a redwood tree…in the middle of a CAT5 hurricane.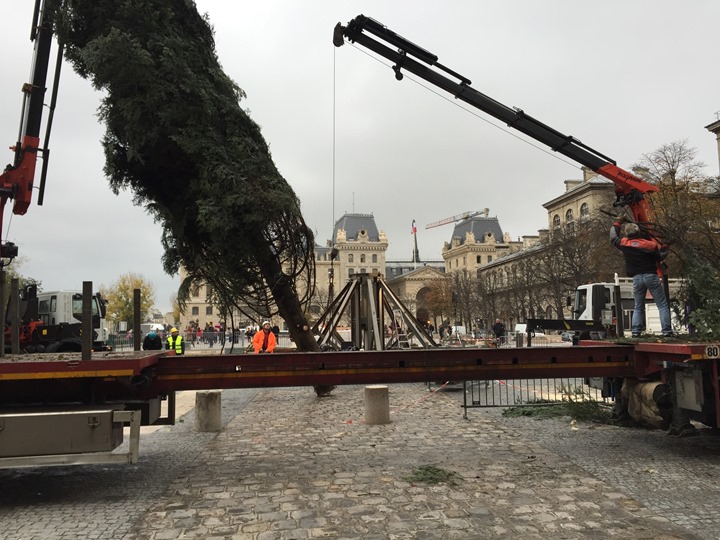 But even better than the stand is that this year it actually looks rather pretty.  Giant ornamental balls and all.  Plus, down around the base of the tree there are a bunch of smaller Christmas trees.  And best of all it'll soon be time to get our tree again at home as well.  By bicycle of course.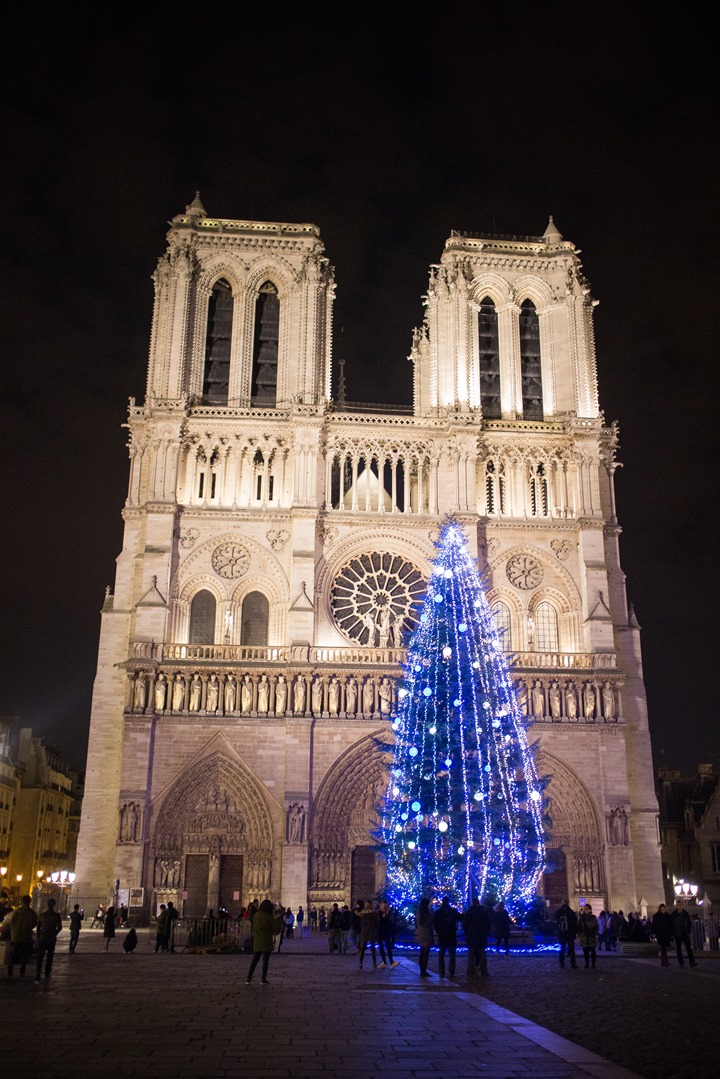 4) Enjoying a bit of fall in the city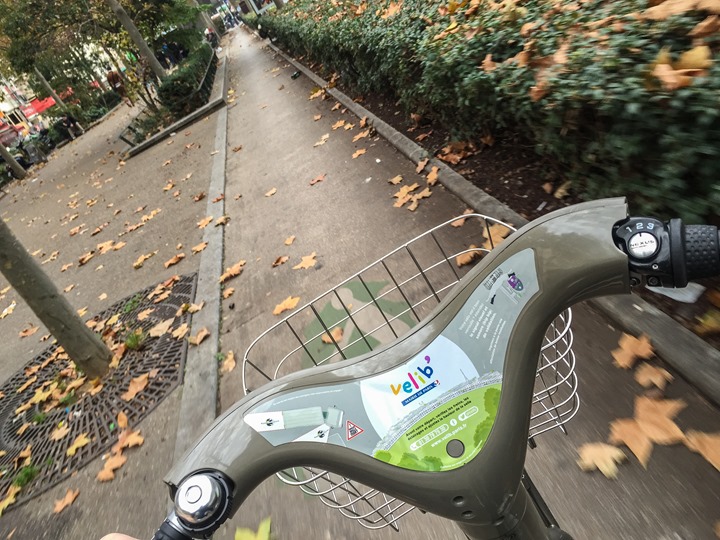 With The Girl's dad wrapping up his week-long trip to Paris, we did a bit more wandering around this weekend before his flight.
The weather was great though, pushing 61°F (~16°C), and mostly sunny.  The leaves have mostly changed colors and now cover the ground – it looks rather pretty.  And as always, Velib is the best way to get around most of the city.
That was especially true coming back from Sacré-Cœur, where it's all downhill back to the heart of Paris.  Always one of my favorite Velib-ride routes back to home.
5) Went for a forest night run with The Girl
Sunday night after our tower extravaganza we went out for a cross town run together.  Since it was a night run in a poorly lit area, bringing a camera seemed like a waste.
We ended up wandering through the park/forest in the dark, which was fun.  The route also went past the circus, where elephants were performing.
In retrospect, with the supposed missing tiger around here on the loose, perhaps it wasn't such a good idea to run through a forest at night near other wild animals that might be considered attractive.  Hmm…
No worries, we successfully made it to the Chateau without any extraneous kittens (household or wild) inducing additional intervals into the workout.  From there we just grabbed the straight-shot metro back to near our home.  Only takes about 10 minutes.  Perfect!
–
Thanks for reading all!  We've got my Winter 2014 Gadget Recommendations coming up later today.  Black Friday (and related) deals tomorrow, and plenty more for the rest of the week to keep ya busy/distracted.
Have a good week ahead!