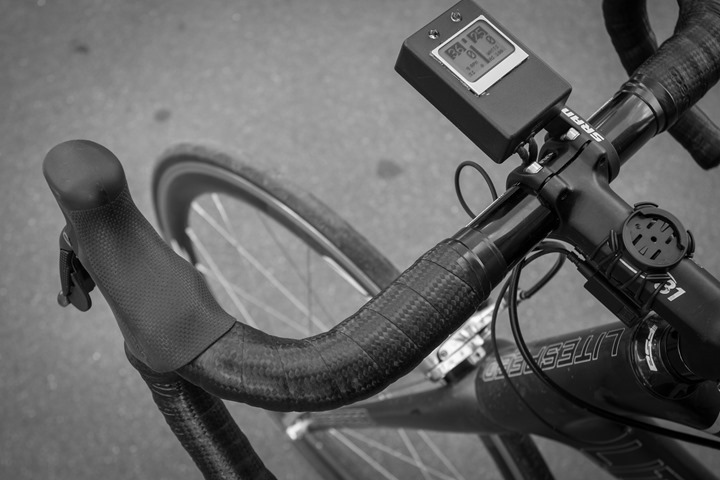 On Saturday I got a chance to go out for a test ride on a bike that completely autonomously controls the shifting for me.  I simply pedal, and it simply shifts.
Of course, such technology has been rumored for as long as Shimano Di2 electronic shifting has been rumored and around.  But there's a big difference between the manual shifting of Di2, and the automated shifting of gears based on complex algorithms found in Bioshift, by Baron Biosystems.  And for understanding how it works, it was time to go hands on.
A brief overview of the purpose & platform:
Ultimately, the end-state goal with automated shifting is increasing efficiency.  The effect of that is generally either increased performance, or decreased effort.  Said differently, the system can ensure that you're pedaling at the most optimum cadence, helping you to avoid situations where you're out of optimum because you're too tired/lazy/distracted/whatever to shift the bike to a more appropriate gear.  As a result of that, they're finding with some elite athletes that they're getting increases in wattage due to increases in efficiency.
The second subset of use cases and goals is really aimed at assisting an athlete with pacing, be it in a race or training.  Today, bike computers (such as a Garmin) can easily tell you if you're above/below your target, be it a wattage target or a heart rate target.  But ultimately those bike computers will only beep/chirp at you so much – it's up to you to do something about it and adjust intensity/gears to maintain plan.
With automated shifting – it'll just do that for you.  And on a bike, it's shifting that controls effort.  Thus you can simply set a race plan with a specific wattage target – such as 315w, and the bike will shift automatically to maintain that wattage.  Similarly, it can do the same for heart rate or cadence.  But let's not get too far ahead of ourselves with respect to functionality.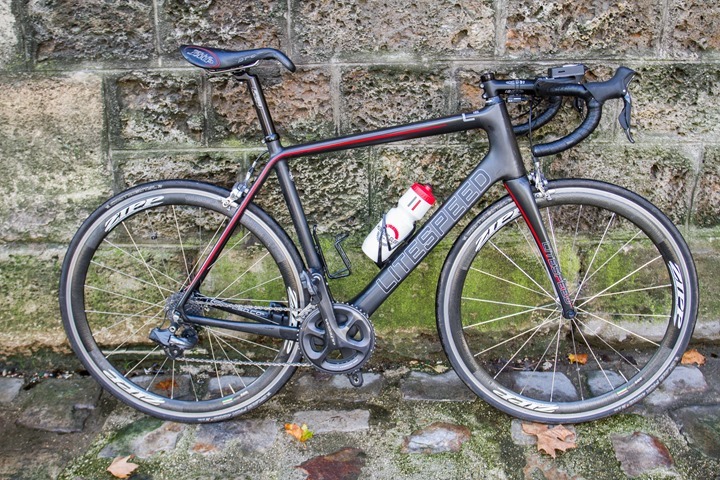 When it comes to equipment, this bike by and large looks just like any other bike.  As you can see above, it's not some crazy looking thing.  It's just a bike with a prototype head unit, seen below: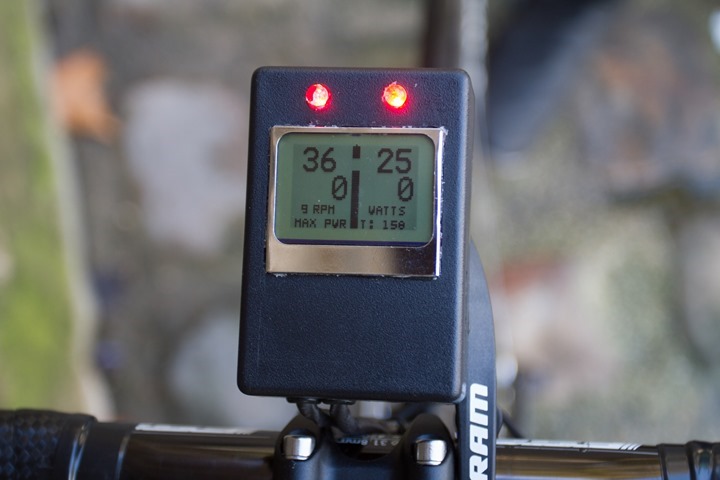 Next, said prototype head unit isn't even required.  It's ultimately just a test platform for them to provide feedback to you.  Long term, that'd likely be replaced by your regular bike computer doing it's normal thing and also displaying the same bike shifting information.
What is required though on that bike is a power meter.  In this case, it's the PowerTap, but they aren't picky.  As long as it's an ANT+ power meter they're good to go.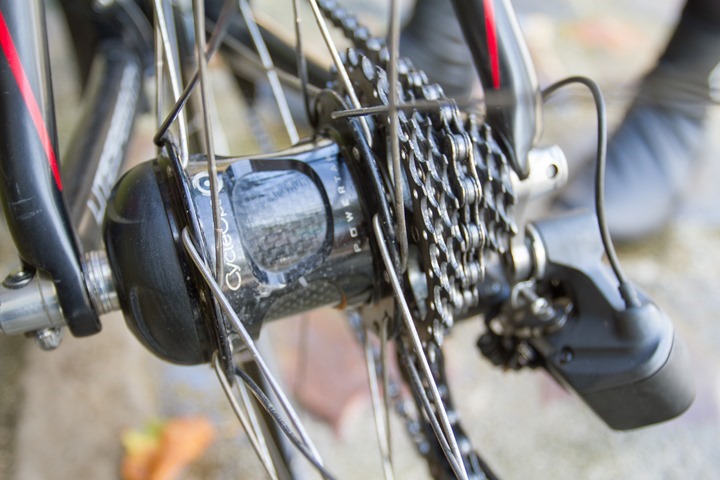 Additionally they need some form of speed and cadence to be transmitted, either via a power meter or a separate sensor.  Additionally, if you want to use heart rate to control shifting, you'd simply pair up your ANT+ heart rate strap.
The head unit today is controlling the shifting via wires that stick out the back of the unit and ultimately end up in your shifters.  Down the road, that could easily be wireless.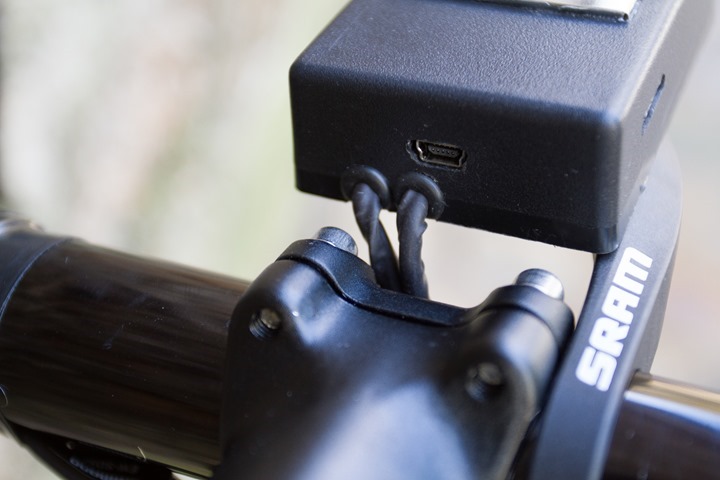 Your existing derailleurs/etc all stay the same.  None of that changes.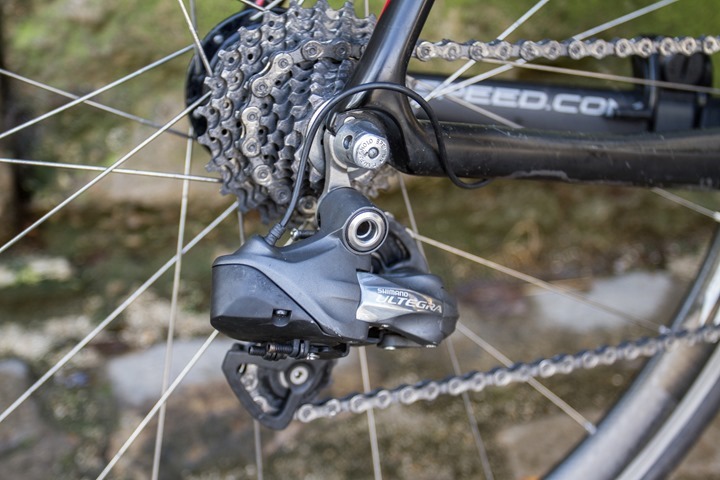 Once the system is enabled (as I'll discuss in detail), the platform will change your gears to keep you at whatever target you've defined.  Yet, at the same time, you can always override it.  It's not a black box that you can't touch or mess with.  Instead, it's just like hitting the gas or brakes when your car is in cruise control – it disengages it and allows you to take over.
How it works on the bike: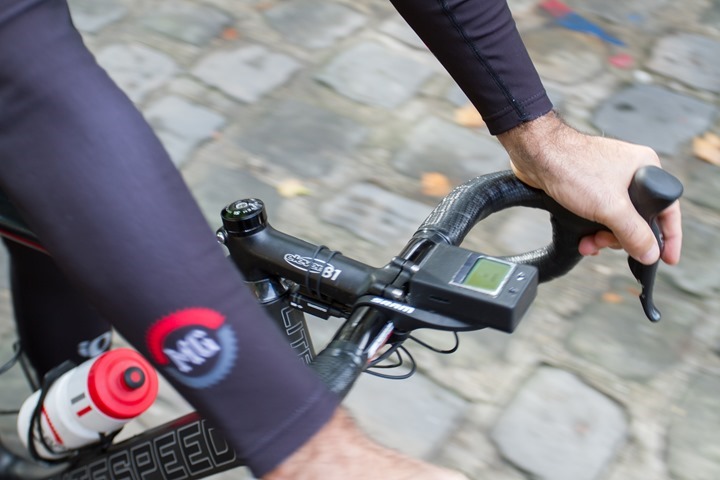 In order to get a better feel for things, we headed out for a test ride.  In this case, I was on the bike the entire time, and free to do anything I'd like, for as long as I'd like.  Armando was with me of course, mostly so I could ensure I understood the different operating modes.
To begin, while you see a head unit there it has no buttons. All control is done via your existing shifters.  In effect, they become your buttons.  You can do long and short taps/holds to induce functions and even control the menu system.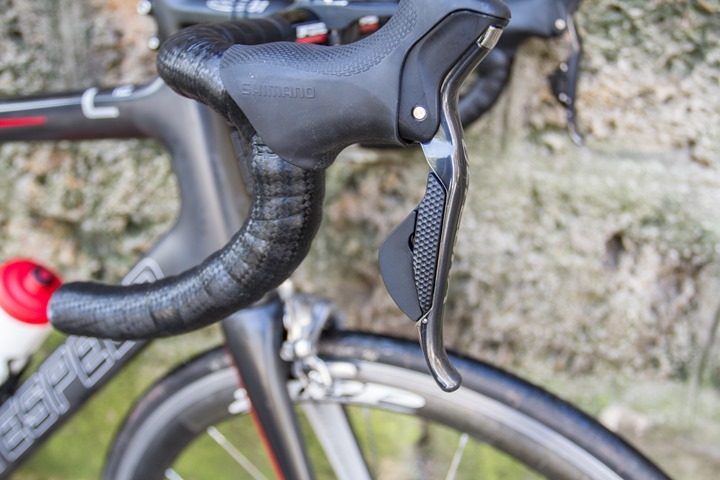 By default, the unit wakes up as soon as you hit the shifters – just as Di2 does on an equipped system.  But, it doesn't mean it's actually controlling your shifting.  You can tell whether or not it's automating the shifting by whether or not the numbers have black backgrounds.  If there's a black background, that side's automatic shifting is disabled, as seen below: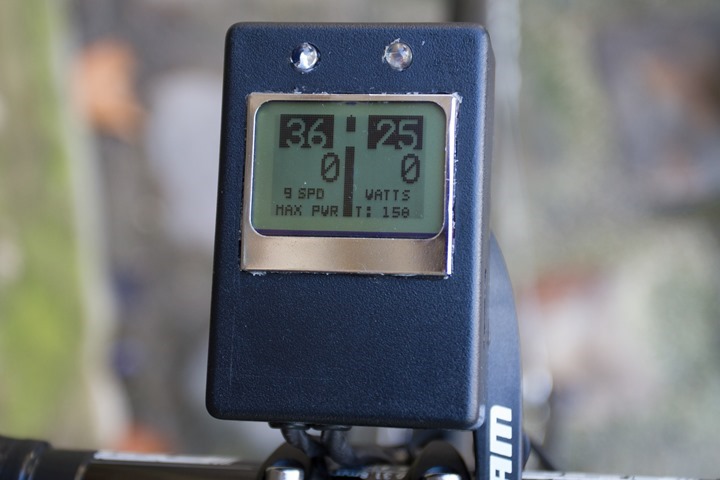 (The upper left number is the front ring gearing, the upper right text is the back cassette gearing.  The lower left number alternates between speed and cadence, while the lower/middle right is wattage.)
Once you're up and riding, you'll need to enable the automated system by doing a long press of the active left shifter. The reason you'd want to typically start off in manual mode is that it doesn't have a baseline of power output to work from.  So you want to get up to speed and then enable it.  The same is somewhat true of frequent stop and starts found in city riding.  While it's certainly functional (I used it across Paris), it's not quite as smooth there because it's trying to figure out if you're just coasting briefly or stopping altogether.
Once the system is enabled, it'll now blink green as well as have the backs of the numbers be clear: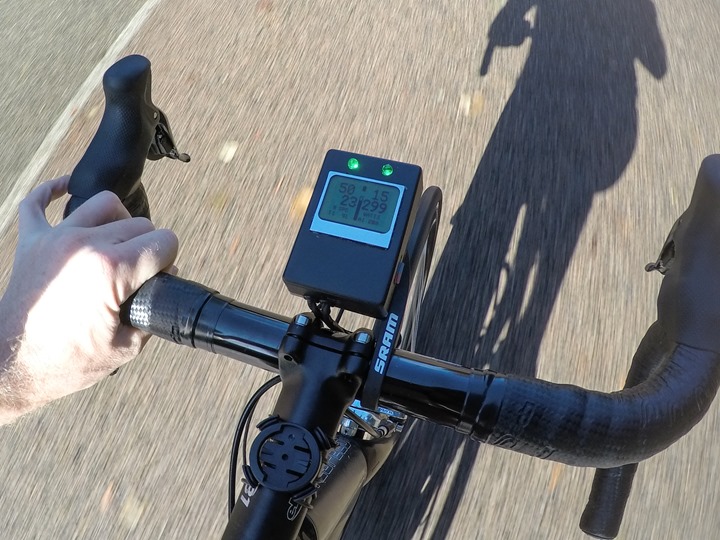 At this point, it'll control both the front and rear derailleur automatically.  In my case, the bike was set into an efficiency mode.  This means that regardless of my power output the bike will attempt to determine my most efficient gearing.  This is semi-loosely coupled to a cadence range based on my FTP, but, it's not set in stone as if there was a strict cadence value (more on the modes in the next section).
When the bike is ready to shift, it'll briefly blink a light about 1/3rd of a second ahead of the shift.  Just a visual indicator that you'd catch out of the corner of your eye.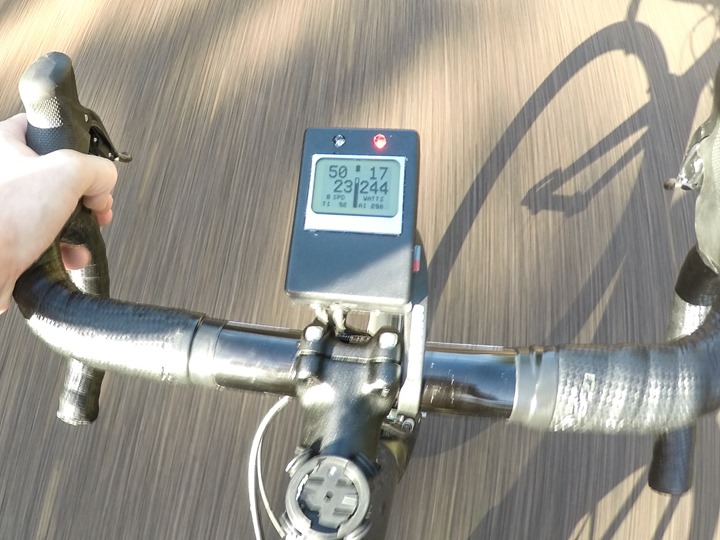 Then, just like that, the shift is done.  It just happens, and you don't think about it.  And that was ultimately the most impressive piece – it just works, it just happens.  I didn't feel like I was out of gear as the environment or situation changed.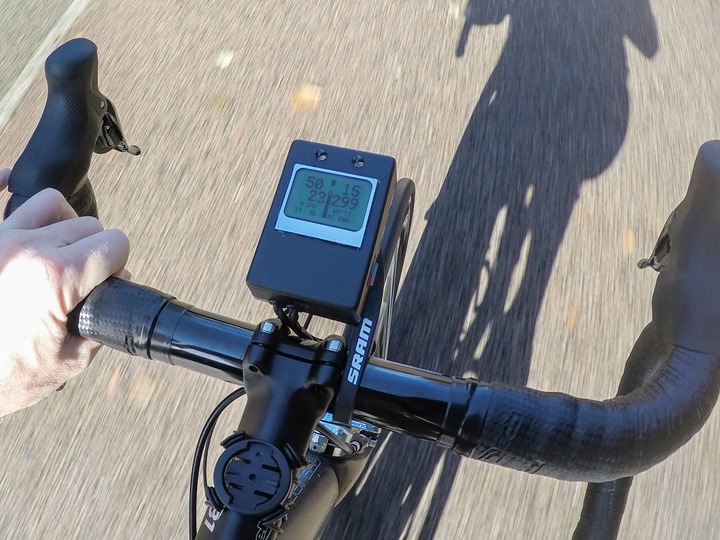 Now, the unit also has a standing up mode.  While this could likely be detected (as Garmin does with Vector with cycling dynamics), for now they just have a simple toggle via the shifters to enable it.  Within the standing mode it 'locks' the gearing on the front chainrings, so you don't get any wonky shifts.  It also only allows you to shift to harder gears on the back.  This effectively mimics a typical sprint scenario where you're just going for it out of the saddle.
Within the standing mode the unit blinks a blue light, and concurrently you'll see the left-side of the head unit show that that the automated gearing is disabled (blacked numbers):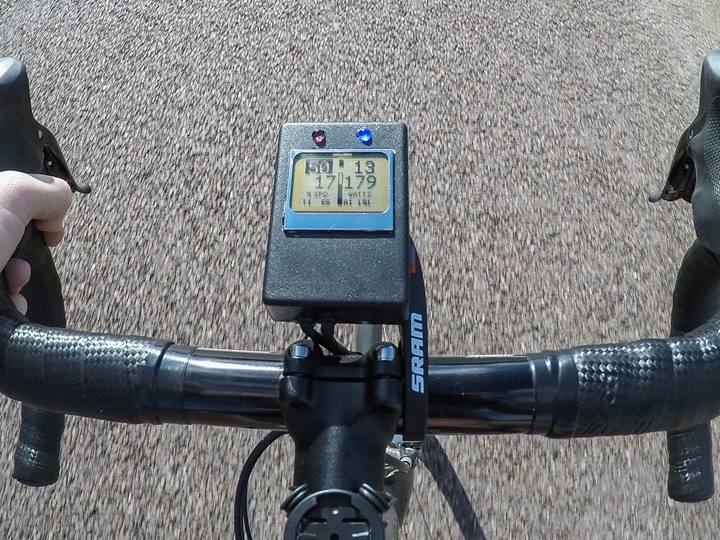 Which, is a good time to again note that you can always override the shifting instantly manually.  Within that, you can set a parameter on the head unit as to how long to wait before the system re-engages and takes back over again.  So you can have it be more aggressive on taking back over, and more lazy.
Now that I've covered the basics, let me show you a quick video of the whole thing in action – shifts and all:
As you can see, pretty straight forward once you understand what's going to happen (which takes all of about 1 minute of riding to sort out).  Of course, this is just an ugly box of a head unit – as I'll cover later their goal isn't to retail bike computers or head units.
Functionality/modes within the head unit:
Despite their lack of head unit retail ambitions though, the boxy looking system does have quite a few functions built within it.
The first is the ability to pair sensors, such as power meters, speed/cadence sensors, and heart rate straps.  All ANT+.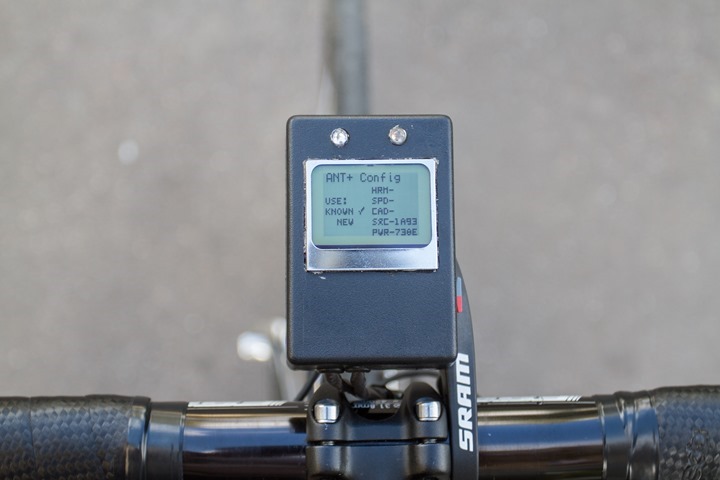 First up is the mode that the system operates in.  In my case for my test ride it was in the 'optimal' mode, which means it just focuses on optimal efficiency regardless of power.
However, you can also do the following modes:
Fixed Power: In this you just set a target power and rock to it.  If you set 315w, it'll keep your gearing optimized to hold you at 315w.  Of course, you still need to put out the goods in the leg department.
Max Power: In this mode you can specify a maximum power value to not exceed.  Once it hits that value the system will keep you in gears that make it difficult to put out more power.  This is ideally useful for a recovery ride, whereby you want to ensure you don't go crazy on wattage.
Fixed RPM: This mode will simply change gearing to maintain a fixed cadence.
Fixed HR: In this mode you'll specify a heart rate and the system will combine that with the optimal efficiency to produce gearing that allows you to maintain a given HR zone.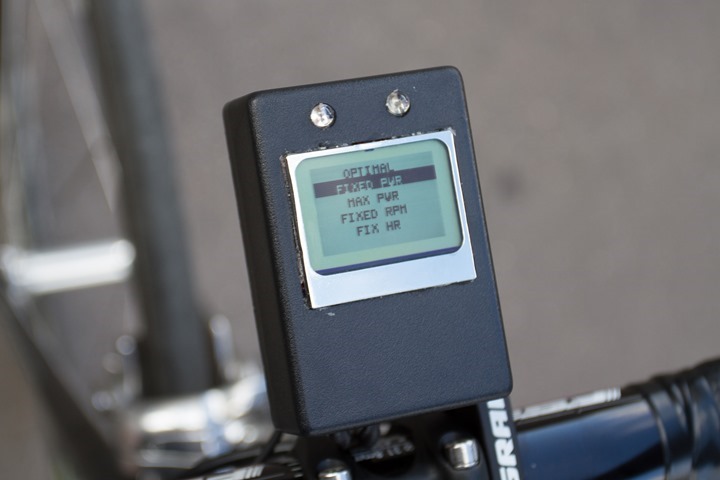 Here's an example of additional profiles that you can load onto the unit, allowing you to quickly change focus mid-workout: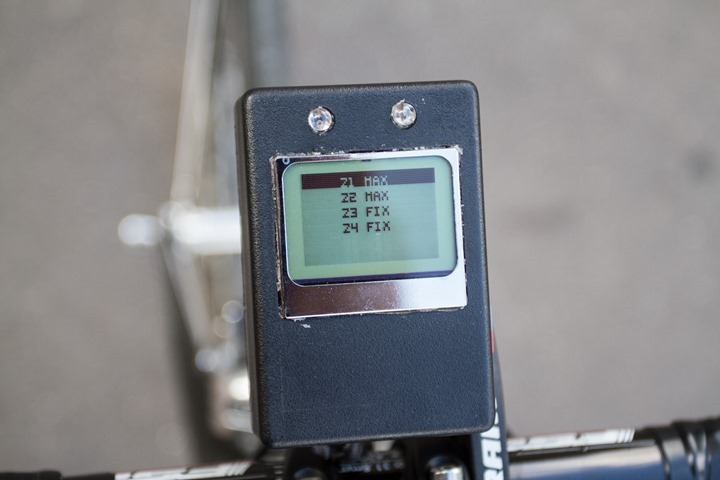 Next, you can configure how reactive the system is to changes in your output.  For example you can have it be more passive, whereby it thinks a bit longer before reacting.  Or, you can have it be very aggressive in how it reacts.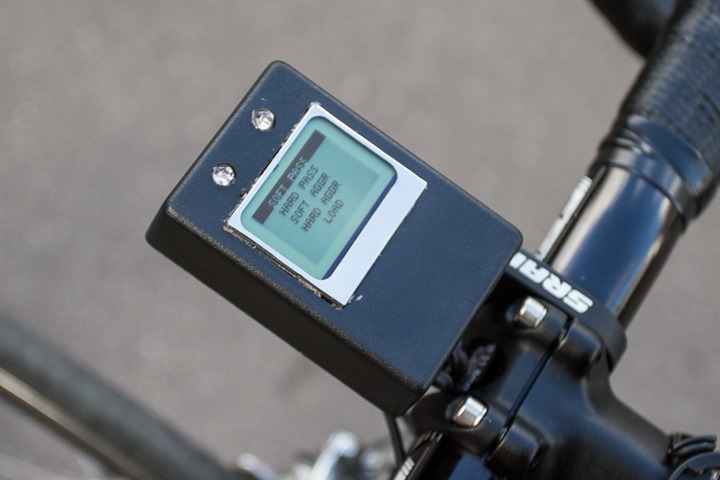 Lastly, like most head units on the market you can customize the backlight as well as the LED's, and change your user/bike profiles (which can be loaded via the SD card on the side).  Additionally, you can specify the workout modes above.  Again remember that there are no buttons there, the buttons are actually your shifts.  So you iterate through the menus via your shifters.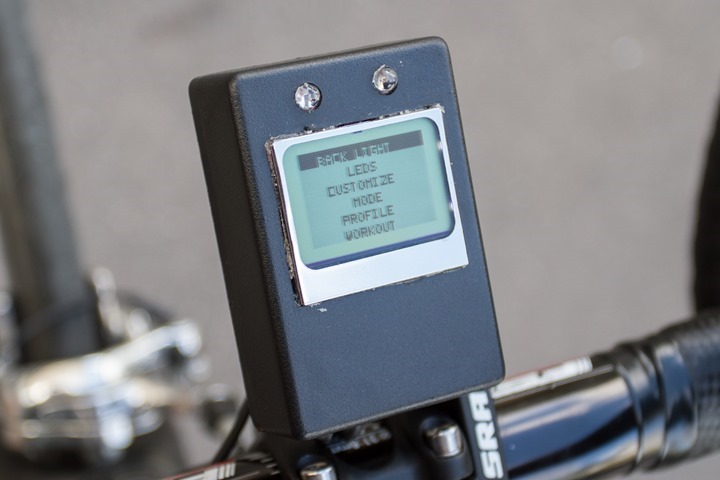 Of course, again remember while it's certainly possible for them to retail their own head unit, their longer term vision is to be able to team up with someone to be able to do that piece of it.  I'd agree.  The productizing of a head unit is a rather complex endeavor that takes years of refining to get it even semi-useful for the type of cyclist buying a system like this, let alone truly competitive.
Still, for a quick prototype, it's definitely got some merit.
Business path forward: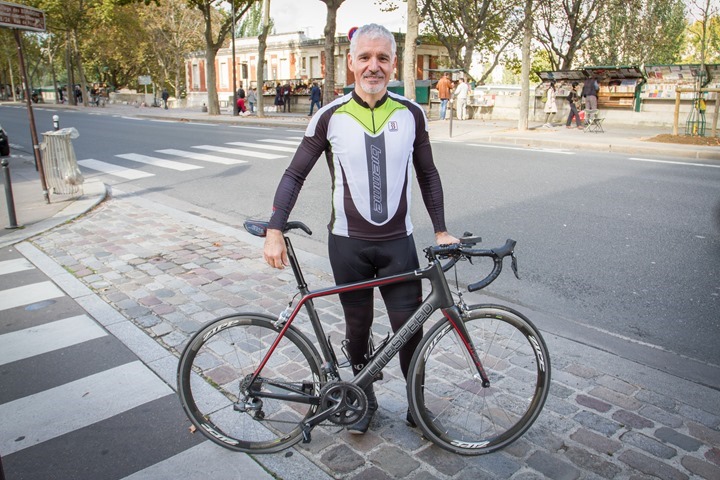 Of course, everything to date I've discussed as been technology focused – and not so much a complete product.  That's because at this stage, there isn't one.  Nor, are there timelines or prices.
Ultimately, Bioshift doesn't really want to get into the business of making head units, or even making hardware.  Instead, they're looking for partners to take one or more of those pieces forward and bring it to market.
On the head unit piece, that's something that could actually live in a Garmin Connect IQ style application, should Garmin choose to expand it to the Edge product line.  Because Garmin opens up an ANT channel, it's something that would actually fit the exact requirements of Bioshift.
On the flipside, there's still some hardware aspects of it.  Today, it's not wireless when it comes to actually shifting the gears.  Today that's done by wires from a control unit to the shifters.  The exact location and details of where/how those wires splice in though is something they're keeping as proprietary.
That's driven more by increasing compatibility with existing systems than it is due to not wanting to be wireless however.  It's simply that since even Di2 is still wired, there's little reason to add a layer of wireless there.  And, from their perspective, applying a wireless protocol (ANT+ or Bluetooth Smart) to a wired command set is actually a fairly straight forward technical proposition.  Especially since they're already using ANT+ today for a variety of tasks in the system.  On top of that, they're eyeing the recently formed ANT+ Shifting Control Profile Technical Working Group (but they haven't committed to joining that yet).
Some early thoughts: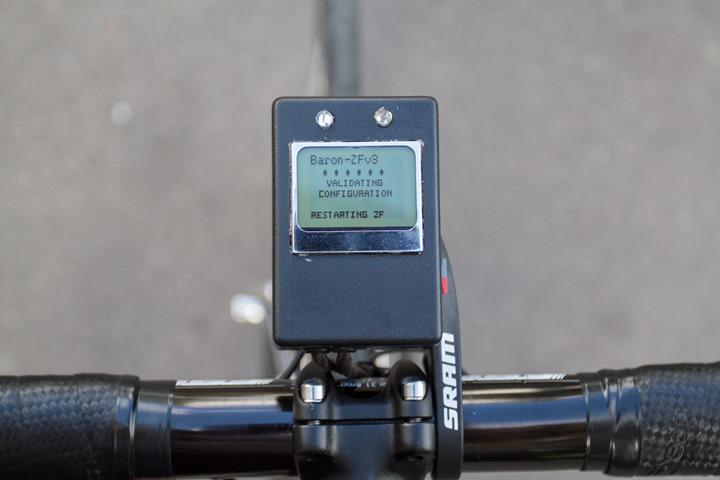 Overall, I'm impressed.  By and large, the unit shifted when I'd expect it to shift.  In my case, it was setup using some very big assumptions about my riding style and preferences.  These setup options are ones I could easily tweak to get the feel more aligned to how I might normally ride my bike, while at the same time increasing efficiency of shifting.
Of course, like any prototype – it wasn't perfect.  There were a few times where it seemed to be a little to slow to pickup that I needed a harder gear.  Armando explained that could simply be tweaked in the settings control panel to be "more aggressive" in shifting.  And he conceded that some of the algorithms in stop and go city riding weren't quite as refined as they could be.  But by and large, the imperfect shifts were actually fairly rare for me.  But, it's also important to note that as a triathlete my riding (shifting) style tends to be much more 'smooth' than that of a pure road bike racer.  That's because for triathletes the goal is very constant and measured power, versus a road bike racer will be simply following/leading a pack/breakaway.
Still, it's clear to me that one way or another I expect to see wireless shifting and likely automated control hit mainstream shelves in the not to distant future.  Anyone who thinks otherwise is really just fooling themselves.  The areas that still need to be resolved though won't likely be technical – but rather policy.  Will, for example, the UCI block the technology?  That would greatly slow adoption in a sport heavily lead by Pro Tour teams using technology.
But, despite all the automation that you'll find on bikes – that doesn't mean you don't get to do anything.  My test ride illustrated that quite nicely when I managed to double-flat (two different wheels at once) – effectively ending the test ride (and, also, making us change flats rather manually).  Don't worry, we were in good company at the time with other flatters.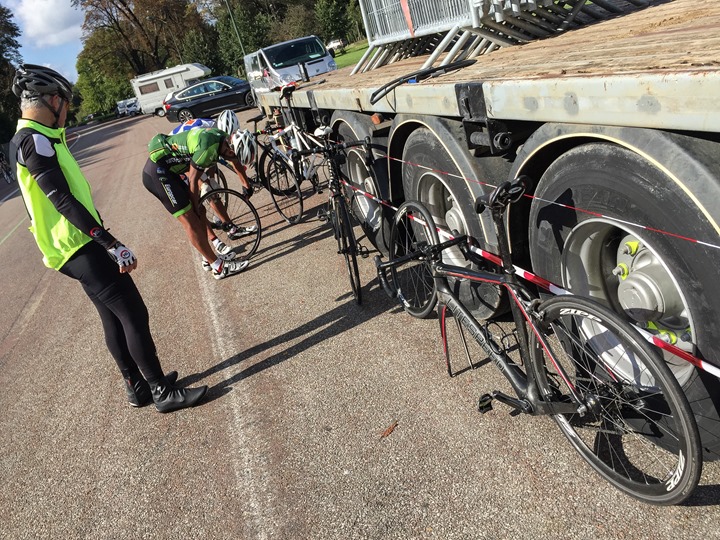 Still, like many other pieces of bike technology, I expect that within a few years this will be roughly on the same adoption rate as Di2 is today.  If however we see SRAM's wireless shifting system come to fruition, then having autonomous shifting (from Bioshift or otherwise), will likely be adopted significantly faster than Di2 today – simply because it'll be easier to install than running wires.
Definitely interesting times ahead!