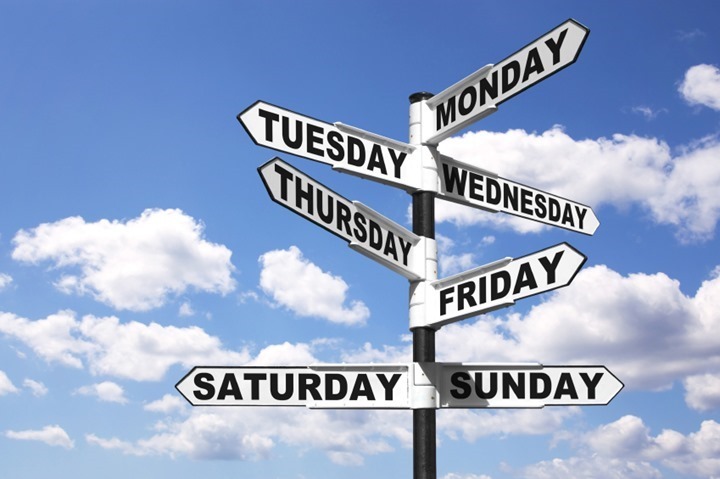 The Week in Review is a collection of both all the goodness I've written during the past week around the internet, as well as a small pile of links I found interesting – generally endurance sports related. I've often wondered what to do with all of the coolness that people write, and while I share a lot of it on Twitter, Facebook, and Google Plus, this is a better forum for sending it on to y'all. Most times these different streams don't overlap, so be on the lookout at all these places for good stuff!
So with that, let's get into the action!
DCRainmaker.com posts this past week:
Here's all the goodness that ended up on the main page of DCRainmaker.com this past week.
Monday: 5 Random Things I Did This Weekend
Tuesday: Checking out Stage 4 of the 2014 Tour de France: From Le Touquet to Lille
Wednesday: Hands on with the new Adidas Fit Smart
Thursday: First look at the Suunto Ambit3 multisport GPS watch
Friday: ROTOR introduces new ROTOR Power LT power meter
Stuff that I found interesting around the interwebs:
Here's a not-so-small smattering of all the random things that I stumbled on while doing my civic duty to find the end of the Internet:
1) What life would be like if we all acted like we were in the world cup: Aww…and it all ended tonight.
2) British Airways 'Tests' Happiness Blanket: I personally think it'd be hilarious to put similar sensors on a triathlete during an Ironman race.  Would love to see what miles 16-20 on the run look like…
3) The Other Triathlon – a look at ITU racing: Here's part primer, part historical look and part thoughts on the future of ITU-style racing in triathlon.
4) A look at crank length and impact on power output: Good stuff from Tom A. on whether or not crank length actually impacts power output.
5) Giving Cyclists Eyes In the Backs of Their Heads: Bike-mounted radar unit warns cyclists of approaching cars. (via Dan Brock)
6) Cool behind the scenes look at IT infrastructure behind the TdF: How the Tour de France stays online over three weeks, 21 stages, and 3,664 km (via Dan Frommer Twitter)
7) Cycling under the English Channel: While it didn't quite work out for Froome, this video they shot is still pretty cool.  Oh, also, a 'making of' video here.
8) Tour de France Power Meter Analysis/Files – Week 1: This was actually from earlier this week, so expect Week 2 to be published in the next 24-48 hours likely.  Cool stuff though as always.
9) Analysis of Stages Power Meter High-Speed Data: There's been two totally different but interesting efforts in recent weeks at starting to dig into the high-speed data mode that Stages enabled this past winter.  The first (1st link) is from Robert Chung, who's helped in a number of the power meter tests I've done from a data analysis standpoint.  The second is from a reader who's created an app to visualize the high speed data, as seen below (it's actually a cool thing to watch).  He's looking for beta testers, where you can e-mail to bike.stroke.analysis@gmail.com if you're interested.
10) The world's tallest water slide: What's perhaps more interesting about this video is that while the team/company is sponsored by Garmin and the VIRB (and it was filmed on a VIRB), there are GoPro's in the frame for  a TV show – likely because GoPro offers more post-production capabilities than Garmin offers today.  Still, cool video. (via Tyler R.)
Crowd Funded Projects of Athletic Note:
Most of this content used to be found within the main section, but I figured I'd just call it out up here and make it easy to find. I regularly sift through Kickstarter and Indiegogo (plus a few others on occasion) looking for sports projects.  If you're unfamiliar with projects, read my detailed post on how I decide which projects I personally back.  Note that as always with crowd funded projects, assume the project will be late and will under-deliver on features. Thus far, on the numerous products I've helped 'fund' (except a leather bike handle), that's been the case.
A few of you have asked about this project this week, and I honestly don't even know where to begin.  First, there's a ton of claims about what the product can measure. I suspect they probably can measure some of it, like heart rate and some of the other muscle monitoring metrics just fine (they have some history elsewhere in that department). But I also expect that others are a bit more nebulous in the way they are presented.  For example – muscle imbalance does require you to have two devices (one on each leg), and the fact that it actually tells you to try and correct that by "pushing harder with the other leg" is so horribly misaligned to any scientific research that alone should be concerning.  Now they do disclose elsewhere that you need two devices, but many might miss that small statement.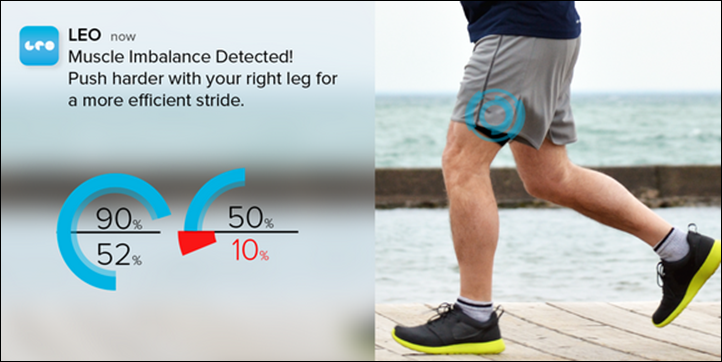 Then there's the certification by Dragon Innovations.  Which honestly, is like getting a certification from your drinking buddy.  See, Dragon is simply a VC funding entity that also has its own crowd funding platform (which, Leo didn't use btw).  Thus, as a venture cap firm their entire goal in life is to create hype around a product so they make money.  Further, ignoring the source of such certification, there's the fact that the certification only looks at the hardware BOM (Bill of Materials).  Which quite frankly is useless in a world where software is everything.  Not to mention it doesn't look at any other aspects of project viability.
Next, they violate singular rule of manufacturing: They list a manufacturing date starting in February (2015).  Why is this a problem?  Because of the Chinese New Year, which results in the entire manufacturing capability of the country shutting down during that period, resulting in huge delays.  Unfortunately, they don't list where they're going to build the unit – but that's a huge red flag as-is and ideally that should have been called out somewhere.
Last but not least, I feel the delivery date is too far out.  Given how there was virtually nothing actually shown in the video that represents a final product – it tells me they're far away.  Thus I suspect April 2015 is probably Fall 2015.  Of course, I could be wrong and they'll go from almost nothing to everything.  But historically speaking, that's usually not the case.
Sports Technology Software/Firmware Updates This Week:
Each week I quickly highlight some of the new firmware, app, software and website service updates that I see go out. If you're a sports technology company and release an update – shoot me a quick note (just one liners is perfect, or Tweet it at me is even better) and I'll make mention of it here. If I don't know about it, I won't be able to post about it. Sound good?
Site/Firmware Updates:
iPhone Apps: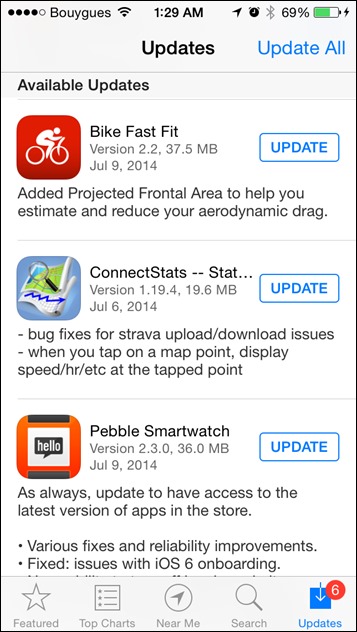 Android Apps:
iPad Apps:


Windows Phone Apps:
(Nothing here on this front for my phone)
–
Thanks for reading!