Here's my weekend roundup, like the past two weeks – in a '5 Random Things' type line-up to keep things semi-organized and a bit easier to consume.
1) I did a bunch of device testing and photographing (with a bike):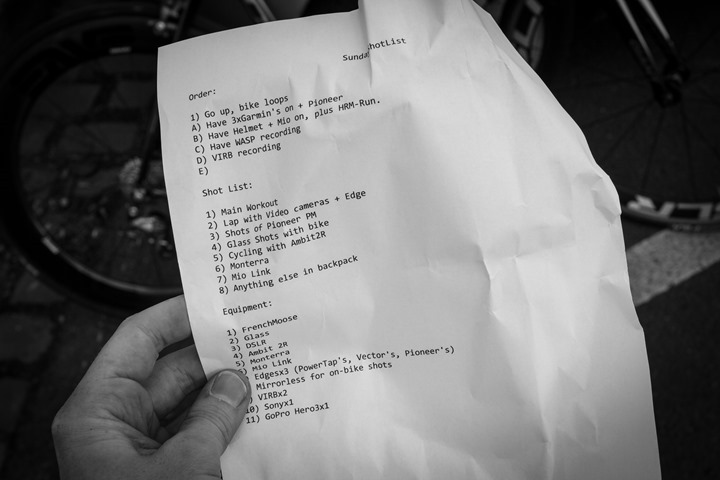 When I go out for a ride or run, it's very rare that I'm testing a single device.  Runs, sometimes, but rides – rarely.  In the case of this weekend I had a ride scheduled on Sunday that was a fairly straight forward sub-1hr ride.  Nothing special, just keeping it steady.  Thus, the main goal there from a testing perspective would be gathering further power meter data on the Pioneer power meter, as I come up on a full final In-Depth review in the next couple weeks.
However, I also had a slew of other shots and miscellaneous items I needed to get data on – so instead of just doing a 45-50m loop from the house, I grabbed the Autolib and drove 15 minutes away to Bois de Vincennes to do loops there.  This would allow me to take a gaggle of gear with me for post-ride (or, during the ride).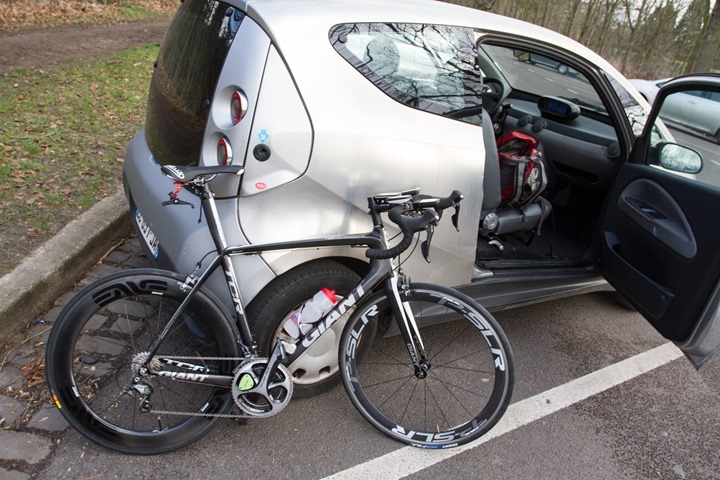 So, we've got the actual gathering of the power meter data.  Ironically, everything you see below is actually for 'backup' data.  The real data from all the devices is being streamed to the WASP via WiFi.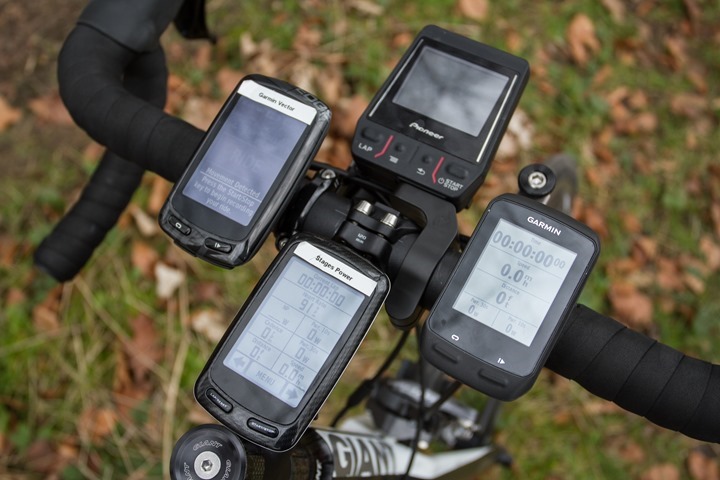 (For those detail-oriented folks, the one labeled 'Stages Power' is actually gathering PowerTap data, it was just the one I grabbed.)
During just that singular test I was comparing three power meters as one test (Pioneer, Garmin Vector, PowerTap), and three different heart rate reading technologies as another (Garmin HR strap, LifeBEAM HR helmet, Mio Link optical wrist HR band).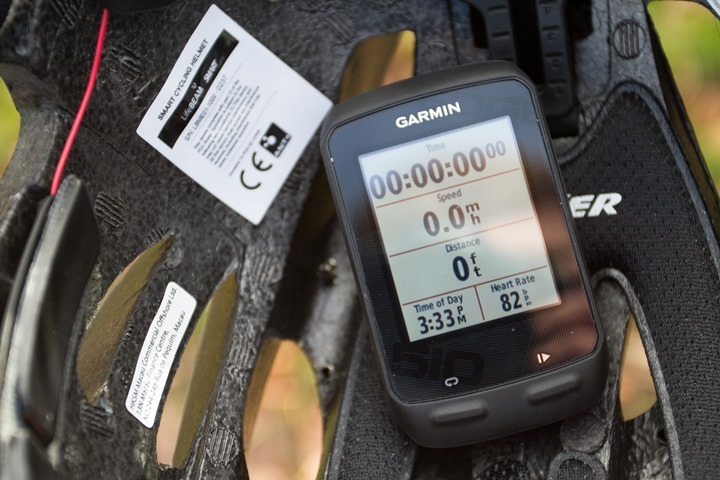 The cool part is that once I start riding, I can pretty much forget about it all. I'm watching the powers a bit to see how they trend during the ride – mainly in case something is odd/out of whack, but otherwise it's straight forward.  Looking at the heart rate data – things were astoundingly close.
You see some slight variation there in the first 90 seconds, before I actually started riding.  I suspect that's when I was re-adjusting the strap as I had put it on way too tight at first.  Then once I stopped fiddling with it and started riding, it was rock-on solid (click to expand).

Post-ride there was a ton of stuff I was gathering on action cameras for a post later this week (I hope) on how to film/build your own routes for replay on computerized trainers like the Wahoo KICKR and PowerBeam Pro.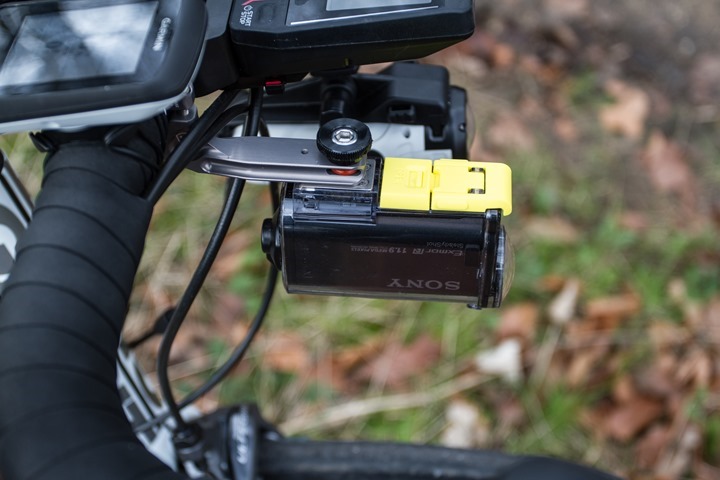 2) I made some mussels
Well, I suppose I didn't make the mussels themselves, but rather, a dish with them.  Friday evening I walked over to the little market behind our house and hit up the seafood man to get about 2 kilograms of mussels (roughly 4.4 pounds).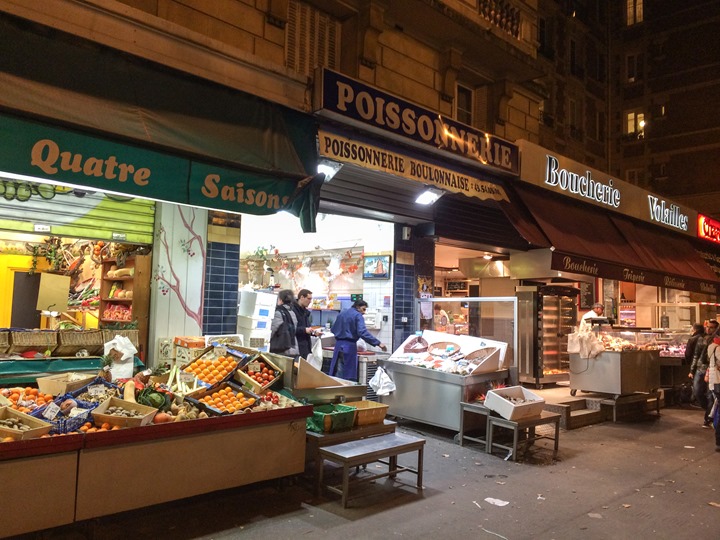 Then, I went around the corner to the small Asian grocery store and picked up some cilantro, garlic, onions, and lemongrass.  It's always silly cheap there.  A massive bunch of cilantro cost only 50 cents.  Lemongrass, was 85 cents.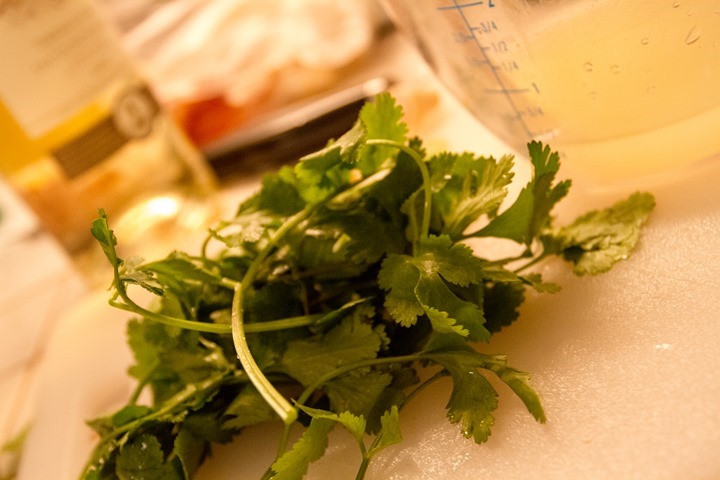 From there I took all the veggies and made a bit of a base for flavor.  After that was done, I spent far more time than I desired cleaning all the mussels one by one.
Finally, I combined the broth with the base and then tossed in the mussels into a big pot for a short 5 or so minutes to cook.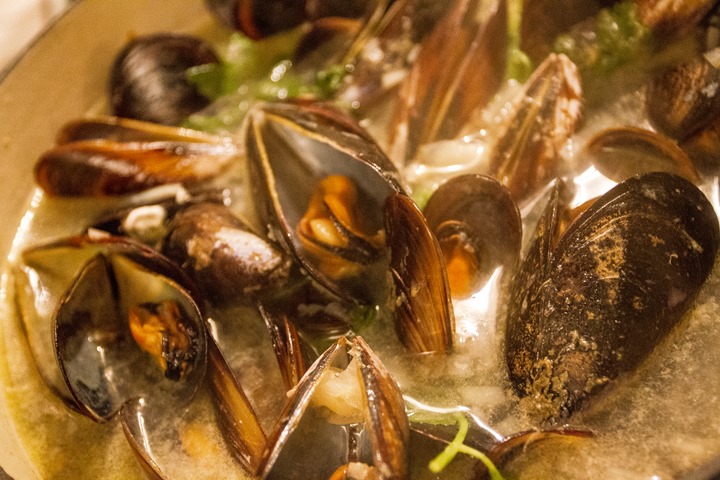 After which, I served everything up.  Quick and relatively simple dish – yet so good!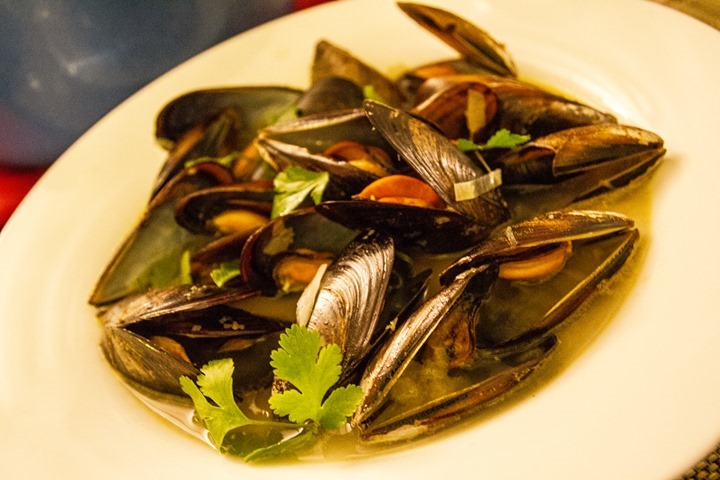 3) We watched a bunch of Olympic Sports Coverage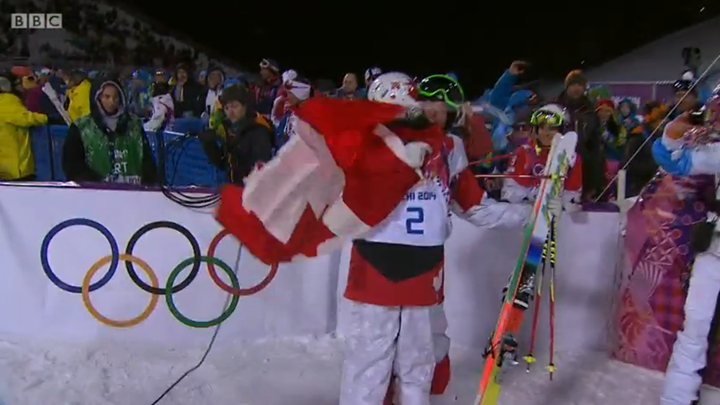 For us here, Sochi is only a three-hour time differences.  So many of the events are timed fairly well.  For example, the opening ceremonies started around 5ish-PM on Friday.
When it comes to watching them, we have a few options.  We can watch the French broadcasts of various events, but of course that's limited to whatever they broadcast.  They offer an online option, but it's still a bit restrictive.  Then we've got the BBC option on the UK side.  That works really well for us, since it's in English.  And, you can watch just about every event live and then afterwards.  And then finally, there's NBC, which we can watch through some computer magic.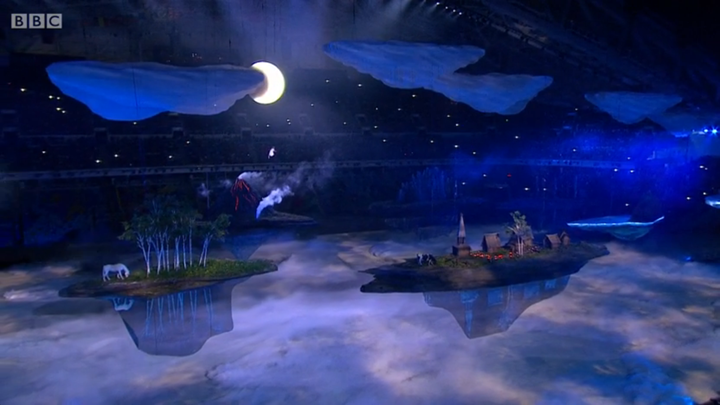 Ultimately, we've been mostly using the BBC feeds for things.  It's been a bit funny though watching the coverage.  We've noticed that the BBC reporters always like to get a subtle jab in there at every turn.  For example, if they were complimenting a component of the opening ceremonies, it might be like: "That was a very nicely executed dove performance…however, our London parakeet was much more graceful."
Or, from tonight's Freestyle coverage, we had a case where the British athlete had performed and they were leading and at one point a competitor fell and the commentator noted that "You certainly wouldn't be openly cheering for a competitor to fall".  Only to then follow that up about 15 minutes later with the broadcasters themselves outright laughing, actually verbally saying "Hahaha" as the final competitor fell, placing the British athlete on the podium.
It's just been kinda funny to see the vast differences between the different providers.
4) We ventured out for ham and hot chocolate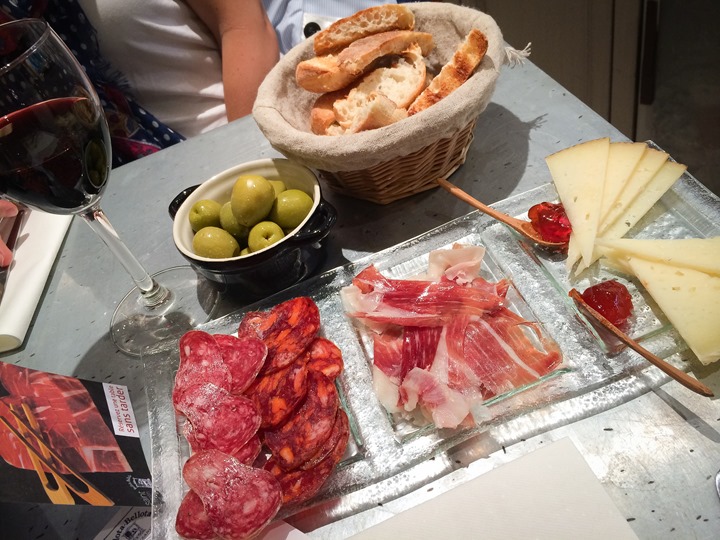 Saturday, after knocking out our respective workouts we wandered around for a place somewhat nearby that had been ranked highly for hot chocolate.  See, unlike in the states – hot chocolate is actually a very adult thing to drink in Europe.  Virtually every restaurant will serve it, and many do a very darn good job at it.
Along the way we got distracted though by this place with tons of Spanish hams hanging in the windows and a little menu as well.  So not a straight butcher shop, but kind of a blend between a butcher shop, a wine bar, and a café.  Ultimately, we got a mid-afternoon snack there – seen above.
From there we finally found the chocolate shop, and, the hot chocolate.  By then we had missed the main serving window for the café tables – but they'd still serve it to you in a small paper cup for 2 euros.  Sounded good to us!
It was pretty awesome.  Incredibly thick (as all good hot chocolates are here), dark and rich chocolate. Perfect.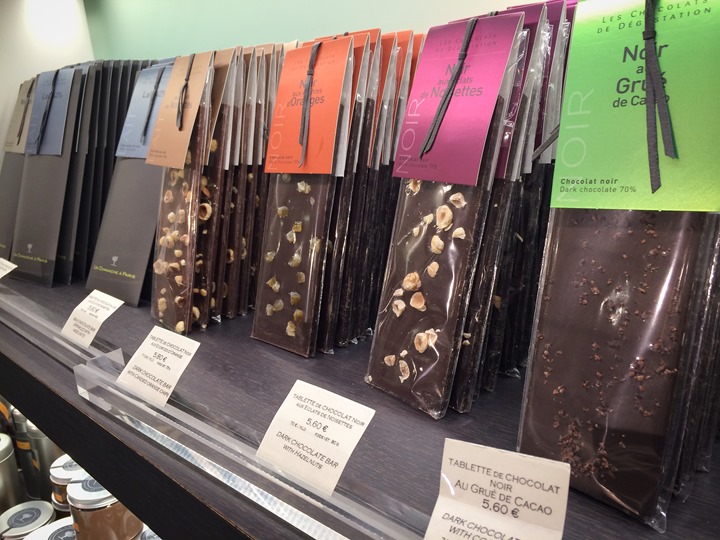 5) And then there was a sunny run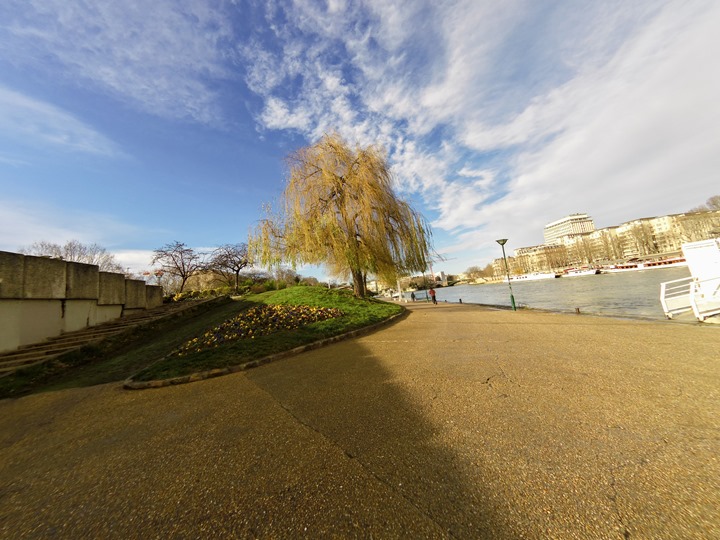 Wrapping things up, I had a nice run on Saturday in between a few squirts of rain that stormed down from above.  After the second squall passed, it got beautifully sunny again.  Though, had I been out just 10-15 minutes earlier I would have been utterly drenched.
I went down to the Jardin des Plantes (Garden of Plants), and did loops aimlessly in there.  It's adjacent to the zoo, and sometimes the animals will be out and about.  For example, there's a little Red Panda that hangs out near the fence most of the time.  But he was probably still drying out from being drenched.
Inside the gardens though there's also the massive greenhouses, a botanic garden of sorts.  Always looks so warm and tropical inside.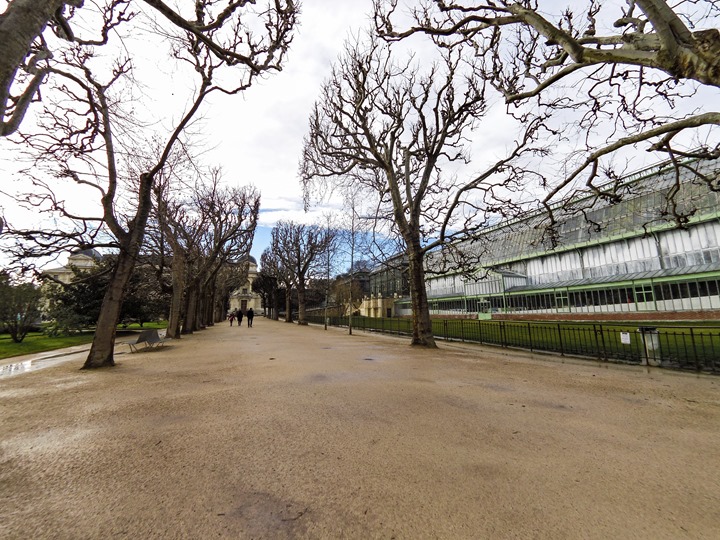 Despite having having done more miles than I could ever remember within the park, it wasn't until Saturday that I noticed the park benches all have little plaques on them with various sayings.  Some day I'll have to wander back down and see what they actually say – since it's a bit hard to read while running.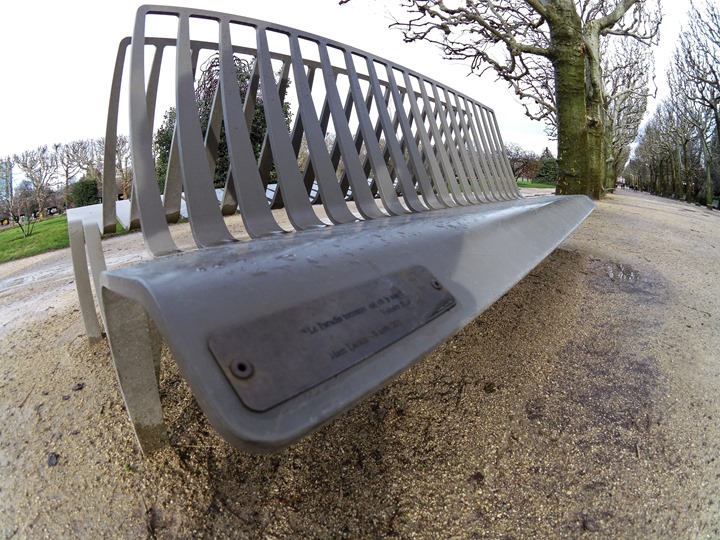 —
With that, thanks for reading!