Before we get to the Santa costume 10K race (where I actually ran hard despite the costume), we've gotta get through the weekend.  Some folks have commented that I've been lacking some food and Parisian posts lately, thus, we'll cover that before tomorrow's race report.  And for those looking for gadget reviews, I've got the Garmin VIRB review for Wednesday.
I got back in to Paris late Thursday evening from my week of work in Brazil.  Friday was mostly spent catching up on the previous work week (travel is brutal on playing catch-up on items not pertaining to that trip).  Friday night we met up with a Paris based blog reader and friends.  It was up in the Montmartre area, so afterwards The Girl and I decided to wander up to Sacre Coeur.  It was a quiet night, with just a tiny bit of rain coming down.  Nice to be up there overlooking the city without the huge crowds normally found during the summer.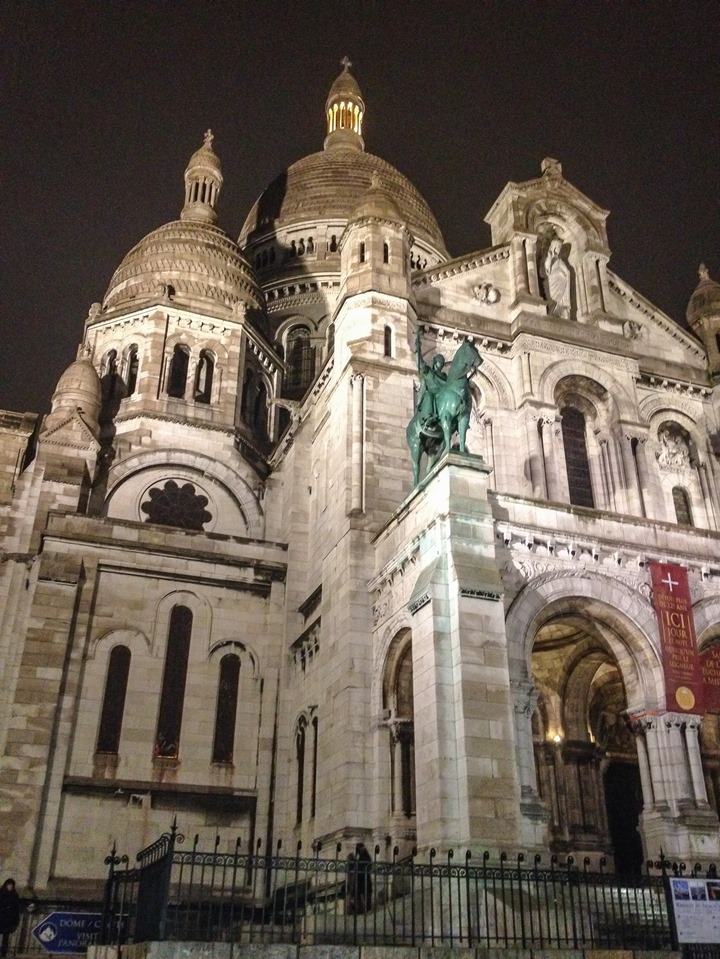 Moving on to Saturday, Christmas is now in full swing in Paris.  While the major Christmas markets along the Champs Elysée opened up a few weeks ago, many of the smaller Christmas markets opened up this weekend for a shorter run.  For example, the Christmas markets about 100-150m away from us across the street from Notre Dame opened up.  This has mostly home-made knickknacks, and not too much food unfortunately.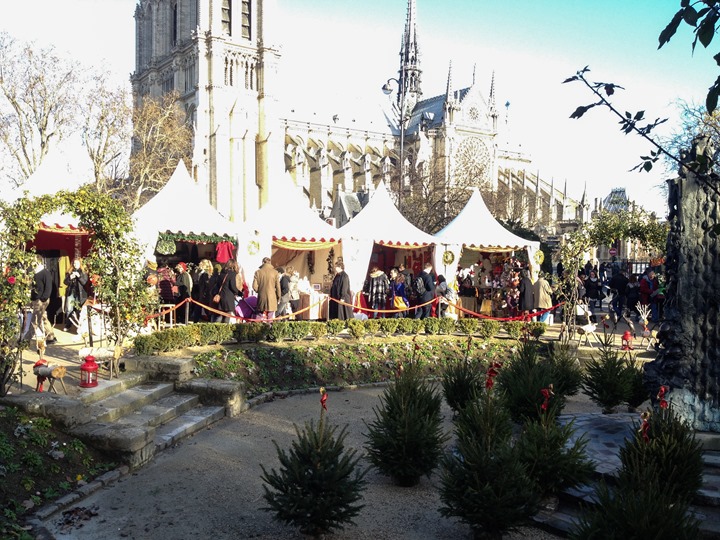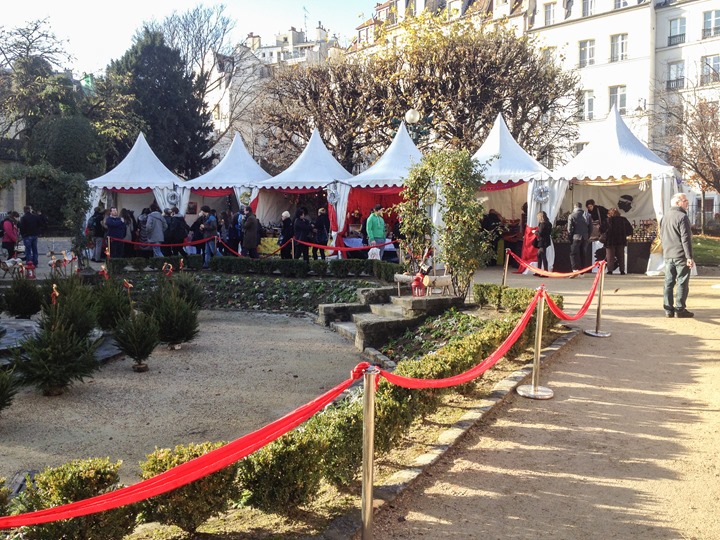 After swinging through the markets we went over to pick out a Christmas tree from the garden greenhouses.  These are located just a few blocks away on the island, and in the summer are normally packed with flowers.  This time of year though it's all about Christmas trees.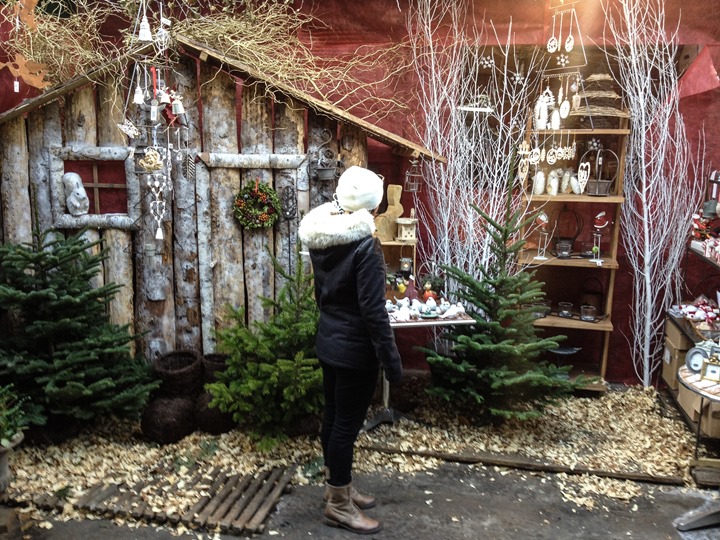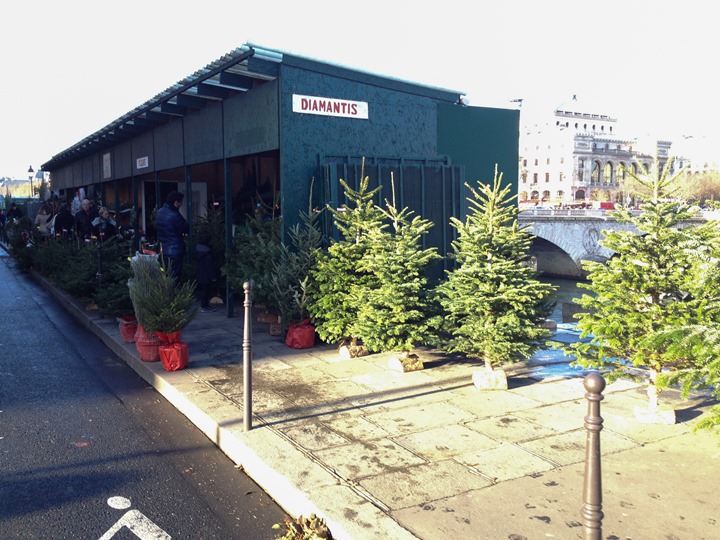 After much deliberation we found a tree we liked that fit well into the space we had.  Trees are a fair bit more expensive here in Paris than in the states.  This one that's roughly my height (~6-feet) costs 85€ (about $115).  Eek!  Even the little 1' tall (yes, table-sized) ones cost 35€-50€.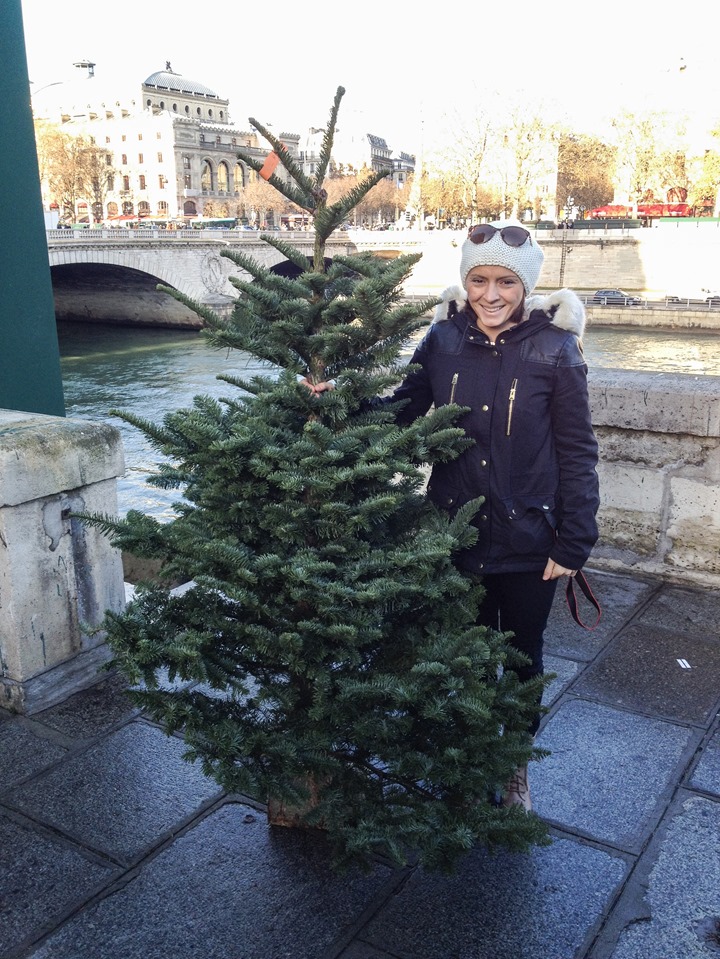 This time, we decided against cycling home with it on the Velib, like last year.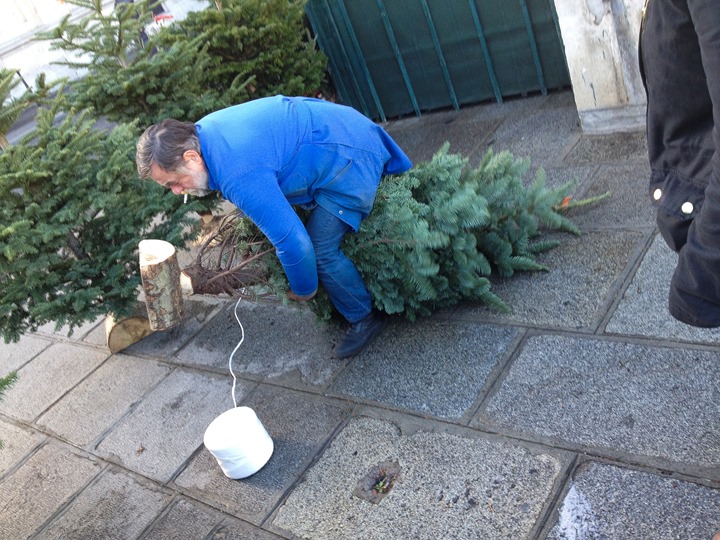 Instead, we just walked home with it: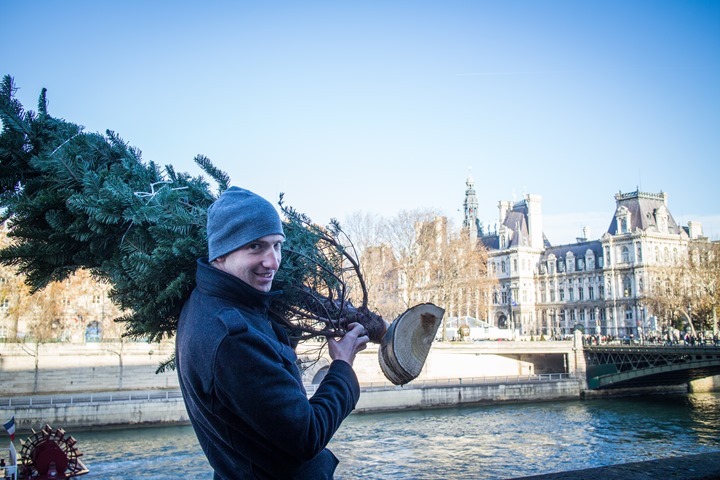 It wasn't too heavy, and it's really only perhaps half a mile walk home.  Plus, we could stop along the way to pickup cupcakes at the shop: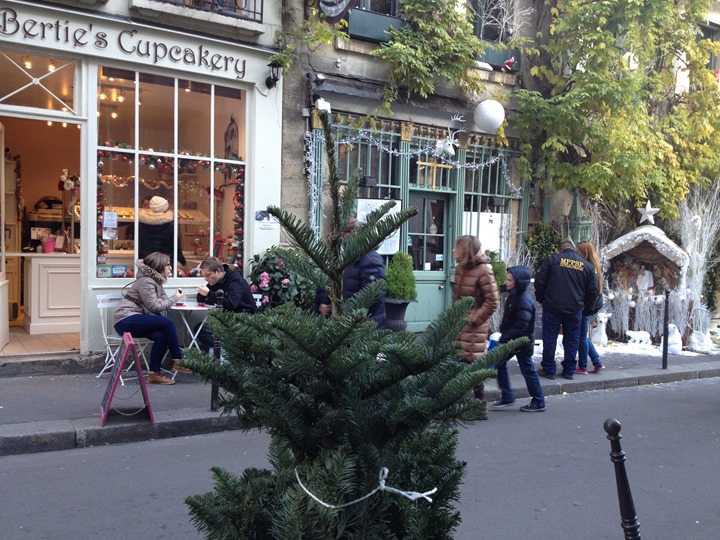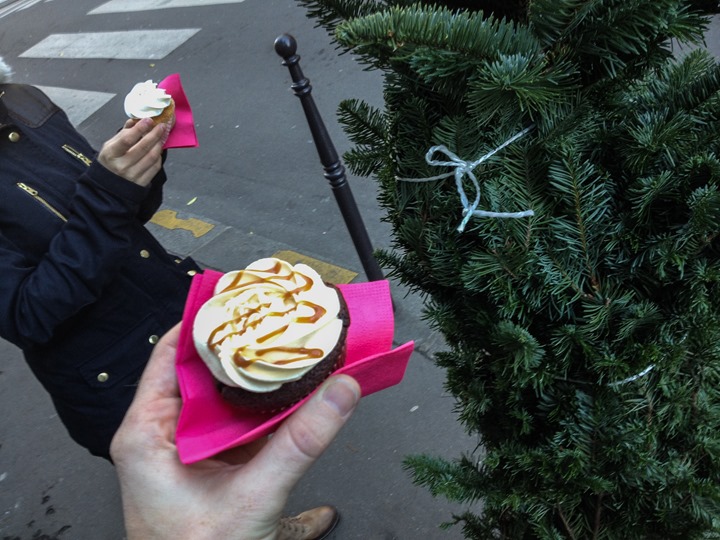 Then, it was into the tiny elevator with our tree, and up into the house: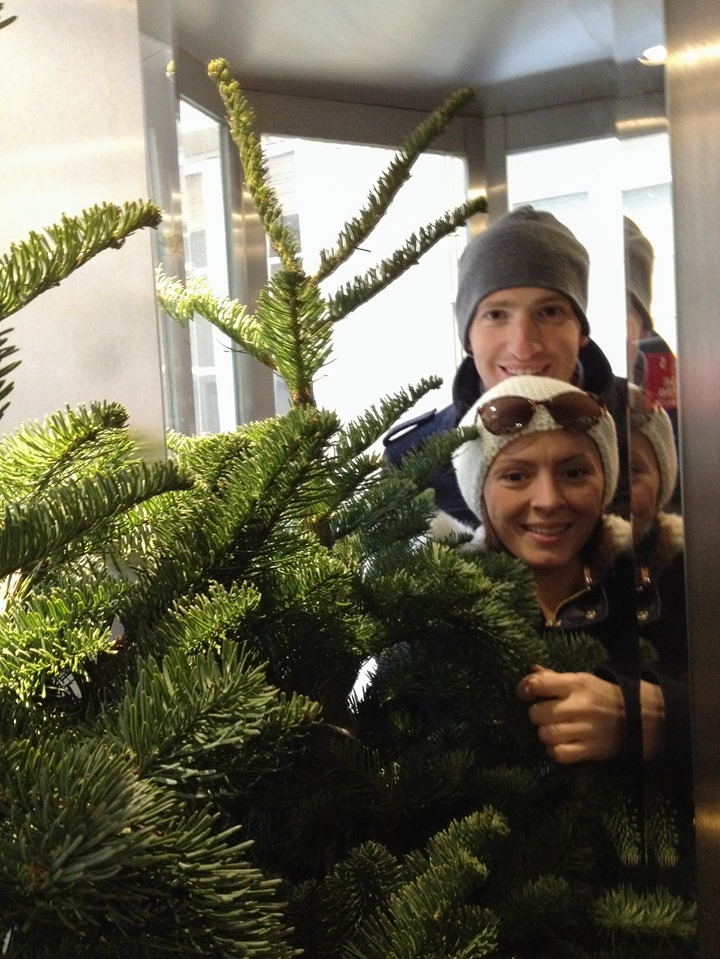 We'd finish putting everything on the tree later Sunday night: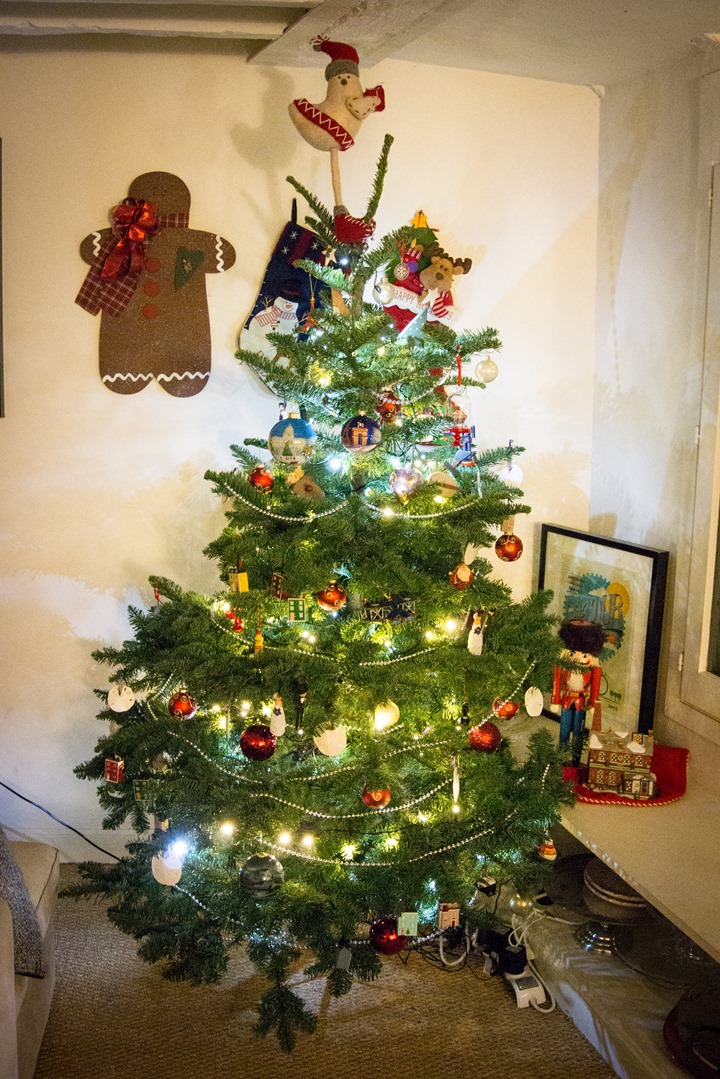 Speaking of trees, the Notre Dame Christmas Tree went up last week.  Last year the tree wasn't put up due to the grandstands that were installed.  With the stands mostly torn down now, there was room for a tree (well, honestly, there was room for a tree last year too…they just didn't put one up).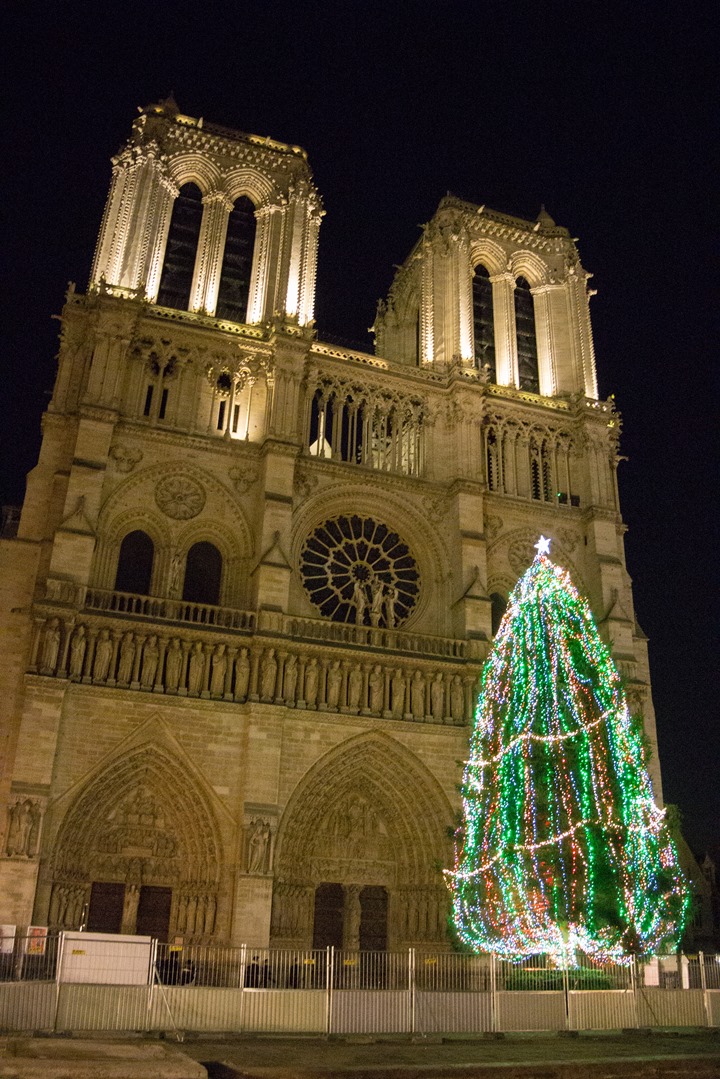 It's a very…uhh…unique design.  No ornaments or anything, just light strands.  Some fairly random.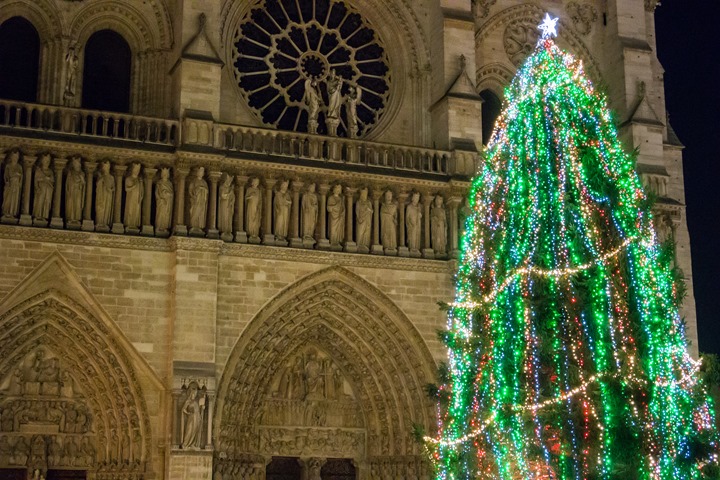 We actually really like a bunch of smaller trees they put on the bridge between the two islands: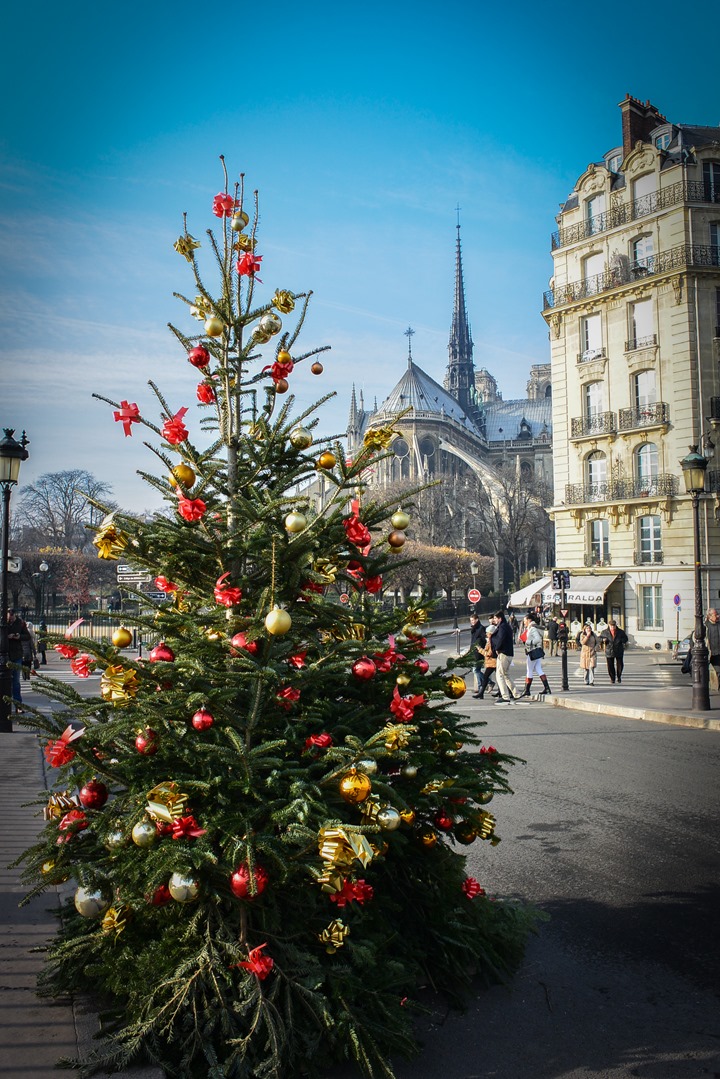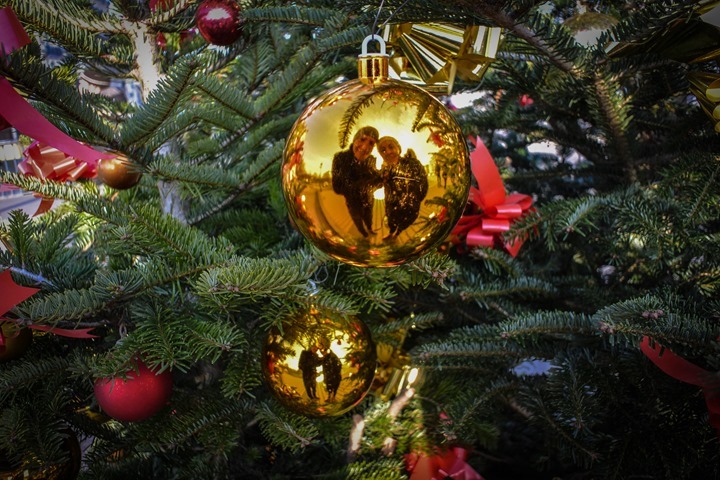 In between all these Christmas trees, we rushed out to go do packet pickup for the Santa 10K.  Except, we sorta got distracted in a market: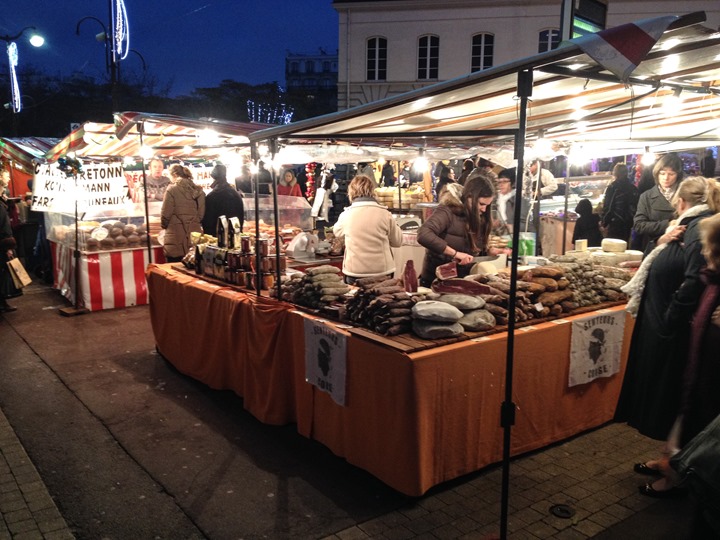 They had all sorts of good stuff, including various things we had not seen before – like these bowling ball looking breads.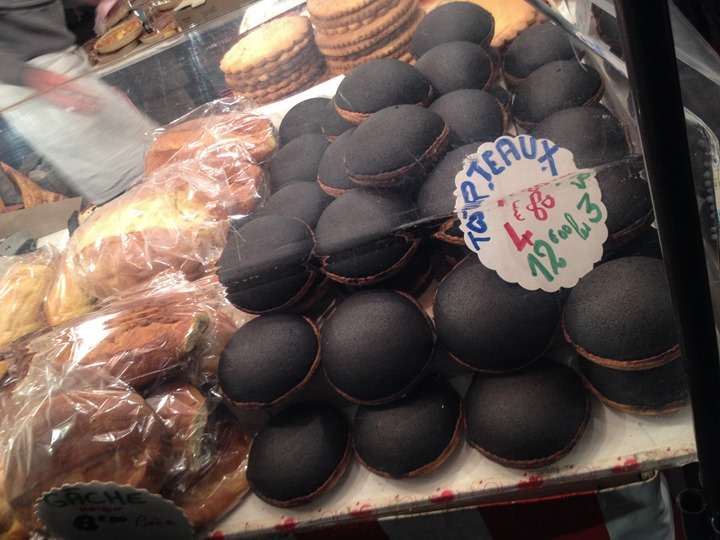 We skipped the breads, but did come home with some cheese and sausage we tried: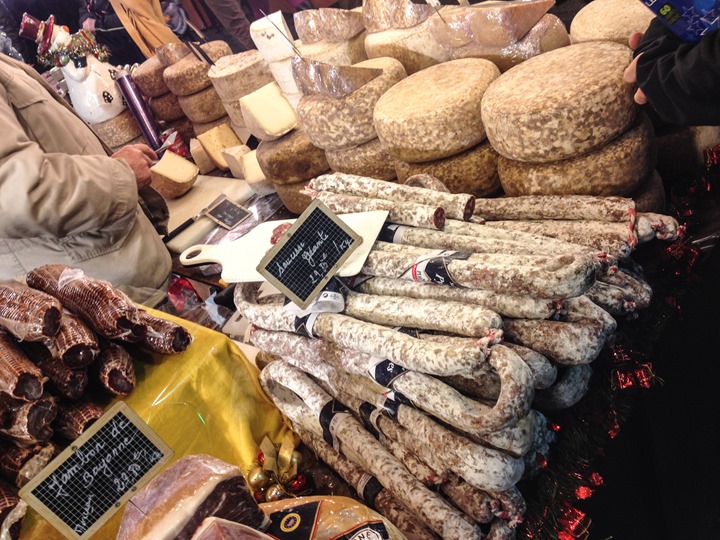 After we had finished poking around there we headed over to the packet pickup and expo: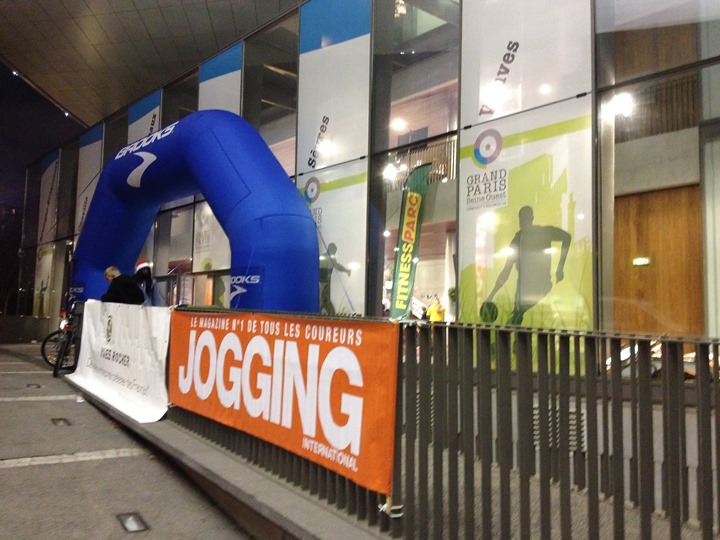 At this point things were waning a bit, as they were only open another 90 minutes or so (it was about 5:30PM).  While in the US that would have been prime packet pickup time, apparently that wasn't the case here.
On the sports technology front, it's notable that TomTom actually sponsored the race, and from what I gathered was the headlining sponsor along with Brooks – as their stuff was everywhere including the big inflatable finishing banners.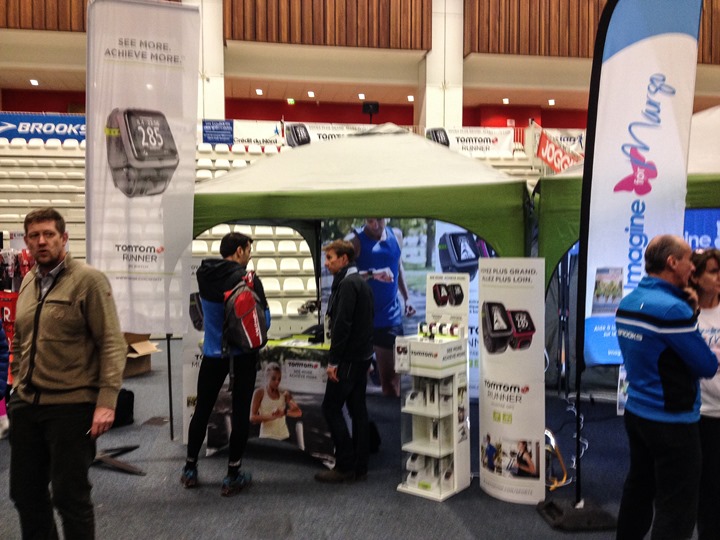 Now, as I noted at the beginning – I'll hold back the race report until tomorrow.  But here's a preview of things to come: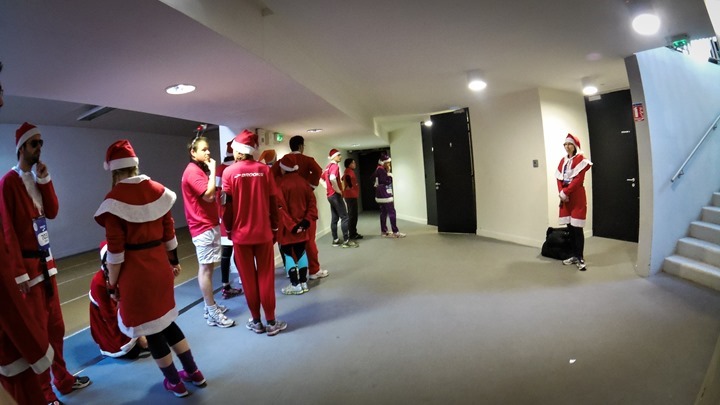 Yes, I could have shown you the photo of thousands of Santa's lined up…but I've gotta save something.  Instead, here's the line for the bathroom.
Less you think I didn't do any sports tech stuff this weekend, I spent a fair bit of time unboxing new products.  In this case, more action cameras.  Thankfully, I'm at the point where I have what I need test-wise for many of the other action cameras, so it's just a case of writing the actual reviews (which, is the easy part).  So these will queue in behind those.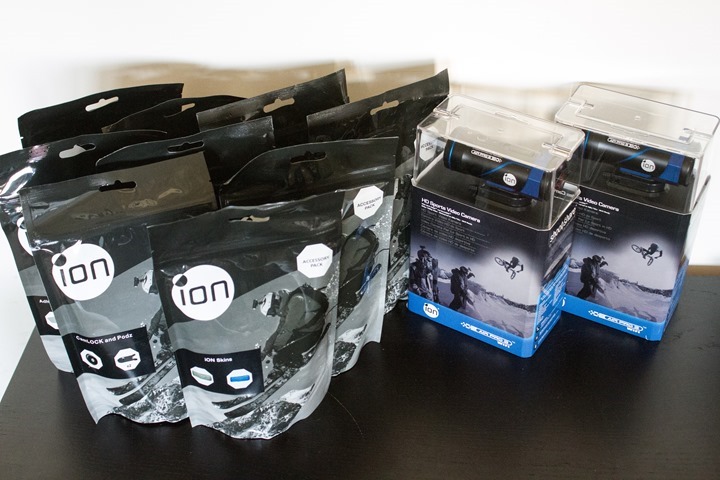 Below, the new GoPro Hero 3+ Black, hanging out alongside it's slightly older sibling the Hero3 Black (no +).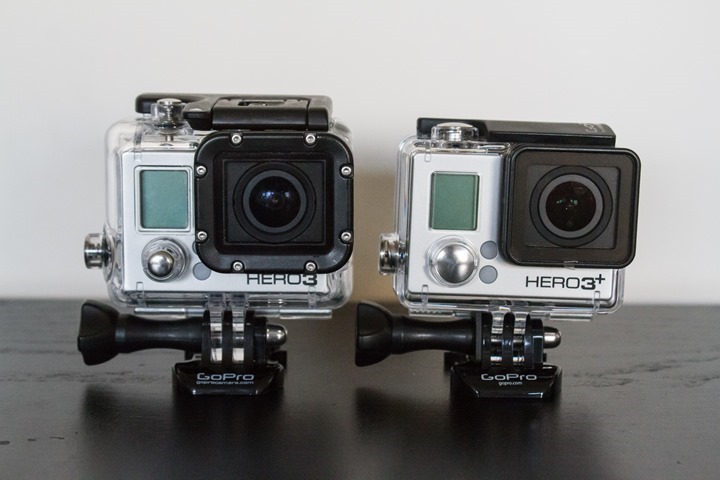 We had one final item on our weekend list – which was celebrating The Girl's birthday, which fell on Sunday.  We went out with friends to a place kinda like fondue, but the French version primarily from in the Savoie region.  They impale large chunks of cheese on these holders, and then you place a heater over it and it melts down onto a plate: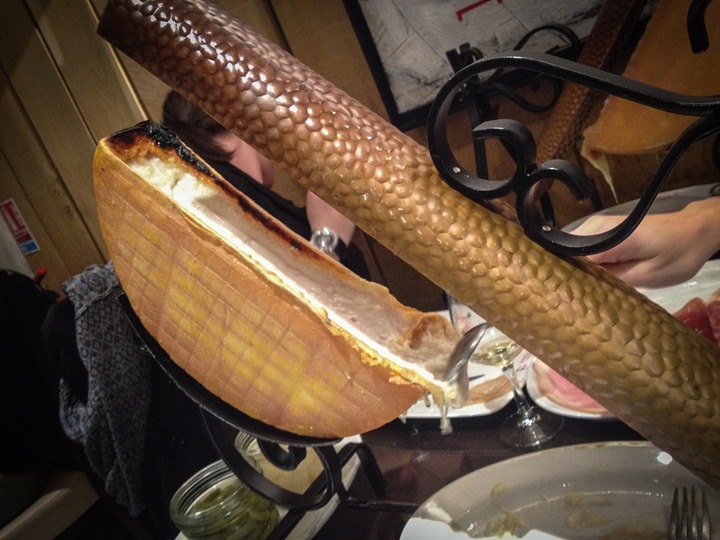 It's pretty much awesome.  Almost as awesome as the cupcakes that one of her employees made her for her birthday – bunnies!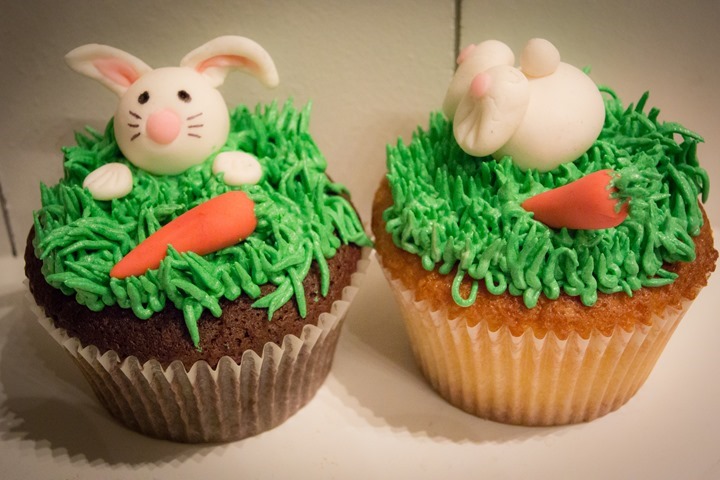 Which…will be the only bunnies she's getting anytime soon.
With that, thanks for reading!