You know what's nice about this run in Philadelphia?  I didn't have to run a marathon.  It seems the trend that every time I'm in Philly I'm either running the Philly Marathon/Half-Marathon, or doing the Philly Triathlon.  This time, I got to simply enjoy a 12ish mile run and attend our good friends' wedding.  Oh, and eat cheese steaks.  Perfect!
Of course, before I could earn that cheese steak or two, I had to get my run on.
I started off from City Hall, just a few yards in front of our hotel: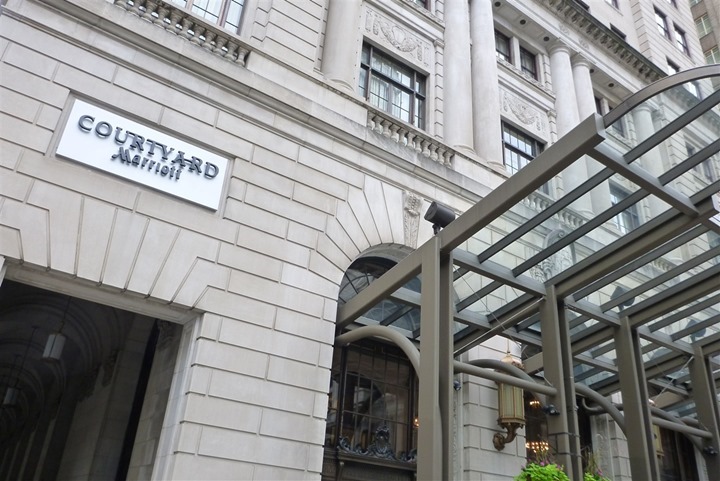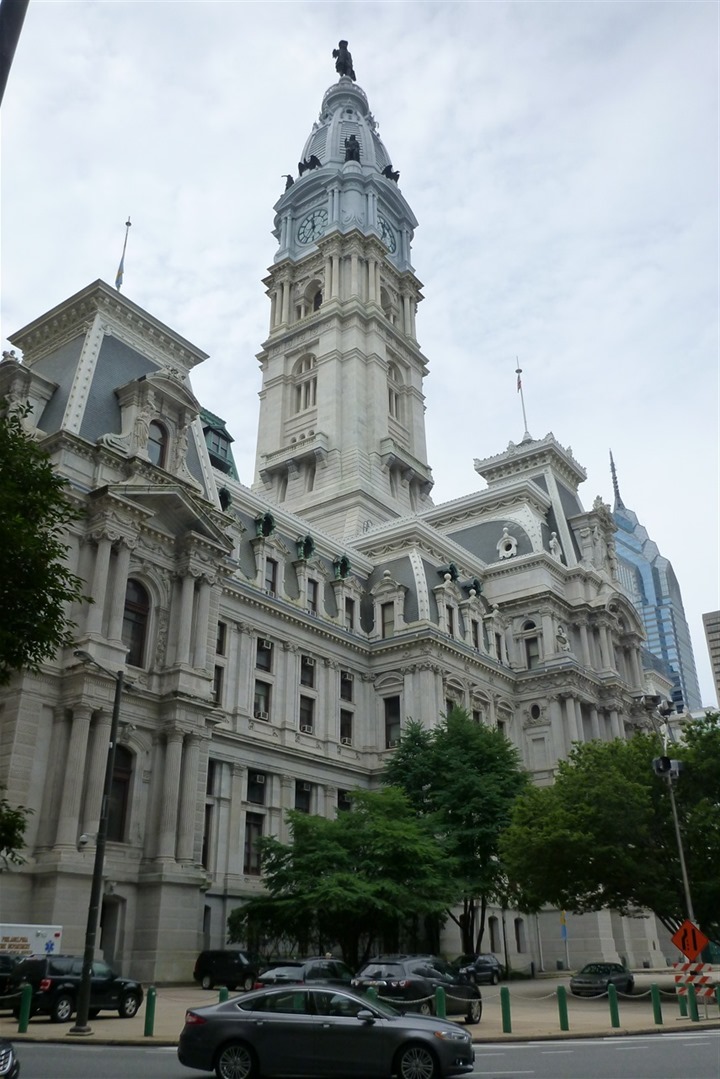 From there it was just a short run to a printing press statue with Uncle Ben (Benjamin Franklin):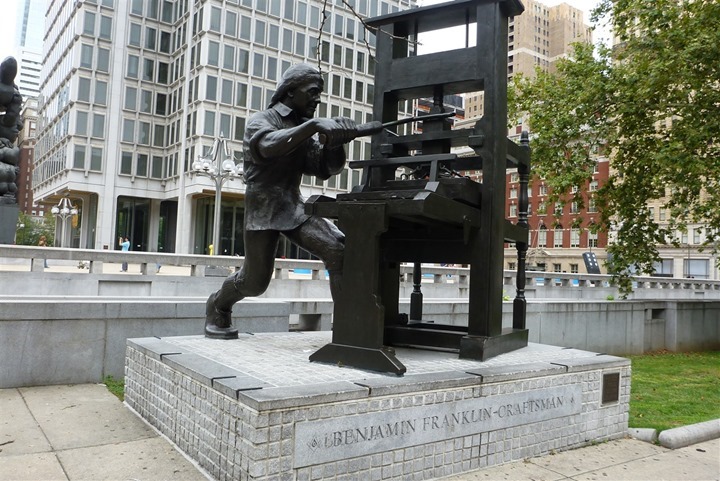 Behind him a touch was the famous LOVE letters – accenting a pretty cool line of sight past the fountains all the way to the Museum of Art.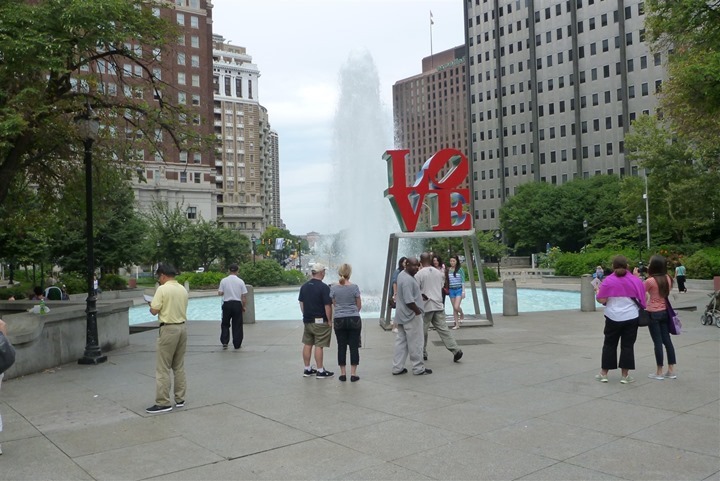 With the fountains behind me I pretty quickly got out into the open and my lap average pace started to drop (since I wasn't playing dodge and weave any longer).  For non-interval runs, I tend to use 1-mile repeating laps to keep track of my pace as it shifts.
You can see below the relatively straight shot to the museum.  In fact, this is where the Philly Marathon starts and ends.  I've stood in this very spot many times before (both in anticipation and in pain).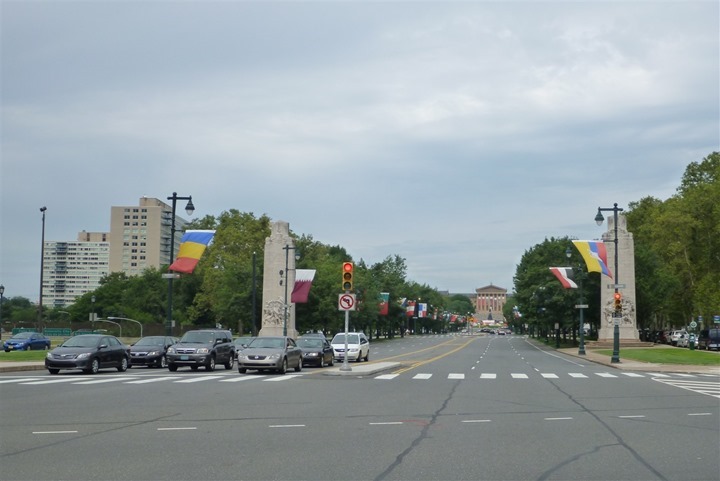 Speaking of which, there were beach balls and lanterns hung in the same spot that I've previously always seen porta potties (during a race).
Once past the former land of porta potty I was in front of the steps up to the Museum of Art.  I'd come back and visit it later in the run.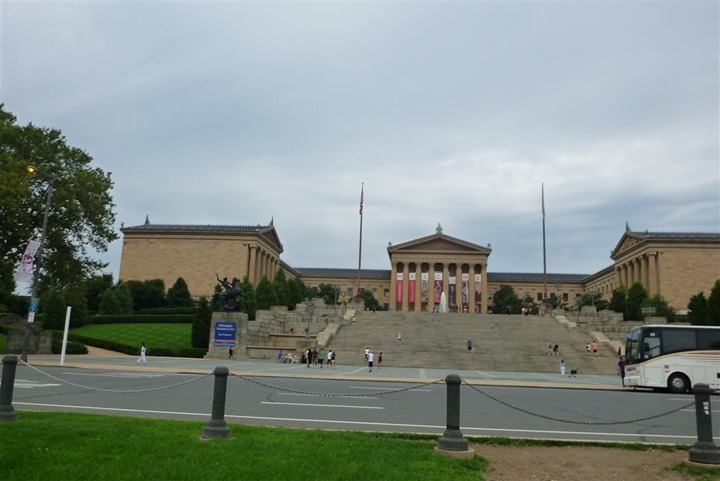 Instead, I wrapped around to the left of it, which brought me down onto a running trail.  The roadway next to it was closed for the weekend to allow runners and cyclists to use it.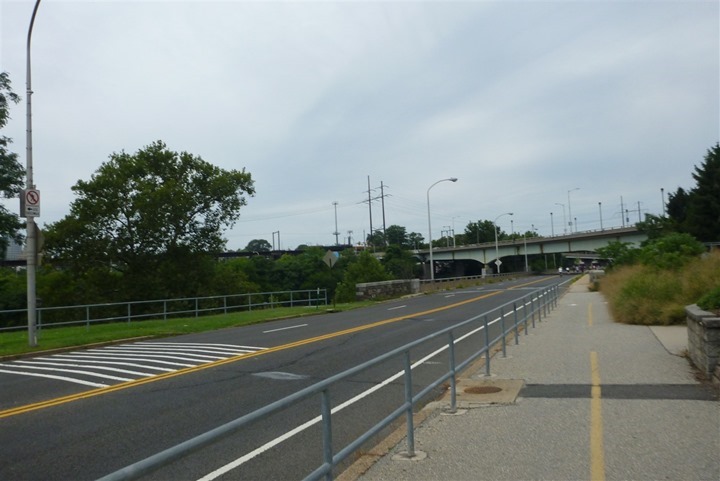 A minute or two later I'd cross over the river on my way outbound:
Once across the river the roadway opens up a fair bit and this is where the majority of runners/cyclists I'd see were.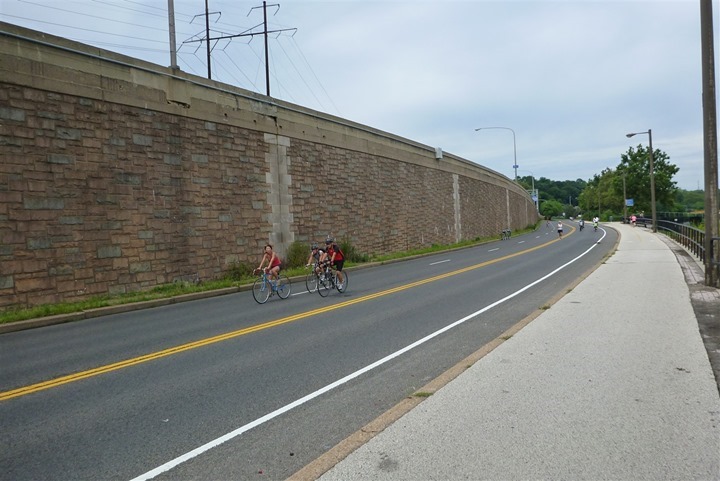 Looking back across the river you can see all the various rowing houses.  During the holidays (or perhaps just at night year round, I've only ever been out at night during the holidays) – these homes are all decked out with lights.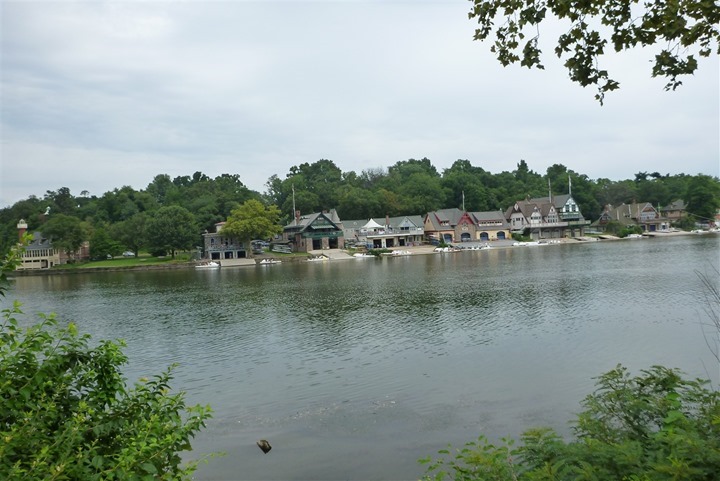 I continued to plod along.  I was just running with a water bottle and a gel packet, nothing fancy or too bulky given the run was relatively short and the weather was relatively cool.  Plus, I didn't really want to pack my CamelBak for this run since I had water bottles with me on my bike.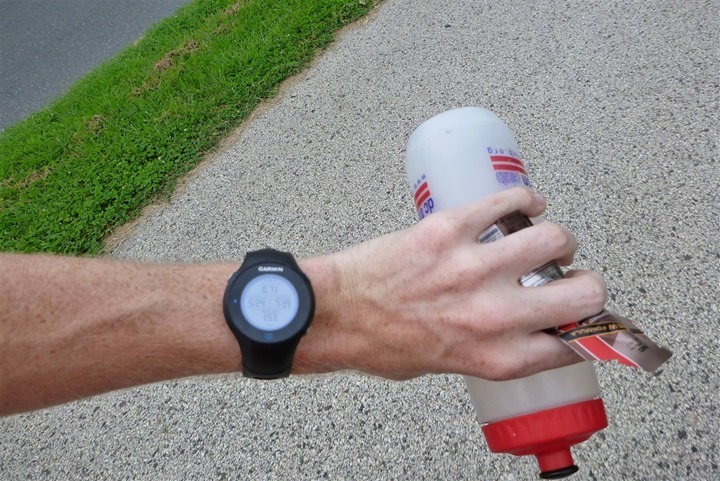 Since I forgot to bring from my stash of usual nutrition, I picked up a Clif Gel Shot, chocolate flavor specifically.  Seriously, why do I not train with chocolate more often?  It was like eating a brownie.  I love brownies.  A lot.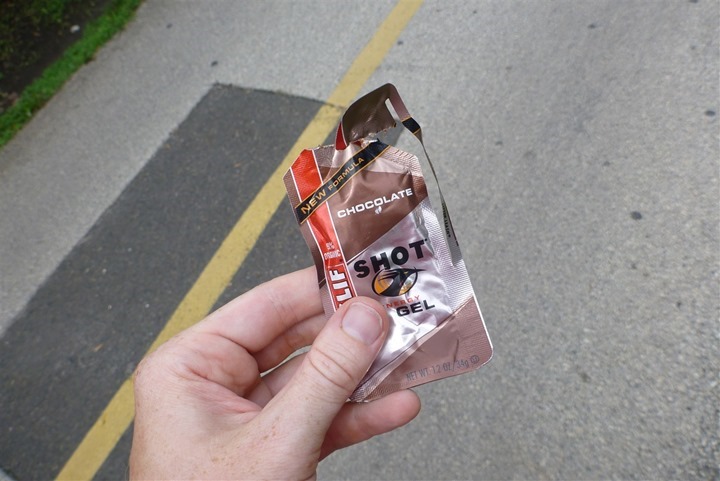 On a related note, on my Thursday ride I grabbed at the bike store one of those Honey Stinger waffle things.  While OK tasting – how on earth are you supposed to get it out of the package while riding?  Seriously?  I can open it up no problem, but then it's like trying to take a Frisbee out of a Kleenex box.  Not fun.
Back to my run…
Generally it was quite quiet.  Though, it was around mid-day at this point, so most more serious runners would likely have already finished up their runs (or, if not more serious, certainly smarter).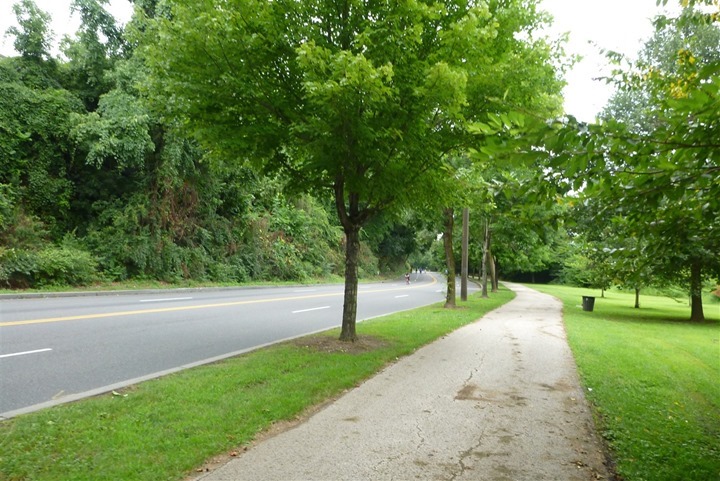 I passed a garage/facility of some sort – they were BBQ'ing.  Had I taken any money, I probably would have quit my run then and just eaten BBQ.  But I lacked money, nor really anything else to barter with.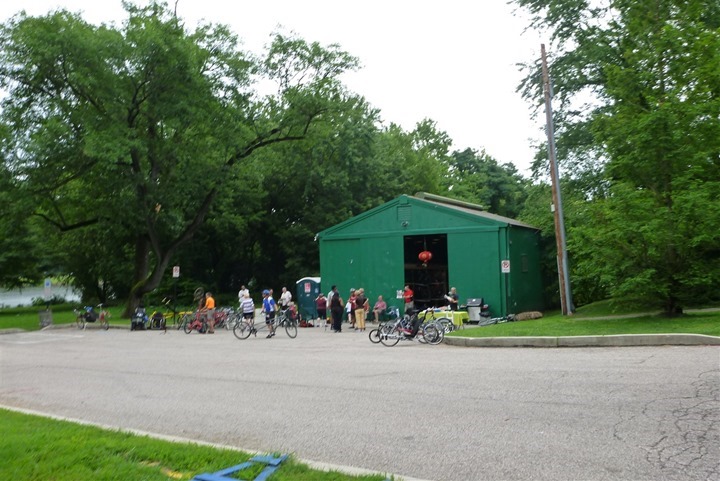 Onwards on the little path I went.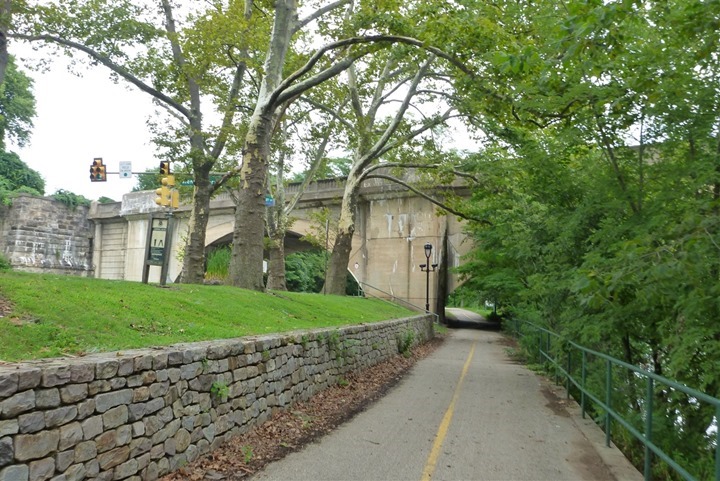 As I neared about five or so miles I figured I'd determine how to cross the river and come back on the other side.  I saw the hill (seen below to the left) that eventually went to a bridge.  While crossing the street I noticed the below 10MPH sign for cyclists.  Which likely explains why there were so few serious cyclists out there.
Kinda too bad to otherwise 'waste' a great closed road to traffic (I see little reason why cyclists couldn't share the space at varying speeds– after all, it works just fine in every other major city on the planet).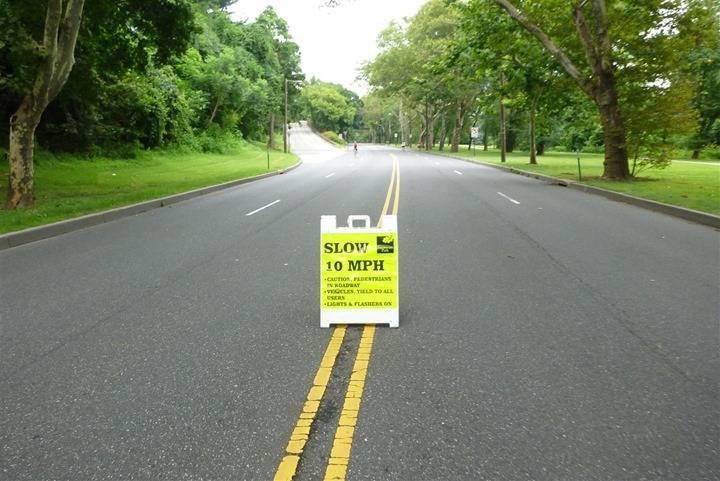 I went ahead and crossed over the bridge, which appeared to be a former railway crossing at one point.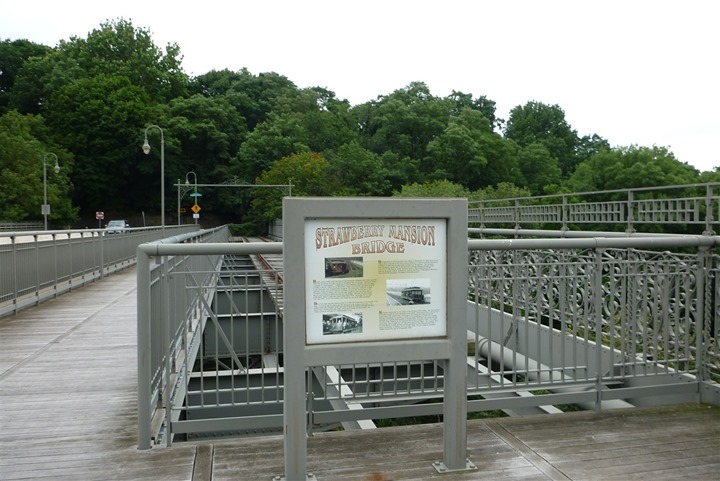 Here's the view downriver: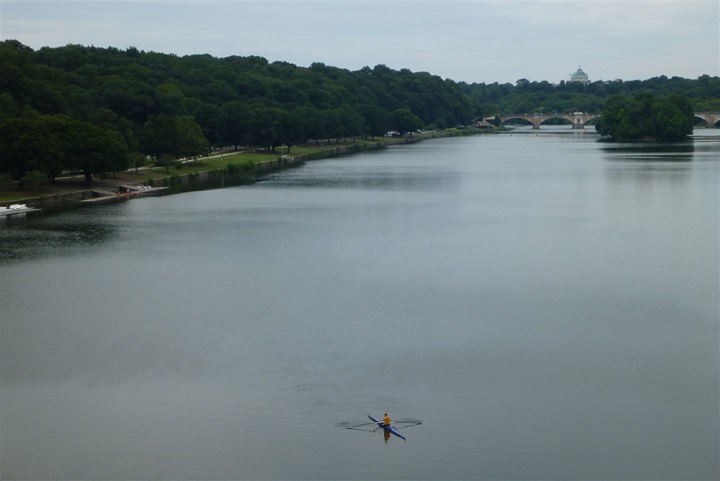 Upon crossing the river I figured it'd be a somewhat straight forward back down to the trail on the other side of the river.  And while that was technically true, the actual path was a bit sketchy – overgrown and with folks hanging around drinking (formal cocktail party this was not).  Fine for me, but I'd guess that the single ladies in the house wouldn't be thrilled about it.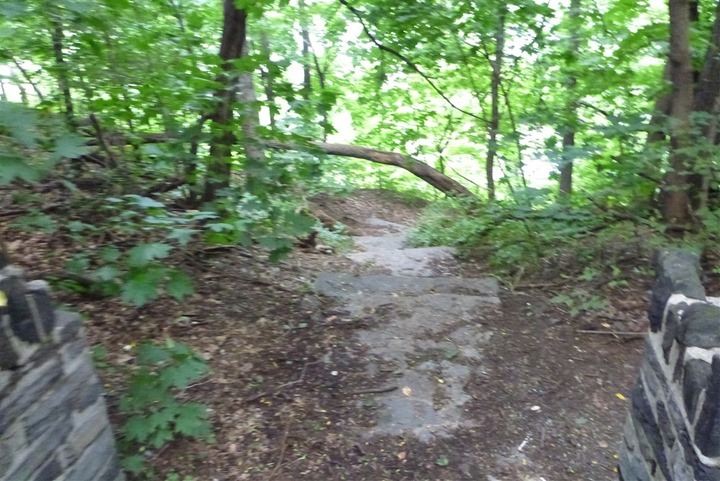 No worries though, I found the path and was back on my way (still outbound):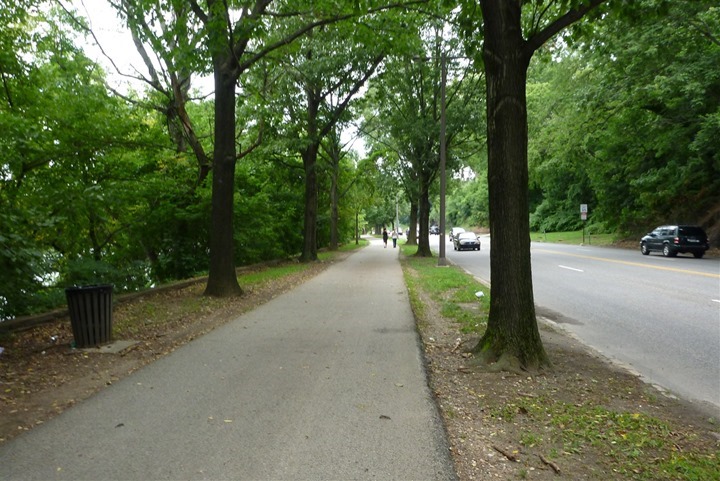 This side was busier than the other side from a runner standpoint.  And in fact, looking at the Garmin Connect heat maps pre-run, it matched the reality that I saw as well (seen on the right of the river, below):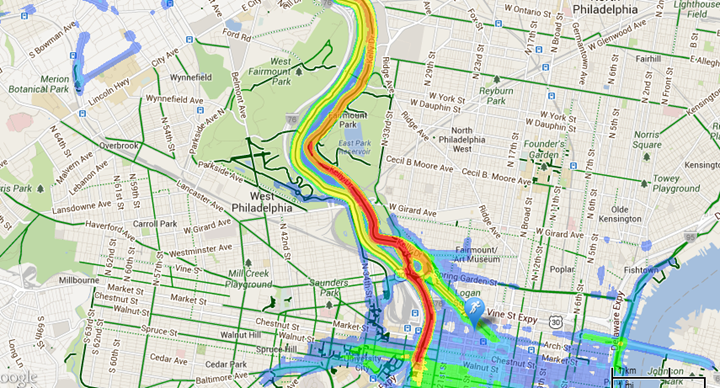 I turned around a bit later, and then began working my way back.
Along the way I passed outdoor stadium seating for rowing competitions, pretty cool: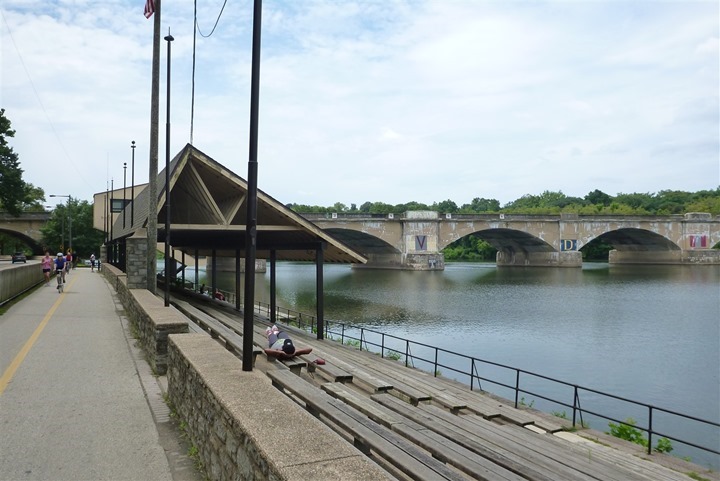 Then a bit later across the river I'd see the "hot air balloon on a wire" at the Zoo.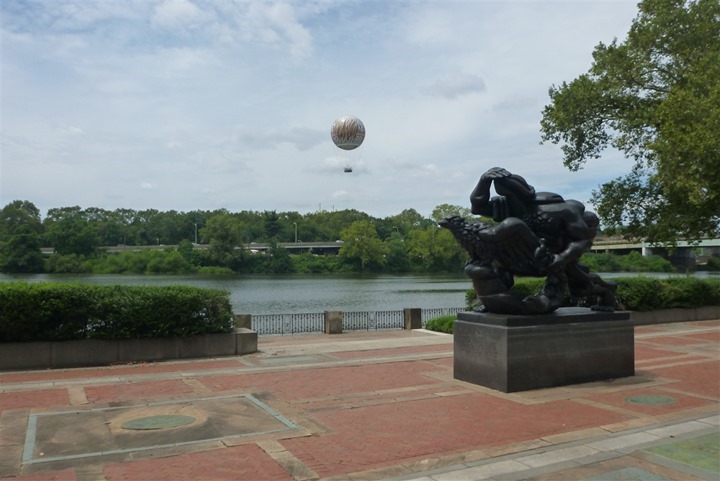 You'll remember the rowing houses I saw on the outbound from the other side, now I was running behind them.  There was no ambiguity that these were establishments of rowing: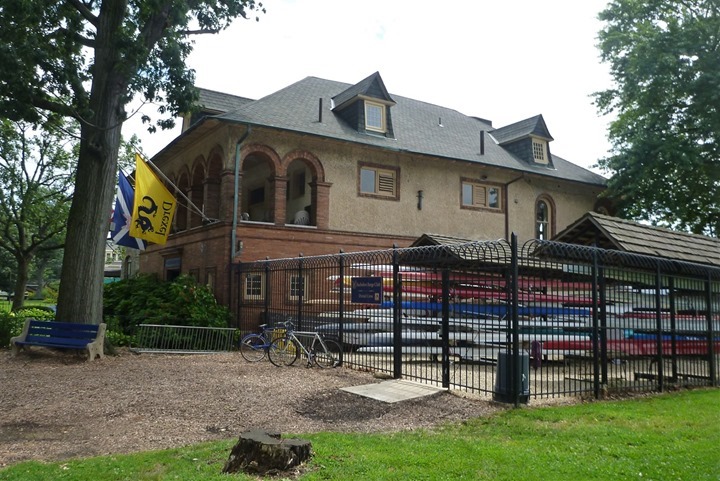 Each of the houses prominently and proudly displayed their affiliation(s):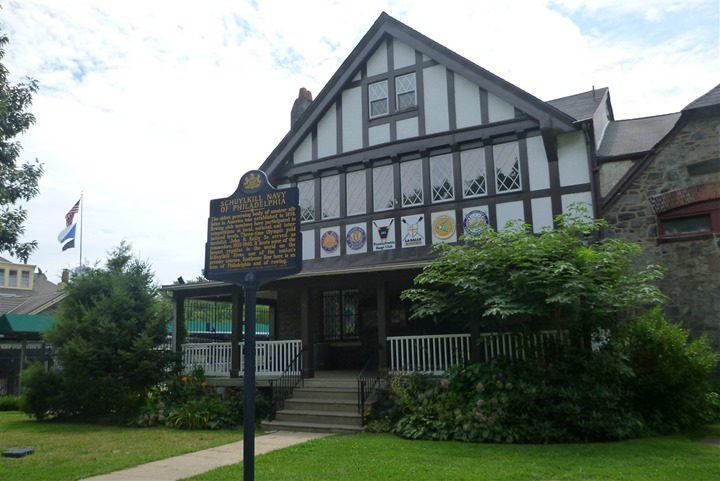 I was soon back along side the Museum of Art, and running next to the famous Rocky Statue.  During the marathons, they place the finishers shirt over the statue – as this is just right at the finish: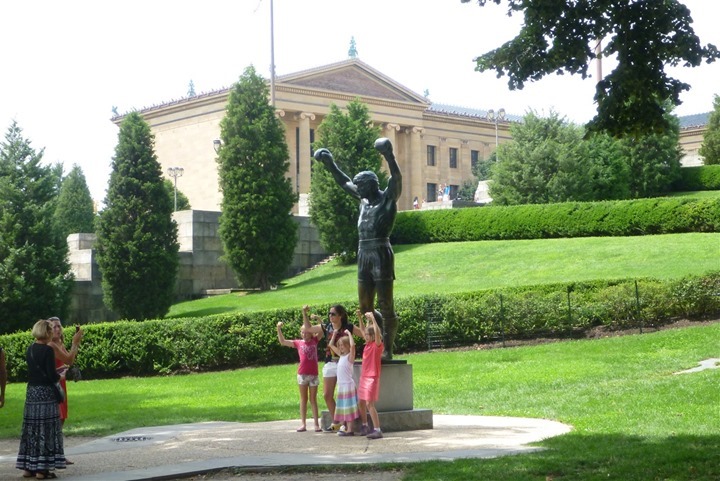 On the steps there were numerous folks running up and down.  Some looked to be doing legit workouts, and others looked to be more in the movie re-enactment phase (from Rocky).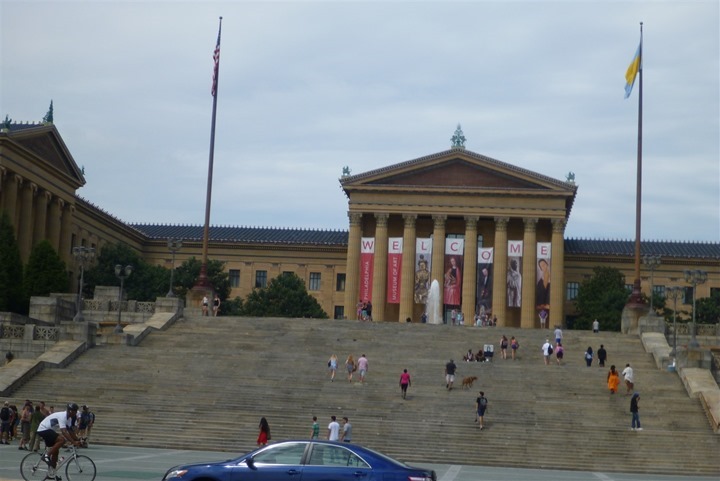 I've done the Rocky re-enactment previously – post-marathon mind you – so I saw no reason to re-do that pain again (unfortunately, the video appears to be a victim of MSN videos from long ago, I'll have to re-upload it some day…).
So, I just ran back down the main avenue towards city hall (center of street below):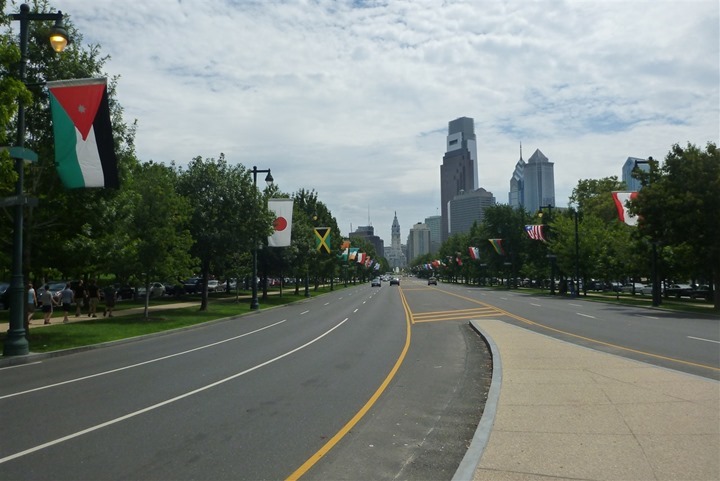 And finally lastly, back at the fountain again: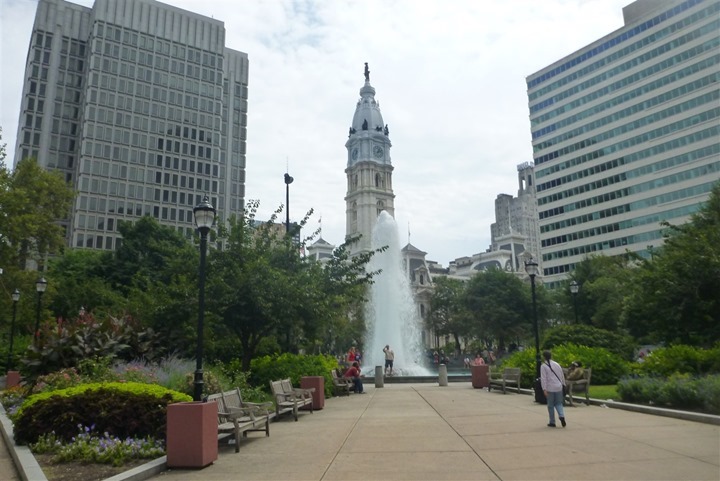 I finished up a handful of 30 second intervals and then called it done.  For the main portion of my run (about 11ish miles), I kept a nice steady 7:20-7:30ish/mile pace in Z2.  Good deal.  Here's my complete route: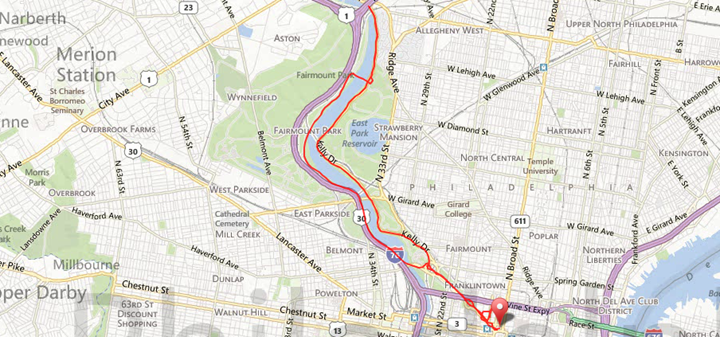 With the run over, we relaxed at the hotel a few hours before heading downstairs to the wedding.  I'll point out that staying in the same hotel as a wedding is brilliant.  Especially when the ceremony and the reception are in the same location.  Total transport time: About 30 seconds in the elevator.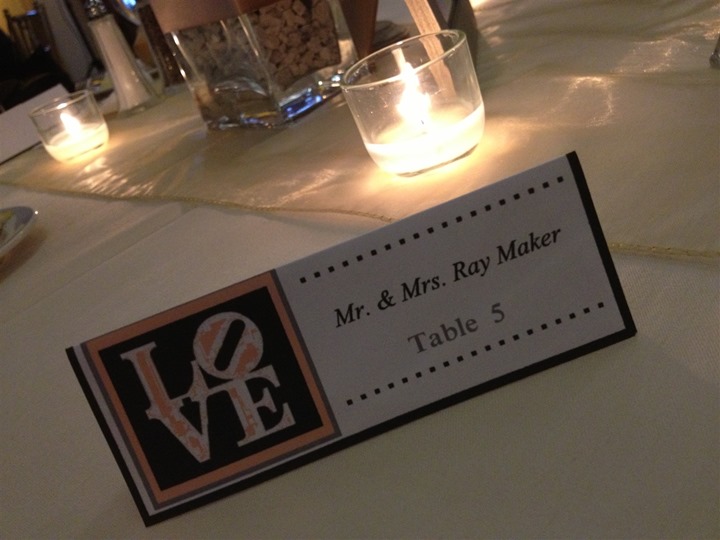 Obviously, The Girl and I were properly outfitted for the occasion: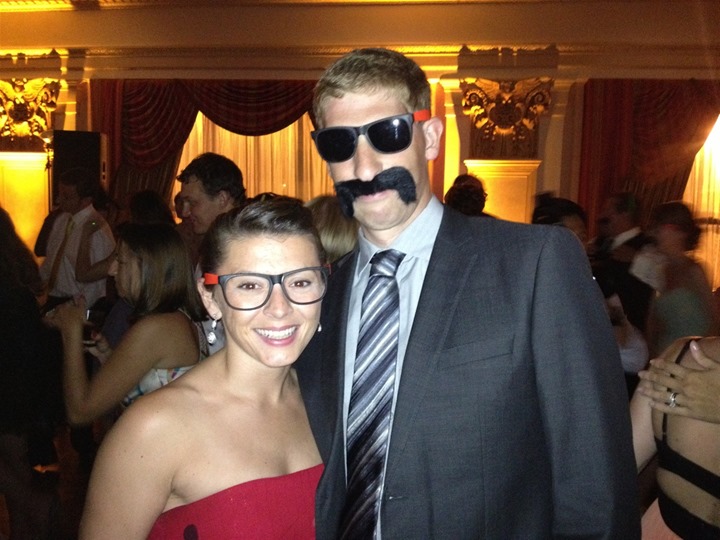 Even better than the fake mustaches and glasses that were provided mid-way through the night, were the Philadelphia cheese steak sandwiches.  Pure awesome: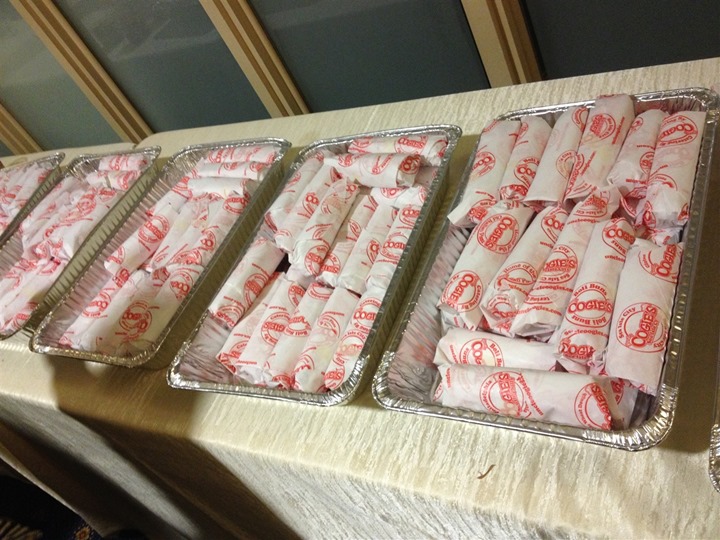 Huge congrats to triathlete friends Lauren and Phil!
The next day we made a brief stop at the mall.  As I was pulling into the parking lot I watched as a cyclist (likely a triathlete given the clip-on aerobars) removed his bike (and bike rack) from his car in the fastest and most painful method possible: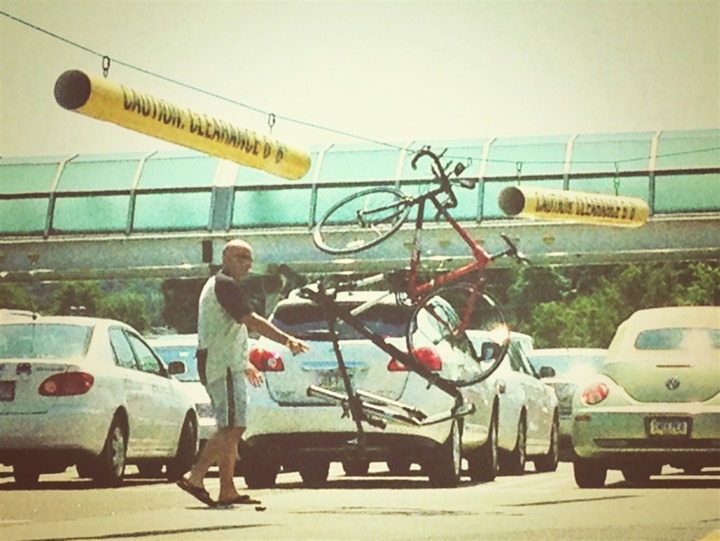 Don't worry, I helped him get it down (though, as pointed out on Twitter, not till after I snapped the above photo).  It was actually harder than I would have thought to get the whole thing off of the wire due to the aerobars kind of 'locking' it in place.
With our mall run complete we headed off to the airport and up to Newfoundland – where I'm enjoying the cooler weather (yet still sunny days!):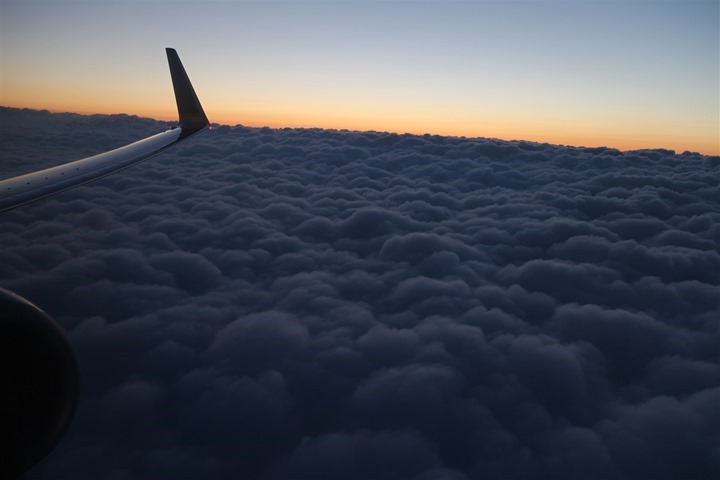 More on that (or this, I should say since I'm here now), later in the week.
Thanks for reading!