I've got meetings this week in Seattle, so Saturday mid-day I packed things up in Paris, connected to a flight in London and flew 9 hours to Seattle.  I love these flights – the early-mid afternoon departures from Europe where you land and it's still mid-afternoon.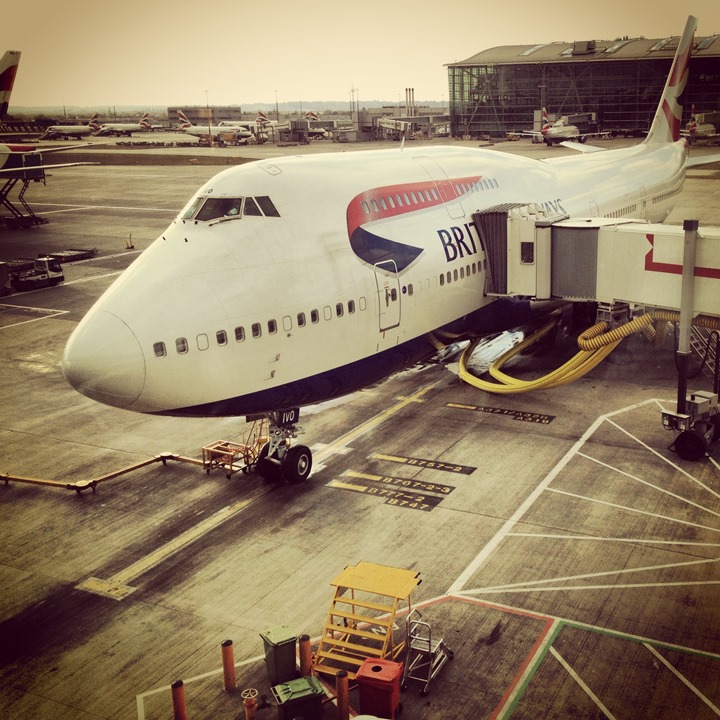 Coming in over the Cascades, it was a beautiful day out for skiing: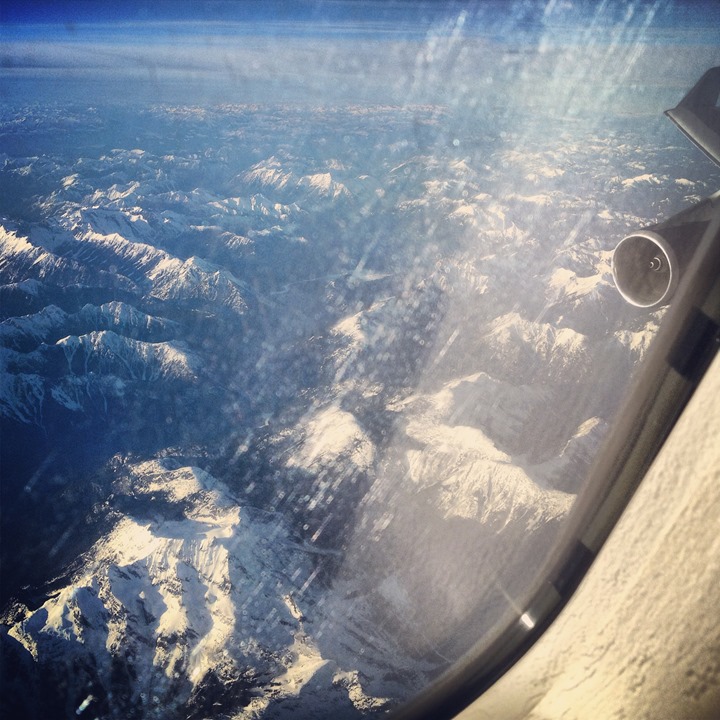 By time I got 'home' (my parents live in Seattle, where I grew up and spent the first 20ish years of my life), it was around 6PM, and I didn't last too many more hours before falling asleep.  The 9 hour time change from Europe puts a dent in that.
The next morning though I got in a trainer ride.  I had shipped out a Tacx Bushido unit I bought to my Dad last year.  Given all the space constraints in our Paris apartment, there's a limited number of trainers that can be sustained.
I ended up riding a Real Course video of a Tour de France climb, just prior to Alp D'Huez in the year this film was shot.  And I just ended up riding his bike.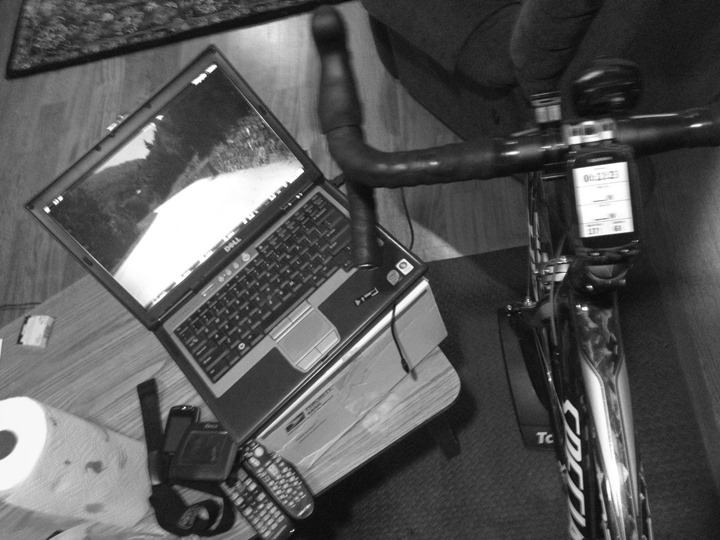 In retrospect selecting that particular course was a bit of a poor selection since it simply meant I was grinding up a 6-8% grade for the entirety of my trainer session.
The important part though is it at least created a small offset for the future Super Bowl gains that afternoon.
But before the afternoon Super Bowl festivities, I actually had a bit of a team meeting.  It was originally schedule on top of the Super Bowl – but there was a small revolt amongst the villagers (me), and that situation was remedied.
Turns out, this team meeting included a bunch of team building exercises, one of which was actually building a boat out of cardboard.  Thus, three of us built a boat with nothing more than cardboard, packing tape and a knife: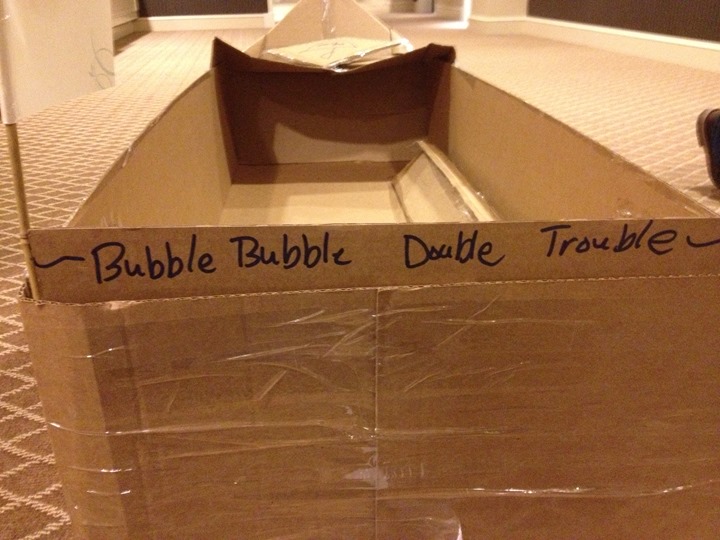 Obviously, we wanted the boat name to really fulfill its destiny, we named it The Failboat.  You know, after these images.   Or, after a running team we put together once.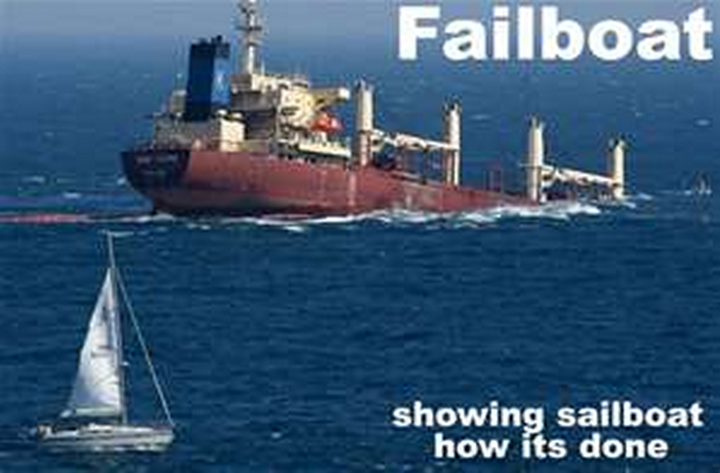 We were required to add some decorations as well, hence the bow sword and little flag.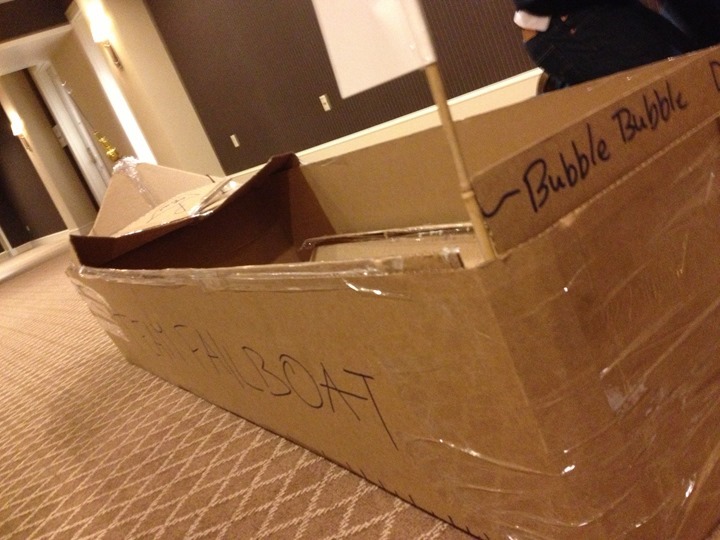 Then came the tough part – actually putting some some borrowed swimsuits (one was too small, and one to big, so I did them both, just in case), heading up to the hotel pool and going for a float.
I was 'selected' captain.  They justified it in that I knew the most about swimming.  I attempted to argue this wasn't really about swimming, but rather being a mariner (which I have no experience).  My argument was nullified though when we took stock of my vessel, and realized it probably would end up being about swimming after all.
So, I put on my little cardboard captain hat I made, and held onto my ping-pong paddle…paddles.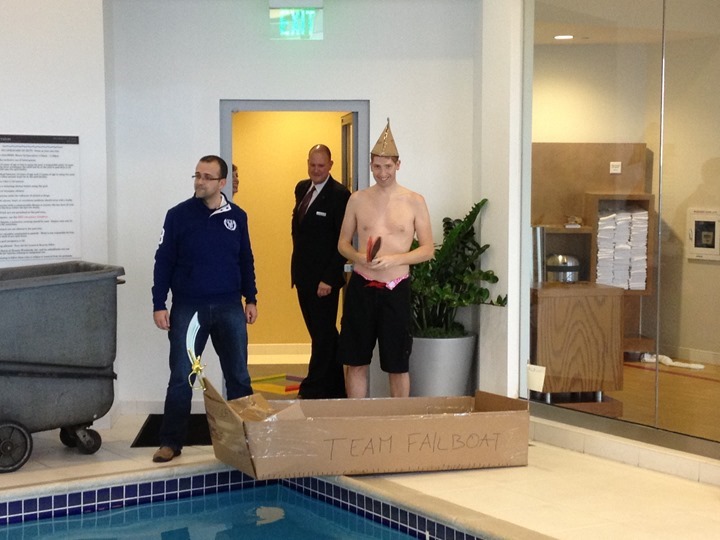 We had to make two lengths of the pool in the fastest time without sinking.  I'm happy to say that I did not sink before I disembarked the board.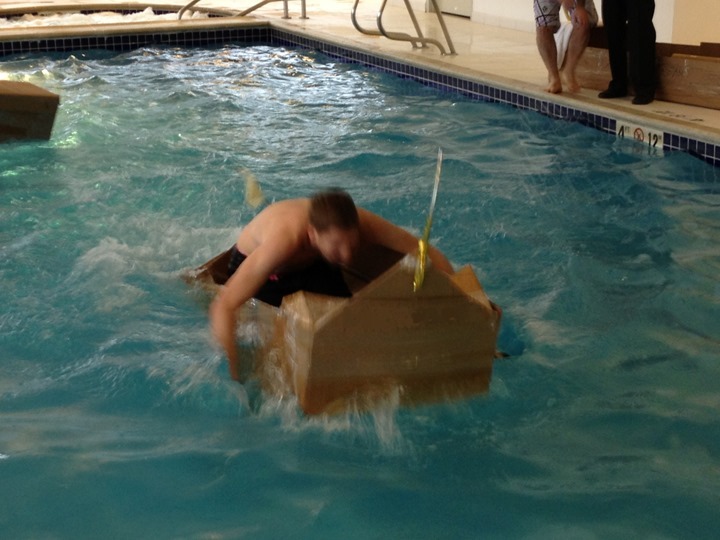 I'm actually not sure of our finish time compared to others (though, I think we were pretty darn fast).  But what I do know is that our little boat won the Fine Craftsmanship award: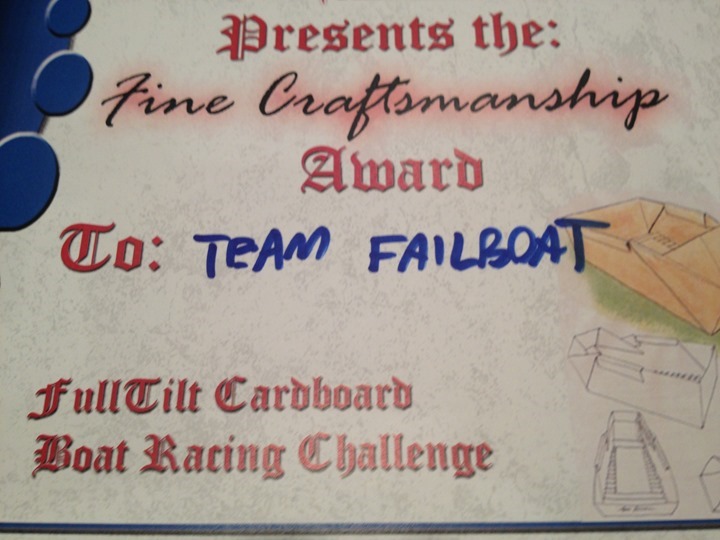 With my flotilla experience complete (and slightly overlapping the start of the Super Bowl), I jetted up north to my parents house near Mukilteo for their Super Bowl party (about 15-20 folks, including people out of frame where I'm standing):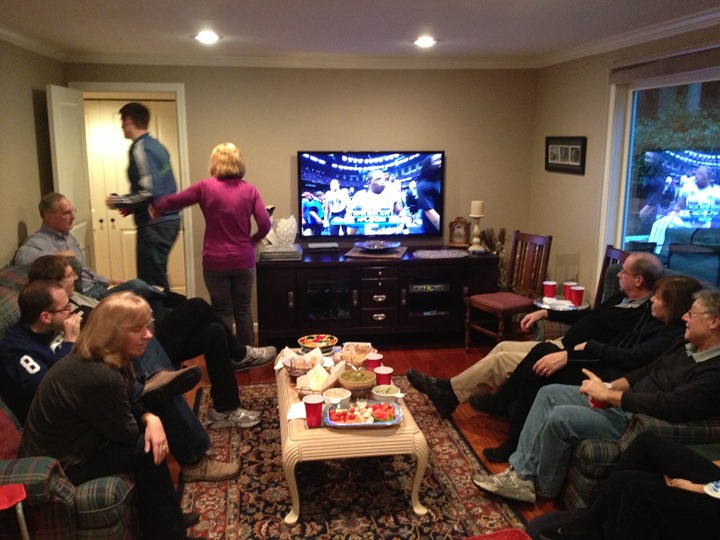 Of course, this wasn't just any Super Bowl party.  In fact, it started around 4AM with preparations of 6 racks of ribs: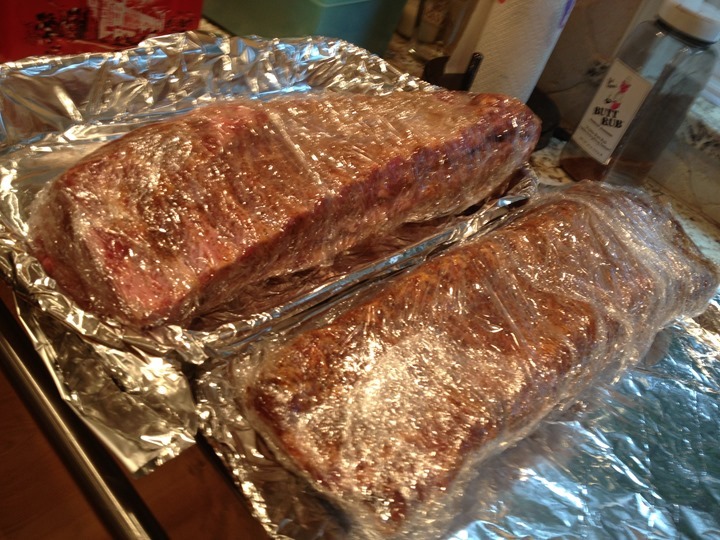 And then as the game hit towards the half-time show there was Chicken Gumbo: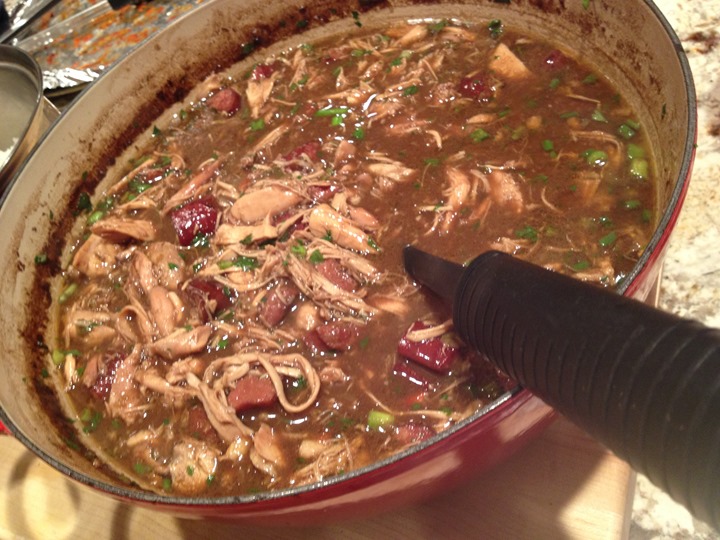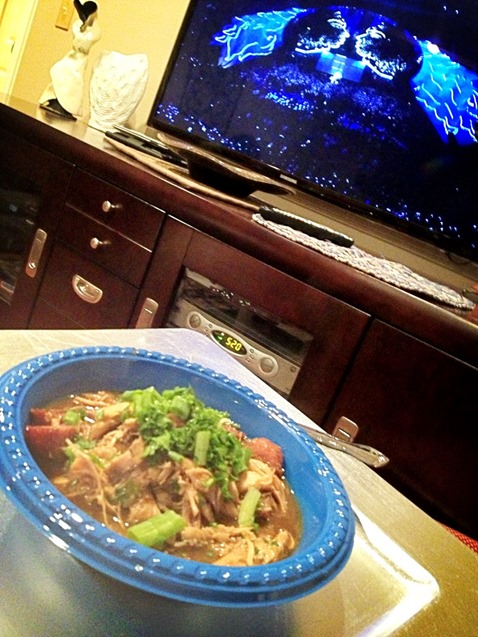 Plus tons of other food like wings, dips and more.
And because my Dad (and brother) brew beer often, that was quite literally on tap as well in the garage (multiple brews on tap):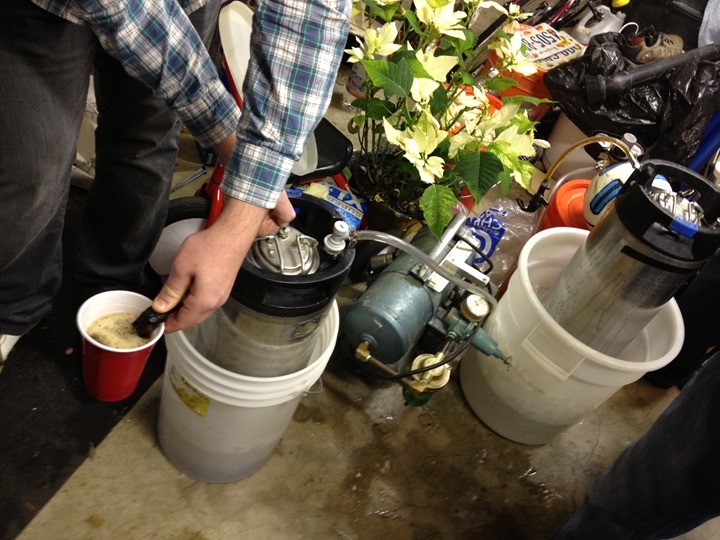 And then those ribs came out.  With two different sauces available:
Once the game finished up (including the 30+ minute Secondary Halftime), I headed back downtown for more meetings.  Though, there was no way I was going to be able to eat any more food on this day – especially at P.F. Changes where the meeting was.  Eek!
By time I got home, I was pretty tired, hence the morning post instead of usual midnight.  But, at least it has me up early in the morning, which is kinda nice!
Hope everyone has a great week ahead!
Oh, and Happy Birthday Mom!