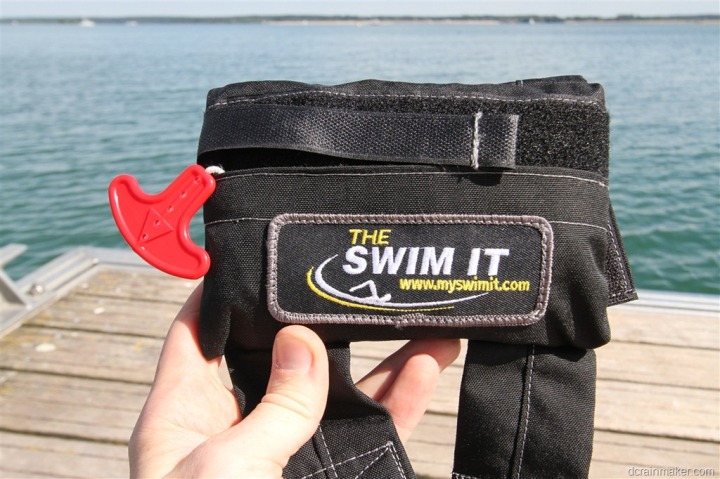 With the steady rise of deaths in the swim leg of triathlon, I'd been asked by a number of people about my thoughts around the Swim It.  I even wrote a rather long op-ed post on it a while back.
Well, a few weekends ago I took the opportunity at a lake to try out the Swim It product (sometimes also referred to as My Swim It).  This device is designed to strap on your leg during an openwater swim.  It then features a red handle that you can pull in case of emergency, which in turn inflates a life jacket.  The idea behind it is to offer a safety mechanism/blanket for swimmers in trouble, as well as increase visibility (and speed rescue) for those same individuals once inflated.
The device has USAT (USA Triathlon) and WTC (World Triathlon Corporation) approval, and thus is permitted in all Ironman branded events (WTC) and USAT (just about everything else in the US) sanctioned events.  If the device is triggered though, the user would receive a disqualification (DQ) though, due to using an inflation device on the swim leg (which are banned).
My goal was to not only swim with it an understand how it felt in the water, but also to trigger and inflate the device and allow you to see how that all works.  So with that brief background out of the way, let's dig into it.
Unboxing: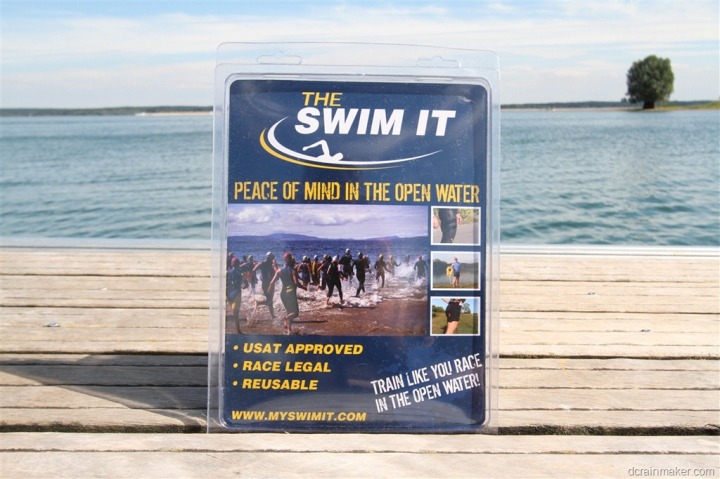 Perhaps the easiest unboxing of all things I've ever done.  The unit comes in a clear plastic shell that simply pops open.
No nasty sharp plastic war wounds here (likely done purposefully to limit accidental puncture of the jacket):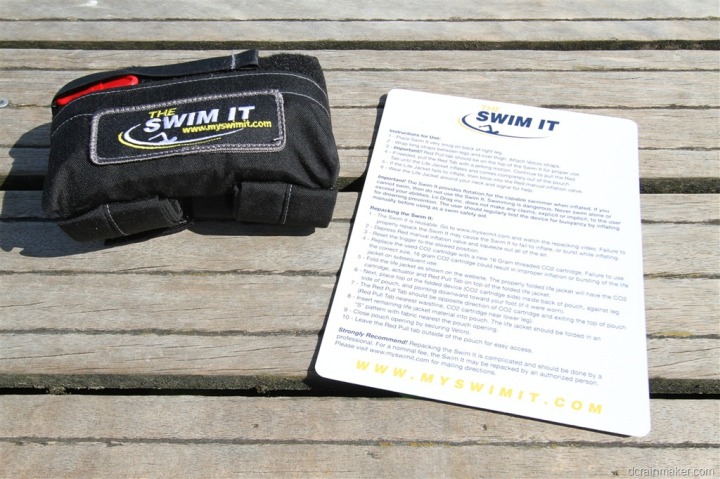 Inside you'll find exactly two items: The Swim It itself, and a sheet of paper telling you how to use it.  Here's the paper first (keeping the more exciting item for second):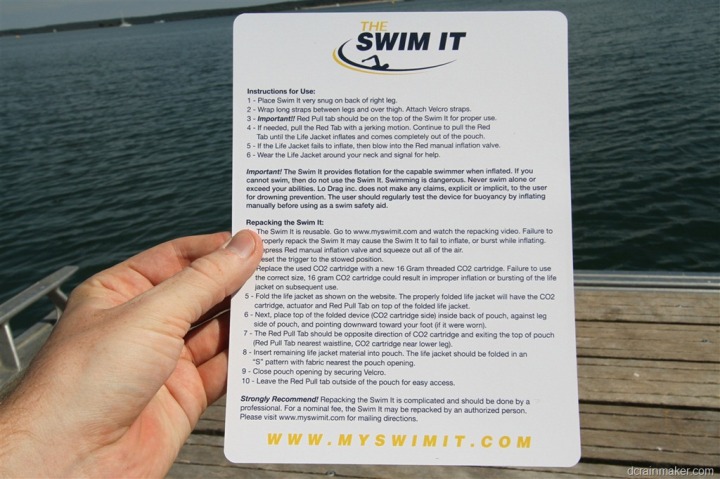 And here's the Swim It itself:
Yup, that's all there is inside the box.  Simple and straight forward.
Installation/Configuration:
As you can see below, the Swim it has two large Velcro straps that allow you to wrap it around your upper leg.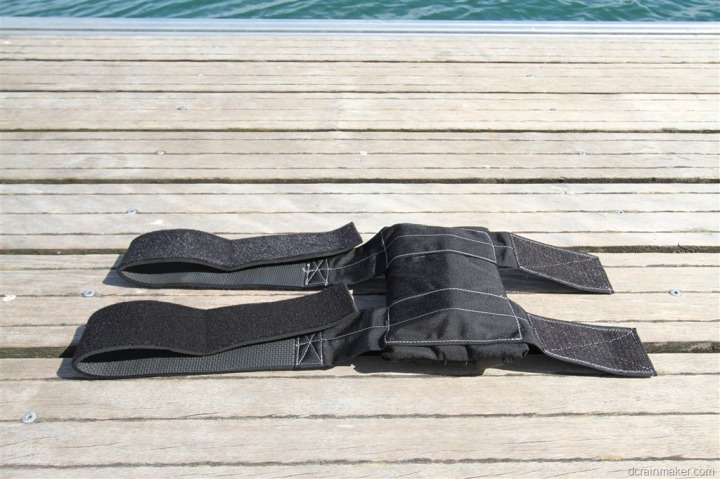 Additionally, it has a plastic red handle.  The red handle is what you pull when you want to trigger the unit to inflate: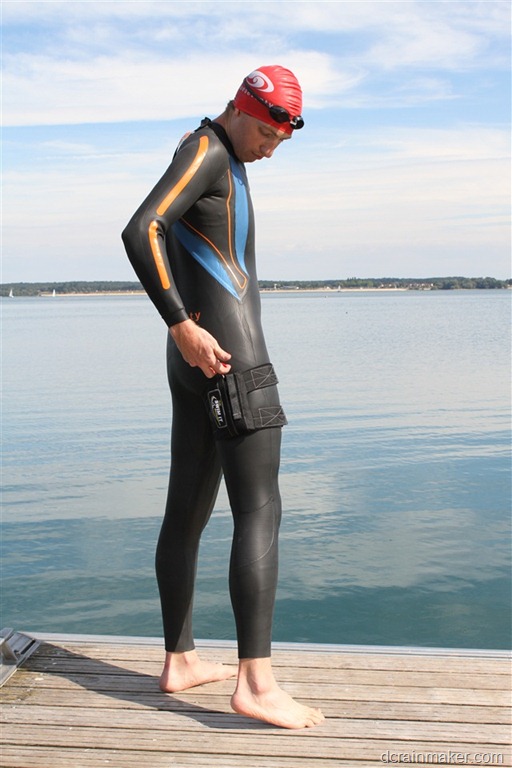 With that, you'll go ahead and wrap the two large straps around your leg.  It's pretty straight forward, and the straps are pretty sturdy and tight.  When all is said and done, you want the little red handle on the side or back of your leg.  Essentially, you want it in an accessible place.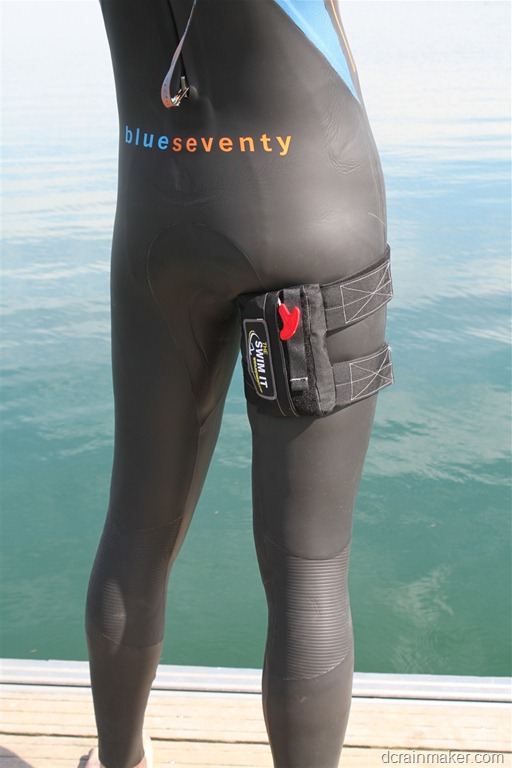 It's alright, you can continue checking out my wetsuit clad rear.
Ok, checking out time is over.
Use while Swimming (pre-triggering):
Many folks have wondered weather or not you'd feel significant drag while wearing the Swim It.  In my testing, I just didn't notice it.  Perhaps it was because I'm not a world class swimmer, or perhaps it was because the drag in that area is somehow minimized due to position of your body and the unit.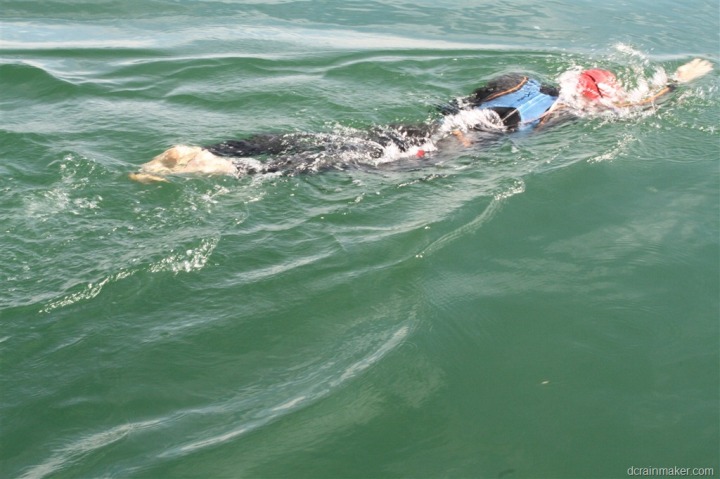 In addition, there's been a lot of concerns about the likelihood of the unit going off in a triathlon with a mass swim start.  In other words, someone else accidentally pulling the wearers cord and triggering an inflation.  This could certainly happen, but it's actually a bit harder than it looks.  You'd have to have your hand in such a position to actually grab that handle and pull it with a sustained tug.  Not brush it.  Not glance it, but literally grab, hold, and pull.
No doubt it'll eventually happen.  Even a 1% trigger rate in an Ironman would be 20+ people (if everyone had one on them).  But, I just don't see it happening that often.
Which then goes to the question of would it be a hindrance to other races – something I myself was concerned about it previous posts.
Put quite simply: Not a chance.
As you can see in the videos below, the lifejacket isn't much bigger than your head.  It would likely actually reduce the radius of an adult swimmer who may have been flapping their arms around like an airplane, to one who's simply floating there.  Plus, as any triathlete will tell you – there's endless numbers of folks who stop and float midway through races (for all sorts of reasons, valid and otherwise).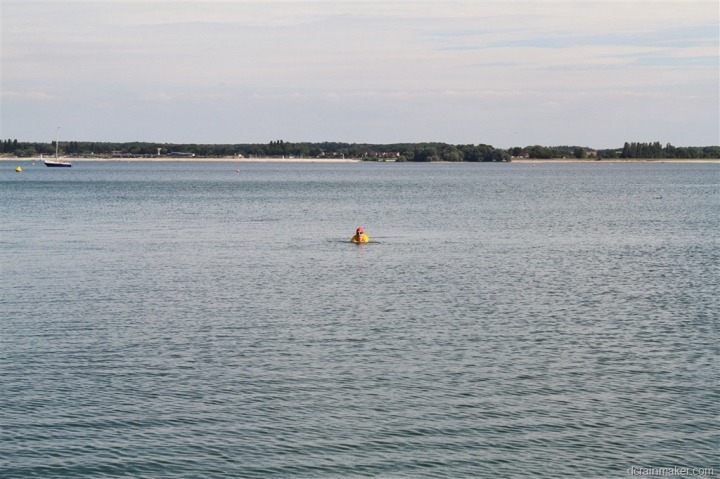 And finally, would there be confusion with a course buoy (again, should it be triggered).  As you can see in the videos, the visibility of the lifejacket is minimal at best.  Even in the roughest triathlons I've been in out in the open with solid wave action and no visibility access, I wouldn't have confused this for another swimmers swim cap, before a buoy.
Of course, if it does inflate, it's an automatic DQ.  But, in most cases, that shouldn't be your primary concern.  If it does accidentally inflate in some other scenario, then you'd be stuck swimming back with it.  Which while it does have a bit of drag, it's not too bad.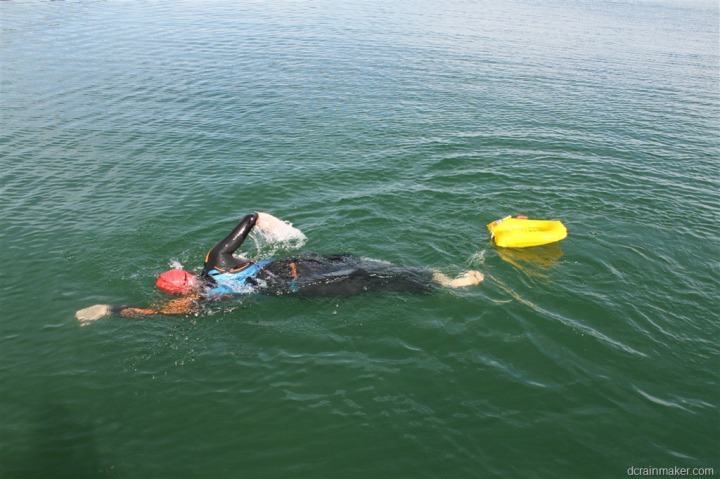 Use during emergency (triggering):
Ok, here comes the time you've all been waiting for – actual trigging of the unit.
I've put together two videos.  The first video is at the lake with me in the water a ways out.  I did this because I wanted you to see what it was like from a distance – to understand visibility scenarios.
In this first video, I swim a few strokes like normal, and then you'll see me wave (simulating me in distress) and then I'll trigger the unit.  Now, what was somewhat unexpected is that I somehow managed to take a solid 7-11 sized big gulp of water at exactly the start of triggering it.  Thus, you hear me coughing like I'm about to die.  For better or worse, this probably helped enhance the video.  With that, watch the video carefully – and note the captions.  Enjoy!
The Swim It inflation in openwater
Ok, first video complete.  The key lesson points here were that it wasn't as easy as I thought to pull it on over my head.  Secondly, it popped up all semi-tangled.  Thus, it cost me a bit of time to get untangled.  And third, try to avoid choking when shooting videos that thousands of people will watch.
This is the primary reason I strongly believe that if you use the Swim It, you should test using it first somewhere to understand exactly how it works, and what to expect in an emergency.  The above was the first time I'd use the product, and knew nothing about how it would work beyond reading the little manual on the back and watching the YouTube videos a bunch of times.  In a true emergency, it needs to feel like auto-pilot.  Any hindrances to that will likely lower its success rate.
With that, let's get into the second video, which I simply shot on dry land.  In this video, I wanted to allow you to see exactly what the unit looks like as it's inflating.  I didn't quite have enough foresight to shoot it with any form of high speed camera modes, so I slowed it down a bit in post-processing as part of the video (repeated a second time).
Dryland Inflation of Swim It
Also of note is that if the unit doesn't inflate automatically (either fully or partially), then you can go ahead and manually inflate it via the red valve on front: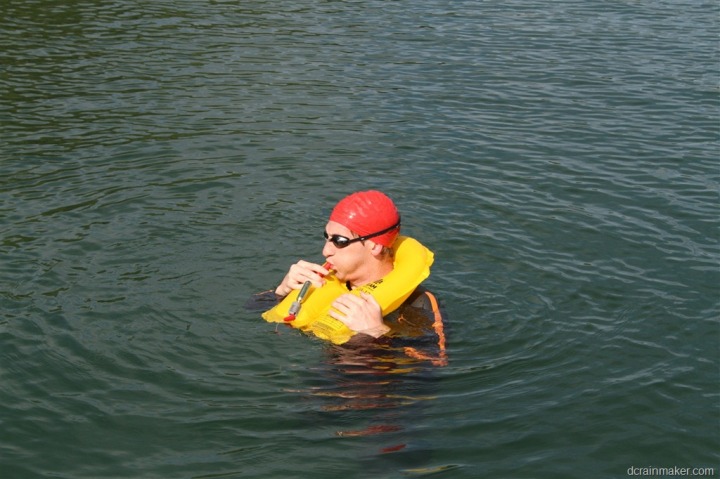 You can see the red valve below as well: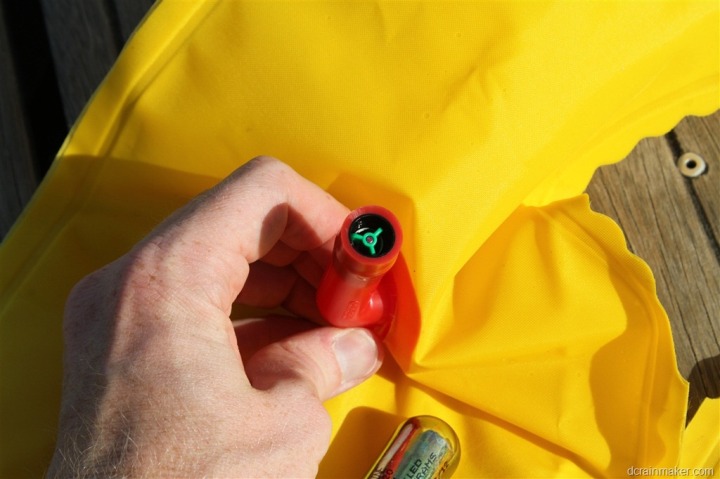 Re-Use/Deflating/Re-Packing:
As I've noted above, I don't believe the Swim It should be used unless you've tested it out at least once and understand how it works.  Thus, in doing so – you'd want to understand how to repack the unit.  Of course, you can also send it back to them and they'll do it for you.  But it's silly easy, as I'll show you.  And all it takes is a simple CO2 Cartridge (just like you use for your bike).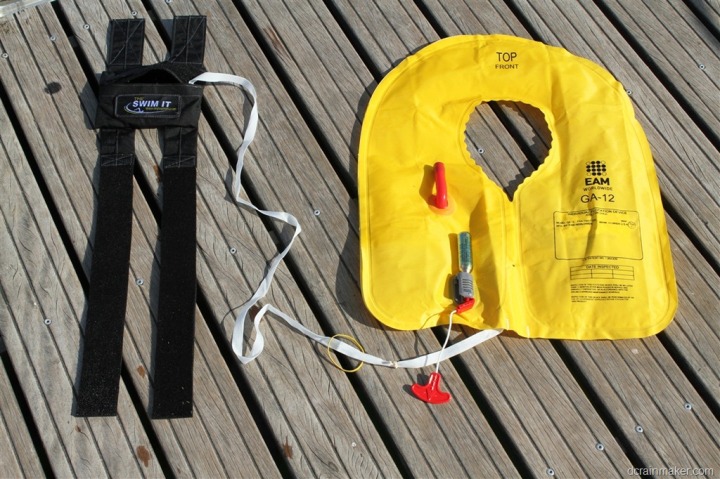 So I pedaled over to the bike shop and picked up a pack of 16g CO2 cartridges, which is the size specified for use with the Swim It.  If you pick up a small cartridge, it won't inflate it fully.  Normally you'll find these for about $2-4 at most bike shops.  Here in France, they cost me a wee bit more.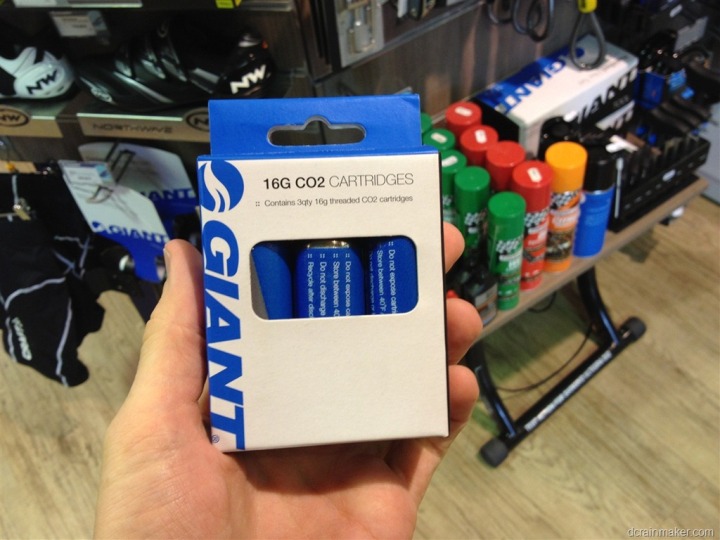 With that, it's time to pack it up.  Now, I'm not going to walk step by step through the packing process – because I'd rather you watch their video on it.   It's a lifesaving device after all, so it's best to watch their precise steps.  No worries, it's basically just like folding a paper airplane, combined with stuffing a sleeping back into its storage bag.
Once that's all set, you're ready to go.  One important note however is to ensure that you've got the little red handle on the correct side of the additional Velcro strap.  Otherwise, when you pull the handle, it won't actually trigger the unit.  I found this out the hard way while doing my demo video above (edited out so that I don't reduce my smoothness factor).
With that, you're ready to go for another swim.  Or just practice inflating it for fun.  Your choice.
Final thoughts (the important part):
I've never given a product a grade before.  Never even a specific rating.  Instead, I prefer to talk about features, functionality, gaps, competitors and the such – and let you decide whether or not it's the right product for you.  But this time, I'm going to make an exception.
In the category of "will it save your life" – I give it a grade of C+.
At the end of the day, that's the ONLY reason you'd buy this device – to save your life.  And there's a chance it will do that, but there's also a chance it won't.
First, the Swim It itself won't likely save you once any form of cardiac event has begun.  That requires being very close emergency personal who can do something about it.  No doubt that just this year triathlon is full of cases where emergency personal were literally there within seconds to help the victim – but still couldn't save them (even at the finish line of some running races). There's many factors involved in openwater, but the most obvious is due to the difficulty in trying to save people in the water, communications with/to/from kayakers, and distance back to medical units.
Second, as you saw in the video – you MUST test it out first once before using it for real.  I wasn't having a cardiac event (but did manage to swallow more water than desired at the same moment), and still found it popped out in a confusing way, and didn't go over my head as expected.  No doubt that if I were to try it again, I'd probably master it much quicker this second time.  I now know that it'll take a hard pull over my head.  I now know that it'll pop-up weird.  You have to train your body to react to the device, just like any other training simulation.
In short, if you buy it, but don't use/test it before hand – I'd really ask you not buy it at all.  Because in a legit time of emergency, you're likely not going to have the mental forethought/availability to figure it out.
It's potentially likely that wearing the Swim It may trigger something in your brain that tells you that you've got this safety blanket, and thus reduce panic attacks.  Which in turn might reduce triathlon deaths.  There is likely some portion of triathlon swim deaths that can be prevented with this.  I just don't think anyone can reasonably quantify what that is today.  Nor, anytime in the immediate future – there's simply too many variables that exist from family history to current athletic fitness to unknown other triggers.
Now, if you've tested it out once, and understand how to use it.  I see no harm in wearing one.  The hydrodynamic losses are likely negligible for all but the fastest of the front of the pack swimmers.  And I don't see much likelihood of accidental triggering of the device, simply based on the awkwardness and sharp pull required by someone else to pull the red handle.  It's just unlikely, even in a mass swim start.
I think this device definitely has a valid use, and is worthy of purchase for certain folks – but it shouldn't be a replacement for proper openwater swim training, nor assumed to be something that would save you in the case of cardiac related events.
As always, if you have any questions – feel free to drop them below.  And thanks for reading!