As I noted in my Escape from Alcatraz Race Report on Monday, I had the GoPro camera clipped on my aerobars for the bike portion of the event.  Unfortunately, between the plane flight back and limited battery, I couldn't quite get the video done in time to post for Monday.  But, after winning the battle with my laptop (working with 50+ minutes of 1080p HD video is not for the timid), I've finally got the files combined and re-condensed down into less than 4 minutes.
Yup, the full 18 miles of Escape from Alcatraz glory in almost to the second the time it took for the current record holder to blister out a mile on the track (3:43).
So – let's get right into it!  Enjoy!
Escape from Alcatraz
For those that are curious, I usually mount the GoPro HD2 just below my aerobars, fairly close to the end of the bars to minimize getting the wheel in the shot.
And finally, I feel like it would be of disservice to not post a specific photo that The Girl captured on Sunday morning at the swim exit during the race.  This particular photo shows what happens when you get just a bit too far downstream during the 1.5 mile swim crossing from Alcatraz Island: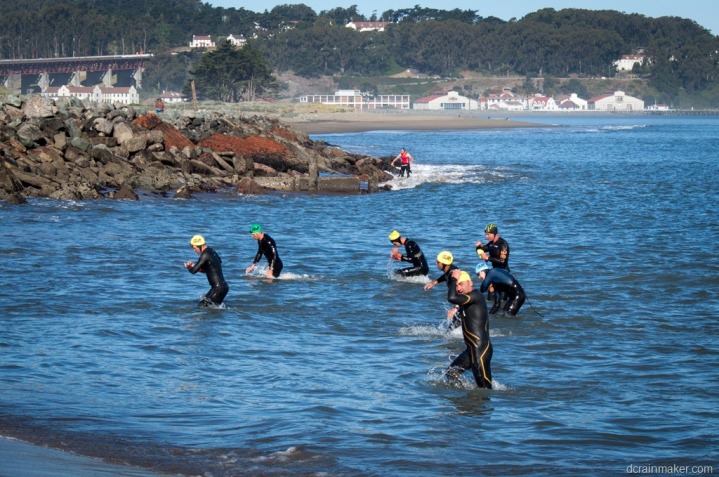 What?  You can't see what's wrong?  Here, I'll help out:
The poor guy was one of a few athletes that she noticed trying to work their way back on the rocky barrier to T1.  Sometimes ya win, sometimes ya lose.
With that, enjoy the rest of your day – and remember, the giveaway extravaganza event starts at midnight eastern Friday morning!