Within the US there exists boatloads of cities that have identical names to those of other far more prominent cities in far away lane.  For example: Florence, SC (have spent a fair bit of time there in fact).  Or Paris, TX.  Or Melbourne, FL.
This weekend though, we ended up staying in Boston and eating in Washington…but we never actually left the state of Virginia.  Though, most definitely did leave any cell phone and internet coverage. Zip, zilch, zero.
Welcome to Boston, Virginia – home of…well…a few cows.  And in the case of this weekend, home to us as well.  We stayed at a bed and breakfast just down the road a bit from this photo: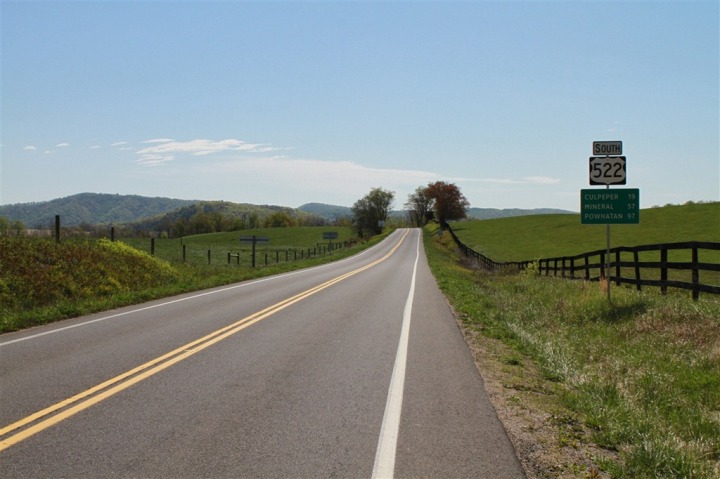 The Girl selected the location primarily due to our dinner plans in Washington, Virginia.  Little Washington is about 90 minutes outside of Washington DC (without traffic, or about 9 years with traffic).  Luckily, leaving Saturday afternoon we found very little traffic.  It sits only a dozen miles from Skyline drive – the hilltop mountain route along the Appalachian Trail in the Shenandoah mountains I've cycled far more times than I can count.
We were hanging out in Washington, Virginia to go to this place – The Inn at Little Washington.  This is without question our favorite restaurant in the greater (much greater) DC metro area.  But, given the drive and the prices, we haven't been there in almost two years.
Since it was just us this Easter weekend, we decided to head out to the country and enjoy a nice meal.  The Inn is well known for hosting all sorts of folks – from Presidents to the Queen herself.  In fact, when we ate there Saturday night former Chairmen of the Federal Reserve Alan Greenspan was there with us.  Yes, I do seem to have a pattern with finding the power peeps – from First Lady's to Speaker of the House.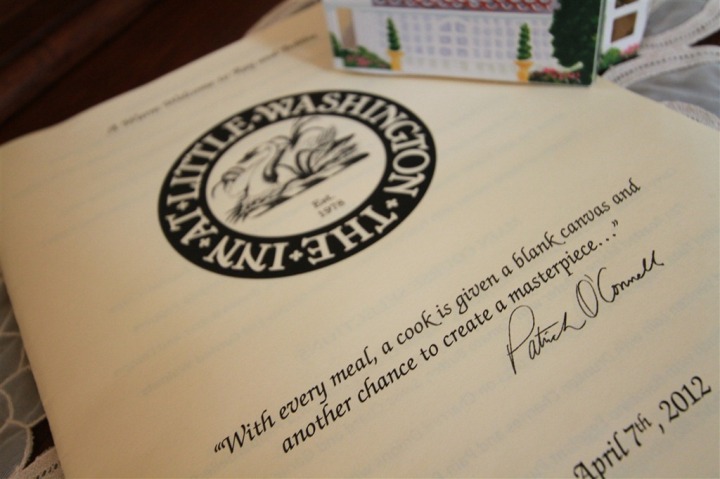 As always, the food was incredible.  Though, my iPhone shots were most definitely not.  So, no food shots for you.
But instead of food shots from dinner, here's a bucket of apples instead.  We found an older gentleman alongside the road Easter morning selling them.  We ended up picking up some local Apple Butter to try out.
Just down the road from there, we saw a sign I haven't seen since my cycling adventures visiting the country of Jordan.  In this case, the sign to Syria points into the hills of West Virginia.  In both cases however, I decided to go in the opposite direction.  Seemed safer (plus, would you trust a place next  to 'Graves Mountain' – doesn't sound promising).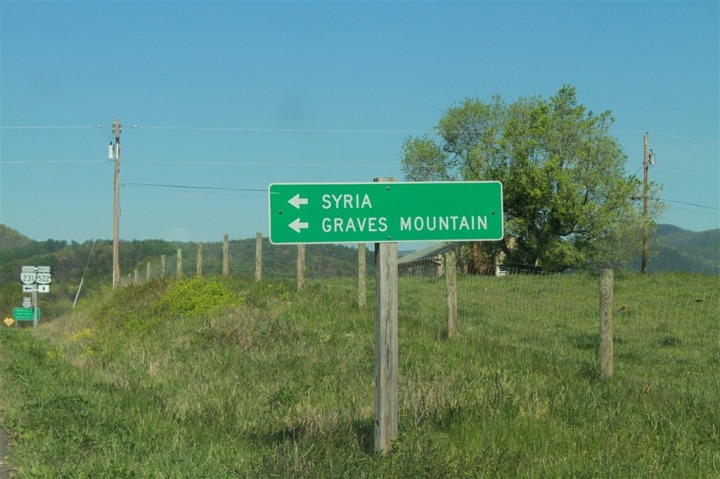 As we made our way back on morning, we stumbled into a local cyclist practicing moto-pacing.  It's really astounding how fast you can go in the draft of a scooter.  He was screaming along, taking advantage of the rollers in the region.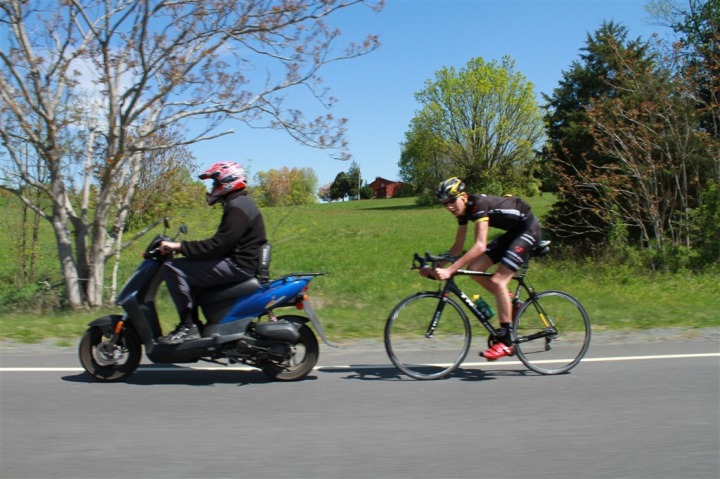 A bit later though, an item of far more significance:
A dancing pancake.
Yes, dancing.  With a skirt on.  And red clogs.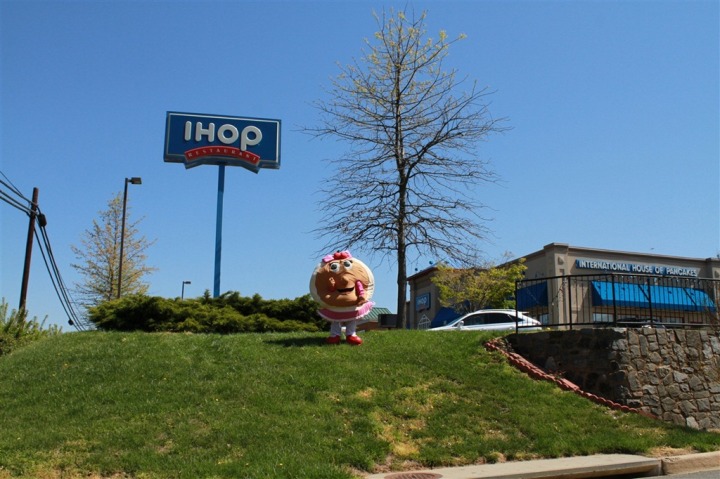 Given you don't see dancing pancakes every day, we figured it was only logical to join him inside IHOP.  I know there's probably some unwritten rule that states that when driving back from a fine dining establishment you shouldn't stop at a place that has a dancing pancake. But IHOP was simply calling out at us (quite literally in this case).
Plus, how can you go wrong with pancakes?
As usual, it was awesome.
(Side note: I wanted to get a photo with it, but it had danced away by time we finished eating its delicious brothers and sisters)
Later on that afternoon I headed out for my long run.  My route took me for a gigantic loop from the house, including a swing through Old Town Alexandria which was packed with folks enjoying Easter afternoon: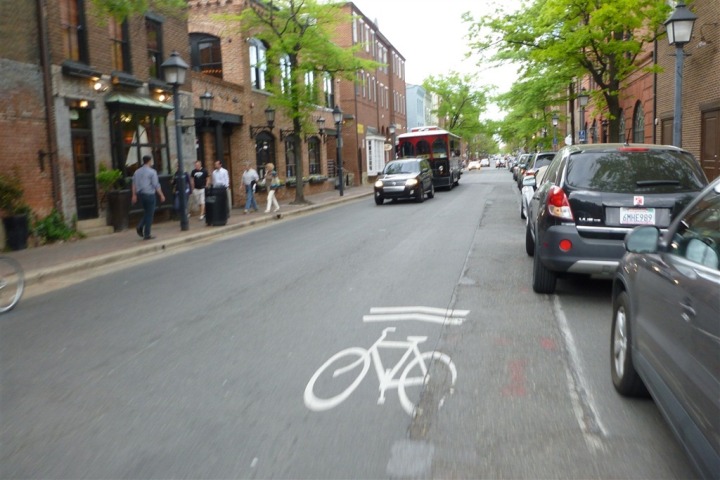 The route then hit up a number of different trails, including a relatively painful section up Four Mile run with howling winds.  My pace dropped a full minute/mile during that section.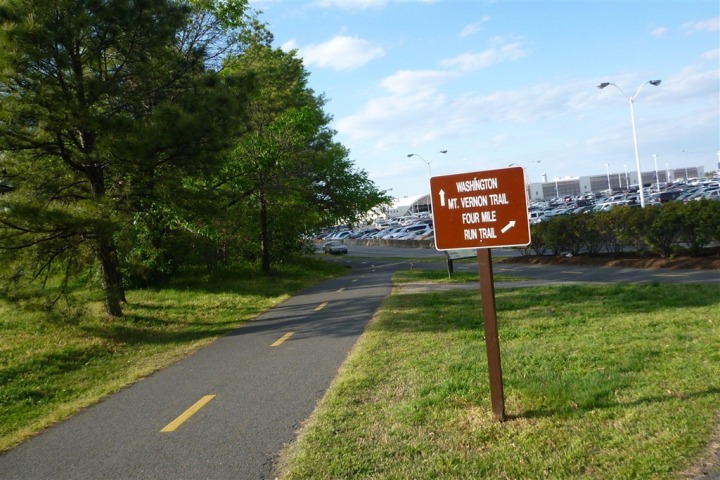 I was impressed though to see that the Polar RCX3 + G5 GPS, and the Garmin FR910XT basically agreed.  With one coming in at 14.49 and the other at 14.50 – a nearly imperceptible difference easily accounted for just in my ability to press stop/start at stoplights.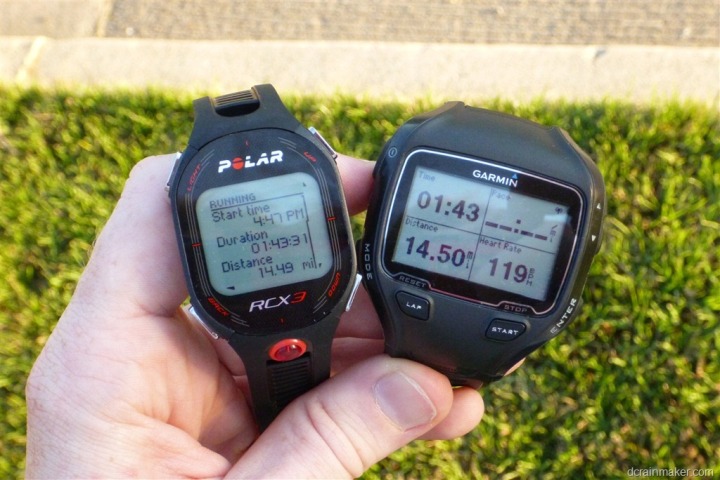 With that, my weekend's all pretty much wrapped up.  My goal is to get out the Polar RCX3 review this week, along with all sorts of goodness as usual.  Next week is a crazy busy week, with I believe more flights than I can count on two hands.  Eek!
Hope everyone had a great weekend, and thanks for reading!