Thanks all for the great entries in the Friday giveaway!  If you need a bit of motivation for cycling ideas for training, then go check out all the entries (almost 1,000 of them).  I'm hoping that by merely reading about all your adventures I'll have burned enough calories to eat more brownies and ice cream.
But, since you're all looking for the results – let's get right into it!  The winner is receiving a brand-spanking-new Brim Brothers Limited Edition Jersey, along with a Garmin Edge 500.  Using my usual technique of selecting someone at random, I hit up Random.org and entered in the total entries, plus a few Active Duty folks: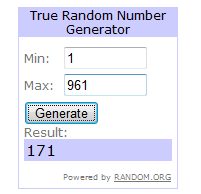 From there, I navigated to the comments section and found comment #171:

Congrats Droffen!  And it sounds like this will arrive just as you start getting back recovering from the surgery.  Hope the recovery is going well!  Shoot me an e-mail and I'll get the goods cookin' in your direction.
For those that didn't win – don't worry – you can still go out and pick up your very own Edge 500  (though, you can't get the limited edition jersey…cause…well…then they wouldn't be limited.).
And if you utilize the link below, you help to support the blog and thus more giveaways like this.  It's sorta like recycling: Utilize linkage > More Giveaways > More good stuffs for you (and if you're in Europe, I've just added a number of the European countries to the sidebar links).
Thanks for reading all!