A few months ago I started getting (more) e-mail from Active.com.  Given you're required to use their site for numerous race registrations, you eventually end up on some form of mailing list.  As a result I've long since somewhat ignored e-mail from Active.com, simply because…well…it's Active.com
But for whatever reason one of the e-mails caught my eye, as this time the subject had noted a sports technology product.  As one who obviously is into that sorta thing, I was curious to see if was a good deal.  Even more so, I was curious if all these other e-mails I had ignored were good-ish deals.  So I sifted back through all the Active.com Schwaggle e-mail I had received and decided to start poking at the ones that were of interest to me, here's where I started from:
So with that massive list – I decided to narrow it down a bit.  Within the list there seemed to roughly be a few categories:
1) Discounts on races
2) Discounts on events/activities that weren't races (i.e. golfing)
3) Clothing and related gear
4) Sunscreen (it seems to be popular)
5) Sports Technology (watches, etc…)
6) Everything else
Looking at the races category, there's been a few offers – none of which I felt like I could conceivably take advantage of.  For example, the SheROX Bermuda triathlon.  This offer was sent basically two months prior to an event (only for females) in Bermuda.  While I'm sure there's someone that would take advantage of such an offer at what is effectively the last moment – I'm not sure how valuable that is to most folks.
The clothing and gear items, like most deals offered on 'GroupOn type' sites, can be a good deal if you're looking for precisely that item.  For example – if you were looking for a specific K-Swiss shoe, than that's sweet.  For me, I use New Balance, so if an offer came buy to allow me to buy my usual shoe model – then sure, it's a great deal at 50% off.  Otherwise it's just noise.
But since I focus on sports technology around these parts, let's look at those ones.  In short, within my e-mail pile I narrowed it down to the following:
1) Up to 50% off H2O Audio Waterproof Headphones
2) Half of FINIS Swimming Gear and Equipment (this was basically MP3 players)
3) Discount on Tanita Ironman Scales
4) 50% off H2O Audio
5) 55% of Timex Global Trainer
Let's start with looking at #4 above – 50% off of H2O Audio products on their site.  Here's the basics of the offer that was sent out.  As you can see, it was $40 for the headphone and case, which is in comparison to the $80 'value'.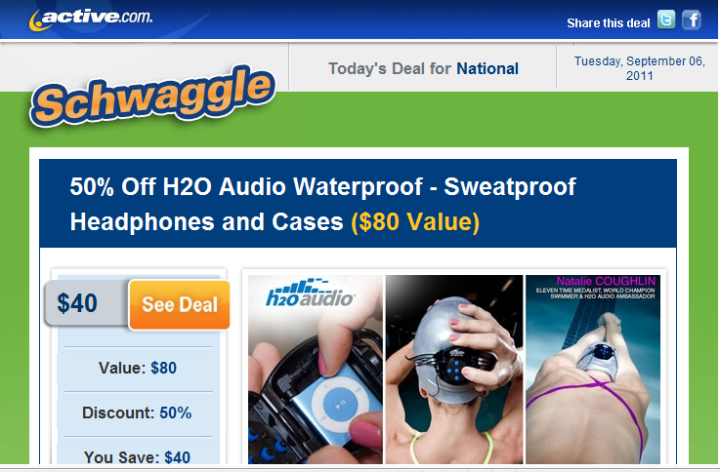 The irony of this particular offer is this was precisely 2 days AFTER I had actually bought the identical item on Amazon for an upcoming review.  Now, just to be clear, the deal was for $50 off any H2O products on their site.  So you didn't have to buy this particular item.  But let's pretend you did. As you can see below, I paid $63 for it, and the price hasn't changed since.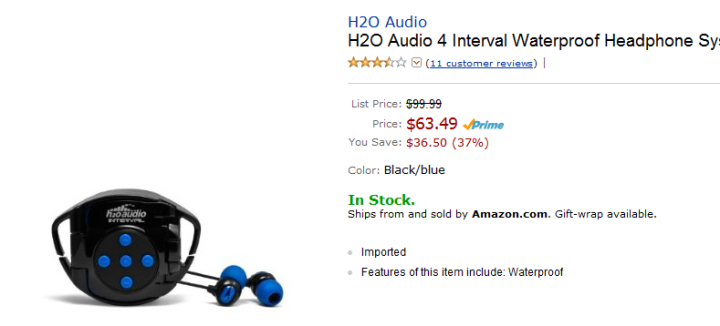 On H2O's site, the 'retail' price is actually $100 – which means that  50% off brings it down to $50, so I'm really only saving $13.  And of course, don't forget that the H2O Audio case is not an MP3 player at all – but rather, just the case for the iPod 4th Generation, which means you'll still need to drop another $50 on that unit.  And don't forget that H2O Audio charges shipping, so that may reduce your value some more.
Let's look at another one, the Tanita Body Composition Scale offer.  There were actually two offers in this one, see below:

In this case, I looked around and found that the cheapest price I saw the BC-548 for was $60 – or about $20 higher than their offer price.  Not bad.  The BC-552 was $100 in the few places that carried it – so it too was a 'good' offer at only $40.
So in theory, these were good deals.  But again, back to the overall value side – you've gotta examine the prices of these products compared to others.  Based on the testing I did, there's no difference between a few hundred dollar Tanita Body Composition Scale, and a $30 one from Target.  In general, for body fat, they all kinda suck.  For weight, they're all fine – be it a $15 scale or a $150 scale.  Neither of these scales integrate with other services and/or systems, which is primary reason I argue the value of something like either the Tanita BC-1000 or the Withings WiFi Scale, so in my mind, you might as well just save the money.
Next let's look at the Timex Global Trainer that was offered this past weekend.  In this case, they offered it via a 3rd party company for $165 – including the ANT+ heart rate (HR) strap.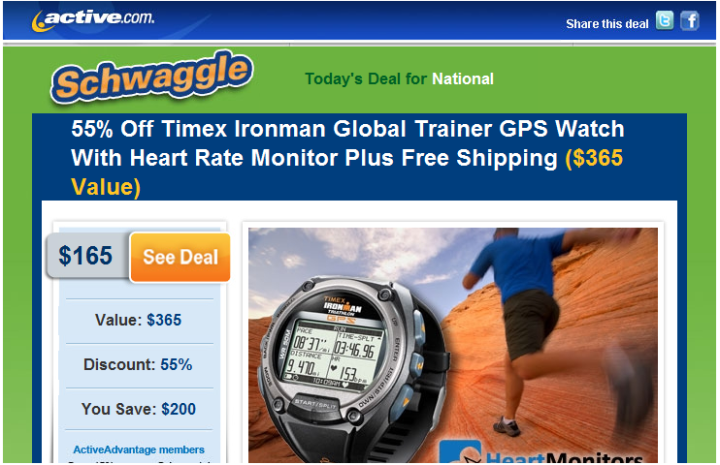 This is actually a fairly decent deal – especially given the August firmware update that largely fixes the older TGT satellite issues and also adds ANT+ footpod support.  The going price on Amazon for the non-HR strap version is is about $180, which the cheapest I can find.  The price for the HR strap version (which is what they are giving you) is $215.  So Schwaggle is indeed saving you about $50 – and they throw in free shipping, not bad.
Now, for those curious – this isn't actually the cheapest we've seen the Timex Global Trainer.  In fact, for the majority of the past year we saw it down as low as $130 at both Amazon and REI.  It's slowly crept up in pricing in the past few months.  I do expect we'll see some solid sales for the TGT over the next few months in the holiday period – so I wouldn't worry if you missed out this time.  And as I noted to those that asked, I think the TGT is a very viable option now for the triathlon crowd, given the firmware updates.  It offers more features than the FR305 (which is $130), but is substantially cheaper than either the FR310XT or the FR910XT ($399+).  Of course, it does lack some of the finesse of the FR310XT/FR910XT, and some of the sizing – but those are tradeoffs that each person can decide on themselves.
So I'm curious – have you taken advantage of any of the Schwaggle deals?  If so – did you find them a substantial savings, or just a 'good deal' at the right time?  And for fun (since I suspect someone in the appropriate place will read your comments), what types of products do you prefer to see there?  I know that personally I'd love to see more deals like the TGT instead of sunscreen or lip balm…but I also know I might be in the minority.  Or maybe not.
Thanks for reading!