This past weekend was a blur of activity.  It started off with a Friday afternoon flight over to Chicago for the Urbanathlon.  Once we arrived in the city and got checked into the hotel we noticed we could see the giant Jelly Belly hanging out in a nearby park (ok, officially called 'Cloud Gate', unofficially called 'The Bean').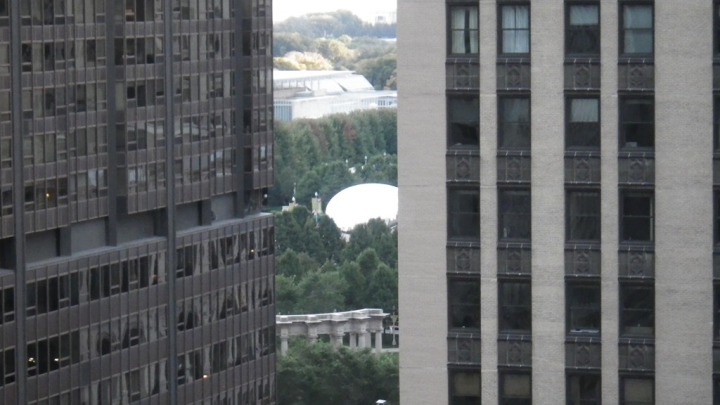 We ended up doing a bit of an easy run out around the lakefront, from near the jelly bean.  I used the Timex Run Trainer to record my workout.  Worked great, super easy to use.  The menu system has been cleaned up from the Timex Global Trainer (one of my previous complaints) – and it flows a lot better.  There's also just a ton of features in it, especially given the price compared to other options out there.
I'd end up use it the next day as well during the Urbanathlon.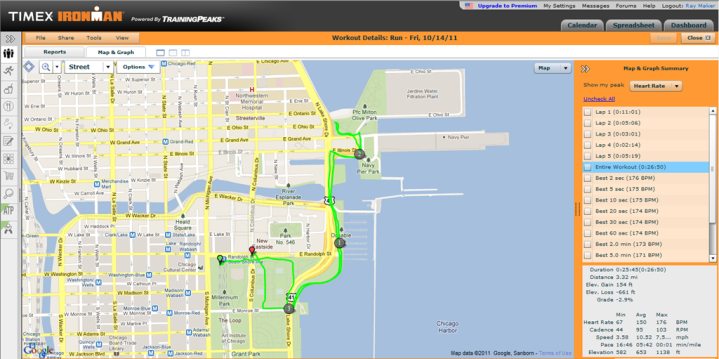 We finished up packet pickup, which included all sorts of goodness.  Here you can see The Girl, me, and Sarah getting our packets. Sarah's the other blogger that posts content on the Men's Health Urbanathlon site with me.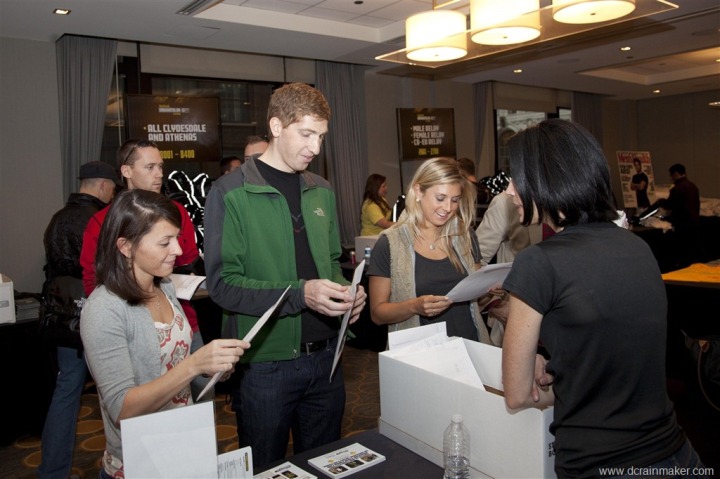 The next morning we got up early and headed down to the race.  Thankfully, it was neither super-cold, nor super-windy, nor raining, nor anything else that would make life unhappy.  It was pretty much a perfect day out: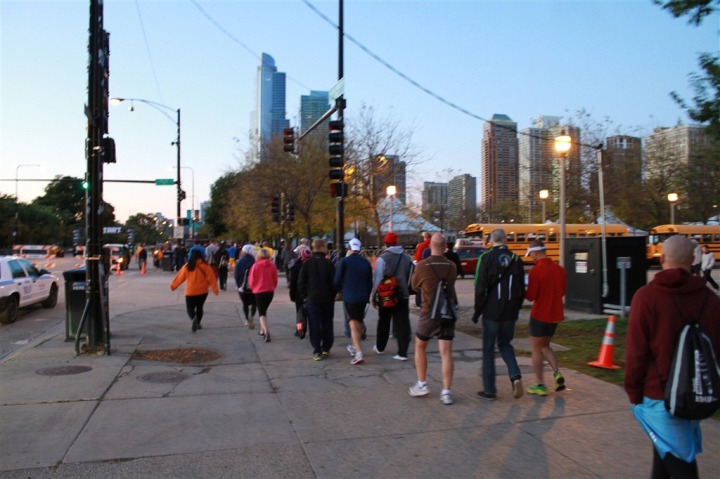 Now, I could just copy and paste my entire race report here…but I won't.  Not because I'm trying to get you to the other site to read it all, but merely because I've got so much other stuff to tell you about from the weekend.  And it'd be silly to copy/paste.  Instead, I'll simply note that if you're curious on how the whole whacky Urbanathlon thing works, then you'll want to read the first half of my race report here.  Essentially, it's a running race they you have obstacles in.  Except unlike a Muddy Buddy race, this takes place in the city and without (much) mud.  Pure running speed is definitely a critical part of the race…but so is creativity and strength.
And just to offer ya something I haven't published elsewhere yet, check out the below video of my finish.  It involves first running over the top of two taxi's, then scaling a few buses, then eventually trying to climb over a massive wall.  Fun times!
Chicago Urbanathlon Taxi Cab Finish
After the race I took a handful of photos around the taxi's, simply because that's where the majority of the entertainment was:
As I noted earlier, I used the Timex Run Trainer during the race (in addition to the FR910XT).  Both watches worked great, and both were pretty close to each other for distance.  Which I found interesting given how tough it would have been for either to track distance during the race.  After all, I was inside a concrete stadium for 12 minutes bumbling around going up and down flights of stairs.  Now both devices came up short from the official published distance – but they were both close to each other…so that's what counts.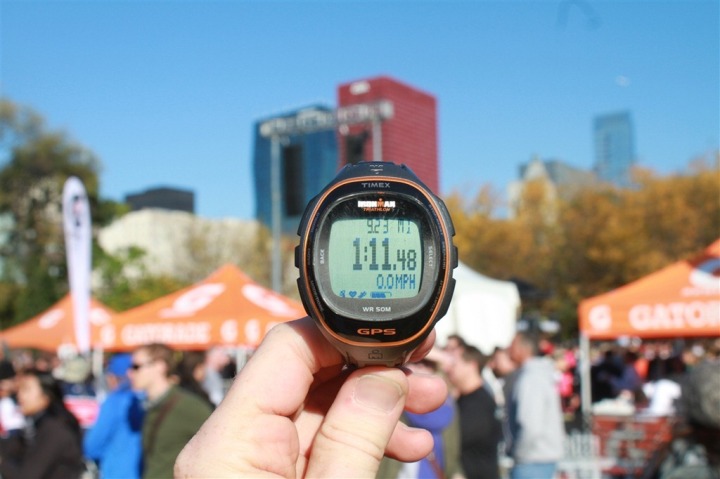 After the race I spent some time with complimentary Chipotle burritos.  They're a sponsor of the Urbanathlon.  I wish they would sponsor me, and my turtles.  And I wish they would make breakfast burritos.  Maybe some sort of Chipotle Ice Cream Sundae too.  I'd reckon it'd be just like the burrito bowl, but with chocolate.  And ice cream.  Maybe sprinkles.
Oh, right, anyway…things after the race.
I really had wanted to get in some openwater time with the Garmin FR910XT, since one of the major selling points was that it could not only track distance while on your wrist, but also track stroke rate too.
So I bundled up a slew of watches, and then head out in the water.  The goal was to be able to track distance with a unit in the swim cap (as usual) as well as have both a FR910XT and FR310XT on my wrists.  Additionally, since many folks want to use their running GPS units for tracking swim distance (a very common request) I had the Timex Run Trainer in my cap as well.
I ended up doing two swim's.  An out and back down the shoreline following the buoys, and then also a sorta circular variant from buoy to buoy.
What was cool was seeing the distance on the unit, as well as the stroke information.  At the third buoy, it had registered about 500 yards:
And also note the stroke information mid-swim: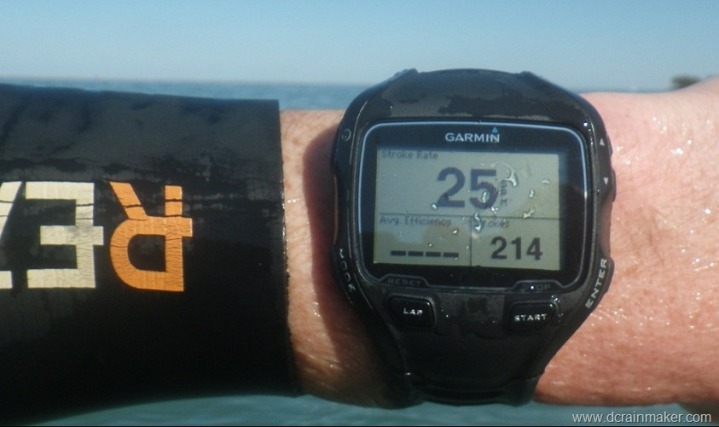 Now, I've still gotta compile all the different GPS data I have, as well as get some firmware and ANT Agent updates from Garmin to make the uploads have a bit more clarity on then – hence why I don't have full results at this time.  As promised though, a full swim detail is coming shortly, once all the pieces are in place.
My initial thoughts are that the GPS distances are improved, but still not quite as accurate as the swimcap method.  It was interesting however to see that the swim stroke information did show up just like it was traditional cadence data – so TrainingPeaks was able to see it when I uploaded the workout.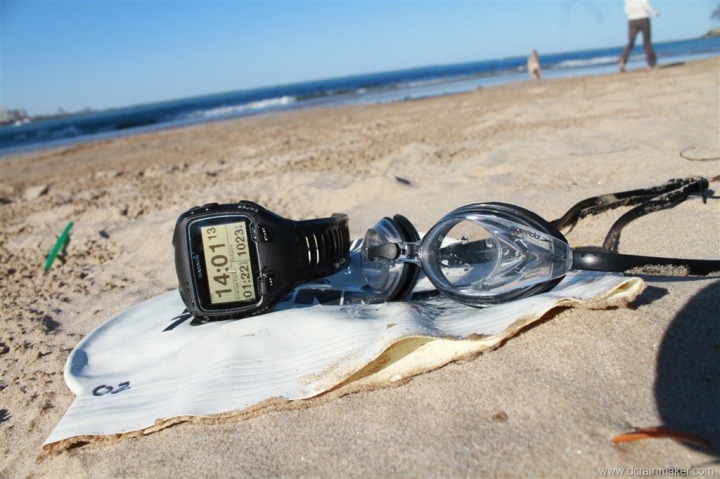 Like I said, more details (hopefully) on everything soon.  Of somewhat sad note though was that it officially marked the end of my beloved wetsuit.  While removing it afterwards (oddly enough in a short demonstration video of how the FR910XT is designed to slide off easily), I managed to catch my thumb in a small tear that had already been in my armpit…and turn it into a second hole big enough for my head.  Had nothing to do with FR910XT, and I would have eventually had to replace it.  It's served me well since my first triathlon until now.  Sad panda.
When I returned back to DC Sunday afternoon, I had a massive pile of boxes waiting for me from the neighbor on behalf of UPS and FedEx – some I had expected, some not as much.
First up, I had ordered the Tulio bike skewer multi-tool back a week or so ago, more out of a curiosity than anything else.  The concept being it takes a bike skewer and makes then sets the lever as a small multi-tool with all the common bike tools that you'd need. The only challenge being that I bought the rear-wheel version (not really thinking about it), which means that it wouldn't work with on a trainer.  Aerodynamics are likely questionable – but this might just be more for my road bike.  Or it might just be interesting because it's a simple way to ensure I've always got a toolkit handy.  Either way, some testing to come there.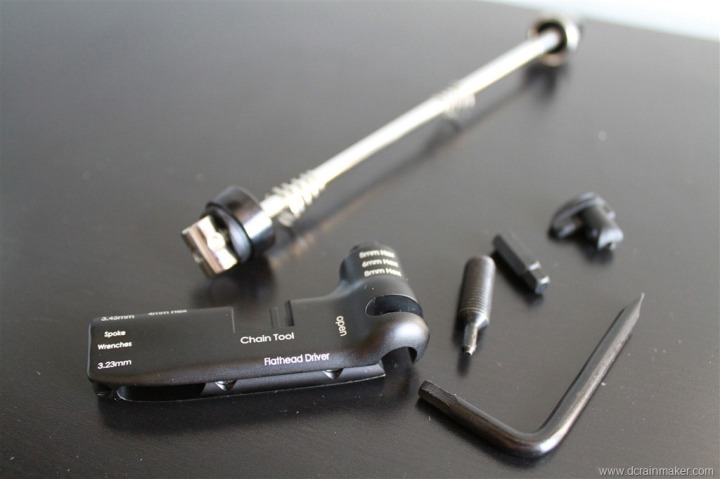 Next I found a package from Wahoo Fitness Extended iPhone/iPod battery pack which enables you to go out and complete that century ride and still use your phone for navigation (with ANT+ support of course).  This gives up to five hours of juice (no, not like Gatorade, but like electricity).
Maybe this will finally push me over the line to write up a proper review of the Wahoo stuff, instead of just sprinkles here and there.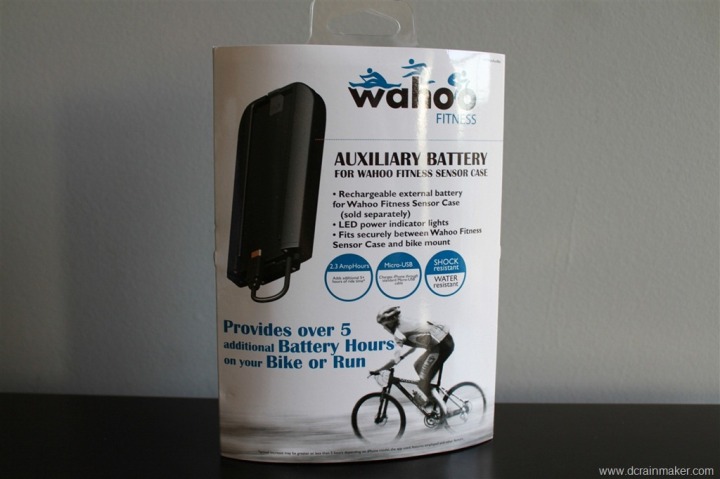 Nabaiji swimming MP3 player and lap counter.  This unit is going into the large collection I have for the upcoming swimming MP3 player showcase showdown I've got on tap soon.  About half a dozen other units in there.  This one is unique though in that it's the only one that does music as well as counts laps/distance.  This one is more widely available in Europe, than the US.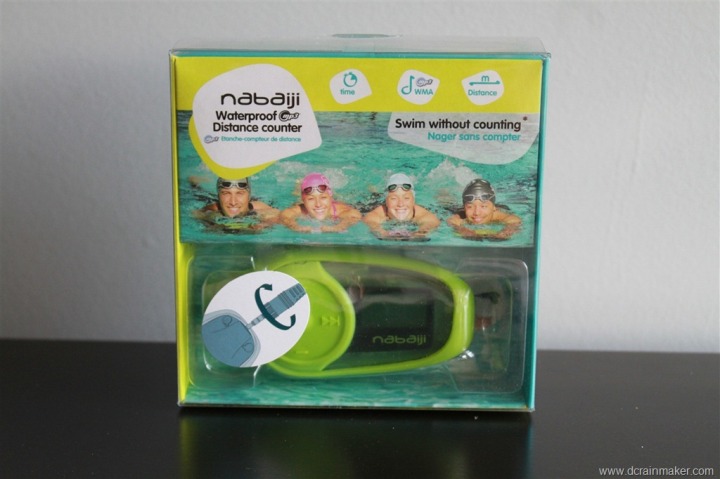 And last but not least, the Tacx Bushido wireless VR trainer.  My goal is to get this all setup Monday night, should be fun times ahead.  The Bushido trainer is unique in that it's completely wireless – with everything communicating via ANT+.  But it has all the same functions that you'd expect in a computer driven trainer, like the ability to ride courses and get detailed analysis and stats.
I'm looking to doing my indoors rides on this over the next while. My goal is to put together a review prior to Turkey Day.  Along with some other trainers coming here shortly.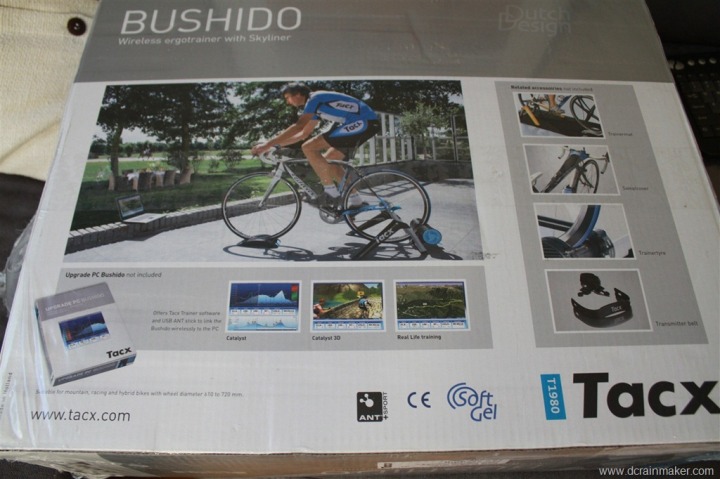 There were some other boxes from other folks, but those will have to wait for now.
With that, onto the week ahead!