Just a quick post before the main post of the day in a bit…
If you remember way back to the big survey I did in February one of the items that you expressed interest in was guest posts from some companies.  Not in a PR/marketing sense (none of us want any of that action), but rather in a 'How we do it' sense.  For example – how exactly does a given company take their products from back of the napkin ideas to your hands.  There's a lot of interest from a number of sports technology related companies on this front, but I really want to hear from you folks.
In an attempt to keep poking at Google+, I've started a bit of a discussion there.  I'm finding this an interesting way to do it simply because it allows more interaction amongst yourselves around ideas.  It's also nice in that it lacks some of the formality of a blog post or the limitations of Twitter.  It's almost like mini-forums.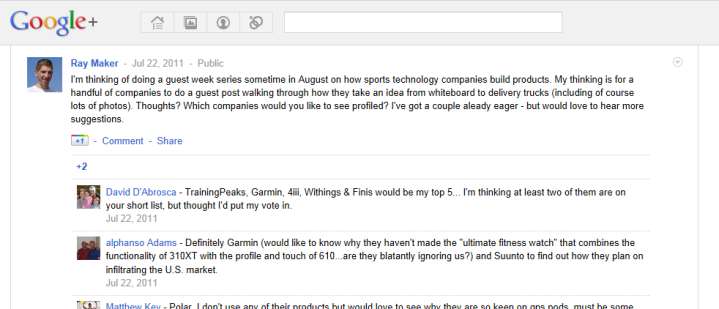 So, without further ado – feel free to wander on over and leave your comments…or leave your comments on someone else's comments.  Or just read the comments.  And if you can't leave a comment there, you know you'll always feel my comment love here as well.  Comment away!