Because it's almost Cherry Blossom time here in DC (one more week!).  Because you're probably contemplating getting back outdoors for workouts (except you lucky fools in Hawaii, you don't count).  Because it's pretty…and maybe just a little bit because you know you want it…
So I'm giving away a brand new Garmin Forerunner 310XT.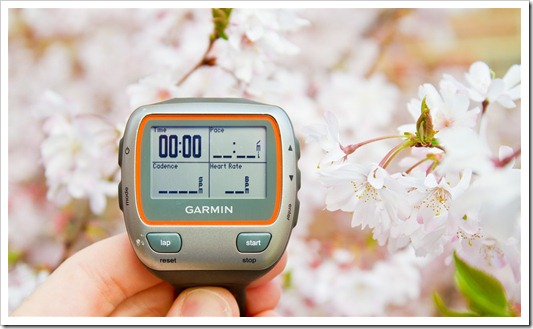 Here's my in depth review if you aren't familiar with the little orange device. Though, I can pretty much guarantee you'll love it.
I'm going to do this giveaway a bit different than before – just to mix things up a bit.  Simply provide an answer to the below question and you'll be entered:
What's your funniest training moment to date?
Or, you can just say 'Hi'.  Either way – one comment, one entry.
See, that's pretty painless, right? If ya have technical questions, thoughts/comments/diatribes/poems regarding the FR310XT specifically, use that post page for those writings.
The contest will run until Monday March 28th, 2011 at 11:59PM Eastern Time, at which point I'll close the entry period.  Like the all my giveaways there are no restrictions on where the goods go to – so no matter where in the world you are, I'll send to you.  The winner will get a brand new Garmin Forerunner 310XT (with HR strap).
(Note: If you're active duty military and deployed, and are unable to complete the entry method above, simply shoot me an e-mail and I'll get ya entered in.  For those curious on how the giveaways work, here's the deets.  Thanks all!)