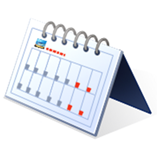 I've long since wondered what to do with all the random tidbits of things I collect each week – or the little thoughts that don't quite make for a full post.  But I finally came up with a solution: The Week in Review Post.  This takes the place of my Weekly Mailbag – which is over on Slowtwitch.  These are just quick snippets of things that I've found interesting.  Nice and easy Saturday reading.  Plus, a recap of my Weekly Mailbag post a well.
So with that, let's get into the action!
Weekly Mailbag Over at Slowtwitch.com:   
Sometimes there's some collective confusion in the process to get stuff published to Slowtwitch (it's not quite like the instant-push-a-button world of a normal blog).  About half the time it's my fault, and the other half the time…umm…yeah.  So, last weeks didn't end up getting published until this week.  Either way – like NBC says – if you haven't seen it, it's new to you!
1) Limitations and choice with Garmin power meter head units
2) CompuTrainer and RacerMate One Software
3) New Nike+ and TomTom Running GPS Partnership (Nike+ Sportwatch)
You can read all my past weekly mailbags at Slowtwitch here.  Or the pre-Slowtwitch days here.
Posts this past week:  
A wide variety of posts this week covering quite a range of stuff.  Here's what landed on the page:
Saturday: Week in Review – January 29th, 2011
Monday: The 2011 Polar Bear Plunge…with a duck
Tuesday: The Next Garmin Forerunner Multisport Watch
Wednesday: A hands-on look at the Swimovate Pool-Mate Pro
Thursday: Checking out the EZ-Trainer iPad ANT+ App
Stuff that I found interesting around the interwebs:  
Ok, back to a normal amount of links this week after the link extravaganza last week, here's the roundup:
#1) ANT+ goes open source: Well, large parts of it anyway. If you're the tinkering type, head on over and sign up for your free account to start playing in the sandbox (Adopter Account).
#2) USA Women's Cycling Team Goes to Qatar for Training: Some pretty entertaining updates from the USA cycling team as they make their training debut in Qatar.  Hit up Coryn Rivera's blog for a funny video look at their pad at the Ritz Carlton.
#3) They're hiring.  Both Quarq and the Swimsense folks are looking for peeps with engineering and ANT+ experience (respectively).  If you've got that – or if you just have a boatload of creative will, check em out.
#4) Powertap vs Quarq Review: A pretty good dueling breakdown of the two, if you're in the market.  I agree with everything he says here – spot on.
#5) Every year along the east coast in a few major cities there is the Multisport Expo around this time:  This year's no different. Hit up the link for the triathlon festival closest to you.
#6) Sony Ericsson starts firmware rollout of ANT+ support to Xperia X10 Mini, Mini Pro, and X8: If you've got one of them phones, you best be checkin' out that link…stat!
Random Note: Into Africa
I'm back in Africa this past week and next week for work.  But, I've got the weekend to enjoy myself in Cape Town.  Just finished up my morning ride a bit ago (followed by a post-ride Slushy relaxing on the beach).  But, I'll have more on that at the conclusion of the weekend…can't be jumping the gun quite yet, can we?  Back out to explore I go!