[Note: If you're looking for my In Depth Swimsense Review – you'll want to mosey on over there.]
I've got just a few minutes before my flight takes off, so before they get into the final boarding calls I wanted to update folks on a few things moving through the DCRainmaker world this week.  I've got some great posts coming up in the following days and weeks, so here's a taste of things to come.
The Wahoo Fitness iPhone ANT+ Bike Case Giveaway
First up – thanks to all who entered, just shy of 300 folks!  Holy moly!
As promised, it would be pure random (though, in all honesty, I should be giving point away for many of the hilarious responses mixed in there – tons of entertainment!).  And as such, I headed over to my friends at Random.org and let them do the thinking: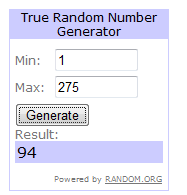 Which, correlates to Adam: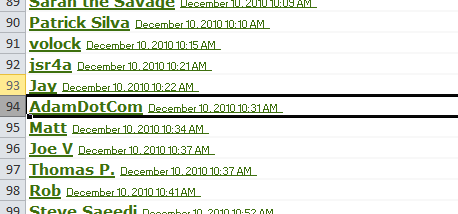 Congrats Adam – looks like you'll be kickin' it up in Canada (Calgary no less!) with your own ANT+ case.  It seems about half the winners from giveaways are international – cool stuff!  And, as I promised, it's already in the mail…did it on the way to the airport.  How's that for service?
FINIS Swimsense Demo Unit Arrived!
Probably the highlight of the week thus far has been the arrival of the long awaited Swimsense unit.  It arrived early this morning fresh out of some quick testing that the Swimsense team did in California last week after all the units arrived in country.  The unit will record your swim workouts, as well as allow you to download workouts to it.  Finally, it'll allow you to upload everything to the web.
While I spent today running around in circles in DC and couldn't get to the pool prior to my flight here in a few minutes – I will give it a whirl this week once I land and find a pool.
The watch is to the left below, with the little USB dock to the right.  The dock connects via a standard USB cable to your computer so you can upload workouts, etc…: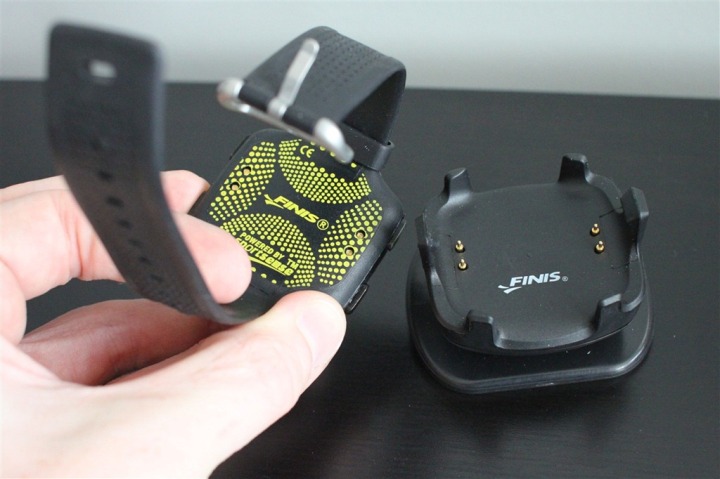 Just to give you a sense of scale and size, here it is next to the fairly normal sized FR210 watch: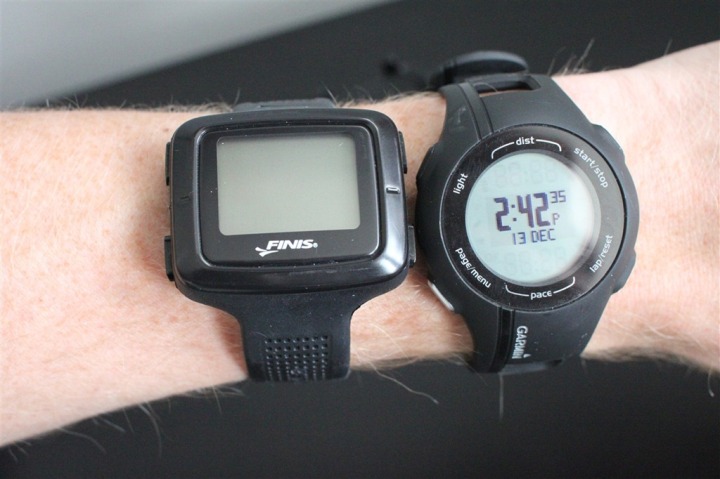 I'm really looking forward to giving it a shot.  Though, hopefully I can ignore the fine print that says I shouldn't expose it to water… 😉

Forerunner 410:
Speaking of small wrist-sized devices, the FR410.  This came in a week or so ago while I was out of the country, but I had a chance to unbox it and get it all charged up.  It's flying with me on my trip and I'll give it a bit of a whirl while abroad.
The FR410's claim to fame is its touch bezel system, along with a fair bit more features than the runner-focused FR210.  Though, it doesn't quite have all the features of the triathlon focused Forerunner 310XT.  There's been some engineering changes in the bezel in an attempt to alleviate some of the past issues with the touch bezel, specifically splicing the underlying touch sensor into four quadrants – versus the single quadrant before.
We'll see how that shakes out in the coming weeks.
Garmin Connect and Bing
Continuing the theme of things shaking out – there's been tons of movin' and shaking over on the Garmin Forums and across the Internet the past few weeks over the change on Garmin Connect from Google Maps to Bing Maps.  Lots of unhappy folks, primarily those that are international – but also US based folks with loss of terrain, etc…

A fair number of you have asked my opinion on the matter.  I posted a bit of initial thoughts in the comments section in response to some questions in the FR210 review last week (scroll down into the comments at the end and look for my red text).  But, I'll try and circle back and cover it a bit more later this week.
In the meantime, I've talked with the folks at Garmin regarding it, and you should see something in the morning from them posted publically.  I'll be following up a bit later on with my thoughts based on their public response, probably on Thursday.
Thanks all!  Gotta run…final boarding!