When I received my schedule earlier this week for the next few weeks, this little nugget was in the e-mail body:

I thought to myself…hmm, what is this 'Queenstown 120' he speaks of.  I have no such race by that name on the agenda, nor anything with a '120' after it.  I immediately started pondering, as really nothing with a '120' can be good.  So I cracked open the Word Document with the detailed schedule and saw this for the week's long ride: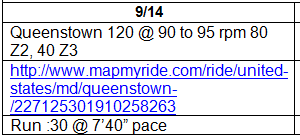 Hmm…ok, time to click on the little link and see what the blue line special brings me.  Though pre-clickage, I knew this couldn't be good.  As 80 + 40 is most definitely 120, and we ain't talking minutes here.  A few seconds later (well, actually a lot of seconds later – because MapMyRide is one of the slowest websites around), the following showed up: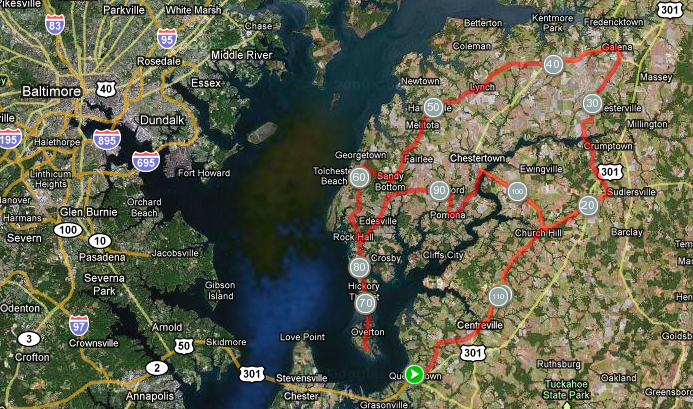 Well now…ain't that cute.  Guess I know what I'm doing Saturday…
(Fast Forward to Saturday Morning…)
I got a semi-early start on the day. The good news is that despite being in the middle of nowhere, it only took 59 minutes to get there from my house – and all on major highways.  So quick and easy.  I parked at a some community park/church lot – which was awesome as it had both a super-clean porta potty, but also two functional water fountains.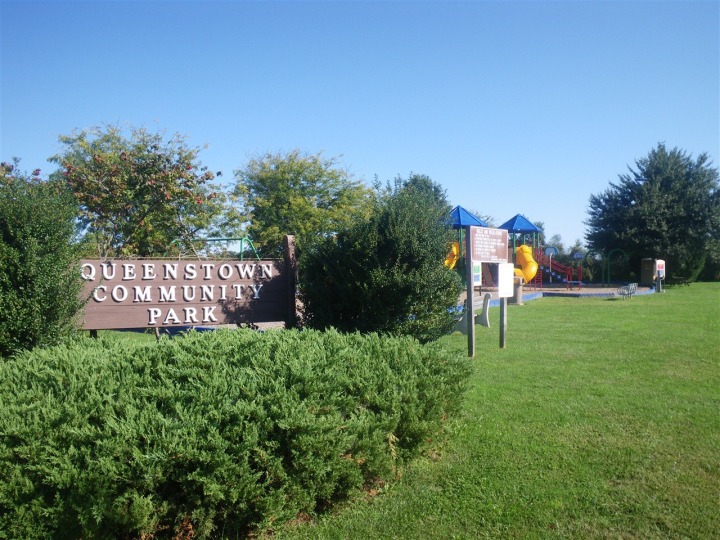 From there I unloaded my car, and got all my junk out of the trunk.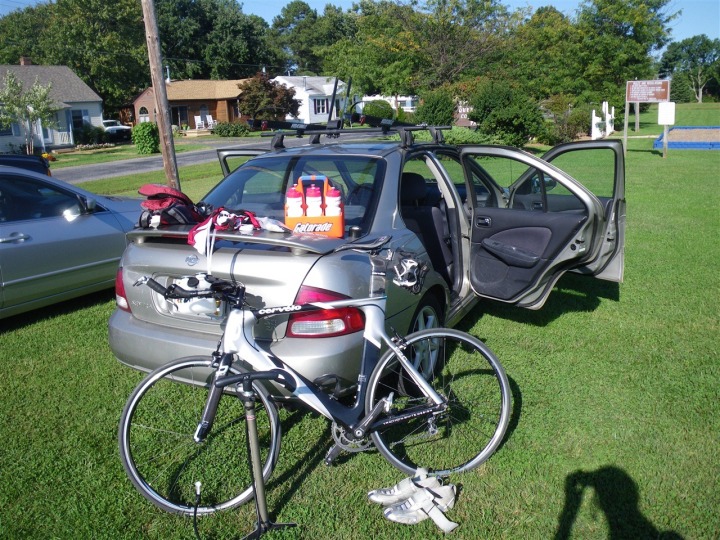 I was particularly proud of my mod-job to one of my rear bottle cages.  See, I snapped – and then subsequently lost the entire cage – at IMC (yes, bottle AND cage) and I hadn't gotten around to buying a new one.  But with a 120 miles of goodness on the day's chart, I needed to be able to haul more water.  So I dug through my box of previously snapped cages (these TACX cages work awesome – never a popped bottle, but they snap really easily) and found a spare washer to reattach it.  I'm fairly darn certain this cage will not EVER dislocate from my bike now.  It's on for life.  Plus the screw sticking out surprisingly doesn't interfere with bottles.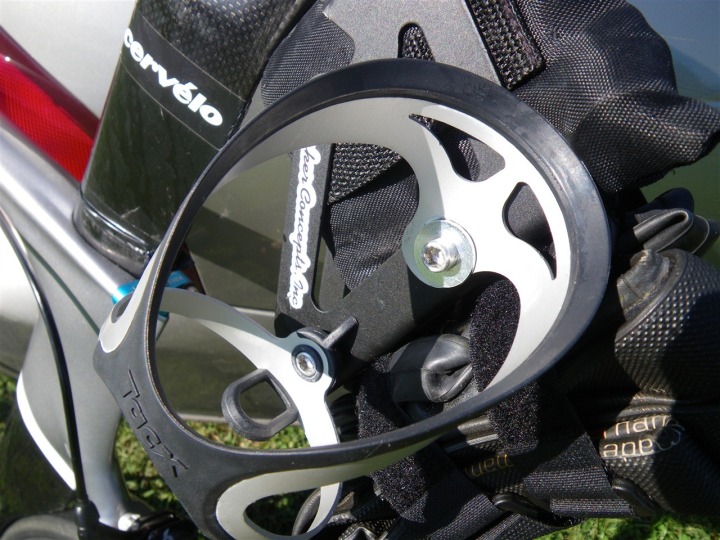 Speaking of bottles…I was a wee bit concerned about where I'd stop to pickup extra fluids.  Adding to that even further is the fact that I can generally carry 5.3 hours of sports drink (+2 water bottles) on my bike, but anything over that breaks my capacity.  So I ended up taping a spare bottle of sports drink (overage) onto the frame.  I'd eventually just dump that in my tubby (Podium Quest) up front and then put the bottle in the garbage.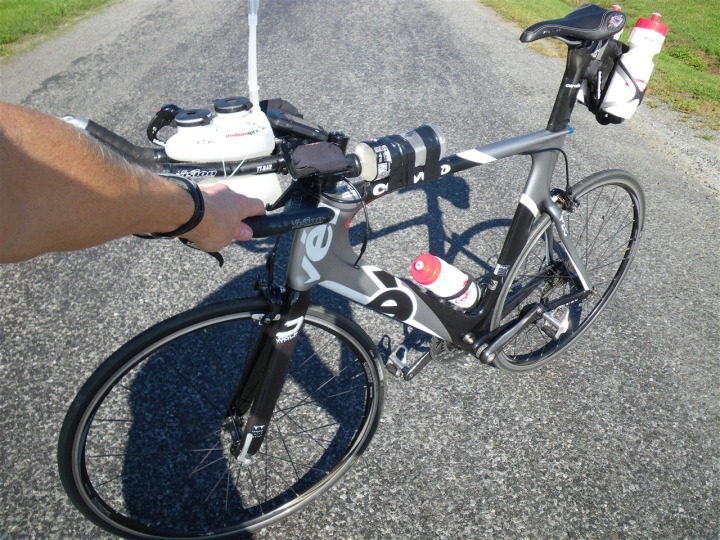 So with that…time to get this beast on the road.  Oh, for those curious – that's a total of 146oz of liquid – or over 9 pounds of extra weight.  Damn.  Obviously wouldn't do that in a race…but that's realistically the only way in training to ensure you have enough to last a few hours if you aren't sure where you're going.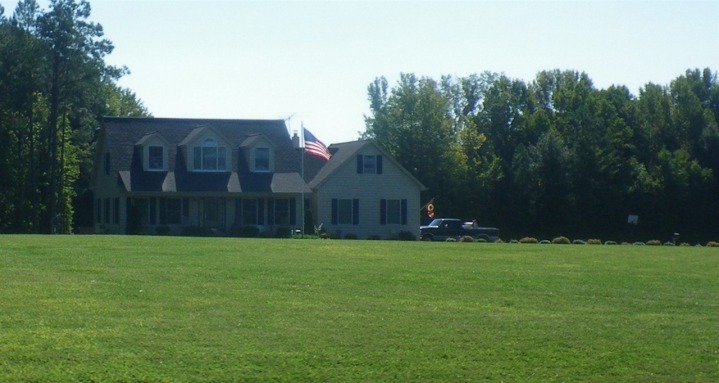 So the first thing you may wonder is what I am posting a picture of a cute little house in the Maryland countryside?
Well…see that flag?
No, not the little Redskins one over the truck…but the American Flag.
See how it's kinda pointed outwards?
That represents a new four-letter word.  We shall call this word *** ******* **** wind.
The wind speed was approx 16mph…in my face…for two hours straight.  Two hours!  In the words of the new Windows 7 commercials wind is not a "Happy word".  Despite averaging over 230w for the first two hours, I was still only in the 19mph range…on the flats.  Why the flats you ask?  Well, to practice aero.  Nothing better than 120 miles of pancake flat terrain
Like this:
There really isn't much to say for the first 60 or so miles…just lots of cornfields.  I kept myself busy though.  I tried (mostly unsuccessfully) to take a good picture of the 'hot' logo on the back of my shorts..but eventually gave up for fear of ending up in a cornfield with nobody to ever find me.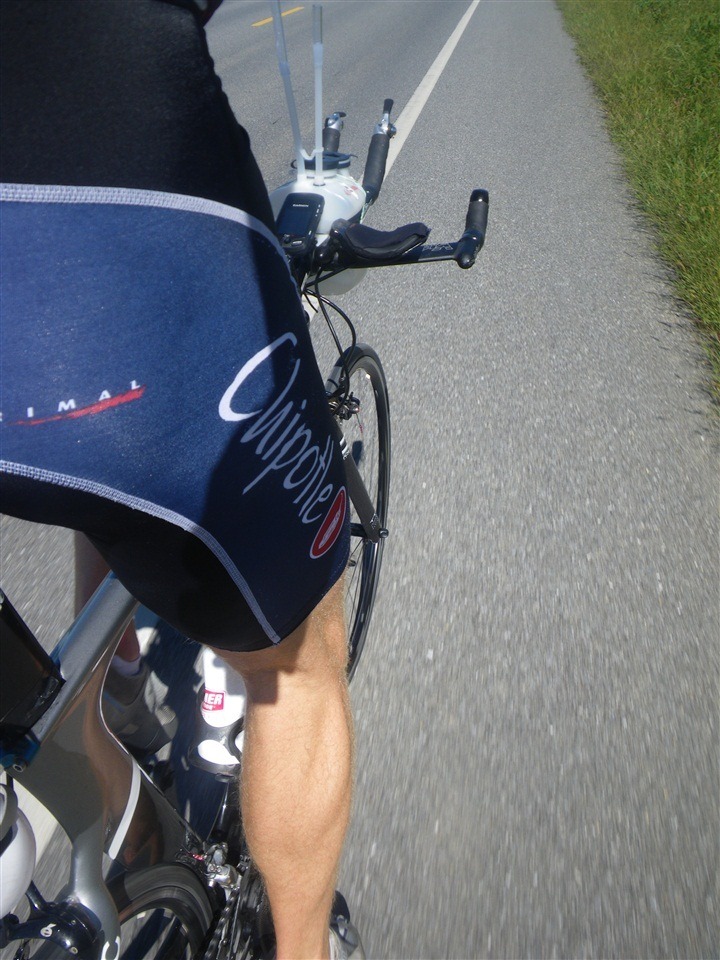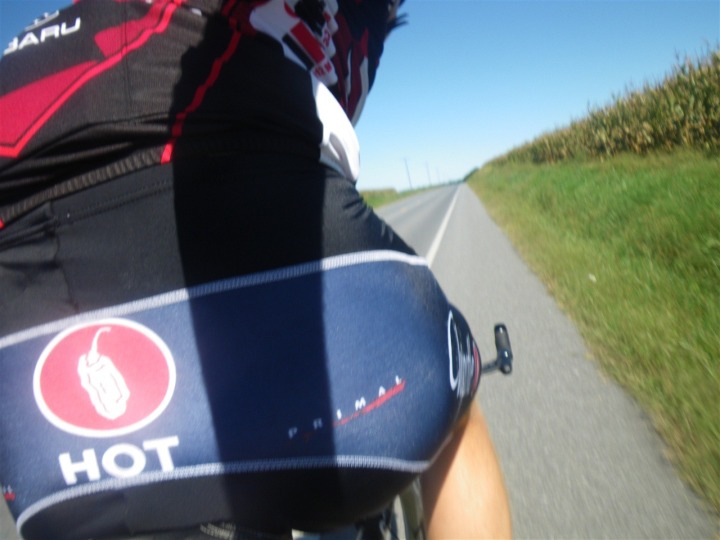 The one positive part to corn fields though is that the dense brush around them holds up your bike perfectly when you have to take a brief pit stop…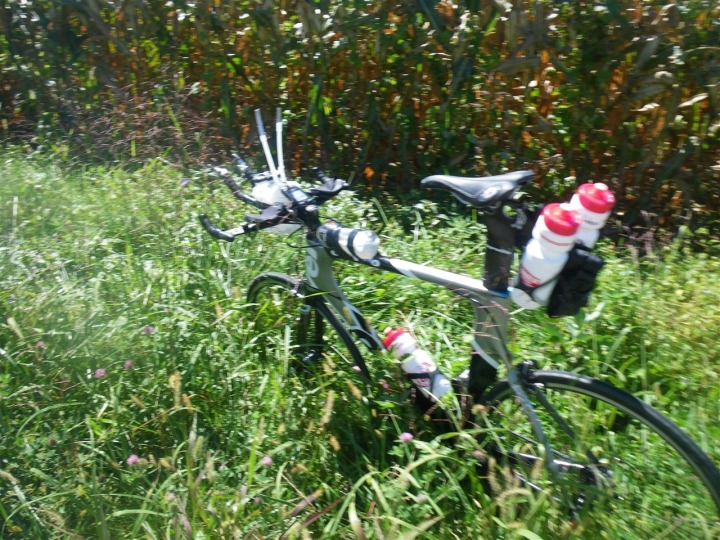 Oh, and in case your wondering, here's what corn looks like if it were..say..in a porta potty…on a deserted country road.
Along those first 60 miles I did see this boat in a field.  Officially…a Failboat.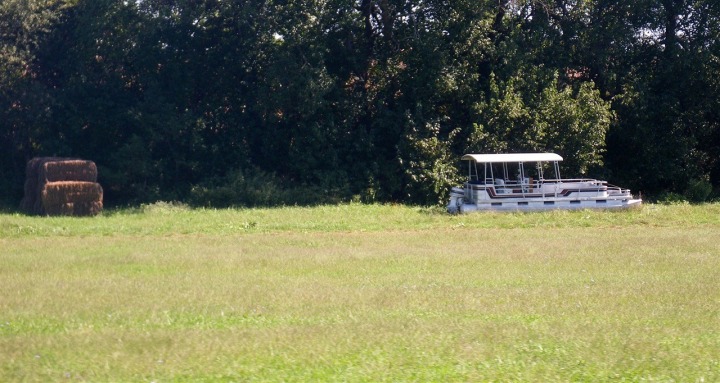 Should have been a warning sign of things to come for me, sorta like the boat below (from Despair.com)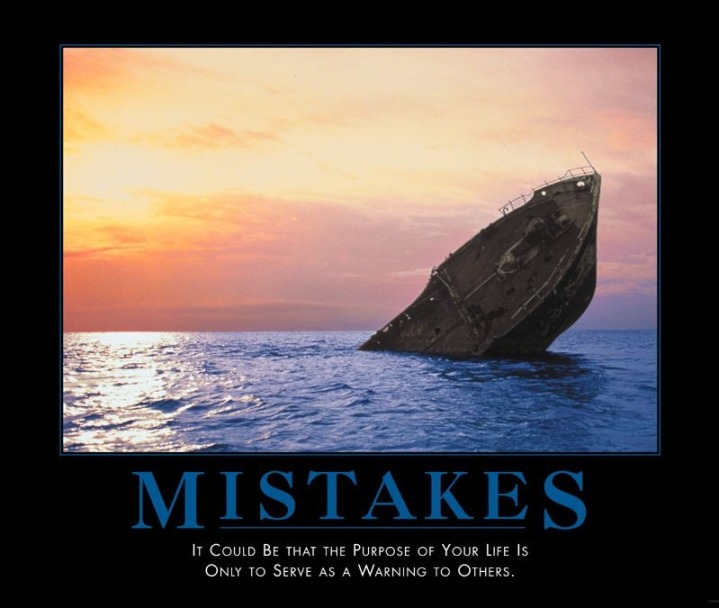 Somewhere in the mile 60-80 range though, things started to get pretty rough.  The ride was starting to hurt a bit.  The first 40 miles of winds had taken it's toll a bit, and I think I may have been a bit shy on water intake initially.  So miles 60-80 sucked…a lot.  Around mile 80 I reached a point where in theory I'd have a great view of the bay as part of a national park.  It was also a turnaround point for me.  In reality, here's what I saw: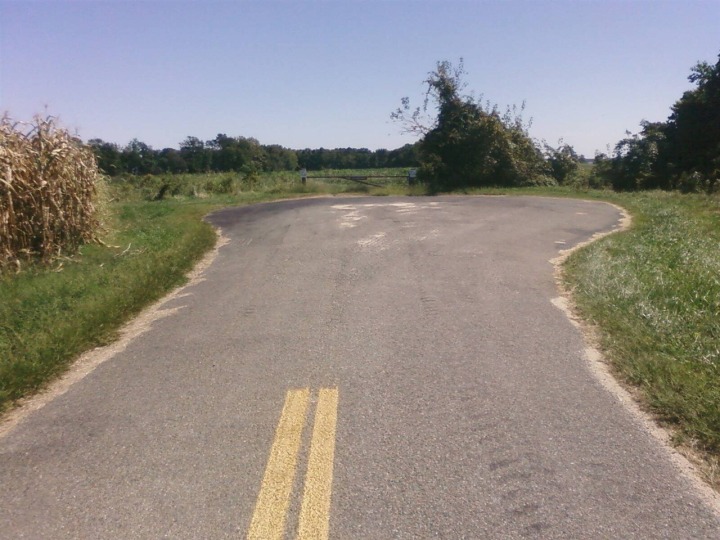 No view.  No bay.  No nothing.  Just more corn.
Sad panda.
So I trucked on.  Around mile 85 I took a made a brief stop to fill-up.  Which reminds me, I forgot about my first water stop – at a gas station.  Bottles of water were $1.50 each, but a gallon of water?  $1.59!  Sweet!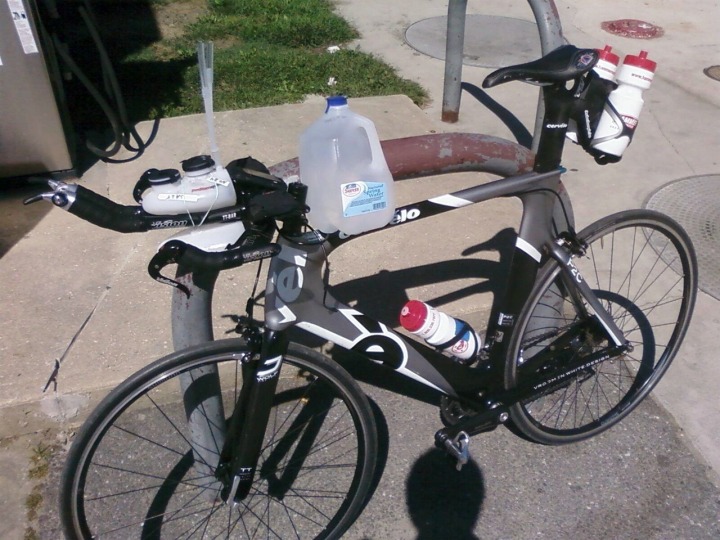 But back to mile 85…
So, I go to pull out of the parking lot and attempt to clip in my left foot.
No clippage.
My cleat simply won't clip in.  I poke around at it a bit, take off the shoe, clean it out, clean the pedal, poke at it some more, and decided clippage just wasn't going to happen.  I could at least keep my toe hooked in, which was better than nothing.  So I continued on with only one cleat clipped in.  A few miles later I was getting annoyed with the constant slipping, so I pulled over again to try and poke at it some more.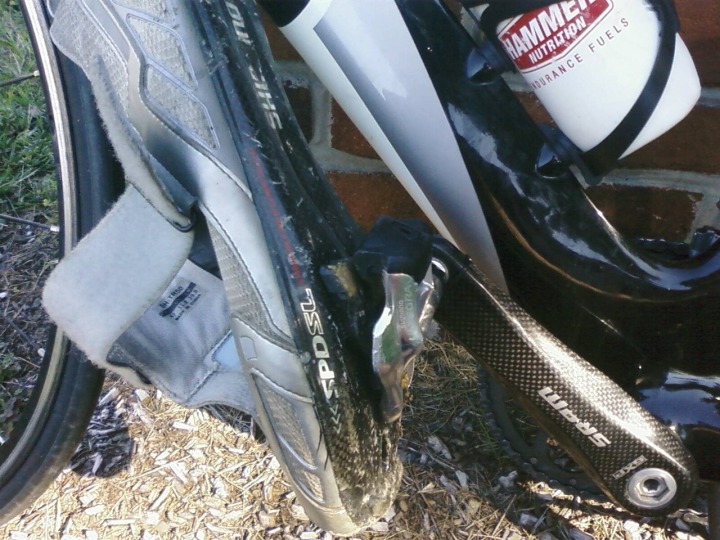 I ended up calling Coach to see if he had any ideas beyond what I'd already tried.  After a fair bit of time with both of us troubleshooting, I eventually gave up and decided that there was really only one way home…riding…for 35 more miles.  See, the point on the map with me below is where I am, and the other point with the flag is where I need to go: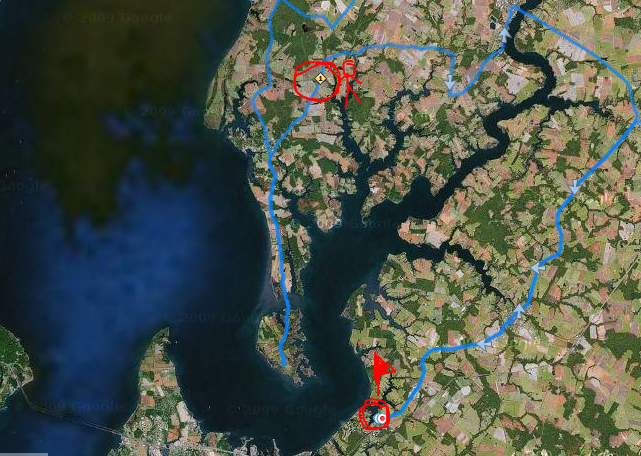 You may notice a distinctly blue region in between two said points.  Further, over the course of this post you may also have noticed I wasn't carrying a boat with me on my ride.  One might presume this would mean I lack the ability to successfully to make such an aquatic crossing.  One would be correct (though, I probably could have swam it sans-bike).  Thus, my only real course of action was to simply HTFU, ride 35 miles with a broke-ass pedal, and get this ride over with.
Which I did.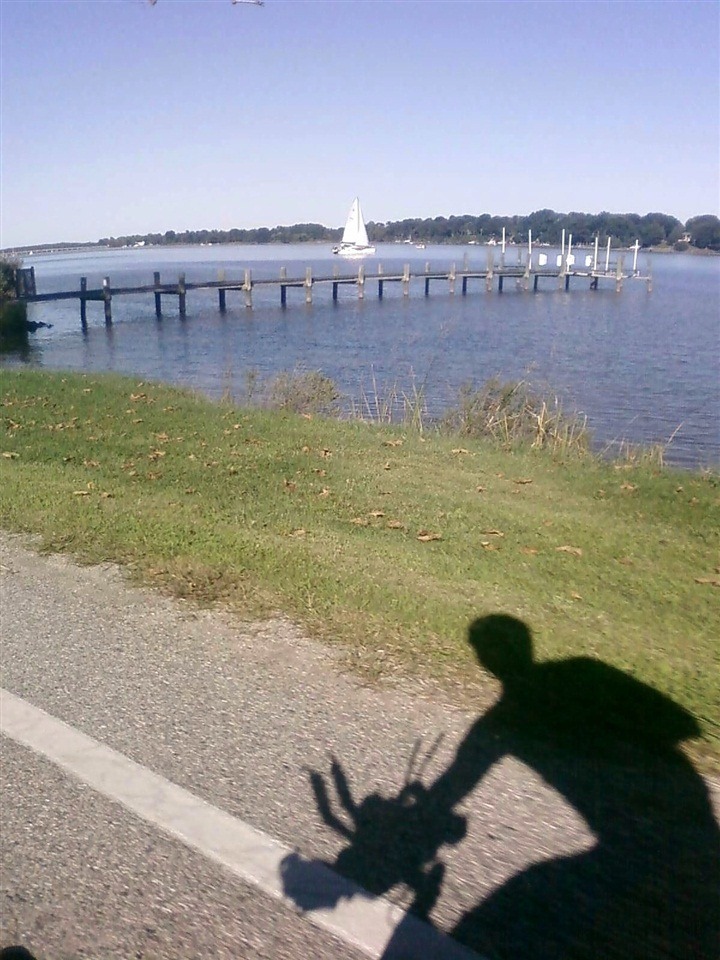 Above in the far distance you can see the bridge I finally got to, to cross the water, and then continue back south.
Now, despite my gimp-ass pedal (and the previously pedaled 85 miles), I made pretty good time on that last section.  Averaged about 20mph and about 200w.  I did find my left foot fell asleep a bit due to the odd angle.  So every 10-15 minutes I'd have to take my foot off and simply pedal one-legged for a bit.  Just like drills on the trainer at home.  That got funny looks from passing cars.
Once I got back (…6 hours of riding later), I still had the second matter to attend to…which was the little run.  I used the Virtual Partner feature on my Garmin 305 (yup, back to sporting it classic edition – at least until my 310XT arrives from the store – the demo unit from Garmin went back on Friday).  My coaches directions were to keep it at a 7:40/mile pace.  So I did that.  For exactly 3.91 miles (30:01 minutes per the workout).  And then I collapsed into the grass and contemplated the almost setting sun.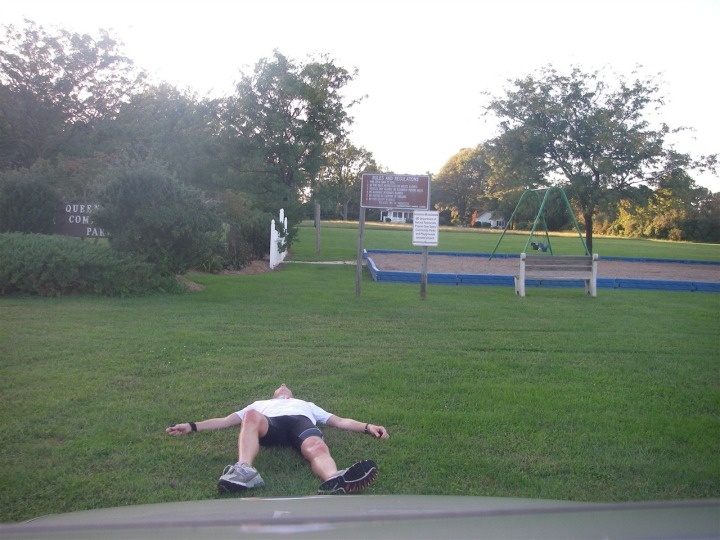 Next order of business?
Food.
And 5 soft tacos from Taco Bell ought to do the trick: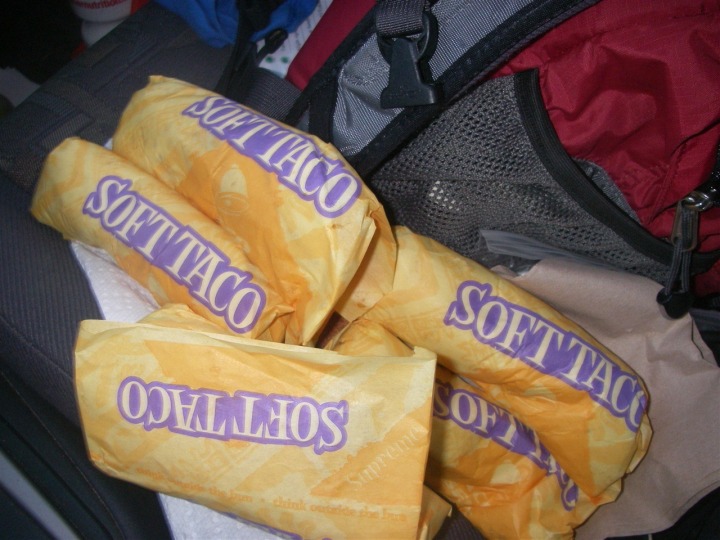 Though, I could only get down four initially.  The fifth became a victim a bit later…
And no – there weren't any other options out there.   Well, except McDonalds…or Hardees.  But after 124 miles of liquid nutrition, those tacos tasted pretty darn good. 🙂