Way back when I posted the how to make fresh pasta post, Xena asked about how to make fresh Gnocchi.
"Can we get a gnocchi post? I *still* can't get that right."
Ask, and you shall receive.
Today after my 90 minute trainer ride I decided to put together a batch of gnocchi.  Except, while I was sitting there eating a quick meal I got distracted by a few cooking magazines.  By time I was done reading I decided I'd also make some fresh bread, fresh pesto and throw together some peanut butter as well.
Making gnocchi does take some time, both for the non-active parts (baking the potatoes), and then the active parts (making the gnocchi).  It's easy cooking, it just takes some patience.
First up – grab yourself about 2 or so pounds of Russet Potatoes.  Stab some holes in them, and put throw them on a baking sheet.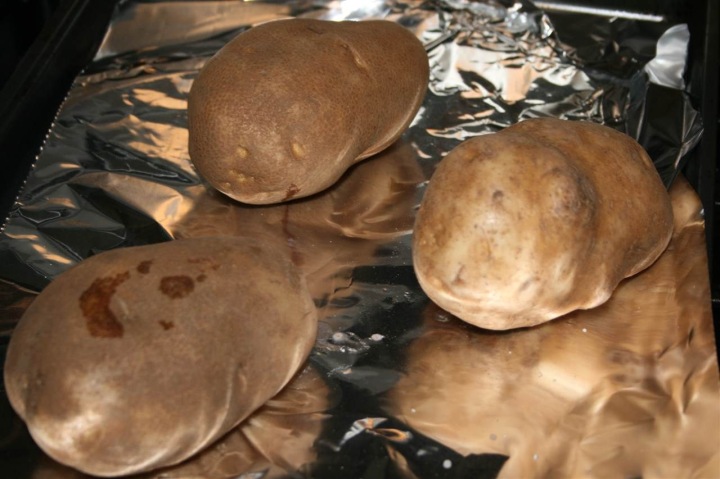 Toss them into the oven at 350*F for about 75-90 minutes.  Or until they feel soft enough that you think you could scoop out their insides with a spoon.
Once done, take them out of the oven and let them cool slightly.  Generally I ignore this step and burn my hands a bunch of times.  Don't let them cool fully though – otherwise a few steps later is tough.
Go ahead and scoop out the insides.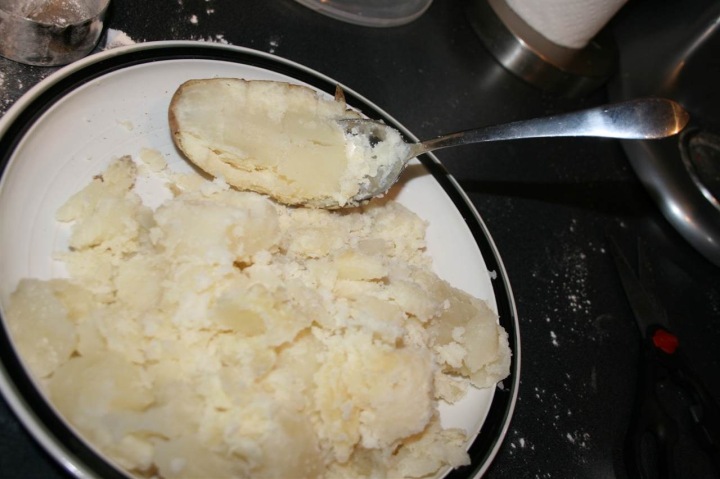 From there we employ a special utility – called a potato ricer.  This  contraption takes your potato pulp and pushes it out into little strands and essentially makes it a much lighter substance.
From there, you end up with a bowl ol' pile of potato strands.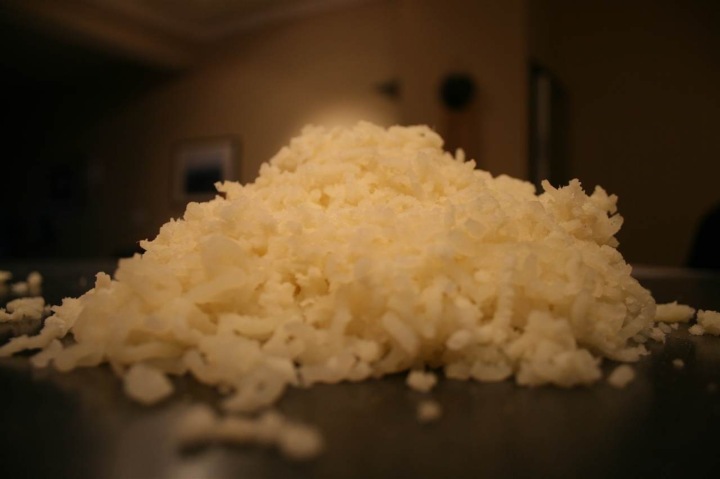 After that, make a well in the potatoes. Then dump in half a cup of flour.  Then 3 egg yolks, and then another half a cup of flour.  Also toss in a tablespoon of salt.  If you forget to put in the first half a cup of flour below the eggs (like I did), no worries, just toss it in on top.
Then go ahead and chop it into the mixture.  You could probably use a spatula for this.  I used a dough scrapper, which is handy for a number of other things.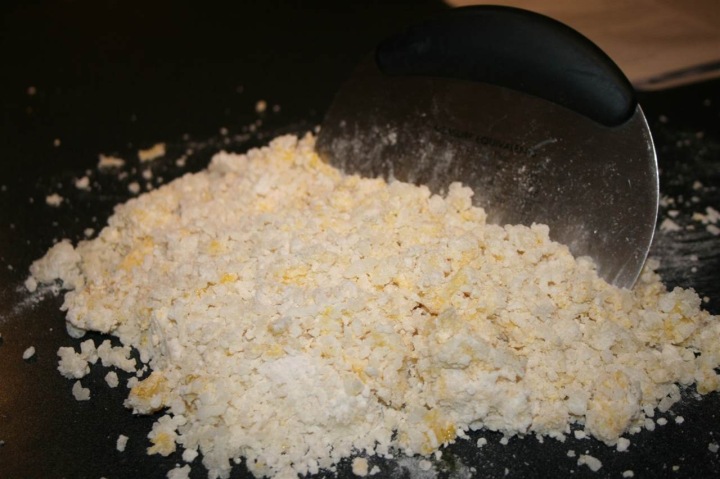 From there, roll it into a big ball, using flour as required to make it non-sticky.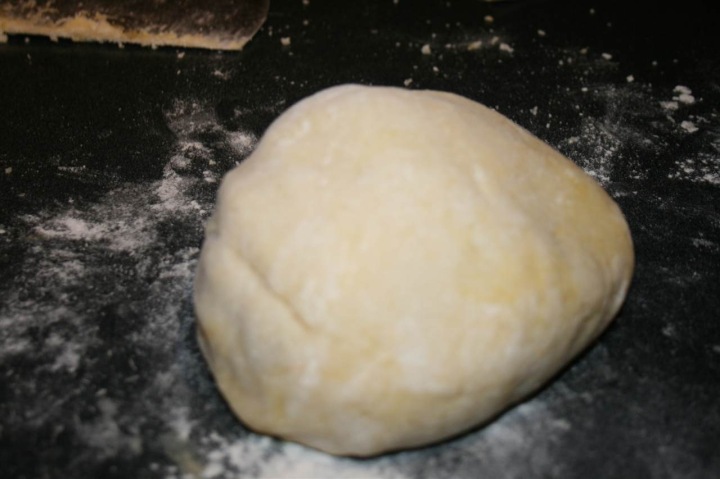 Then roll it out into a big long snake about .5" wide, and then slice and dice it into smaller pieces.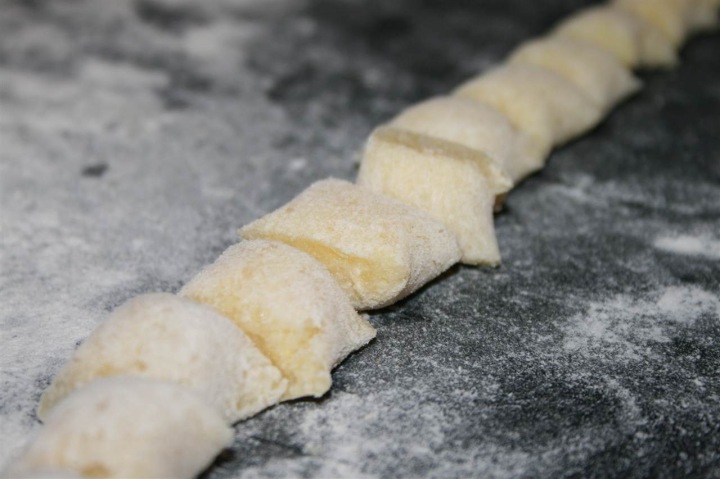 Now you can use the back of a fork to make those nifty groves, or you can use a spiffy gnocchi paddle.  Or you can not bother with little groves.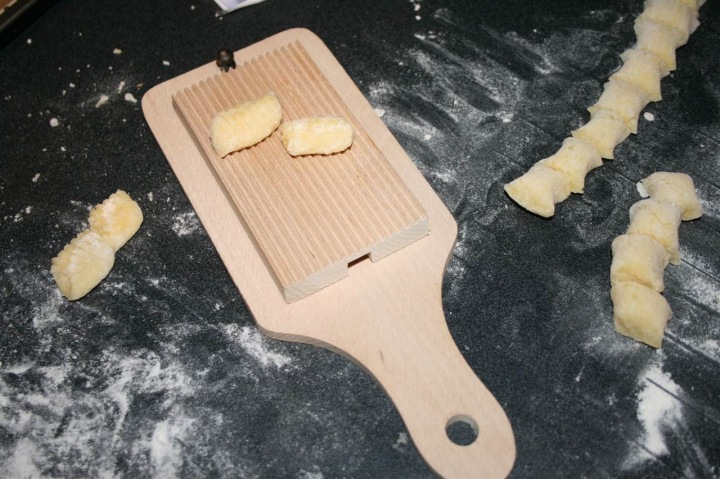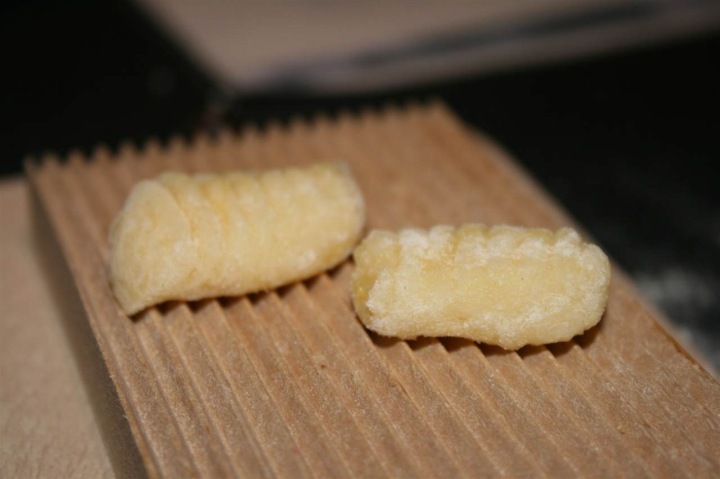 Now you just repeat until you've filled up a baking sheet or two.  If you don't plan to cook them right away, freeze them on the baking sheet, and then transfer to a Ziploc bag.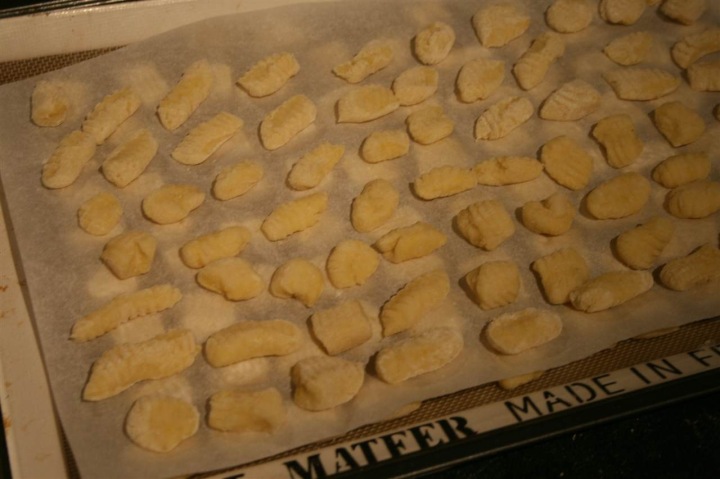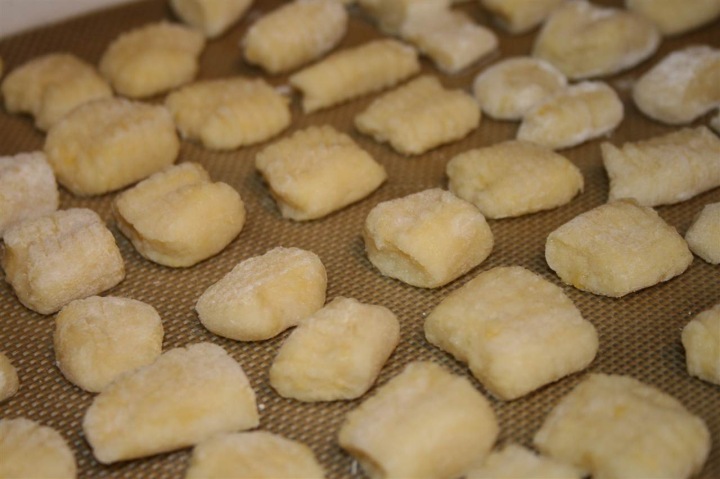 So…time to cook.
First, salted boiling water.  Then a side non-stock pan with a little bit of olive oil in it.
Now, toss the gnocchi in semi-small batches into the water, and then once they float, transfer them over to the pan.  You can get a pretty good rhythm going and double-team them.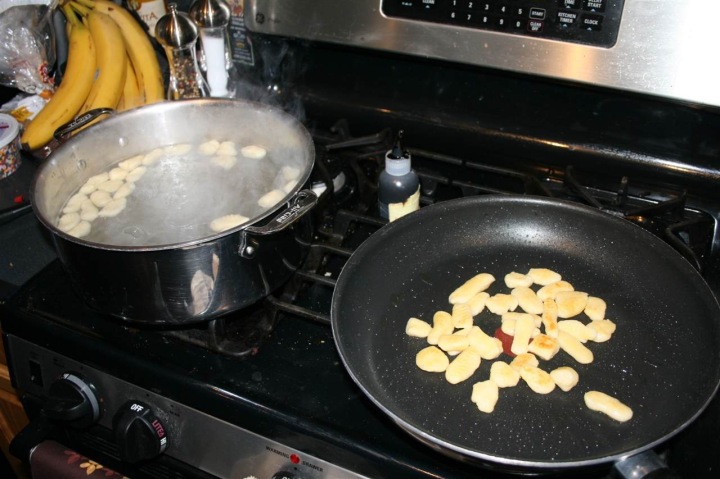 The goal of the nonstick pan is to add a light textured crust to the outside that's golden brown (this is the secret to really really good gnocchi).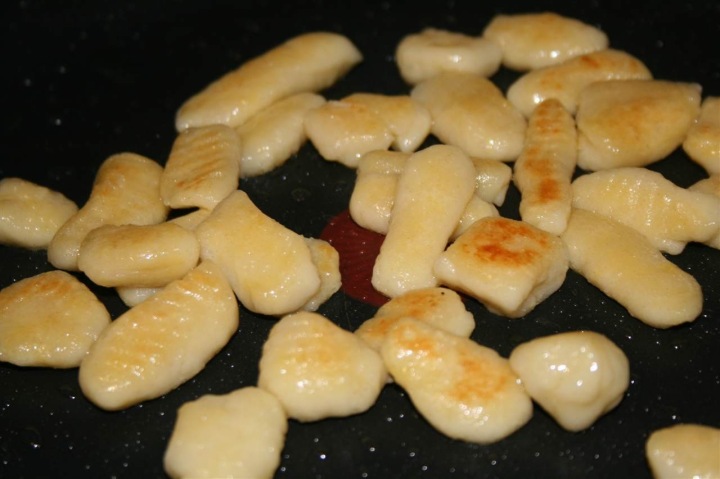 From there, you mix it up with whatever you want.  I decided to make some fresh pesto using a few cheap basil plants I found at Whole Foods (it was overall cheaper than just buying it).
Here's the recipe I use.
And once it's all done, you can put it together and make it look fancy.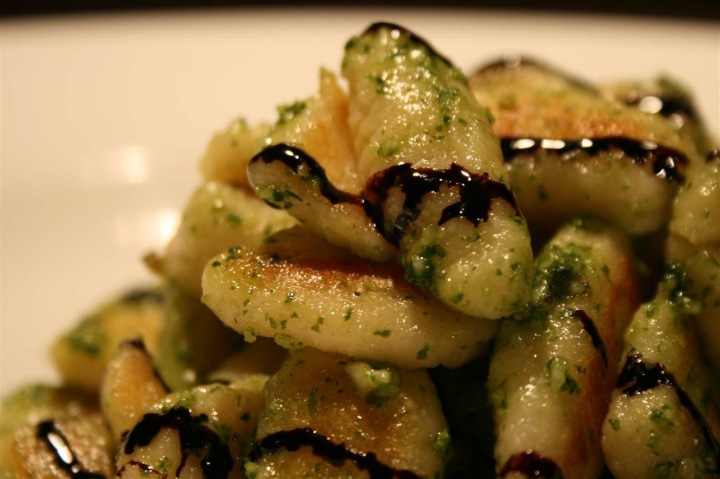 That black stuff – that's a reduced balsamic vinegar sauce. Essentially I take a big bottle of balsamic vinegar and reduce it down to a thick syrup.  It's quite good…on basically anything.  I also usually toss some parmesan cheese on it too, but I forgot to while taking photos.
Oh, remember the bread I got distracted by?  From this month's Gourmet magazine.  The recipe isn't posted yet there – but it's called "Crusty Cornstalk Rolls", when it does appear likely in the next few weeks. It's super-easy to make and looks sorta pretty.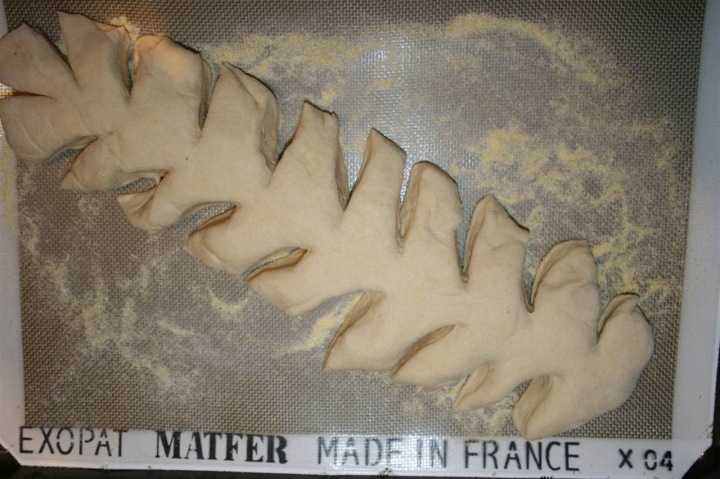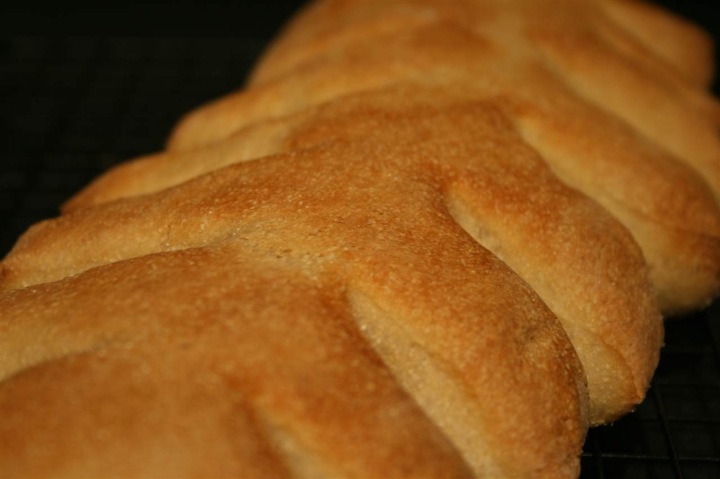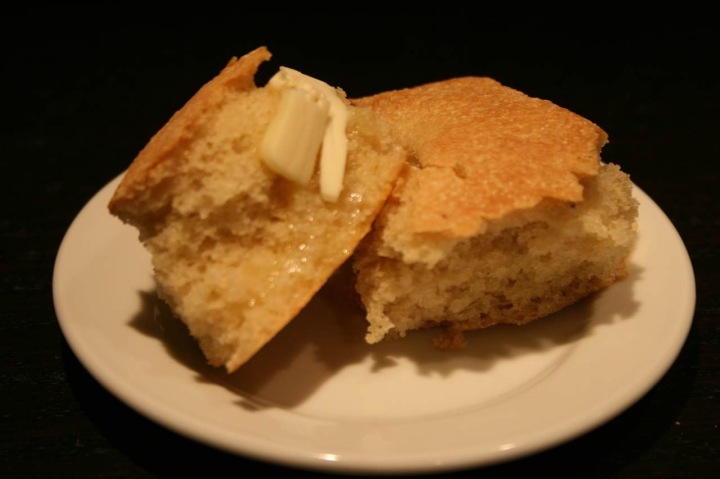 So there ya go…dinner.
Oh wait…peanut butter…right – here ya go.  Just used the BlendTec blender to spin it all together.