Who knew?  Such a term.  I would have called it "Place where things go wrong".
I was browsing the city's web site and stumbled upon their 'Pedestrian and Bicycle Mobility Plan' from June.  This plan essentially outlines how they are going to take over the world via bike paths and sidewalks.  It's lofty in its goals, of which much will unfortunately likely never be realized (primarily given the last time I went to a city planning meeting a council member flat out stated that "bikes shouldn't be allowed on the road and that they were a danger to [her] SUV" – yes – that's nearly a verbatim quote).
At any rate… I found this nifty little diagram: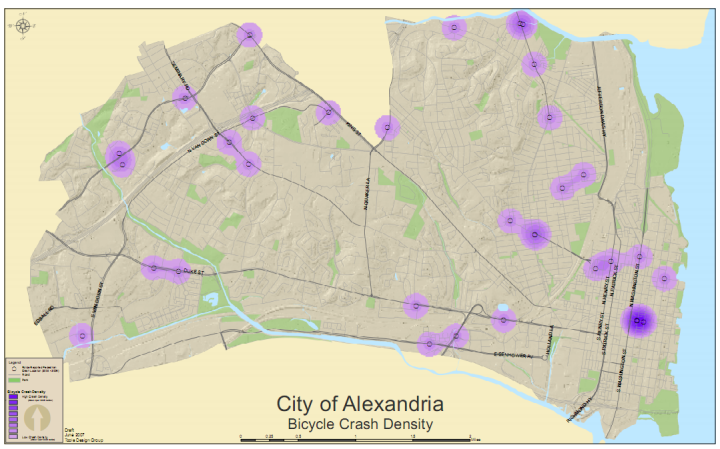 Now, some expensive consultants likely put this together as well as the plan addressing how to fix many of these issues.  Of course, anyone who bikes or runs around Alexandria could easily have picked out the hot spots (generally categorized by a location where cars and cyclists willfully ignore stoplights/signs and thus tango together).  For example – you'll note all of the locations with more than one incident are near intersections.  Some of those intersections HIGHLY sketchy, especially for cyclists or runners.
Speaking of runners…here's the pedestrian crashola chart: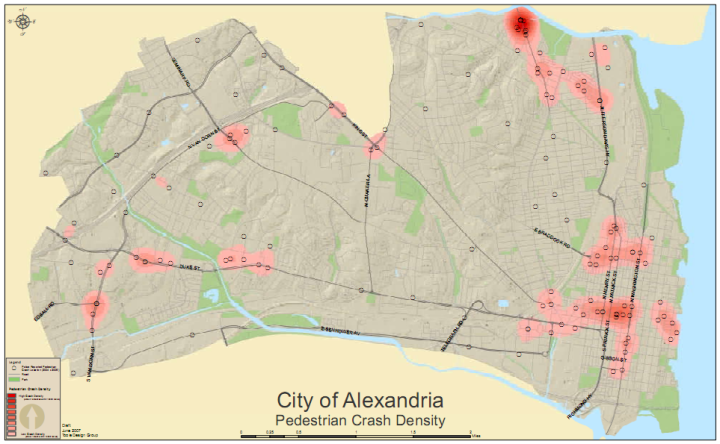 This is where the data becomes more interesting in my mind – especially as you see very clear trends between the two maps.  The same places were bike accidents happen – pedestrian accidents happen.
At any rate, I just thought it was an interesting diagram/map.  And I do have to give credit to the City of Alexandria.  They have a guy who's job it is to run these projects and interface with the cycling community, and he's pretty cool and down to earth.  They also run a fairly active listserv and cycling input group including having city folks on the discussion.  Plus, they repaved my path. 🙂
And…it appears they are out there doing something the last few days starting up some more cycling pathways stuff a bit further down the trail. So woot!