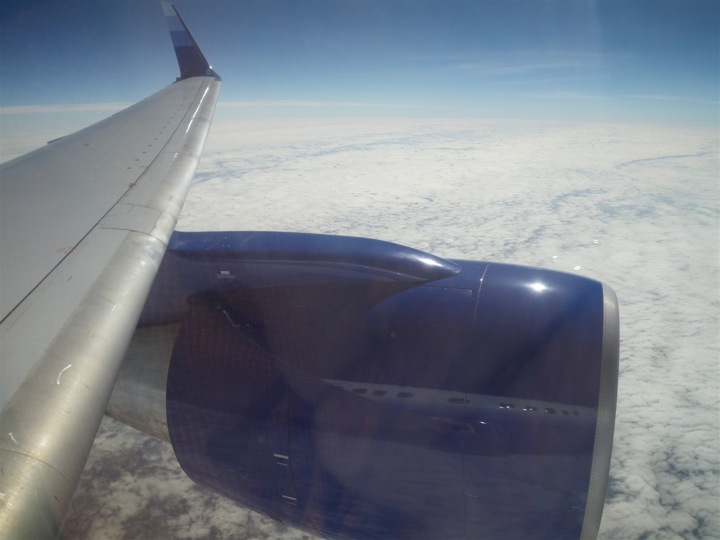 I flew down to the Great (albeit oversized) state of Texas late afternoon on Monday for a weeks worth of work related stuffs.  If my memory serves me correct, the last time I was down this way was last year in November.  But it's possible I've been here since then, I can't keep track anymore – I'm getting old. 
Btw, that old post is actually kinda interesting (I just read it again now) – first because it's probably one of my funnier posts, and also because I had a short underwater video of my swim stroke.  It's interesting to see how much I've changed my stroke in the last year (hopefully for the better).
Anyway….
Monday was a double-dipping pool day for me.  I had a 90 or so minute swim technique session with the coach.  I'd been getting frustrated lately with my swim times slowing down unexplainably.  I'm still swimming about 7,000-8,000 yards a week, which is down quite a bit from the summer – buy my form was getting all dorked up.  So it was good to get things back on the right track again.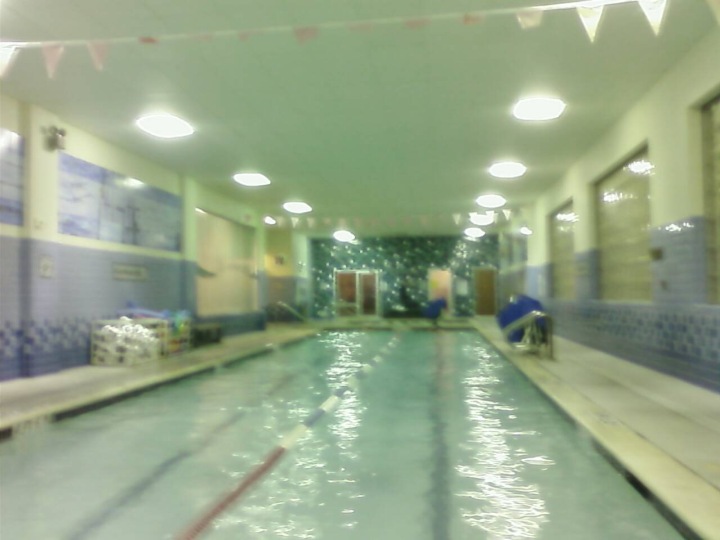 (Yes, fuzzy cell phone pic – it was all foggy inside)
Late at night in Dallas (until 11PM), I went to the local 24-hour fitness using a free 7-day pass and swam another 3,200 yards in the pool working on all the things that were dorked up.  I felt like I was swimming faster, but it's hard to tell since the pool was a 25M instead of 25Y pool.
However, it's entirely plausible I will die soon – given the warning notice posted on the door as I LEFT the pool (I didn't notice it on the way in).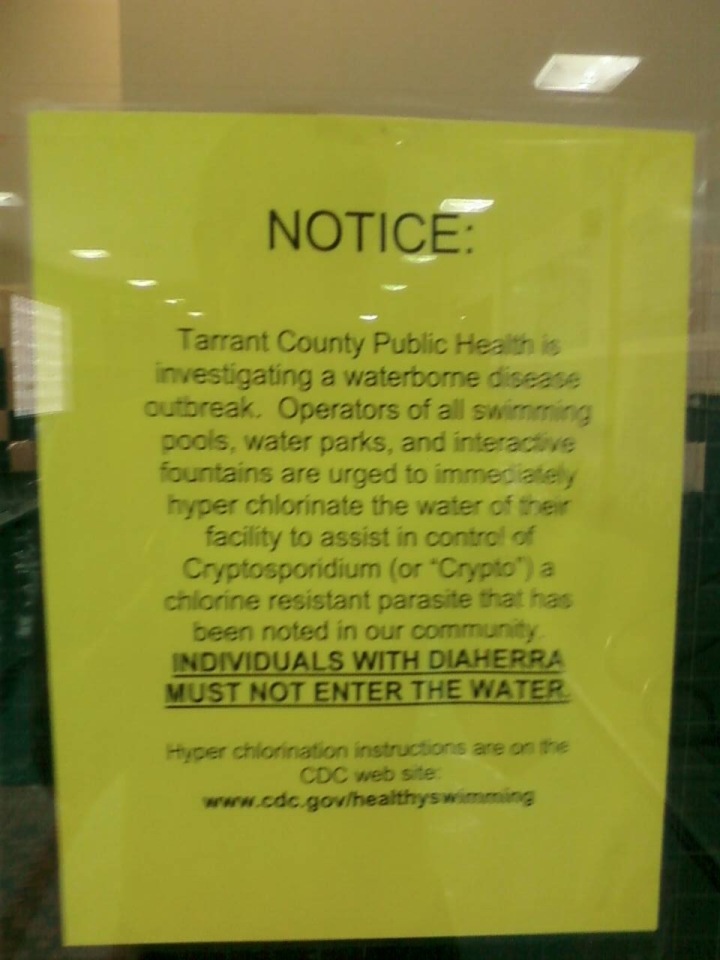 (Sooo…the keywords were "waterborne disease outbreak" and "CDC web site")
Oh – but the best thing of the night was going to the Bike Mart – where blogger Marci works.  This place is unbelievably big – like the Costco of bike stores.  They had all sorts of great stuff, and some great deals.  I got a bike blinky thing (for no real reason other than it was neurologically amusing).  I also picked up some replacement cleats from the bargain bin for 75% off – awesome!  And meeting up with Marci again a year later was great – she showed me and my coworker friend all around the store.  Quite cool.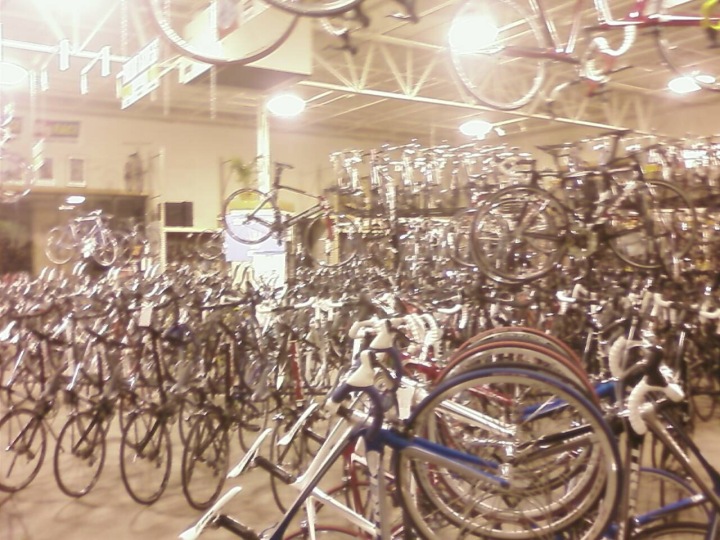 And they had this nifty wall of Lance Tour de France jerseys' – he used to work here!
Tuesday Track of pain
Track workouts have become the bane of my existence.  I'm now doing 2-3 track workouts a week and they all hurt.  No really, they hurt a lot.  I can't explain how much they hurt – but they aren't at all enjoyable.  Saturday morning I did one that included 10×800 @ 2:55 each with only 20 seconds of rest.  20 seconds?  My brain doesn't even comprehend that I'm resting within 20 seconds.  Ugh.
But yesterday was the most painful one doing 900's (yes, not a typo, 900) at 3:00 – which for those doing home math is a 5:20/mile pace.  And best of all – no break in between.  Just three minutes of running at Z3 as the 'break'.  Ugh again.
Apparently Texas schools play football games on Tuesday.  Eventually after five schools I landed at Irving High School though for my march of death.  It should be noted that it's still hot and humid in Texas.  And a thunderstorm a few minutes prior didn't help matters.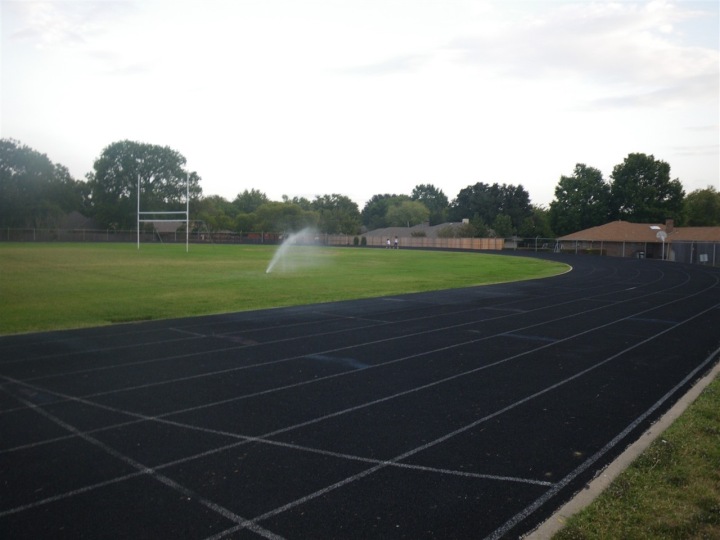 My first three sets were mostly on on the money, but then things started slipping.  My instructions were to focus on time, but not to exceed a 185HR.  By the third set I was hovering/dying in the low 190's basically at theoretical max.  So I had to back it down a few seconds per 900 to keep it close-ish to 185.  It still hurt like a @#()*$# though.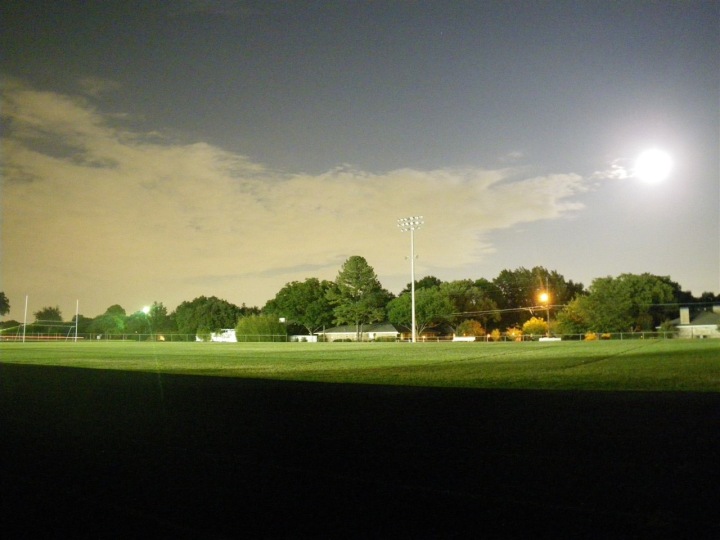 By about the 4th or 5th set it was basically dark out.  Ok, I lie. It was dark out.  The above photo is exposed for 5-10 seconds (after I was done).  The below one is what it actually looked like.  I run track in the dark now all the time.  It's not that hard, you just go round and round.  With just a little ambient light or moon light you can find the edge and just follow it.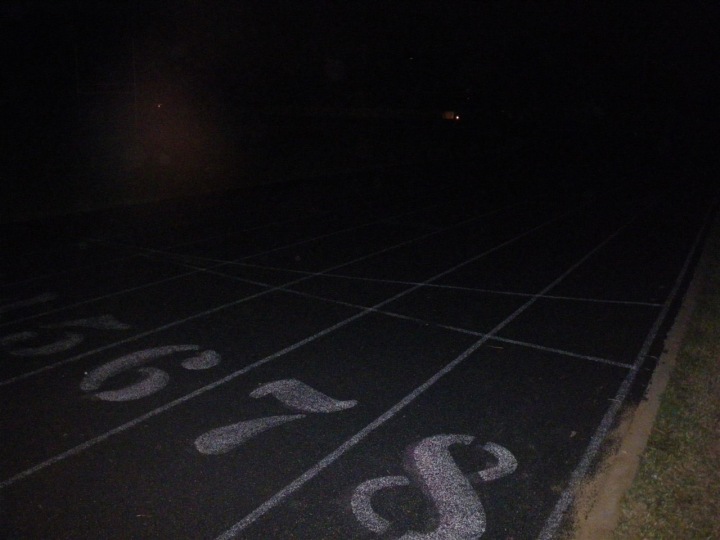 But I still had more to do.  Plus I had the god-forsaken 200's to do.  These are done at 32 seconds each.  They hurt a lot too.  But the pain is over quickly.  Now going out and doing a 32' @ 200 isn't hard by itself – but they are at the end of the workout just before the cool down run, so they hurt a lot more than they should.  But finally, I was done.  As much as I hate the track right now, I know it's making me faster.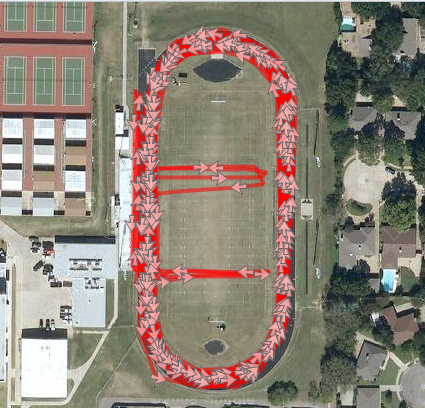 (The running on the grass is for some grass stride technique stuff I do)
Big Wednesday
I woke up.  I worked.  I swam.  More pool time for me.  A lovely 3,400 yards of splish splash.  It was light out this time, so it was bright in the place.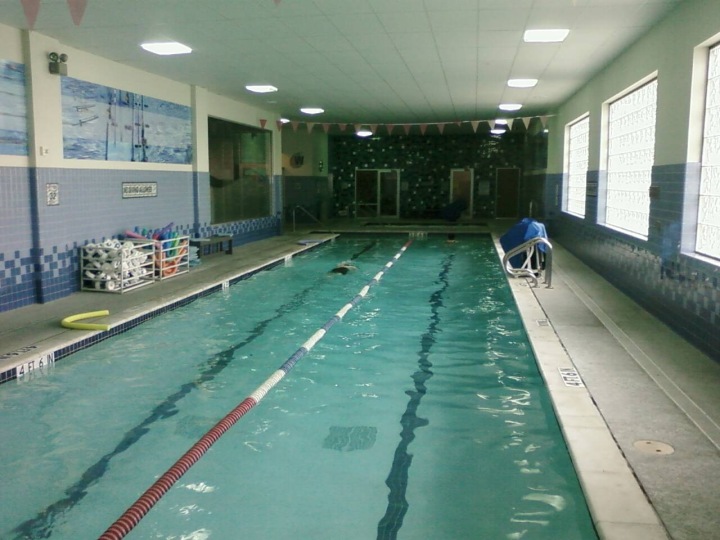 So…that 3,400 yards was the plan.  But then I got hosed by people who like to splish splash around on little water floaty toys…at the peak hour of 6PM.  Yes – they shut down the entire pool at 6PM so a whopping 4 people could float around doing water aerobics.  Why they couldn't just hang out in a single lane is beyond me.  So I only got in 2,800 yards. 🙁
Oh well, off to bed I go.  I've got a 12-13 mile track workout to do tomorrow morning…at an incredibly painful 5:30AM before work and them my subsequent flights back to DC.  But then…then it will be FRIDAY!