After flying somewhere on the order of a 300-400 times in/out of SEATAC (Seattle-Tacoma International Airport), I've gotten really really good at figuring out which side of the aircraft to sit on on for the best views (outside the plane, not inside!).  So Monday night on my way back I had to connect in LAX, which meant a flight south past Mt. Rainier (if on left side of plane), but it also meant sunset if on the right side of the plane.  The evening was shaping up for an incredible sunset flight, so I swapped my left side seat for a ride side seat. 
Big mistake!  For whatever reason that's NOT on a normal SEA-SFO/LAX flight plan route, the plane diverted to just a few miles west of Mt. Rainer with what was the most incredible close up view I've ever seen of it in those hundreds upon hundreds of flights.  And I was on the wrong side of the plane to get photos of it.  So…a sunset photo instead. 🙁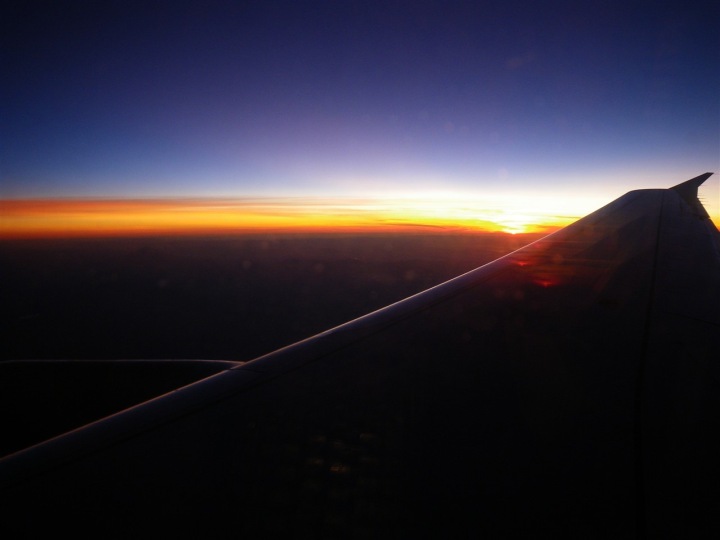 After my very brief biz trip to Seattle (22 hours to be exact), I caught the LAX redeye* back to DC for a day full of meetings downtown and then finally a track workout.
(One title I considered for this post was "I woke up and found a dude sleeping with me", as on my redeye flight the seat next to me was empty and I woke up midway through the flight to find some random creepy dude had decided to come sleep next to me…weirdo…)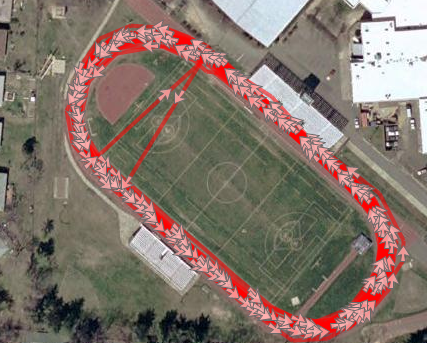 (Nah, I didn't take a shortcut, I just stopped my watch after an interval and didn't realize it until 100m+ later)
By the time I got the track of the local high school however it was quite full of people (plus the 100+ football players on the field).  Maybe some 20 folks on the track itself, and another group preparing off to the side.  No worries you might think, plenty of room.
Until I realized that they were running THE WRONG WAY.  Direction-Fail.
At first I think – okay, maybe just a few confused non-runners.  And then you listen to their conversations and you realize some of them are runners.  They have running race shirts on (marathons, 10K's, etc..) as well.  Then I notice – oh wait…it's a local running group (name being withheld to protect the guilty). 
Now this just starts to irk me.  Perhaps because I've had a long day at this point. Perhaps because I don't want to look like an idiot running the wrong way as new people arrive at the track.  And perhaps because in my tired brain it was going to somehow screw up my track workout.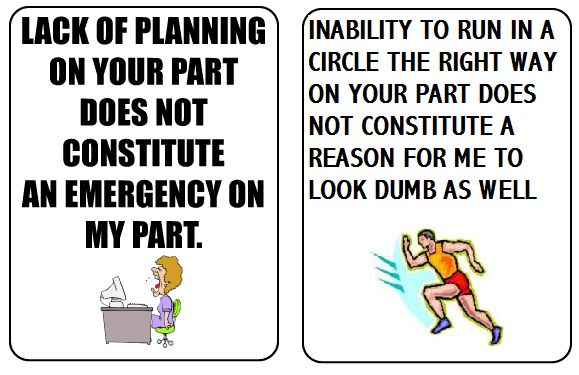 (I thought of the above well known sign (left), and re-worked it (on the right))
So…myself and my friend did the most logical thing.  We forced the issue.  We just ran the CORRECT direction on the track in the inside lanes and functionally forced everyone else to run the right way.  I'm sure they were unhappy with us – but really, I don't care what their excuse was/is* – the track has little arrows on it for a purpose – so…umm…follow them?
*For the record, I Googled extensively trying to find a reason people would run the wrong way around the track…I found none – except for one group that did it as part of a beer run thing.  Hmmm…
When you watch the Olympics, do people run around the track backwards?  Nope.  When you ran around the track in high school did you run around it the wrong way?  Nope.  Good, that's what I thought too.
At any rate, 7-some-odd miles on the track later and my workout was complete.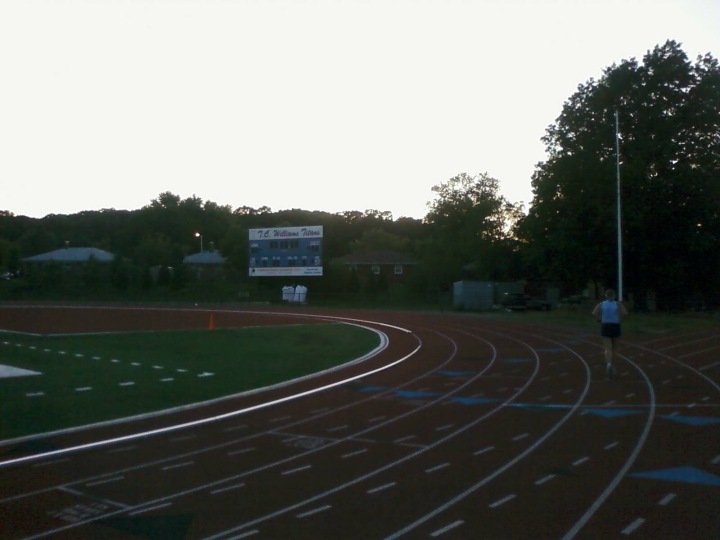 (It was actually dark when I finished, so I took this mid-way through and not at the end.  No lights here at T.C. Williams – despite being Home of the Titans – ya know, the movie – Remember the Titans) 
Btw – sorry for this random Rainmaker Rant…Redeye's do that.