As a reminder for all you folks out there – May 16th (Friday) is National Bike to Work day (here's the details for those here in the DC area).  A quick Google search of your city name and "bike to work day" will easily reveal the details for your area.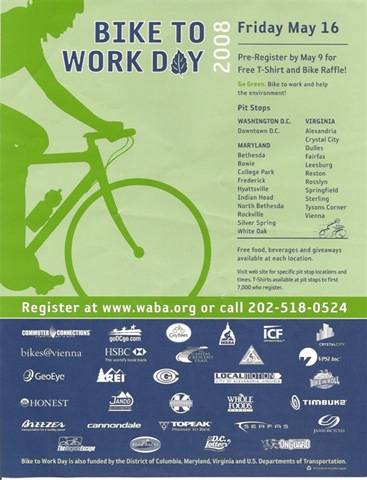 In my local area there are three easily accessible pit stops I can hit up to get free food.  While I could just bike the 4-5 miles to work and be there in 20 minutes, it's much more fun to make something of the morning.  Although we'll see if I plan holding true to that when I wake up Friday morning.  I still get the free t-shirt as long as I hit one stop.
So I mapped out a route that hits all three pit stops.  No more than your average weekday training ride. But let's be honest – three stops means three times the free food and giveaways.
In short, my masterpiece might look the below.  Items #1 and #5 are relatively close to my start/end points.  #2/3/4 are pit stops.  #6 is an accident.