There are certain days every year that are well celebrated by the masses.  Christmas, New Year's and Independence day come to mind (and many religions/countries have variants of those major ones).  Then there are those holidays that are still well known, but perhaps not as widely celebrated – i.e. – Winter Solstice.  And finally – there are those holidays that only certain groups of people could appreciate.  And that is where this particular one comes into action.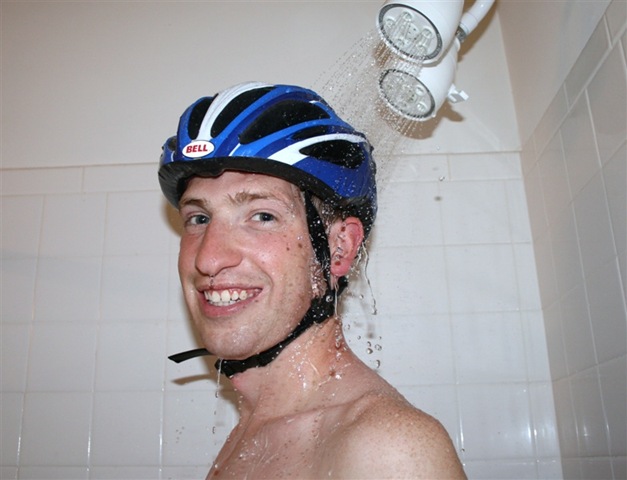 Tomorrow – April 12th – is "Shower with your helmet day" – per the March 2008 Bicycling Magazine (page 32 for those curious).  As such, tomorrow after your long ride you need to retain the helmet and get into the shower with it on.  (And to be clear here guys, we're talking cycling helmet – keep your mind out of the gutters…unless you have a friend of course).  And if you don't have a long ride tomorrow, then just wear it after your long run.  If you don't have either of those tomorrow – then we needs to have a wee little discussion about training.
Think about it – you take that helmet everywhere with you on your bike.  Protecting your occasionally less than smart noggin whether or not it wants to.  Did anyone ask your helmet how it feels during a century ride with the blazing sun in the middle of the summer?  Nope.  How would you feel if someone just strapped you to their car racks and bumbled all over high heaven with you up there as 'protection'.  See…makes you appreciate it now – doesn't it?
So, go show it some love and clean it off.  But again…don't be showing it too much love.  You know…like a certain Steve would.  Cause that could lead to an awkward moment.  And perhaps even some itsy-bitsy relationship problemo's.