First off – Friday night I finally got my act together and registered for next year's Nation's Triathlon (an Olympic distance event).  Given my enjoyment at this past year's event, I added it to my schedule for next (err…this) year.  I had been flooded with e-mails from the event organizer reminding me to sign up.  So I did. 
According to an their front page, they are nearly 50% filled already on slots (and they only opened to the general public on Friday).  Be warned to get yourself all registered quick!
Moving on…
I got invited to go down Saturday to Norfolk to do a tour on an aircraft carrier.  It also involved getting picked up by the friend in his small plane – I certainly wasn't going to turn down that offer.  So way-to-early Saturday morning I drove the short distance to Stafford, VA for the 35 or so minute flight the rest of the way to Norfolk.
Once we arrived we headed over to the aircraft carrier Eisenhower.  This ship can hold about 60 aircraft and over 5,000 people.  The sheer size of it is pretty amazing.  Internally there were three huge hangars – you could basically hold a full triathlon inside and on top of this ship, pretty amazing place.  I've been on numerous other ships, but this was clearly the most spacious I've been on.  Here's a photo on the deck of the carrier, right in front of the 'bubble', looking towards the superstructure with one of the movable blast walls raised in the up position.  These walls are raised just before the catapult tosses the aircraft off the deck of the ship (which is does in less than 2 seconds).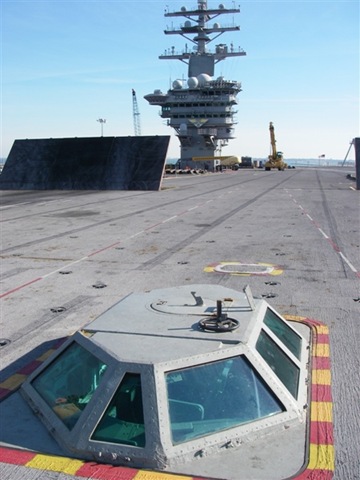 After the three hour tour, we hopped back on the plane for the flight up to DC.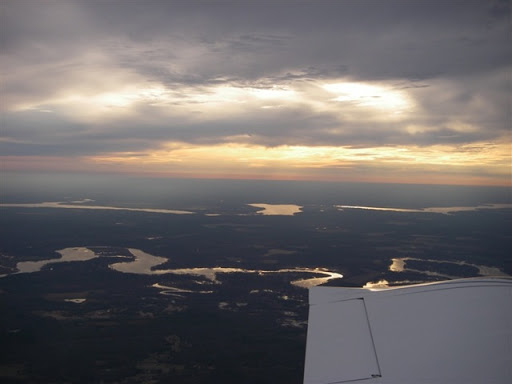 (Just over the Pamunkey River – according to Mr. GPS – wherever that is)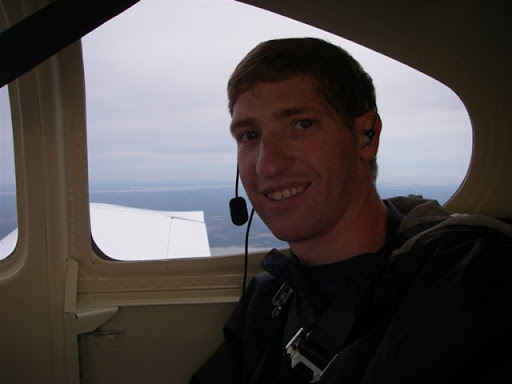 (Me hanging out in the backseat. I flew down in the front seat, but on the way back his wife decided to come along for the ride)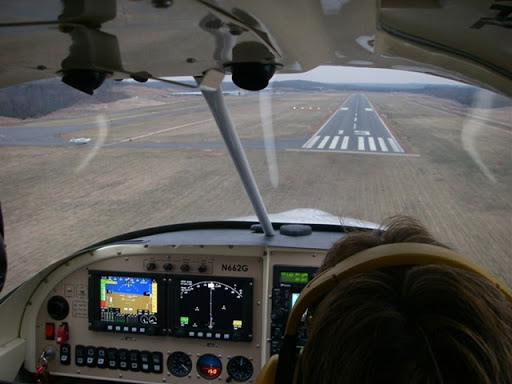 (On approach into Stafford Regional airport, just south of DC)
After my flights and tour – it was time to scream via car up to the city to hangout with some friends from Seattle to watch the Seahawks cream the Redskins.  Good times.  After that we watched some of the JAX-Stealers game (also good times after the Stealers stole the Super Bowl a few years ago from the Seahawks).  And following that we caught the University of Washington vs. Washington State in men's basketball.  Unfortunately Washington State won (yes, despite my brother going there – I'm still a huskies fan).  But it was a trouble-header of sports – two out of three being Seattle games.  All good!
After that, I was tired as heck.  I had woke up at 6AM for the plane flight, and it was 2-3AM by time I got to bed.  Not helping matters is that I'm still totally hosed up time zone wise after all the traveling over the last three weeks.  Many a nights where I can't fall asleep till 4-5AM, and others where I'm in bed by 10PM.  Gotta get that stabilized.
Today was mountain biking day.  A few non-tri (but cycling) friends and I went over to Rosaryville State Park to do some mountain biking.
The weather was incredible today – in the mid-50's and generally sunny.  The trails are great there.  It's mostly nice rolling hills in the forest, with occasional crossings popping out into some fields.  The ground was slightly damp, but not that muddy.  And there was not a whole lot of people there – maybe a dozen or less when we were there.  Interestingly, about half of them were mountain biking chicks.  There is something rather attractive about a good looking mountain biking chic.  Kinda like British accents on hot chicks…
Anyway – here's some photos.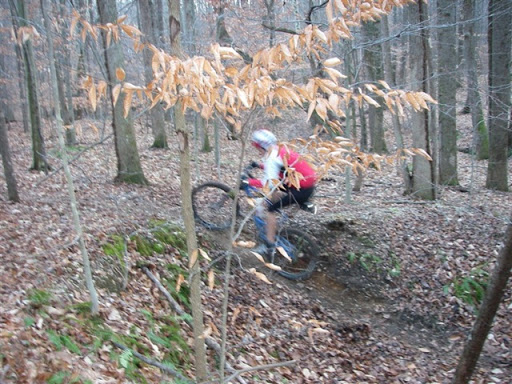 Interestingly the trail also has some horses riding on it.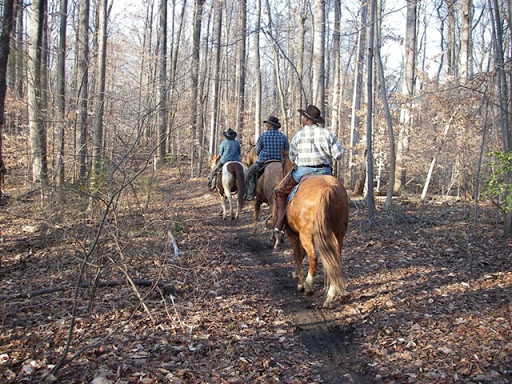 Ok…perhaps from the mud and leaves on my tires it might have been a touch bit muddy there.