Today I bring you the tale of two creatures – intertwined by a nice forty mile ride.
The Ghetto Geko
First, we start with a little 'situation' that arose a few weeks ago while kayaking in  Palau.  Something mighta-sorta-occurred involving my Garmin 305 that mighta-sorta killed it.  I won't go into full details, needless to say that apparently electricity (active current) and water don't mix.  Sure the device itself is waterproof as I've proven many times – but I don't think the charger was designed to be.  Just sayin'. 
So that's left me unable to track my distance or time on my bike.  This hasn't been an issue thus far, since for the last few weeks I've just been inside – where my trainer tells me how far I've gone.  Simple enough.  And this past week during an outdoor ride I just borrowed a friends GPS.  All good.  But then the friend flew away, and I had nothing – not even a simple bike computer for my bike.
So with my outdoor rides planned for today and tomorrow, I had to figure out a way to deal with this vacancy.  So I dug around my drawer full of gadgets and pulled out just about the only thing that would actually be of use – the trusty green Garmin Geko!  This little GPS I got 3-4 years ago for the fun of it (and for super-cheap) had been hiding away for a few years now.  It was time to pull it out of retirement, affix it to the bike with two newspaper rubber bands – and head out to let the wind blow between the Geko's buttons.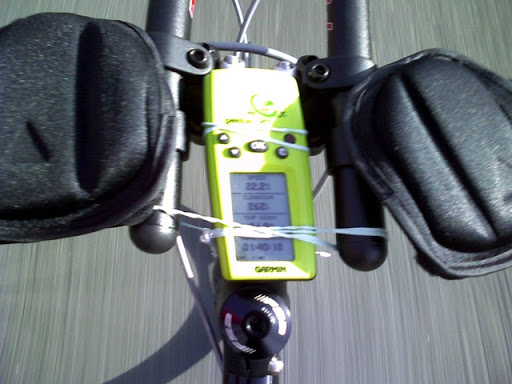 And Mr. Geko – you did good!  While some cyclists that I passed gave you a second strange glance for your Ghettoness, you held true to the bike and did not depart.  In fact, while your 305 brother occasionally goes for a flight on a strong bump – you just bounced along happily.  You did have some issues though when I was giving you head (also known as a being really low on the aero bars), as you seemed to freeze up and forget what you were doing.  Natural response I suppose.  But overall you've earned a spot back in the lineup.  Until Tuesday anyway, when my 305 arrives back from the nice people at Garmin who patched it all up.
Abominable Snowmen
No folks, I'm not talking about what the Packers did to the Seahawks this afternoon during the near-blizzard up there.   We don't discuss such things any further on this blog.  No, I'm talking about the slew of cyclists who were out and about today on the W&OD trail dressed as though they were about to face the blizzard of the century. 
What was the weather you ask?  55* and brilliantly sunny!  No wind, no rain, no snow, no sleet.  Just sun.
This reminds me of the post that DCTriGirl posted back in November the first time the temperatures dipped below about 50.
"Really, your exposure to the "elements" is not enough to warrant your precious ears to be covered for those 30 seconds. I understand this cold weather took us by surprise, but really, it's going to get worse, and I think you are sabotaging yourself by busting out that hat so soon."
And when I'm talking about cyclists – I'm not including the group of grandmas and casual riders out for a Saturday stroll.  No – I'm talking folks on nice bikes out there clearly training for something.
The VAST majority of these folks were wearing at least two layers of full length lower body gear.  At least 2-3 layers of upper body stuff.  I saw full heavy coats, doubled coats – even arm warms on coats.  I saw booties, neoprene gloves, all assortment of hats – and even earmuffs.  Even face masks.
Seriously DC folks, you're making us look like wimps.  Today's weather warranted nothing more than perhaps a light jacket for a good training ride.  It was sunny – the W&OD trail is in the sun the whole time.  It was 2PM.  It couldn't have gotten any warmer out.  Put away that cold weather gear, and take it out next weekend, when it's scheduled to be 29* out.  Otherwise as DCTriGirl said – you're just setting yourself up for failure. 
And for the record, my clothing arrangement was simply a pair of cycling shorts and a long sleeve cycling jersey.  That's it.  Nuttin else.  And I was quite comfy for 2+ hours.  If you were out at the crack of dawn – you do get an exemption for additional layers, since it was 35* out this morning at sunrise.
Oh – and one last random note.  I noticed at some point during the last 30 days someone/thing went along and filled all of the cracks between the bridge edges and the trail on the W&OD on all but one bridge I crossed.  You know – filled that 1-3″ horizontal and vertical crack that existed at tons of bridges on the trail?  No more.  Awesome!