In case there wasn't any doubt already – I present you with further evidence that Virginia's lawmakers are quite simply dumb.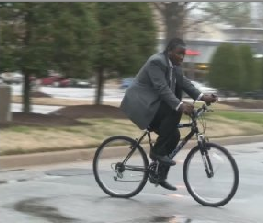 And if you visit the site to read the full story – you can even watch a nifty video. 21st century technology to illuminate 19th century dumbbells.
January 11th, 2008 – Newport News, VA:

Kajuan Cornish, 19, ran afoul of the General Assembly's controversial abusive driver fees Thursday, when he was convicted of reckless driving in Newport News traffic court. The conviction for crossing over Warwick Boulevard during afternoon rush hour triggered more than $1,050 in fees under a program designed to raise money to pay for highway maintenance. Cornish got the ticket while steering his 18-speed Huffy bicycle back to work….

…The abuser fees program was the brainchild of Del. Dave Albo, R-Fairfax, who works as a traffic attorney outside the legislature. Albo was shocked when he heard about the conviction. "I've been doing this for 20 years, and I've never heard of anybody getting a reckless on a bicycle," Albo said….

….Officer George Evans said that when Cornish crossed Warwick south of Denbigh Boulevard, drivers had to slow down to avoid hitting him — a fact that Cornish disputes. Either way, Evans said, he would have written a warning. "If he gets hit, then we have a mess," he said. "It was a major violation right in front of us."….

…Evans said that as a citizen, he thought the fees were too high, but he only gives testimony in the courtroom. "I don't have any control over the fees," he said. For now, Cornish said, he's looking for a lawyer for his February appeal.

"I'm stuck," he said. "I'm trying to be Christian about it, but it's frustrating."
Now… I would have given the cyclist a ticket for not riding with a helmet – although I'm not sure if you can ticket for that in Virginia like you can in Washington State.